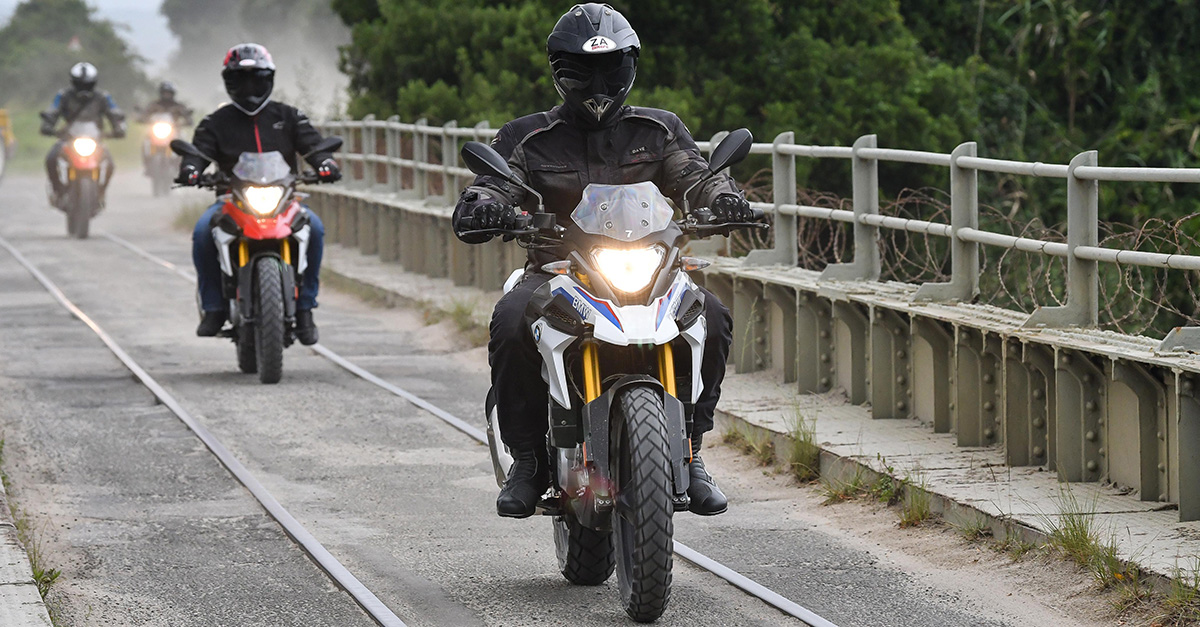 Oubaai, the Ernie Els golf estate development at Herolds Bay, just outside George, was the scene of the official launch of the G 310 GS. Anything with the suffix 'GS' seems to elicit a fair amount of interest amongst the motorcycling fraternity. Off road, or back road touring on a light nimble bike can be huge fun, so I too was keen to sample Bee Emms little GS. We were briefed on the bike over pre-dinner drinks. To quote the BMW brass: the GS is built for 'everyday adventures' involving 'light off-road'. The other phrase used was 'spontaneous adventure'. In anticipation for the next day's ride, we turned in early after a great dinner with the usual motorcycle banter around the table.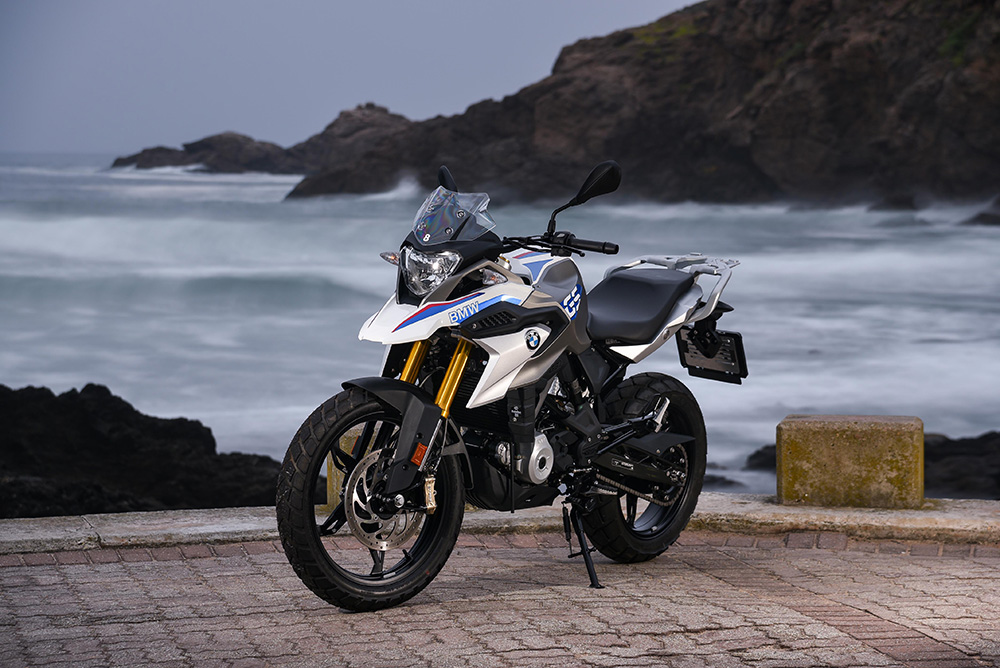 An early breakfast was followed by a route briefing, and then we set off on a wonderfully scenic route that had a bit of everything. Cruising into George we started up Outeniqua pass then turned onto Montague pass. This pass is a must for anyone touring around this area, a winding dirt road meanders over the Outeniqua mountains to deposit you in the small Karoo. We stopped at the top to admire the spectacular scenery and allow any stragglers to catch up. This was the first opportunity to test the dirt worthiness of the little Beemer. Despite plush suspension, the GS handled the pass with aplomb. The front fork topped out audibly over little jumps, but neither end bottomed out under my 80 odd kg weight. Some riders who habitually scoff a few more pies may find things a little soft though.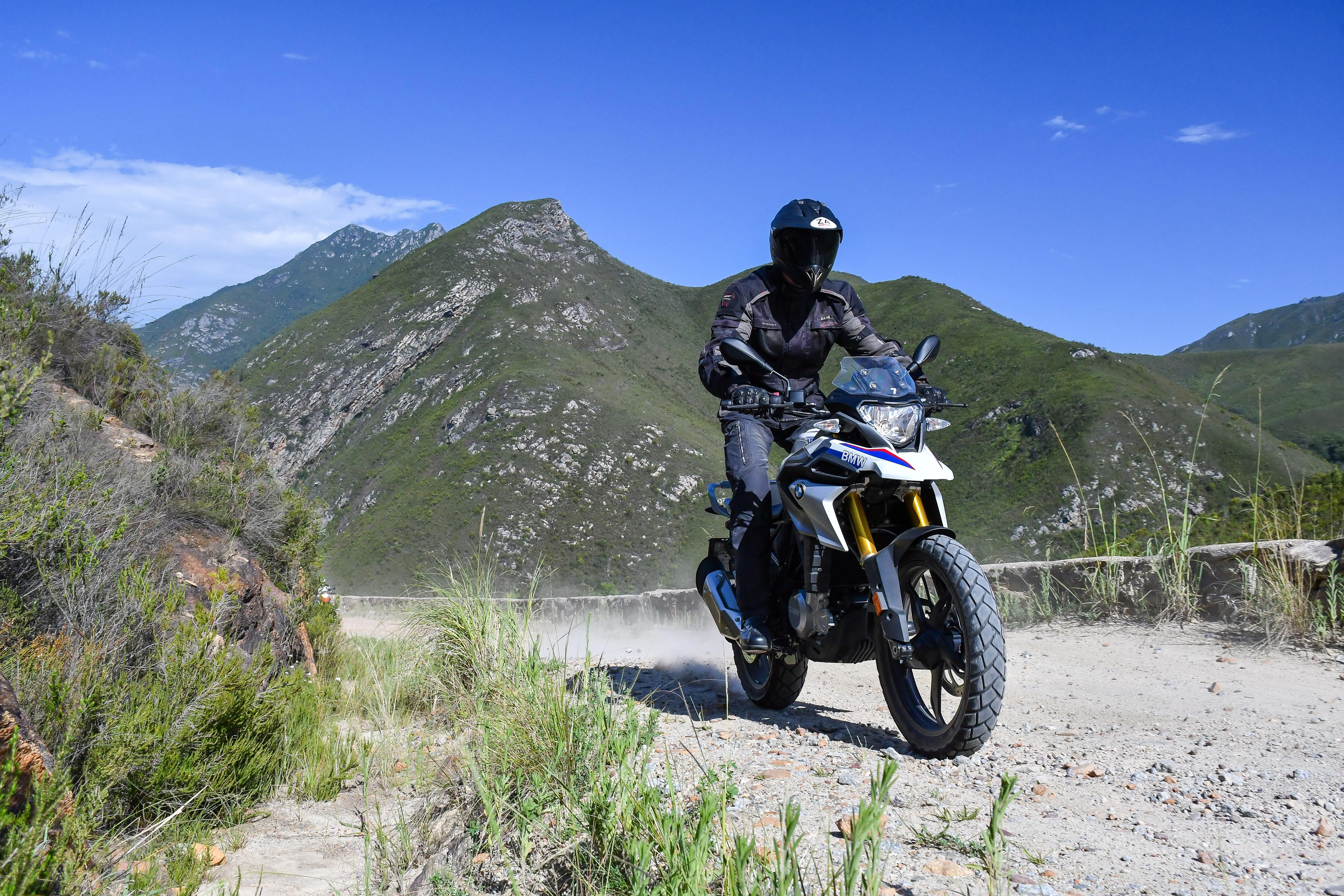 After a tar section blast enjoyed by all, we got onto a real typical karoo dirt highway and gave the little beasts their heads. I saw 138 kph on the digital clock with the bike feeling, for the most part, rock steady. On some big undulating hoops I did bottom the back shock, which was due to a combination of speed and inertia. Back on the tar, we stopped to lash some coffee and illegally good carrot cake before strafing the billiard smooth constant radius bends on Outeniqua pass. The tiny GS is huge fun in this environment. A stable chassis and light weight combine to allow enthusiastic corner carving, aided and abetted by a willing and torquey little mill.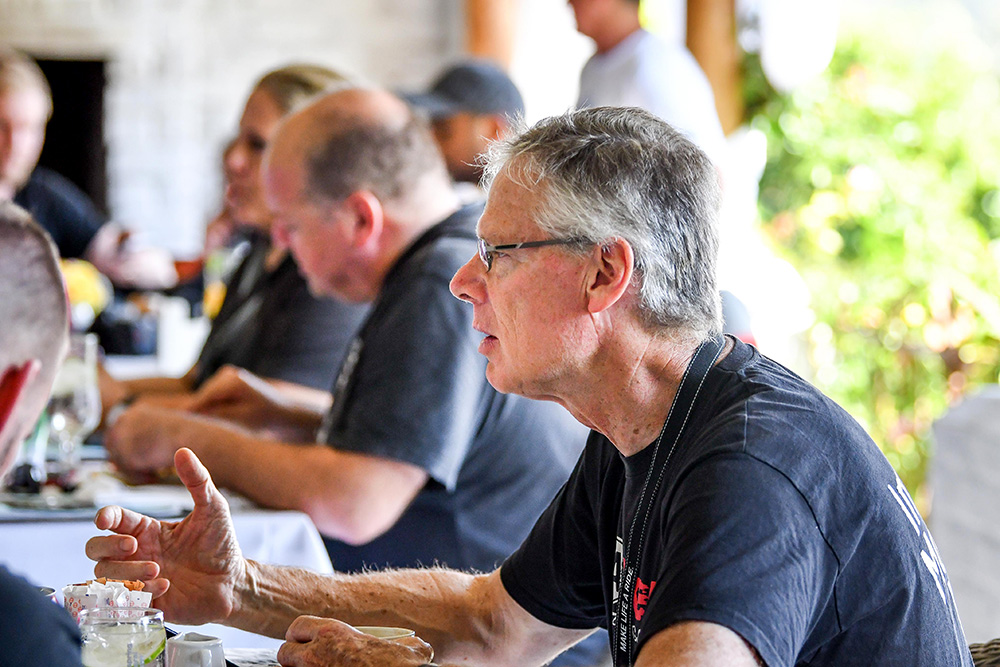 Cruising through George, on our way to our lunch stop in Wilderness, the GS showed its urban prowess. The same qualities that make it fun in the mountains make it a doddle in town. The gearbox likes precise shifts and sometimes baulks when shifting under power. The motor uses its 25 Kw to good effect and has no trouble relegating traffic to the rear view mirrors. 28 Nm of twisting power at 7500 rpm allow you to not haemorrhage too much speed on the hills. Using backroads strewn with sand on narrow blacktop, the bike is almost motard like in its flickability. Riding slow bikes fast remains a total hoot!
After lunch we rode through town and then traversed country roads to Herolds Bay for some pics. With our sea vista thirst slaked, we made our way up the hill to Oubaai to clean up for our flight back to the big smoke. An hour and a half delay (due to bad weather) allowed a lot of time for reflection on a great days riding. The suspension is non adjustable yet perfectly adequate for most likely owners. Taller riders will be comfortable with the seat height, which can adjust from 835mm down to 820mm. Shorter riders still have the option of the regular lower G 310 R if they are happy to stick to the tar. Excellent fuel consumption allows silly distances on the 11 litre tank. ABS is standard and can be switched off, however, having said that, we left ours on for the duration of the ride with absolutely no issues. The G 310 GS retails at a very competitive R79 650 and is available in red, black, and white highlighted with BMW Motorsport colours – this is my favourite!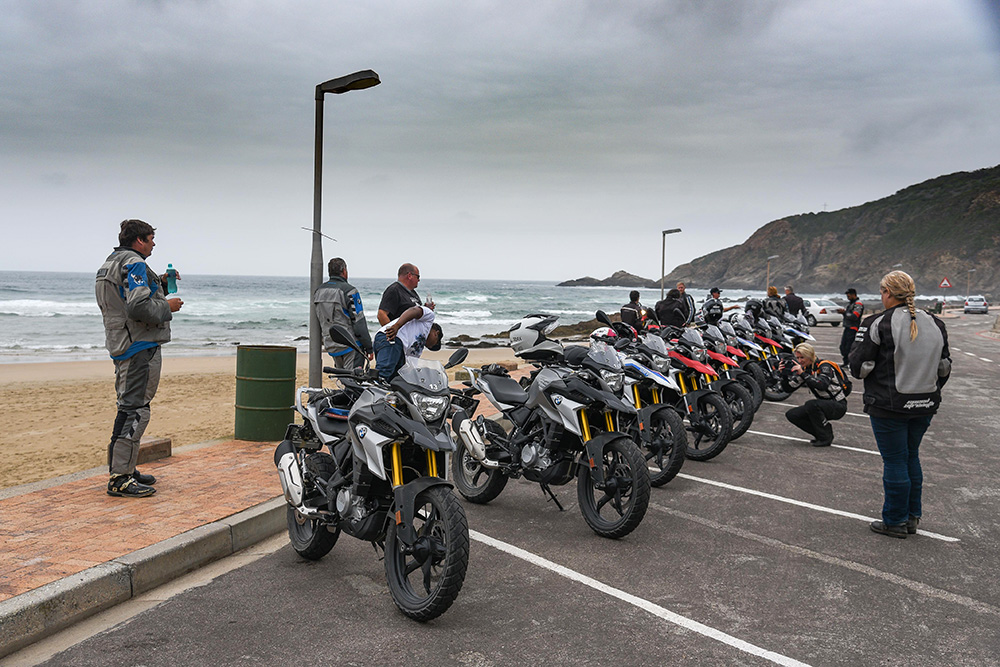 So, what's this baby GS about then? Some have commented online that it is not a GS at all. After all, it even wears mag wheels and not spokes. Well, when a bike only weighs 164 odd kays, then mags will manage 'light off-road' riding (that it's actually designed for) just fine.. Ok? In Europe large GS models are often specced with mags. Fact is, South African riders tend to do things with GS'S that were never quite part of the design brief. So, understand that the G 310 GS was not created to tame Dakar, but rather to conquer the urban sprawl, even if that means doing some dirt. Mark my words, sooner or later someone is going to do some totally hectic ride on this tiny Beemer and silence all the naysayers, in Ewan and Charlie fashion. Why? Because they will understand that the adventure is in the rider and not the bike. It is just that the GS version will make it that wee bit easier.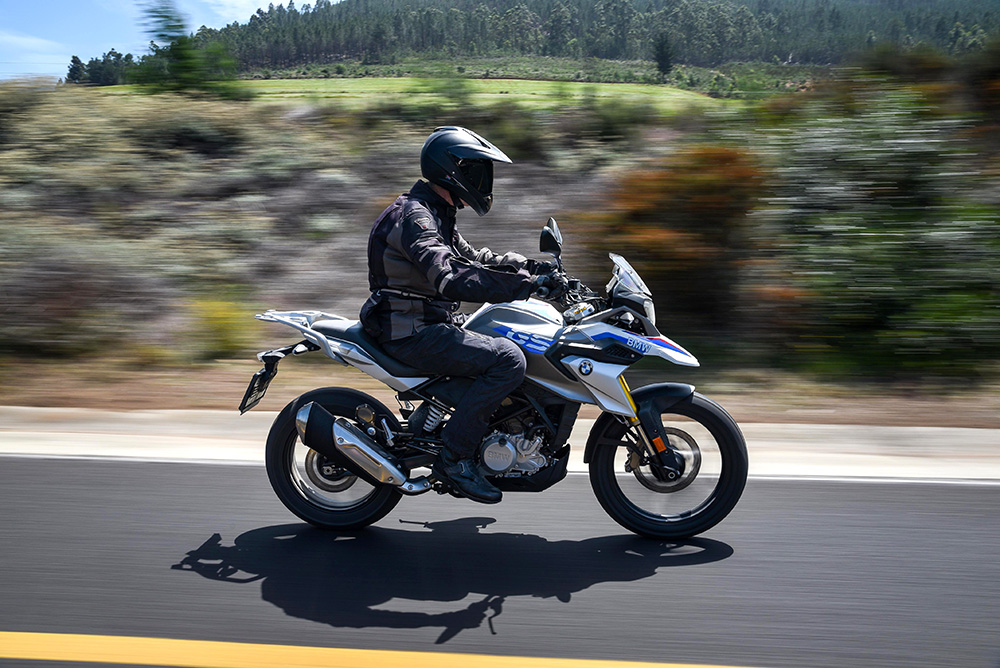 Thanks to BMW Motorrad for a really pleasant and enjoyable launch. Get yourself down to your local BMW dealer and take a skwizz at Bee Emms newest addition and take it for a trundle. It is good to remind yourself why you started riding in the first place, and the fun to be had on a light responsive bike. Buy one 'for your missus', nudge ,nudge wink wink, and pinch it to use in town and around, keeping the big GS for the serious stuff. You may just get hooked and plan a tiddler tour!