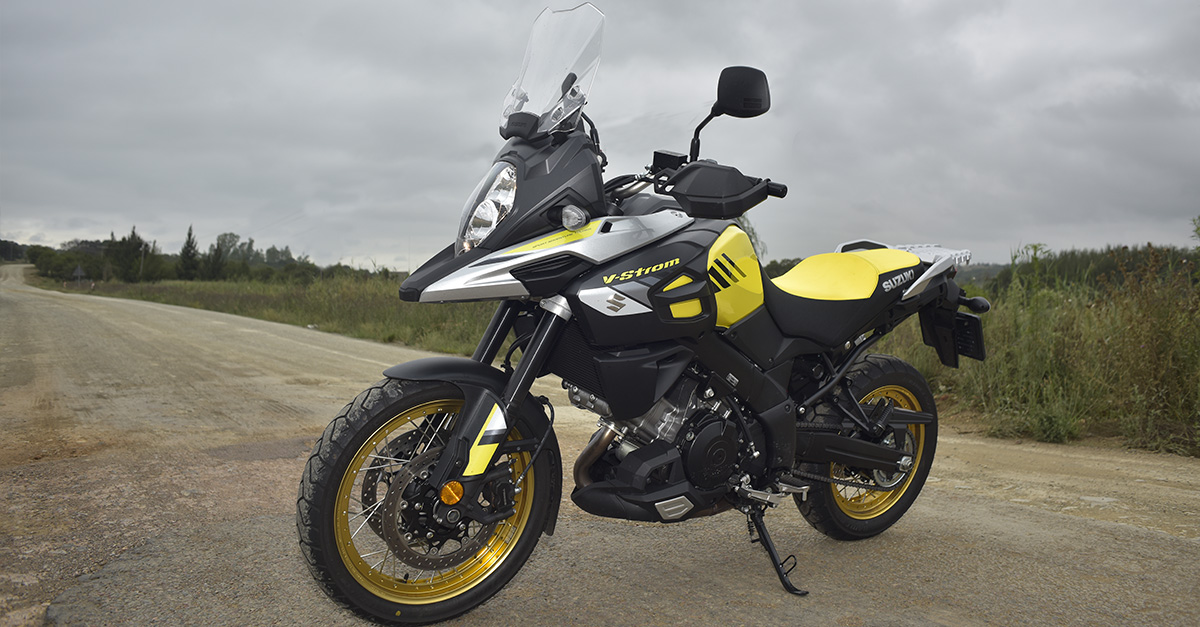 Suzuki introduced the V-Strom a number of years ago. It was one of the stable of Suzuki's which used their new at the time 90 degree V twin litre motor. The 2018 V-Strom's engine is a refinement of this mill, at 1037cc's it stomps out 100 odd horses at around 8000rpm and what really is noteworthy, it delivers a healthy 103 Nm of torque as low as 3100rpm. To put that into perspective, it is 13 horsepower more than Honda's new Africa Twin and 13Nm more torque at 2000rpm lower in the rev range.
Weighing in slightly lighter than the AT too, the real world performance of the Suzuki is significantly better, taking it from adequate to proper. The engineers at Suzuki didn't stop there, they added another balance shaft to the rorty V twin, the end result is a motor that is happy at all speeds.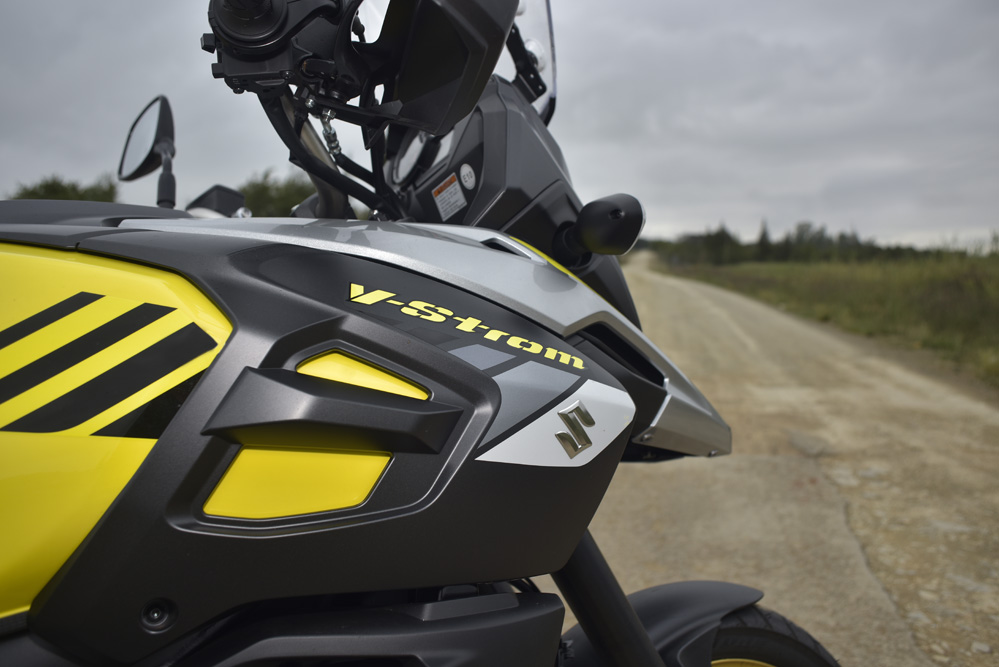 You never feel that you have to force the pace. Crack the throttle and the big Strom responds with satisfying thrust. Happy motor happy rider! But that is not all. You can't stall this beast. Drop the clutch at idle and a stall assist function simply allows the bike to chug off the line like a big diesel. This assists tremendously at really slow speeds over uneven terrain.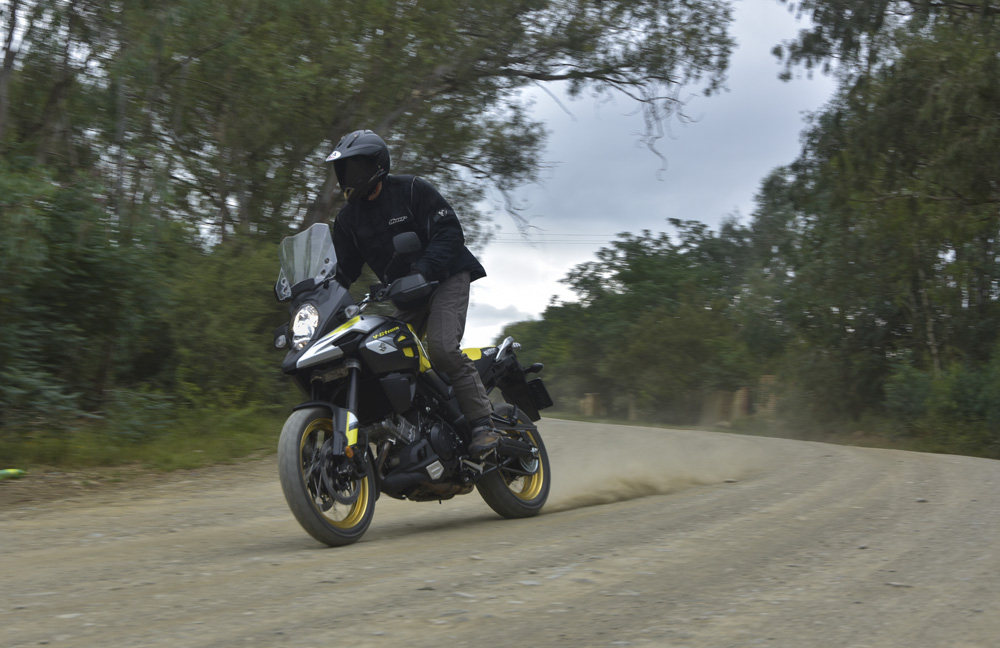 Let's talk chassis. Suzuki have redesigned and lightened the frame using clever computer programmes that measure stress and strength etc. The Strom has less suspension travel than most of the other Adventure bikes in it's class at around 190mm back and front. Same as a GS mind you. Having said that, after riding it properly on dirt, and I mean properly!, it does an excellent job. I did not once bottom out either end, even running standard settings.
There was still significant room to stiffen things up for a passenger or luggage. My Africa Twin by comparison, with a whopping 220mm of travel was way too soft, even on maximum preload, and ridden aggressively, as I rode the Suzuki, bottomed the suspension a number of times. Be careful to compare bikes by their spec sheets, ride them as you intend to use them, real world performance may tell a totally different story. So it was with the big Strom, I purposefully aimed the bike at speed over a line of dinner plate sized potholes on a gravel road. I braced myself for some serious head shake.. Nothing!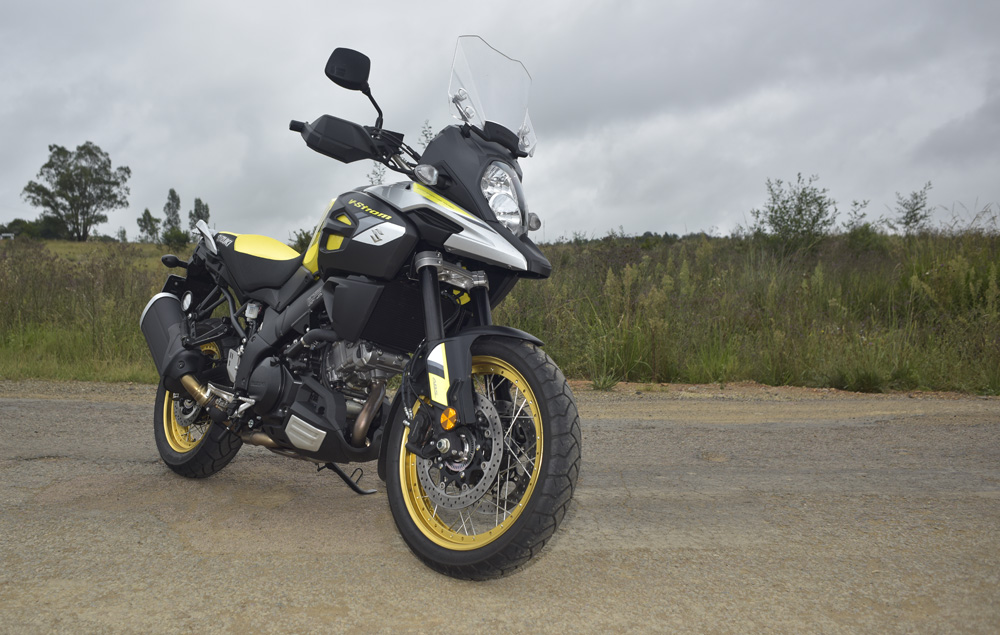 The bike tracked straight and true, the whole exercise becoming a non event. Thrashed down a rain rutted dirt road at really high speed, 160kph plus, the Suzuki never lost, or even felt like it would lose it's composure. To be honest, I was absolutely blown away! There was one place where I got some serious air whilst negotiating a hump, yet the bike landed smoothly without bottoming either end. Nothing you can throw at it on a typical adventure tour will ruffle it's feathers. On the contrary, it may seriously ruffle the feathers of some of the established alternative brands riding with you!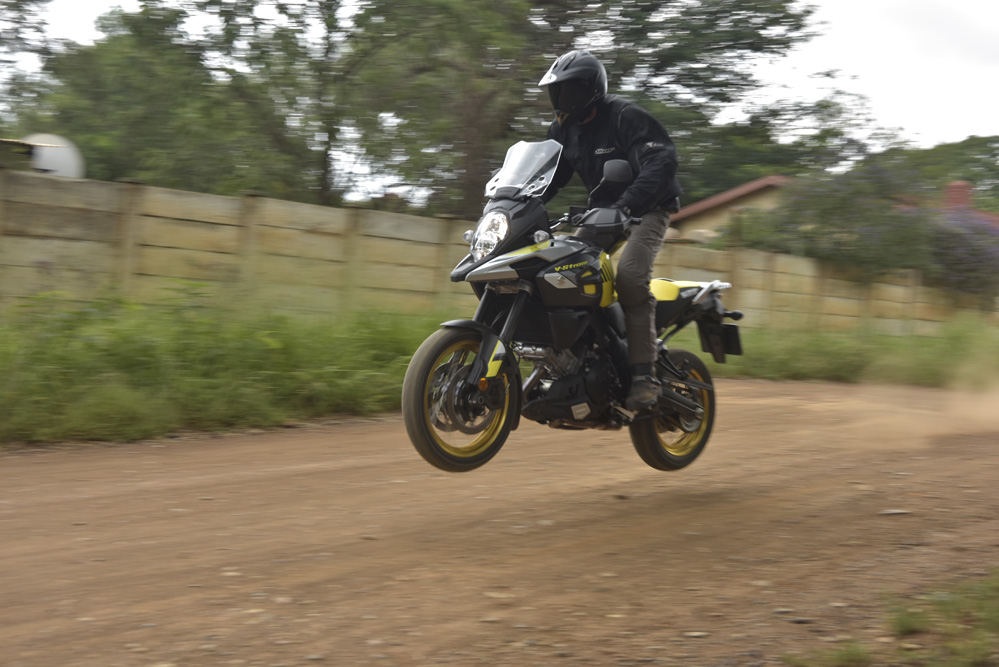 The firm well damped suspension makes the Suzuki a road weapon of note. It exhibits uncanny stability and changes direction effortlessly. The handling is truly excellent. Looking for negatives I plonked my wife on the back and cruised to Melrose Arch for lunch. A 100k round trip, and Irene was still good for go, giving the back perch her approval. Talking comfort, the Strom is great. 1000k days will be no sweat, seat comfort is excellent.
Really impressive is the heat management, us KTM pilots know all about heat! Not so with the Suzuki. I don't know where it goes, but you just don't feel any engine heat anywhere. This is probably the result of the evolution of the bike over a number of years. Slowly but surely niggles get sorted leaving one with a superb end result. The previous models sported cast wheels which, according to South African adventure riders, instantly disqualifies the bike for gravel travel. This latest Strom sports rugged DID alloy rims laced up with sturdy spokes. Bring on the dirt!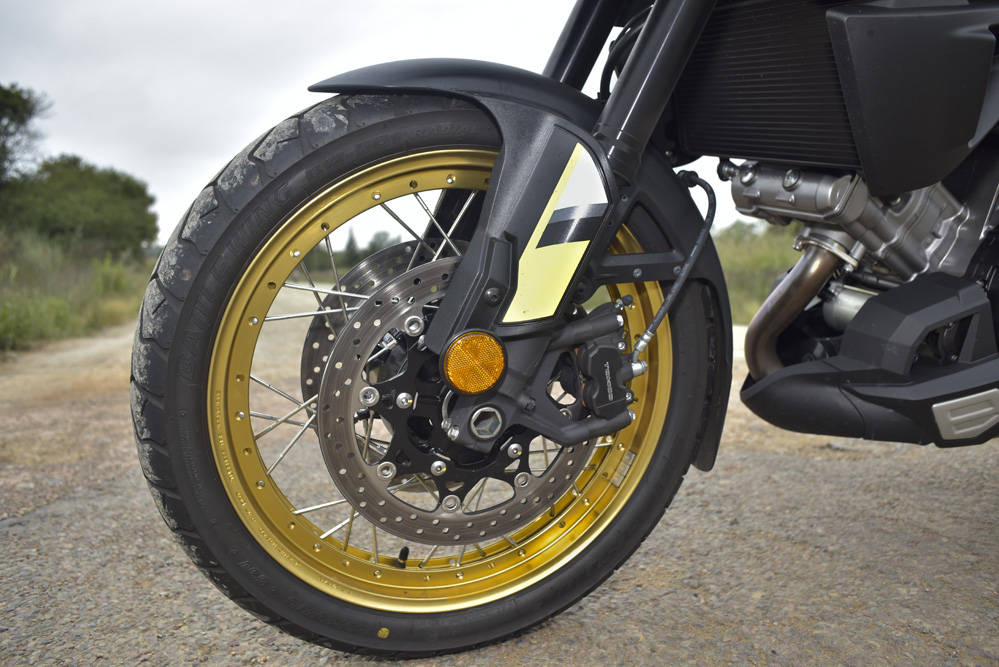 Looks are subjective, and the Strom is a slightly acquired taste. The test unit was yellow and grey with stunning gold rims. All good. For me, and most I spoke to regarding the looks, Suzuki should have kept the seat black. Instead they saw fit to make it yellow too. I felt a bit yellowed out after a while. I enjoyed riding it so much that it wasn't really an issue, but give me a black seat please.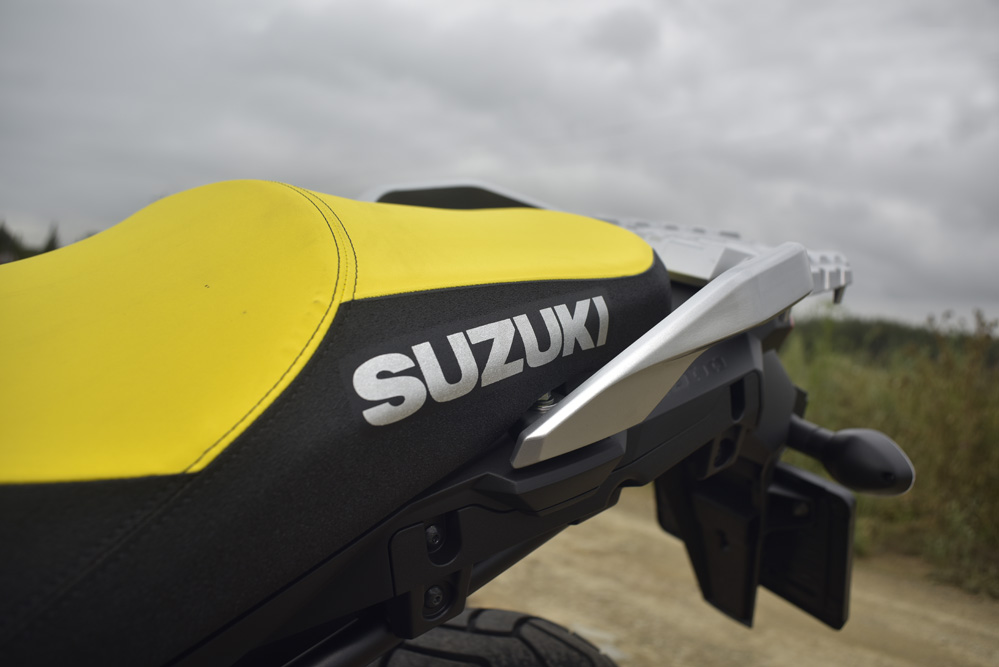 Instrumentation may well be what is considered 'old' by modern TFT standards, but for me , 'if it ain't broke don't fix it'. Information is comprehensive, and the dash is just fine! Let's not do technology for tech's sake. Similarly you only get one engine mode, and rightly so!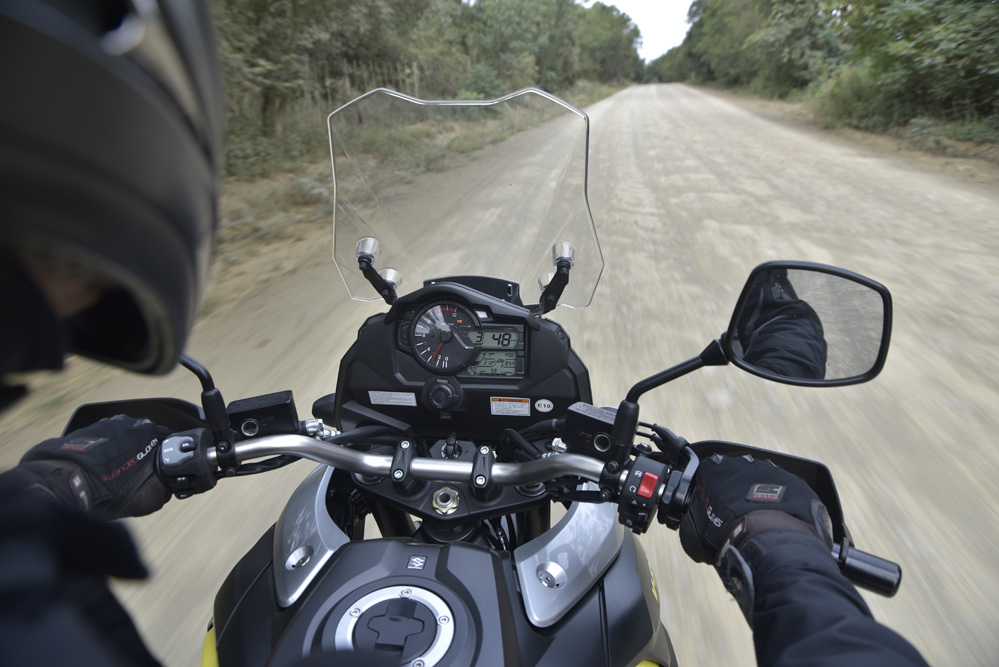 Power delivery is so good and linear you would really be an incompetent oaf to complain. Traction control has three settings with more or less aggressive action. Which is best?. 'OFF' that's what! Again, unless you are totally new to gravel travel, traction control is an unnecessary complexity. Not if you have to control 150+ horses in the dirt, but that is not the case with the Suzy. The ABS cannot be switched off, so again, some may bitch and moan. Just ride it, it works! The bike stops without fuss or bother. A far cry from the dismal ABS on my 800 GS on which I took out a farm gate after forgetting to disable the ABS. Granted, that was years ago. Electronics have come along in leaps and bounds since then. The ABS on the Suzy has a lean sensor too, subtly keeping things tidy even when braking whilst heeled over.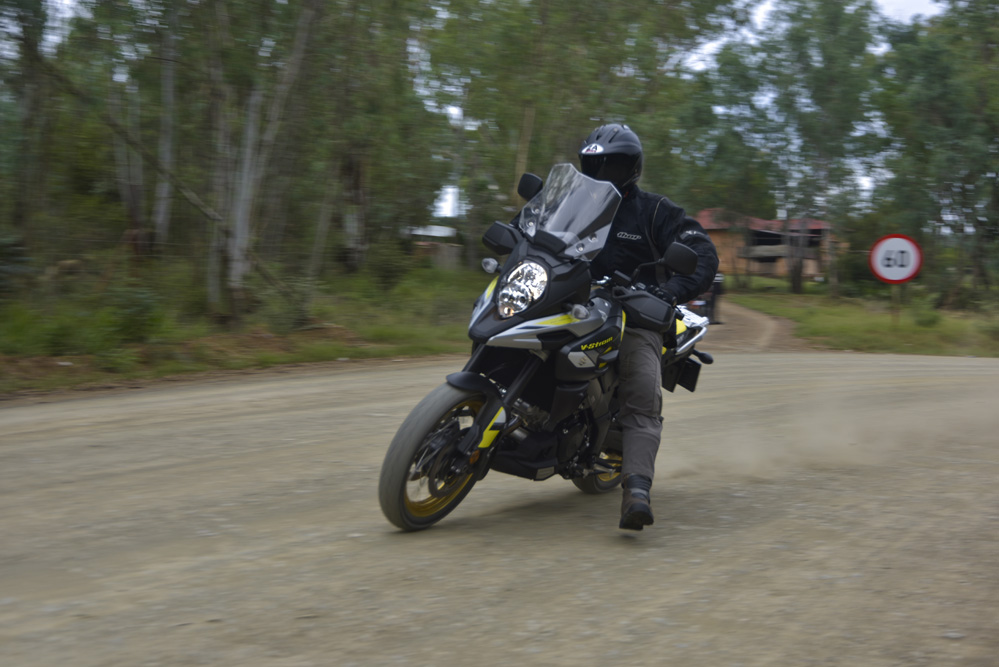 Suzuki has come up with a novel screen design. It adjusts to three heights by means of screws. Once you have set the appropriate height, you simply use the manual tilt feature. Push it forward and it resembles the upright screen on a rally bike. Pull it back, and it is more like a sports beast. I, with my 6' 3" frame set it to the highest, then used the tilt function – 160kph and no turbulence around my helmet. Perfect.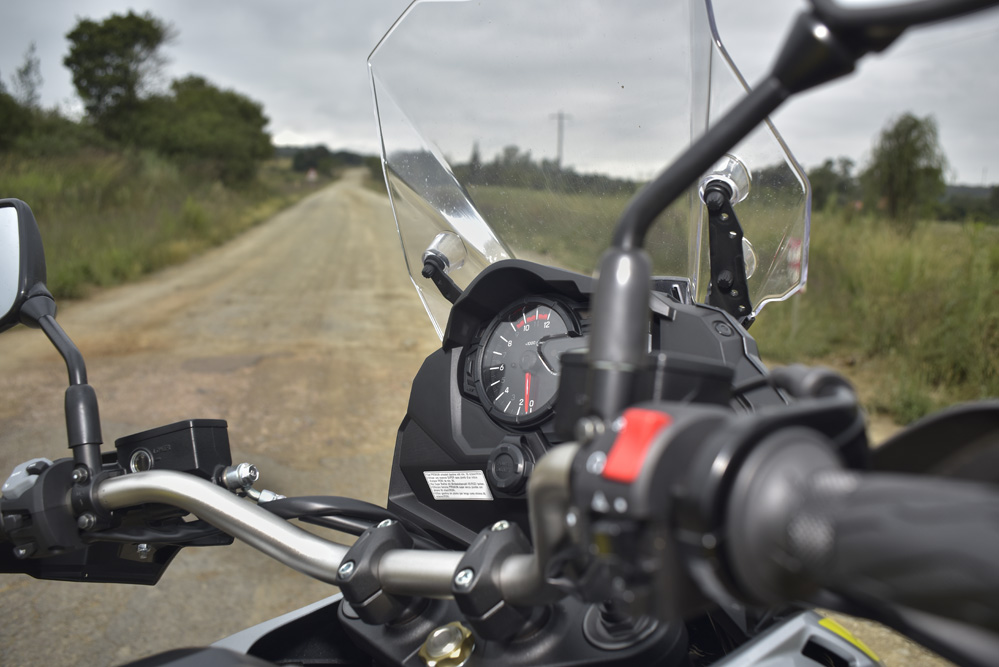 At a purchase price around R165 000 the Suzuki is quite frankly in a class of it's own. All you need for serious gravel travel is serrated off-road pegs, a bash-plate and crash-bars. Panniers and top-box are available as factory options from Suzuki. For one moment just engage your brain! You could buy yourself the incredibly competent DL 1000, silence your buddies chirps after the first proper ride, and still have a huge amount of ammo left in your bank account. Enough to fund your next year's worth of adventure travelling. The bike averaged 5,7l/h on a tank used with gusto in the dirt, on road and two up. Typical real world consumption. The 20l tank giving decent range. The V-Strom has a decal on the front which reads 'Sports, Adventure, Tourer'. They could not have stated it better.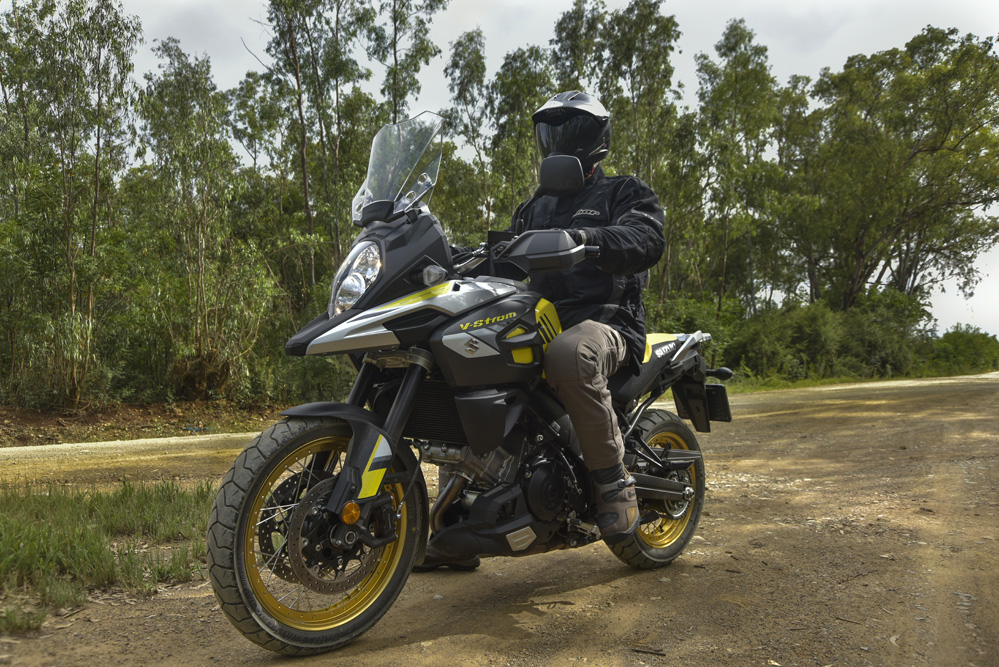 Adventure bikes are all about finding the correct degree of compromise. Go with a 21" front wheel and your road stability is compromised to a degree. Spoon on long travel suspension and the same applies. Most of our riding is on the road with occasional forays off-road, yet we focus on off-road ability as if that were the Holy Grail. I found in the Suzuki a bike that allows you to be flat footed at a robot, stops and goes better than most, allows you to cross continents reliably and in comfort, and will embarrass supposedly more competent in the dirt. All that at a class leading price! It really doesn't get better than that.
For more information visit: www.suzukimotorcycle.co.za