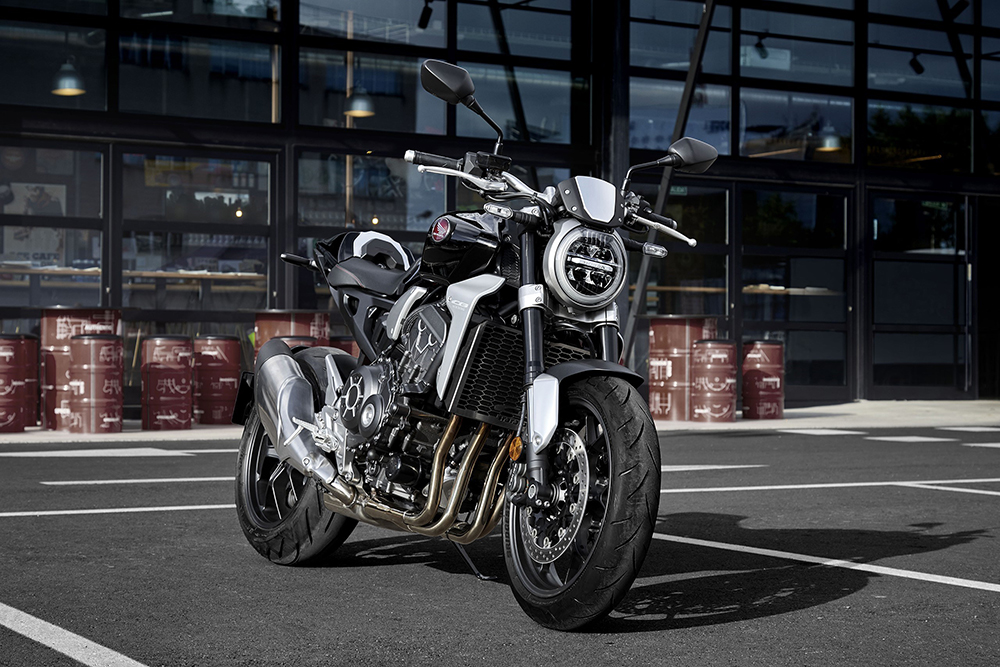 How to make a motorcycle better? The usual recipe is to put more power and retrench some weight. Honda, obviously followed this path. But while the new, so called "neo-sports-café" design slightly changes the bike's perception, Honda worked hard to keep the previous CB1000R's main asset: an incredible balance and easiness to ride.
As with the previous CB1000R, launched in 2008 (and not imported in South Africa at the time), the new model's engine is still developed from the 2006 CBR1000RR Fireblade plant. Although Honda did not want to enter the power race in the super-naked segment (the Triumph Speed Triple now produces 150 hp, the Yamaha MT-10 does 160 hp, and a KTM 1290 Super Duke R makes a steady 178 hp!), the development made to the engine has been far from minor.
In fact, the whole engine has been upgraded, with significant work done on the head and valve train. Like in the SP versions of the Fireblade, the pistons are now forged, hence the compression ratio has grown from 11,2 to 11,6:1. Throttle bodies are bigger: 44 millimetres instead of 36.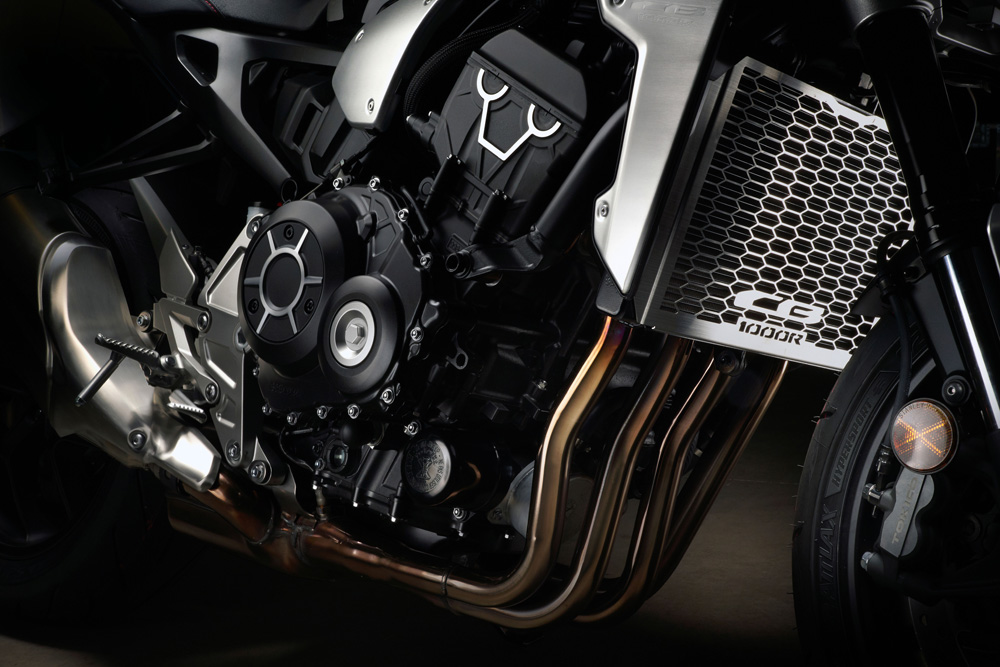 Everything is now in place to get more power and torque: if the previous CB1000R was doing 125 hp at 10300 rpm and 100 Nm at 8000 rpm, the new one is now good for 145 hp at 10500 rpm and 104 Nm at 8250 rpm. Not a bad improvement, indeed. For stronger acceleration, the gearbox's first three gears have been shortened by 7,5 % and a genuine Honda Quick-shifter can be fitted onto the bike.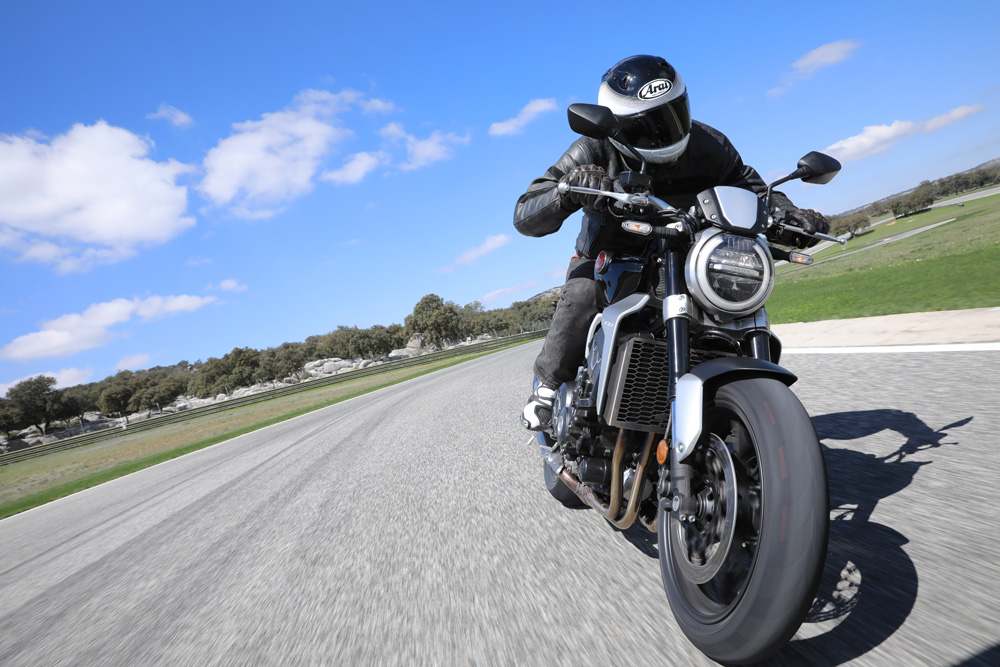 Honda has also worked on a brand new exhaust (compliant to the Euro 4 regulations), and has lost 4,5 kilograms over the previous generation. Honda are particularly proud of the "deep growl" exhaust note. I'm more sceptical on that point: the exhaust note is fine but not particularly outstanding, although it revs freely and sounds sportier above 8000 rpm.
The CB follows its own path
Before starting our ride, which took place in a sunny south of Spain, between the cities of Malaga and Ronda, which I consider being a kind of biker's heaven (and, as a bonus, we had a couple of laps on the magnificent, yet private, Ascari racetrack). I keep checking the bike from all angles. With its "neo-sports-café" concept, Honda has moved from the rather aggressive "manga" design chosen by some of its competitors (Kawasaki Z1000, Suzuki GSX-S 1000 and Yamaha MT-10 to mention a few) to get a very subtle mix of minimalistic, futuristic and yet classy design, which is also shared by the MY18 CB125R and CB300R.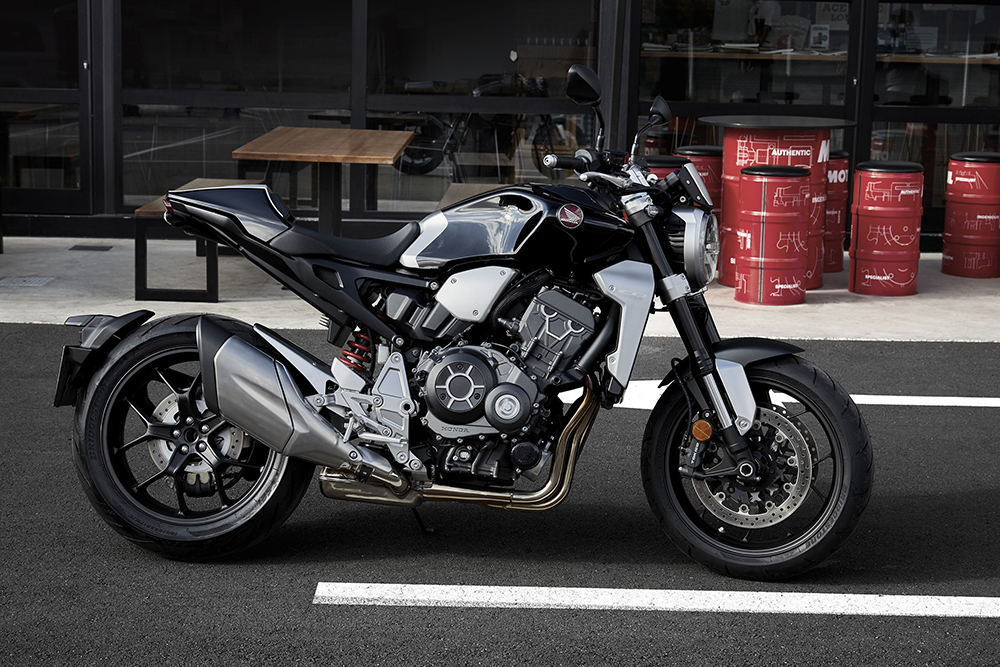 The bike's bodywork is more compact than on the previous generation, and the upper lines are based on a smaller headlight (it's surface has been reduced by 30 % compared to the previous one), a rather bulky fuel tank, covered in deep paint (black, red and grey are the three choices of colour) and a seat with no side panels.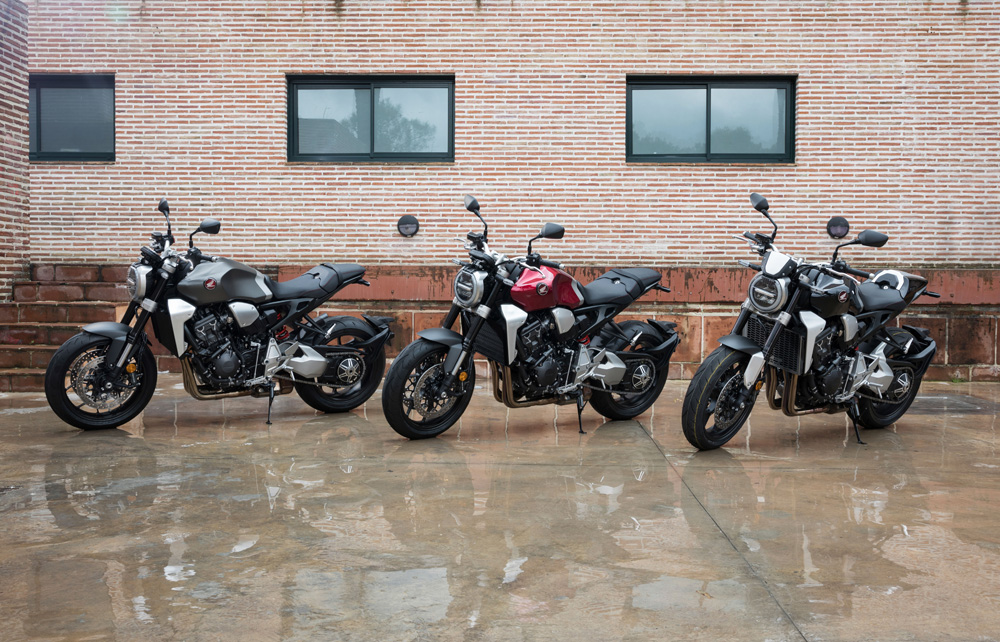 Some genuine aluminium parts (front headlight cover, seat, grilled radiator) were fitted on our test bike and they just look great. We also had the Quick-shifter and the optional heated grips, quite useful for an early start, as this was towards the end of winter, in Spain.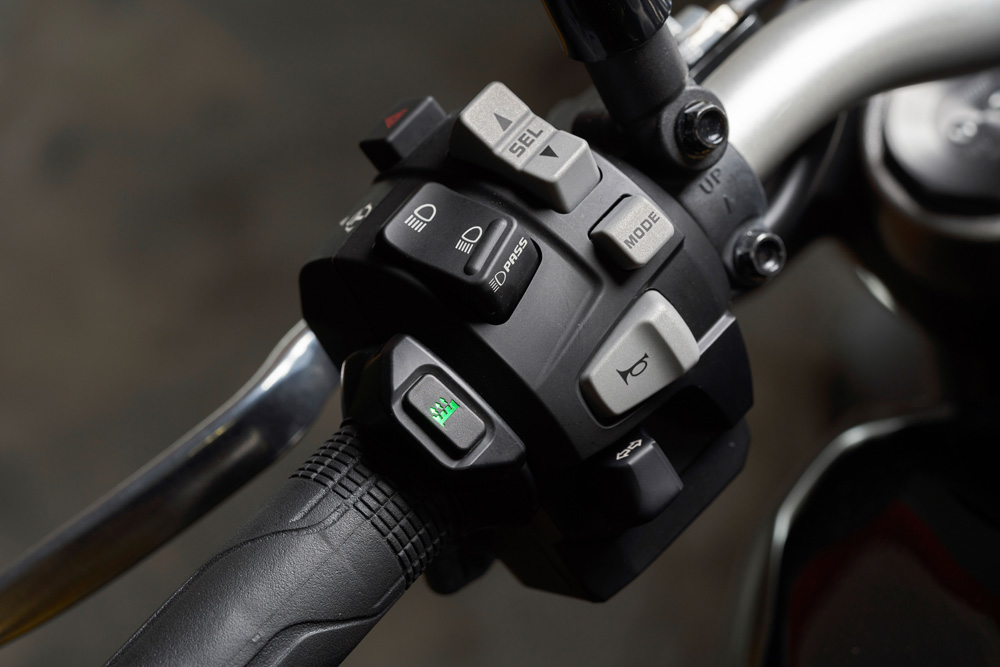 Engine management is now controlled by throttle-by-wire technology, which means that the CB1000R now offers
rider assistance. According to your riding style and the road conditions, you have the chance to make your own selection between three traction control modes, three engine braking and three power modes, either preselected on the "rain, standard and sport" menus, or making your own combination in the "user" mode. All of that is very ergonomic and easy to get through, thanks to the left-hand side switch-cubes with the "select" and "mode" functions, and with a brand new digital instrument panel.
A long-time friend
The seat height stands at 830 mm (5 mm higher than before) but, thanks to a brand new chassis (a tubular steel frame), the CB1000R is rather narrow at the seat and tank junction, and that makes the bike very easy to get familiar with. The riding position is quite laid-back, as the handle-bar being is 13 mm higher than the previous generation.
In typical Honda tradition, a couple of kilometres are sufficient enough to transform the new bike into a long-life friend. From the feeling and the precision of all the controls, to the incredible smoothness of the in-line four (at 50 km/h in top gear at below 2000 rpm, the mill is just a peach) to the perfect balance of the chassis, everything feels just so finely tuned. Well, it's a Honda. Enough said.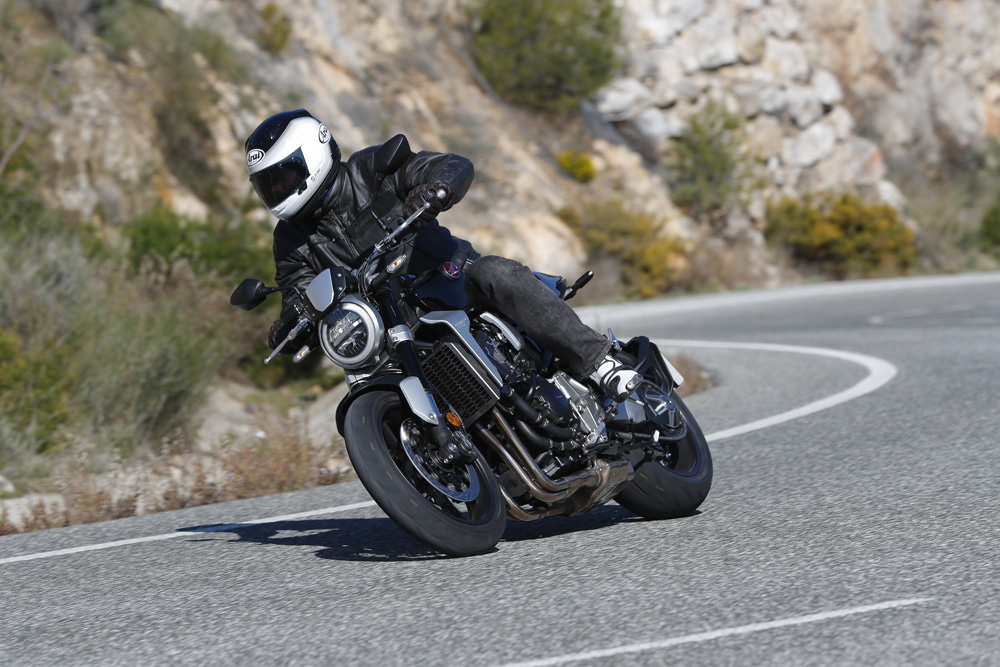 That means you really need to split hairs to find something really wrong about this new piece of machinery! Yes, the digital rev-counter is not particularly precise to read and the fuel consumption, during our (rather high-speed) test gave us a fuel reserve light after only 160 kilometres.
Besides that, it was just fun. Loads of fun: once in action, the CB1000R steers totally intuitively. We did nearly 200 kilometres of mainly mountain roads and a couple of laps at Ascari (which was not a proper track session – as we where asked not to wear racing gear, so in blue jeans – yet Kevlar reinforced, you un-consciously become more cautious), although, with such a precise front end, overall easiness to ride, and perfect balance: the Honda CB1000R is such a great bike!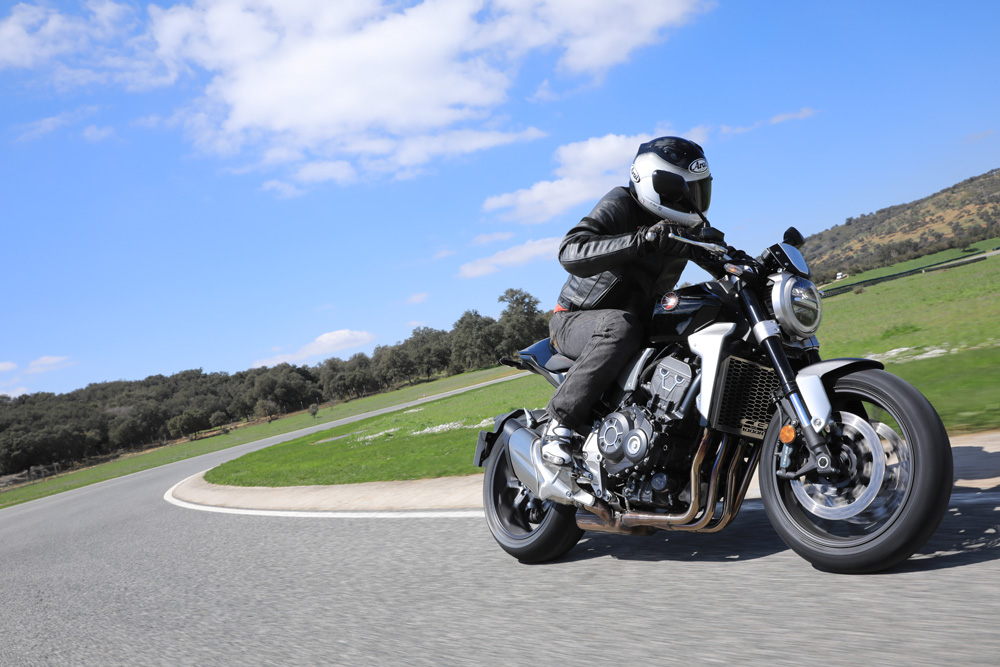 Anyway, I can give you even more good points: 145 hp is enough to get that naked bike speed feeling, and the new in-line four revs quite freely, with a deep sound note from 8 to 11000 rpm. The new Showa suspension gives a subtle mix of great feedback, yet real comfort (much more than its Kawasaki and Suzuki counterparts). The OEM Bridgestone S21 delivered plenty of a grip all day long, including our track sessions.
Yep, some super-naked's are more powerful, but this one has an unique mix of modern with a classic touch, and its outstanding Honda qualities makes it hard to beat. To commute, for the breakfast run or to make an impression, standing in front of your favourite coffee shop, the CB1000R is a real winner!!