Here is an exotic Italian sport touring bike with some serious new tech, SCS, for Smart Clutch System, which basically dispenses with using the clutch lever. How does it work? We flew to Italy to find out…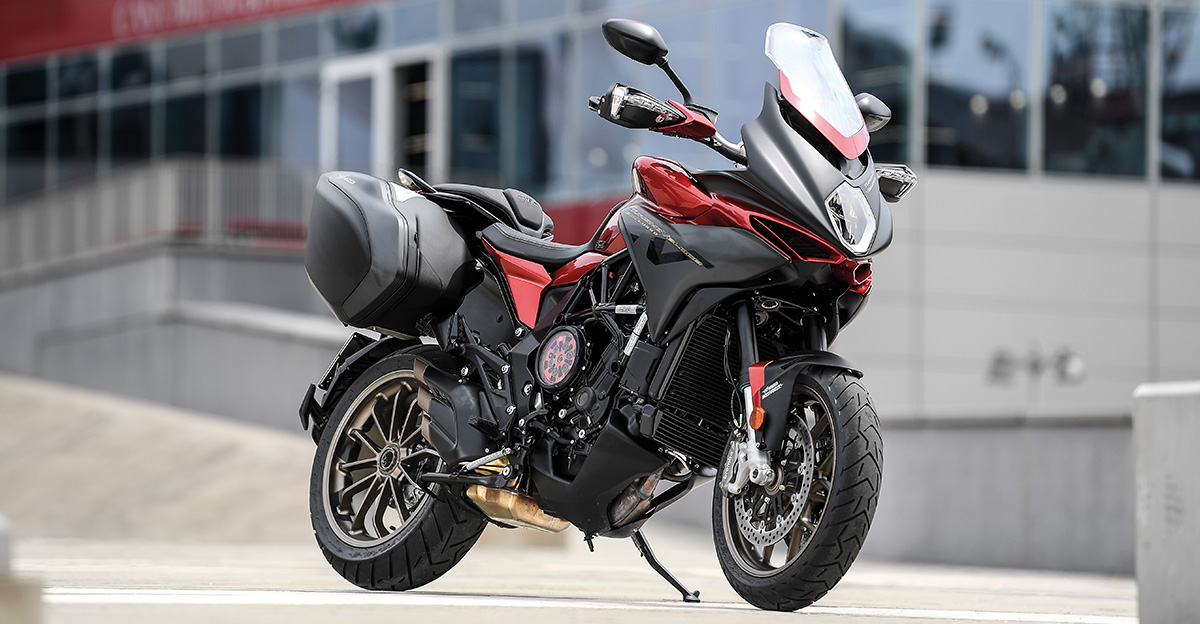 The clutch housing is transparent, which is evidence that there is a fancy clutch on this new MV Agusta Turismo Veloce 800 Lusso, but it is much more than that. This is a total new riding experience: 99% of the time you won't need to use the clutch lever at all.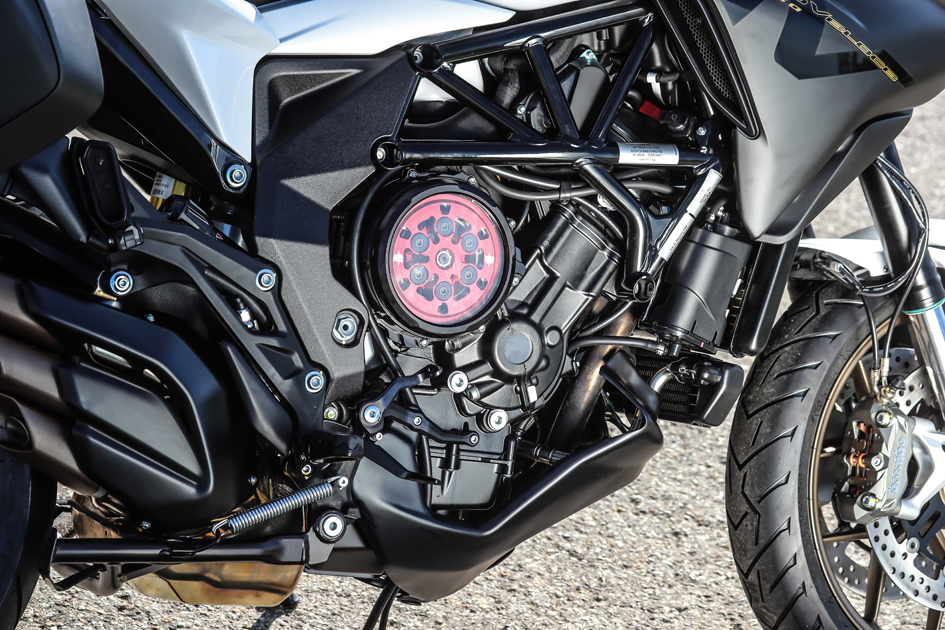 The Honda dual-clutch system, goes even further by eliminating the clutch lever all-together. However, the technology that Honda is using weighs 10 kilograms, whereas the MV Agusta system is accountable for only an extra… 36 grams! And for MV Agusta, that is the point: the bike remains as light and fun to ride as ever, as befits a genuine MV Agusta. The Turismo Veloce Lusso SCS weighs only 192 kilograms dry, which is remarkable for a bike in this class.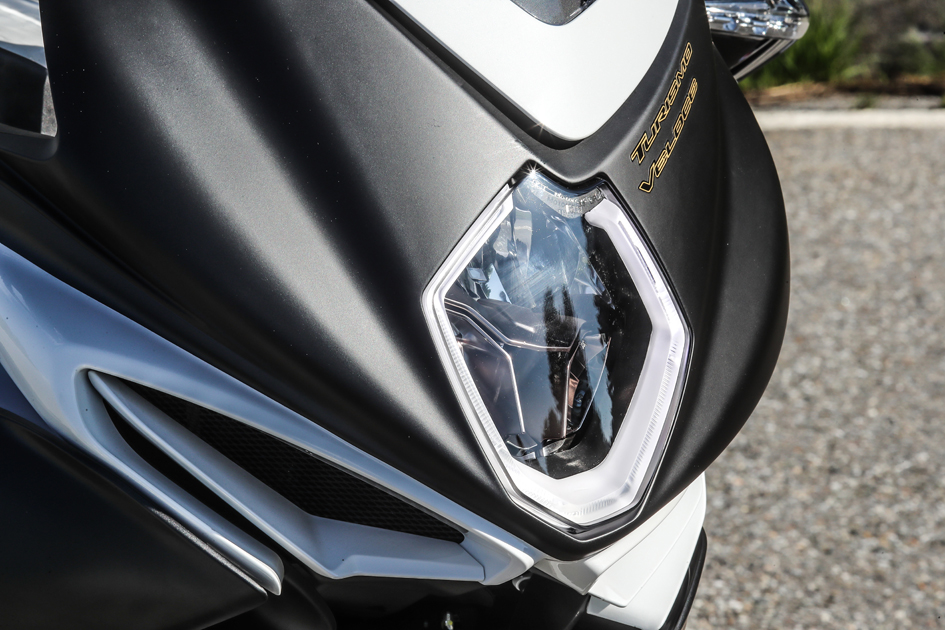 So how does it work? The system is a joint venture between MV Agusta and the American company Rekluse, well known for their automatic clutch applications for enduro and off-road bikes, which makes them easier to ride in tricky conditions. MV Agusta has developed complex electronic software to accommodate the Rekluse technology for use on much heavier and more powerful bikes.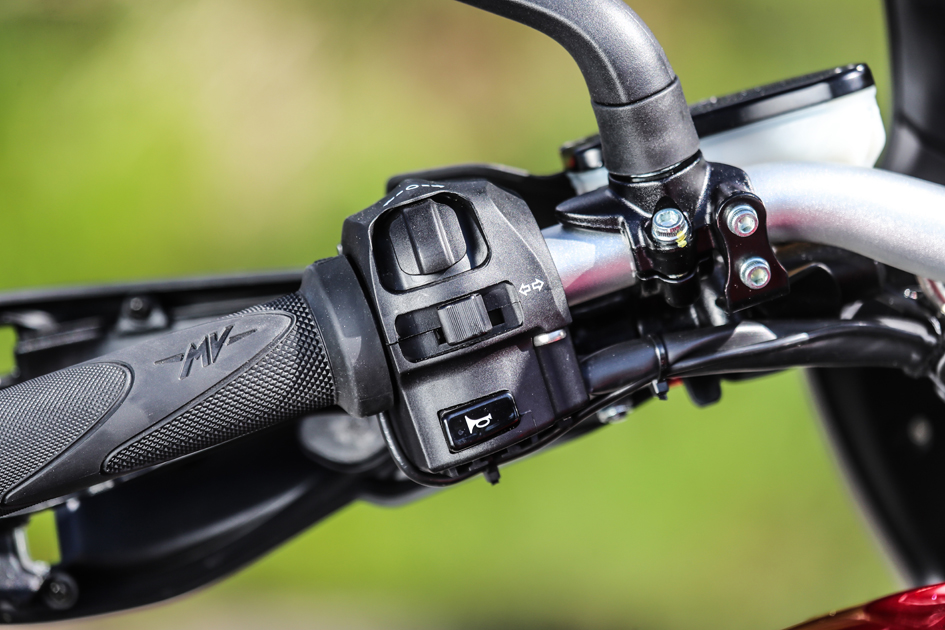 A clutch is normally made using discs and plates: there are respectively 8 and 10 of them on the standard Turismo Veloce. The SCS version gets two more (10 and 12, then), and the main disc integrates six weights which engage, with centrifugal force, as determined by the electronics.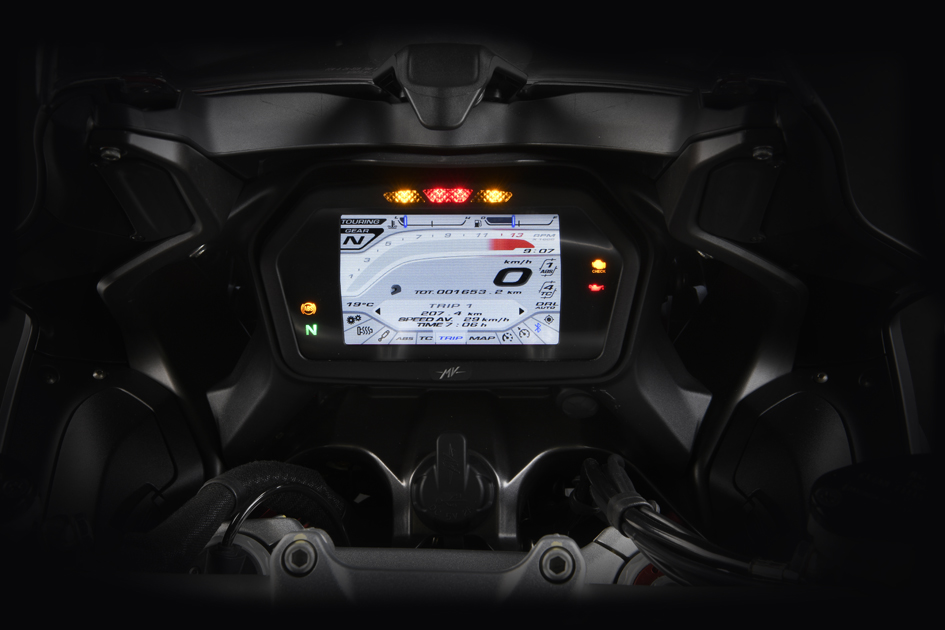 Before we go further, please also note that the Lusso is an optional version in the Turismo Veloce range, which also includes a standard version and the "Race Replica" RC (which features more carbon parts and the "World Supersport Machine Colour Scheme"). The Lusso, to give credit to its name, comes with a full set of features such as electronic suspension, three riding modes, eight levels of traction control, cruise control, Bluetooth® connection, a GPS sensor, and an up and down quick shifter. The Lusso version comes either in white/grey, or in a red colour scheme.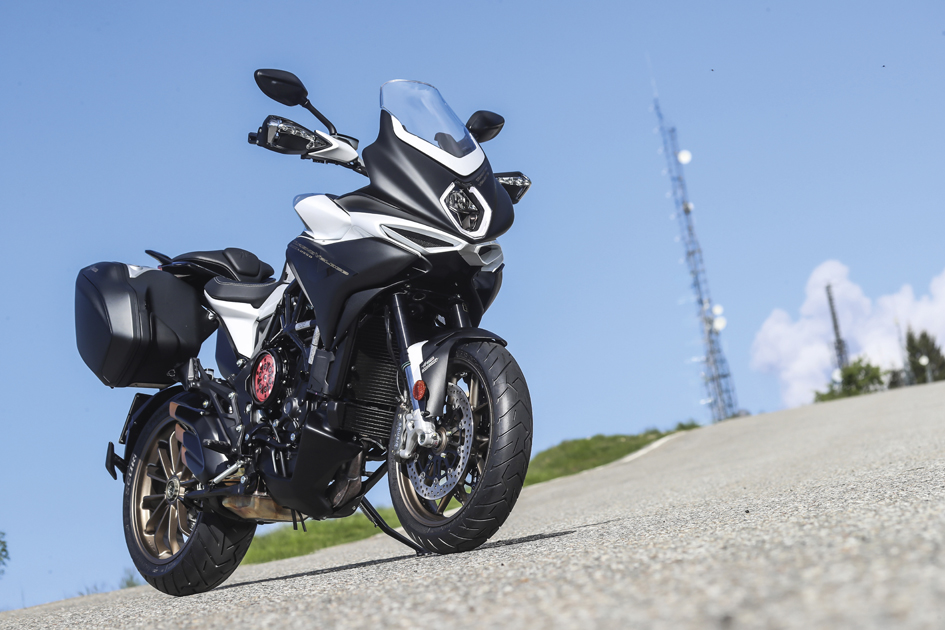 We had the chance to go to the MV Agusta factory in Varese (Italy) to ride both bikes, the SCS and the one with the standard gearbox, riding two loops in the sunny Italian Alps next to the Swiss border, which were perfect road testing conditions, indeed.
Look, no hands!
It is so easy to forget that you barely need to use the clutch lever as the SCS system is so seamless and efficient.
Let's try a couple of things. Engage first gear and then release the clutch as fast as you can, as if you wanted to stall the motor. Nothing happens. No vibration, no weird noise, no mechanical jerk or bike convulsion, absolutely nothing at all. The bike is still running at idle and if you open the throttle gently, it will move like, well, a scooter. But then if you open the throttle wide – Wow. MV Agusta technical director Brian Gillen says that only a professional drag racer will be able to match the SCS system.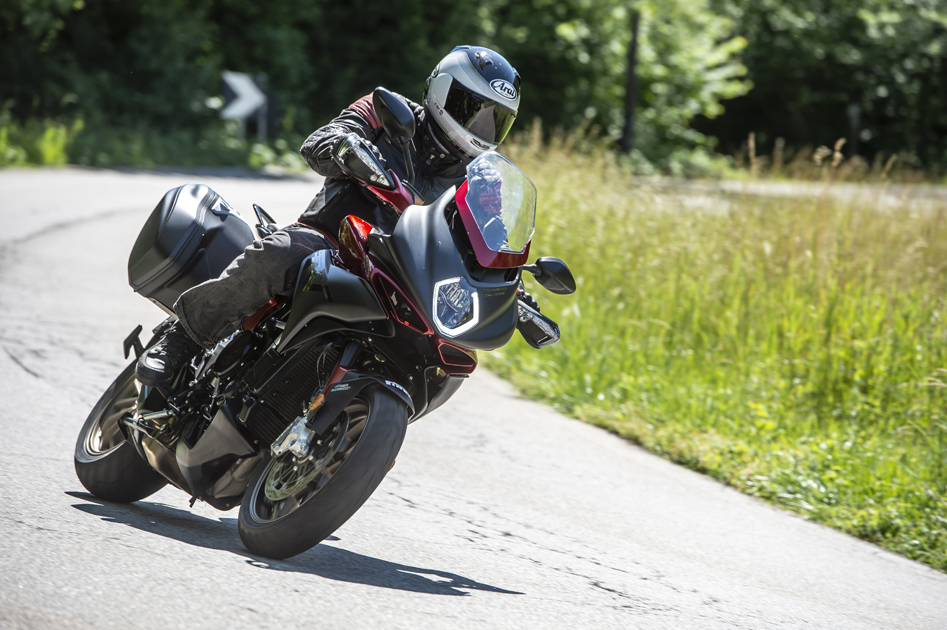 So off you go. You can progress in the city, using the gear shifter to shift up and down and forget about using the clutch lever. A robot? A roundabout? No clutch lever is required, and you can even stop in 2nd or 3rd gear, and then pull away. For the sake of  experimentation, I even tried to start in sixth gear, and although it's not recommended for the clutch longevity, it does it, although you have the kind of 125 cc, Chinese scooter acceleration up to 50 km/h before it gets better, thanks to the in-line triple torque. In the city, you can even do some parking manoeuvres with the first gear engaged and still push the bike backwards to park. All this is done seamlessly, which means it doesn't take long for the rider to get fully accustomed to the system.
A sport-bike in disguise
According to Claudio's son, Giovanni Castiglioni, the Turismo Veloce 800 is not, despite its  "road-biased dual sport bike" characteristics, a soft touring machine like the GS's and the Tiger 1050. It's an authentic MV Agusta and therefore has genuine sport abilities, matched with an unprecedented level of comfort.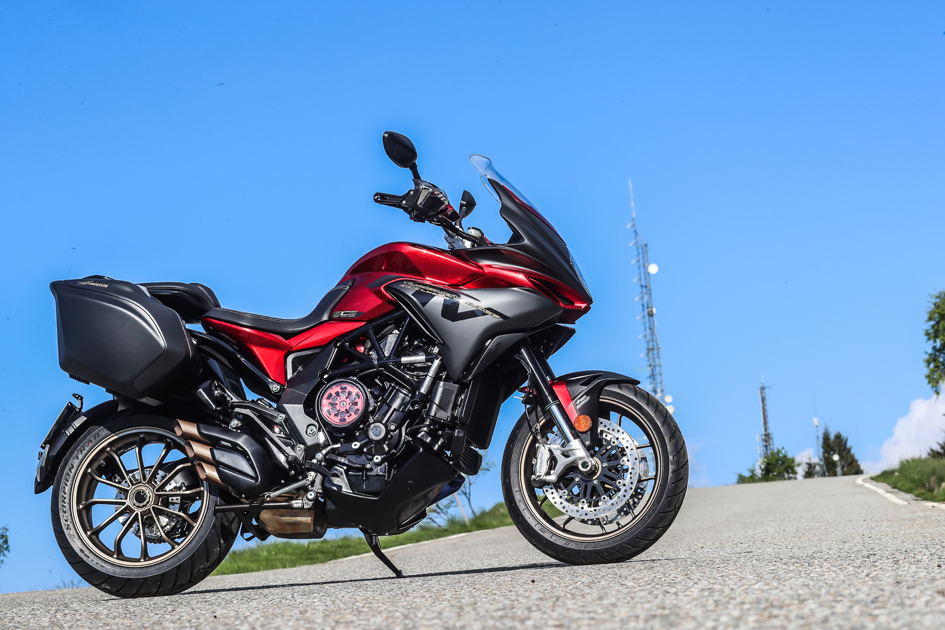 The in-line triple engine has some unique features in its class, in the form of a counter-rotating crankshaft, which helps to improve cornering efficiency. Besides that, the power figures are 110 hp at 10150 rpm and a steady 80 Nm of torque at 7100 rpm. These figures perhaps don't look that impressive, but the 230 km/h top speed is, and we still need to talk about the engine characteristics!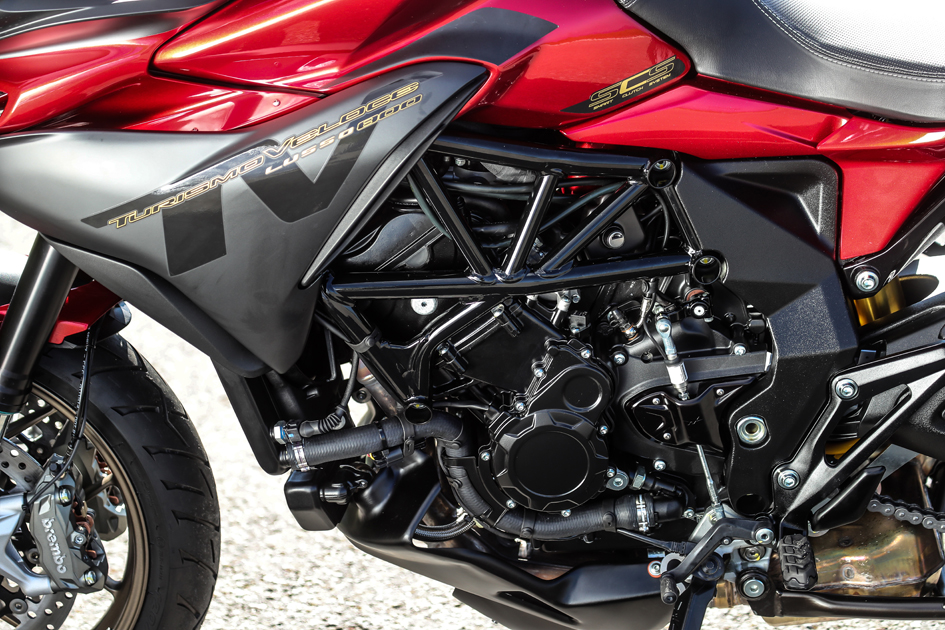 The engine note is rather soft at low revs but becomes so much more expressive in the second half of the rev range with some popping and other aural magic, thanks to the quick shifter. Touring is what she can do, thrashing is what she likes!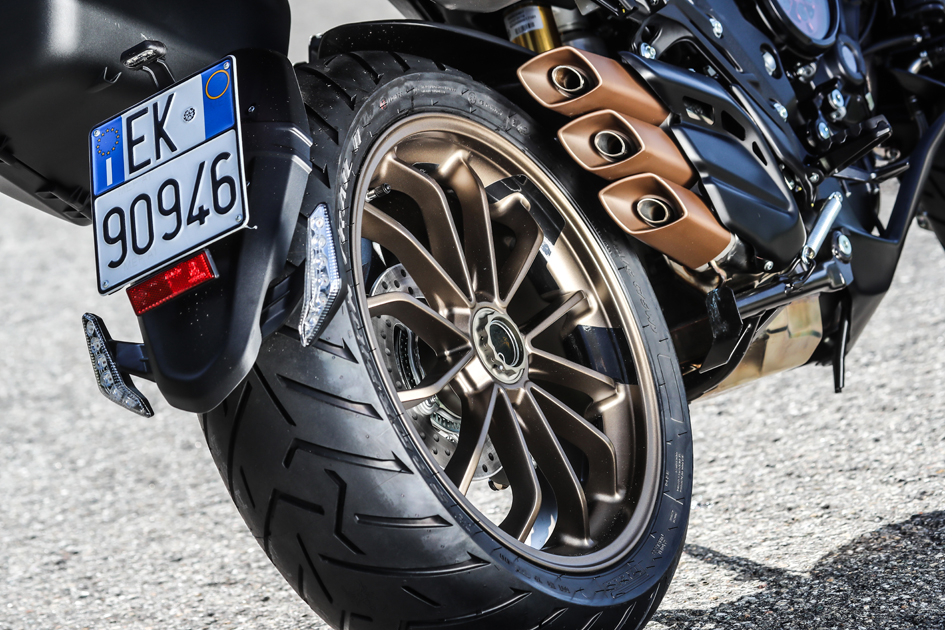 Once on the mountain roads, the chassis is another cause of great enjoyment. The counter-rotating crankshaft certainly plays its part, and paired with the frame geometry and the electronically managed Sachs front fork and rear shock (rider alone or with pillion can be selected, and with or without luggage) provide efficient and very sharp road holding. The front end is so precise that you often feel as if you are on a 600 supersport… with wide handlebars, obviously.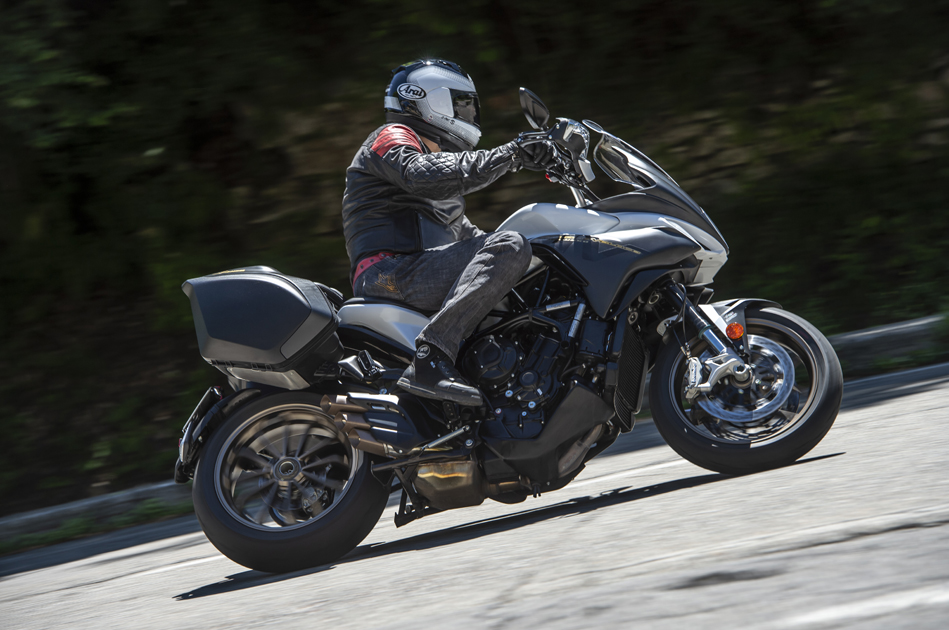 So, with two 30 litre panniers, a weekend away is on, but please indulge yourself by selecting friends riding superbikes, as well as an itinerary including; mountain passes, sharp bends and great tarmac. The Turismo Veloce's ground clearance and great brakes, make it a bike that will be difficult to follow through many corners, whilst being comfortable enough for enduring the convoy till you get to the real playground.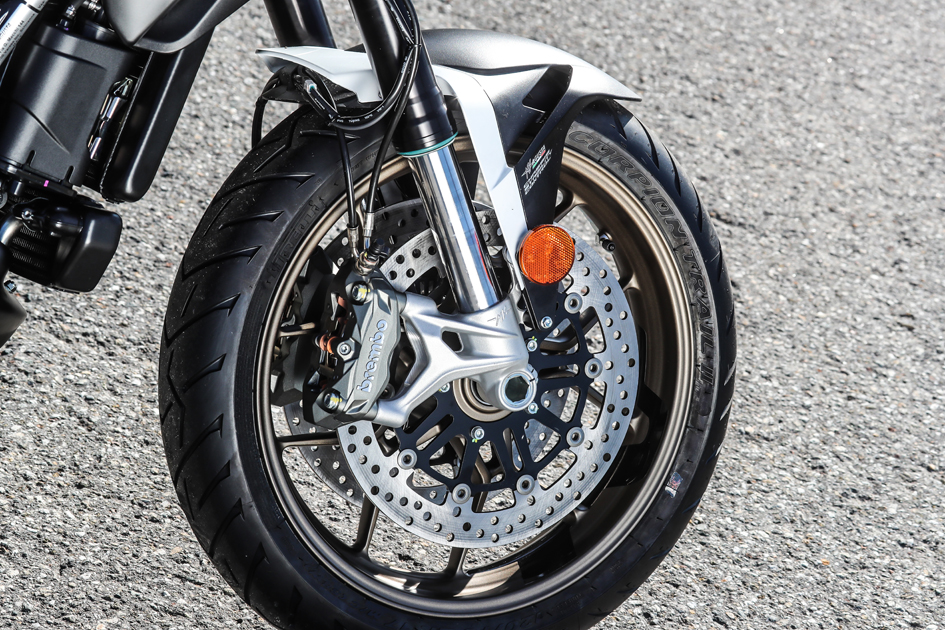 One might wonder though, why it costs exactly double the price of a Yamaha Tracer 900, which has a lot of similarities. There is the SCS clutch of course, but this is the price for limited quantities, a historic Italian brand with a premium badge, a lot of GP victories and titles and a part of the Giacomo Agostini legend! And on top of that, the level of refinement and sensations are not comparable with more mass produced motorcycles. And, in addition, you'll be able to forget about your clutch lever 99 % of the time. So what about the remaining 1%?
Well, it's just for pulling wheelies!
For sure, this MV Agusta is opening a new chapter of motorcycle history. The Italian brand says that the SCS techno will come in more bikes in the near future, and it also has some racing applications.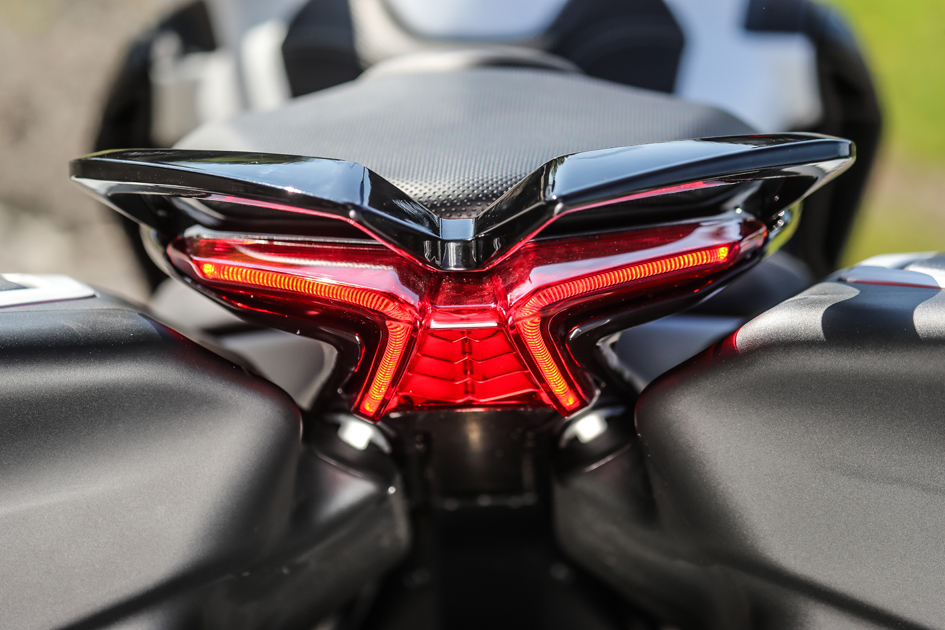 We asked the people at MV Agusta, why do they not allow us to change gear simply by pushing a button? They replied; "Anything is possible".
So, perhaps in the future, we will see either push button or paddle shifts as a gear select option on motorcycles.