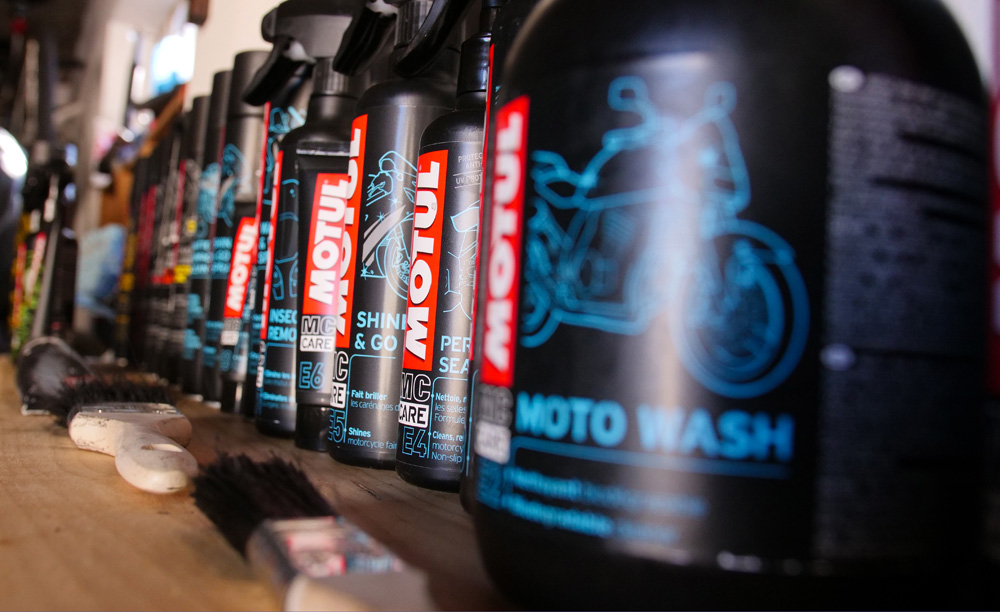 I recently told you about the trip we did a while back around Botswana on 160 and 180cc TVS motorcycles. To best ensure their reliability in harsh riding conditions, we all used Motul's excellent 5100 oil. We were rewarded by minimal oil consumption and absolutely no mechanical issues whatsoever. Testimony to TVS build integrity, and the benefit of using a premier lubricant. I have always advocated the practice of washing your own motorcycle regularly. The main reasons being that nothing familiarizes you with your bikes working parts better than cleaning it properly. It also allows you the opportunity to check the overall integrity of your bike regularly. Loose, or missing nuts and bolts, sticky operating parts, like levers and side stand can be identified and rectified. Keeping all these things shipshape make your bike safer and more pleasant to ride.
Enter Motul's range of bike care products. I recently acquired a Kawasaki KLR 650, second hand of course. The first thing I do when I buy a used bike is clean it. Firstly because I am a stickler for a clean and tidy bike, and secondly, I assess the in depth mechanical shape that the bike is in. To aid in this refurbishment I used a number of Motul products. We tend to know Motul primarily as an oil company, rather than as manufacturers of a comprehensive range of products dedicated to caring for your pride and joy.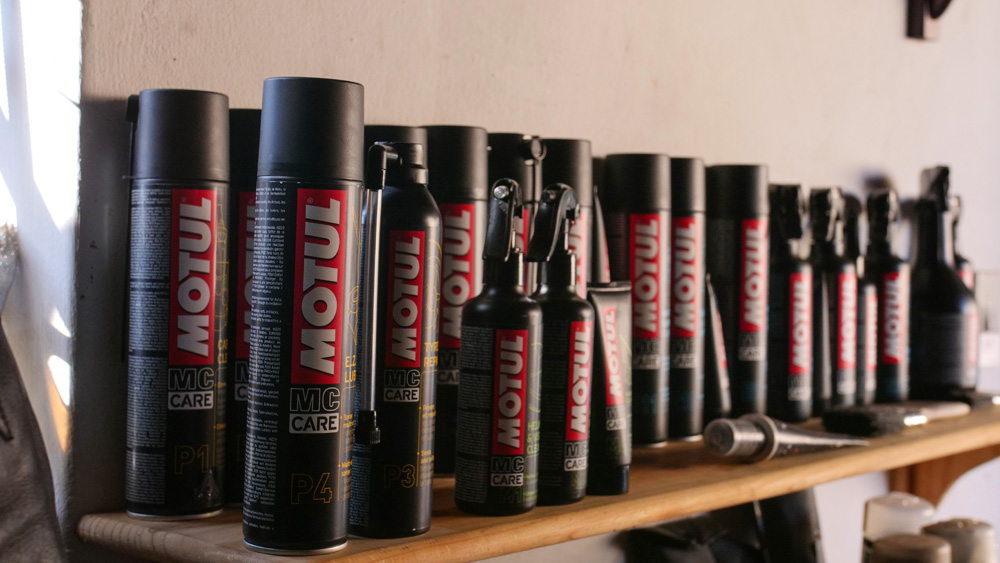 First step was to remove all the KLR's sidecovers to clean it "to the bone". Following the directions, I sprayed the bike down, then squirted Motul Moto Wash all over the bike, as well as Wheel Cleaner on the wheels and hubs. Using a sponge on the bodywork and a brush on the wheels, I loosened ingrained dirt, then blasted it all off with my Power washer.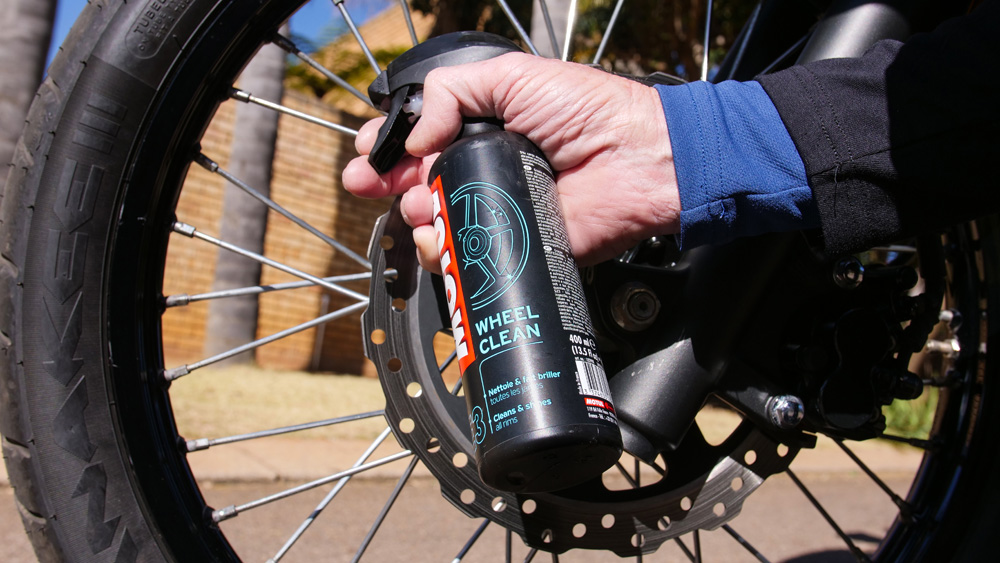 Big word of warning; don't use your power washer on electrics, seals or chain. Water can be forced into areas that are damaged by water ingress. Also stand back when you spray off bodywork, lest you blast off stickers in your enthusiasm. Next step was to dry the bike thoroughly with a synthetic chamois. Sidecovers can be cleaned in a bucket with a sponge, using Moto Wash sprayed on stubborn dirt.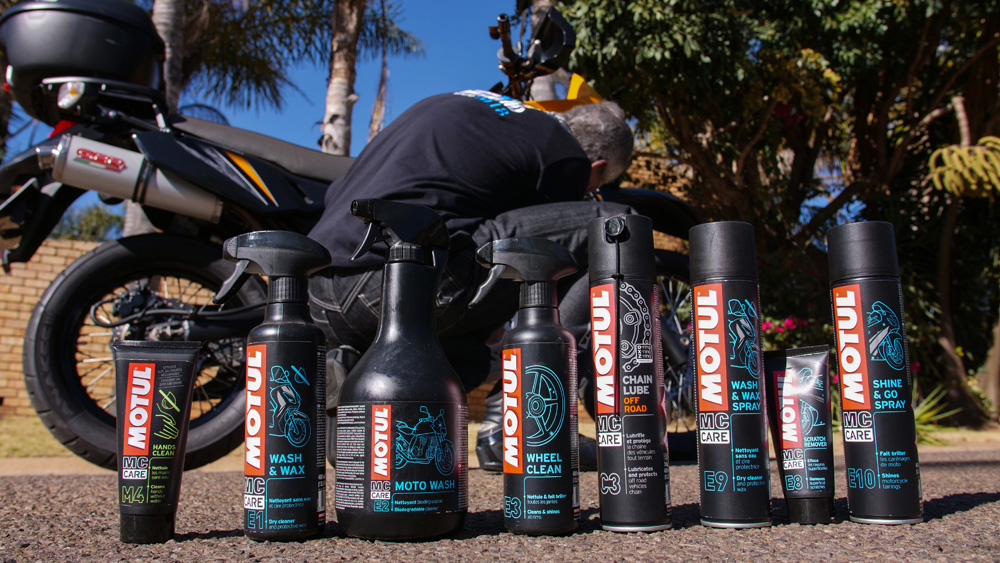 With the bike now essentially clean and dry I started applying the "makeup", that is the stuff that restores the lustre that the bike had, when it stood on the showroom floor. The exhaust is a bitch to clean properly, as the heat has literally baked the road gunge onto it. I found Motul's scratch remover particularly good at removing this film of dirt. I did find it to be quite abrasive, so care should be exercised when applying it to softer metals or finishes. Patient, soft polishing, works better than trying to rub the hell out of the spot. I noticed some hard to reach places that had not come completely clean, so I sprayed some Wash and Wax onto the bristles of a new soft 2" paint brush, and got into all those dirty spots. After a minute or two I polished it off with a soft cloth, and voila!, like new again. This Wash and Wax comes in a bottle with a two finger trigger type pump.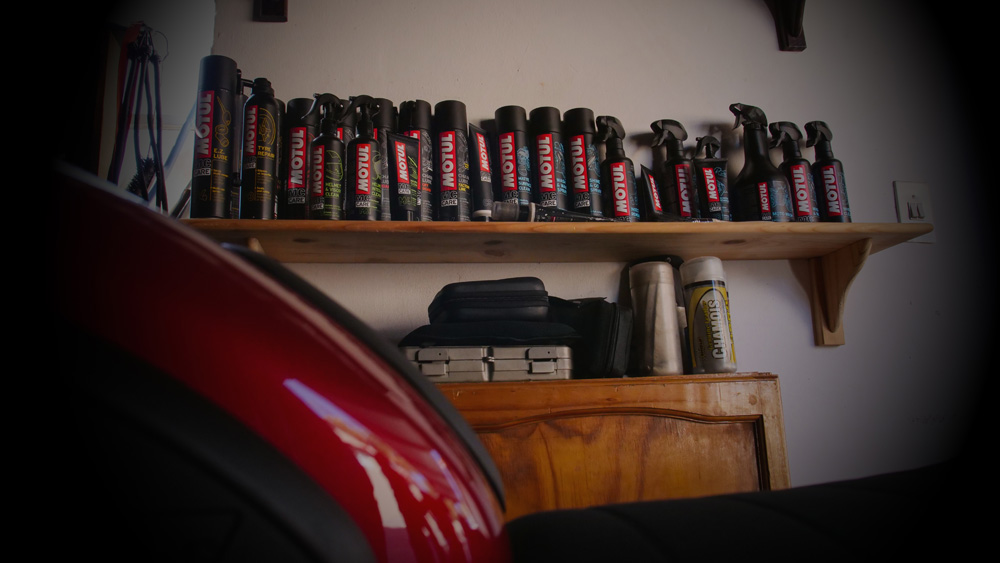 The beast is starting to really take shape, and I'm getting really impressed by the new bike that was hiding under the gunk. To put the finishing touches on the paintwork, I used some Shine and Go aerosol spray.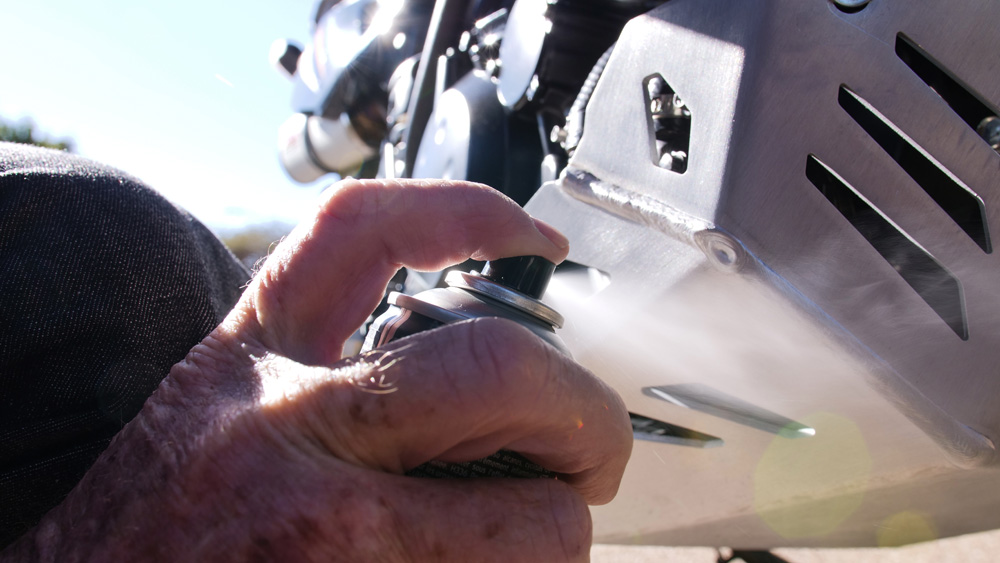 The dull plastics took on a new bike sheen once again. Quick squirt of Motul Offroad chainlube and I'm ready to ride my "new" KLR. The bike is yellow and black, and looking at the shiny beast after it's Motul makeover, aptly named it "Killer Bee". The bike was really transformed by spending some time, and a little effort, with the help of really decent and appropriate products. What still looked seriously second hand were my hands! A lot of the dirt from the bike had transferred itself to my paws. Enter the Motul waterless handcleaner. Everyone should have a tube of this magic kit. Squeeze some into the palm of your hand, and rub it all over your hands, and keep rubbing. The dirt lifts off, and starts to solidify, and drop off your hands, leaving them clean as a whistle. Frikken' magic.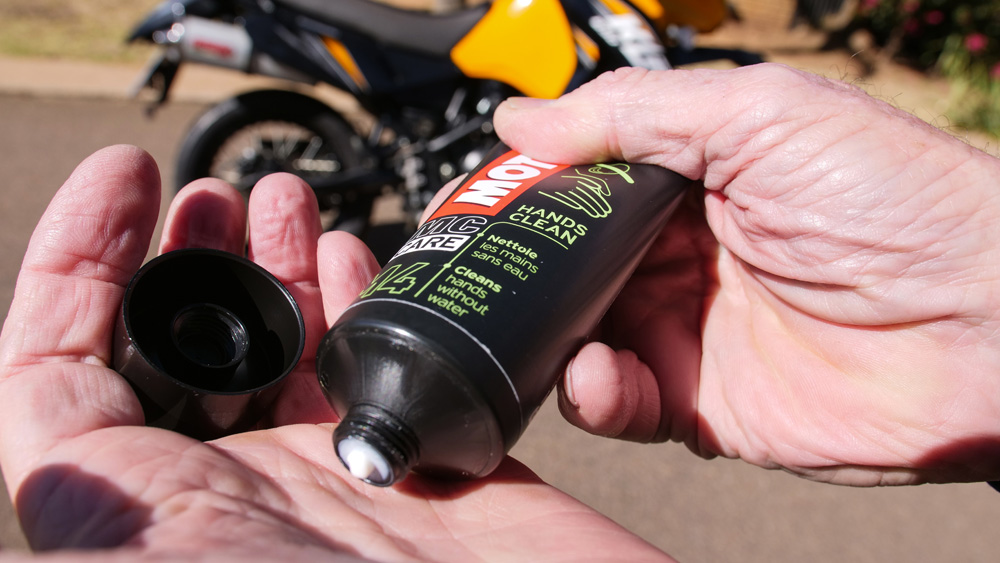 If you are serious about maintaining your ride, then take a look at the extensive range of Motul care products. As with their oil, it is excellent, and will help your bike to hold it's value.
For more information on Motul's full range of care products visit: www.motul.com/za