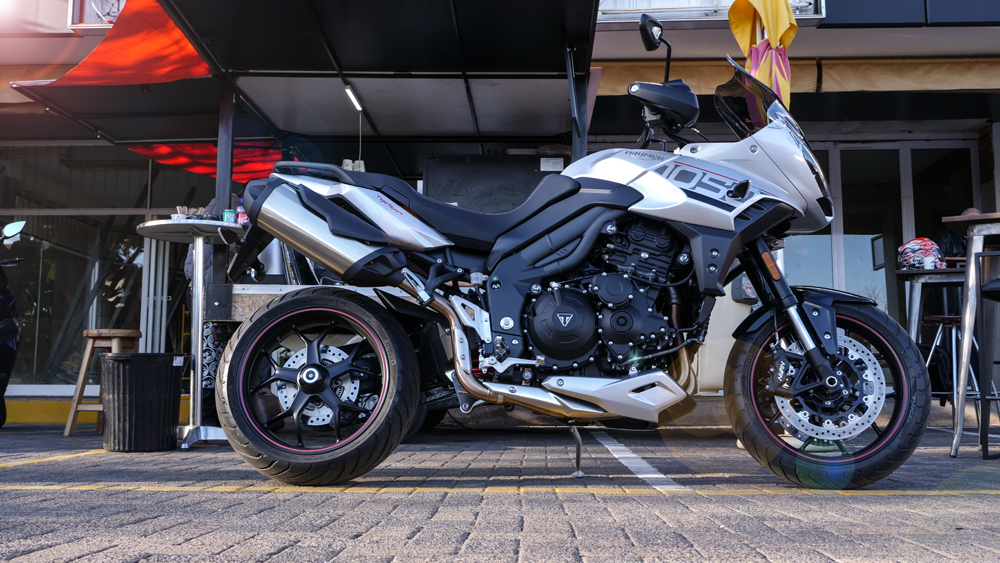 In recent years Triumph's Tiger range has been dominated by it's dual sport bikes. The 1050 Sport has kind of got lost in the wood work. Around 2016 the 1050 got a makeover. The motor got upgraded with over 100 changes. It is fair to say that it really is a new motor. The 1050 Triple churns out 126 hp @7000 rpm and 78,1 Ft Lbs of torque @ 9475. These figures almost suggest a peaky motor, given that the peak torque is made at higher revs than the horsepower.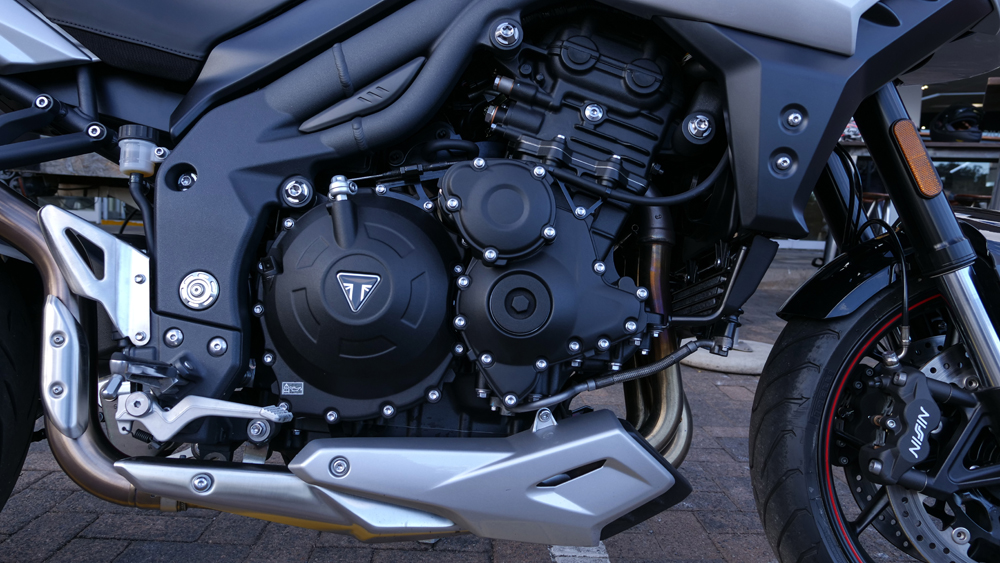 On the road this is not the case at all. Triumph have endowed the 1050 with slightly lower gearing, and the combination of gearing and power curves create a motor that is creamy smooth and willing, right through the rev range. It will toddle along at 70 kph in top gear without complaint, yet howl to redline with gay abandon.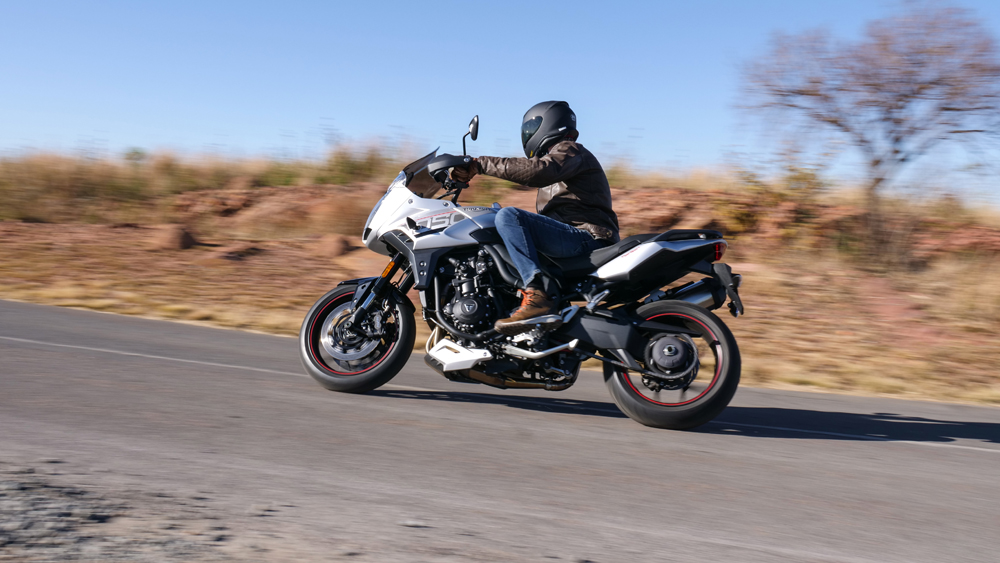 The tar Tiger looks sweet, to my eye anyway. Svelte body work creates a waspish image, with broad shoulders and a narrow waist. It has an almost mega motard look, with suspension that is 20mm longer at both ends compared to the Speed Triple. This look is emphasised by hand guards on wide bars that would not be out of place on a dual sport bike. They are actually really practical, as they keep winter chill off your hands.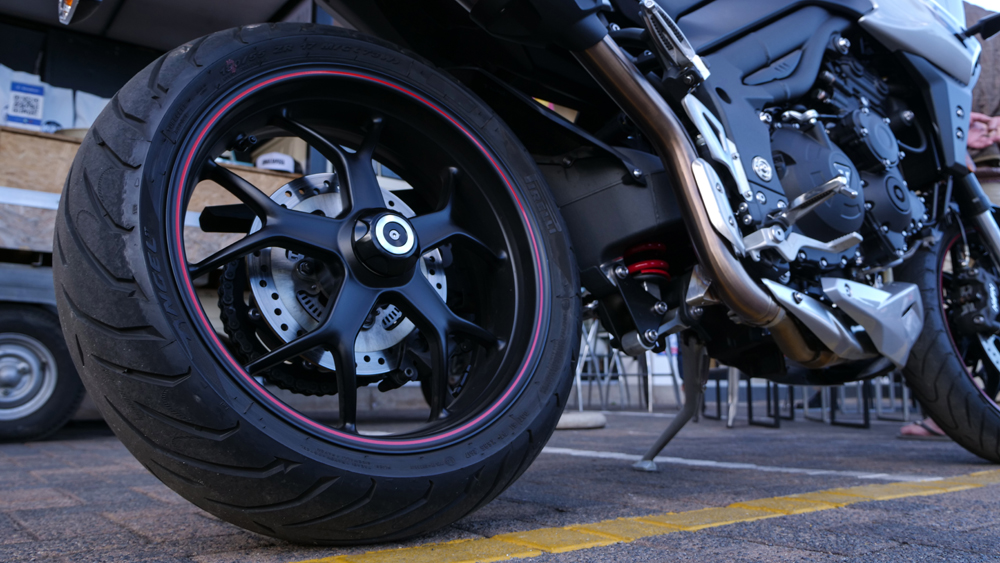 The single sided swing arm, 120/70 ZR17 Front wheel with 180/55 ZR17 rear, mounted  on handsome mags, look really cool. The seat is at a highish 830mm. Speaking of seat, it is a pleasant place to chill while you belt out the k's.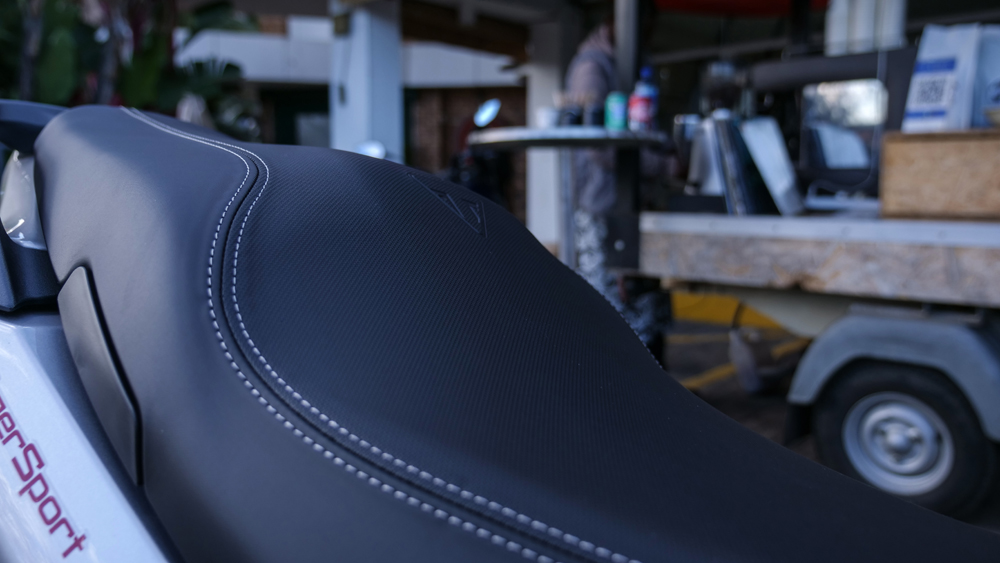 Passenger accommodation is equally proper. You sit in this bike, with legs comfortably straddling the 20 litre tank. The exhaust is a three into one, with the tailpipe exiting high on the right hand side. Like it's siblings, it makes the most marvellous sonorous three cylinder music.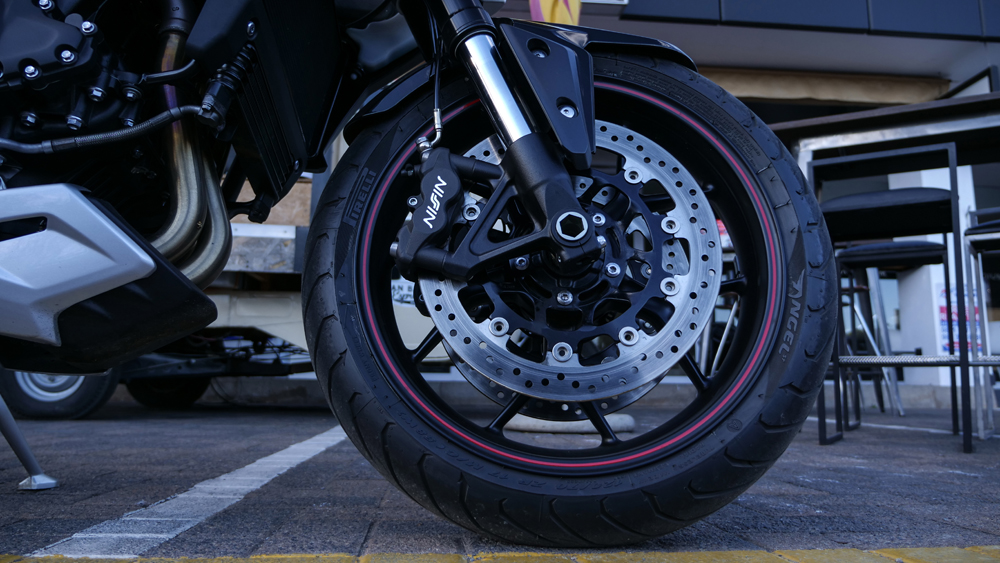 A subdued burble off idle , rising to a turbine like crescendo at redline. Lovely! Clutch action is super light and smooth, making negotiating traffic a doddle. At 218 kg's dry, the Tiger is not light, but not really overly porky either. The 4 pot Nissin callipers, allied to 320 mm rotors, provide plenty of feel and stopping power, easily taming the Tiger's lusty performance. Believe me, the performance is particularly lusty!.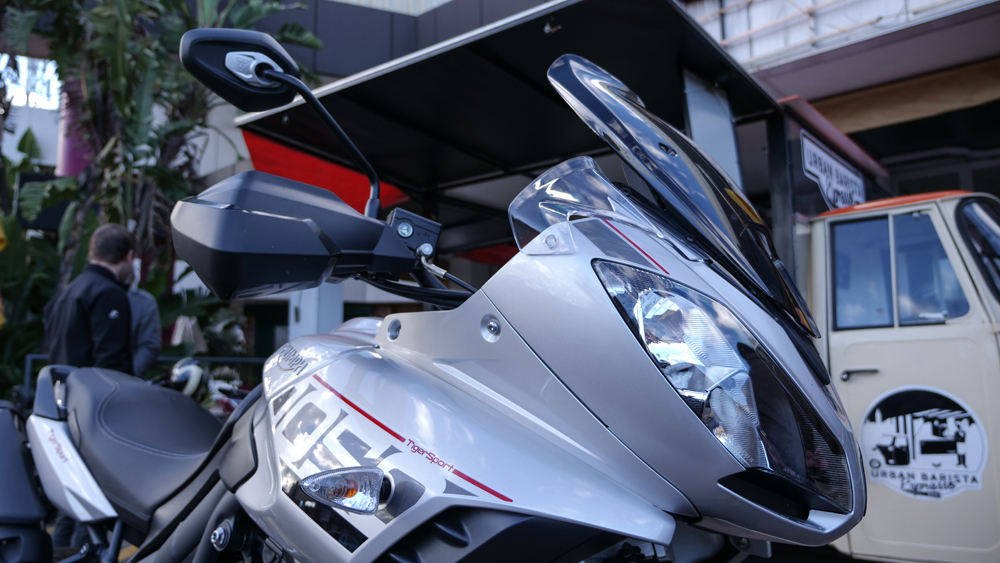 The screen is adjusted for height by hand. Triumph say that this can be done on the fly, and yes, it can, however it requires a bit of fancy hand work. I would recommend stopping to make height adjustments. The screen , together with a couple of wind deflectors on the fairing, do a great job at keeping the cockpit in smooth air.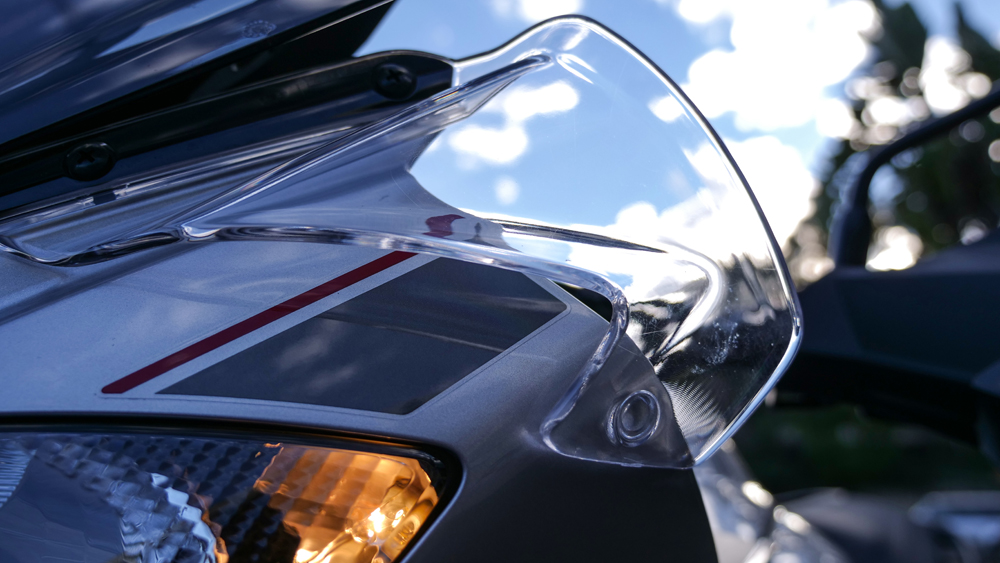 This is really a bike that can do it all, on tar that is. The benefit of the extra suspension travel makes the ride plush and compliant, even over really crappy surfaces. The ride quality does come at the cost of Speed Triple steering sharpness, but given the Sports Touring nature of the bike, I think they have got it spot on. On a bumpy road, like Long Tom pass, you may well give a sport bike a torrid time, as the Tiger Sport will not be upset by bumps on your chosen line.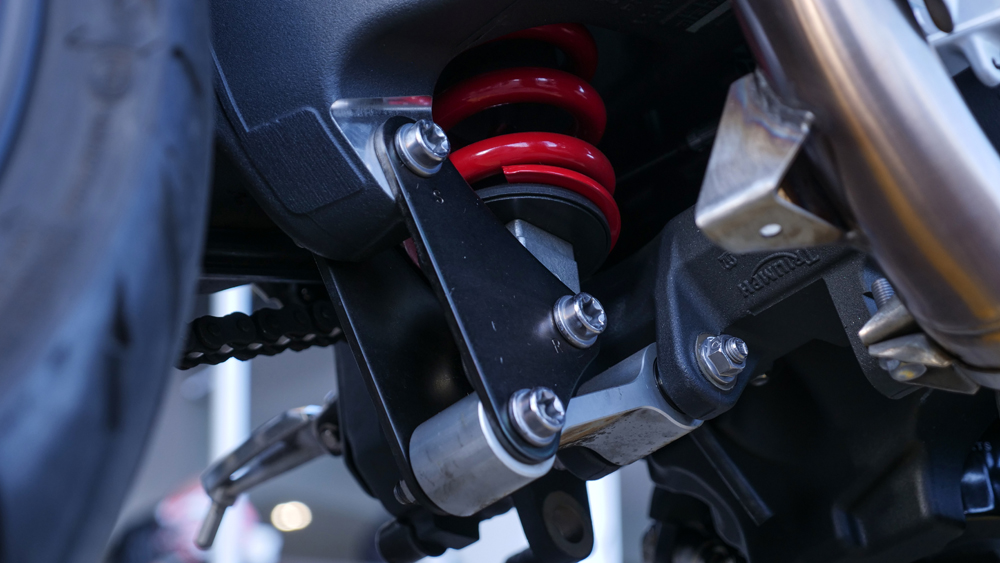 The Showa shock and forks are wonderfully damped and sprung, resulting in a sublime ride. Bikes are about form and function. Ideally they look good, and in the perfect world they would work well too. In reality, there is often a compromise. Cruisers are an example of this. They look oh so cool, with their low-slung, laid back look. Unfortunately that also means minimal suspension travel  and feet that are in front of your body. This means that not only do they not do bumps well, but you can also not lift yourself out of the saddle to ride the bump. As alluded to earlier, the 1050 Tiger handles really well, but lacks sport bike accuracy. A sport bike on the other hand, is pin sharp, but generally hard and uncomfortable.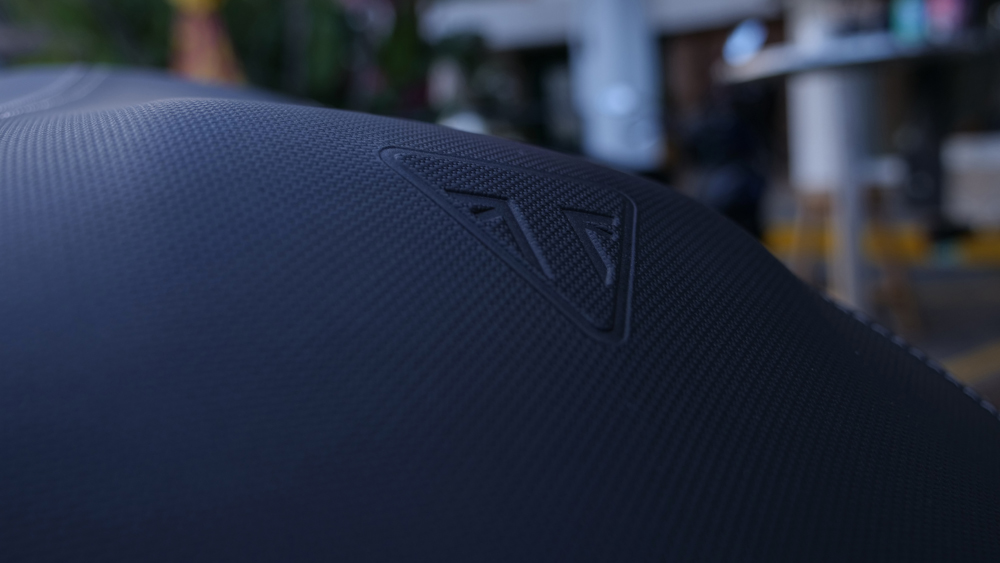 Egos sometimes demand that we "look the part", and we buy bikes that are not ideal for everyday, real world riding. BMW's venerable GS has managed the sweet spot really well. Not perfect at any one thing, but damn good overall. The Triumph Tiger 1050 Sport falls firmly in this catergory. With it's accommodating ergonomics, comfort, wind protection, decent tank size, supple suspension and soulful engine it is close to perfect for all round motorcycling.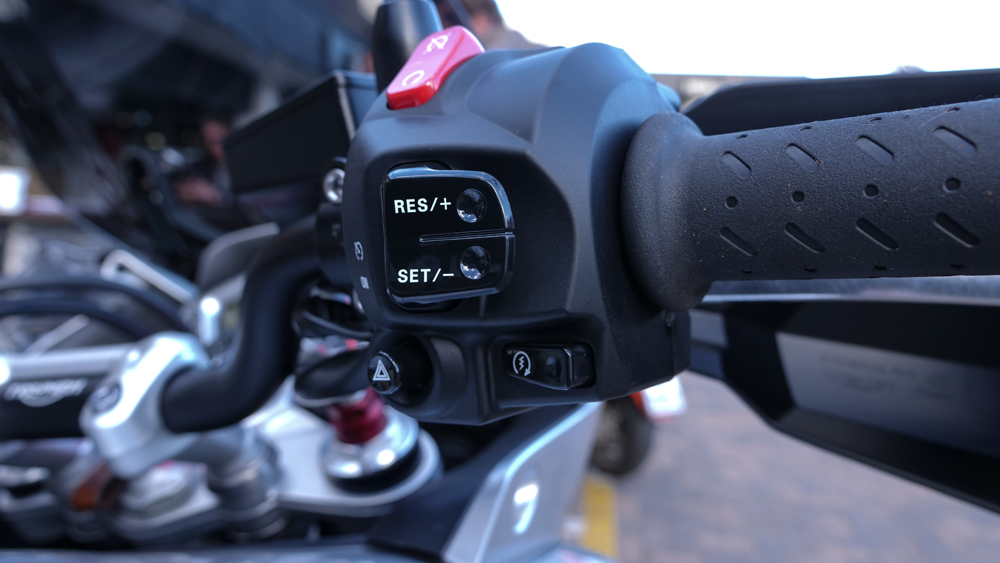 I, personally, love the fact that the bike is not over-endowed with electronic trickery. Three engine modes, [Sport, road and rain ], ABS, Traction control and cruise control. One of the guys at Triumph said, "perhaps it should have a TFT Display dash". Why? If it isn't broke don't flippen' fix it!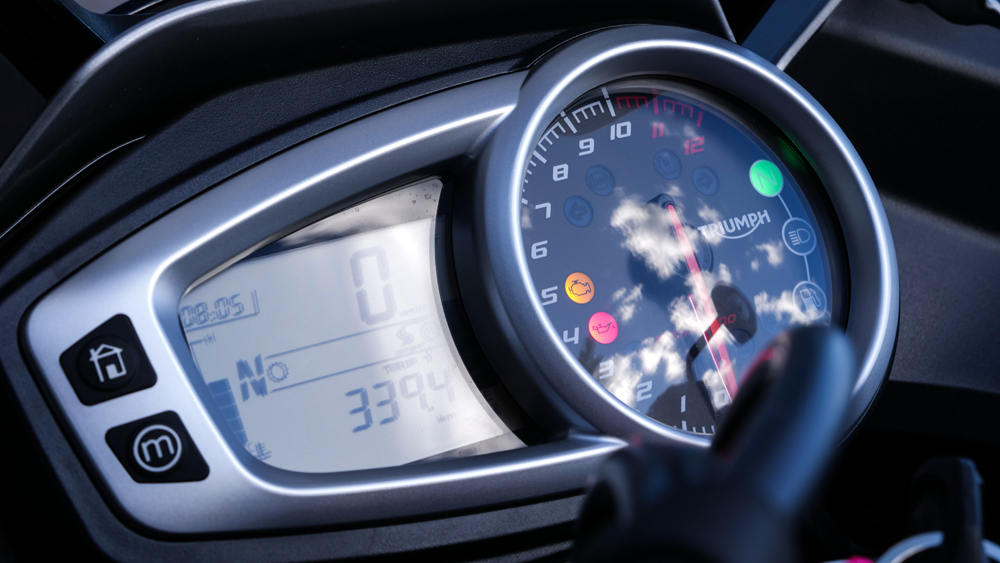 The 1050 has everything it needs to be efficient and safe. Leave it at that. Enter into an electronic peeing contest, and you pile on cost and complexity, with no improvement in how the bike works. It's time we realized that new, or different, doesn't necessarily mean better. On the contrary, it brings another aspect of reliability to the table.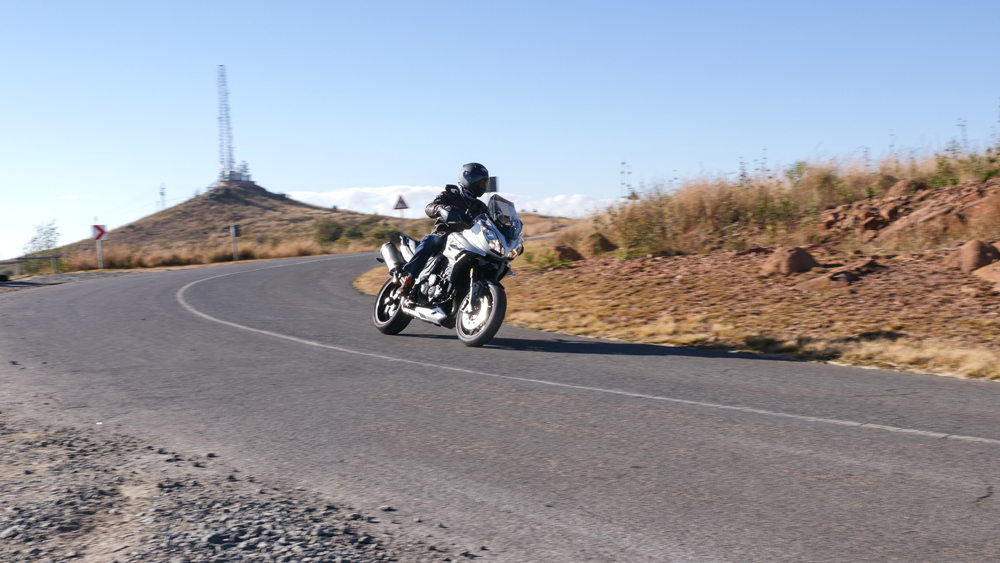 So, do I like Triumphs tar Tiger? Youbetcha! It is what I call an "honest" motorcycle. No-one who buys one will have a second of buyers remorse. On the contrary, they may just sport the smug smile of someone who has hit the mother lode. At a price of just over R160,000, it is a huge amount of bike for your money. Go sling a leg over one and see for yourself.
For more information visit: www.triumph-motorcycles.co.za