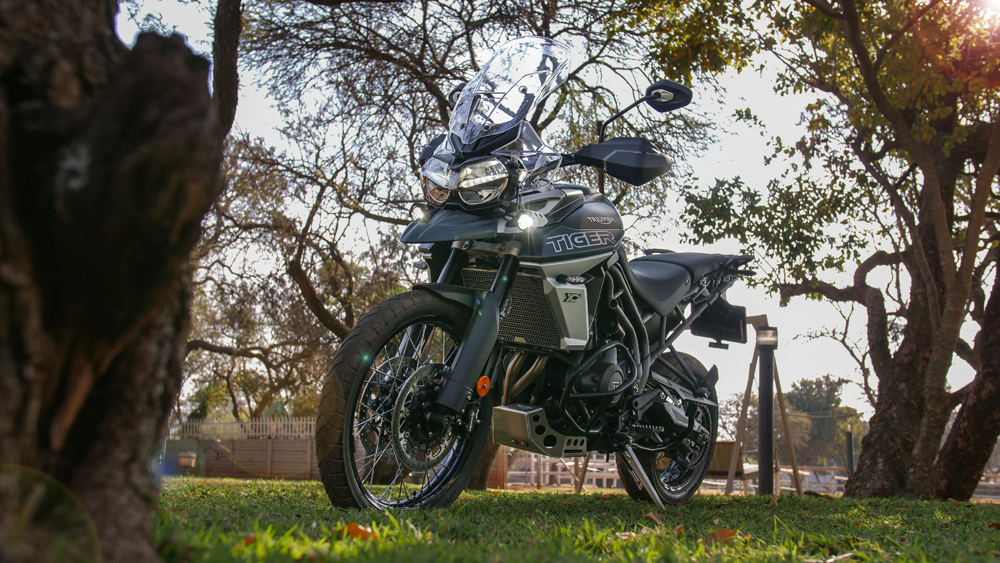 "Tiger Tiger burning bright". So begins the opening stanza of the famous poem. So apt too, it is for Triumph's latest offering. For 2018 a XCa version of the 800 Tiger is offered, and this Tiger burns very bright indeed. This is the top of the range version of Triumph's midrange adventure bike. It is incredibly comprehensively spec'd! I mean just get a load of this. Over and above the standard spec of the XCx, which I will touch on later, the XCa offers, over and above the 5 riding modes of the standard bike, a programmable mode which allows the rider  bespoke settings in line with their preferences.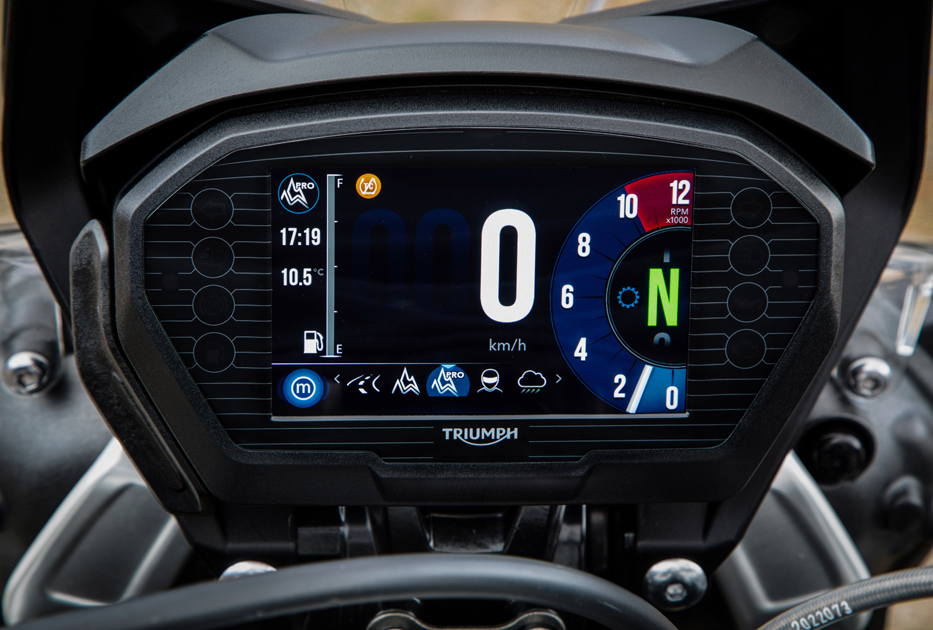 Competent off-road riders will welcome the addition of Off-Road Pro to both versions standard repertoire of options. This essentially turns everything except front off road sensitive ABS off! On the top dog, or should that be cat, you also get full LED lighting [headlight, indicators and taillight], backlit ergonomic switchgear, including a 5 way joystick for easy navigation. The playstation generation are accommodated with 6 optional screen styles, including a choice of three standard TFT display options. Rider and passenger comfort is enhanced by the addition of heated grips and seats.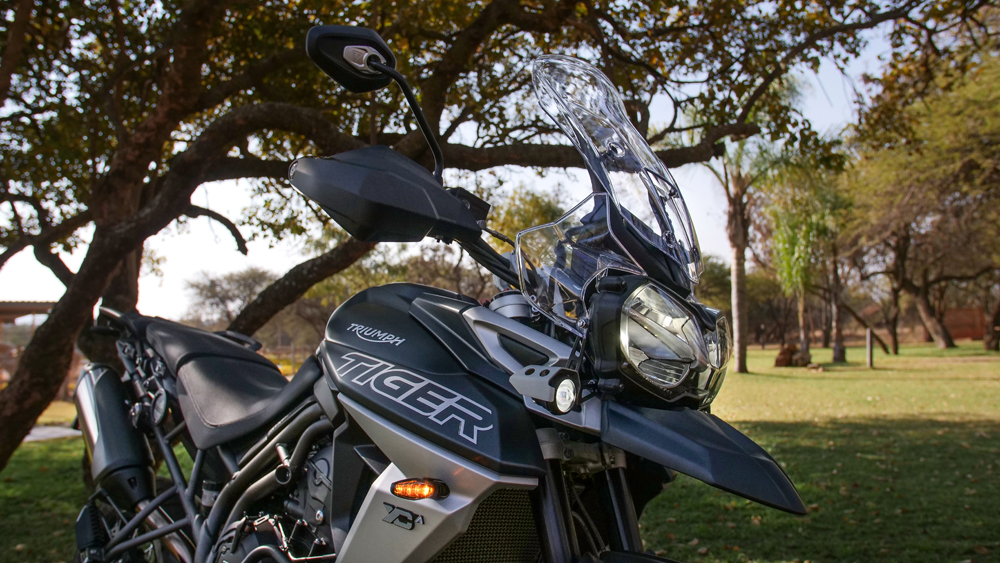 LED auxiliary lights [spots] are standard, as is an aluminium radiator guard and centre stand. Standard on both models are engine protection bars, aluminium bashplates, switchable ABS and traction control, handguards, USB and 12V sockets and immobilisor.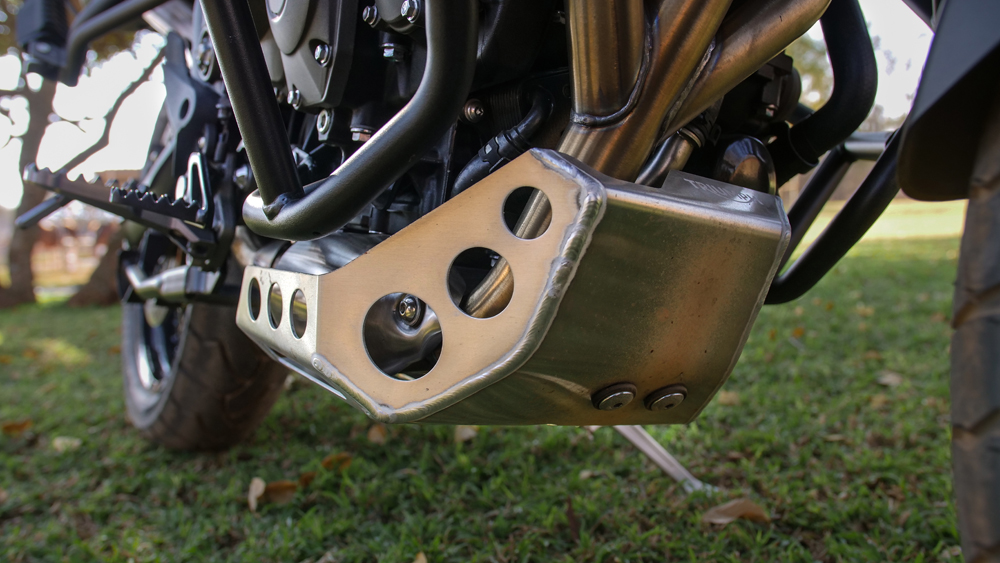 Middleweight Adventure bikes really hit the spot for me. They have enough power to not be compromised, even when two up with luggage. They also are physically big enough to comfortably accommodate rider and passenger, unless they are really outsize. Typically middleweights weigh in a good 40 kays lighter than their 1200cc siblings, making them dance in the dirt, by comparison.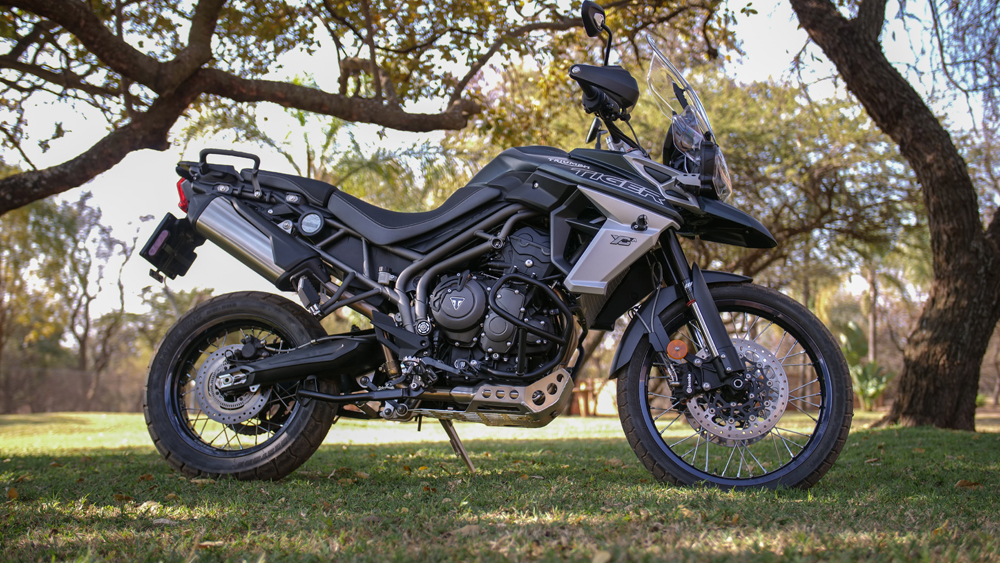 On balance, it is difficult for me to justify the extra spend on the heavyweights, given the talents of the lighter bikes. The sport bike analogy would be the GSXR 750 in the Suzuki GSXR range. The 600 lacks hit, the 1000 has too much hit, and the 750 smacks the bullseye! Ego results in many riders on 1000's that would be better off on 750's. It is no different in the Adventure bike fraternity. Let's cut the philosophy and get back to the Triumph.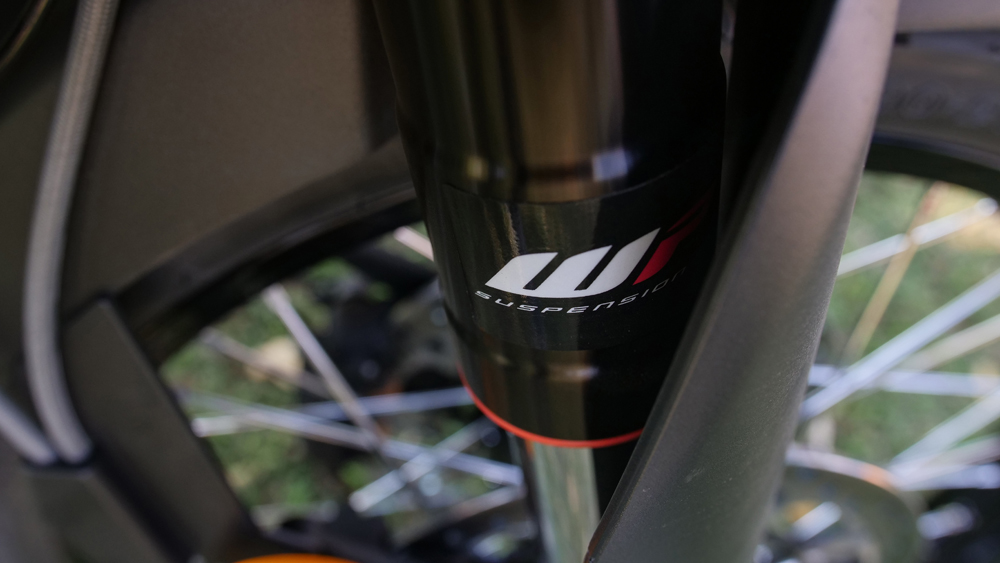 Common to both dirt Tigers are WP suspension, Brembo brake callipers up front, Nissin callipers on the rear and the Tiger now sports a smaller, lighter, freer-flowing [better sounding] exhaust pipe. The 2018 Tigers have undergone significant engine upgrades with more power and torque lower on the rev range. Whilst maximum power is unaltered, the bike feels stronger because it is now permanently in the power.
Top end hit has never been a problem anyway. A few years back I rode a Tiger on an off-road Adventure called the "Parys to De Aar". Shortly before De Aar, on a 40 odd kay straight dirt road, I had an impromptu dice with a 1150 Adventure, and two 1200 Adventure BMW'S. We did the usual top gear roll on, then 5th, then 4th.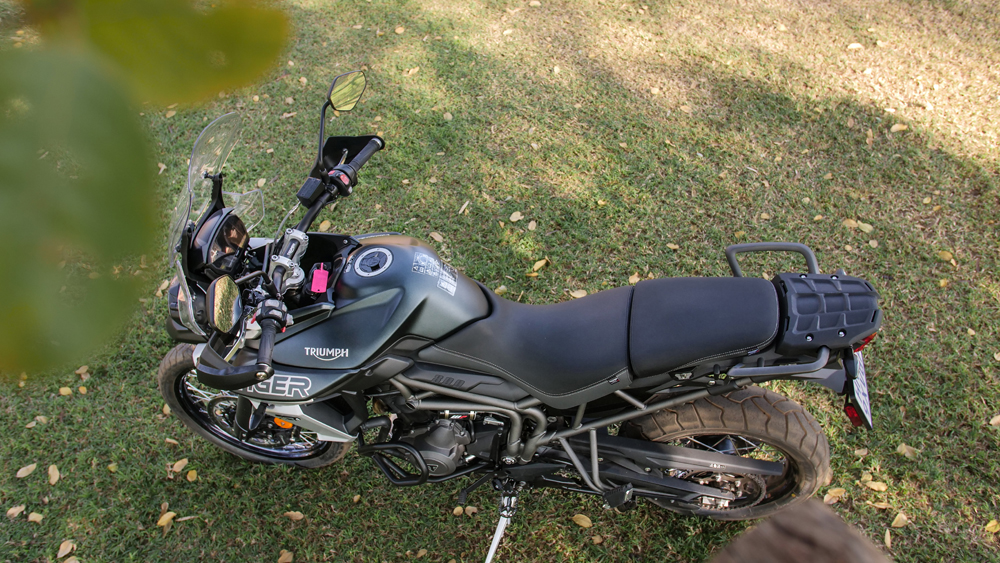 In each scenario the Tiger properly spanked the larger engined bikes. Dropping gears simply caused the Bee Emms to get roosted by the wailing Tiger! I became a huge fan of the fantastic triple. Torque rich, yet endowed with top end hit of note. The way the power is delivered is simply amazing. Many motors have a sweet spot. A part, or parts of the rev range where the motor feels really happy and "sweet". The Triumph too, has a sweet spot. Difference is, it starts at idle, and ends at the redline!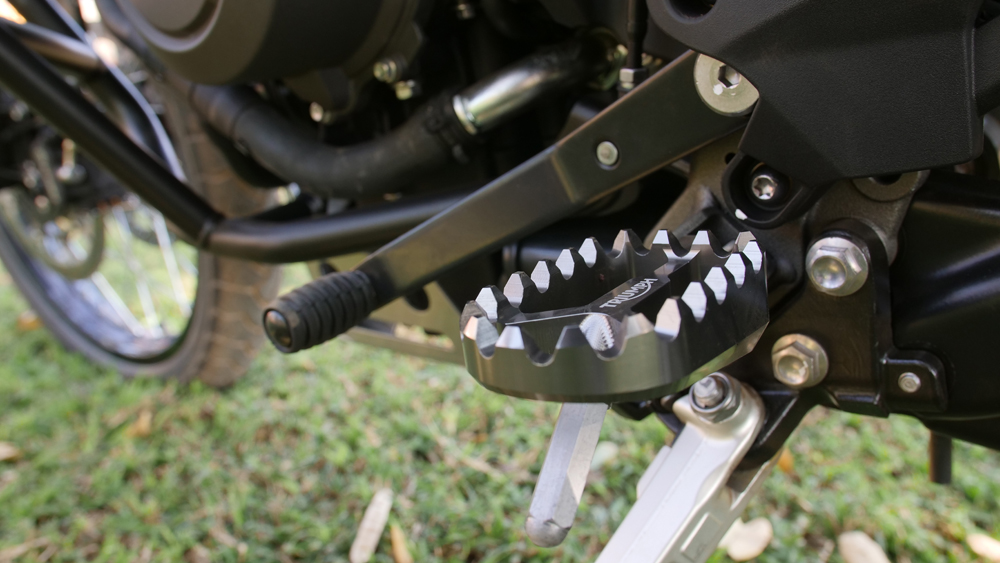 Accompanying the turbine smooth thrust, is the most spine chilling aural symphony imaginable. You find yourself playing through the super slick shifting gearbox for the sheer joy of the resultant three cylinder orchestra.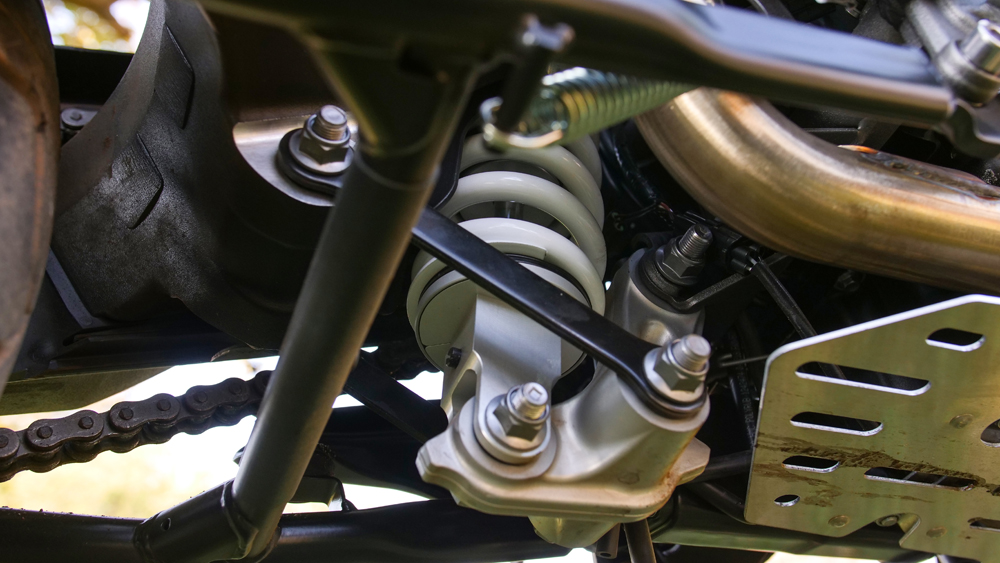 The WP suspension allows you to enjoy the engine to the full. Adjustable for compression and rebound damping as well as preload up front, and preload and rebound on the rear shock, you can set up the suspension to suit. There is a degree of ergonomic tailoring too.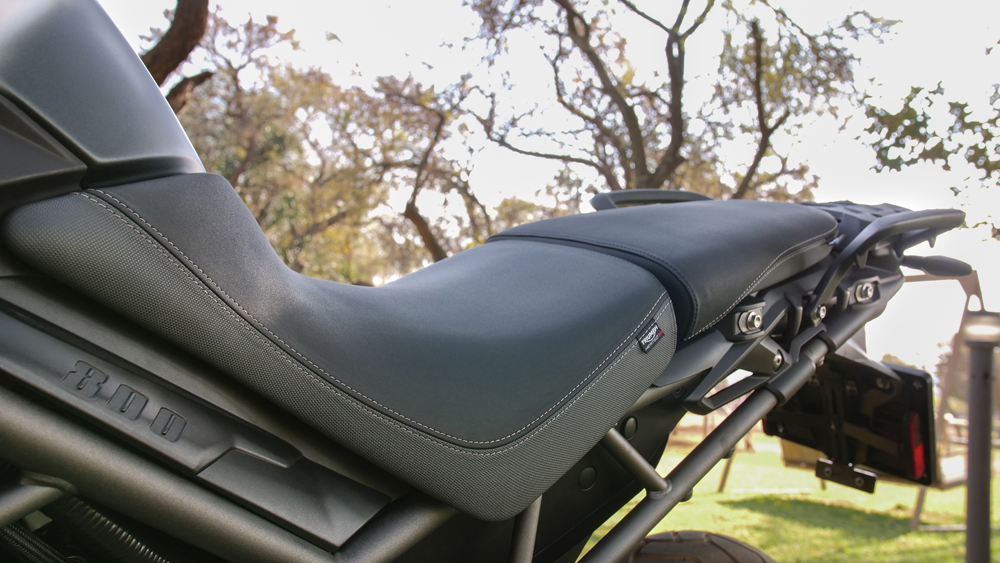 Seat height, handlebar position and brake and clutch levers all have some adjustment. Wheel travel is adequate for spirited offroad riding, yet the excellent WP's never feel wallowy on the road.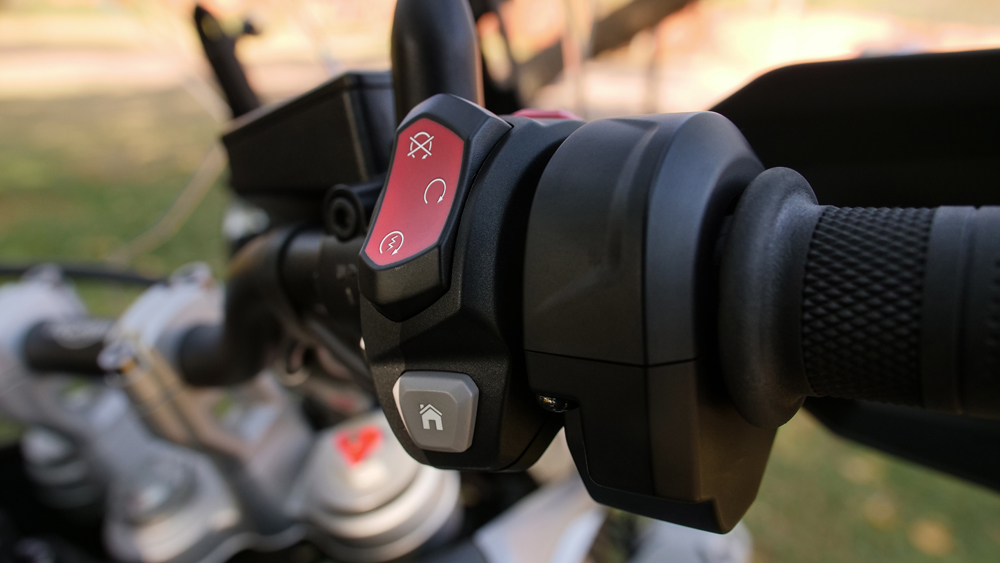 The Tiger feels taught and controlled everywhere. There is no discernible drive line slack whatsoever. The fuelling is as good as any fuel injection, fly by wire system, that I have ever experienced. The Tiger handles superbly. Firm, yet well damped suspension and an overall light, neutral steering feel make the bike a joy through the bends.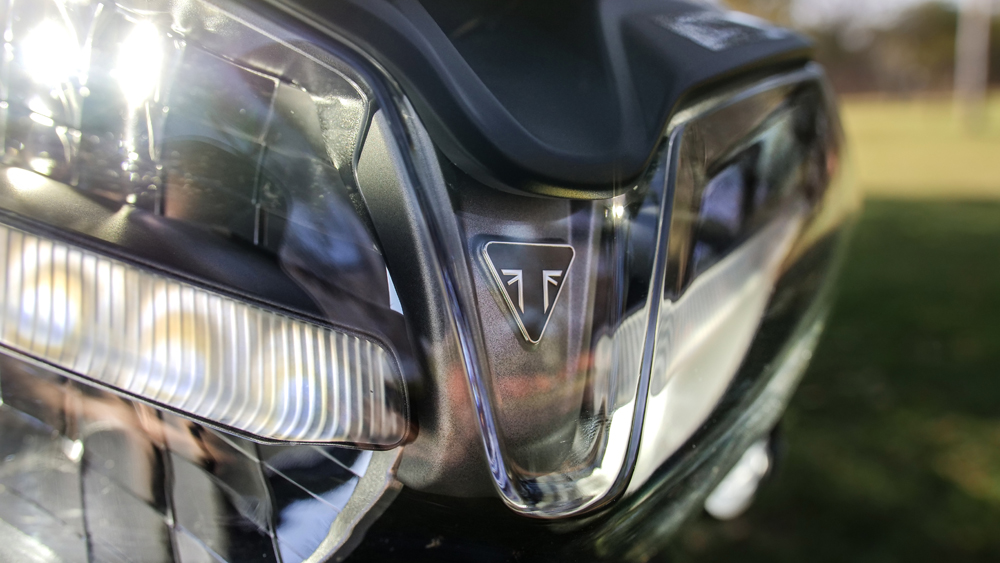 I am going to go out on a limb and say, subject to a long term test confirmation, that no other Adventure bike that I have ever ridden, and I think I have ridden all the mainstream ones, is as accomplished a road bike as the new Tiger. When it comes to offroad, there are bikes which are, for me, marginally better. I say "for me" because this is obviously very subjective. The standing riding position of the Tiger tends to put the rider a bit more forward over the bars. Both the Africa Twin, as well as the KTM'S, put the rider in a more neutral position, where it is easier to lighten the front wheel, if required. Possibly, it is this subtle front end weight bias, which makes the Tiger such a superb road bike. And here is the thing.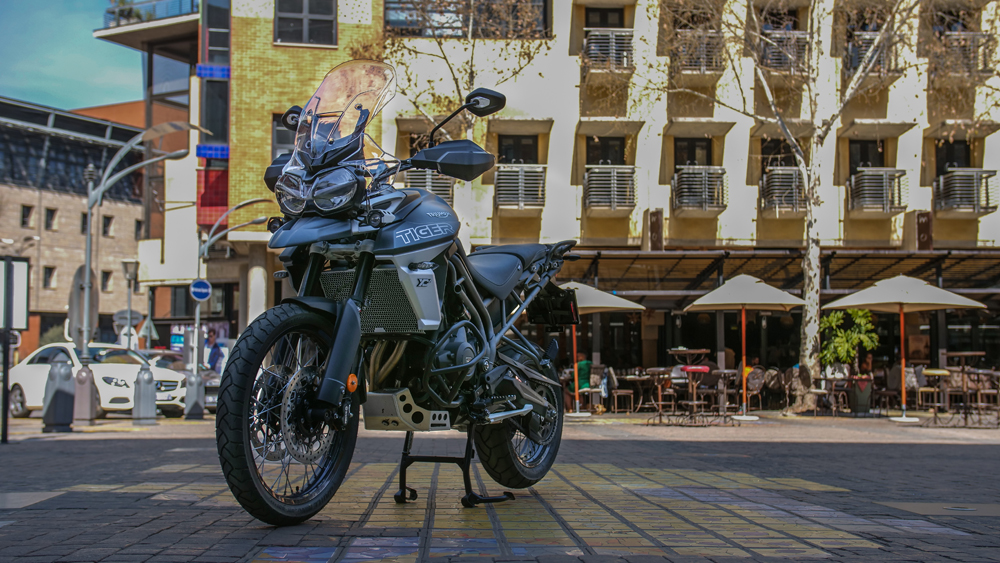 Almost all Adventure bike riders spend way more time on tar than in the dirt. We typically, in SA, have to traverse significant distances to get to the "trailhead" as the yanks say. The fact that the Tiger is good on dirt and superb on tar, is probably, for the thinking rider, the perfect mix. Spend enough time on dirt and you will learn to trust the planted front end, and be able to ride exceptionally fast. If you want to, that is. The Tiger will take you wherever you may wish, or need, to go.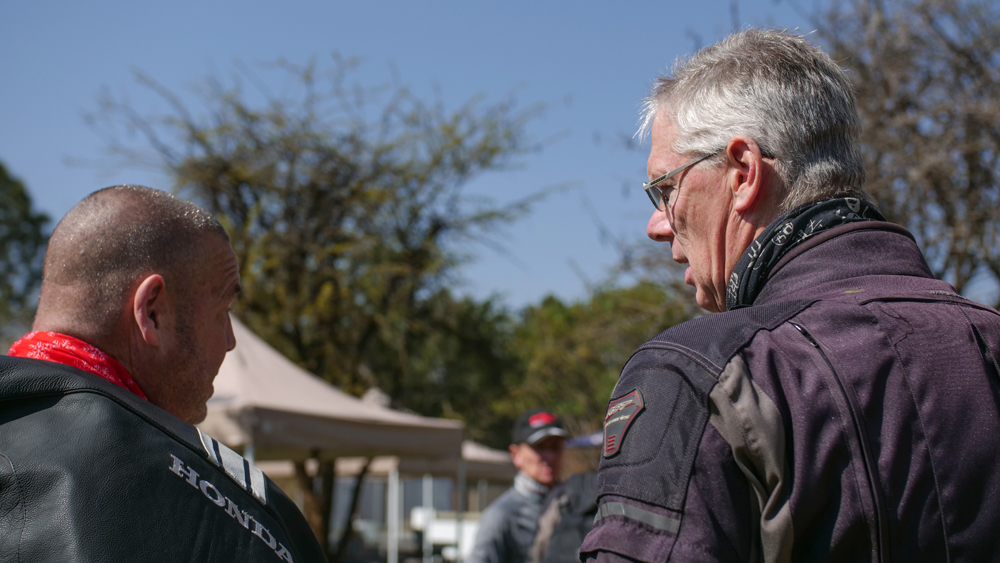 I am often asked, especially by those who know that I have owned hundreds of bikes, and ridden even more over the years, what would I buy If I could only have one bike. I have always defaulted to one bike. The Honda VFR800. This iconic V4 is legend for it's all round ability. Thing is, in recent years, I have developed a penchant for riding to out of the way places. As a result, more and more Adventure bikes have filled my garage. CRF 1000 Honda, Yamaha Super Ten,  BMW GS's [800 and 1200], KTM 1090 Adventure, old generation Tiger and BMW Adventure have all been there, and some still are. But, if I could only have one, it would be a new Triumph Tiger.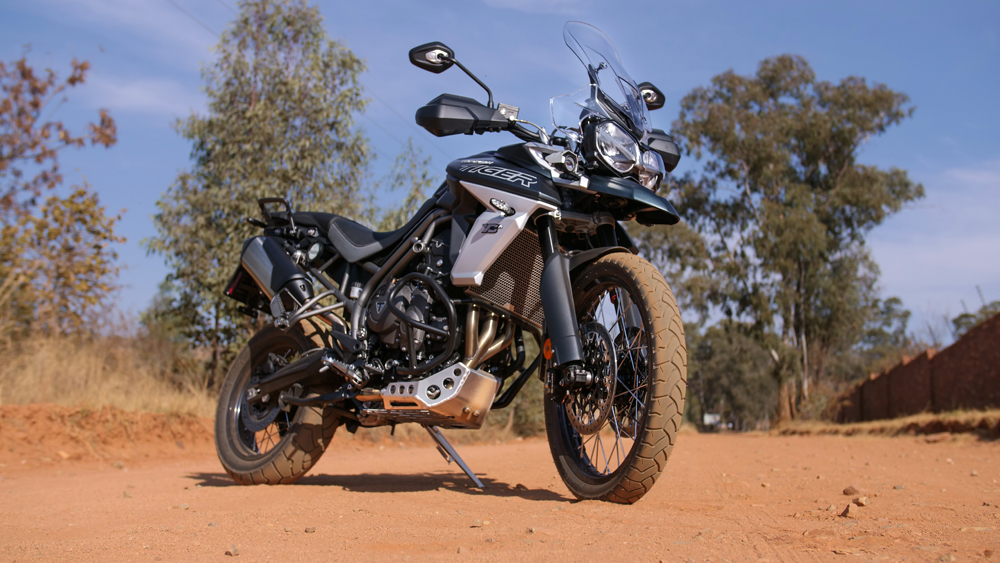 The jury is still out on which one, and if I could only have one it would probably be the XCa, simply because it ticks ALL the boxes and offers a huge amount of bike for the bucks. There is literally nothing that you would need to spend over the purchase price. The bike has it all. One standard feature that I did not mention in the spec, is the brilliant standard adjustable windshield. Flanked by standard deflectors, it is one hand adjustable through enough height to suit any rider. Factory luggage systems are available for your RTW trip. [Round the world]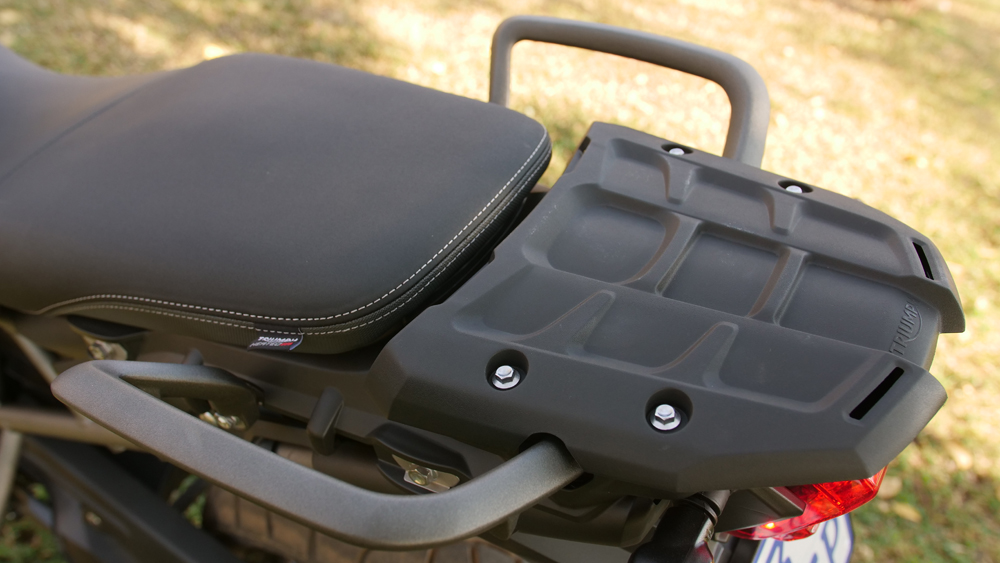 It is not often that I ride a bike that is so well rounded, and so suited to it's intended purpose, that it is beyond reproach. Especially when it comes to Adventure bikes. The modern Adventure bike is required to tick so many boxes that to really stand out, it takes an exceptional piece of design and engineering.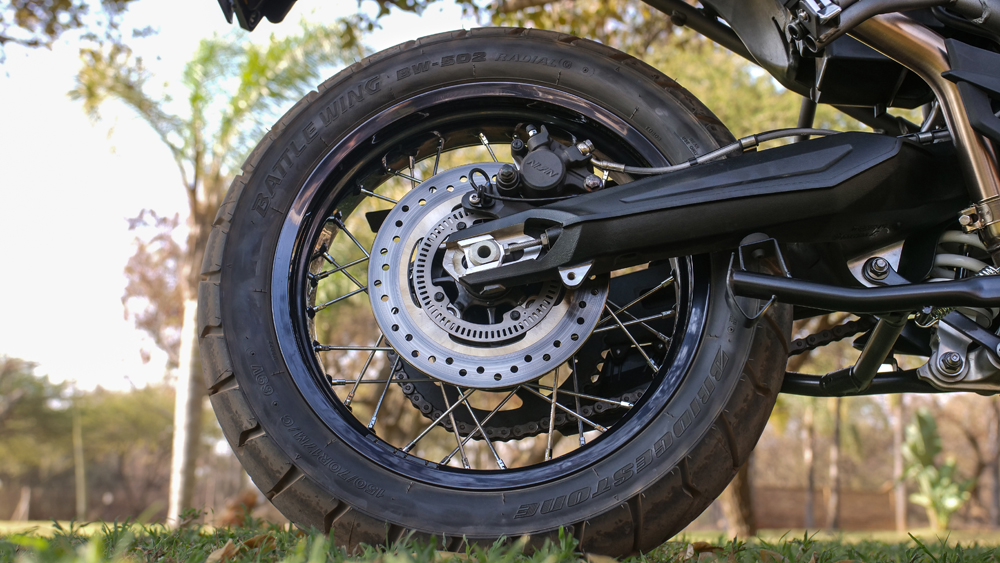 For me, the Triumph 800 Tiger XCa is such a bike. It has not a single area which requires compromise. Solid, taught and extremely capable in all it's roles. This one is a keeper!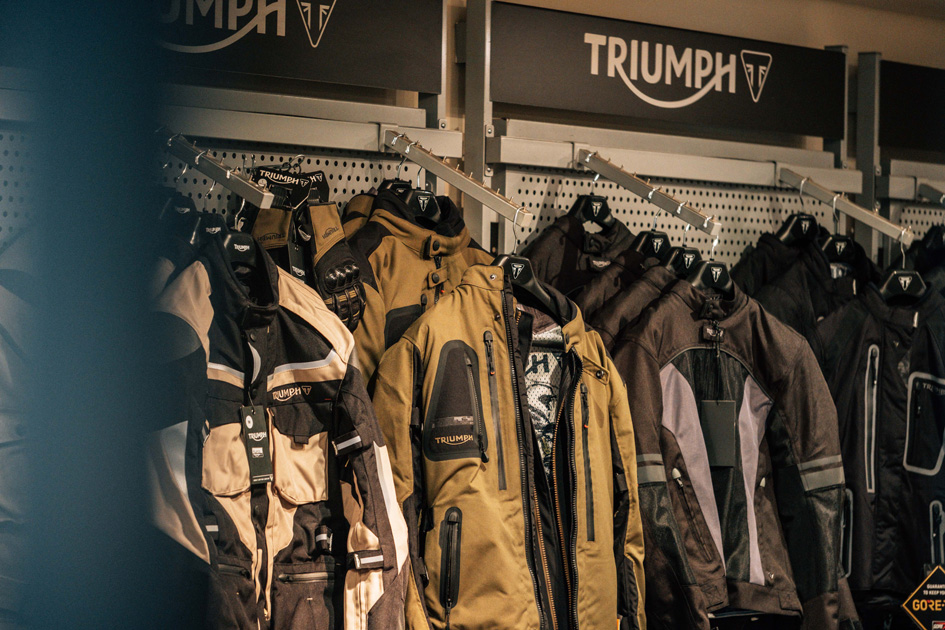 Oh, and if you buy one right now, Triumph South Africa is throwing in a 10k voucher to spend towards apparel & accessories (offer ends 30th September 2018), so there is no better time to buy than right now.
For more information visit: www.triumph-motorcycles.co.za