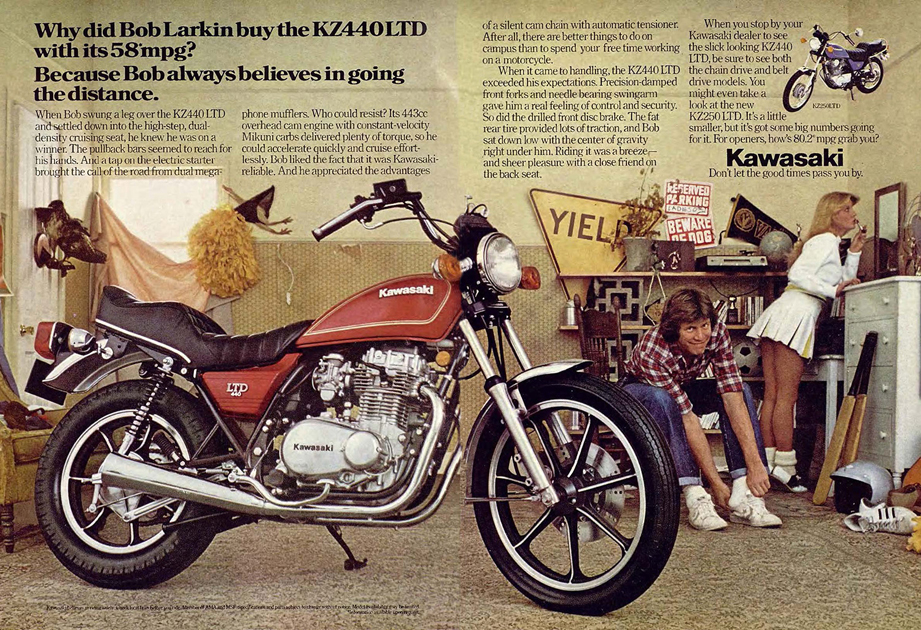 It's fascinating to page through one of my 1977 bike magazines. The articles are fascinating in that emission standards were introduced and enforced in the 'States for the first time. The Cycle magazine editorial was entitled "Here come the Bureaucro – Bikes". In essence, the feeling was that bikes had reached the zenith of their performance, as future models would be strangled by power robbing technology aimed at lower emissions. With the hindsight we now enjoy, we see that manufacturers where up to the challenge and more then doubled, in fact almost tripled, the output of superbike engines by employing smart technology. Fuel injection, electronic control units and the like have also shed about 50 to 60 kg of lard over their 70's ancestors. No wonder modern superbikes are so devastatingly fast!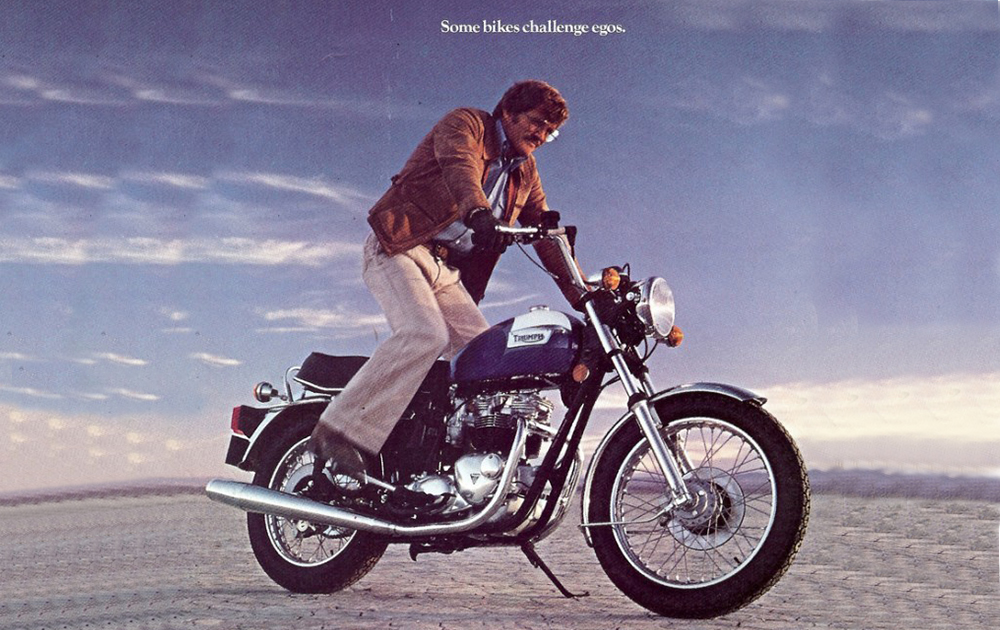 What I really want to talk about is the adverts that appeared on 70's mags. On the inside cover of the April 1977 Cycle, Triumph punt their 750cc Bonneville. The ad shows a typical 70's style macho dude, dressed in heeled boots, bell-bottom trousers, collared blue shirt and an open leather jacket, in the process of kick starting his Triumph. The bike is propped on the side stand, with the rider standing on the left peg whilst lunging down on the kick-start with his right leg. His only concessions to safety attire are the short black leather gloves he is wearing while holding onto the handlebars. There is no helmet in sight. Talking of sight, you can see pretty far as the bike is standing on salt flats. Presumably the legendary "Bonneville" salt flats. Geddit? The header on the ad says, "Some bikes challenge egos".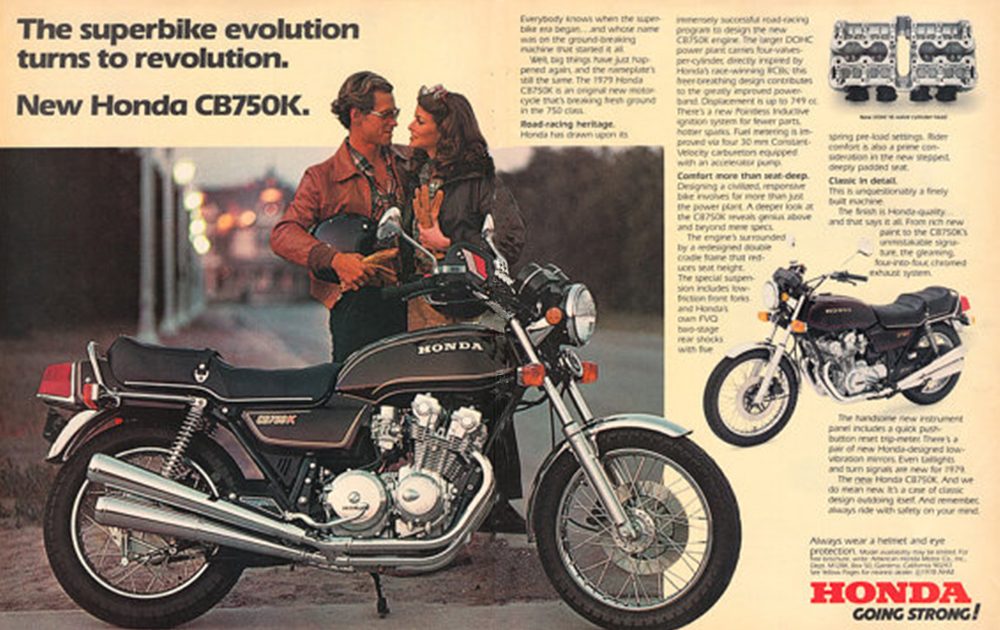 Advert scriptwriters are sharp-witted chaps. This ad is a prime example of this skill. Honda's 750 four introduced 8 years earlier, featured an electric, push button starter. Turn the key, thumb the button, and the big Honda fired up instantly and settled into a four-cylinder purr. Starting the Triumph, and most other twins of the time, was a hit and miss affair. The canny scriptwriter decided on a unique angle. Why not turn this glaring flaw into a selling feature? This is how they tried exactly that.
The ad reads, "You don't just jump on a Bonnie and take off" "The Bonneville is a motorcycle that demands involvement. A vertical twin that demands involvement. A vertical twin that insists you learn exactly how to tickle the carbs… throttle… just right… so one healthy kick brings it roaring to life. Bonneville riders – over two generations of them – understand and appreciate this intimate bond between man and machine. Most egos aren't up to the kind of a trip that today's 750cc Bonnie demands. But if yours is, we have a most rewarding motorcycle for you".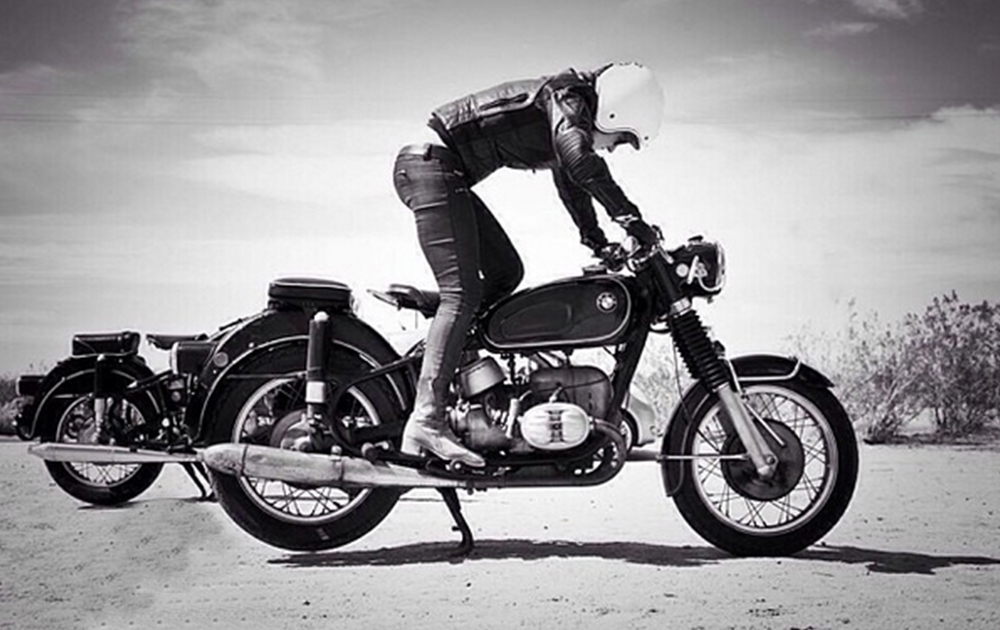 Intimate bond my arse! I remember watching guys in black leather "lummies" jumping repeatedly on the starter lever, hissing, "Start you bitch" as sweat poured down their pained faces. To make matters worse, they wouldn't always get the engine on the right power stroke, and the starter lever would kick back viciously, inflicting serious damage on the poor sod trying to fire "the bitch" up!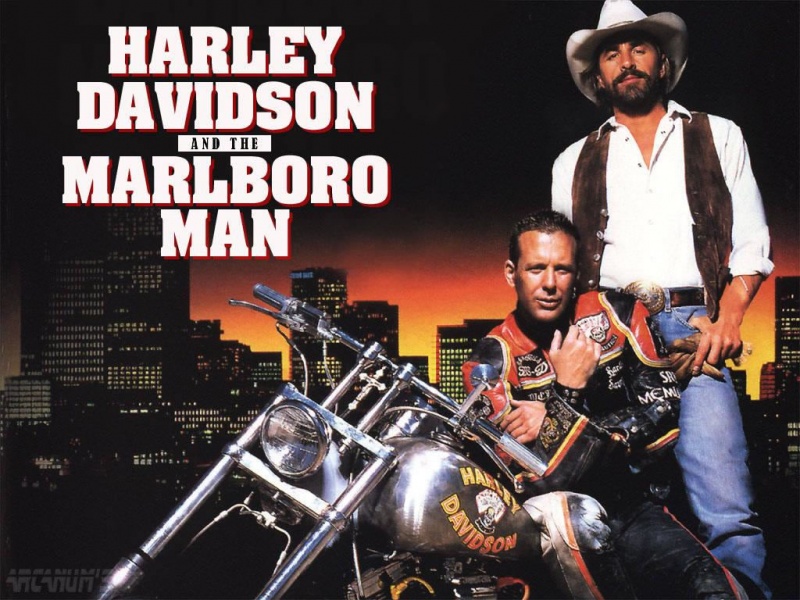 Ok, let's move on. Cigarette ads. Winston, Camel, Marlboro (remember the movie Harley Davidson and the Marlboro man?) and even Antonio and Cleopatra Grenadier cigars all had full page ads that intimated that if you had any testosterone at all, you would complete the picture by having a twenties pack of their finest in your denims shirt pocket. We all know where the world's gone with this one!
After market exhausts were big business in the 70's. Under the heading, "The power pipe", Denco claimed that their Tricone headers were "the absolute tops in rear wheel horsepower". The Denco pipe shown bolted to a Kawasaki Z1, exists on the chain side of the bike, which was unusual, and looks like some aggressive cornering would turn the Tricone megaphone into a "flat cone". Clearly they were designed more with drag racing in mind than road racing. Come to think of it, the Z1 probably had similar design objectives. Any kind of corner, or moderately fast sweep, would induce wobbles that made your eyes water!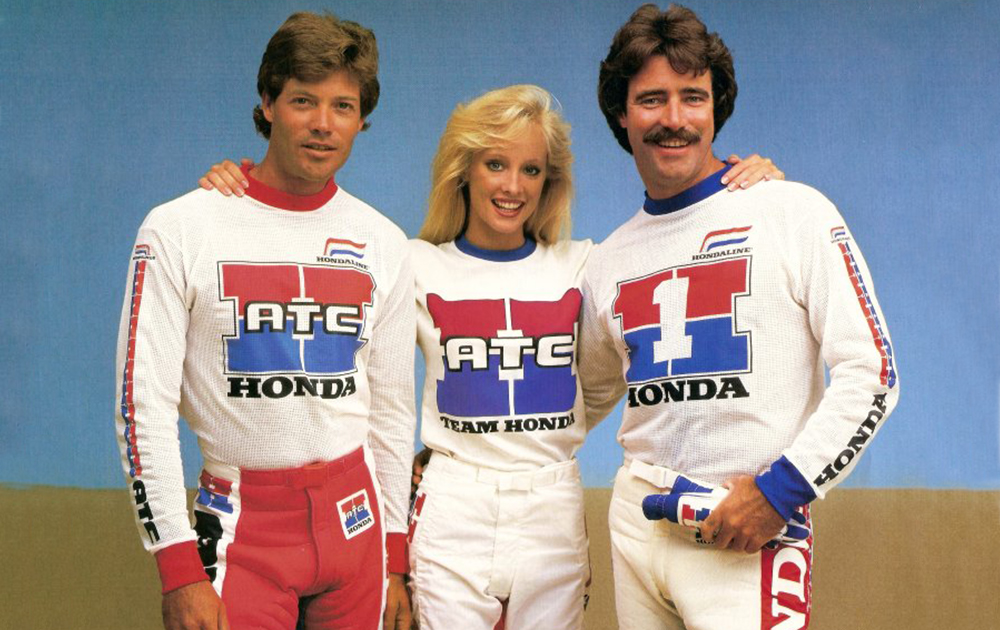 Hondaline (what the hell happened to them?), Honda's own accessories company of the 70's, showed off their line of "Tough nylon MX pants, featuring goats skin and spandex inserts", MX boots, featuring that new fangled "Velcro closures" and steel shin plates (sort of riveted to the shin area of the boot on the outside. Looks kinda cool in a retro kind of way). Pre-curved gloves of supple sheepskin (seems Honda had it in for goats and sheep in the 70's!) Even your red, white and blue helmet and goggles, as well as polyester Action designed T-shirts, were courtesy of Hondaline. It all looked damn spiffy to say the least! Those "Tough nylon MX pants" worked up some serious humidity in your nether regions whilst on a trial ride during a typical S.A. summers day.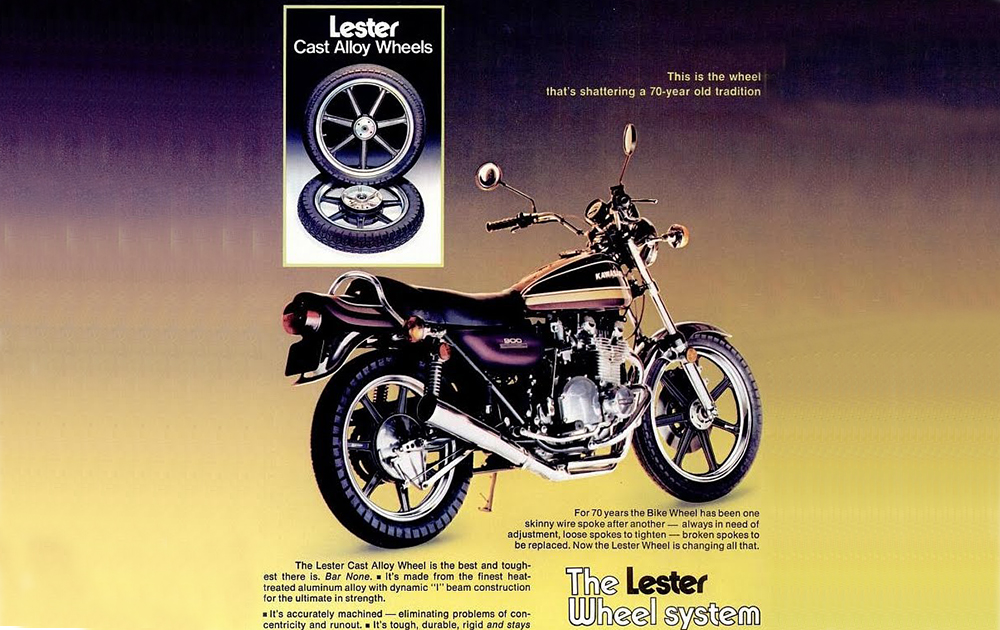 Very few bikes came with mag wheels back in the day. Ads displaying their wheels were placed by Lester, Carol Shelby (he of the Shelby Cobra car fame) and Morris. Other bikes featuring in full page colour ads were Kawasaki with their 650 /4 Custom. Another featuring the various KZ-400 models (a two pager), and their Z-1000Ltd with a full three page colour ad. Kawasaki was obviously running a huge advertising budget because those weren't built, let alone ever came to S.A.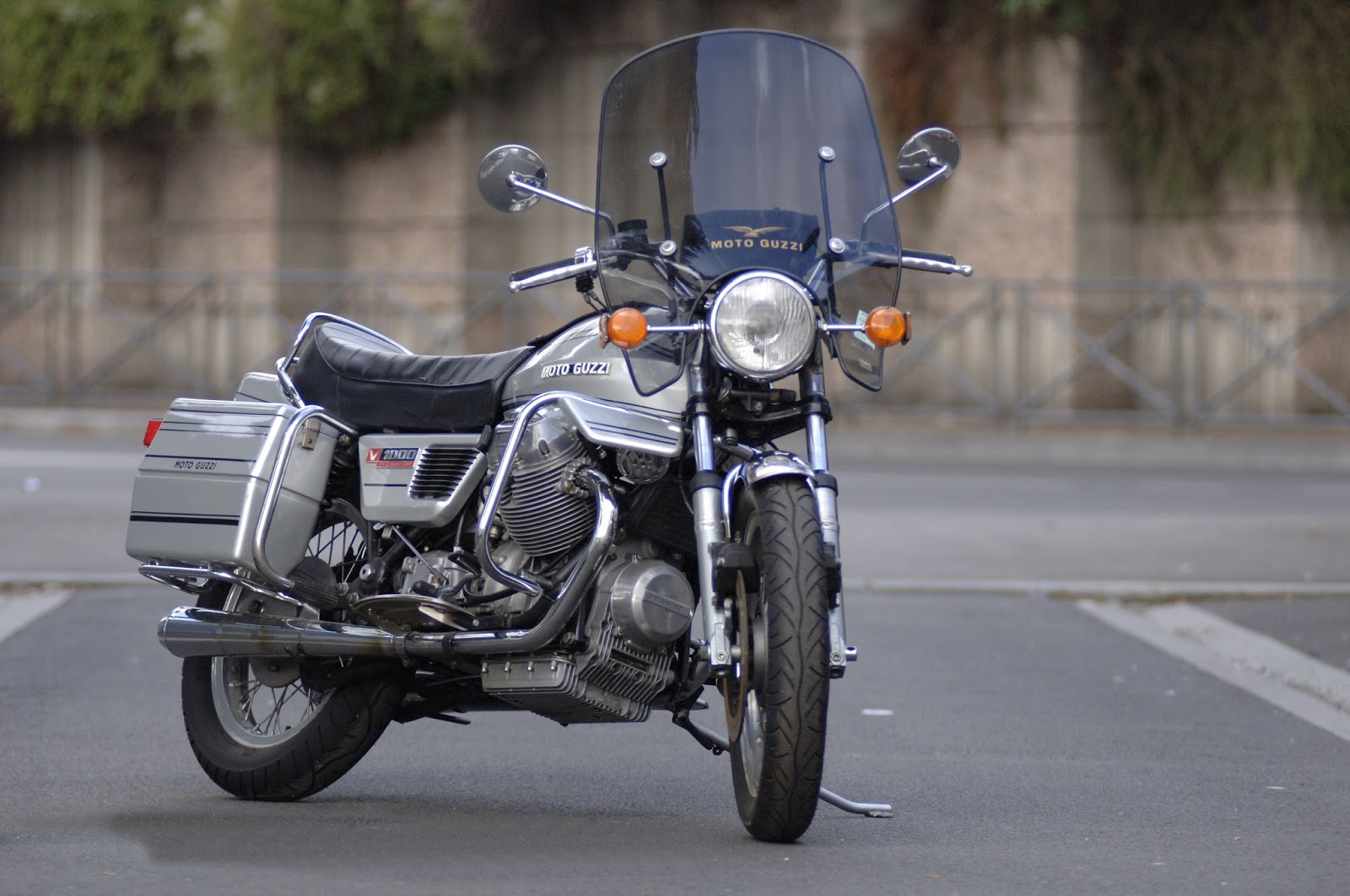 Other then BMW and Triumph, the only non-Japanese bike advertised in the April '77 Cycle is the Moto Guzzi, "Guzzimatic". Touring screen, panniers and broad flat seat. Floorboards to appeal to the American touring set and automatic transmission. Given the Yanks love for Auto V8 cars, maybe and Auto V2 was not a bad idea. The other obvious feature of the bike is a set of standard crash bars. Not just any crash bars however. These are the most humungous bars I have ever seen! T-boned at 80mph by an Oshkosh and I swear the Oshkosh would be totaled!
Other manufacturers with ads were Sony turntables (for your vinyl's), Kerker, S+S Headers, Dunstall exhausts, Dodge, Toyota, Datsun, Jeep cars and even Cessna aircraft. Lockhart oil coolers, S+W shocks, Bell Helmets and Chilton motorcycle manuals. Craig Vetter advertised his Windjammer fairing, effective no doubt, but definitely fell out of the ugly tree and hit every branch on the way down!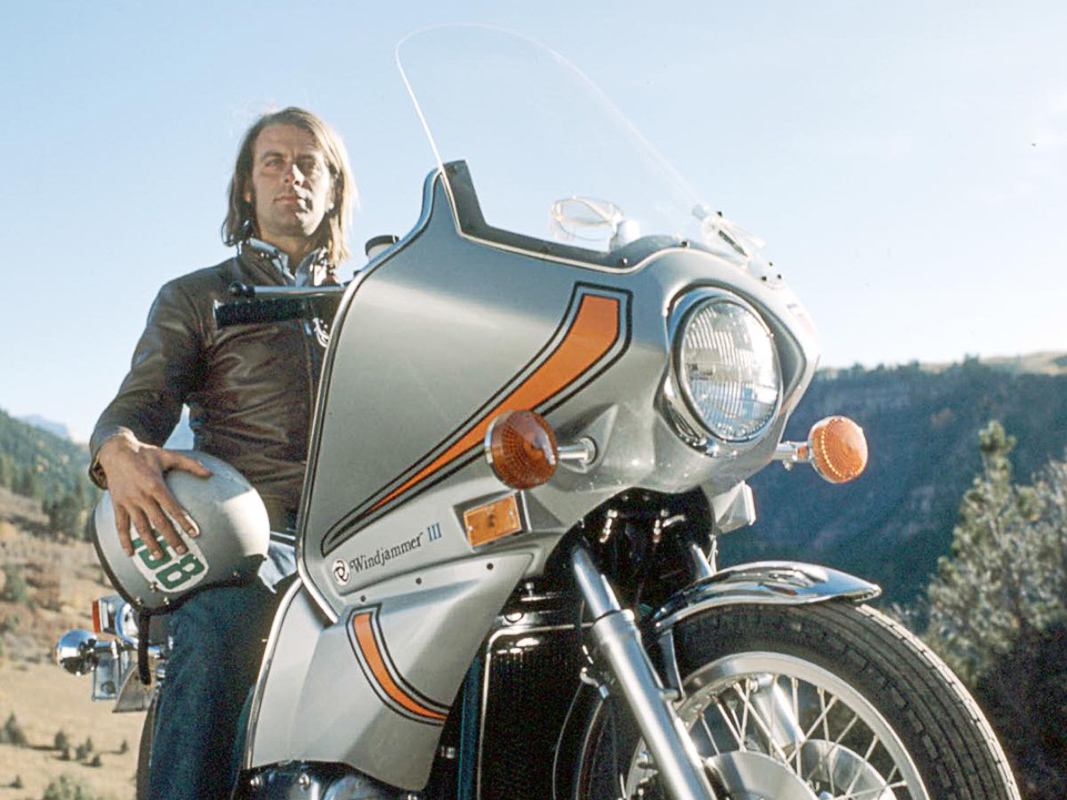 Paging through these old mags is a nostalgic walk through motorcycle history. A generally laid-back world embracing exciting times. Sadly, many of the advertisers, especially the accessory builders are no more. Manufacturers now offer factory spec bikes catering for all riding styles. There just isn't much need for the after market products of old. Yes the 70's were heady days indeed!