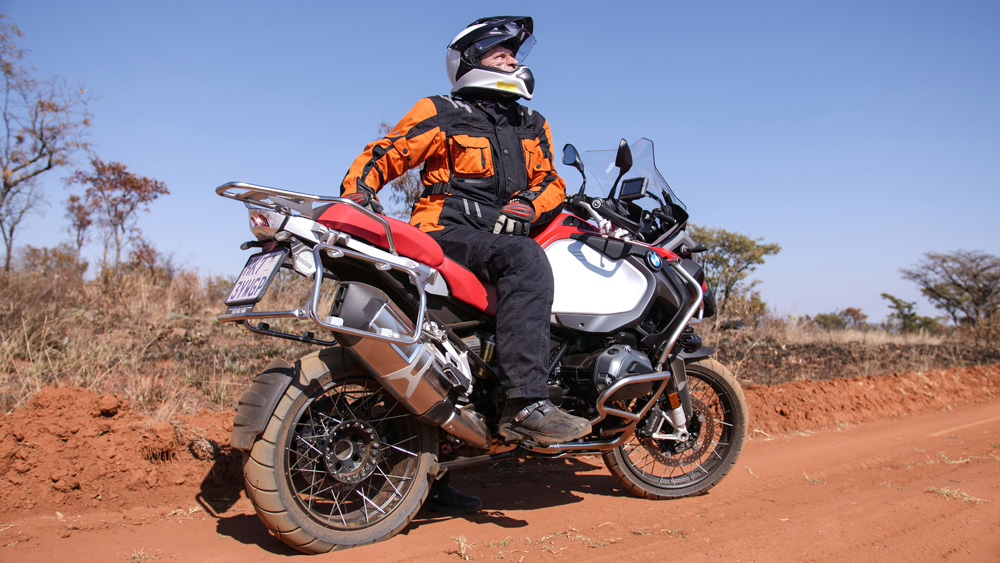 The setting is Sutherland, Northern Cape. Commonly known as the coldest place in South Africa. As an adventure traveller, I cannot believe my luck as I drive into this small gem. The place is covered in snow! a Cold wind howls through my open visor as I start laughing in my helmet! It is the heart of winter.
But why is this fact even significant? Well, as an adventurer you often find yourself stacked against the elements and the odds. That is off course, if you are doing it correctly. An adventure should be exactly that. The element of surprise must always be there, at least to a certain extent. The one thing an adventure rider must always regard, is their safety and their mortality. With ever changing terrain and weather conditions, you want to keep yourself both happy and safe.
Over the years I have been in a great deal of difficult circumstances chasing after "sunsets" and "horizons elusive". I have tried many different variants of rider gear and camping equipment. In an ever changing landscape you want a few constants, a few items that help you feel at home, pardon the expression. If you are wise enough to formulate what you want from your rider gear, then half the battle is won. I have very strict parameters that I incorporate to feel safe, comfortable and protected. I have a closet full of dependable, battle hardened, tested and proven riding equipment.
Enter Mark Henderson, the brain child and owner of Henderson Racing Products, home to Metalize riding gear. Visiting with this man, you cannot help but feel the passion he has for his business and what it offers. With his keen sense of awareness, he offered me a brand new Adventure Jacket and a set of Off Road touring boots to test for an upcoming expedition into some very hostile terrain. I accepted the gesture with a certain amount of apprehension, as I already have my favourite riding gear waiting for me back at home. It felt like infidelity when I donned the new orange Metalize jacket for the first time. My old Savanna Jacket has served me like no other and I was not keen to replace it anytime soon.
This is where the story gets interesting. I remember coming home, gracefully laying down the new Metalize kit on my bed, starting to investigate every nook and cranny. I soon came to realize the amount of thought, development and passion that went into the birth of what seems something quite special.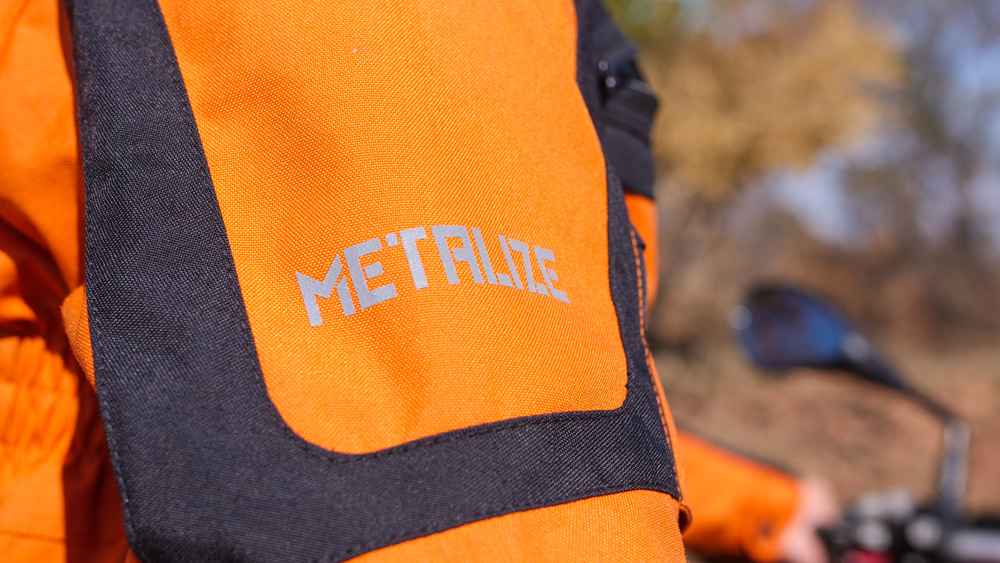 I remember Mark specifically mentioning that he developed this range of clothing for local conditions. He is forever busy fine tuning and tweaking on the feedback he receives from local test pilots. For me, the most critical part was inspecting the frequency and positioning of the ventilation system.
Adventure jackets, much like Adventure bikes fall victim to unrealistic expectations. From sub-zero degree temperatures as I experienced in Sutherland, to fourty degree heat, as we so often find in our sunny country. The expectation is to be "Jacks of all trades", answering to all things correctly.
Getting a bit more technical, the Metalize Adventure Jacket comes fitted with 6 vents front and one huge exhaust vent at the back, which filters through the cool air in hot conditions. I find this system adequate in most conditions, the only time I found it to be inadequate was when riding very technical sections in the hottest of conditions.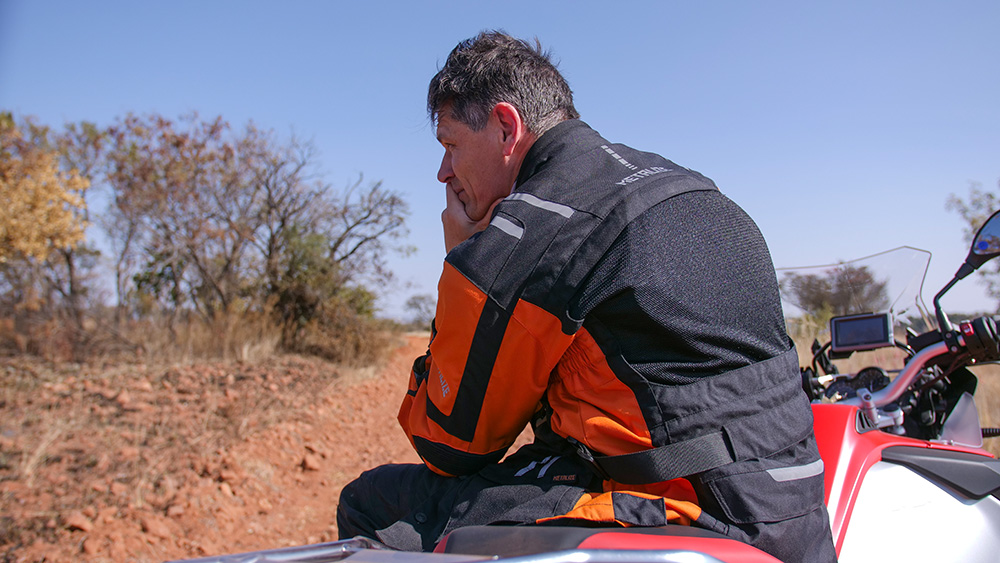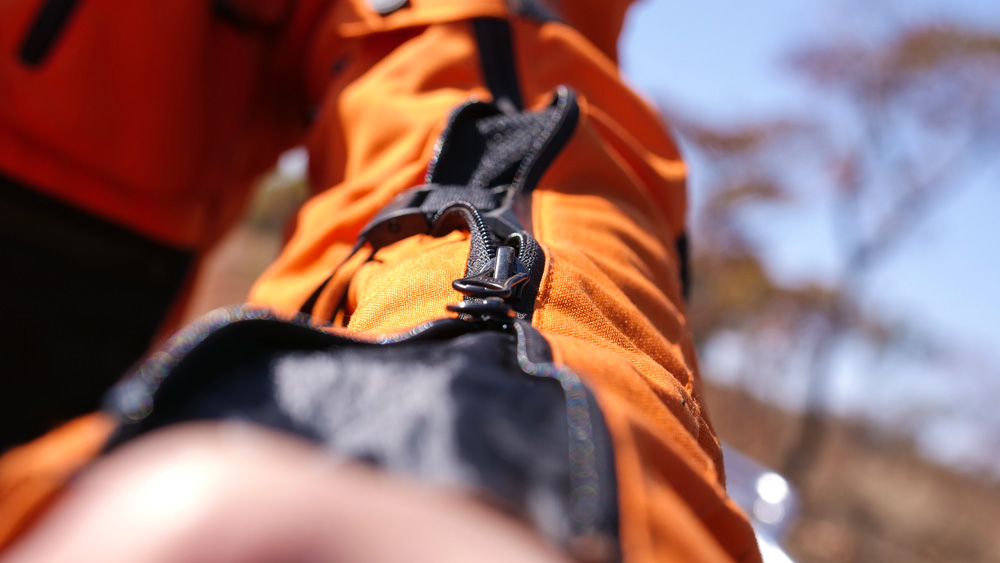 The jacket certainly offers more than enough pockets. Eight pockets in the front, to be exact. Four of these are small pockets for storing vitals like your ear plugs, ninety degree elbow for tyre inflation, an extra valve for tubeless arrangement, etc…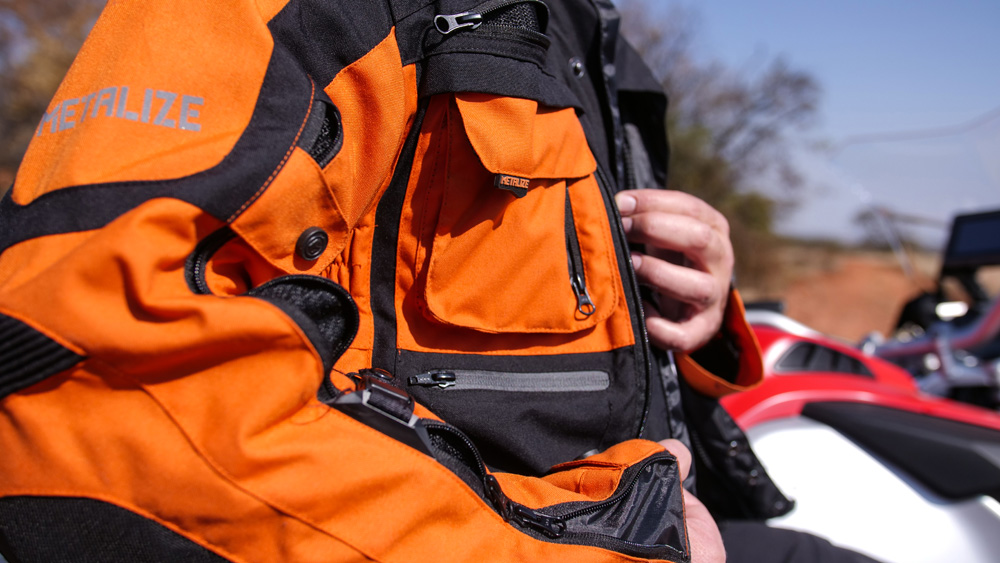 The jacket comes with both a thermal and a waterproof inner, which are two separate items, and are included in the suggested retail price of roughly R 4 300. The "bum-bag" pocket at the rear is large enough to store either one but not both of these inners, I used it to store the thermal inner, and I found that the bottom right-hand front pocket is adequate in size to store the rain inner. Another great feature I found is the hidden pocket located inside the thermal inner. When combined with the waterproof lining, this acts as a waterproof arrangement so your most valuable electronics will be safe in all but the most adverse riding conditions.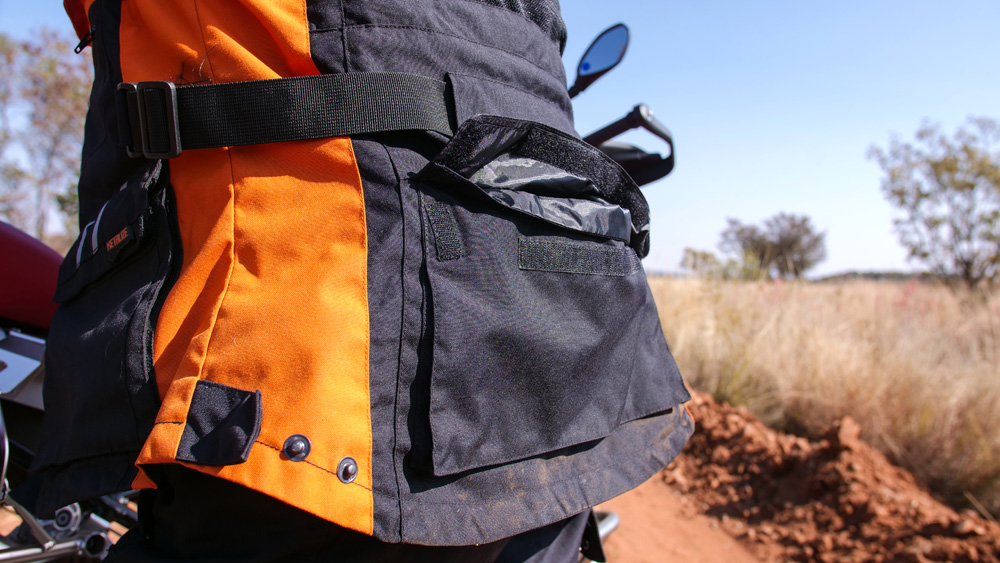 In summary, the Jacket has all the potential to become a faithful travel companion, that favourite piece of "go-to" kit, allowing you the freedom to focus on the job at hand. As Adventure jackets go, this one will serve you well in all but the hottest of technical conditions. At the suggested retail price of R 4 300, as mentioned earlier, Metalize can expect to sell stacks of these.
Now, turning our attention to the boots, as mentioned earlier in this review.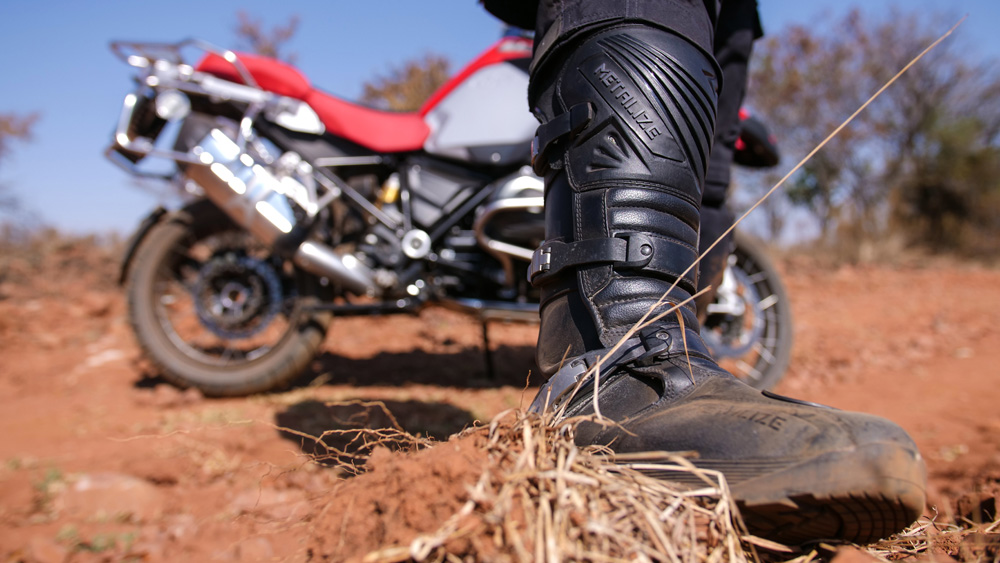 Yet again, as an adventure traveller I demand the impossible from my footwear. In my view, boots must fit comfortably and protect well, as I found out when dabbing my foot in the thick sand and the aluminium panniers hitting the back part of the boots' calf protection. Mishaps like this happen so quickly and all too frequently. Comfort for prolonged hours in the saddle is also critical. Being a barefoot country boy most of my life, hot stuffy feet is no option when traversing and exploring.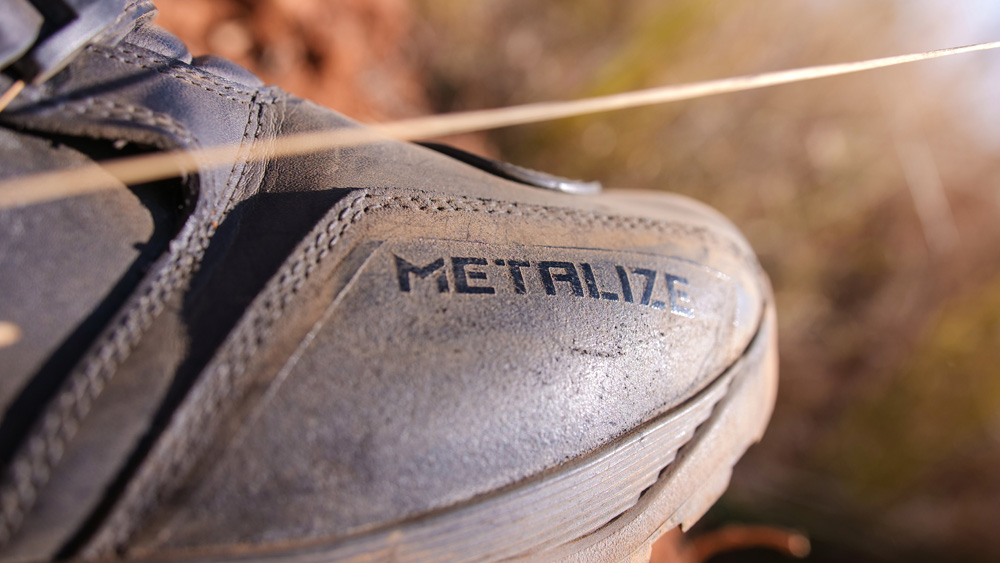 Many from the adventure family believe in the better protection of the so called "plastic boots" used in Motocross and Enduro sports. I beg to differ. In my opinion, an adventure touring boot should have extreme levels of comfort, feel, excellent grip from the sole, and a metal shank or stiff sole for prolonged hours of standing on the foot pegs. The leather Metalize boots as tested, adhered to all these qualities and exceeded my expectations. At a suggested retail price of R 2 900, these boots punch well above their weight. Even better, is the fact that spare parts can be readily obtained from the importer.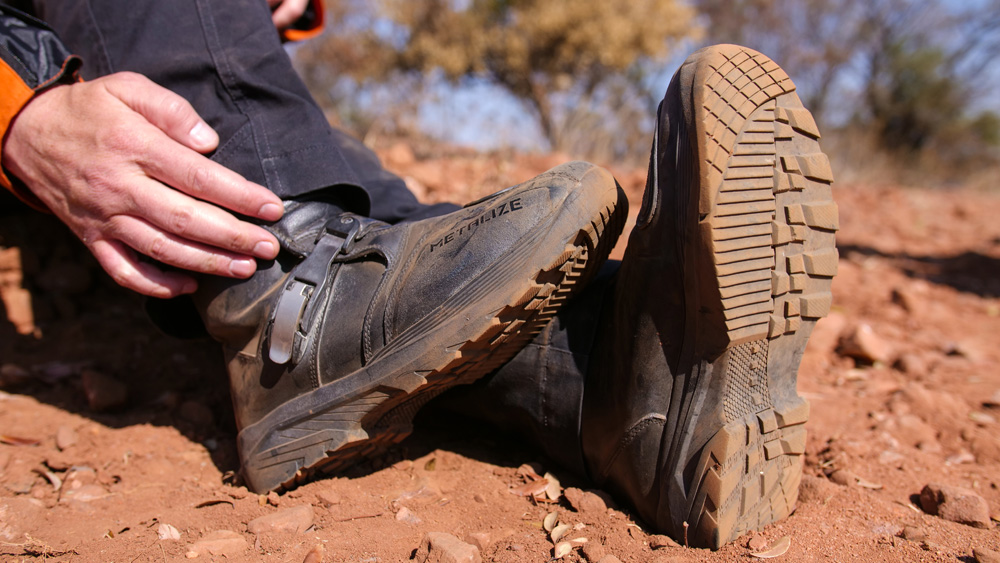 A further bonus is that the fastening system is screwed on, rather than riveted, making roadside repairs a reality. These boots took a bit of time to become comfortable, which is to be expected with these levels of protection.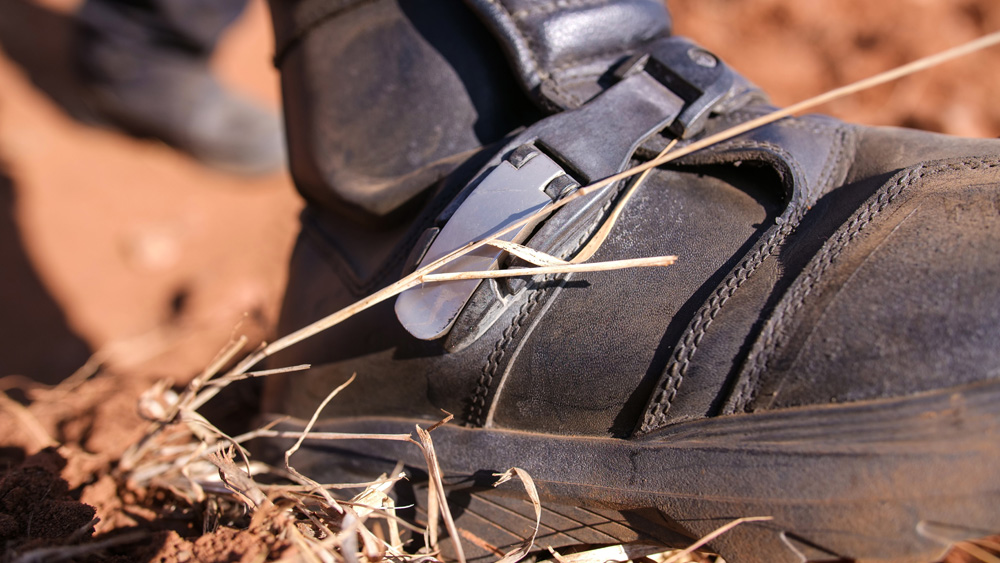 In conclusion, apart from excellent, affordable product, I see an importer/distributor in Henderson Racing Products that are both enthusiastic and committed to bringing the best to their clients. When taking the time to go and visit this fine team, I cannot help but notice their vision. This kind of commitment filters through to the deepest levels of service, availability and product. Now for the next journey, the next adventure….
For more information visit the HRP Facebook Page.