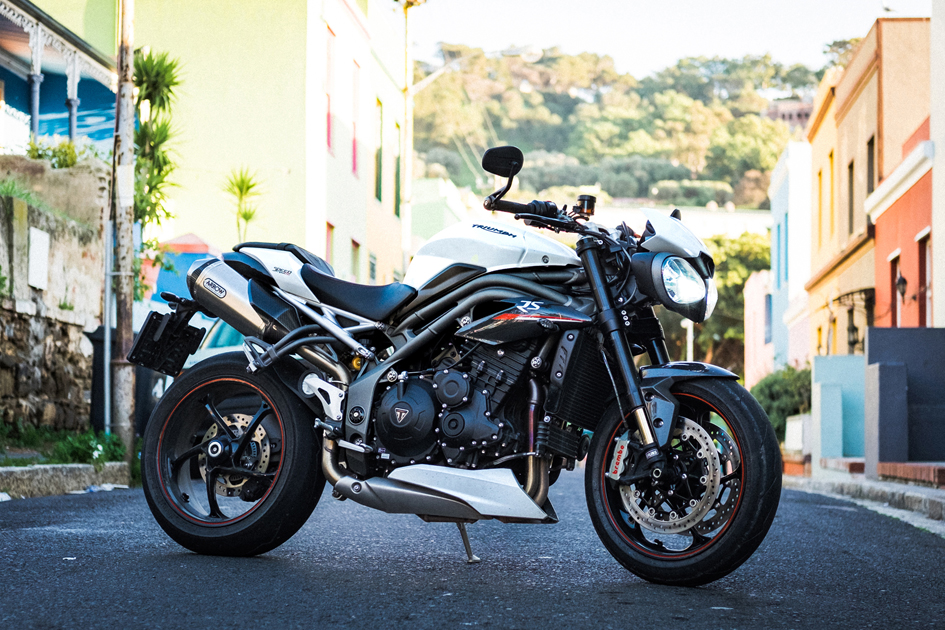 I've had a crush on the Triumph Speed Triple ever since Tom Cruise escaped from the bad guys on one, in Mission Impossible II. That was eighteen years ago, but remarkably I've never swung a leg over Triumph's three-cylinder brawler… until now.
Triumph South Africa were kind enough to loan me their 2018-model Triumph Speed Triple RS for a couple of weeks. I picked it up with great trepidation; I'd been building this up in my mind for almost two decades, would it be up to muster in real life?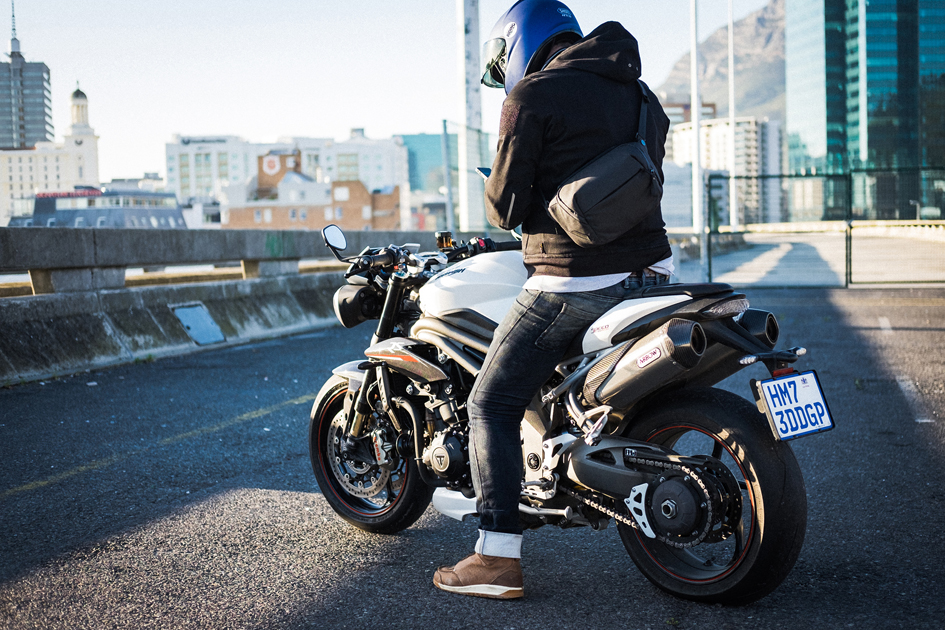 Spoiler alert: yes. The Triumph Speed Triple RS is all that, and a bag of chips. I was grinning like a dweeb from the moment I fired up the ignition, right up until I handed the keys back.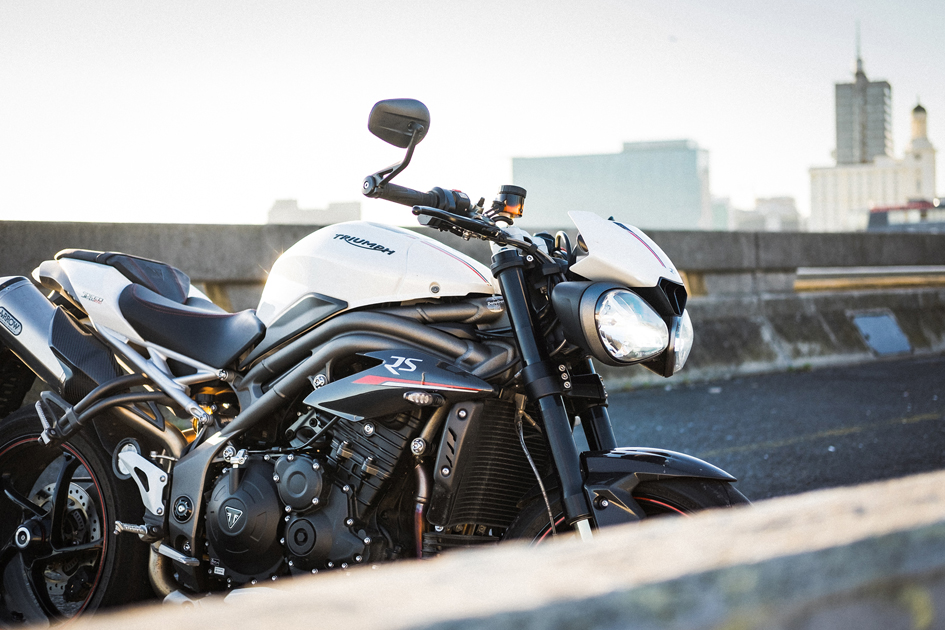 The R210 000 'RS' is currently the only Speed Triple model available in South Africa. Compared to the base model 'S', the RS benefits from full adjustable Öhlins suspension at both ends, a pair of Arrow silencers and one extra riding mode. Both feature twin Brembo front brakes, with ABS—but the RS includes cornering ABS, which uses electronic wizardry to optimise cornering performance.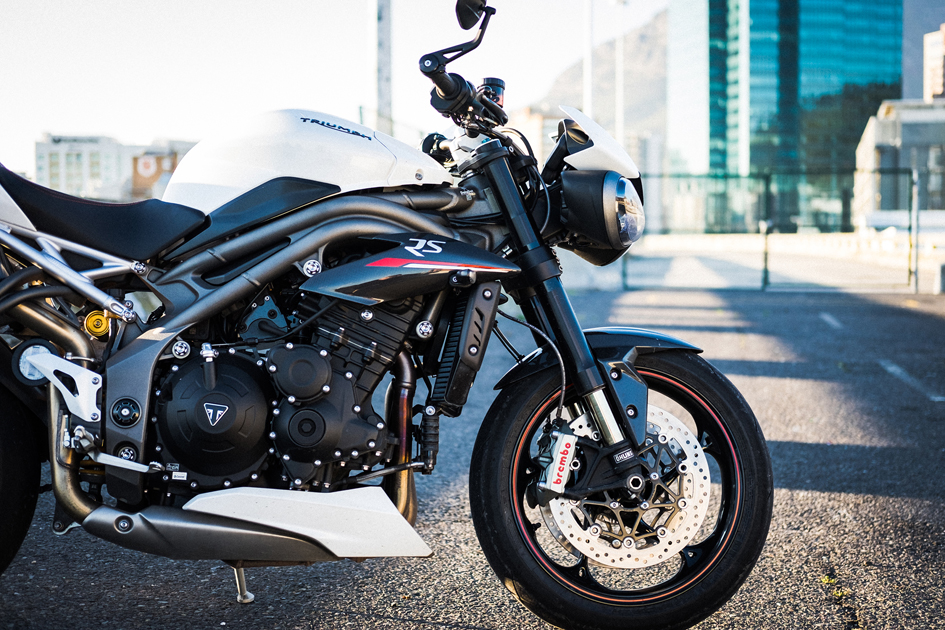 Both are powered by a 1 050 cc triple cylinder mill, good for 148 hp of power at 10 500 rpm, and 117 Nm of torque at 7 150 rpm. That's a touch more power and torque than the outgoing model, and the new Speed Triple is lighter too, at 189 kg dry. Out on the tarmac, that translates into a very lively ride.
The RS also gets a few upgraded trim items, some swish carbon bits, and a belly spoiler as standard equipment. For the rest, the two models are mostly identical: that unmistakeable aluminium twin-spar frame, those bug-eyed headlights, and a chunky single-sided swing arm.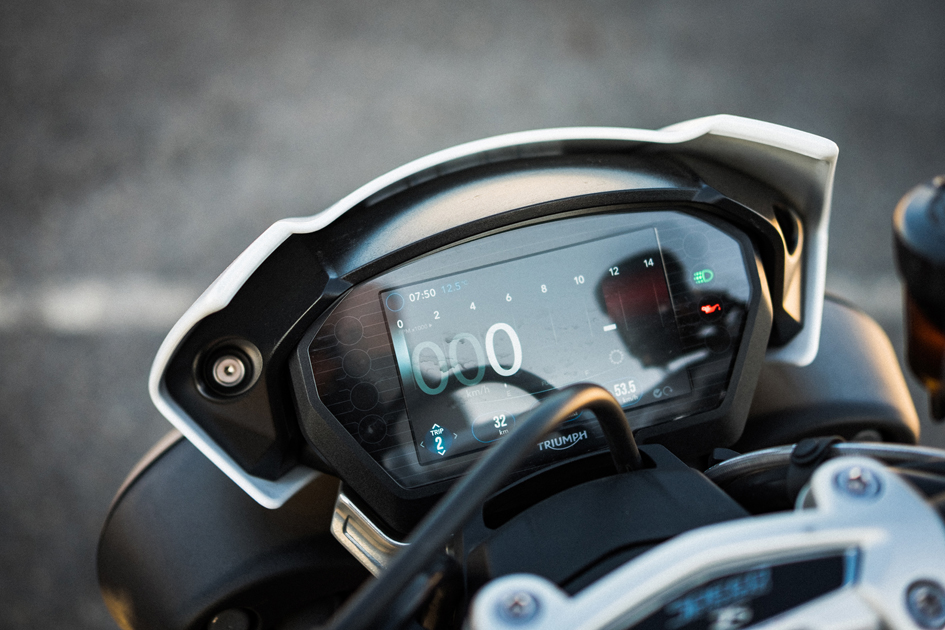 There's also a new, easy to follow 5" TFT display. It packs in a ton of information, automatically switches to a high contrast setting (basically inverted) in low light, and has three designs to choose from. The important stuff like your speed, revs, gear and fuel level take the prime slots, while a little joystick on the left switchgear flicks between your odometer, trip meter and a ton of other details. If anything, it's a little over-designed; a little minimalism wouldn't hurt here.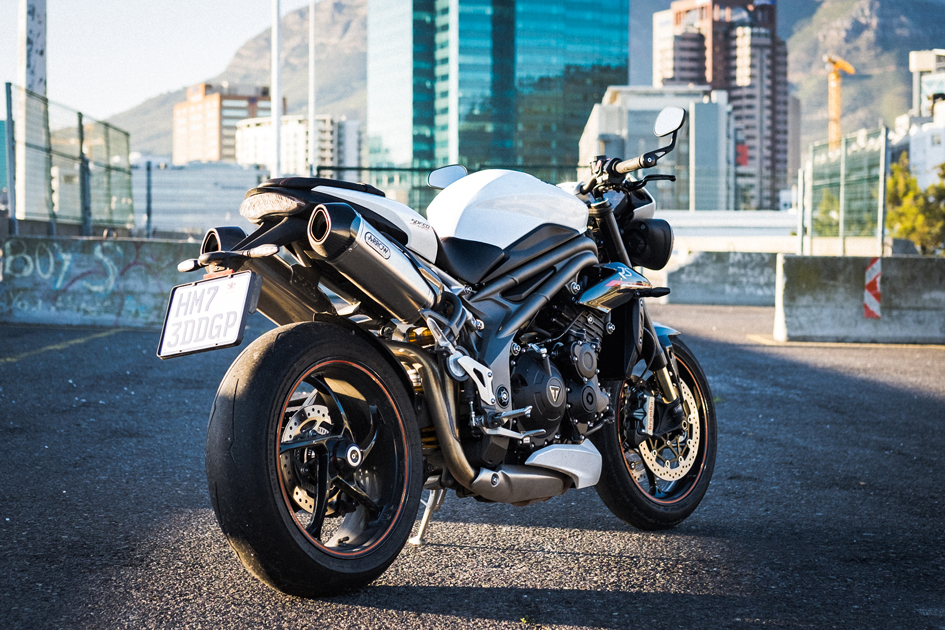 Overall, the cockpit's really well laid out, and every little component feels top-shelf. The bar-end mirrors are surprisingly effective, the switchgear is easy to navigate, and the cruise control (which I hardly used) is an user friendly dual-button system. The Speed Triple uses a keyless ignition, with one big toggle button that turns the bike on, disables the kill switch and starts it. It can be a bit fiddly at first, but it doesn't take long for the process to become second nature.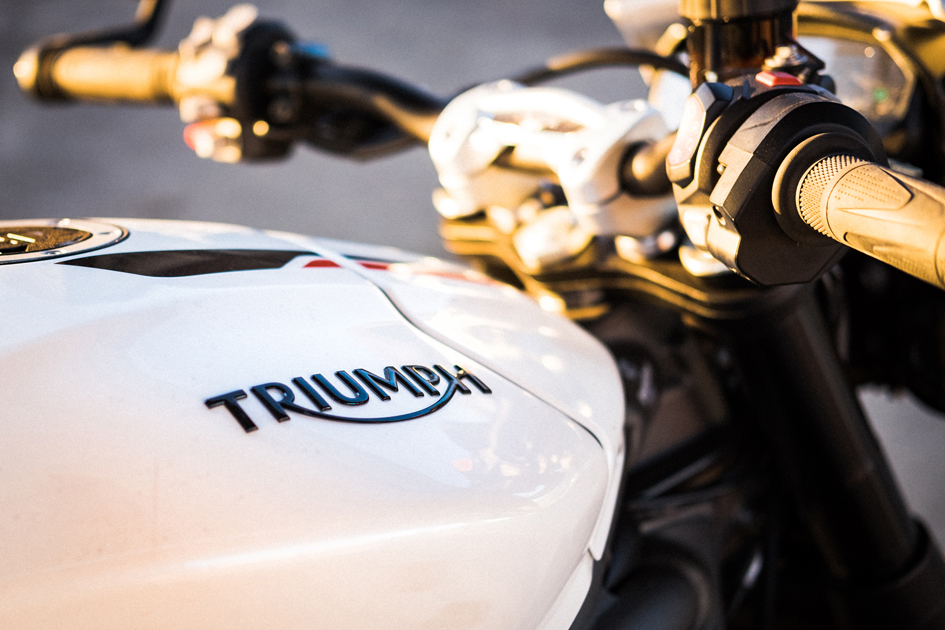 I was expecting to see a hydraulic clutch on the bars, but instead Triumph have installed a cable-operated, slip assist clutch. It's actually very light and usable, and the six-speed 'box is equally smooth. That said, I can't help feeling that a bike in this price range should come with a quick shifter as standard. (It's an optional extra.) On the up side, both the clutch and brake levers are fully adjustable.
So it's a far more advanced machine than the 2000-model that Tom Cruise's stunt man did unimaginable things on, but it's no less iconic. Even without the original round headlights (a change that die hard fans still bemoan), the Speed Triple's street fighter DNA is still very much evident.
And it's clear from the moment you hop on, that it's still just as much of a hooligan machine. It's an extremely compact motorcycle, with street-fighter ergonomics that pitch you just forward from centre, and encourage shenanigans. On the down side, a lack of wind protection limits how fast you can go without straining a neck muscle, and that tight riding position wears thin after 150 km or so.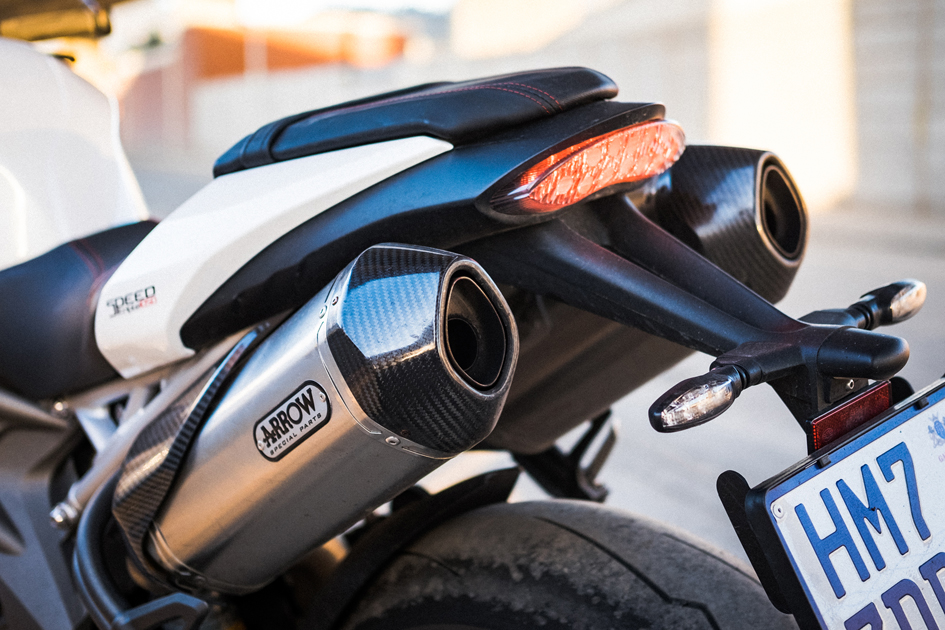 Fire it up, and the combined sound of the Speed Triple RS's triple motor, and its twin Arrow cans, is just superb. The mufflers are Euro-spec though, so they are a bit muted—but get the Triple up to 7 000 rpm, and it sings.
Even the littlest amount of throttle propels it off the line—and while traction control and riding modes have added a measure of refinement, they haven't quelled the Speed Triple's aggression. I suck at wheelies, but that front wheel sure did feel light a few times, even when in 'rain' mode.
Flipping through riding modes is a pretty straightforward process too. Hit the dedicated 'mode' button, flick over to the setting you want, and press the joystick in to select it. Triumph have picked icons instead of names for their modes though, which can be confusing.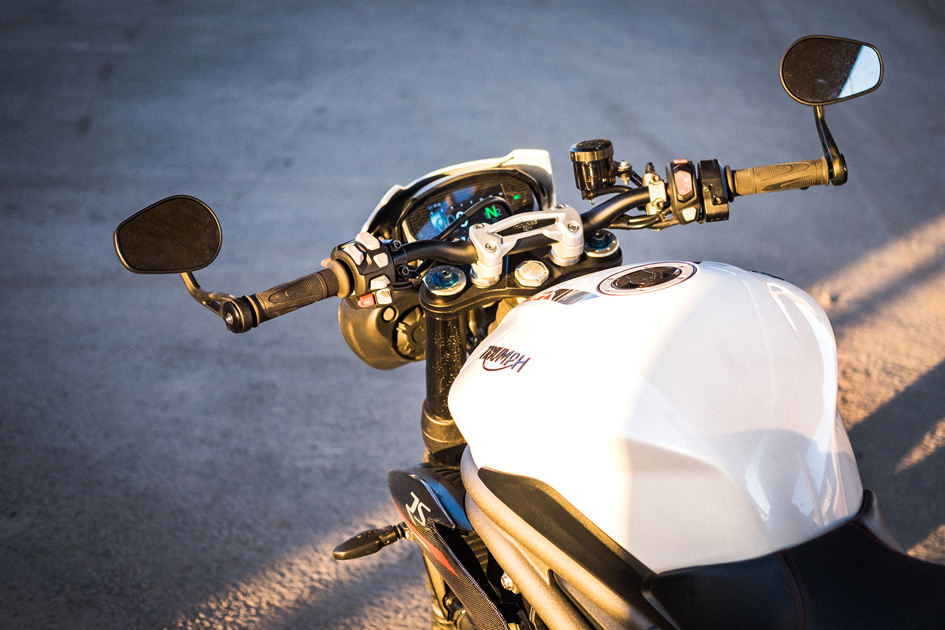 The modes seem to be rain, street, sport, track, and a custom user profile. Each has their own engine map, and regulates how much the traction control and ABS interfere with your riding. I was more than happy switching between street (day to day riding) and sport (when I found myself on a twisty piece of road), which both work so well out of the box, that I never dug into the customisable settings.
What I did mess with though, was the fully adjustable Öhlins suspension. Whoever had the bike before me had done a dismal job of setting it up, so the Speed Triple felt like jelly the first time I pushed it hard.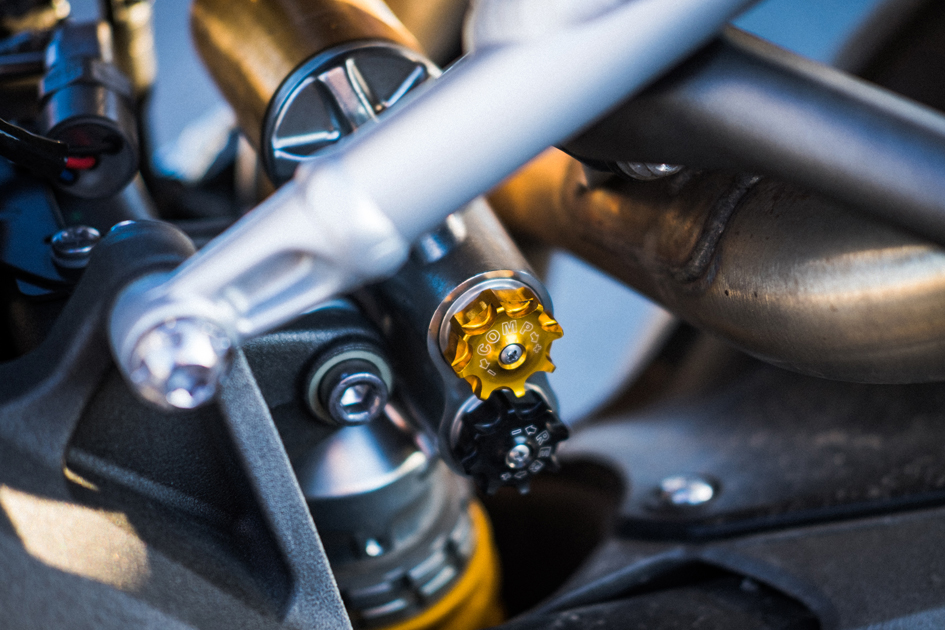 I downloaded the user manual, reset everything to factory default, then tweaked it to Triumph's recommended settings for sport riding. A quick spin around the neighbourhood, and a few more clicks, and it was damn near perfect. Setting up suspension can be daunting, but the user manual was ace at holding my hand through the process.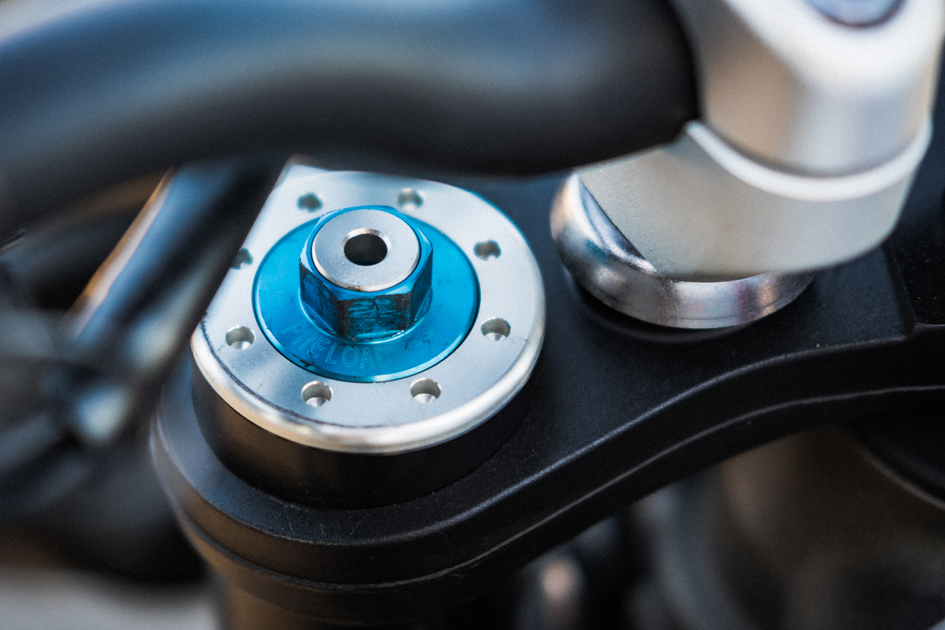 Once I had it set up, the Triple really came alive. It's a nimble machine, is sensitive to rider input, and corners on rails once you've pointed it in the right direction. My time on the Speed Triple coincided with me picking up a couple of new riding techniques, and it was the perfect machine to test them out on.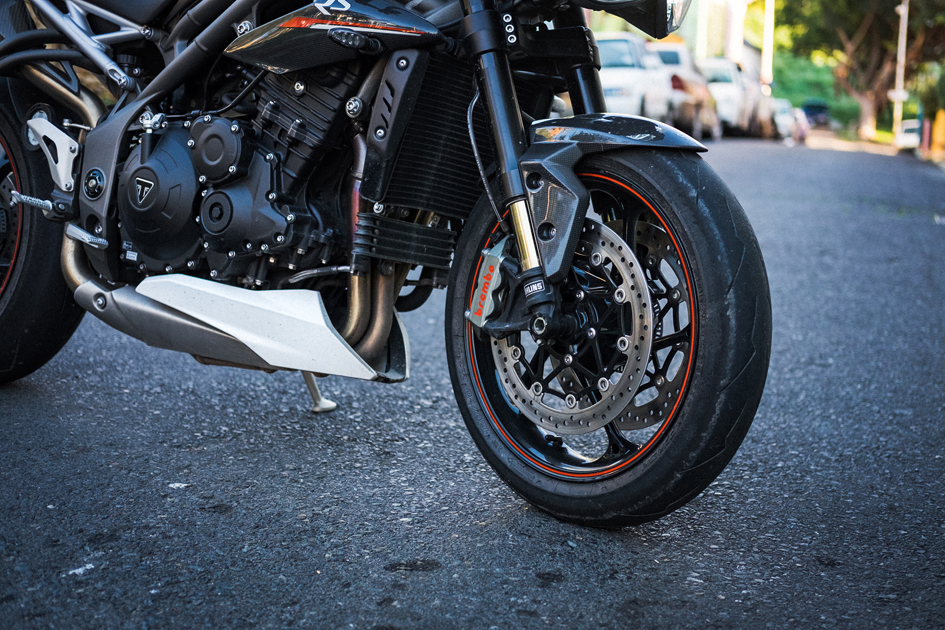 Sure, it's a little weighty, and that was noticeable when the roads got tighter, and I started flicking it from corner to corner. But the more body English I threw at it, the better it responded, and with excellent stopping power and modulation from those twin Brembos up front, I felt completely in control. Really spirited riding eventually tired me out—but I was tired and happy.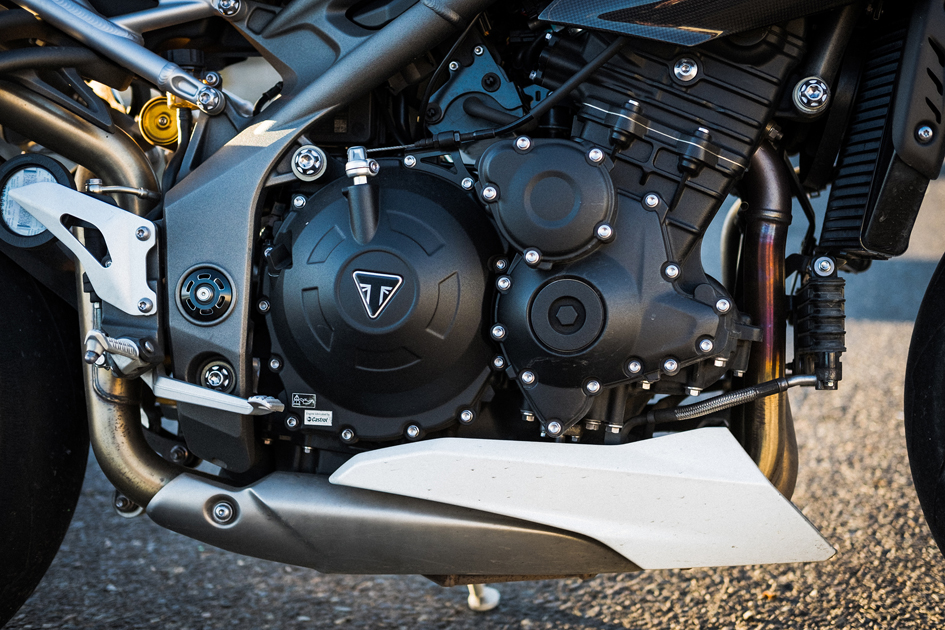 So how does the Street Triple stack up against other big nakeds? I honestly couldn't tell you. It's a pretty unique ride, thanks to that peachy triple-cylinder motor. If anything, it faces tough competition from within its own family; the Street Triple RS is lighter, cheaper and still makes more than enough power.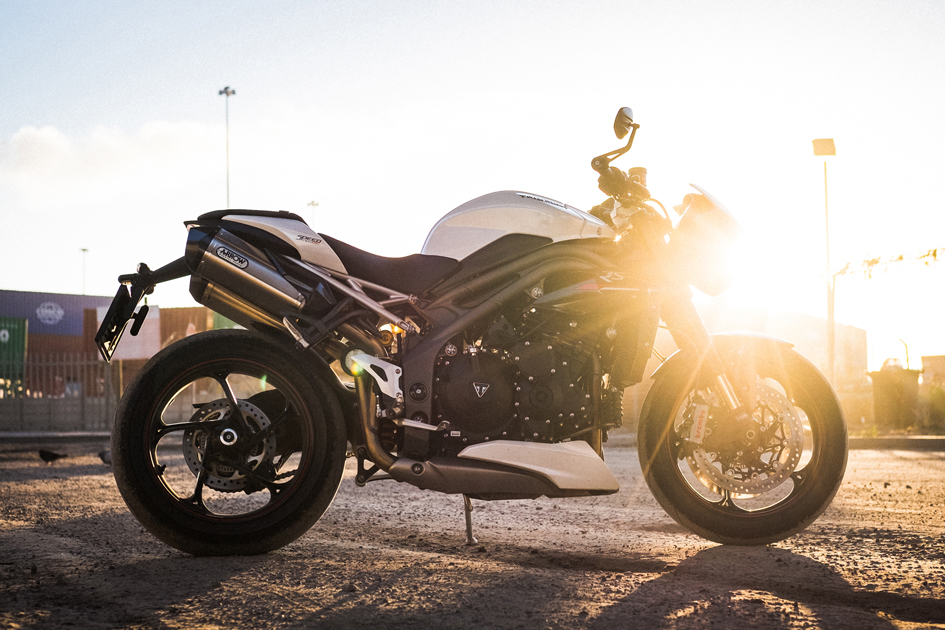 The Speed Triple RS is part scalpel, part sledgehammer, and might even be total overkill for most riders—myself included. But then again, whoever said motorcycles had to make sense?
Images by Wesley Reyneke