Rarely does it happen that a motorcycle offers you more performance than what you pay for but in the case of KTM bikes, they invariably do and the 390 Duke is no exception. When the 390 Duke was launched in 2013, the amount of bike you got for your money was such that even I, as a 16 year old at the time, aspired to own one. This orange bike, that I was obsessed with, was more than just a motorcycle to us teens. The 390 Duke became an object of desire that started miniature riding groups on our teen 'WhatsApp groups'.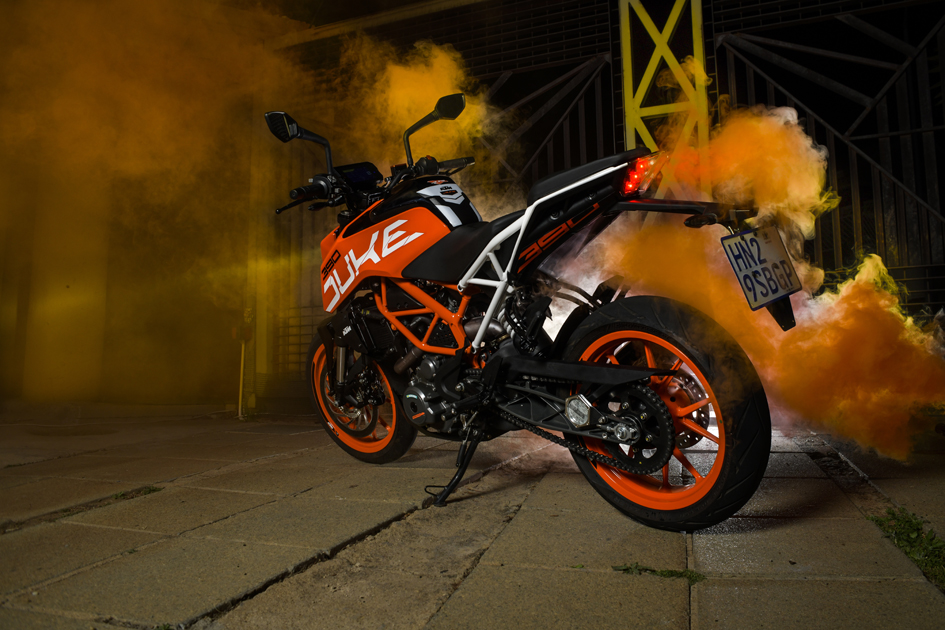 KTM brought out it's newly designed 390 Duke last year and yet again, KTM has astonished us, but this time with a new plan! This second generation 390 Duke is no longer just a motorcycle for the pimply faced crowd, it is a bike that appeals to a much wider audience.
A month prior to my purchasing my recent KTM 390 Duke, I had run into motor issues with my Kawasaki 650 Versys. Having a tight budget, I looked into the 300cc / 400cc category.
The available options at the time were:
Kawasaki 400 Ninja
KTM 390 Duke
Yamaha R3
KTM 390 RC
BMW G 310 R
Zontes ZT310-R
Having ridden nearly all of these bikes, I came to a conclusion – it had to be 'orange & white'. Having been the cult bike back in 2013 and now even better in every respect compared to the previous generation and to it's current competition, I was left with an easy decision. Now you may think jumping off a 650 and onto a 390 is a downgrade, but the way engine development has progressed on the bikes of today, it is not the case.
What I especially like about the 390 Duke, is the many factory parts & accessories which are available to customise your bike to your liking. As a motorcycle enthusiast, I like the fact that I can personalise my bike with factory parts and also purchase KTM fan-wear, such as; mugs, shirts, gear and so much more – which makes the "enthusiasts" life a doddle!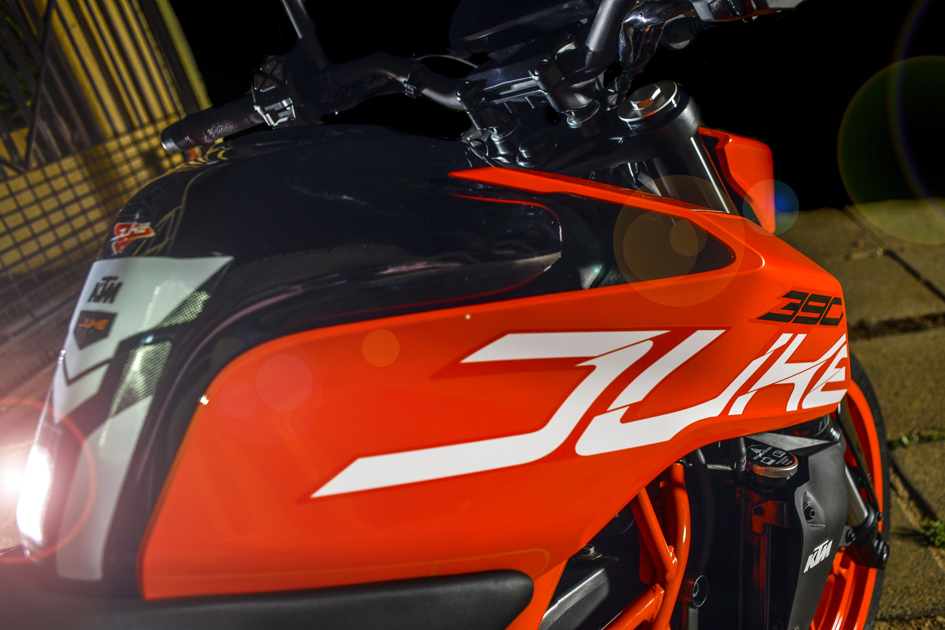 Having been designed around it's older brother, the 390 Duke looks absolutely gorgeous with it's sharp plastics, split LED headlight unit and it's sub-frame that is painted in white, with the main frame in orange. The extra 2.5 litre fuel capacity and cleverly constructed metal tank is a winner because, not only do you get an increased range, you can now also mount a tank-bag, helping you free up space in your rucksack. As I mentioned previously, KTM has a monumental parts list of not only performance-based upgrades but practical parts as well to make your commute that much more comfortable and flashy.
There are many things that I like about the 390 Duke, but I'll give you my top six:
1: The TFT Display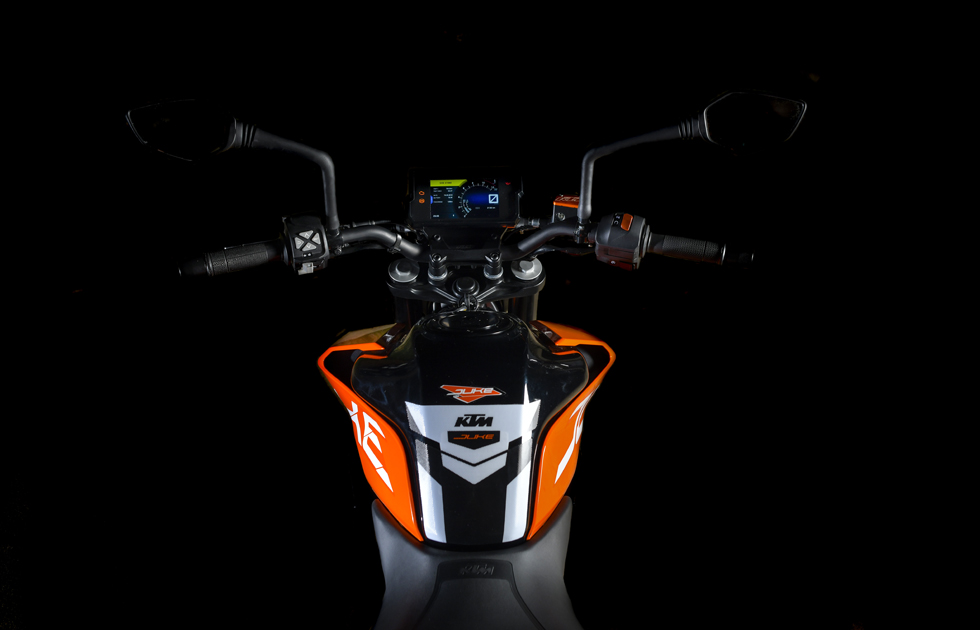 Immensely sophisticated electronics like this TFT dash, makes the KTM 390 Duke a force to be reckoned with. The first thing you'll see appearing when you turn the ignition on is "Ready To Race", which is KTM's slogan and yes, applicable to the 390 Duke too. The TFT dash has a light sensor on the top right which analyses light and then it decides to either present you with a dark back light or bright back lighting, making the screen much easier to read.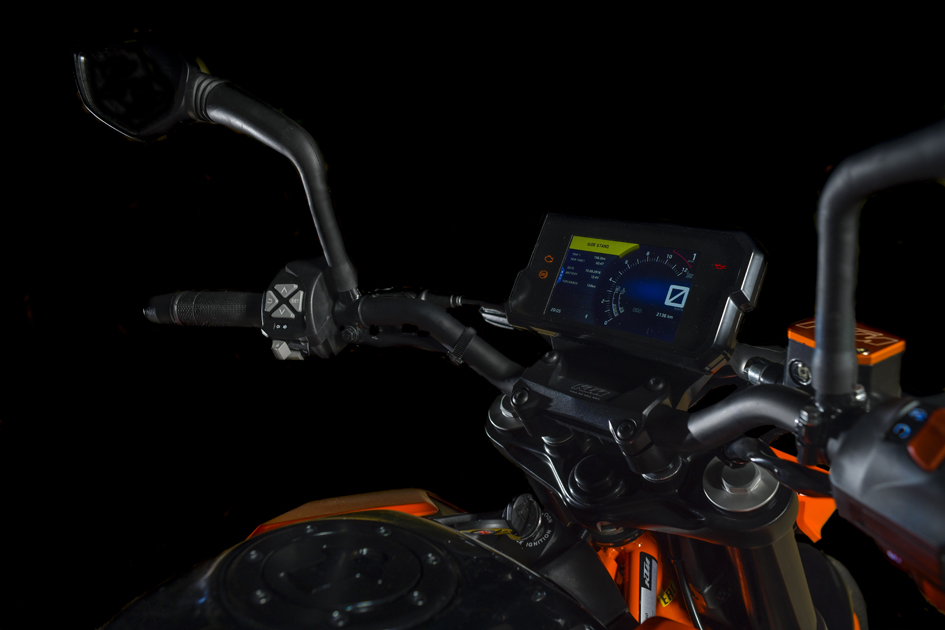 On your main screen you will find all your important trip information such as km/l, trip meter, date & time , trip time, temperature, fuel, battery voltage and ODO. This can also be adjusted in your settings, which helps you simplify things. By ticking the boxes of choice, you see only the information you want to see .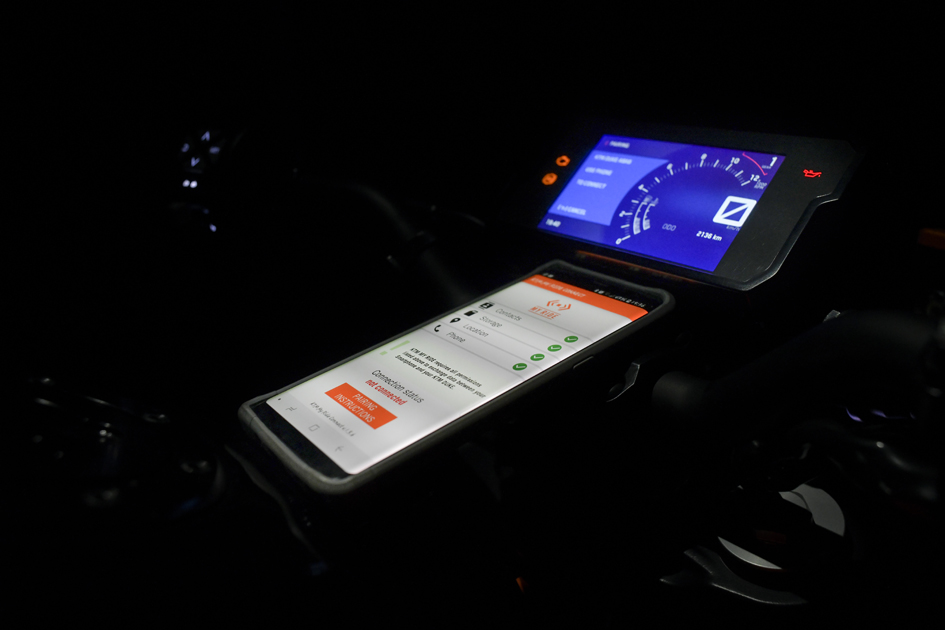 The 390 Duke has Bluetooth capabilities that allows you to connect your phone to the bike through the 'I Ride App', which then allows you to listen to audio or view your GPS on the go. When having to change songs or answer a call, you can just use the switchgear on the left to do so. The Dash also lets you know when each service is due and if you run over the service interval recommendation – a massive yellow warning sign pops up.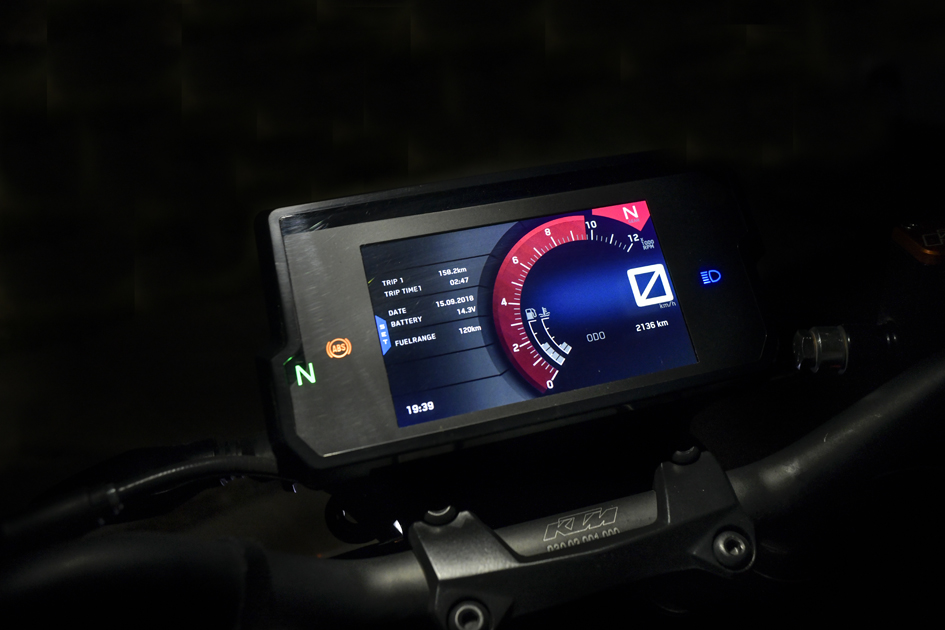 Lastly and this might be a bit "racer" to most people, you can adjust your shift light – meaning you choose an RPM in which you'd like to see the shift light flash.
2. Brakes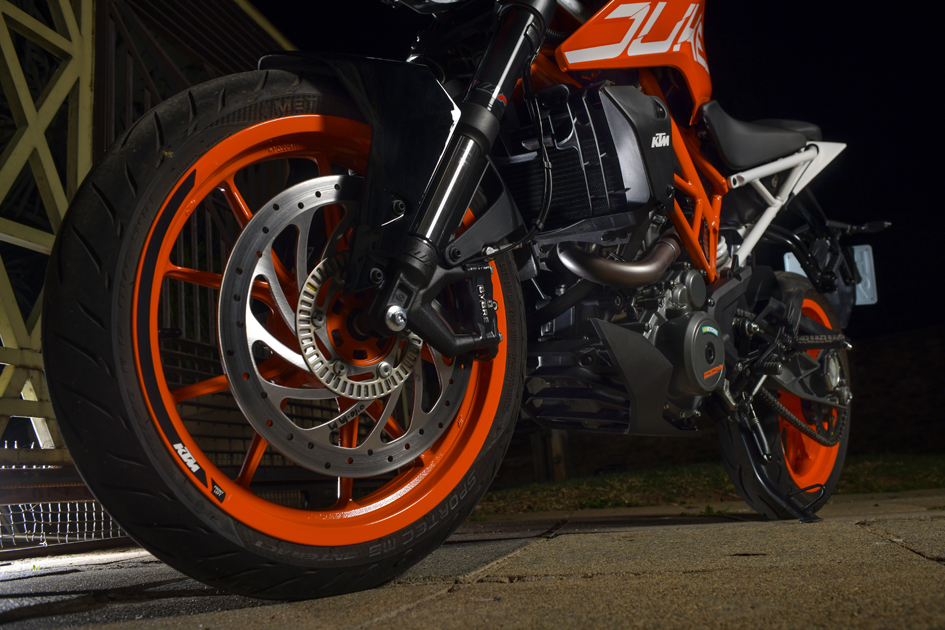 The 390 Duke is fitted with perforated steel discs; a 320mm front and a 230mm rear disc, which are coupled with hydraulic ByBre brake callipers that deliver controllable and confident braking performance. Furthermore, the 390 Duke uses a state-of-the-art Bosch ABS system and yes, the ABS can be fully disengaged for the more advanced/hooligan riders, and for the sensible hooligan, there's Supermoto mode.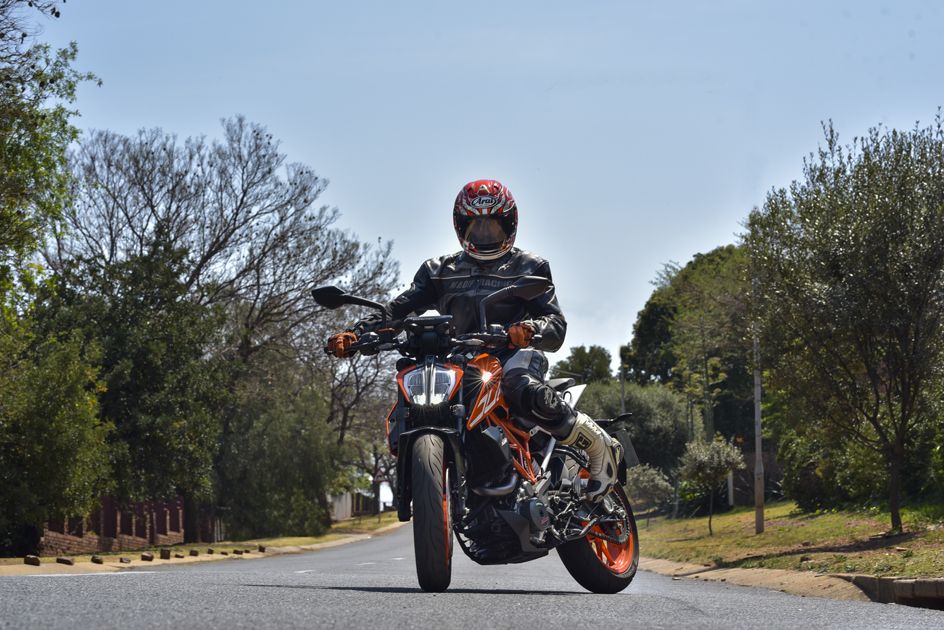 Supermoto mode is the setting of choice for myself and the function it provides is that front ABS stays engaged whilst rear ABS is completely disengaged allowing you to play a little more with your rear brake and engine braking. Backing it into the bends is a doddle in this mode.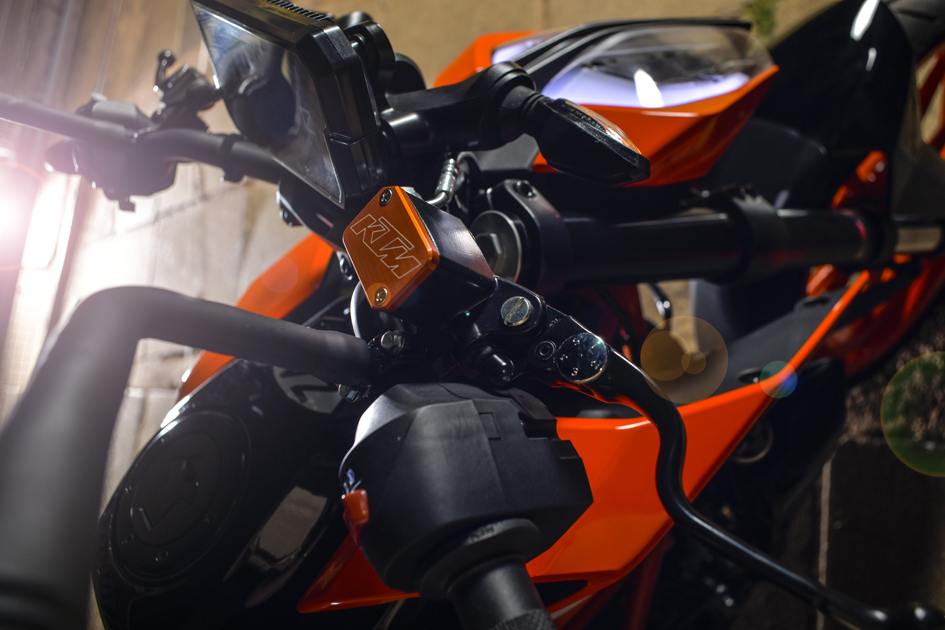 The brake and clutch levers are adjustable with 5 options of adjustment, the 5th being the longest stretch. I seem to prefer setting 3 on either side because I ride with one finger resting on the brake and two fingers on the clutch permanently (whilst riding on our South African roads). As you might have noticed, I've replaced the brake reservoir cap with an orange anodised sibling in order to give the front cluster some colour. This upgrade was thanks to Jeff from: www.traxktm.co.za who ended up convincing me on getting a good looking tank protector too.
3. Headlight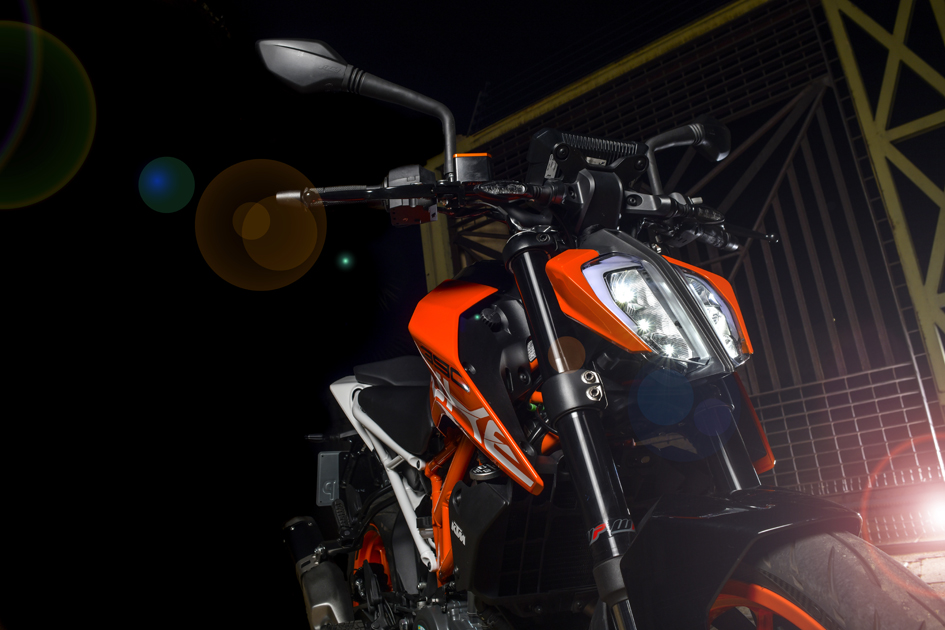 I use my bike 24\7, which means riding a fair bit at night. Because I ride so often in the dark, decent lights are essential. The 390 Duke doesn't just tick this box, it double ticks it! The lights are amazing even though you'll get the odd car flashing you or an Owl falling out of a tree. The parking lights, which consist of 20 LEDs, they look attractive and are permanently on, and they make the bike really visible to other traffic users – obviously a massive safety benefit too.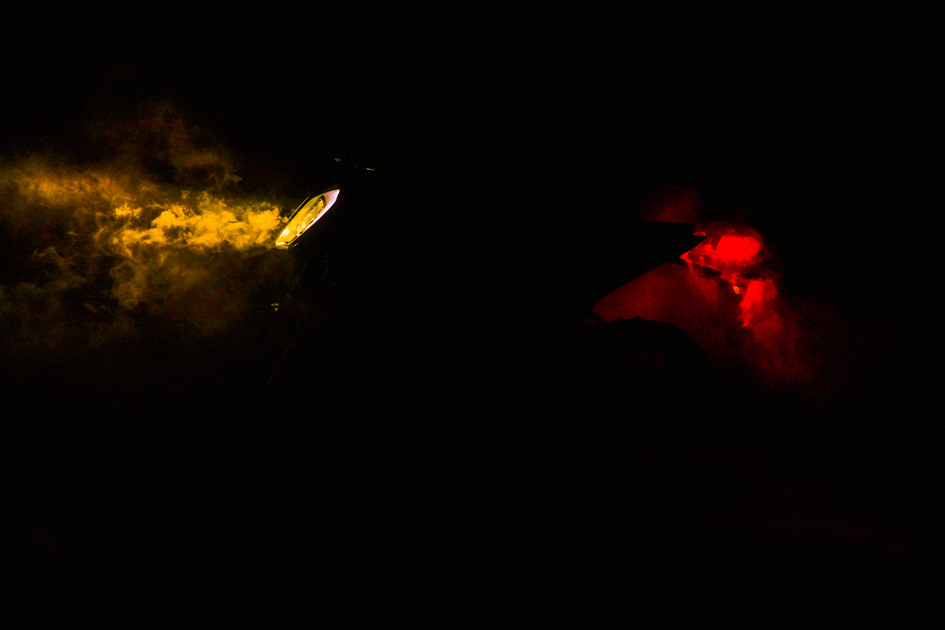 The head light comes equipped with AHO as well as DRL's. The AHO are the low beams which are the top two lights, the DRL's are the middle two and lastly there is the high beams when all the lights are on. I find the position of the headlight switch to be very functional and easy to use, especially because it's located just behind the clutch lever.
4. Handling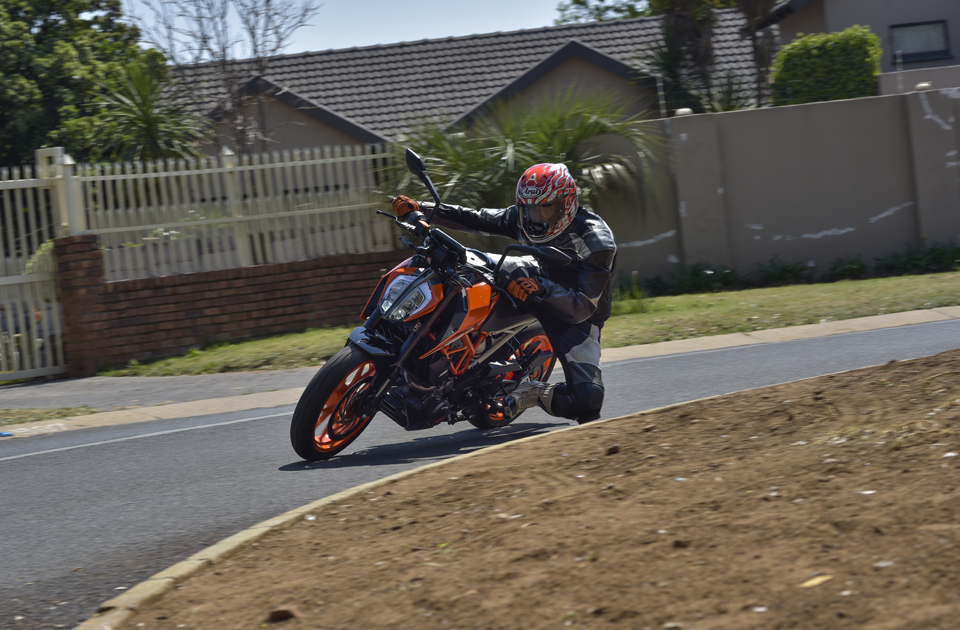 The front suspension features 43mm open cartridge WP forks, whilst the rear features a progressive damping system connected directly to the swingarm. I found the bike's suspension leaning firmly towards the sporty side of the spectrum, which is the kind of riding I enjoy and in the urban environment the suspension works well. If you are looking for a plusher ride, the rear suspension can be slightly adjusted, I personally have not tested this, as I said for me the set up is just right. The 390 Duke loves being fed corners, tipping in effortlessly and holding a stable line till the apex and beyond.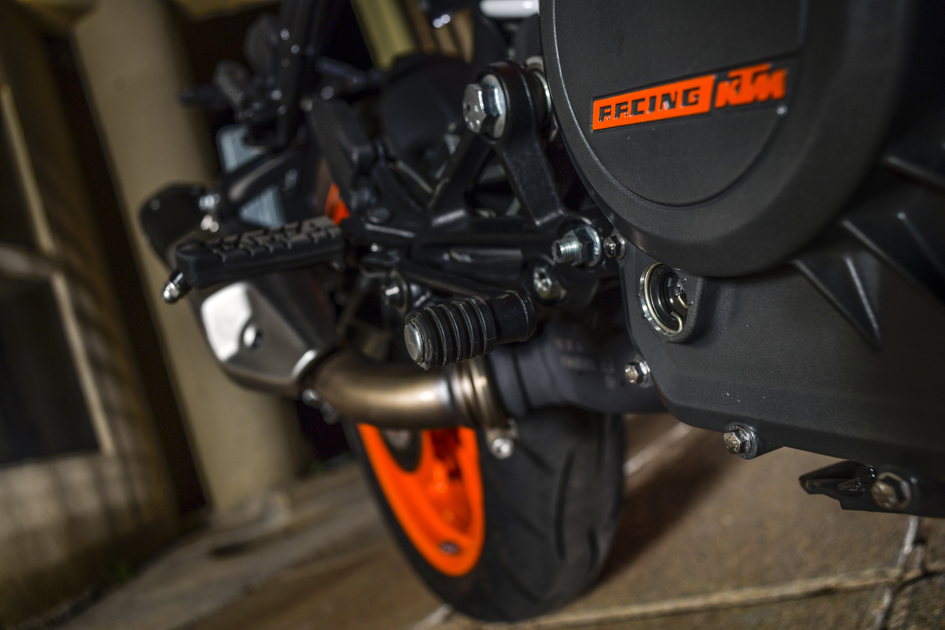 With a seat height of 830mm, high slanted foot-pegs combined with sporty angled handlebars, the Duke 390 gives a pukka Supermoto ride and let me tell you, it puts a massive grin on my face. The bike is fairly tall and at 172cm in my socks, I fit just fine. For those shorter riders, have no fear because KTM is near, with a lowering kit also found in their parts catalogue. 
5. Gearing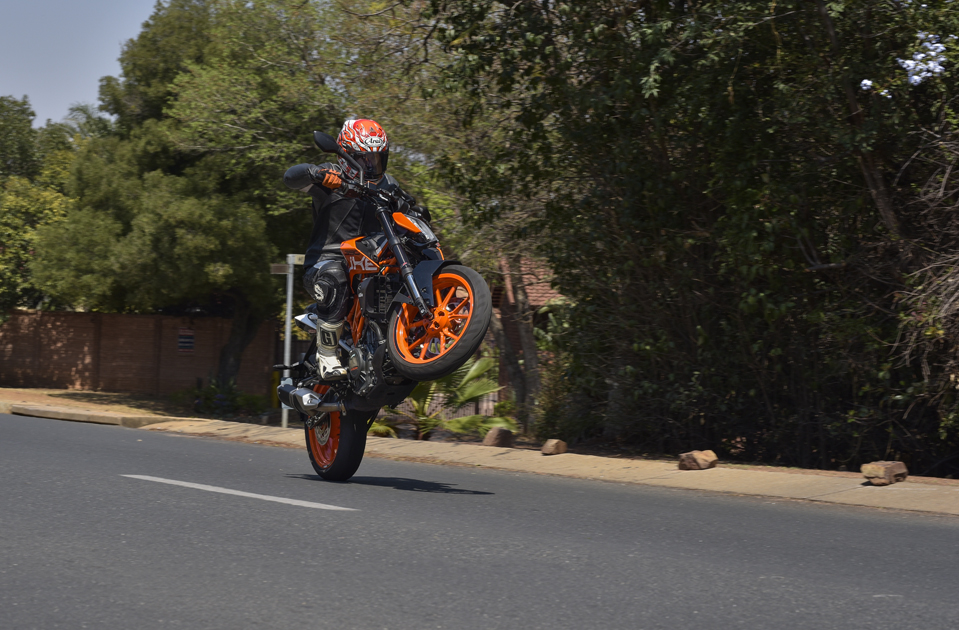 I'm obsessed with the gearing of this beastly motor and yet people say "slap on a smaller sprocket at the back," the more I want to add a few teeth. KTM have made the 390 Duke a torquey little monster, made for ripping up back roads and city streets with an occasional highway ride that will make you want to take the next exit. Don't get me wrong you can ride the 390 Duke on the highway at 120 km/h with ease, but that's not where it wants to be all day long. If you do purchase the 390 to ride on the highway at high speed for a long period of time then yes, work out a good sprocket combination. With the stock gearing you're looking at 163km/h top end, with an impressive 0 – 100 km/h in 5 seconds.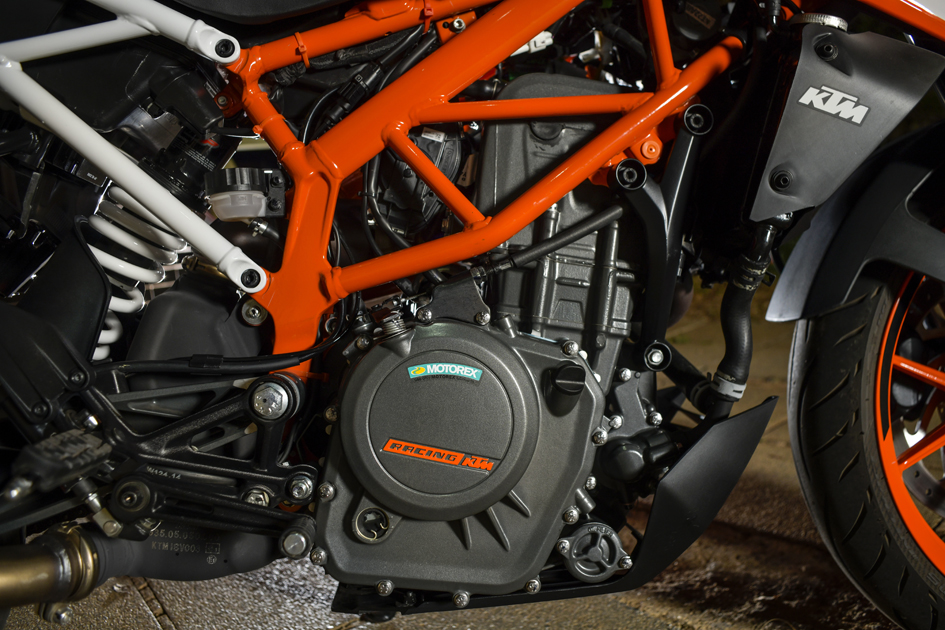 I managed to get 3.6 l/100 km fuel consumption with a steady wrist, and with a typical KTM aggressive wrist I see 4.8 l/100 km. I would like to go two teeth up on the rear sprocket to have a little more punch at the bottom but otherwise the 37 Nm of torque and 42.9 hp/32kW, will keep pulling me out of tight corners with a light front wheel.
6. Design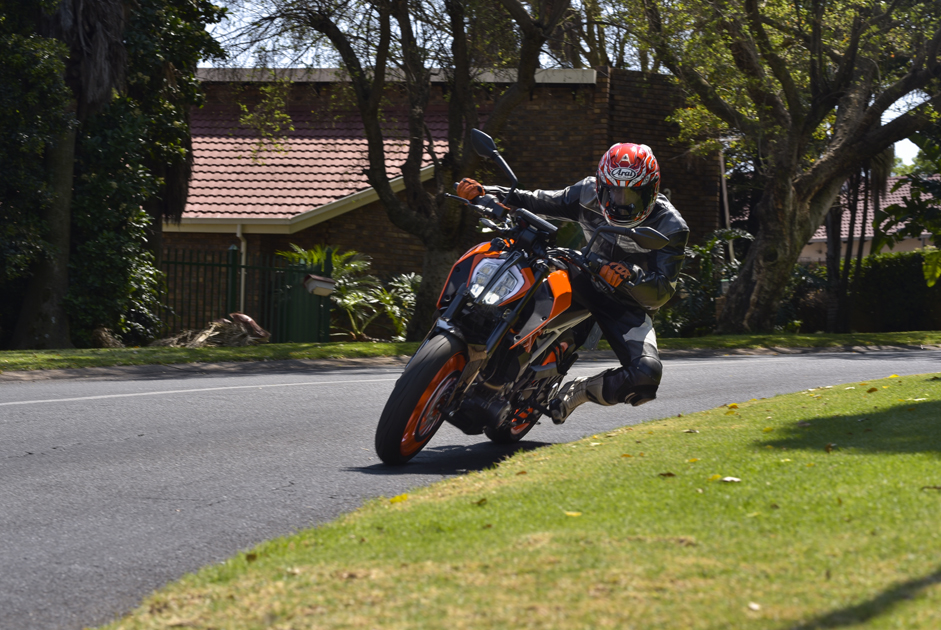 Once you've seen a Duke you'll never forget it and no matter which Duke you come across you will always find bits and pieces of DNA that match. The design brief for the 390 Duke was pretty simple: "it had to be light, compact, agile and fun, as well as being easy to live with and service". The new design came with a new orange and what a beautiful colour, highlighting the sharp edges and making previously dull or unexplored areas a treasure. I love the way KTM have taken the idea off their endure bikes radiator guards and slapped a similar design onto the Duke, as well as the bash plate not only being stylish but also protecting the family jewels.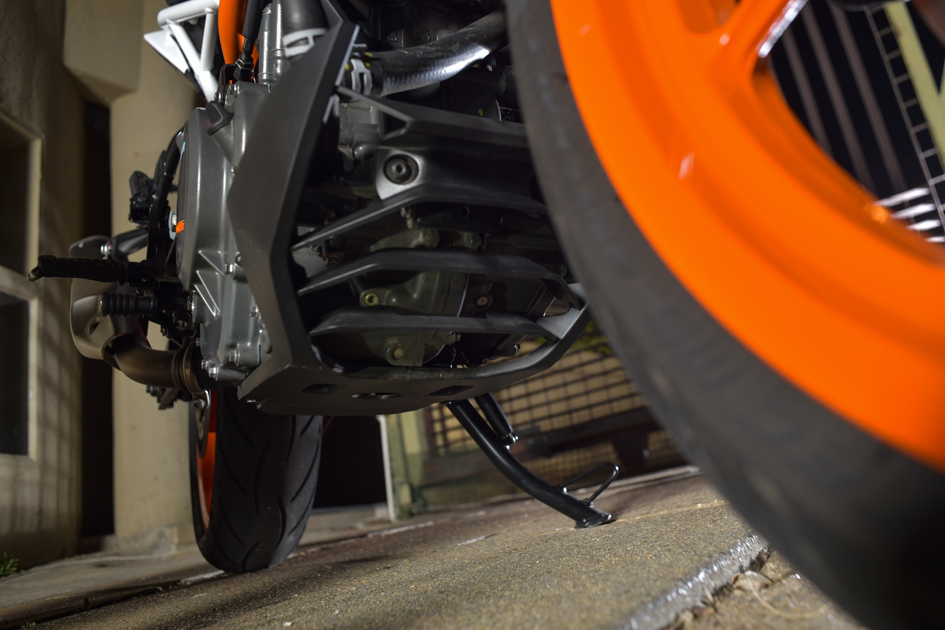 When KTM said: "easy to live with and service," they meant it! The 390 Duke is a pleasure to spanner on and tinker on, with all the bolts and nuts being accessible as well as simple to put back. There's a cleverly placed key slot on the left side of the bike which allows you to take off the seat but remember, the pillion seat needs to come off first and then the front seat, so you can access the air-box and battery. Lastly, I love how easy the Duke is to wash because with the orange wheels, you find yourself washing your bike on a regular basis.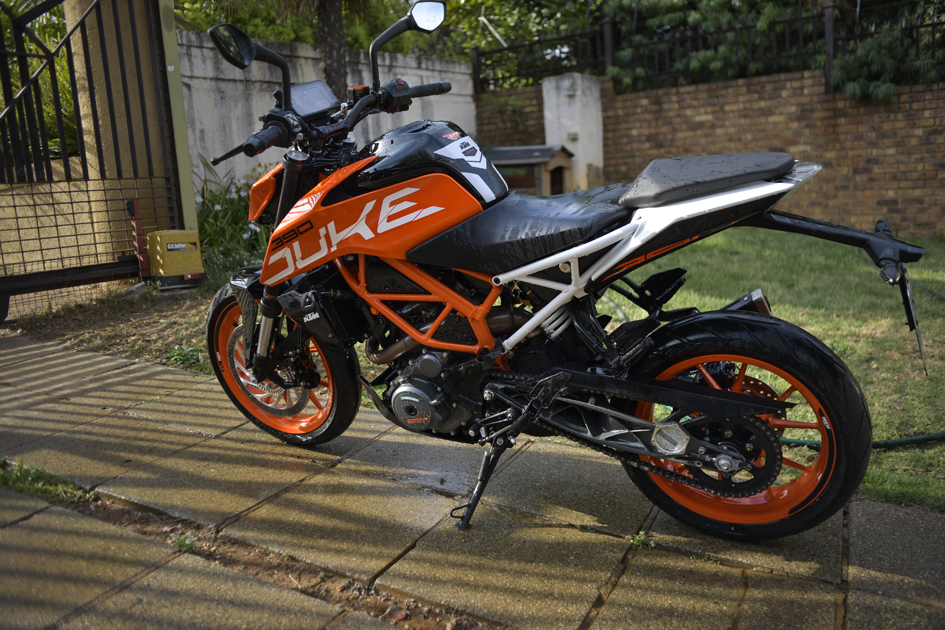 Personal Improvements
So my ride and ownership of this beautiful KTM continues but with some personal improvements (in stages due to cost $ ) ahead such as:
Fly Screen
Bar End Mirrors
Exhaust
Rear Seat Cowl
Some Orange Motor Bits
New Rubber ( Pirelli Rosso III )
ECU
So stay tuned fellow riders and let us know what you think I should add to my 390 Duke.
Remember, happiness is a way of travel, not a destination.