For the past two years ZA Bikers have been the Motorcycle Media partners for the annual Cancervive Ride. What is Cancervive? The idea was birthed 11 odd years ago by a small group of woman who had their lives affected by a skirmish with cancer. I deliberately use the word "skirmish" because, firstly, they survived to fight another day, and secondly, they decided to take the fight to this silent killer. How did they go about it? By not staying silent, but rather spreading awareness as well as the importance of early detection. This disease goes in stages, and if detected and treated early, it is very curable. Quite a few of the people affected started riding motorcycles after their skirmish. When your life is threatened and you emerge carrying the scars of your battle, you often have a heightened sense of how precious life is. You make a decision to take life by the horns and make every day count. As bikers we know what that entails. Ride more if you already ride, or start riding if you currently don't.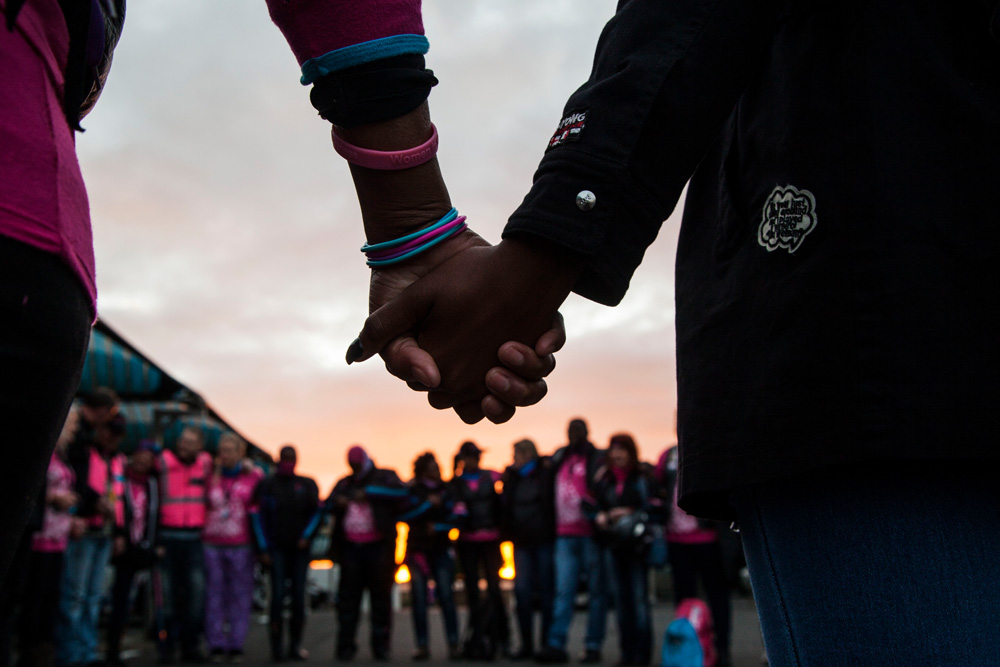 One of the personalities that was involved in Cancervive from the get go was TV personality, Janie du Plessis. She was a motorcyclist when she was diagnosed with breast cancer. After winning her personal battle and assuming leadership of the Cancervive initiative, she approached motorcycle industry players to sponsor bikes for the awareness road trips. The motorcycle sponsors for 2018 were Indian motorcycles. I would really like to give credit where credit is due. In our beleaguered economy it takes someone special to take on a sponsorship of this magnitude. Indian did not hesitate when asked. It was a simple "we'll do it". Clearly a decision taken with the heart. When you run your business with that kind of heart, you deserve to succeed, big time!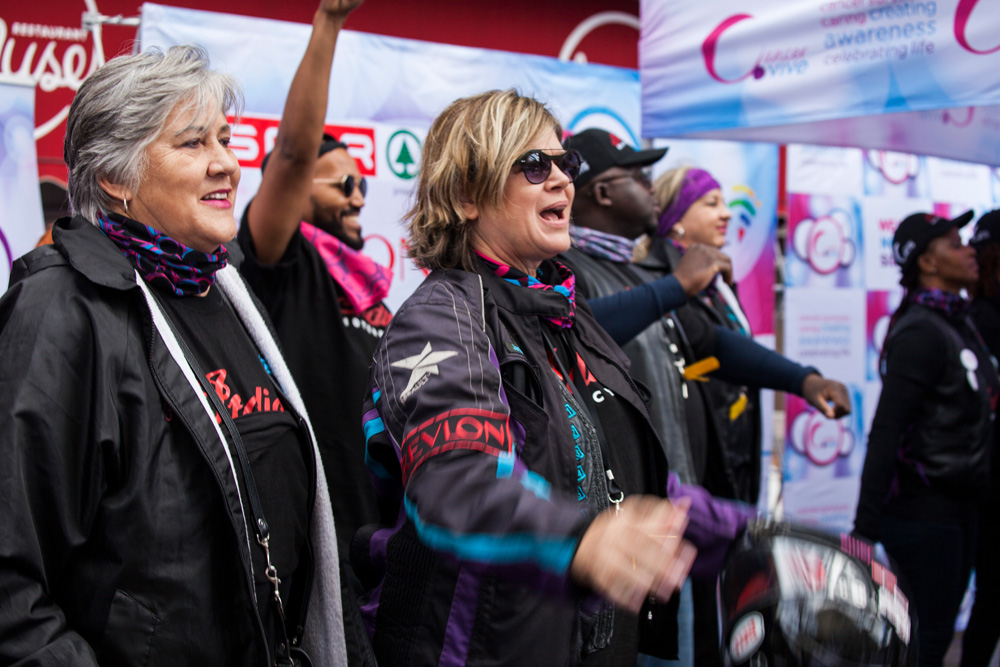 What the annual road trip entails is a bunch of cancer survivors and supporters travelling to schools and commercial entities who have big labour forces.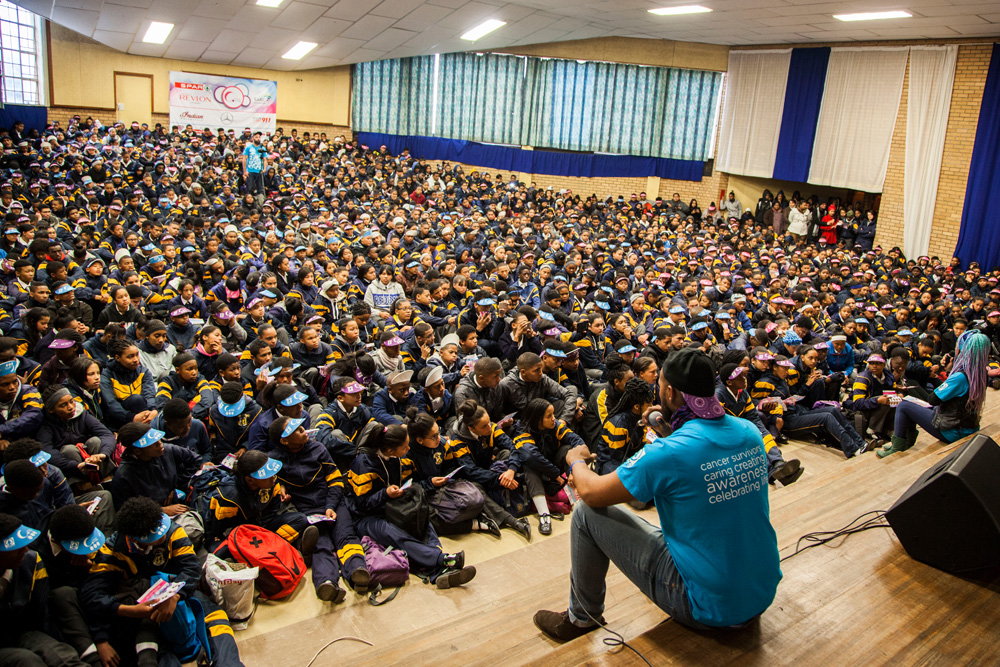 They put on a really entertaining show and share their testimonies of how early detection saves lives.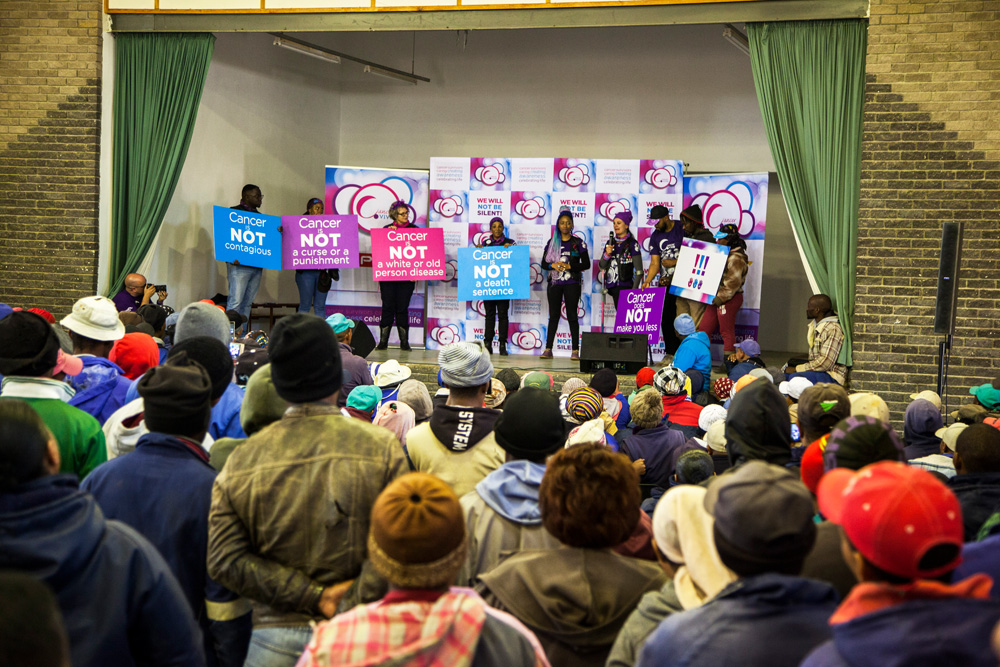 The motorcycles are an integral part of the whole spectacle. When we rolled into a venue on those magnificent Indians we immediately got everyone's attention! Selfies with the bikes became the order of the day. I truly believe that a lot of impact would be lost if they pitched by car. Cars are vital for carrying props etc, but for making a statement, bikes just rock!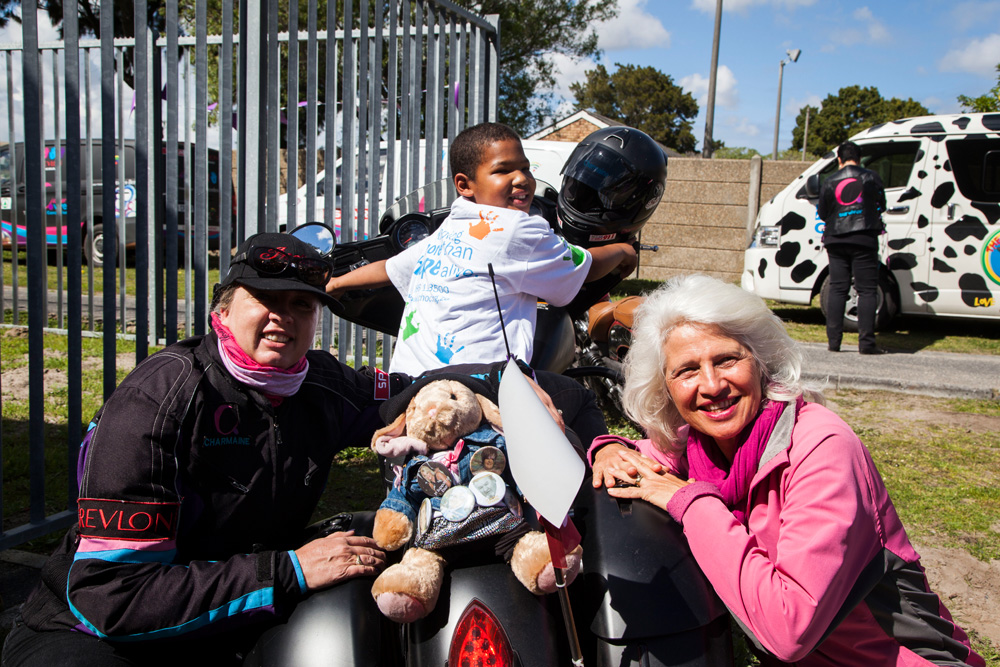 This years event ranged across the Cape west coast and out as far as Worcester and Ceres. It coincided with a fair amount of rain and snow. It did not faze the cancer warriors one bit. From early morning till early evening they visited schools, businesses, and farms, telling their story with compassion and sincerity.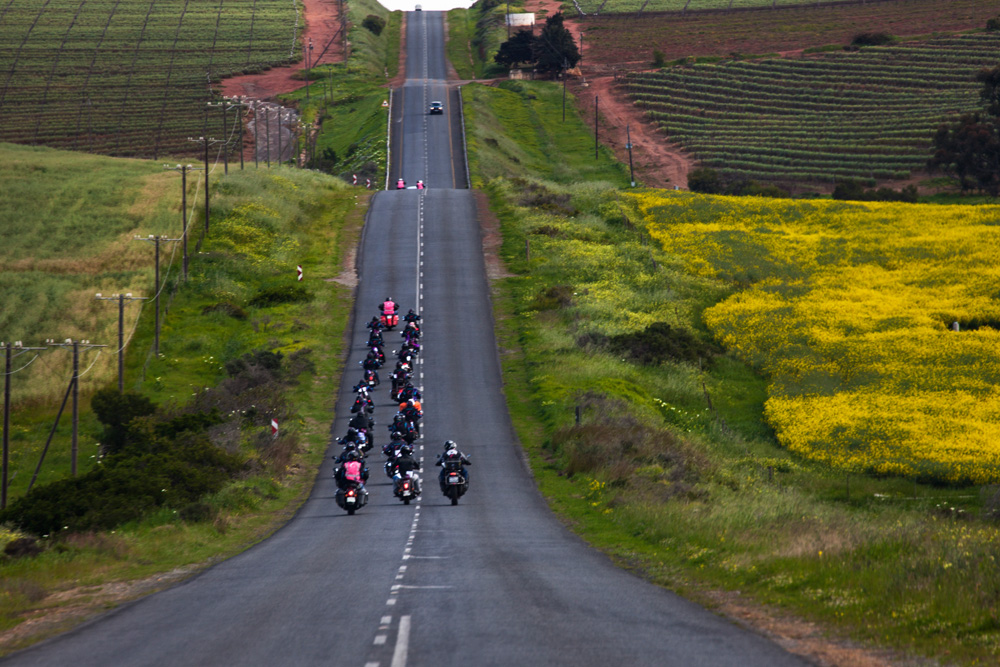 We visited the oncology wards at Groote Schuur and the CHOC village at Tygerberg children's hospital, bringing love and care to the suffering and afflicted. The whole trip is an emotional rollercoaster of note. No matter where you go, lives have been affected by this disease.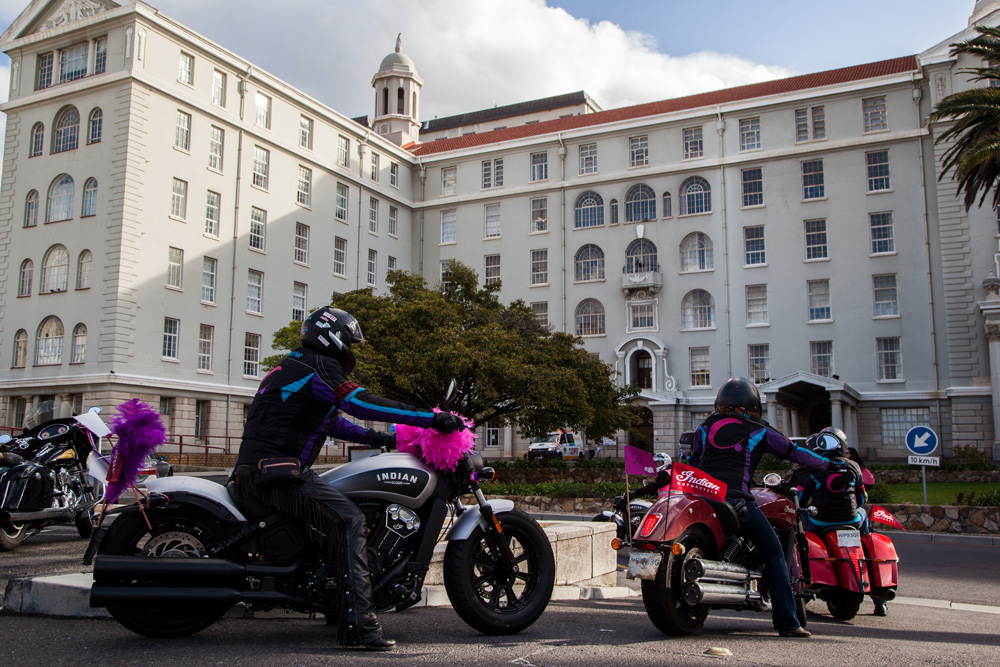 The enthusiasm and zest for life displayed by this phenomenal group of ordinary people who have "walked through the valley of the shadow of death", is truly inspiring. In a way it gave me huge hope for our rainbow nation. If we can unite like this for a common cause we can achieve anything! As for the Indians, they performed impeccably. Despite temperatures of only 7 degrees, they took it all in their stride. Beautiful lines and booming pipes caused a stir wherever they went.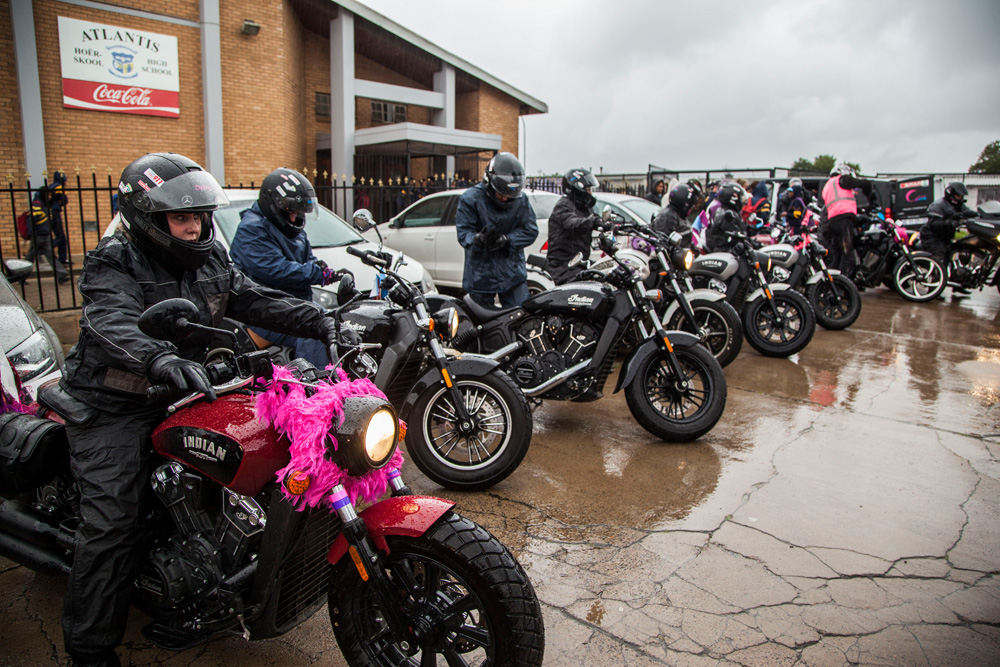 To single out any one personality would be an injustice to all, as everyone contributed to the success of the event in their own inimitable way. The bikes seem to build on the comradery of the whole exercise. Riding from one location to the next in formation requires serious concentration. Despite the hectic schedule and some trying riding conditions with wet roads and serious cold, everything went down perfectly. Being part of an initiative like Cancervive reminds us that it is way more rewarding to give than to get. It is easy to give money if you have it, but to give of your time to selflessly serve others is the real deal.
If your life, or the life of someone you care about has been affected by cancer, and If you would like to learn more about the Cancervive movement, visit: www.cancervive.co.za.
it is a truly worthy cause! Survivors and supporters, you are warriors, we salute you! You are saving lives. You must not be silent!
Article by: Dave Cilliers
Videography by: Simon Morton
Photography by: Anelia Loubser