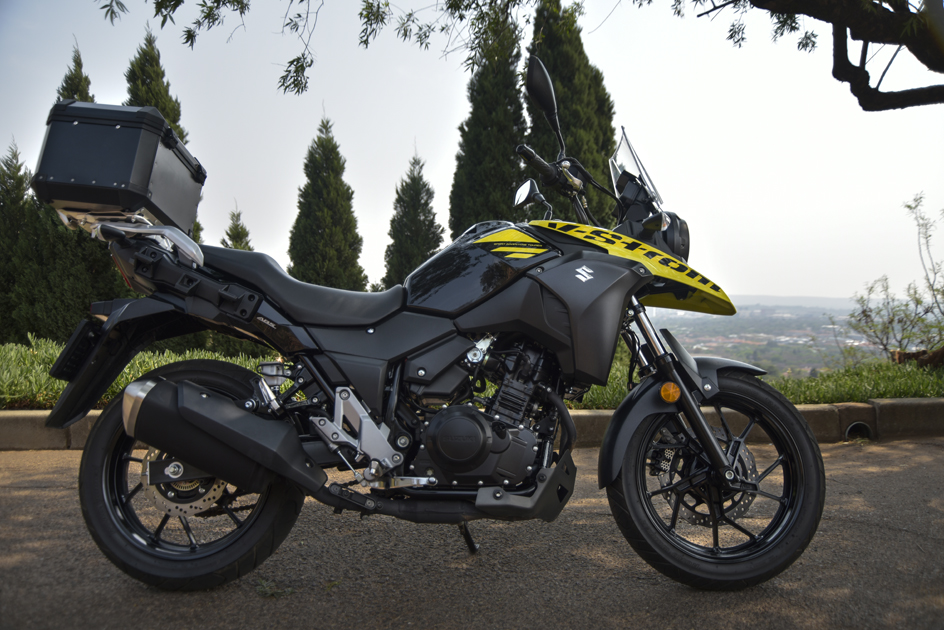 This is the littlest bike in Suzuki's V–Strom Adventure Sports line up. Sporting the same engine as that in the GSXR 250 road bike, it is a tried and tested unit. A parallel twin of 248cc, it revs to 10,000 rpm and produces it's maximum torque of 17,3 ft-lbs at 6,500 revs. The styling is familiar V–Strom, and at a quick glance could easily pass for a 650. With a magnetic tank bag friendly steel tank and solid build quality, it weighs in at 188 kgs. The wheels are 17 inchers back and front, with a 140/70 rear and a 110/80 front. Seat height is a not too lofty 800 mm. The DL 250 has a substantial rear carrier rack, and our test unit was fitted with a 23 litre Suzuki factory top box, finished in a complimentary black satin colour.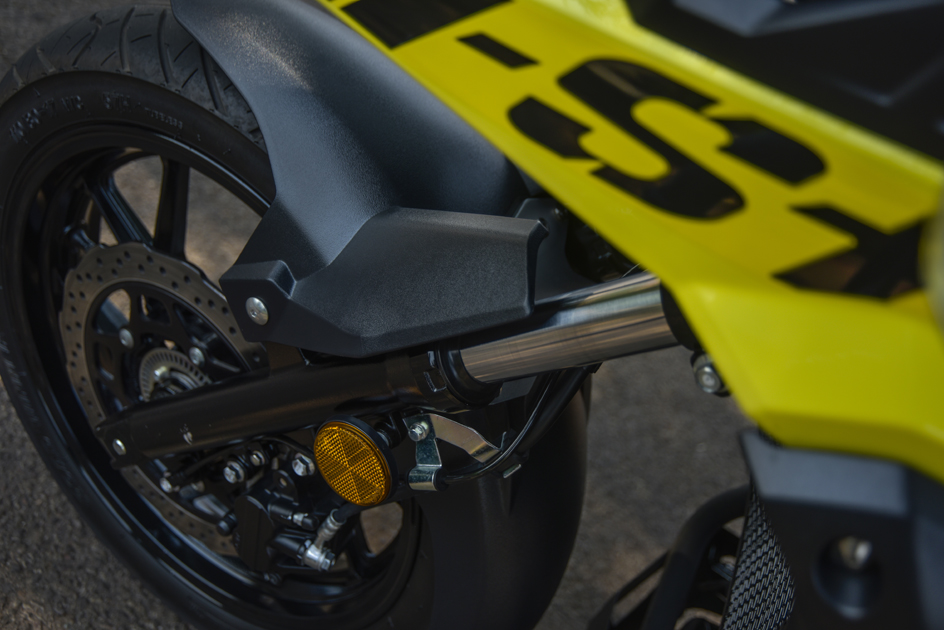 Suspension is non adjustable up front and preload adjustable on the rear, allowing you to compensate for load. The spring rates are pretty sorted, and at no stage did I bottom either end, despite riding some relatively gnarly dirt. I did find that the damping could be somewhat overwhelmed by stutter bumps if negotiated at speed. Dialling back the pace settled everything down again. I rode a really rutted and eroded dirt road and expected the 17 inch wheels to be somewhat nervous. Surprisingly this was not the case. The wee Strom took it all in it's stride. If the truth be told, neither of us enjoyed the road, but I don't think any bike short of a full out dirt beast would have, it was that bad.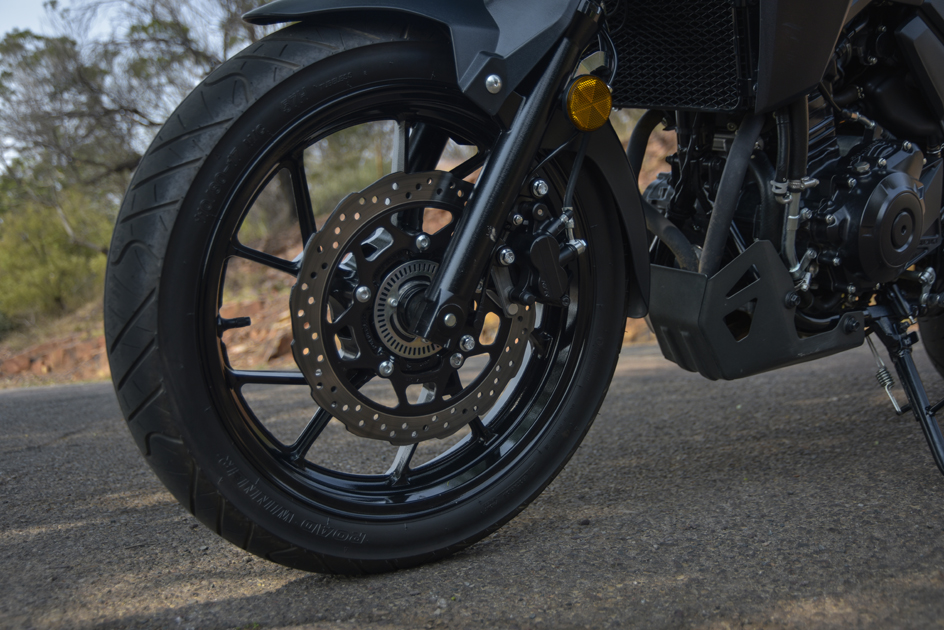 Brakes are single discs, front and back. Brake action was solid and predictable, with decent feel, even on the dirt. The bike is ABS equipped, which is reassuring for newbies. I found the seat reasonably comfortable, and the fairing mounted screen, despite being non adjustable, worked a treat. All in all the little 'Strom was pleasant to ride.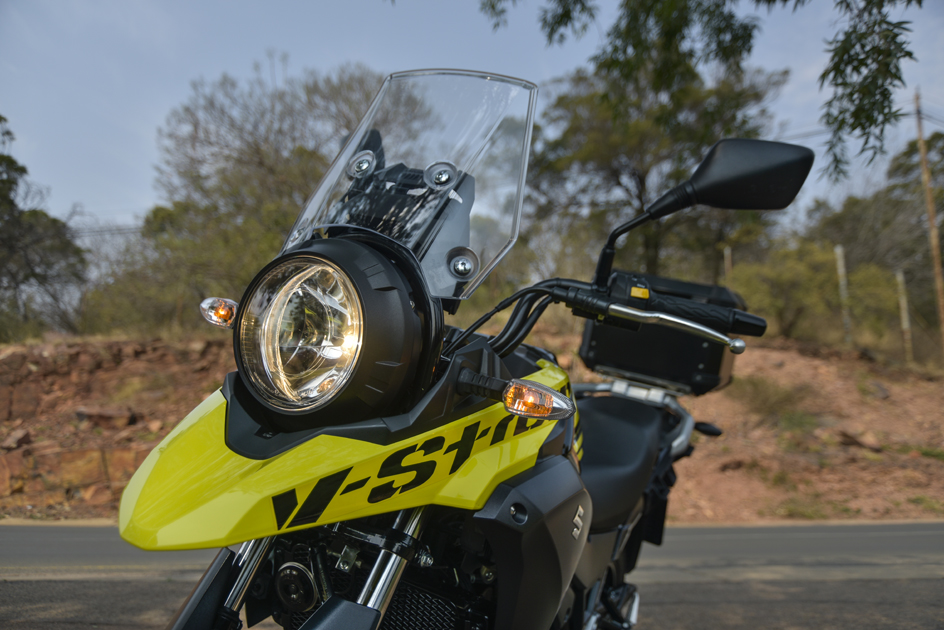 The motor, whilst obviously no fire breather, revs freely and is always willing. It tops out at 136 odd k's an hour on the redline. Cruising at 115 kph has the motor spinning at a heady 9,000 rpm. For those with some mechanical sympathy it can be a trifle unnerving to rev the motor this hard. I must say, the DL 250 seems to be happy, and feels totally unburstable.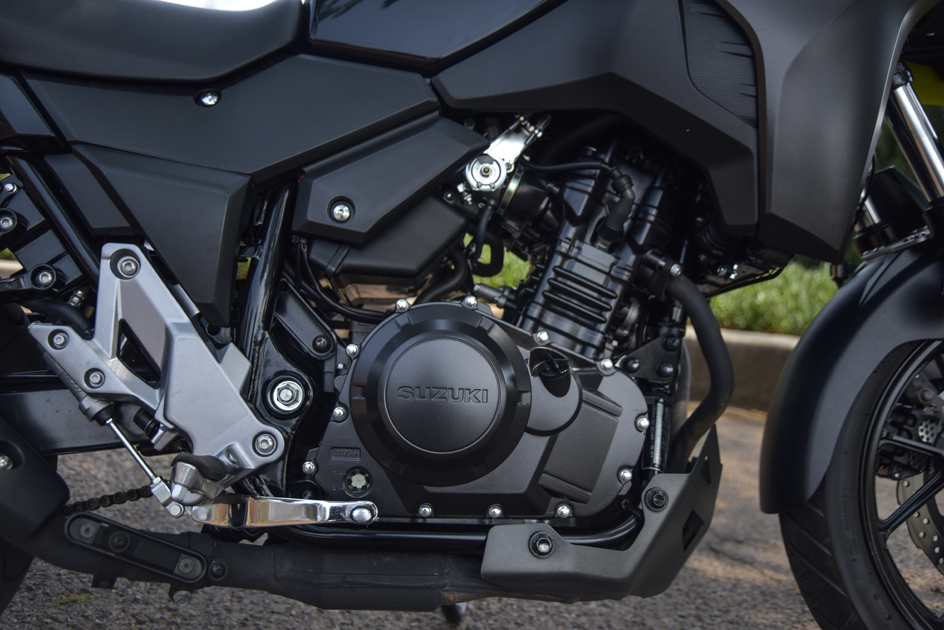 A nice feature is the fact that the frame is rigged to accept factory panniers. Handy on a lightweight, go anywhere tourer. Off road excursions are made possible by the addition of a proper bash plate to ensure that rocks do no mischief. The bike is not really adequately powered for lengthy two up duty, but can suffice for the occasional short commute.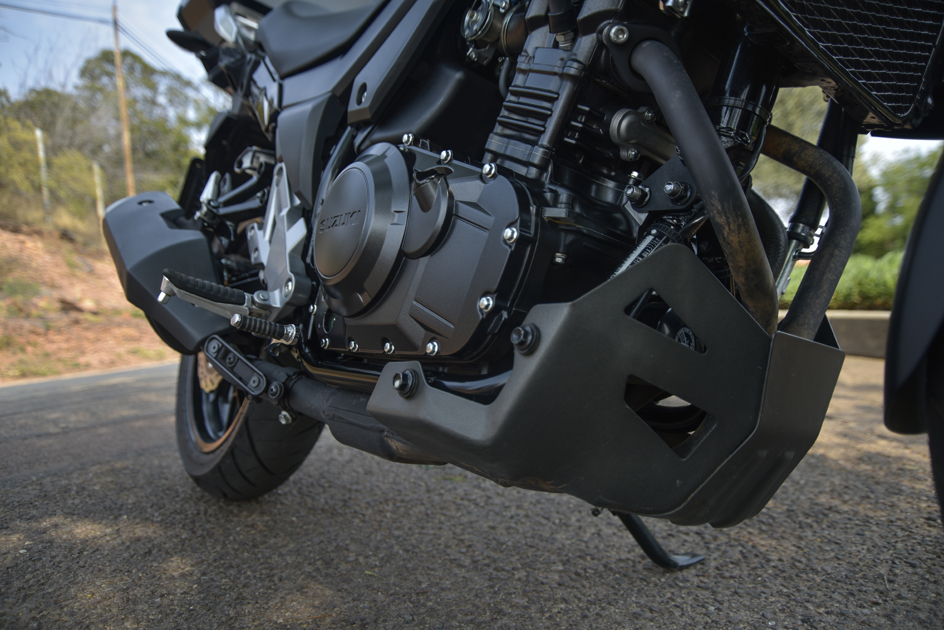 So who is going to buy this little Strom then? I see two potential customers. Firstly as an adventure bike for a lady, or for a youngster wanting to ride along with his dad, who more than likely will have a bigger version. The two peas in a pod appeal will be especially attractive to Suzuki aficionados. Alternatively you may well find that the bike will appeal to an older gent who wants something solid, man sized and dependable to simply cruise around on. At R73 250, and returning a respectable 3,9 l/100 on fuel, it makes a lot of commuting sense. A 17,3l tank gives a fair amount of range too.
Typical of all Suzuki's you are likely to have years of service from your DL 250, over which time your petrol saving will pay for the bike, not to mention the fun you can have along the way. I would happily embark on a "tiddler tour" of note on this bike. Slow it down a bit and smell the roses and introduce some excitement into your life. The smallest V-Strom may just be your ticket to a whole new world of adventure.
For more information visit: www.suzukimotorcycle.co.za