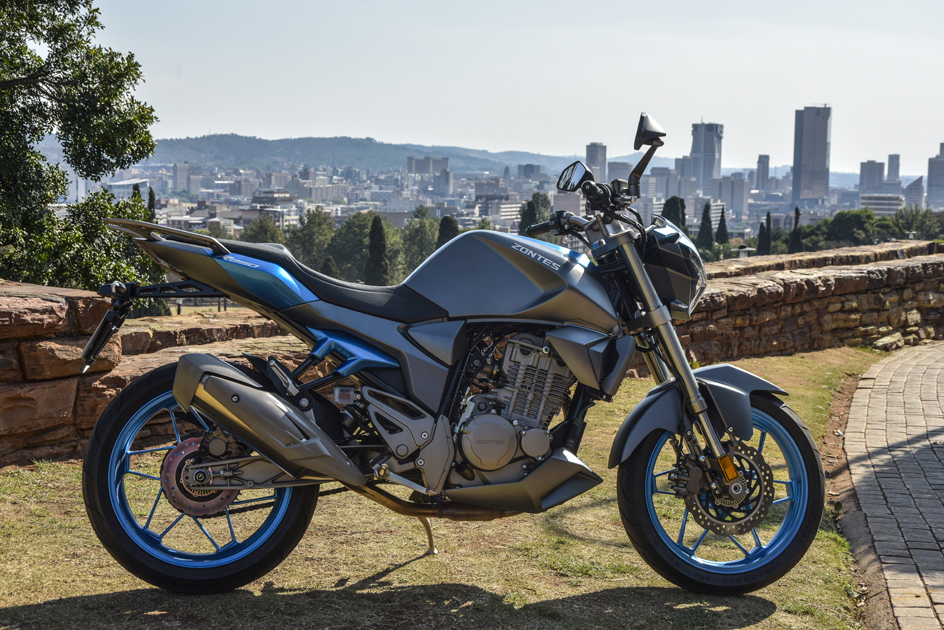 A new recruit has joined the Autobot Freedom Fighters and he goes by the name of Zontes ZT250-R, assigned by the leader himself Optimus Prime. Becoming an Autobot is a mission of its own, there is a list of expertise to have at hand such as; manoeuvreability, performance, stealth and most of all loyalty.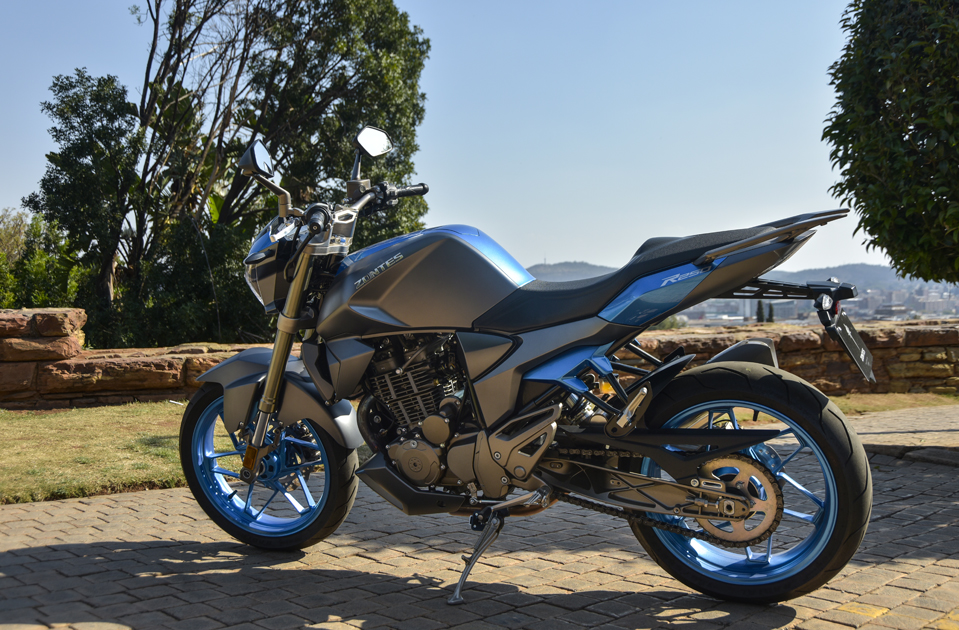 When it comes to stealth, the ZT250-R has clearly aimed it's target at the smart phone generation, with it's modern design as well as it's flashy colour range. The free screw design really blends the body work together, giving you a very neat finish to look at with no major visible gaps between the body work. As stealthy as it maybe in the new urban society, the ZT250-R doesn't sacrifice practicality nor functionality.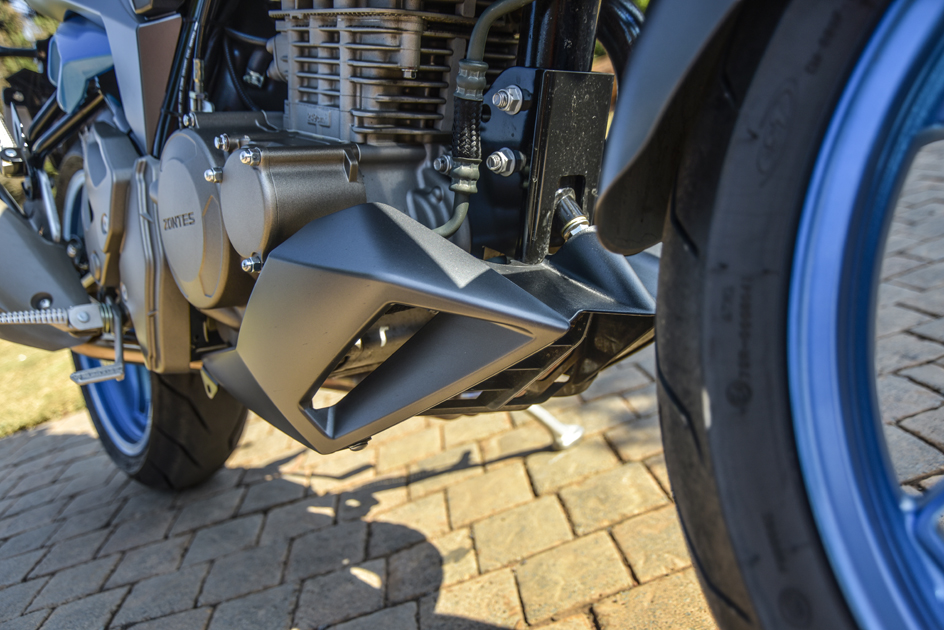 Armoured with a very stylish yet robust bash-plate, that doesn't just protect the undercarriage but scoops up the air to keep the motor cool as well. Bent radiator fins, "no I don't think so!", says the blacked out radiator guard, which covers the entire surface area with styling to match. The exhaust is protected with a cleverly designed wrap around heat shield that definitely kept both myself and my fellow passenger cool whilst on our ride.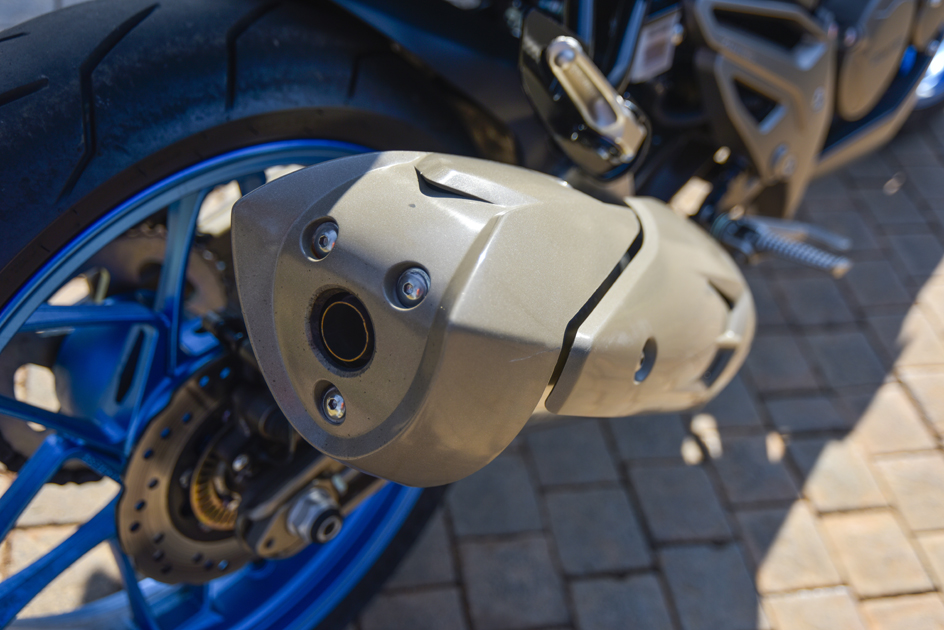 When it comes to performance the ZT250-R may seem under-powered when looking at the spec sheet but with a light weight of 146kg, the 24hp and 23Nm are more than adequate. The dual overhead camshaft, four-valve, single cylinder engine has proven to be not only sporty but economic. During my urban travels I managed to get an average fuel consumption of 3.0 l/100km and with highway combined it steadily moved up to 3.5 l/100km.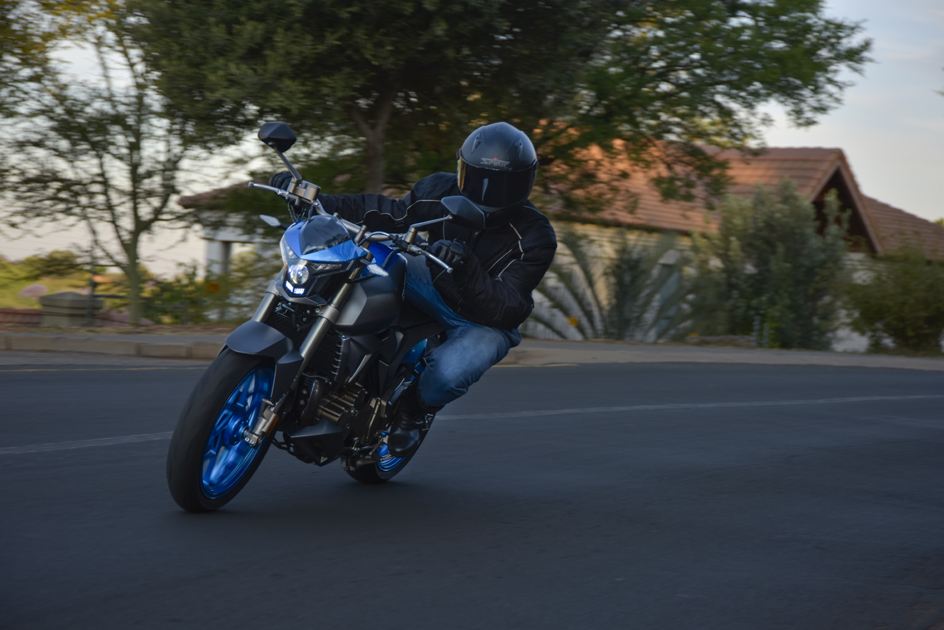 The gear ratios are very short, so you find yourself cruising along in top gear which hence provides you with such an economical ride almost scooter like. Even with the short gear ratio's you are kindly provided a top end of 145km/h, which translates to a high rpm ride on the highway at 120km/h with revs reaching 8000rpm with only 10000rpm available. I think the ZT250-R is a city dweller and loves being ridden around town but that's not to say you can't take it comfortably on the highway.
The manoeuvreability of the ZT250-R is great, making tight parking lots and back street manoeuvres quick and effortless. The front suspension gives off a plush ride and very stable feel, whilst riding on some seriously pitted backroads. When the highway to hell ends and the stairway to heaven begins, that is when the plush front suspension suffered with me. Bottoming out under hard braking was a factor for myself and without adjustment on the front forks, it left me rolling my wrist forwards rather than backwards.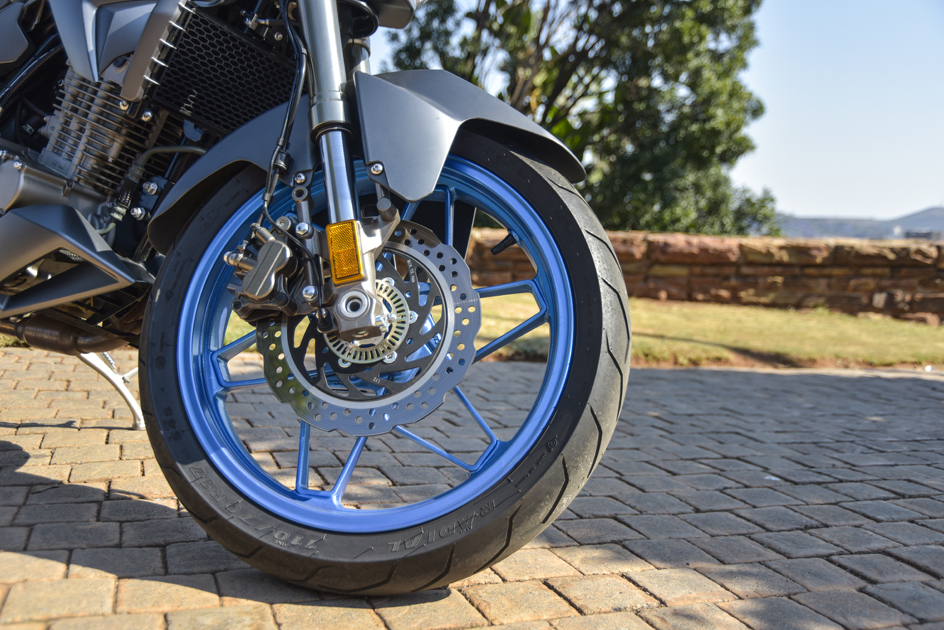 The rear nitrogen shock was funny enough the exact opposite to the front suspension. The rear was heavily sprung and it gave me the same talent as Niki Lauda, which was to feel whether the coin I just rode over was heads or tails. Once a passenger is seated on the bike this all changes, making long journey's manageable.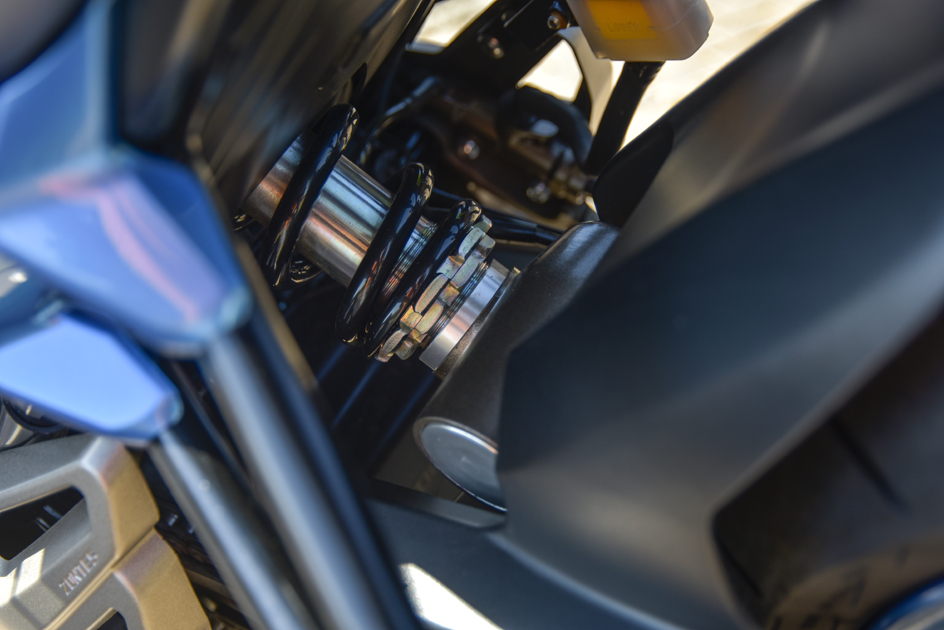 Stopping quickly and safely is not a problem on the ZT250-R, due to it being equipped with a reliable BOSCH ABS system. I found the brakes to work very well in day to day use and in sporty riding I was able to switch the ABS off with a touch of a button. Good braking is also complimentary to the surprisingly good factory fitted Radial rubber. Not only did they give me confidence under braking but they also provided good grip, mid-corner.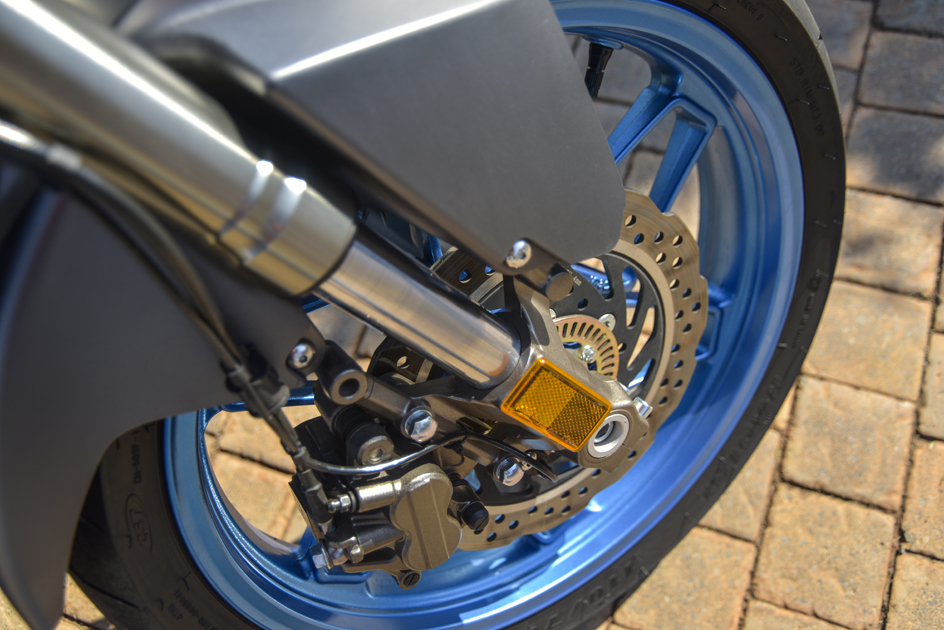 The clutch and brake levers on the ZT250-R are both adjustable and have a neat safety feature. This safety feature is foldable levers and if you've ever dropped a motorcycle you'll agree with me that this is a neat function – no more snapped levers.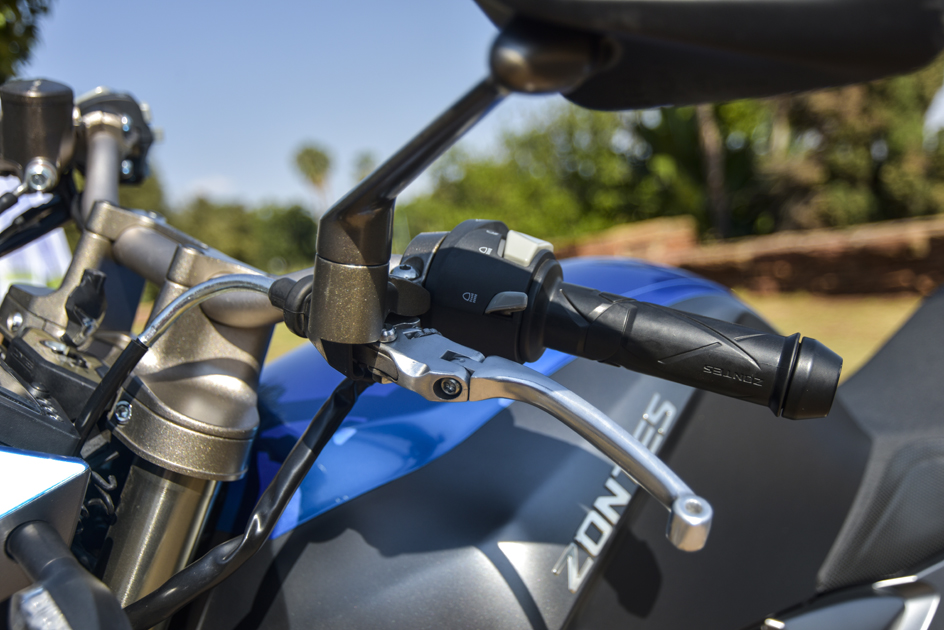 The rider cockpit is comfortable as well as ergonomically pleasant when having to use the controls or to change your riding position. The reach to the bars and leg room are very commuter based, therefore making daily journeys a treat. When getting into a sporty rider position for some backroads the ZT250-R is very accommodating, giving you plenty of room to move around.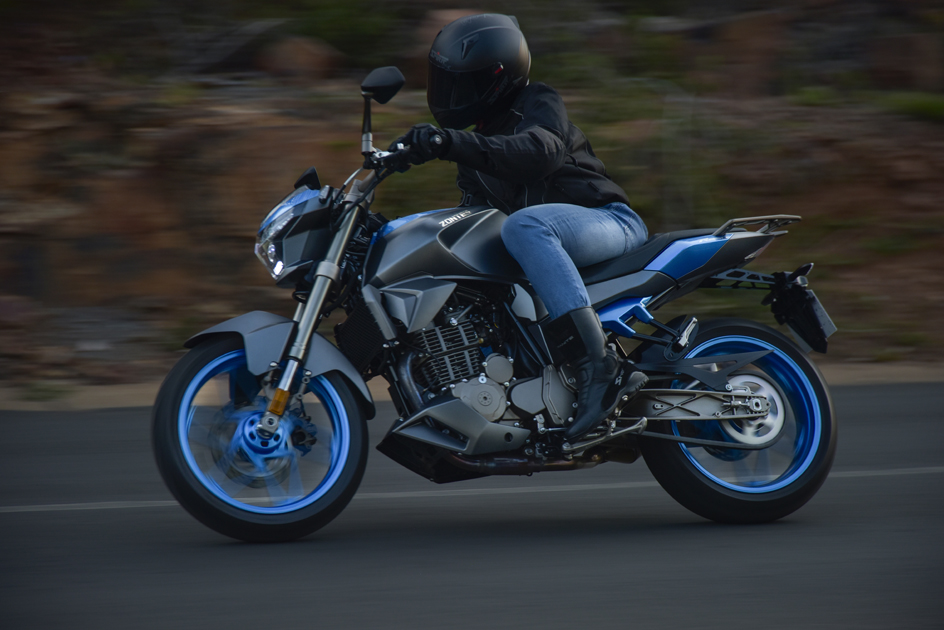 A great convenience on the centre-control is having multiple functions. You can now engage the anti-theft lock, fuel tank cap, head lock, seat lock and ignition lock all with the turn of a key.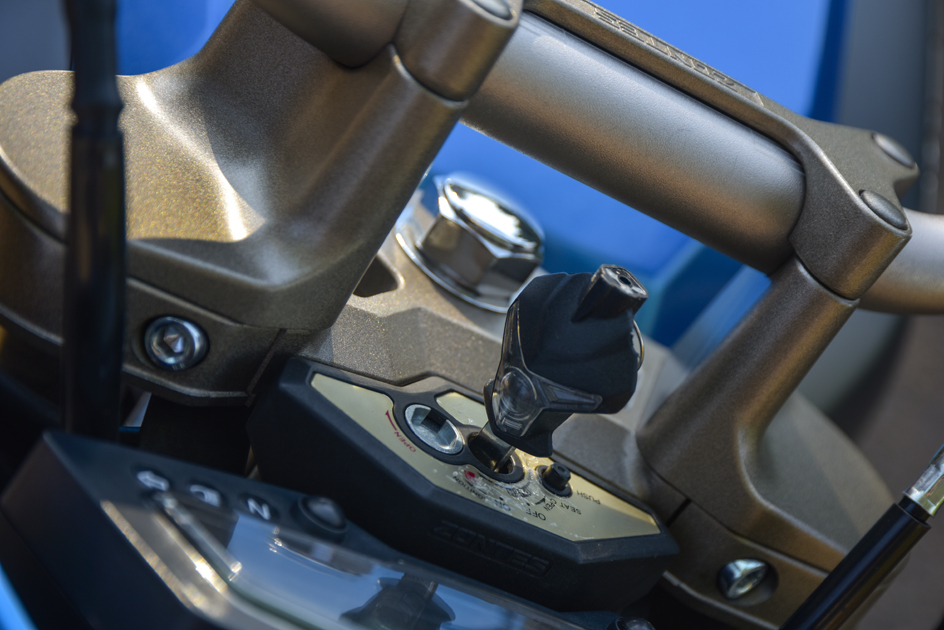 The digital LED display is clear and simple to read, displaying nearly all necessary information. A gear indicator is not present on this model and with it being a beginner bike, this may be an issue for the novice riders. Visibility was not an issue for me on the ZT250-R, with the mirrors being cleverly able to rotate 360 degrees, eliminating all blind spots as well as making them easier to adjust. The switch gear is really simple, chunky and backlight too. The switch gear has a cool red backlight but it only highlights the buttons not the functions of the buttons, leaving a beginner or new owner in the dark.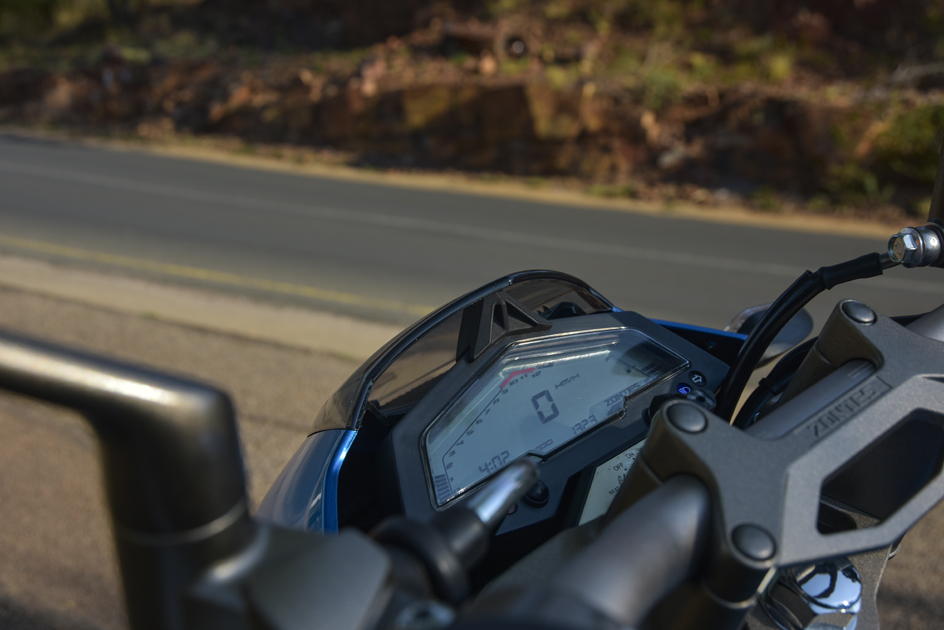 As you all know, fuel has recently become pretty expensive but on this Zontes, I must be honest and tell you my wallet hardly felt a difference.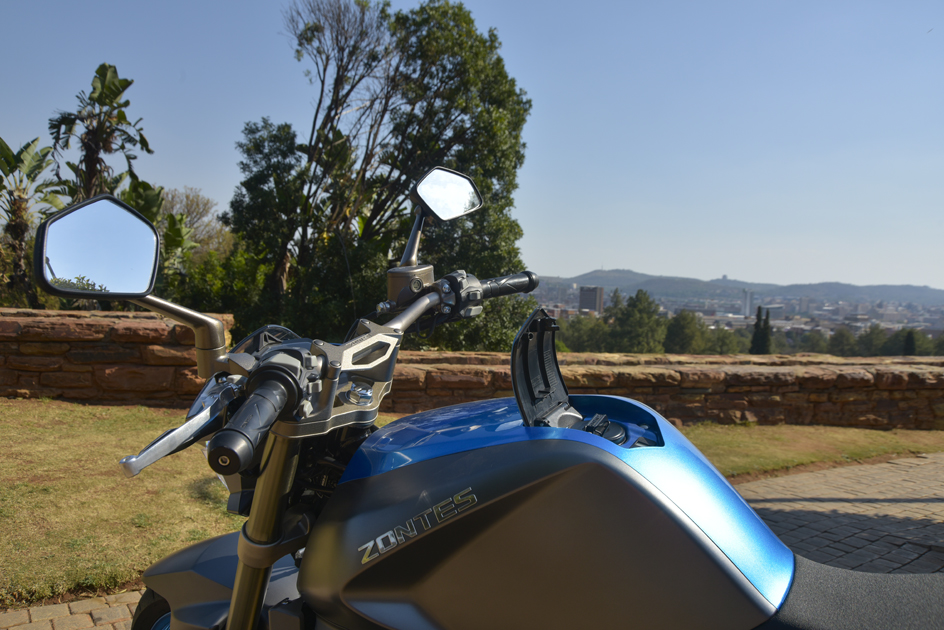 R221 plus/minus gets you a full 13L tank on the ZT250-R and it took me a distance of 371.4km which is exceptionally economic for a 250cc motorcycle.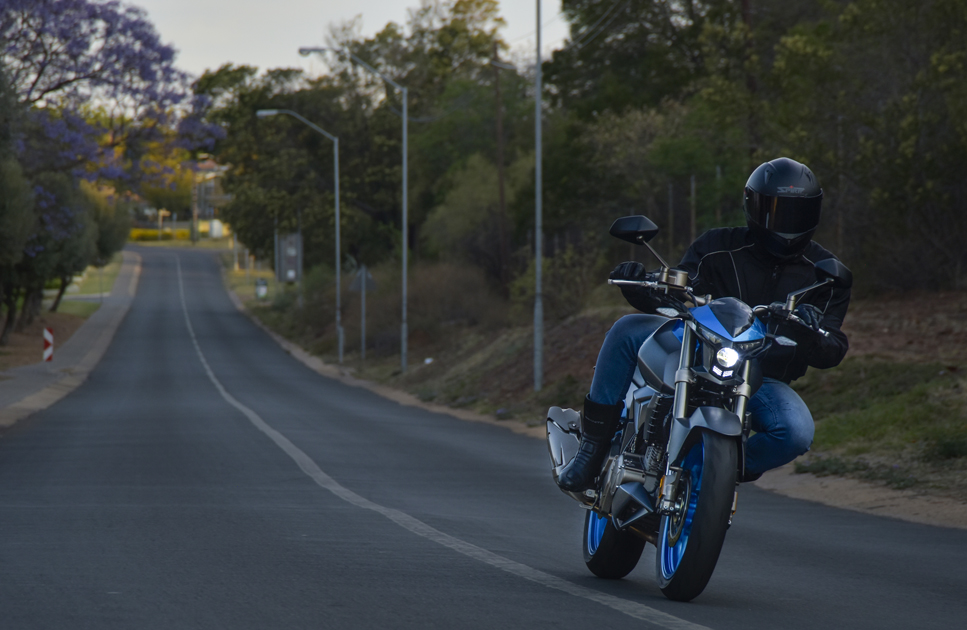 When a full tank can take you so far, it's very important to have a comfy saddle and may I say it doesn't disappoint – this is probably the most comfiest seat on a lightweight motorcycle, that I have ever placed my rump upon. The seat on the ZT250-R is comfy and also grippy, making sure your butt is in the correct position at all times. Behind the pillion's throne, you will find a neat set of pillion handles which blend in with the swingarm and handle bars colour scheme.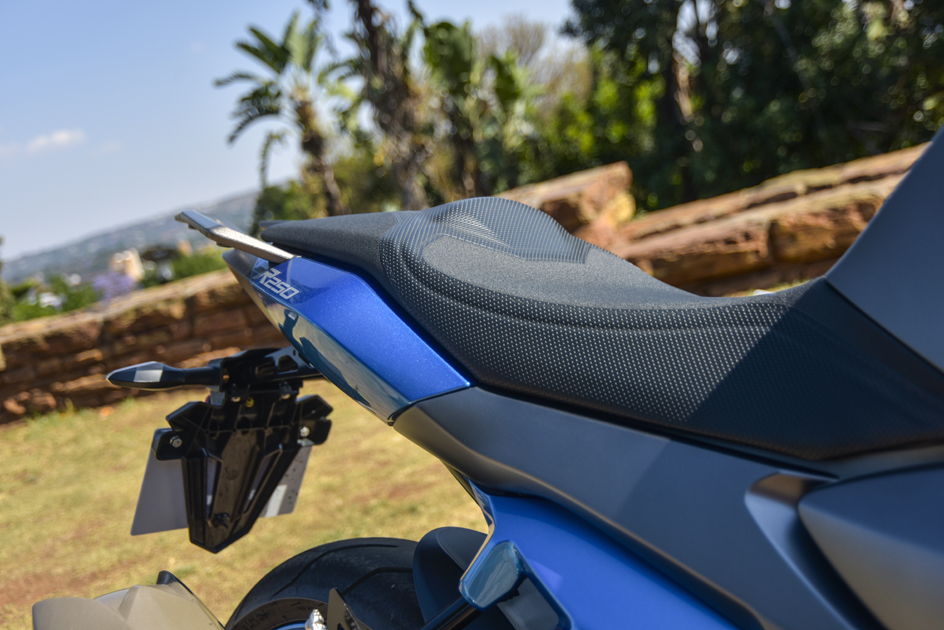 The headlamps give off the transformer like appearance which tends to turn heads all day long. This beam of light is created by LED globes that not only provide a great life span but also provide you with a longer field of vision.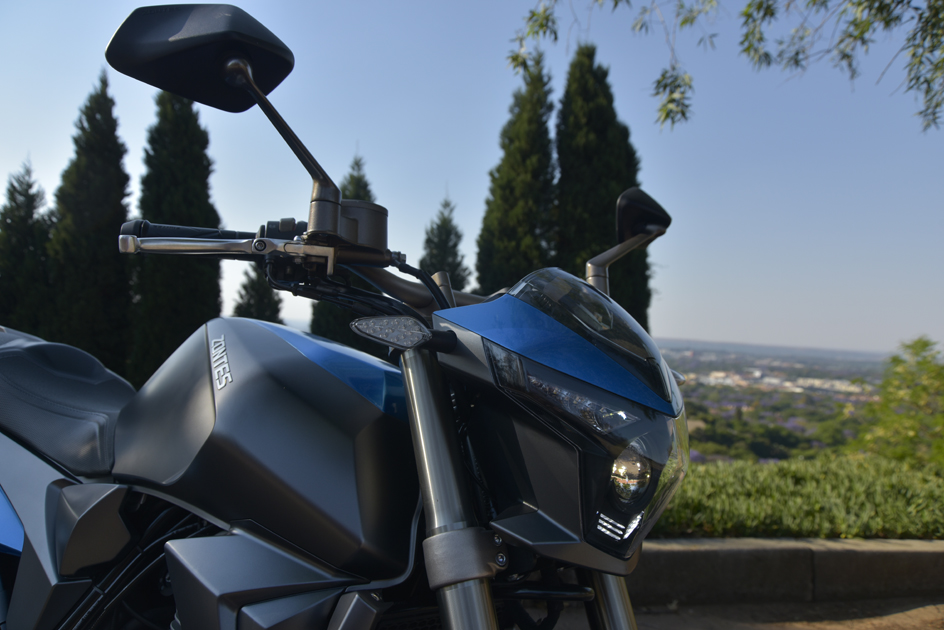 Loyalty is the key to success and this is what Zontes and the ZT250-R provide. Zontes reassures us that the parts holding in South Africa is huge and that locally unavailable parts can be sourced from the Chinese mother company within 2 to 3 weeks. When looking at the prices of other 250cc rivals, you ask yourself the question, "well how much does the ZT250-R cost"? Here's the answer: you can buy the Zontes ZT250-R today for only R44900 and let me tell you this, you can't buy anything as modern looking, economic or that's going to turn heads, for the same price.
For more information visit: www.zontes.co.za