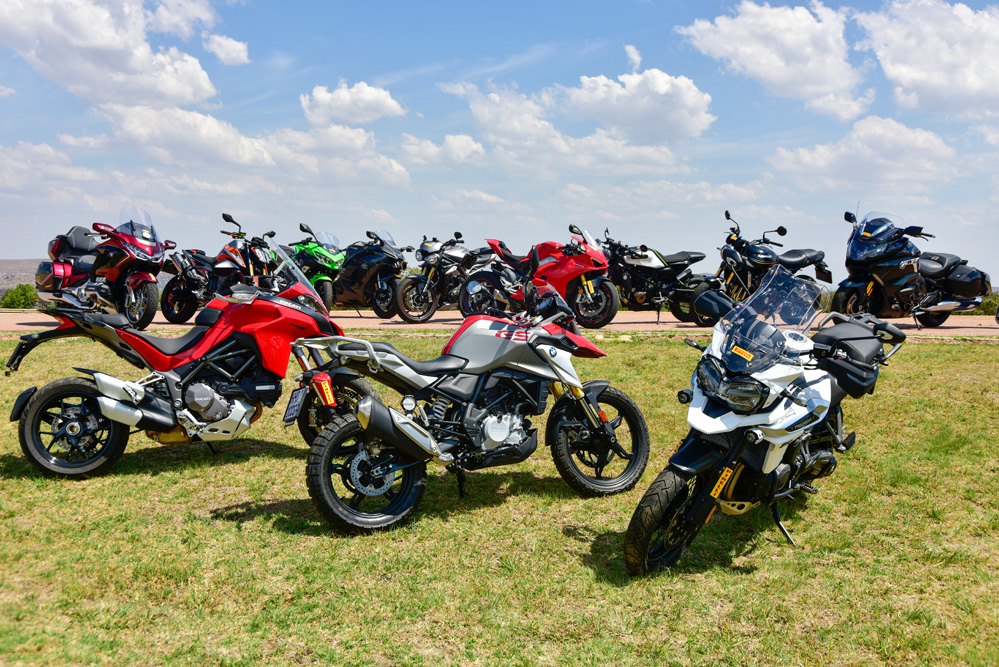 This years Pirelli BOTY is a really interesting one! Before we get into the meat of things I would like to give a huge shout out to Pirelli. We are living in challenging times to put it mildly. The motorcycle industry, like the general economy, is under siege, yet Pirelli, stalwart sponsor of this event since inception stood in the gap once again! It is one thing to be recognised for a sponsorship but it would be remiss not to commend Pirelli on the excellent quality tyres that they are currently engineering. The bikes on test were all Pirelli shod and I truly believe that a significant amount of their handling prowess, both on the road and track, is partly due to the confidence inspiring Pirelli tyres. Back in another age Pirelli Phantoms were my tyre of choice on my Kawasaki GPZ 550 endurance race bike and let me tell you, if I was racing a production bike today it would also run Pirellis. 'Nuffsaid!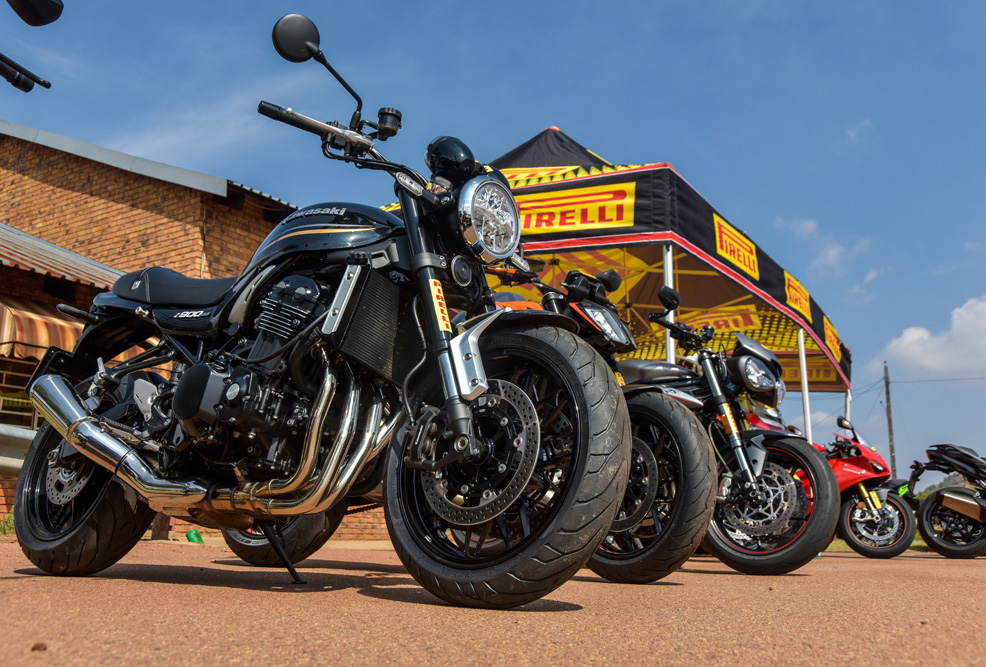 Right, let's talk BOTY. In previous years I went out on a limb and gave my winner and runner up and so on. I am going to break with that tradition simply because there were so many stand out bikes in their respective classes this year that to pick a winner would almost disrespect the others. I will need to cast my vote, and I will, but right here and now I will tell you what stood out for me and why.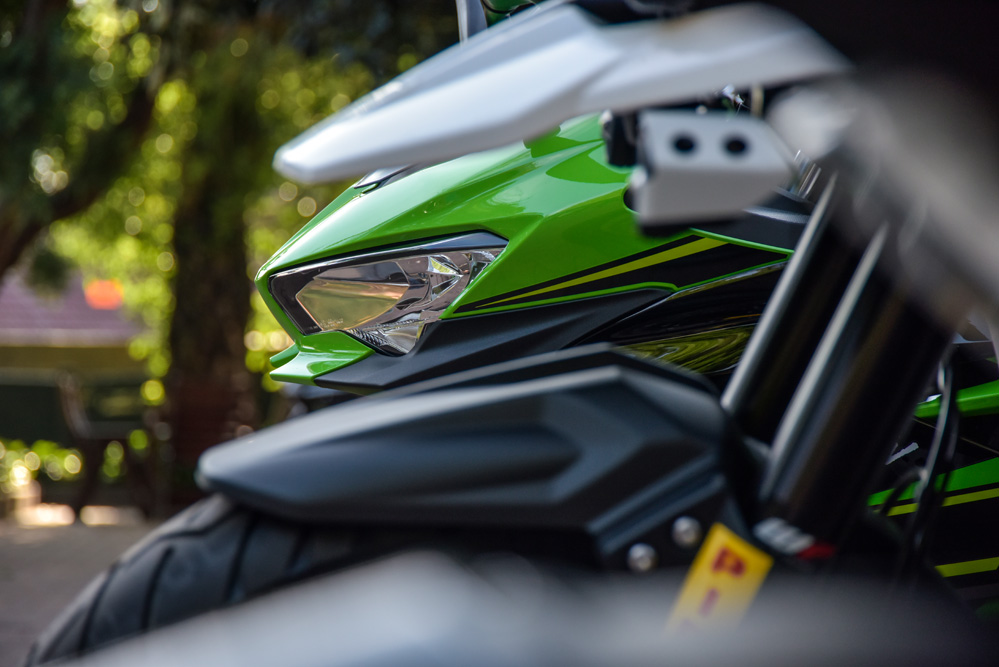 TRIUMPH 765 STREET TRIPLE R
This middleweight sports naked is damn near perfect. As a motorcycle journo I try to analyse the various aspects of a bike like brakes, chassis, suspension, engine, ergonomics and then how all these facets hang together to give the rider a "feel" for the bike. The styling and looks of the machine also contribute to this "feel". This is an almost extrasensory aspect developed from riding bikes daily for over 40 years. Bikes that may be a real buzz to ride for a day might be a pain to own in the long run. The 765 is quite simply sublime. Refined in absolutely every area. The suspension rides bumps on the road with aplomb yet gives perfect feedback on the Gerotek dynamic handling circuit. Probably not surprising with Ohlins in the rear and Showa USD forks, all fully adjustable for preload and damping. Brembo monoblocs provide faultless brake feel and action and that fantastic sonorous triple engine drives with authority from low in the rev range. This bike will make average riders good and good riders brilliant. Flawless and incredible value given it's performance and spec at just over R150K.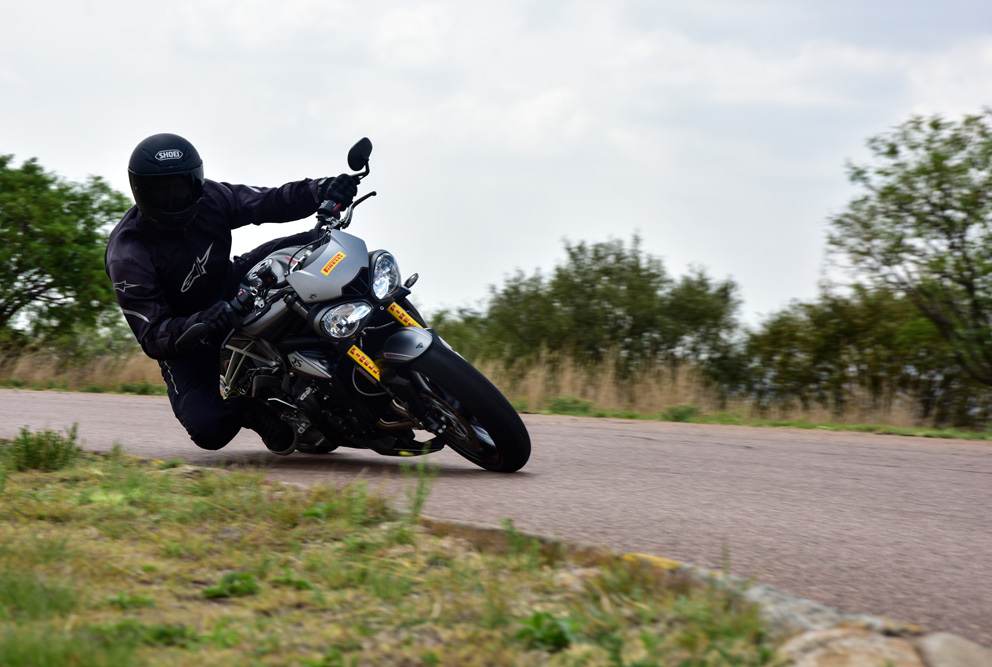 KTM 790 DUKE
KTM's latest addition to the Duke family absolutely redlines the fun counter. Our test unit was blinged out to the max from the Powerparts catalogue and had, especially the younger journos, drooling! The parallel twin motor pumps out impressive power right off idle and keeps that up till redline. A responsive chassis channels all this performance in an impressive manner. It is the perfect size and power for the dynamic handling circuit, and a really fun time was had by all on the little Duke. Only when ridden back to back with the Triumph does it come up short. It feels a trifle loose by comparison with slight brake fade from the "budget Brembo's". It matches the Triumph blow for blow in the engine department, albeit in a twin cylinder way. Hugely appealing to younger, less discerning riders out there but perhaps less so to those really experienced pilots. Ridden in isolation it will certainly thrill prospective owners, and it's flaws will be easily overlooked by those with a hint of orange in their blood!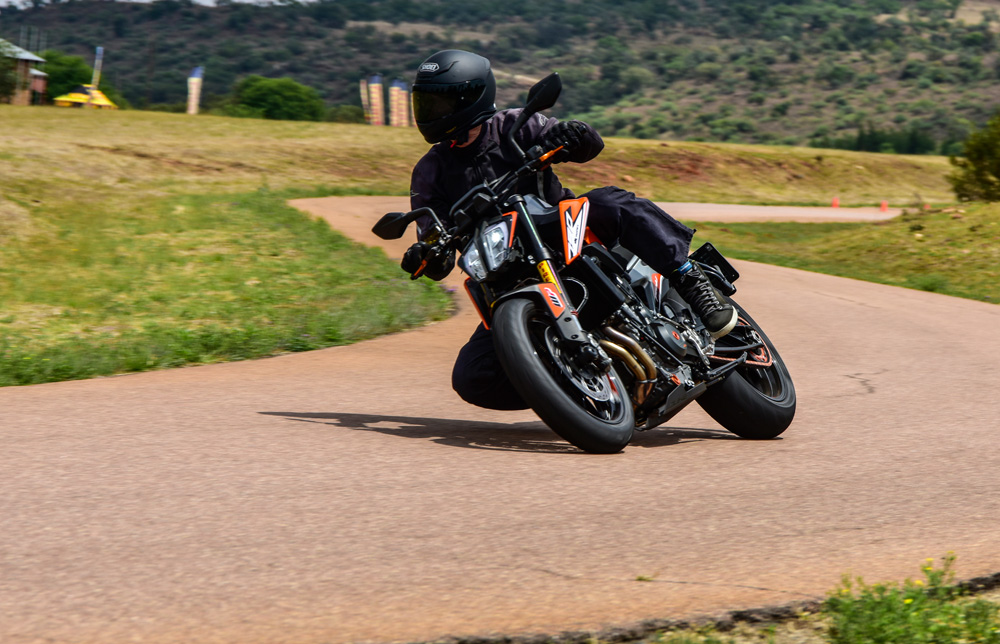 KAWASAKI NINJA 400 SE
Oh Lordy! What a fantastic bike! I had never ridden this little green rocket before and after a couple of laps memories of my giant killing Yamaha RD 350 came flooding back. Obviously the parallel twin four stroke delivers it's power differently to the legendary little 'stroker, but it is no less impressive. Nothing about the bike feels built down to a price. It is a genuine sports motorcycle that will give larger capacity bikes a hernia on a tight windey road. The motor generates surprising power in a linear fashion. I even managed to stay ahead of a decently ridden Husky Vitpilen, despite a 300cc engine disadvantage.  This incredibly competent little green meanie can be had for a paltry R79995. Personally this is my bike of the decade!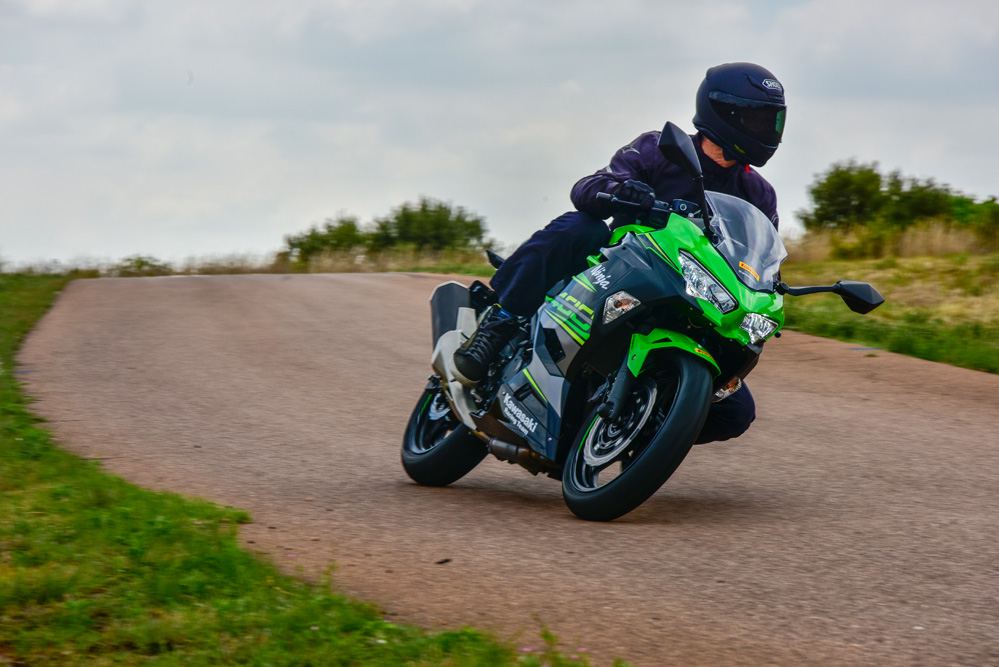 HONDA GOLDWING
What can one say about a bike that has evolved over a period of 43 years from the original GL 1000? Especially when that evolution has been undertaken by Big Red. It is the quintessential super tourer, especially when the 1800cc flat six engine is mated with the seamless DCT gearbox. It is built with only one purpose in mind, and that is to take it's rider and passenger far and fast in absolute comfort. It hits the bulls eye in every respect. The only criticism, if you can call it that, is an element of "playstation" in the way it goes about it's business. The rider feels almost detached from the bike in the real world, if you get my drift? It is like flying a jumbo versus a Pitt's special. Both are incredible aircraft, just very different in the way they go about their business. At R392000 it is only really accessible to a limited few which is perhaps also a consideration in these trying times.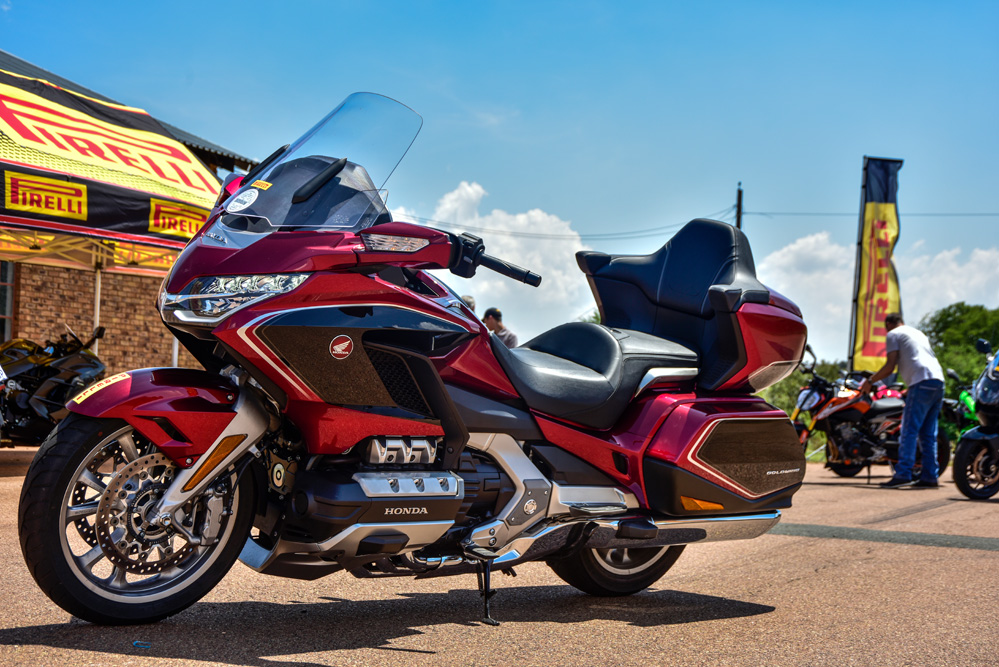 BMW K1600 BAGGER
Any motorcycle with an inline 6 cylinder engine is going to be special, and this is no exception. In "Bagger" guise the K1600 is a magnificent steed. With a fit and finish on a par with Honda's Goldwing, it is a wonderful way to reel in the horizon, aided and abetted by that brilliant motor. Like the Honda it has raised the Super tourer bar in a "cruiser" like fashion. Fans of the blue and white propeller brand will not be disappointed. At R348100 it is also only for a privileged few and also gives one the "playstation" riding sensation.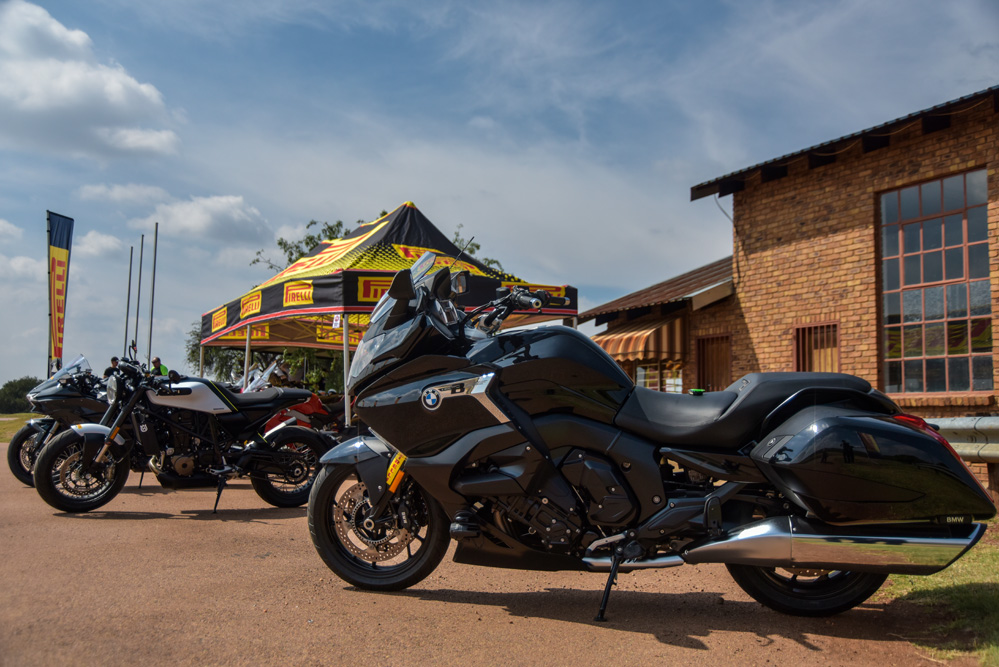 TRIUMPH TIGER 1200
Every time I sling a leg over the latest incarnation of Triumph's biggest Triple I am reminded of why it has placed so high in previous competitions. It is an excellent all round motorcycle which is competent in many roles. Still very much a riders bike, it is a hoot to ride. Whether trundling down the superslab or attacking the twisties it feels equally at home. Rider and passenger creature comforts are at an all time high. The wonderful gruff 'n tough triple is a pleasure at all speeds. An excellent all round motorcycle.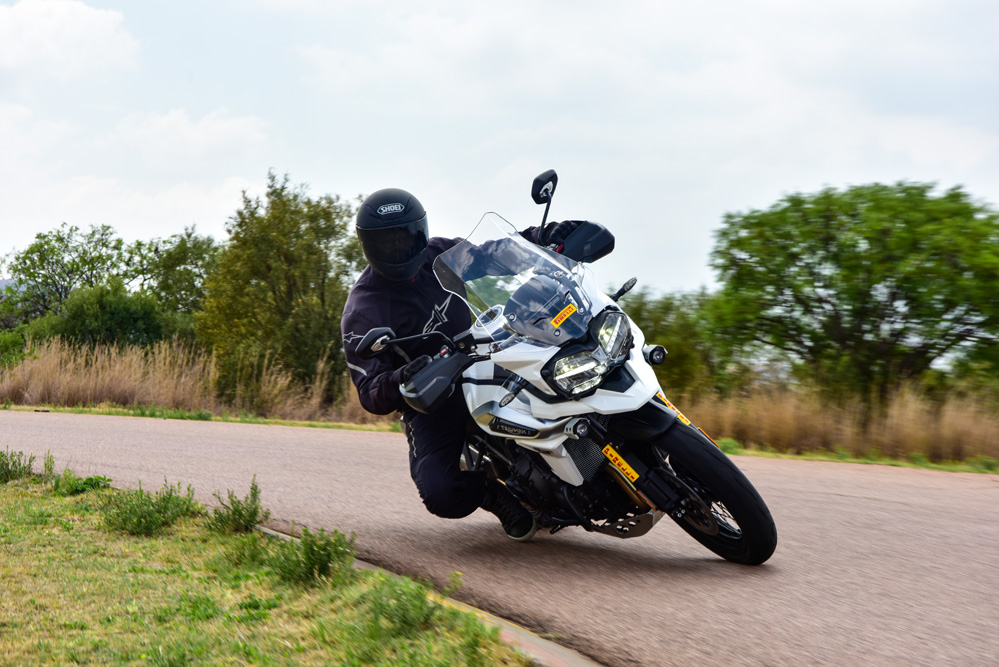 DUCATI MULTISTRADA 1260
The Italian take on the Swiss Army, do it all motorcycle theme, albeit with a road bias. Lovers of the V – Twin Testastretta motor will not be disappointed. The 1260 motor is a belter! The long travel suspension initially makes really fast riding a trifle disconcerting, but once you get used to the amount of suspension movement you can really hustle this beast down a windey road. You sit very much "in" this bike as opposed to on it. Hugely versatile, it is a jack of all trades but it's weakness is that perhaps it is not really "master" of any.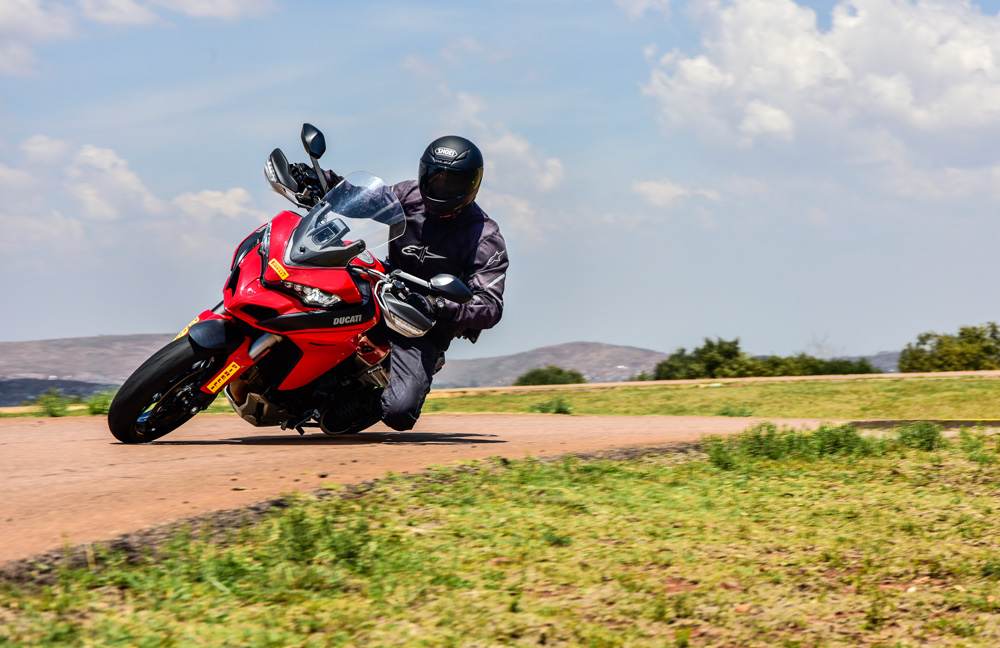 HUSQVARNA VITPILEN 701
I commented to a fellow journo that the Husky was predominantly an artistic expression with it's almost "art deco" styling. That was before I rode it. What an impressive motorcycle, especially on the dynamic handling track. I was in "super single" heaven. The big single pulls with reasonably smooth authority right from the basement. Handling is top drawer. The Vitpilen gives excellent feedback as you dive into turns, rail through sweeps and climb on the impressive stoppers. It is not quite as at home on the street, where high speeds have it feeling somewhat extended, with the big one lunger breathing hard. Despite it's unique styling and competence I cannot help feeling that it is perhaps R20k too expensive to be a real contender.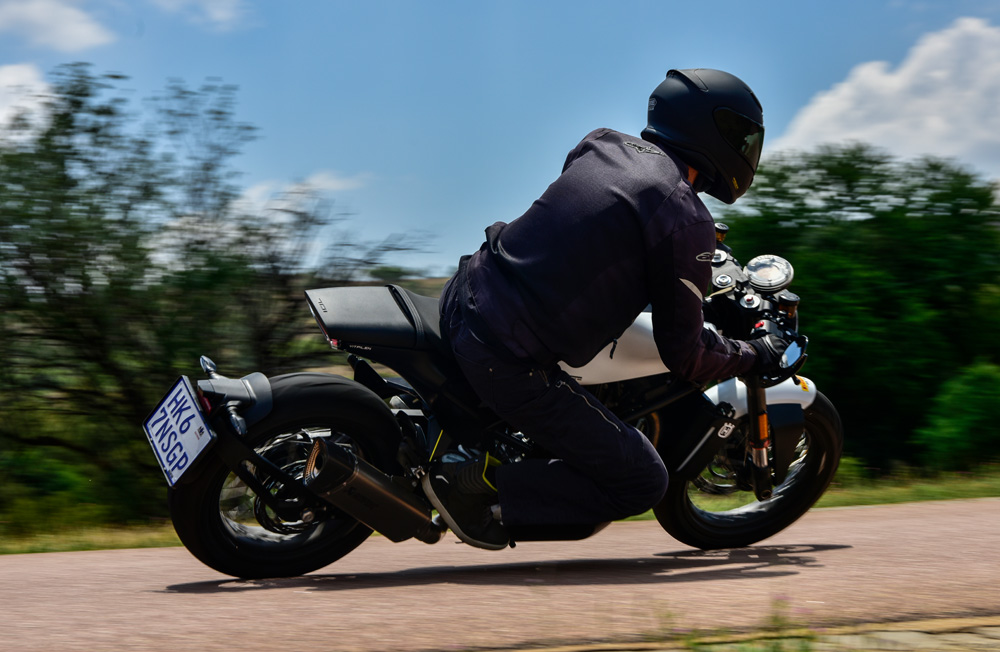 KAWASAKI H2 SX
If, like me, you are a fan of Sports Tourers, then this bike will properly blow your hair back, and a whole lot more besides. The supercharged H2 motor has found it's natural home in the Sports Tourer. Endless power and speed are accessible at the twist of the wrist. The rest of the bike can be set up to complement your preferred riding style. An amazing motorcycle. The only nagging thought from a BOTY perspective is whether, when all is said and done, the H2 SX is a better motorcycle than it's brilliant sibling, the ZX 1400. I get the feeling that in the real world the way simpler ZX delivers the goods with less mechanical complexity. That is, of course, until you hear the waste gate on the supercharger chuntering and chirping. Damn, this is a tough job!
KAWASAKI Z900 RS
I love this bike! It does not rely on it's old school cool styling to win you over, as some retro's do. Underneath that sweet styling is a fundamentally good and versatile motorcycle. The motor delivers real world performance that totally satisfies, as does the suspension and chassis. It is the kind of bike that you ride, and then start doing the ownership sums on. A real contender.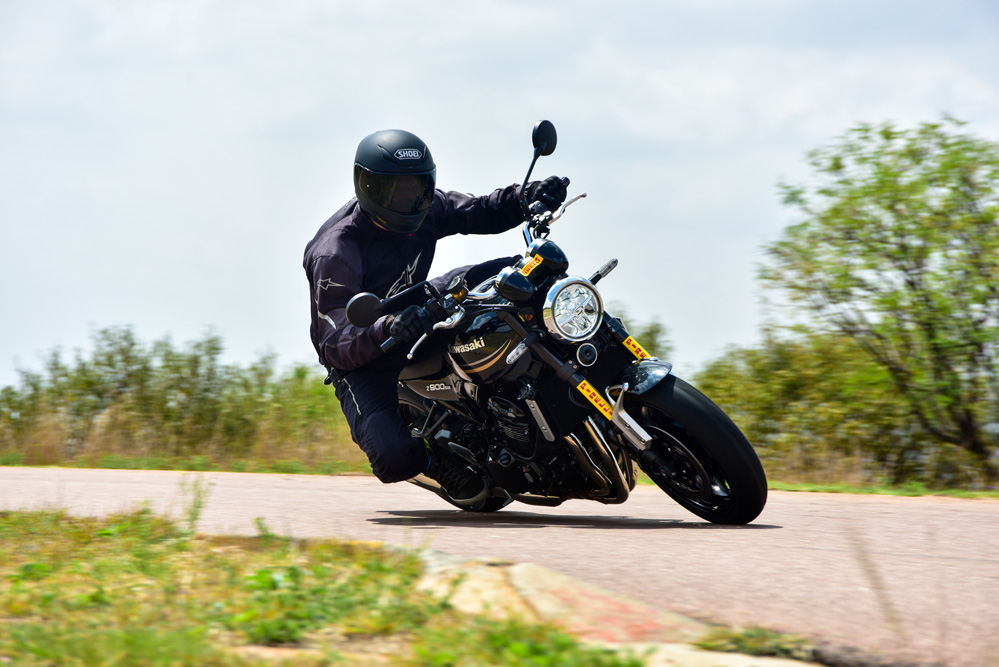 BMW R310 GS
WIthout taking anything away from it's real world usefulness and performance, the little Bimmer felt out of it's league in this company. It's tiny road focussed sibling punched so far above it's weight last year, astounding all with it's performance, that we were perhaps expecting too much from the littlest GS. The attributes that make it perhaps better in day to day use, like comfort and versatility and suspension travel when compared to the regular G 310 R, hampered it in fast road and track riding. Great little beastie, but as a BOTY contender, no cigar.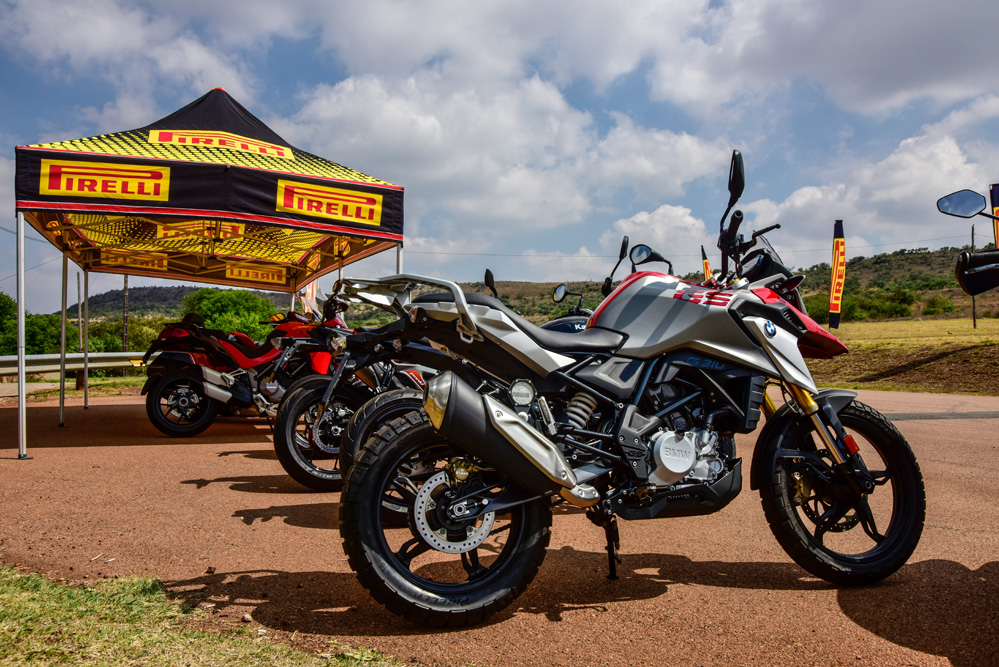 DUCATI PANIGALLE V4 S
Last, but oh so definitely not least, is this all conquering Italian that redefines the word Superbike. No one can argue that this bike, sporting the largest capacity Superbike motor of them all, with a fair amount of Ducati's MotoGP DNA in it's makeup, raises the bar in almost all respects. If you are up to it, that is. To be brutally honest, precious few riders have the skill to utilise this weapon to the full. In fact, around the dynamic handling track, if you had the gonads to do it, you hardly could get it out of first gear. In a way, for me, it's like being married to a super model who you feel you can never really satisfy in the bedroom. Her pretty, girl next door type sister almost becomes more appealing. It exposes your lack of ability, because everyone knows that the machinery that you are on is not deficient. So, for me, for all it's undeniable brilliance, it is simply a bridge too far.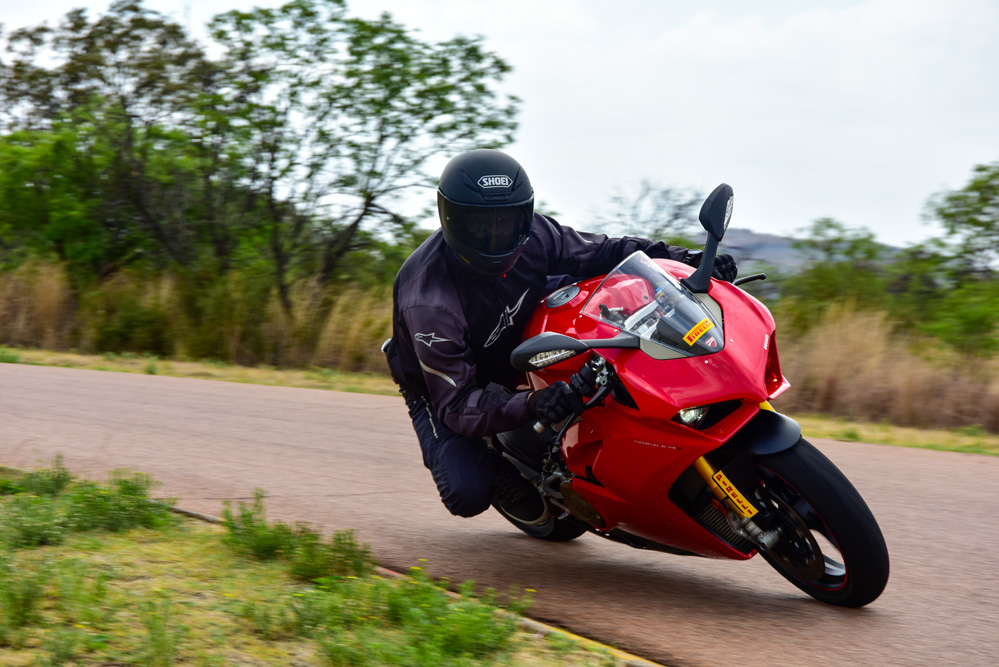 To sum up. I tried to give you some insight into my thought process as a judge at this great Pirelli sponsored event. No matter what wins, you may well think differently. Please forgive our choice. At least we have ridden them all in the same environment and have tried to be ruled by our heads and not our hearts. As passionate motorcyclists that is not an easy task, especially given that there was genuinely not a bad bike there.
At the end of the day, it is you the motorcycle rider that ultimately wins. We have never been so spoilt for choice!