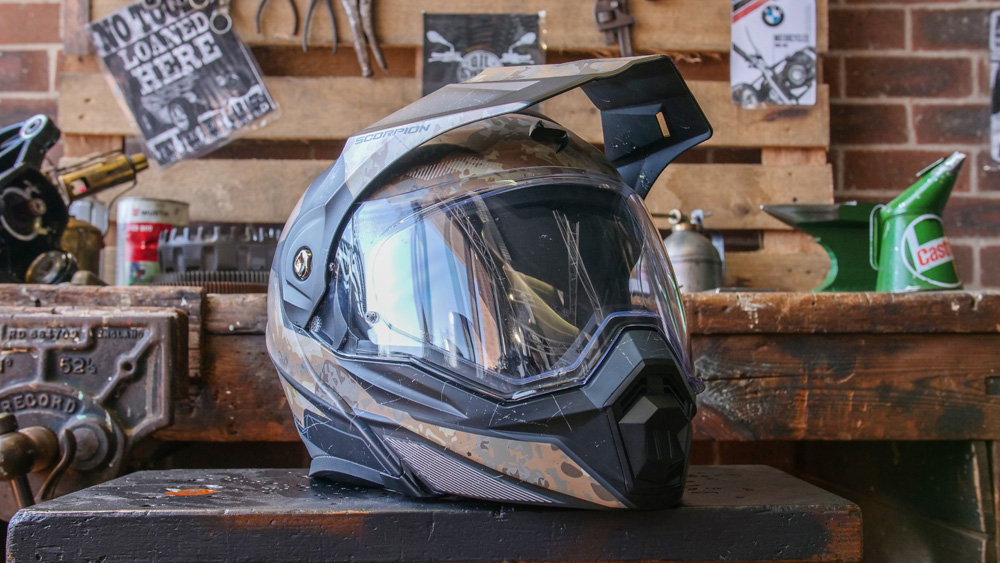 I am standing on the line, waiting for the lights to go out and the race to start. Every nerve on full alert, I hold the revs steady at 7 000 rpm, waiting, waiting, waiting. The moment of truth as the lights go out and more than 30 angry racers storm into the first left hander, jockeying for position. Modern day gladiators, battling it out in modern day Colosseums.
In many ways very little has changed since the days of old. It is no less intense alongside the track, as screaming, blood thirsty fans wave their fists in support of their chosen gladiator, living in the moment. We see this scenario repeated weekend after weekend in different sports all over the world.
Motorcycling has been my chosen profession for the last eighteen years. Counting my blessings every single day, I could not imagine a life much different! As the tempo of my professional engagements evolved from time spent on the sales floor to time spent in wind, rain and sun, rider gear has become a central part of my everyday life. The demands placed on the latter means that virtually every strength and weakness gets exposed. I truly wear them through from the inside out. Long hours in the saddle doing photo shoots, product reviews, selective rider training scenarios, off road events and shootouts all form part of my daily routine.
The one piece of equipment that gladiators from every era depended on most was and still is their helmet. This is plain logic and common sense. Helmets get worn wherever hazard lurks. Motorcycle helmets have evolved more so than any other sport. The helmet has come into its own as more and more emphasis is placed on safety.
Strangely enough, this was not always the case. Open face helmets used to be the norm as recently as 30 odd years ago. Motorcycles were simpler and freedom of movement received first priority. Full face helmets were an expensive luxury afforded by a fortunate few. Over time, full face helmets became the norm. This was almost more of a fashion statement. Realization of obvious safety benefits transpired with time and the fashion statement soon became a most vital safety benefit. For once, fashion served a purpose in protecting the masses. Gradually, our vanity became responsible for jackets, pants, boots and gloves to become main stream.
A certain German helmet and motorcycle manufacturer, saw the direction the market was taking and seized an opportunity in 1980 to manufacture a helmet that incorporated the freedoms afforded by an open face helmet, as well as the protection and shielding afforded by a full face. These revolutionary helmets were called "System" helmets. Their sales story grew from scepticism, to acceptance, to huge sales successes, before other manufacturers sat up and took notice. Nowadays almost every helmet manufacturer of consequence offers this unique style of one button metamorphosis from open face to full face.
Personally, I never made the transition into this new direction, which was for one reason only. As far as I was concerned, these helmets never really matched the sharp styling of the racing full face and enduro style adventure helmets. They always seemed quirky and I could not envision myself wearing one anytime soon. That was until recently, when I got a phone call from a specific importer.
It was with an open mind that I visited Mark from Henderson Racing Products. He sounded very excited over the phone as he explained that he had just received the first shipment of Scorpion helmets. As an active adventure rider, he wanted me to come and view the new Scorpion ADX-1. On arrival and presentation, it took me about ten seconds to get equally excited as he explained the features to me.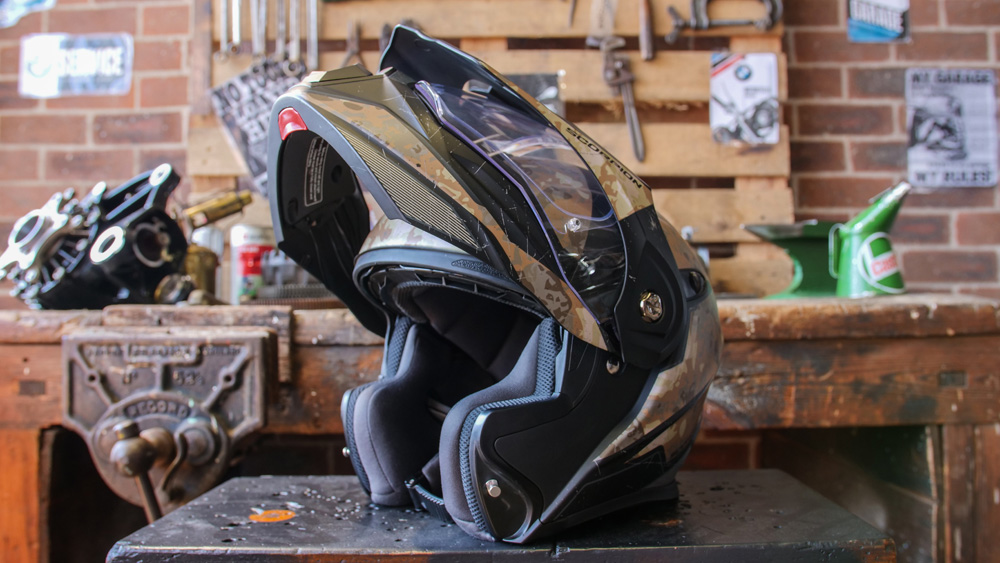 Here I was, looking at the helmet that I had secretly hoped for. What I saw was an adventure type helmet, complete with peak, sun visor, simple venting system, simple "open-to-closed" conversion mechanism and road helmet transformation properties. But what impressed me the most was that it was just "drop-dead-gorgeous" in the styling department!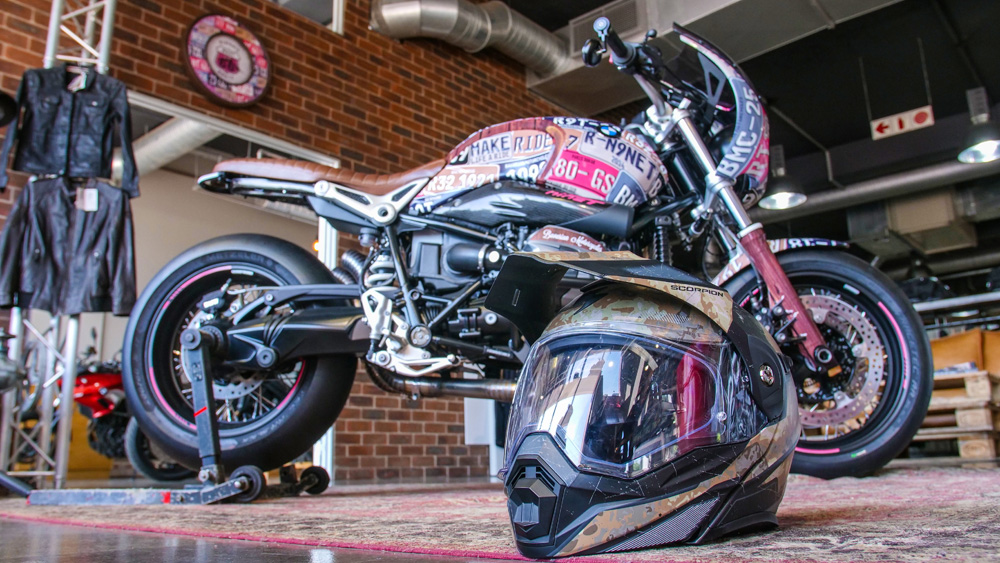 Mark took time to explain the TCT Composite shell. This is a proprietary 5 layer blend of interlaced and specially formulated fiberglass, Aramid and organic poly-resin fibers. It sports ECE 22.05 standards approval, which is the toughest standard of testing worldwide and required for all forms of premier racing. This piece of information convinced me to give it a go.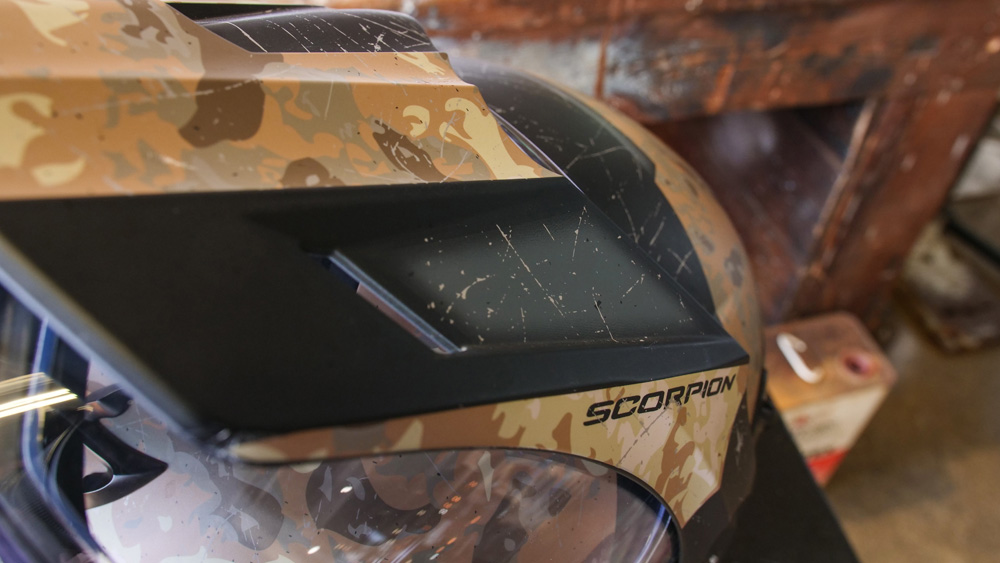 Trying out the different styles it became obvious that the medium was too small for me and the large slightly too big. A word of advice to any prospective helmet buyer, is to always go for the smaller size when in doubt. It took a good part of 3 000 km for the helmet to eventually settle to my specific head size and shape. It certainly was worth the initial pain and discomfort and she now fits like a glove.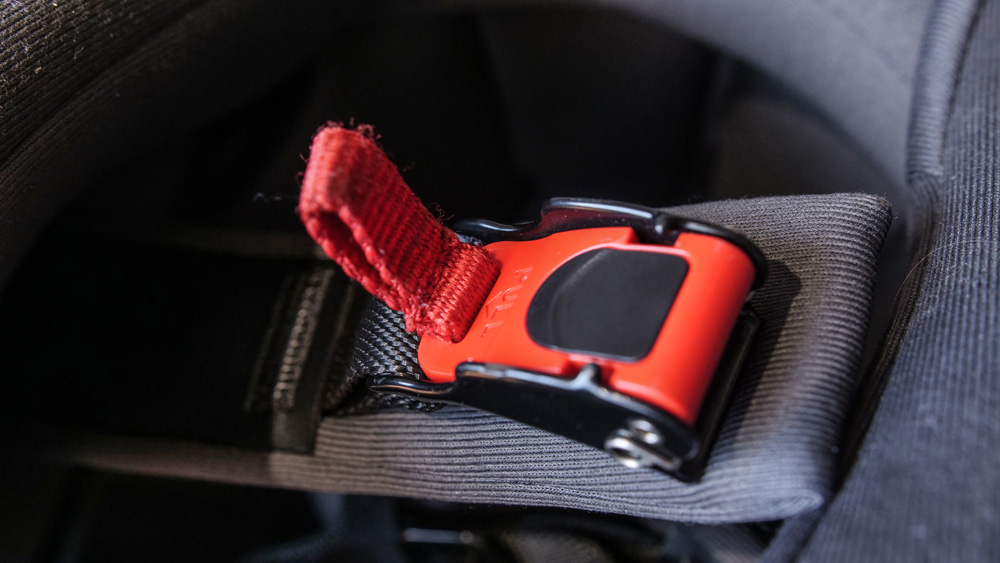 More than 6 000 km later, from Namibian desert, to Botswana heat, to just about anything in between, prompted me to pen my conclusions to paper.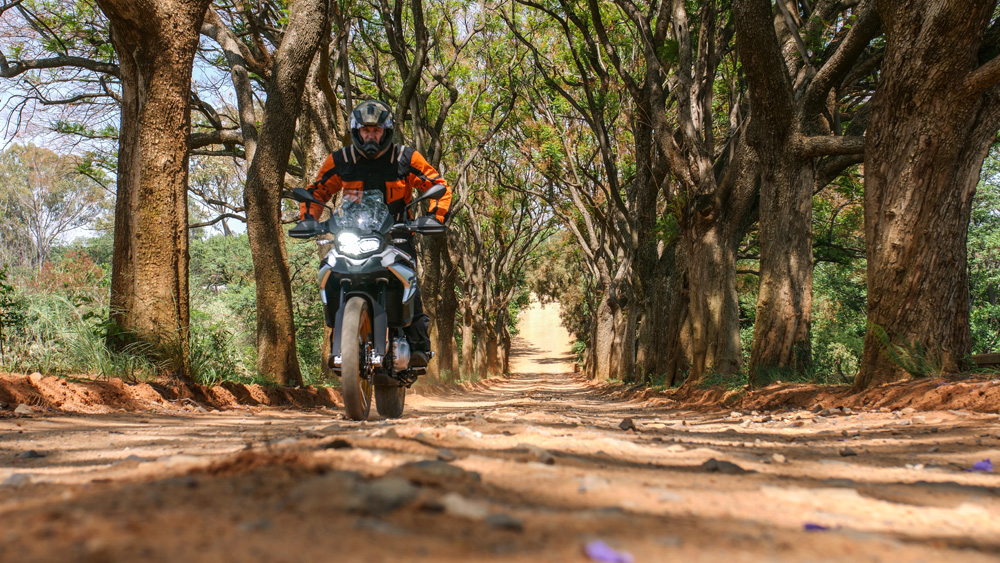 After settling in, the helmet has now become as comfortable as any premium helmet on my shelf. The clear visor is thick and durable, seats tightly and certainly keeps the wind out. The sun visor, as always is a big plus and helps in the brightness of the Route 62 sun. It deploys at just the slide of a button.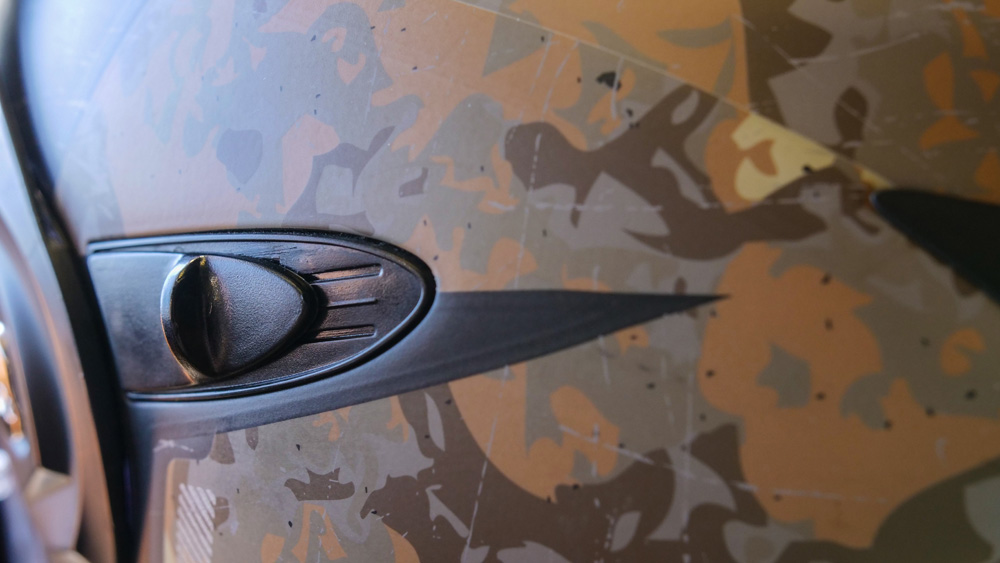 I have been spoilt by the open-to-closed conversion and find myself riding in open face mode during slow traffic conditions, in the dunes and gentle cruises along the coast. At higher speeds, the helmet is more quiet than any other full face in my arsenal. This is especially noteworthy, as wind noise is what most "open-to-closed" helmet owners complain about.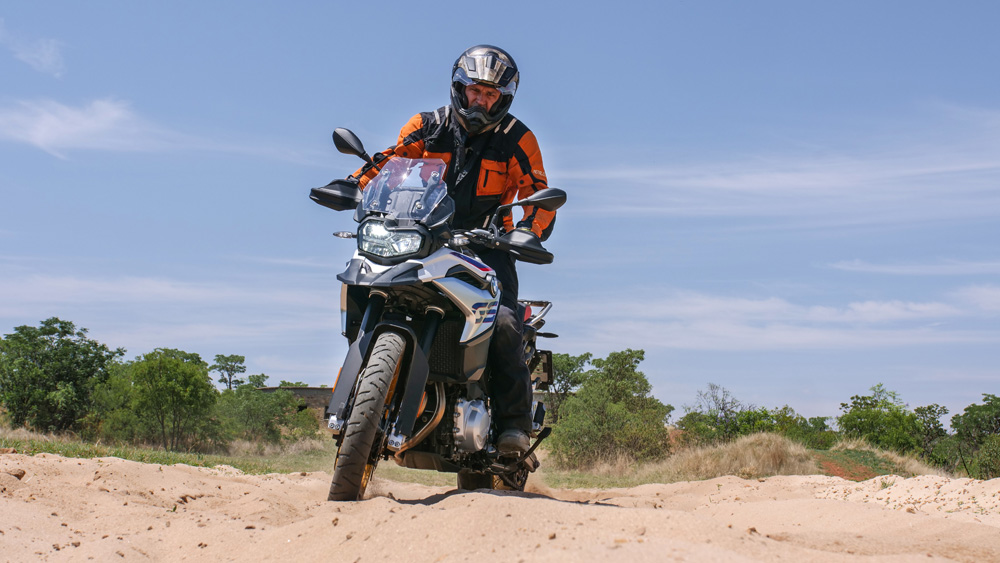 The quality of the inside padding is spot-on and it has now been tested in diverse conditions. High speed testing is usually the final insult for many adventure type helmets, as the very design is in conflict with certain envelopes of the speed spectrum.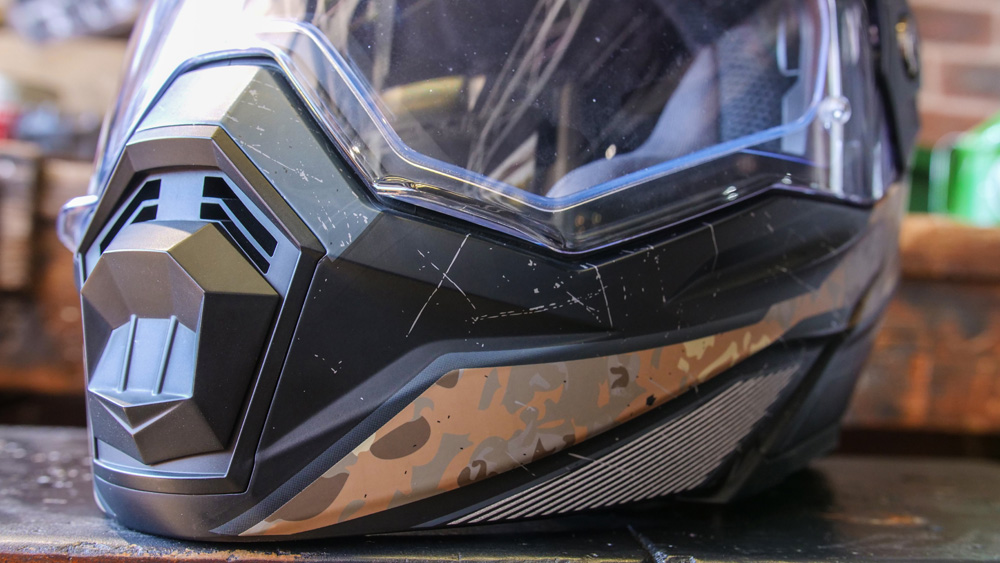 I tested this helmet on a recent adventure bike launch up to speeds of 195km/h on an F750GS with virtually no wind protection and found it ultra-composed and tracking straight.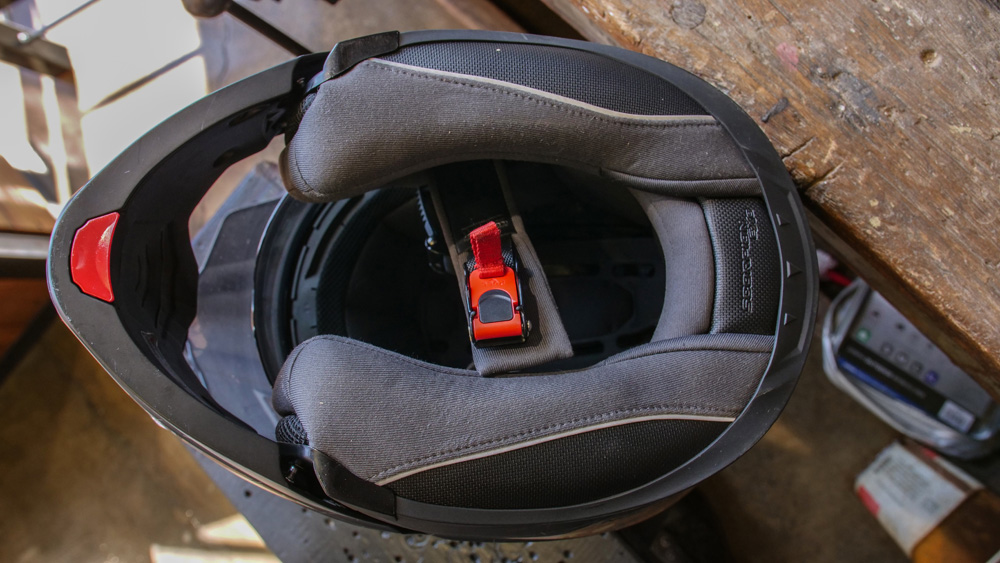 An interesting feature is that the helmet can be converted for street use by removing the peak and fitting the included side plates. It then fools anyone into thinking it's a proper sports helmet, even stylish enough to satisfy all but the most avid from the naked bike clan. It looks especially menacing with the optional dark visor!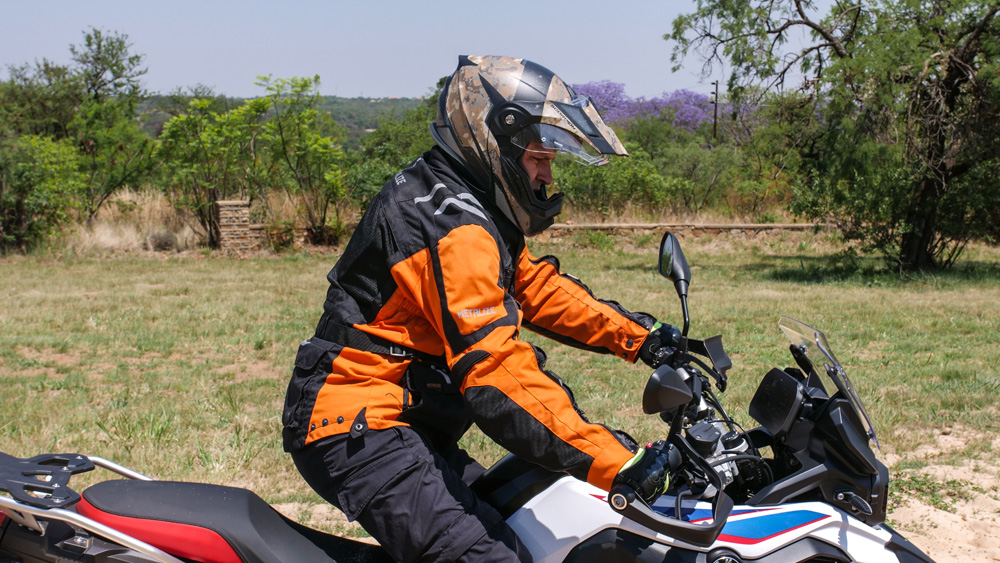 I have been thinking long and hard about possible criticisms with this product, but fail to find anything concrete. Perhaps the weight of the helmet would bother some, although mass specification is on par with similar offerings. The sun visor conversion slider work counter intuitively for me and took some getting used to. In the closed configuration, the cheek pads put quite a lot of pressure on the jaw, which in my case is reassuring more than a drawback.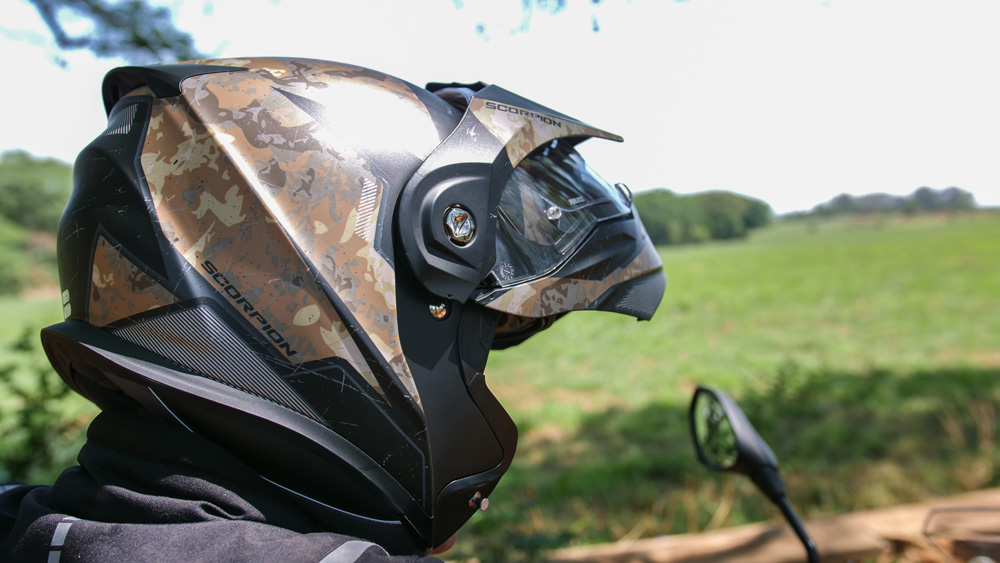 In conclusion, the recommended retail price of only R 5 500 blew me over for the level of quality and features on offer. When collecting the helmet, the price was not yet finalised and my expectation was that it would certainly be more expensive. The array of colours available will suit most tastes and replacement parts are readily available from this very approachable distributor.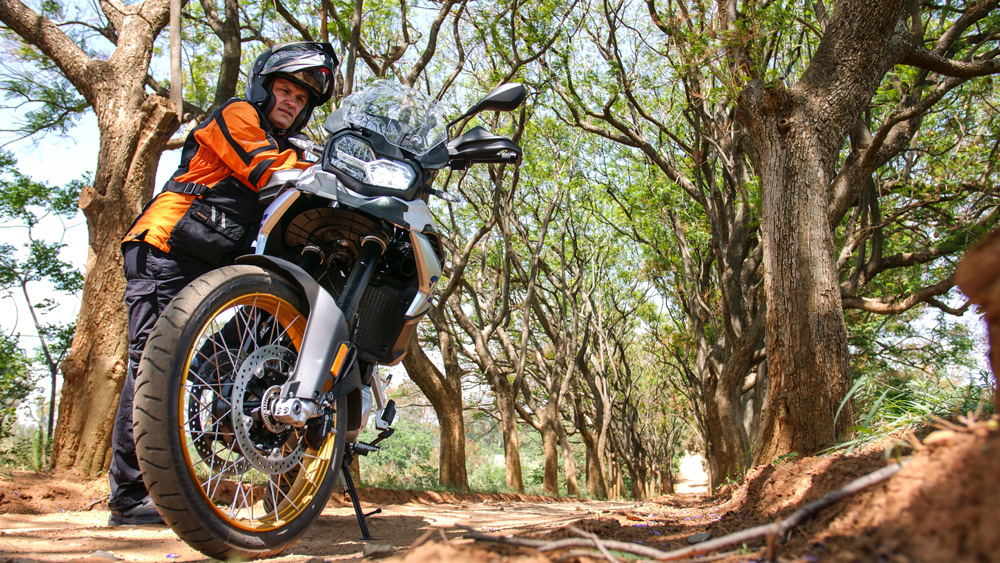 Do yourself a favour and check out the new Scorpion helmet range, you may just find your next purchase to be one of these.