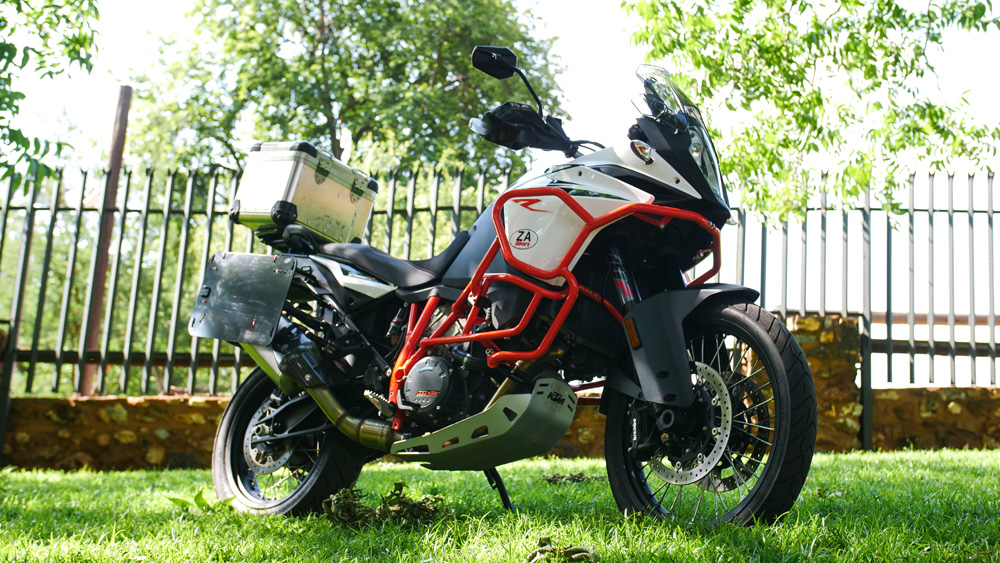 When you spend the amount of time on bikes that I do, and especially on less than perfect roads off the beaten track, it is almost inevitable that you will capsize at some point. Earlier in the year I rode down to Port Elizabeth to spectate at the Ironman triathlon. On my way home I made a detour to a game farm, 70 odd k's from Colesburg. The last 30 k's was on a reasonable dirt road. Reasonable that is until I had to leave the farm the next day after 15 hours of rain. My KTM 1090 R was shod with Pirelli road rubber, as I was keeping the knobblies fresh for dirt trips. The rain took me totally by surprise.
I rode straight onto a road that had literally turned into a quagmire overnight. Feeling my way gingerly, I tried to get a feeling for what traction there was. Very little, to be frank. Wanting to get the dirt done with I foolishly, with hindsight, sped up from a manageable 60 to around 80 kph. All good, until I hit some water filled potholes that is. Not wanting to do anything sudden to upset the bike further, I tried to keep a constant throttle and ride out the bumps. What followed is a bit of a blur. The bike started getting a porpoising action going which got more and more violent, until I abandoned ship. The bike went down on its left hand side. I must have tried to save it till the last moment, because the 1090 landed on my left lower leg before doing its own thing and I slid and rolled down the road.
Those of you that have fallen off your bikes in similar fashion, will know that even as you are sliding on your bum and other extremities, you are counting the cost of your loss of talent. Standing up, I hobbled back to the bike on a seriously painful ankle. Picking up the bike there was ominous clicking and crunching from my lower leg. The standard KTM crashbars did a reasonable job, together with my soft pannier brackets, of protecting the bike. The soft, muddy road also helped to absorb a lot of energy from the crash, as did my lower leg. I decided it would not be a good idea to remove my boot to asses the damage because I was pretty sure I would not get it on again. What followed was a cold, wet and painful 600 odd kay ride home. Why do I tell you this tale of woe? Enter RUMBUX protection bars.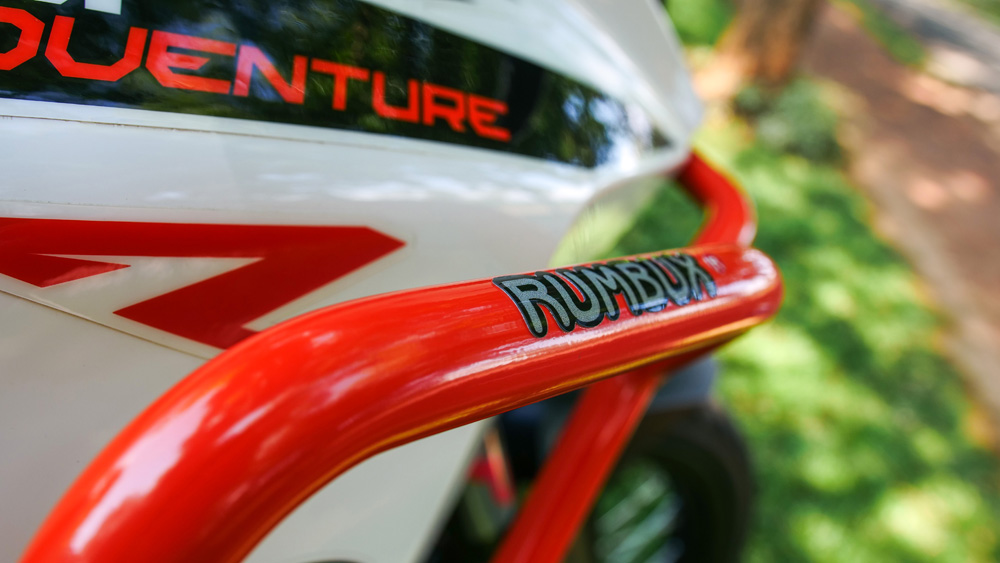 I made the error of being pennywise and pound foolish. If I had really thought about it, I would have realised that the factory crash protection, whilst better than nothing was not totally up to the job of protecting the bike, and perhaps more importantly, the rider. There is no way that you will escape with no damage, however RUMBUX products show that an incredible amount of research and development goes into their design. My handlebars and front flicker needed replacing. I took my bike straight off to RUMBUX and asked the guys to fit the top section of their 1090 R system. I have the KTM factory bashplate fitted. The full RUMBUX system sports a bashplate incorporated into their design as well as engine casing protection.
Studying the fit of the RUMBUX bars it is obvious that they hugely improve both bike and rider protection. In my case, my leg would not have been trapped under the bike. The wider top section of the RUMBUX bars not only offer greater radiator and body work protection, they prevent the bike from landing fully on its side. The fit and finish is superb, and look for all the world like they were designed and fitted in the bike manufacturers factory.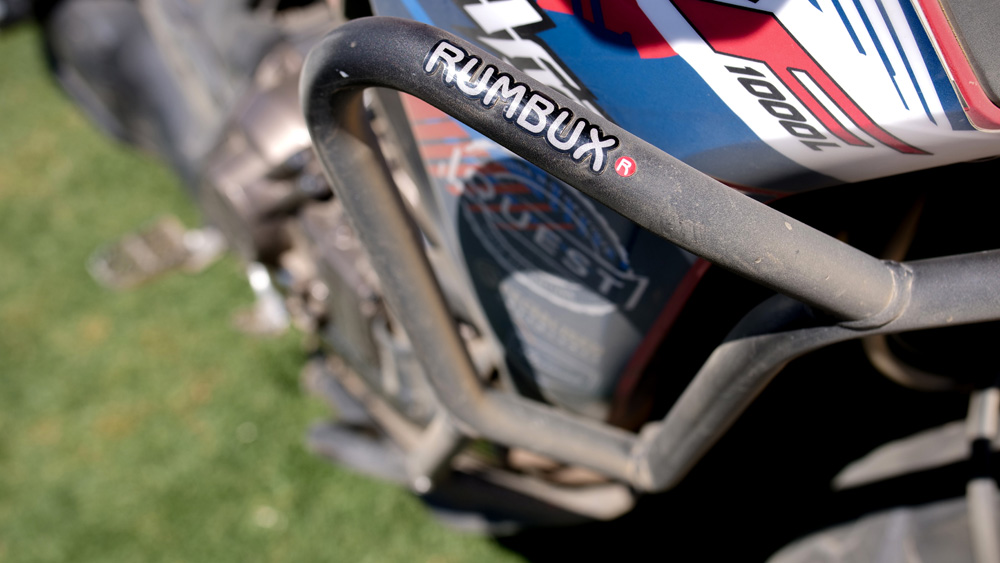 Honda equipped all their Africa Twins used for the Honda Quest event, with RUMBUX bars. Neither their bikes or riders could afford to be damage to the extent that they could not continue the ride. Despite numerous offs, the RUMBUX bars kept the bikes operational.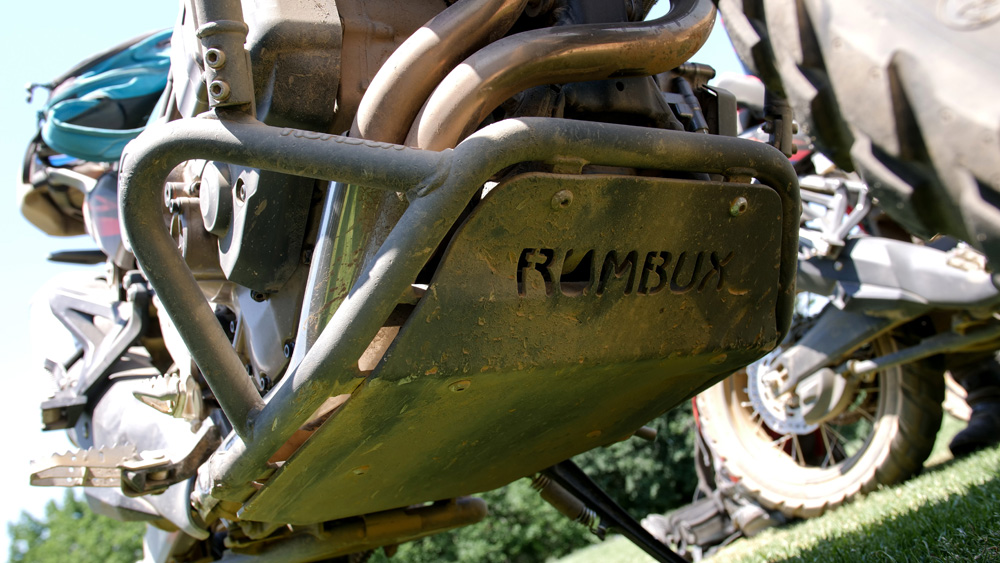 Now here is the thing. South African Adventure bike riders ride through some of the most demanding and hostile riding country in the world. You simply cannot afford to render your bike unrideable after a dirt or tar off. I believe with total conviction that when it comes to comprehensive protection for you and your bike that RUMBUX bars have no peers. Riders all over the world have cottoned on to this fact and this proudly South African product flies the flag on Adventure bikes all around the globe.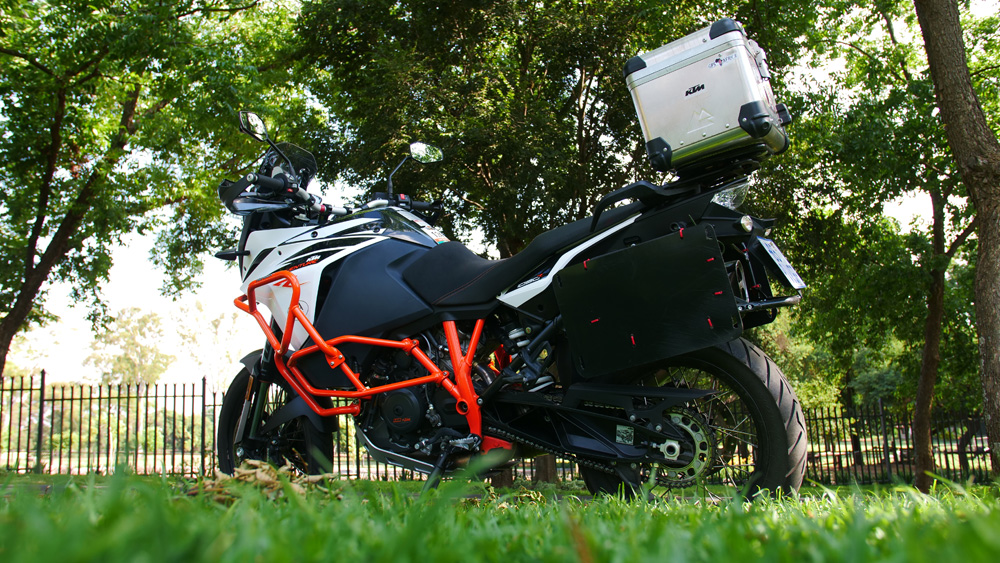 I would strongly suggest that for what is a small amount of money compared to the value of your bike, you give the guys at RUMBUX a shout. You owe it to your bike and yourself. Pray that you don't crash, but dress your bike for the occasion.
For more information visit: www.rumbux.co.za