Adventure motorcycles are all about compromise. Some go for maximum off-road prowess, at the expense of open road comfort, while others prioritise touring over hooning in the dirt. The trick is to make those compromises as small as possible.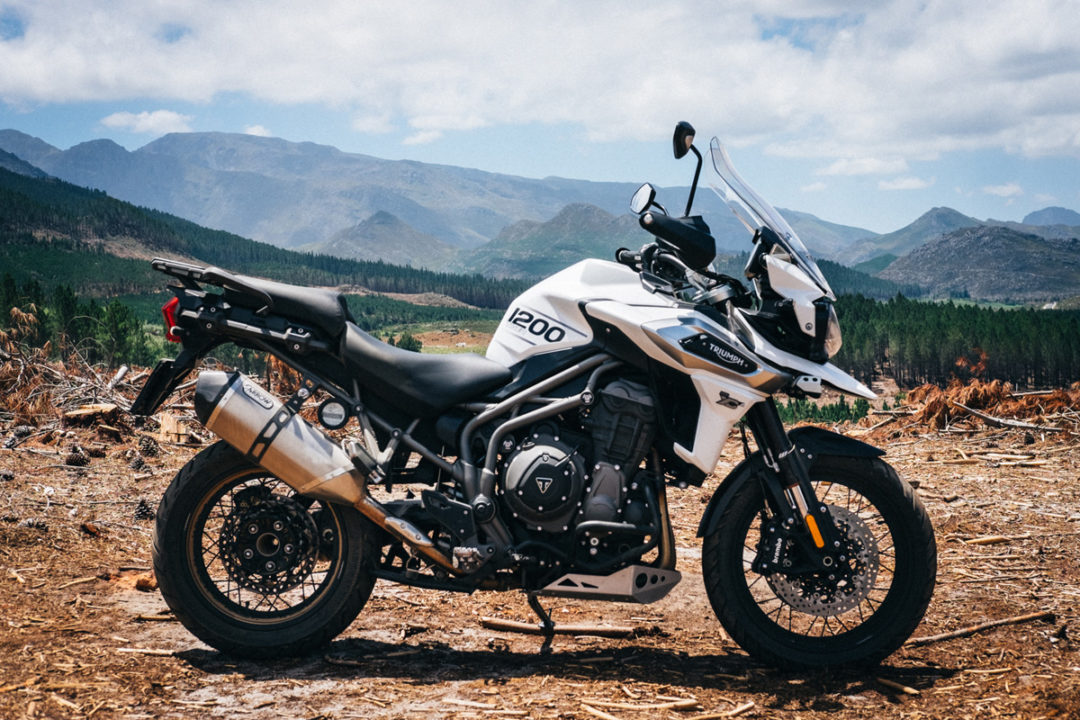 With a stonking 1 215 cc three-cylinder motor, and a dry weight of 248 kg, it's pretty clear where the Triumph Tiger 1200 XCA sits on that spectrum. But what'll surprise you, is just how versatile it actually is.
The Tiger XCA is Triumph's flagship adventure bike, with a spec sheet to match. It makes a respectable 139 hp at 9 350 rpm, and 122 Nm at 7 600 rpm. That's delivered straight to the back wheel via a drive shaft, with a ride-by-wire throttle, hydraulic torque-assist clutch and six-speed box managing power.
That puts it in the same ballpark as BMW's new R 1250 GS—but in reality it's a very different machine. Its in-line three has a characteristic as unique as the Beemer's boxer mill and makes its numbers higher in the rev range. It really is something else; the way it delivers power—and the sound it makes as the motor climbs through the revs—are downright addictive.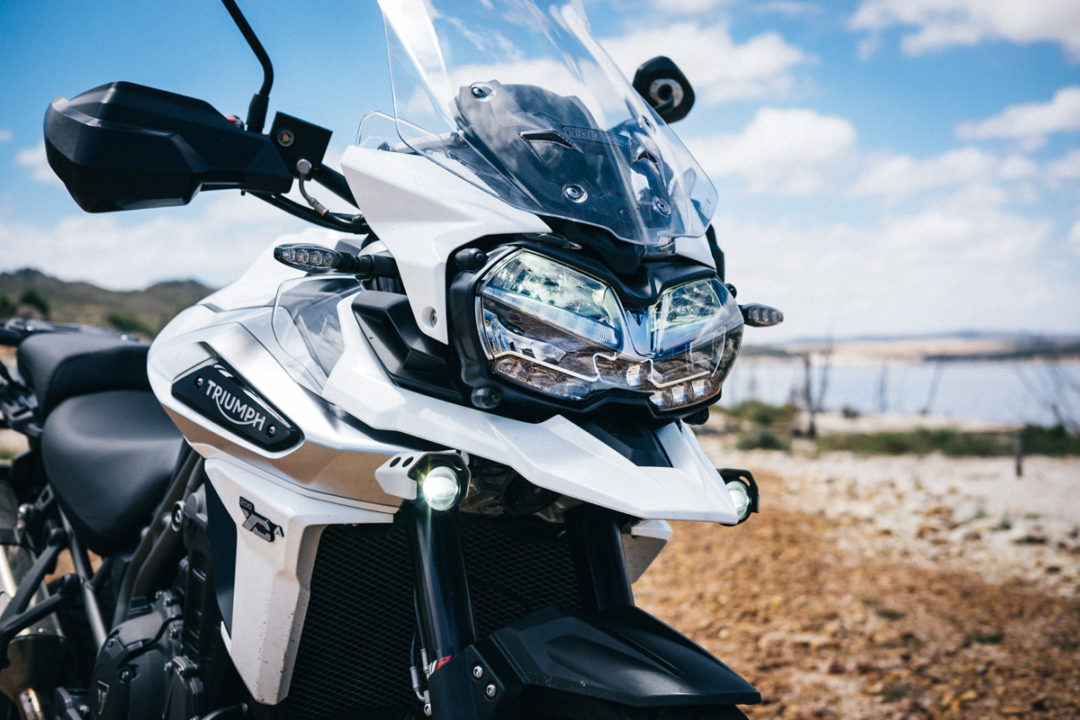 The Tiger 1200's chassis is well sorted too. It's built around the same steel trellis frame that's become a hallmark of the Tiger range, with an aluminum swing arm encapsulating the final drive. And it's kitted with WP suspension at both ends; 48 mm forks with 190 mm of travel, and a mono shock out back with 193 mm of travel. It uses Triumph's proprietary 'Semi Active Suspension' system, and is electronically adjustable too.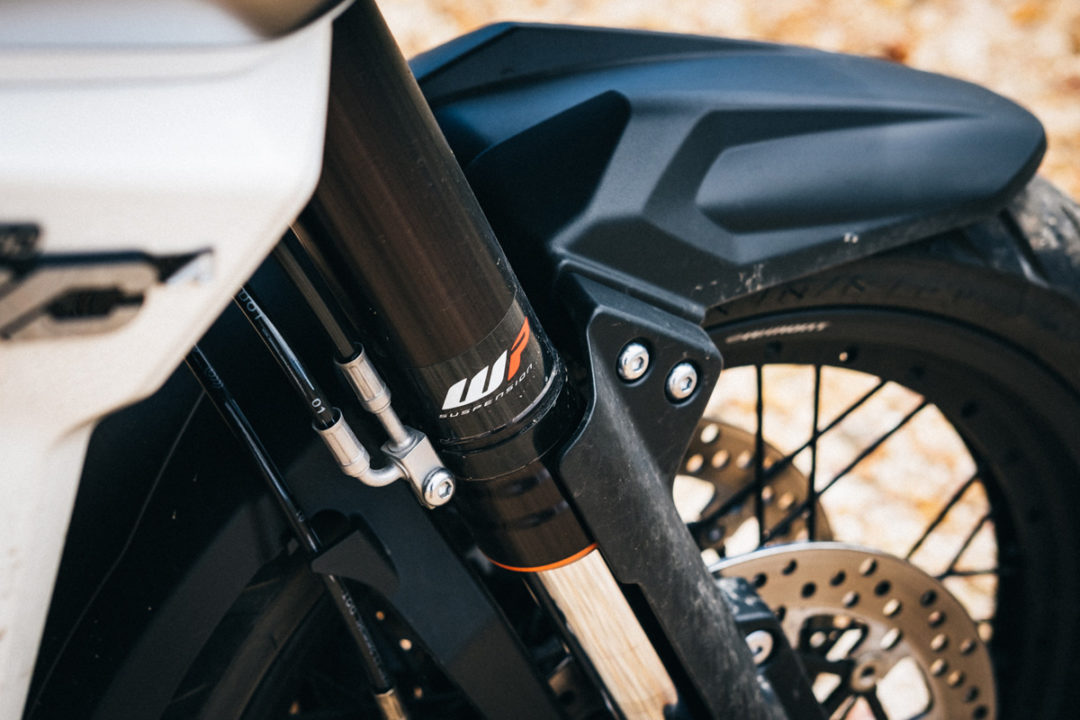 The wheels are spoked tubeless numbers—measuring 19" up front and 17" out back. And the brakes are a mix of Brembo and Nissin parts, with twin discs up front and switchable cornering ABS as standard.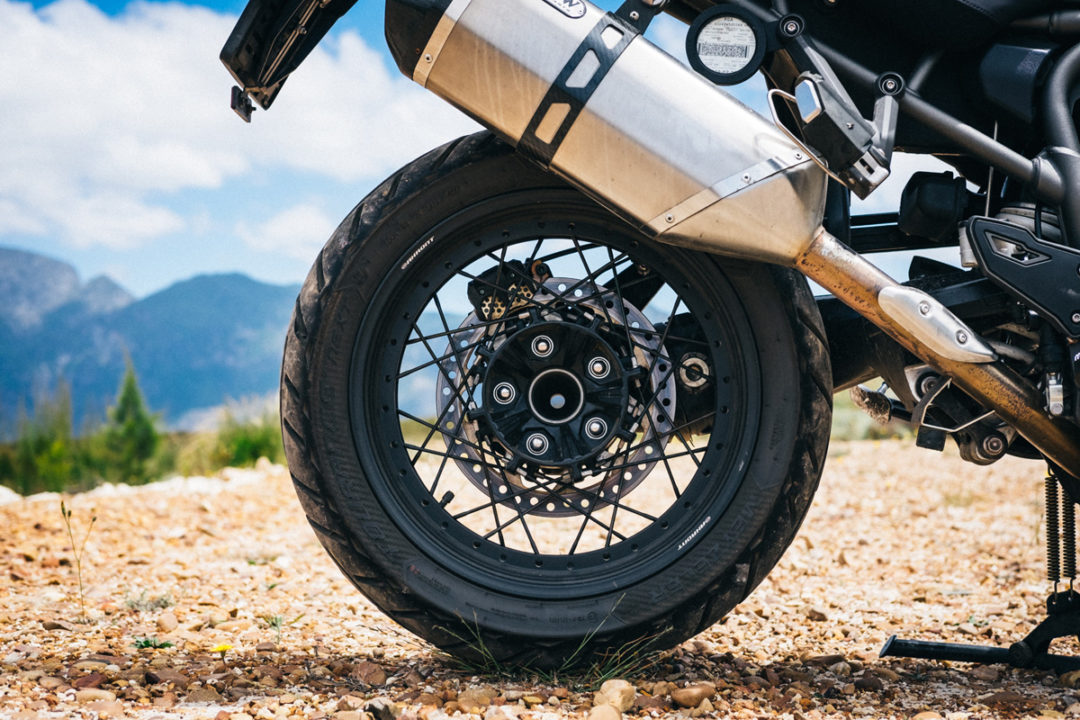 You also get a 20 l fuel tank that's good for about 300 km between stops, and a seat height that's adjustable between 835 mm and 850 mm. Bits like the engine guards, bash plate and hand guards are standard equipment. Other fancy bits include a keyless ignition, LED lighting with slick-looking daytime running lights, and an electronically adjustable screen.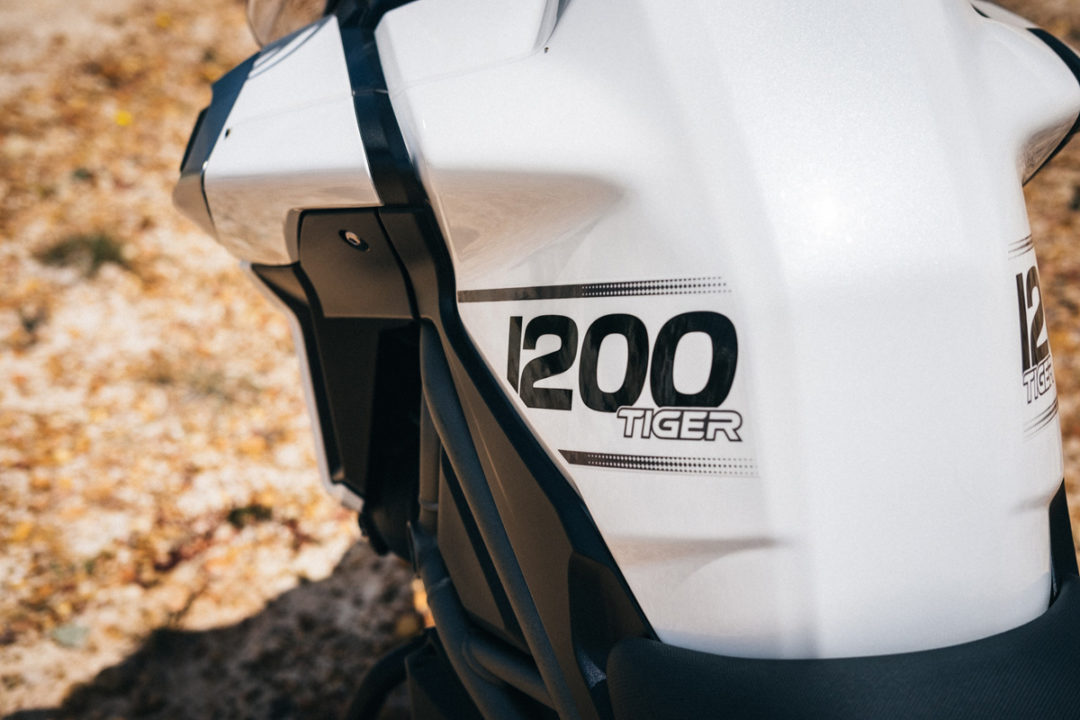 At R254 000 the XCA is a little pricier than the XCX, but that extra change buys some sweet upgrades. The XCA's headlights feature adaptive cornering tech, and LED spotlights are included too. Heated grips come installed, along with separately heated rider and passenger seats, and chunky off-road foot pegs.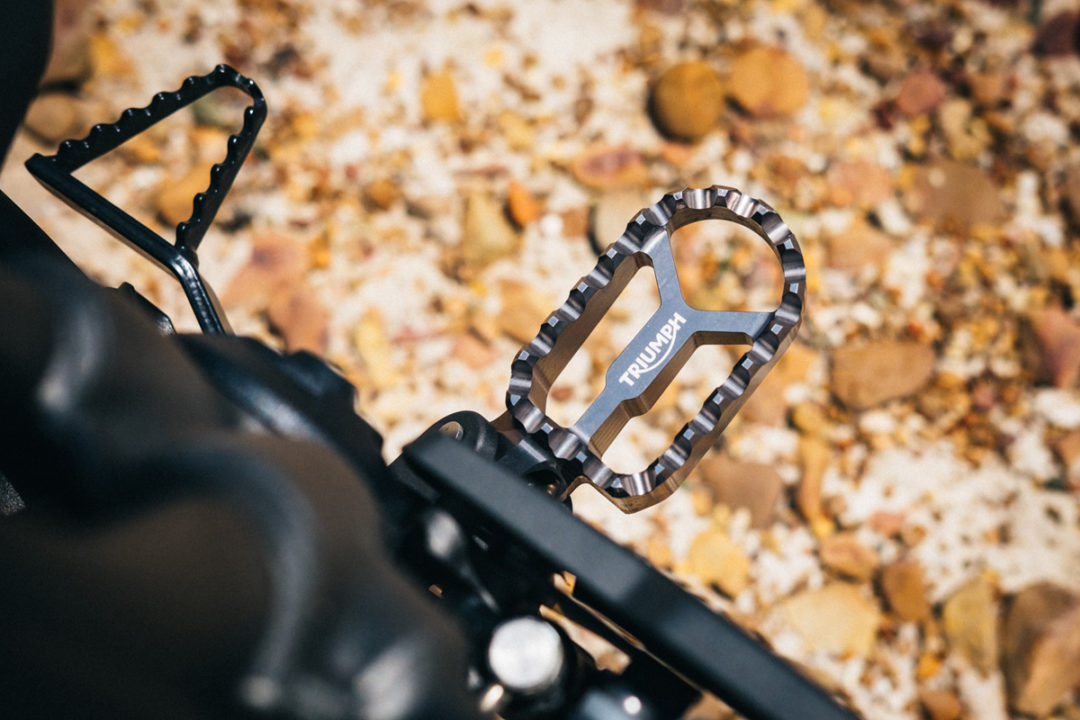 The XCA also comes with Triumph's shift assist quick-shifting system, hill hold control, and a titanium and carbon fibre-wrapped Arrow silencer. It's not the loudest pipe I've heard, but it does add a little substance to the Tiger's soundtrack.
But it's the sheer amount of useful gadgetry that truly sets the Tiger 1200 apart. Everything is monitored and controlled via a 5" TFT display, and an easy-to-use switch arrangement. From here, you can flick through all the data you'll ever need, change riding modes, and even customise various settings.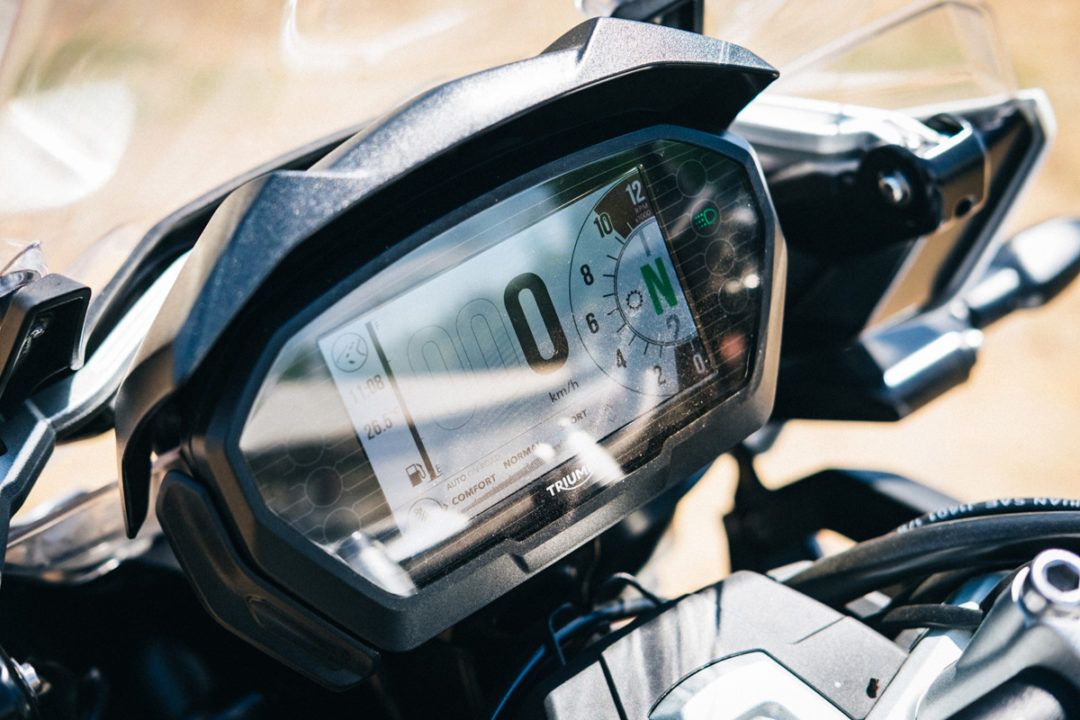 It's a pretty intuitive system—for the most part—but I did find one or two settings confusing. For example, you can switch between different speedo and tach layouts—but only if you dive into the menu first to change the default settings. (By default, the different layouts are linked to each riding mode.) My biggest gripe is Triumph's standard cruise control, which works OK, but has to be canceled by pulling the clutch or brake (rather than via a button).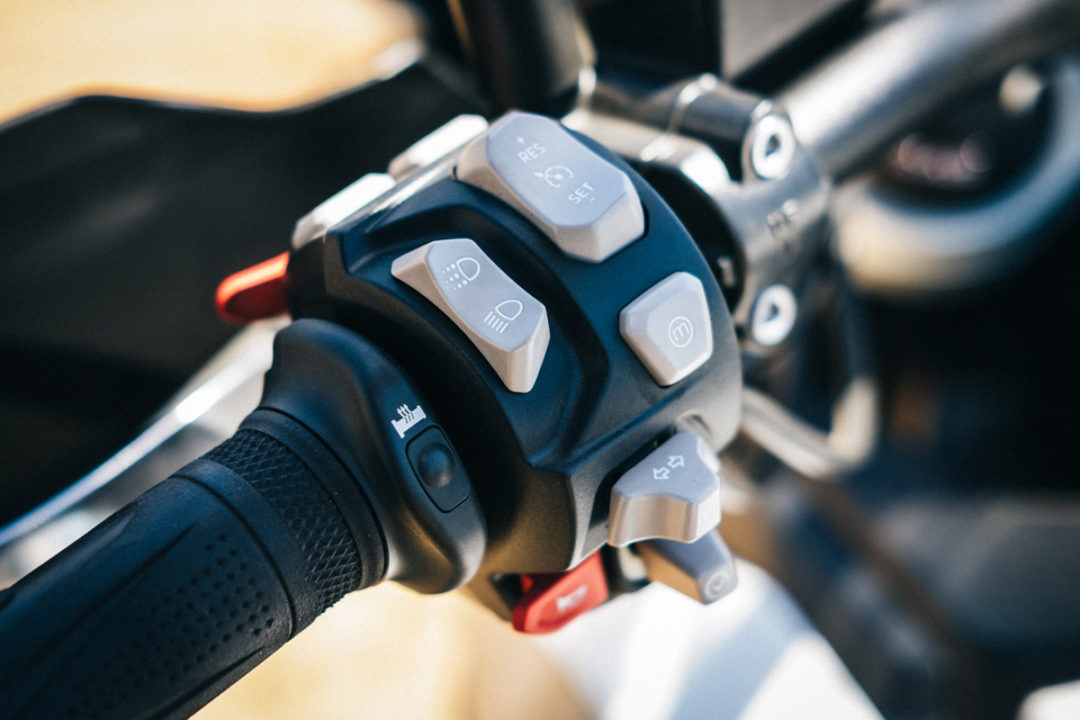 The Tiger 1200 electronic aids include traction control, and six riding modes—two of which are off-road specific, and one of which is a user-specific custom setting. Each mode includes specific suspension settings—but what's nifty, is that you can easy fine tune the suspension stiffness further, on the fly.
On the road, most of the electronic aids are refreshingly unobtrusive. Settings feel subtle rather than drastic—and that's a good thing. Triumph's ride-by-wire and fuel injection systems are at the top of their game too, and the Tiger 1200's throttle is direct and predictable.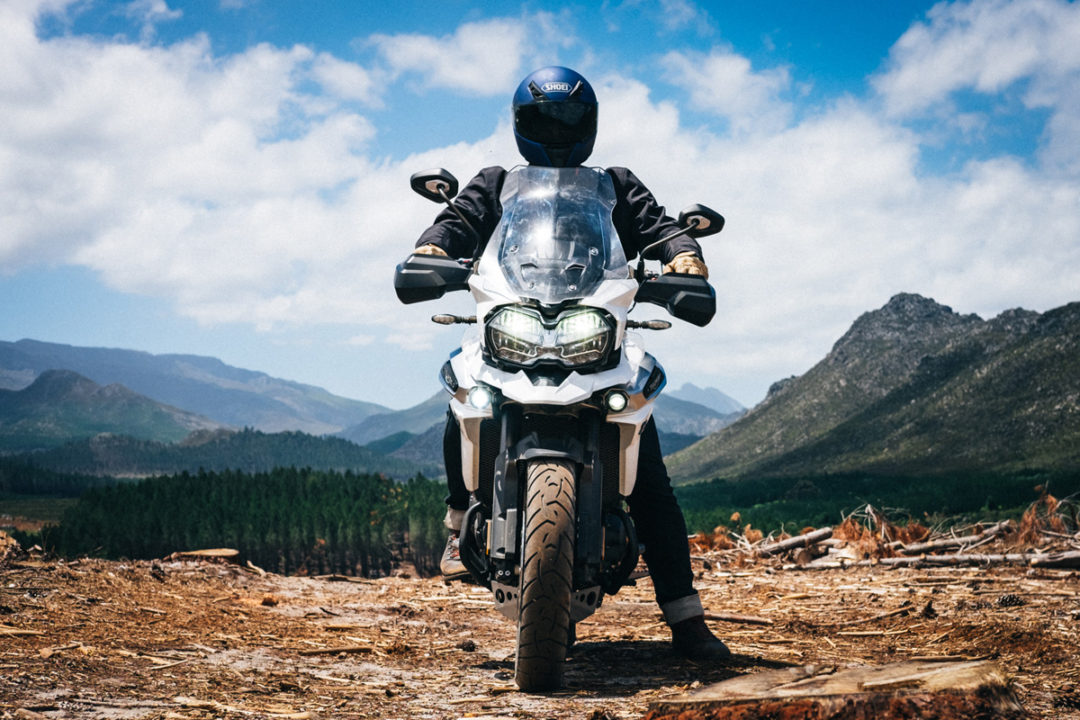 That rev-happy triple really is a gem—firing the Tiger off the mark and out of corners with at even the slightest encouragement. It spools up quick too, moving you through the six speed box rapidly. Triumph's shift assist works well enough, even if it does take a solid foot to shift up—and the hydraulic clutch is feather light when it's needed.
Honestly, I expected the Triumph to be punchy. But what I didn't expect, was just how nimble it is, especially for a litre-plus dual sport. Hustling it through corners is oodles of fun and less work than you'd think. Even in heavy traffic, the big Tiger is easier to squeeze between pesky cars than you'd imagine.
That nimbleness translates to a surprising level of off-road capability too. Even though my test unit was fitted with extremely road-biased dual-sport rubber, I had no problem traversing gravel and farm roads aboard the Tiger. So I pushed it harder—tackling loose stretches of steep 'twee-spoor' too.
Granted, I didn't take it through sand dunes, or on a pukka enduro course—and I wouldn't want to either. But for general purpose adventure riding, the Tiger 1200 is hella good.
That's partly down to its two off-road riding modes, which blend various levels of ABS and traction control interference. Switch it to 'Off-Road,' and it's very forgiving; flick to 'Off-Road Pro,' and suddenly the back wheel's snaking around and putting a huge grin on your face. (It's just a pity that you can only switch between the road and off-road modes when the bike is stationary).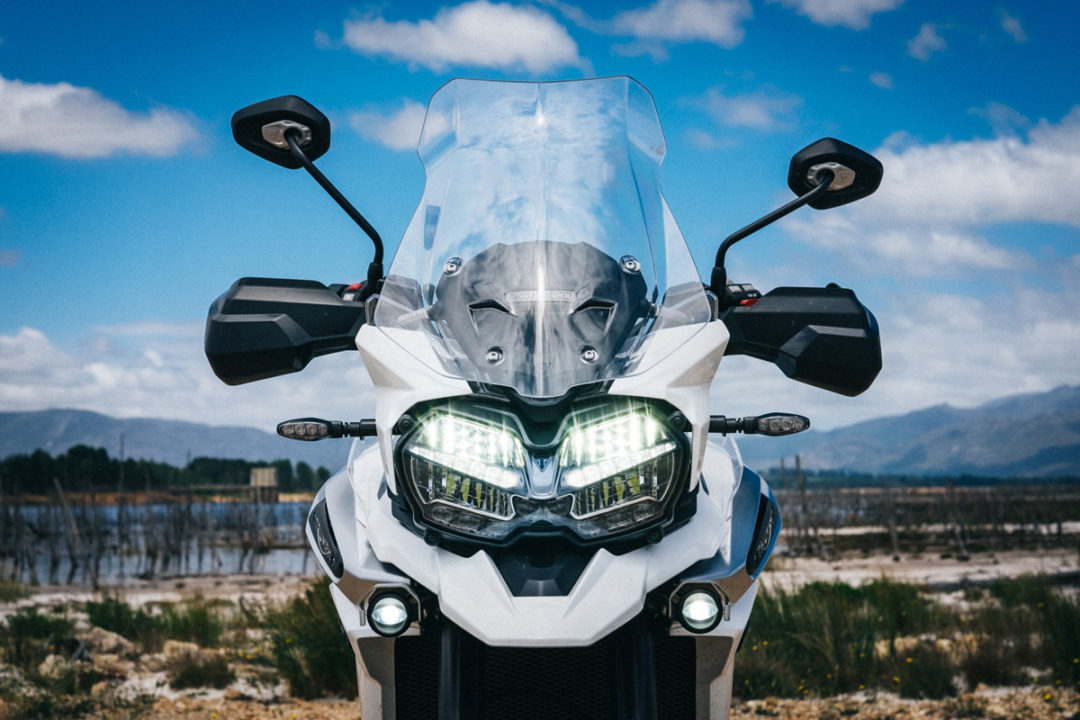 But it's also the Tiger's ergonomics that make it such a usable motorcycle. The rider triangle—and the amount of padding on the seat—are all-day-comfortable. And even though the screen's a touch too low at its highest setting for my 1,86 m frame, it should hit the sweet spot for most riders.
Get up out of the saddle, and it's immediately clear just how switched on Triumph were when they designed the Tiger's layout. The fuel tank's perfectly sculpted to be narrow between your knees, making it easier to move your body—and the bike—around, when you're negotiating tricky terrain.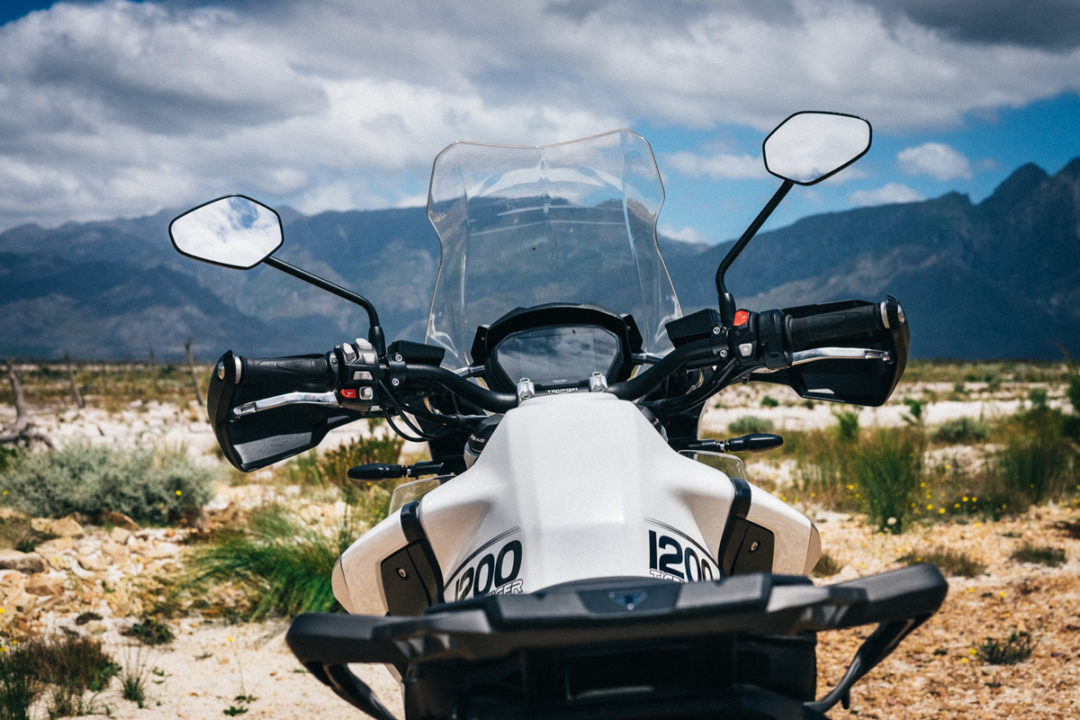 It's considerations like these that make the Tiger 1200 so appealing. I used it in town, in traffic, on twisties, out on the open road, and off the beaten track—and it never felt outgunned. And with plenty space for luggage, it left me itching to pack a bag and kick up dust clouds for a few days.
For more information visit: www.triumph-motorcycles.co.za