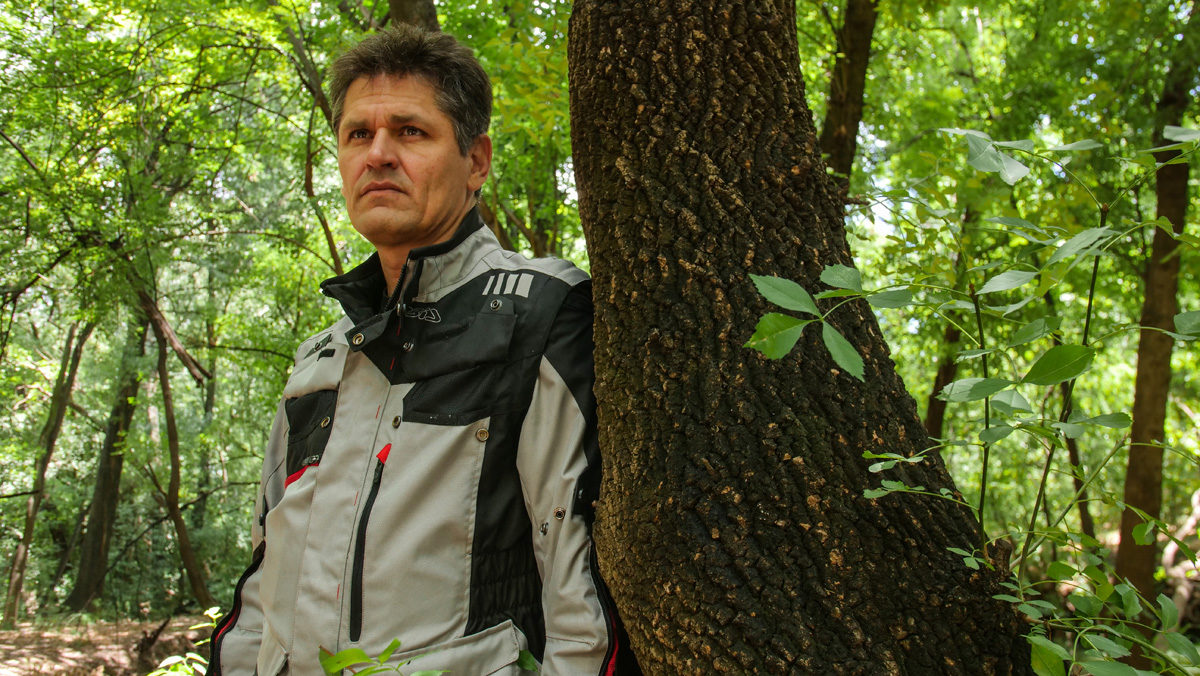 I get it horribly wrong as I brake-slide into a tight left hander, attempting to bush-up on my rusty enduro bike skills. It is the first outing on my trusty KTM200XC-W in more than a year. My two wheeled companion high-sided me and I get that weightless feeling as I fly through the air like Superman…. Off course, my landing was less graceful than that of the superhero on the silver screen. I am heavily winded from landing on my right shoulder and thereafter flat on my back. I lie there for a few seconds before even attempting to get up. "Why do I keep doing this?", I ask myself while shaking my head. I can only laugh as I try and regain my composure before the arrival of my riding buddy.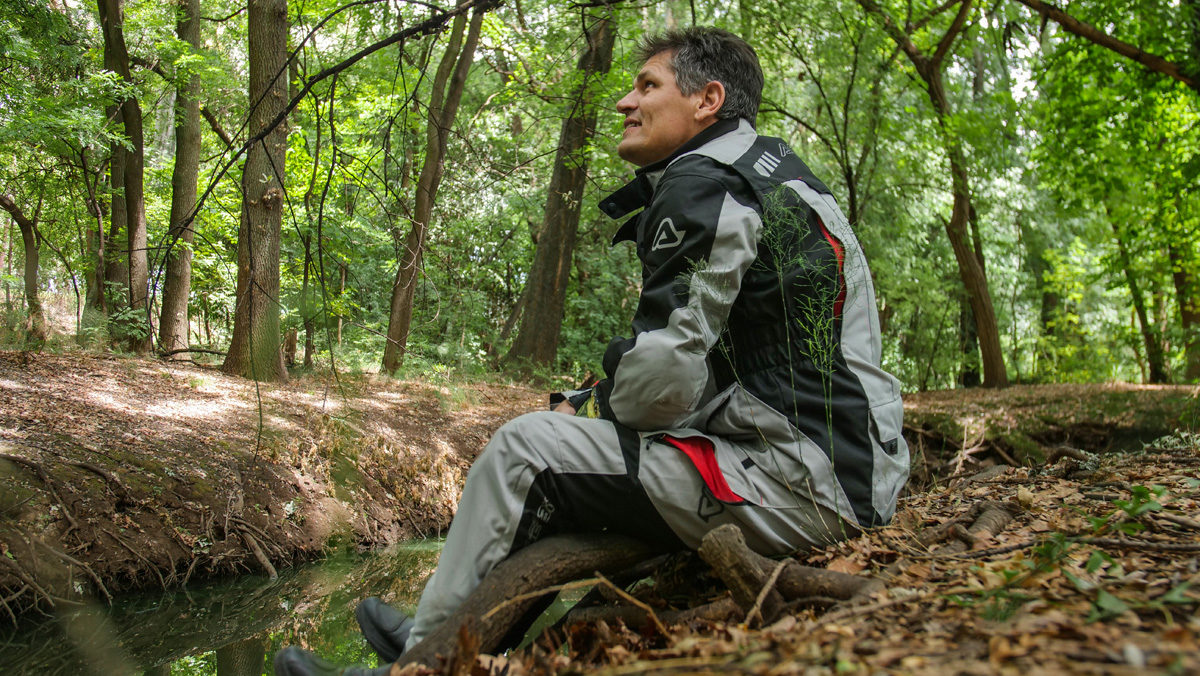 Yet there was something funny and almost out of place in this scenario. I have donned myself with the latest Acerbis adventure bike jacket and pants. Some might argue that this is not the appropriate gear for where I find myself deep in the woods on a very technical enduro bike trail. I agree wholeheartedly!
But there is method to my madness…. I am here to test and review this new addition to the world of adventure riding gear. This is what I call the torture test. Slow technical riding in hostile bush and thorn trees, with virtually no breeze to cool me down in a warm, humid setting. This often comes with the territory, so to speak. "Africa is not for sissies" is how the saying goes.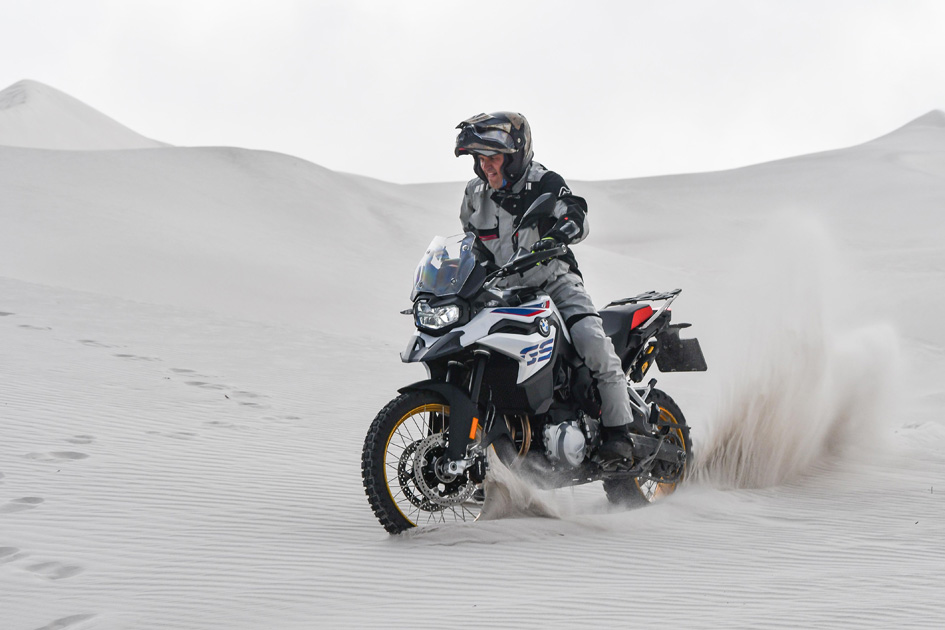 Most adventure bike owners also own what we call a "plastic bike". This is something in line with what I was riding in the opening paragraph. Something that resembles the likes of your favourite motocross, enduro or trials bike brand. Acerbis is best known for supplying OEM and aftermarket body plastics for these small, lightweight specimens at affordable prices. For a few hundred rand, thanks to companies like Acerbis, you can buy a plastic, bolt-on body kit that will make your enduro or motocross bike look brand new again. That is the beauty of plastic bike riding, as it is certainly easier on the bike than the rider.
Back to the riding gear. Upon my visit to Adrian Bac, well known and likeable chief in charge at AMP distributors, I was very surprised to learn that Acerbis also make adventure bike riding gear. Adrian himself is deeply rooted in the world of motocross and adventure biking. He keeps himself close to the action on weekends, supporting his son who participates in motocross on a national level. Whenever Adrian gets a break, he boards his Yamaha XT1200Z for the other passion in his life, adventure biking. He has been using this same Acerbis outfit for quite a while now and was very excited to get me to share in the experience. I was a little reluctant, to be honest.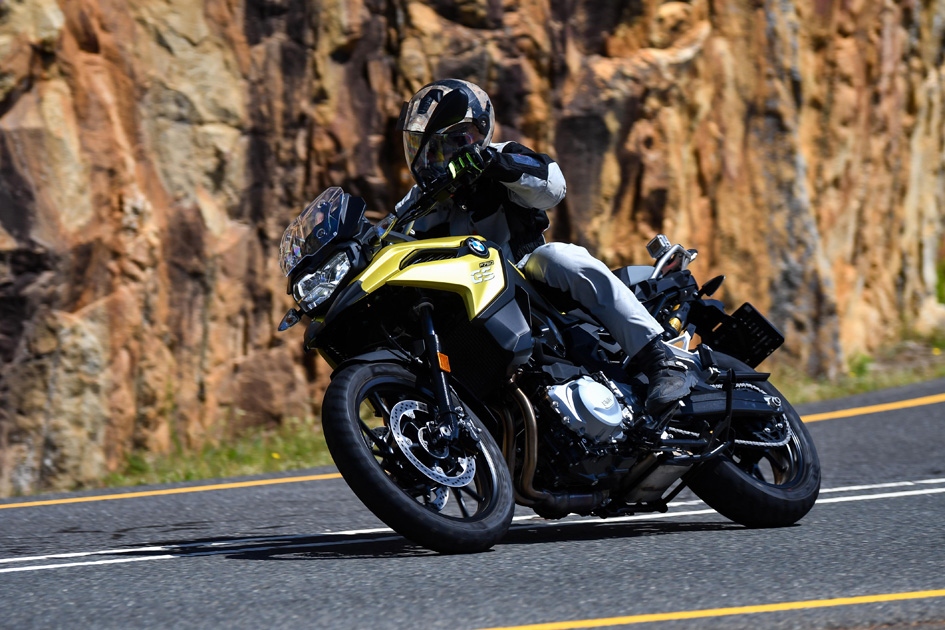 The time came for me to see this adventure wear up close and in person. As we tried for size, it soon became apparent that I underestimated the Italians! The fit is perfect for my body size and type. Perhaps I have Italian blood somewhere in my past! I soon remembered that the Italians are renowned for fashion, style, art and beauty. This is what they do, to be frank!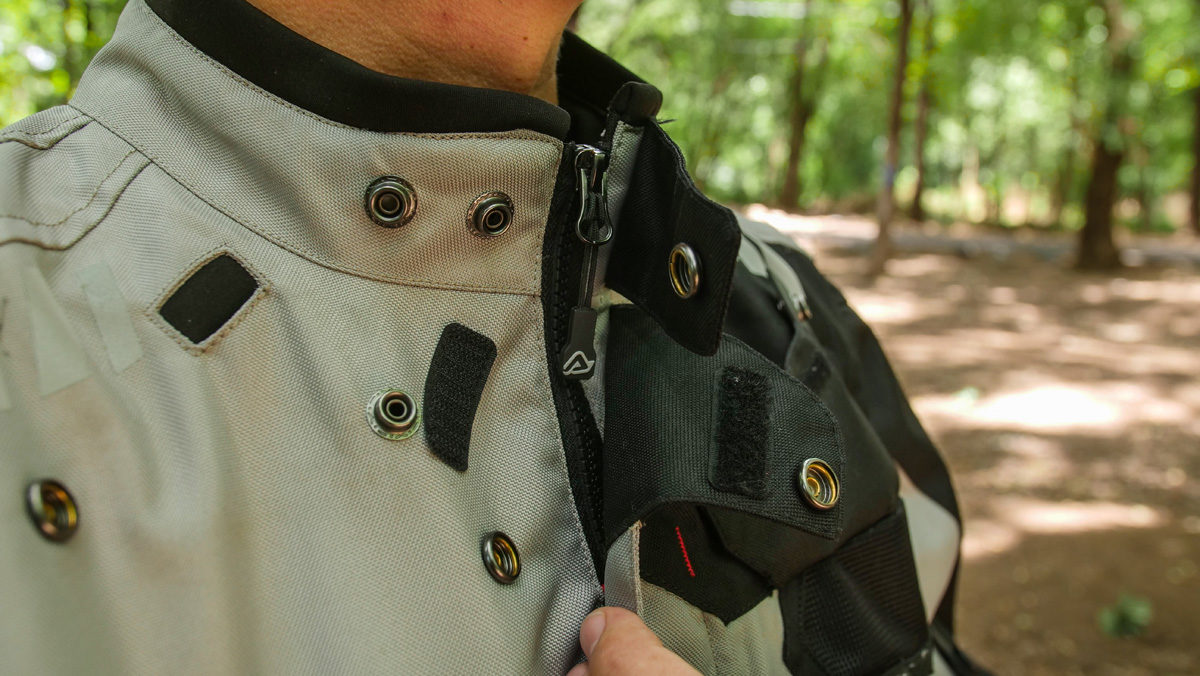 The attention to detail is typical Italian. Fine, meticulous stitching and well shaped inlays personify this suit. A well laid out ventilation system forms the central theme from the front 4 openings, all the way to the two exhaust slots at the rear, facilitating good flow-through of cool, fresh air. I certainly found this adequate in the conditions encountered as described in the opening paragraph.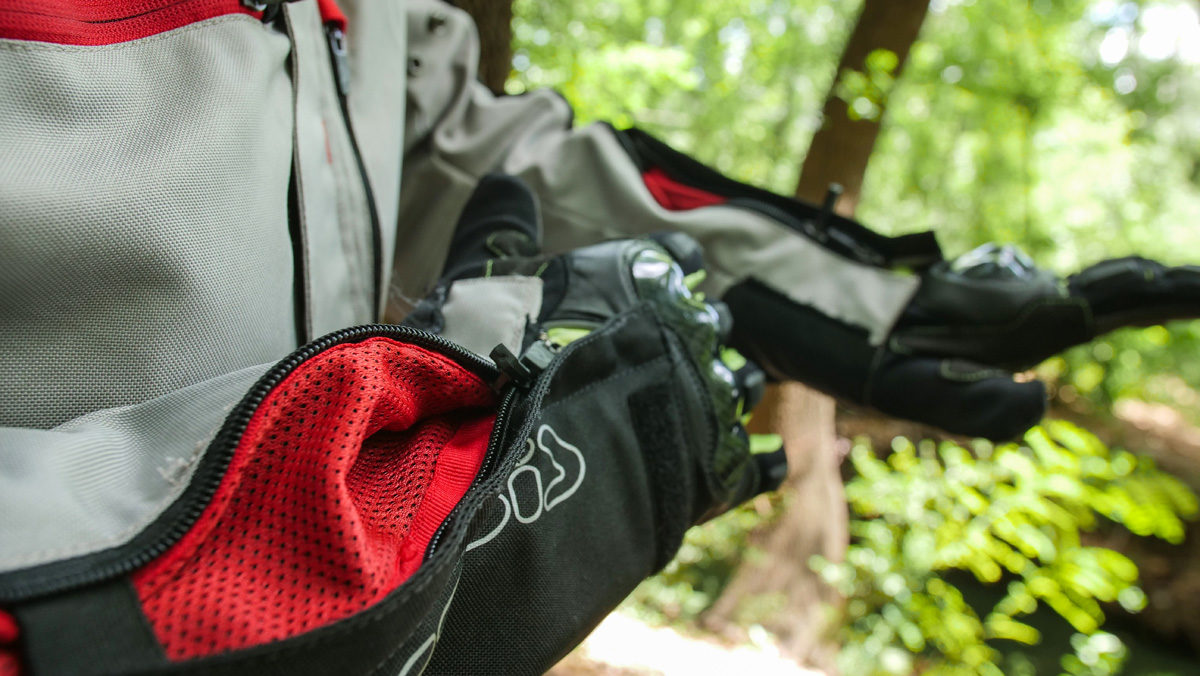 Furthermore, the four front pockets are well placed for easy reach. The left hand vertical opening is ideal for my smartphone, while the horizontal opening on the right is ideal for securing my wallet and other documents of consequence.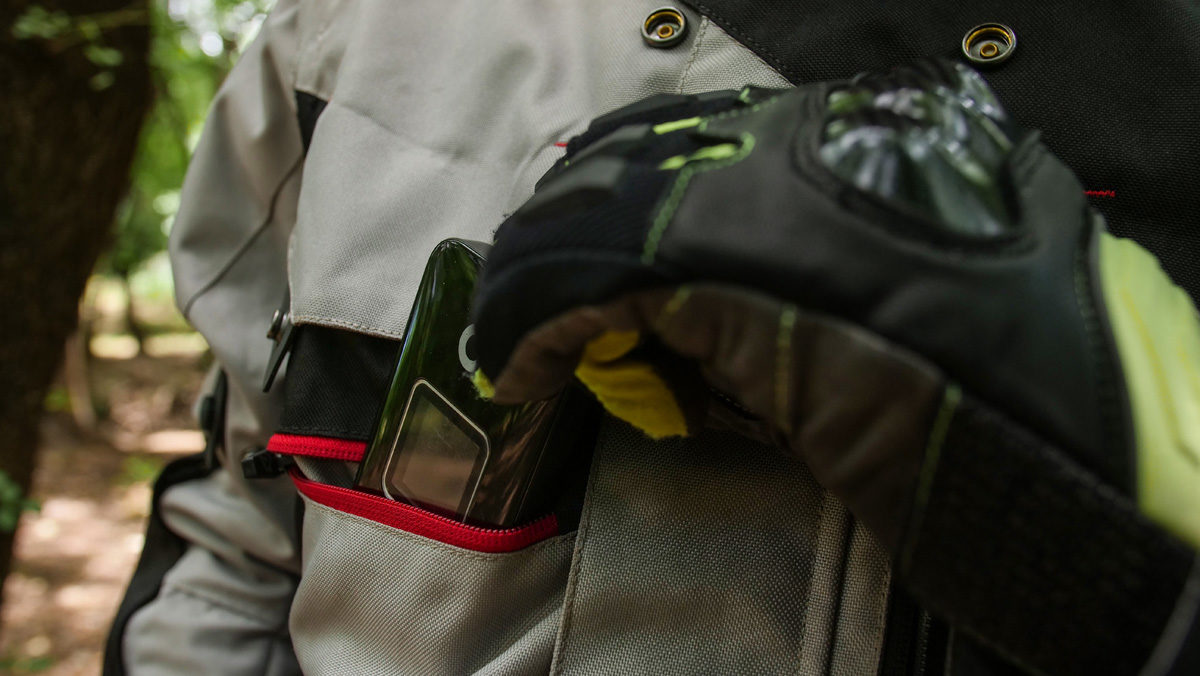 The two bottom pockets are very roomy, but I seldom use these, as I do not want my adventure suit to become too heavy. I would much rather stow other items in my top box or panniers. The winning pocket for me, is the transparent left hand sleeve pocket, it's ideal for storing a garage card or cash, and gives you quick and easy access at the famed toll gates, which we so often encounter on our motorways.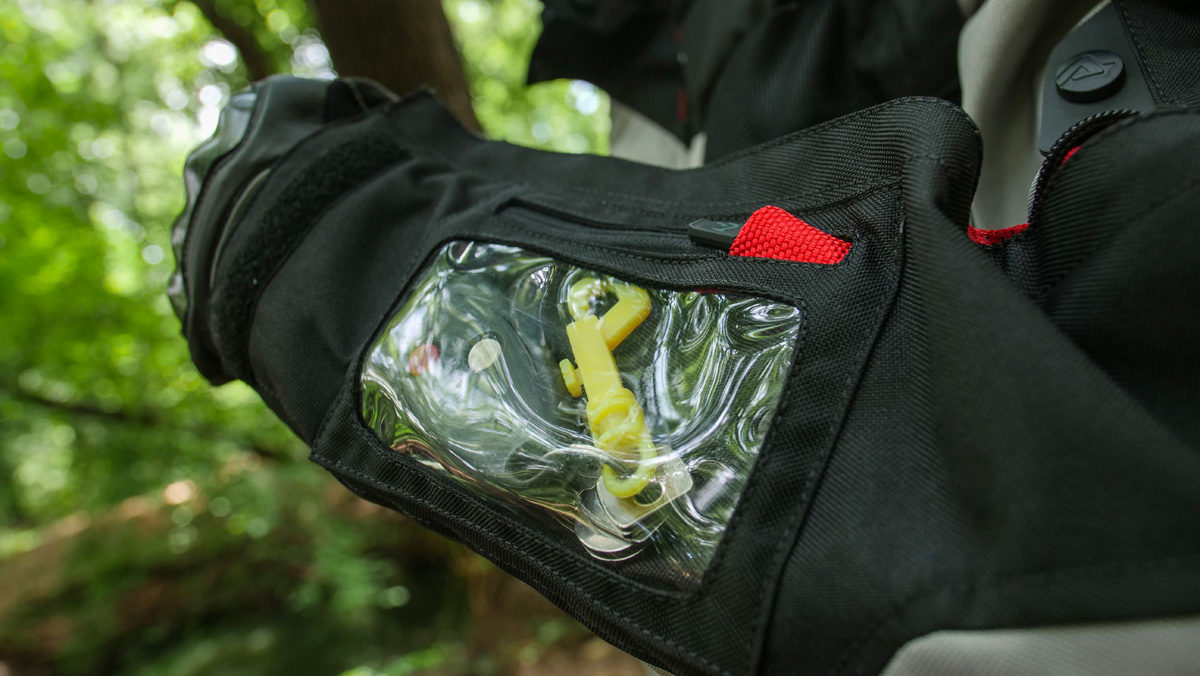 At the rear is the famed bum bag for stowing the included thermal and waterproof inner. Once again, pockets that I seldom use for similar reasons.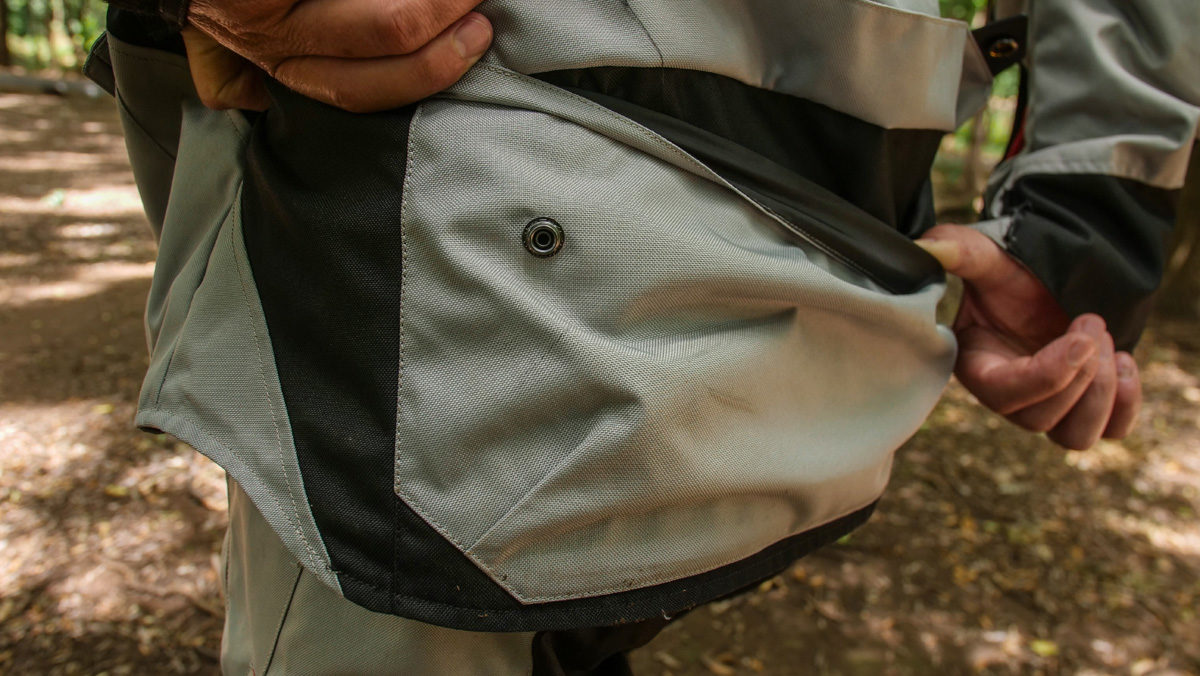 The back also sports a pocket for a water bladder, with comfortable, easy to reach channeling for the feeding pipe on more challenging rides.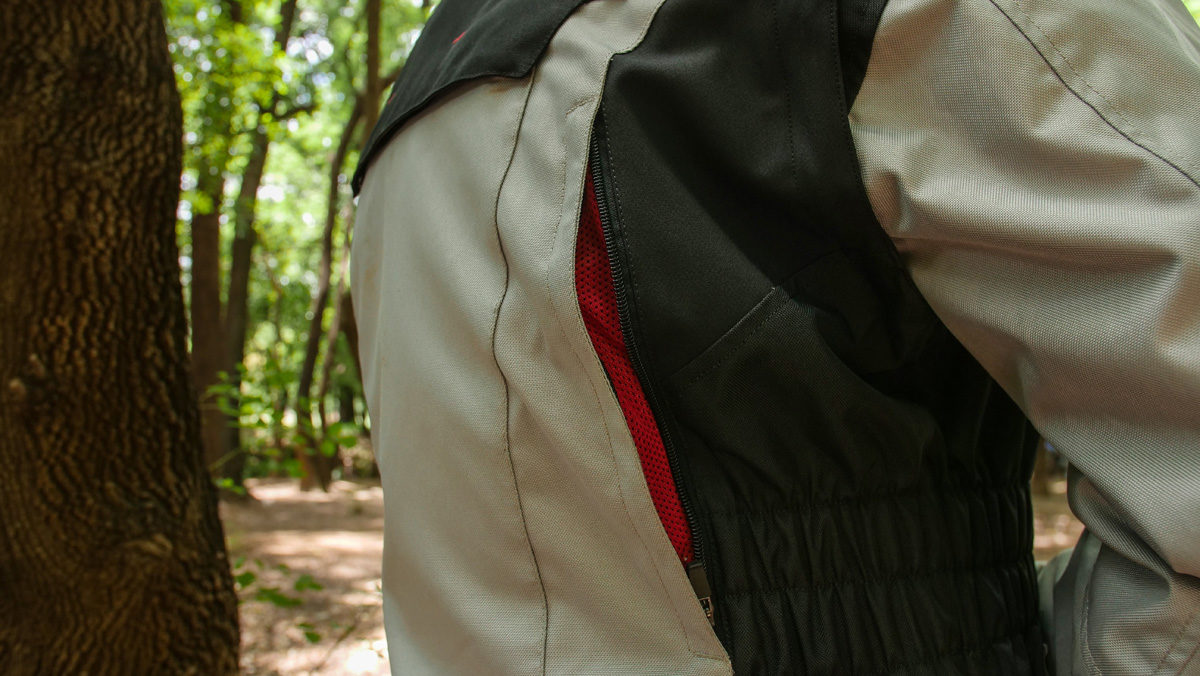 The advantage to this is that you no longer have to carry a separate backpack to facilitate the water bladder. This is a feature offered on a wide range of adventure jackets nowadays.
Adventure Pants
The matching pants, sold as a separate item, also sport vertical ventilation slots and two "secret pockets", as I call them. This I mostly used for carrying my cash with me. An obvious oversight on part of the pants, is that the pipes are not roomy enough to fit over most adventure boots. I was fortunate to pull them over my adventure touring boots, but would certainly not have been able to fit them over my more rugged plastic motocross boots. This leaves most with only the option to tuck them into their boots, negating the waterproof capabilities offered by the included waterproof liner. Who likes wet boots??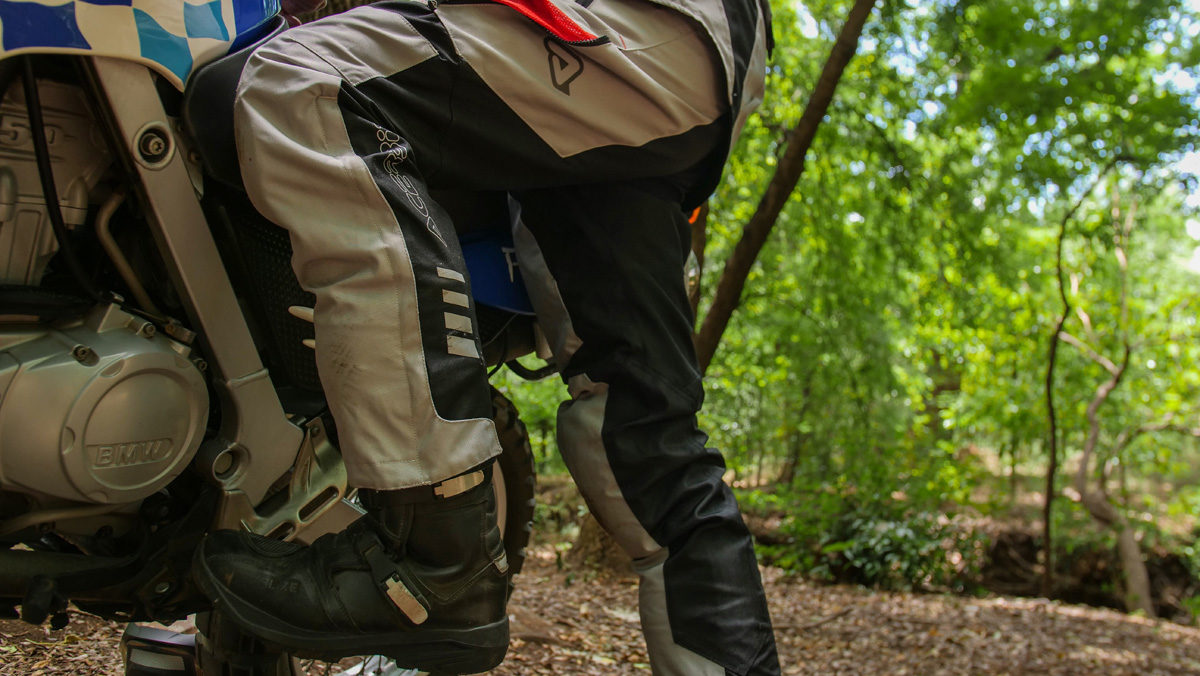 Funny that, as the rest of the suit is very well presented and practical to use. The waist adjustment belt is nicely tucked away and fairly easy to use once you get the hang of it, although the one fastener did rip out of the pants main body due to sparse stitching, it could also be my middle age bulge putting too much pressure on the waist tackle, off course. Other than these complaints, the pants are comfortable and cool on the body.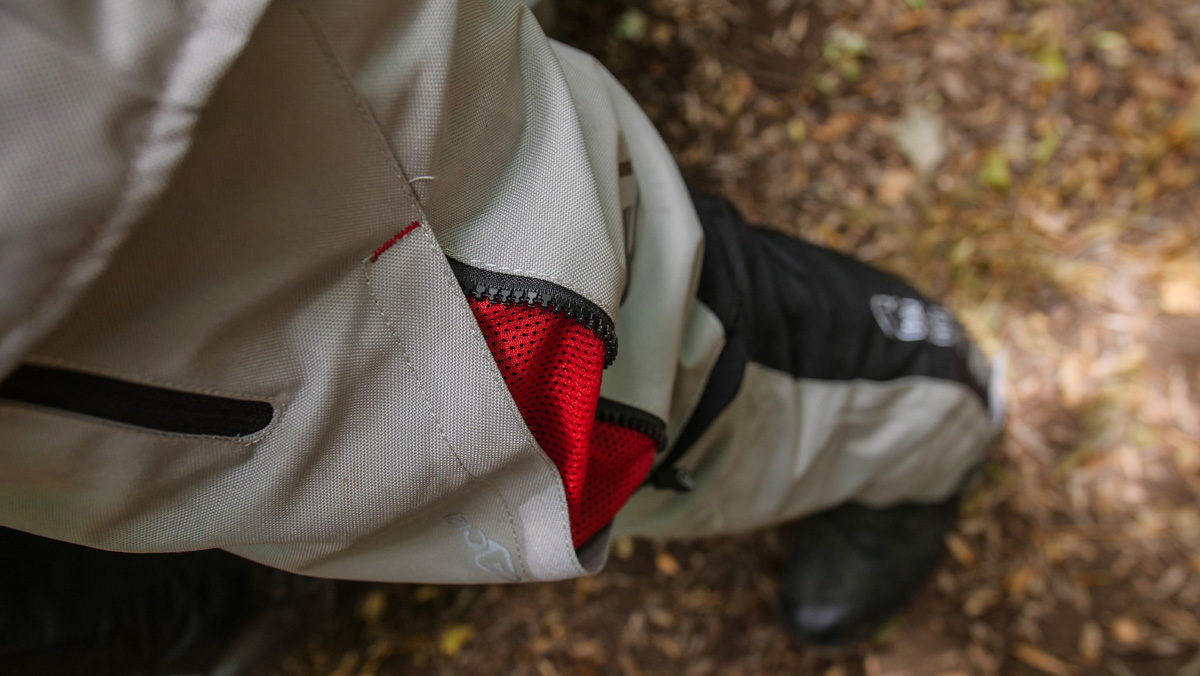 Carbon G3.0 Gloves
Adrian was also kind enough to give me the above mentioned gloves to test. These were certainly very impressive. This is a light, easy-on glove with good knuckle protection and more than adequate hand protection for low to medium speed adventures. They will not be suitable for high speed crashes, as this is not what they were designed to do. These gloves offer excellent feel on the grips and all important controls, which will certainly afford you less mistakes in technical riding.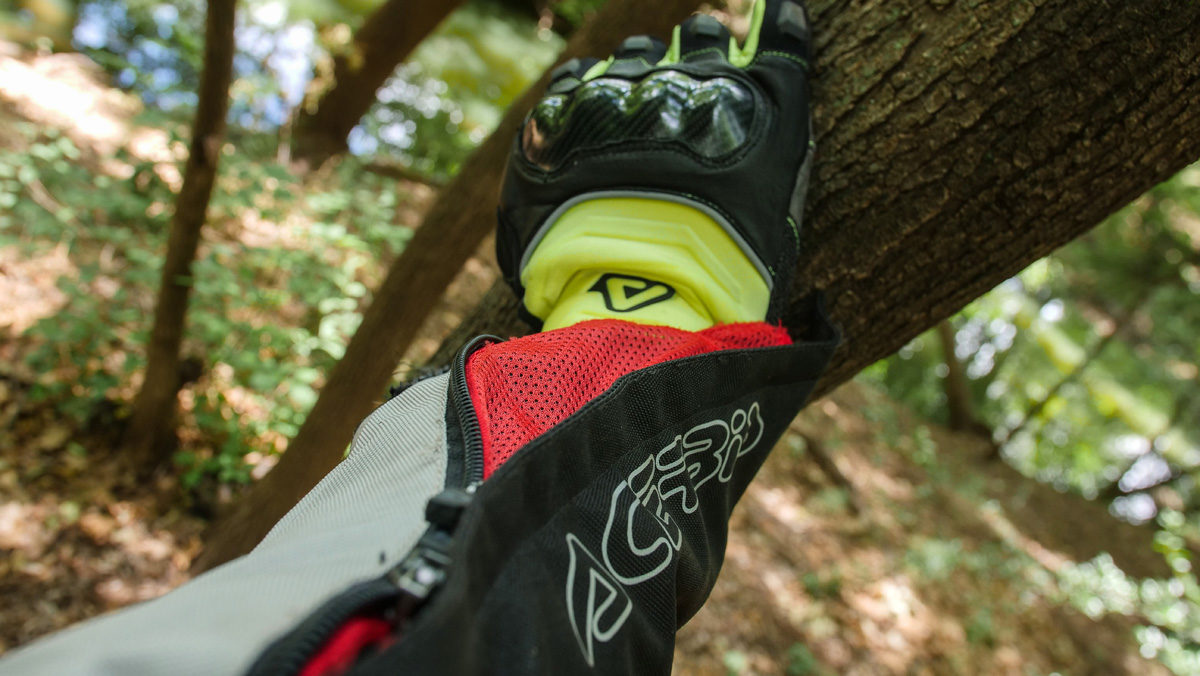 They are the closest thing to riding with bare hands, which suits my style of riding to the tee! The fore fingers on both gloves, have a silicone outer patch that offer even better grip on the levers in wet conditions. Nice touch! I can certainly recommend these gloves, bearing in mind that they were not designed with weather and high speed protection in mind. Time will tell how durable they are, yet so far, so good!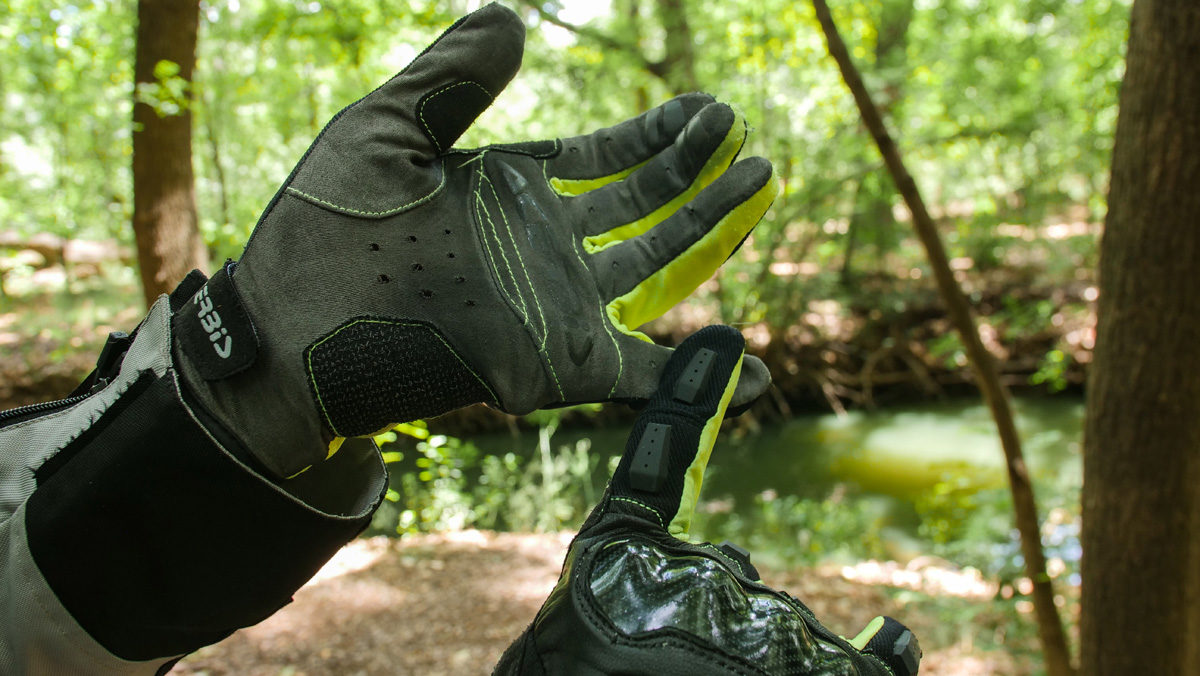 Conclusion
At the time of writing this conclusion, I have been on many adventures wearing this suit as described. I have yet to experience extreme cold and wet conditions wearing these, but for everything in between, I found this to be my suit of choice at this present time. The jacket retails for R 5200, the pants for R 3000 and the gloves for R 1100.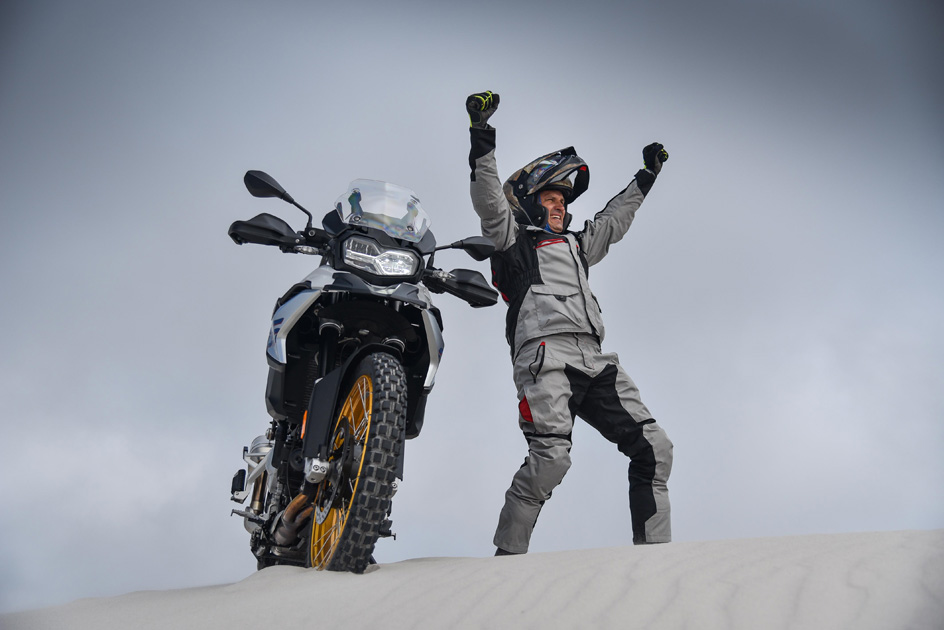 The pricing is spot-on, offering good value for money, in my personal view. The outstanding theme in this article, is the comfort levels and how good the suit makes you look. The cut has been well defined and is tasteful on the eye. After all, who does not want to look cool while practising the coolest lifestyle…..?
For more information visit: www.ampsa.co.za