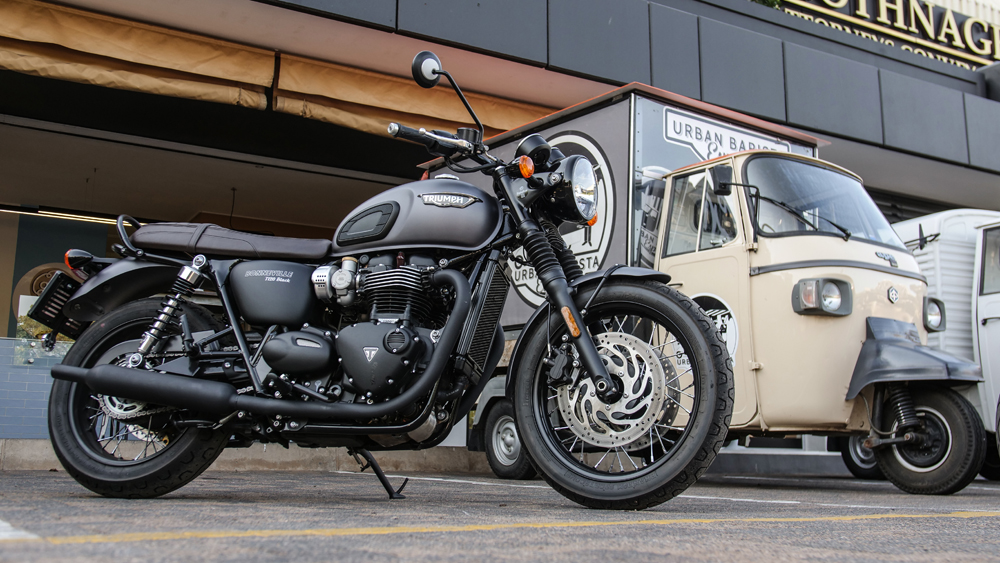 Triumph is being fiendishly clever with its Bonneville range. They are utilising their fantastic 1200cc parallel twin with its 270 degree crank across a range of highly desirable models. This review came about by taking a ride on their Bobber. I had been wanting to ride that beast from the moment I first laid eyes on it. The Bobber makes absolutely no sense at all, yet it makes all the sense in the world! Does that sound oxymoronic? Let me explain. The Bobber has minimal suspension travel, is strictly a solo ride, has a far from ideal riding position and an impractically small fuel tank. No sense, not so? Who gives a rats patootie, because to ride it is to love it! The 270 degree crank motor, breathing through two stubby silencers, emits a muted small block Chevy like rumble. Slip the clutch and it takes off like a terrier after a rabbit. Short shift through the slick box and it builds speed on a mellow wave of torque.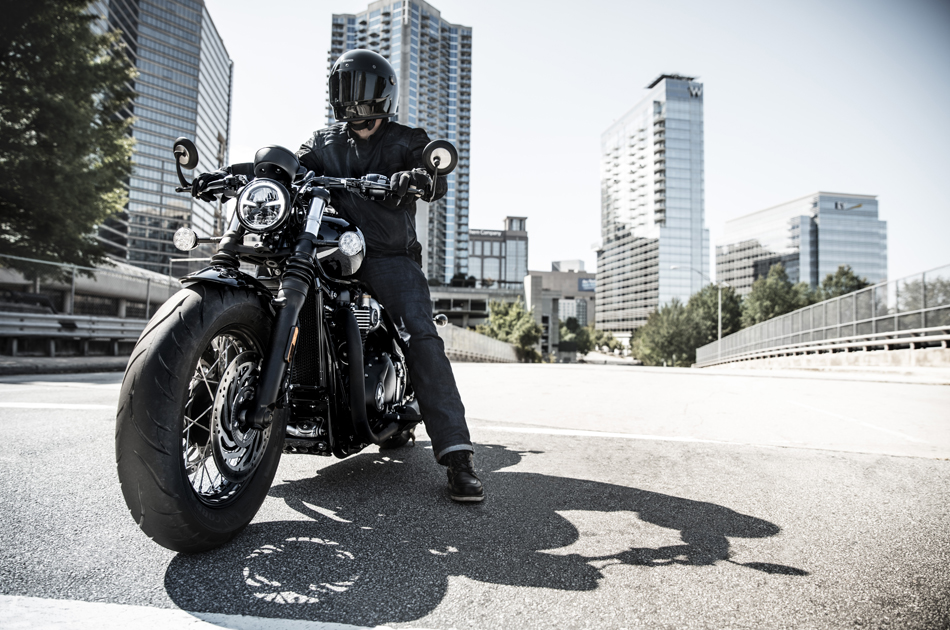 And then the looks. Bobbers got their name from rigid frame bikes of old with sprung tractor type seats to give some semblance of bump absorption. Triumph has snuck a shock under the seat in a linkage which looks like a rigid frame but gives 77mm of rear wheel travel. I rode the Bobber around for a day which spawned a crazy train of thought. If I hit the gym really hard and got the biceps to 16 plus inches then I could get a full sleeve tatoo and just chase endless sunsets on the Bobber, in denims and a vest, open face helmet and aviator sunglasses. Crap! That's not going to happen, Dave. Get real. How else could I get to chill on a bike with that super mellow, sweet, big twin motor, but in the real world? The T120 Bonneville Black, that's how.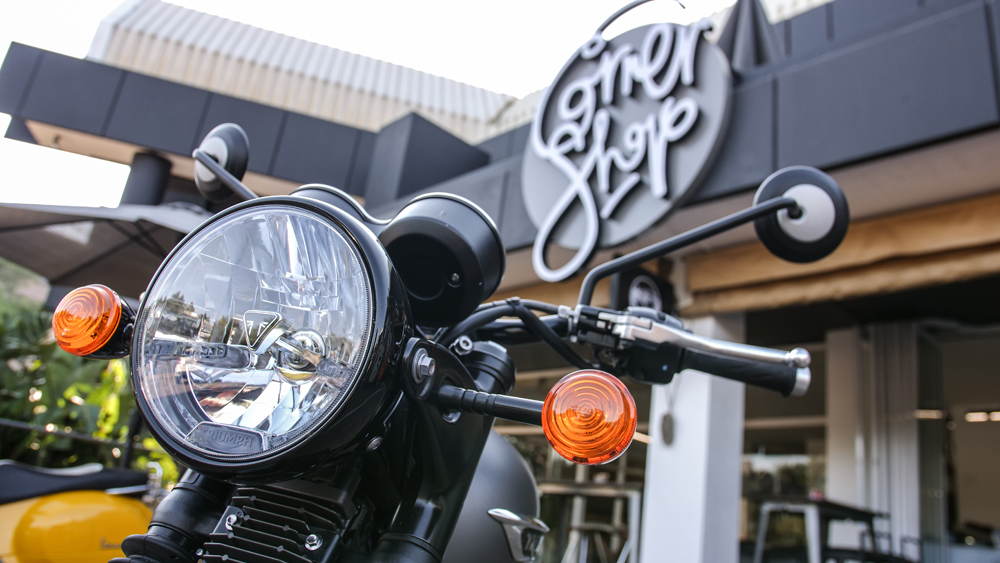 And so it was that I got to swop the uber cool Bobber for the somewhat staid, but hugely practical T120. Riding back to Pretoria from Triumphs Sandton HQ I immediately got a huge grin on my face. The Bobber had worked my case physically on the ride to Jhb. As awesome as it is in town and around duty, it is limited on the highway. The bobber riding position is just hard work. The T120 on the other hand, is sublime.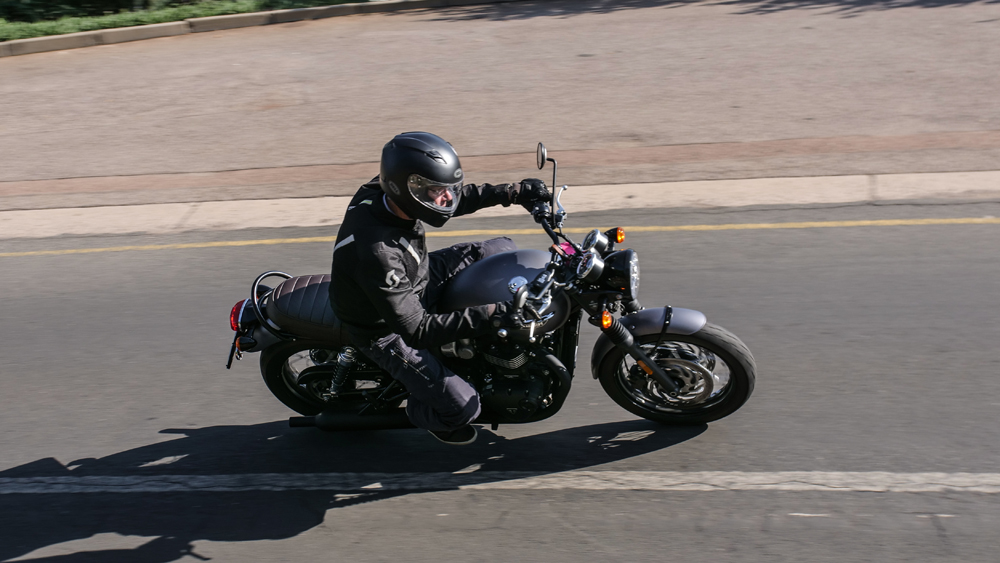 Geared to run at just over 3000 rpm at the legal limit, it lopes along effortlessly with slower traffic despatched with a twist of the wrist. The riding position is relaxed and neutral. Low rise bars fall naturally to hand with your torso leaning ever so slightly forward. Legs are tucked under you at a relaxed angle. The seat is flat and comfy.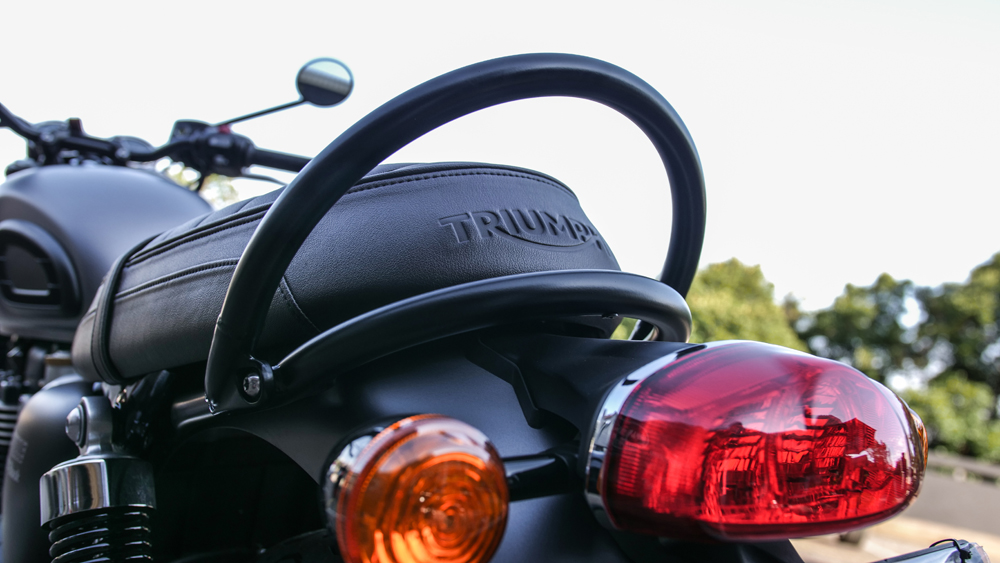 Looks wise, the T120 is real old school Bonneville. Painted fenders and for the "Black", flat black peashooter exhausts. The 14,5 litre, classic Triumph tank is finished off with rubber tank pads and raised Triumph tank badges. Sounds a bit small perhaps, but brilliant fuel consumption gives 300k plus range.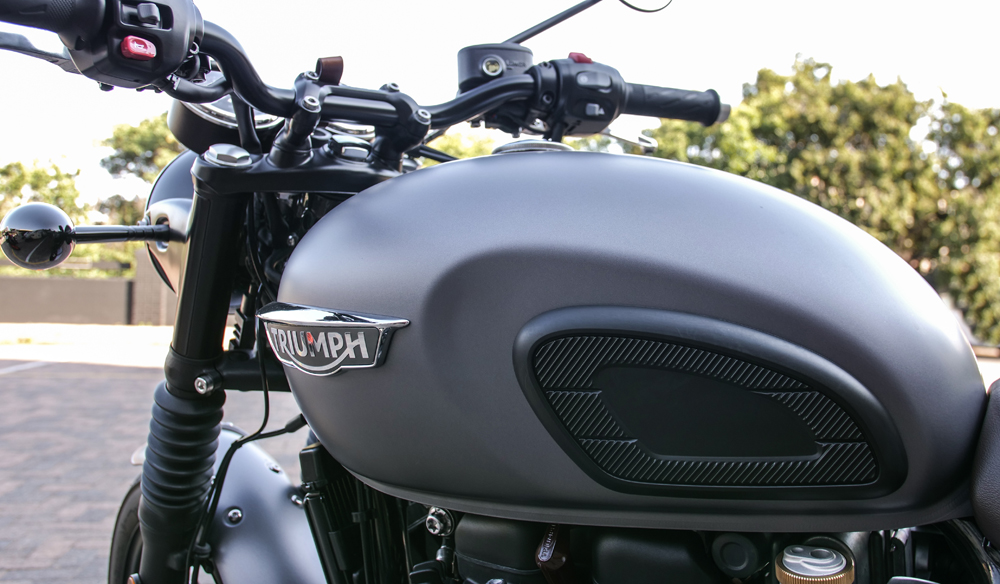 My test bike was a matt silver colour with a chocolate brown seat. Sounds odd, I know, but it actually gives the bike an air of "old school cool". The now familiar faux carbs hide fuel injectors and in typical Triumph fashion, the attention to detail is top class. The bike looks right, in a sensible brogue shoe kind of way. Not funky like its Bobber sibling, but just where function meets form in a classic way.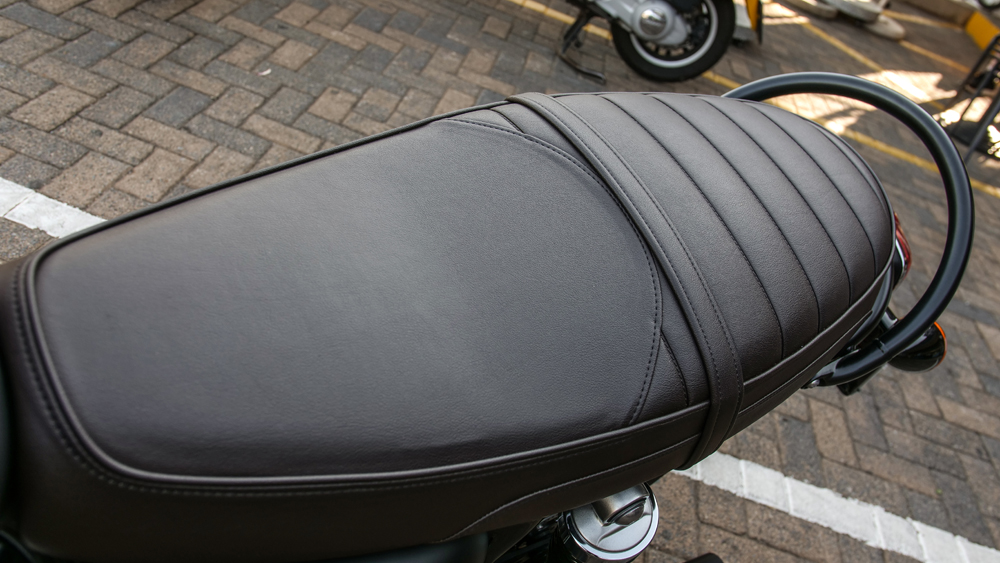 Analogue speedo and tach are complimented by a small digital display giving you all the info you need. Trip metres, distance, current and average fuel consumption, clock and range are all available at the mere press of an "info" button. Brilliant! The ease of use of the bike, in every way, epitomises what this Triumph is all about. It has absolutely no vices. Redlined at 7000, the T120 is only revving 4000 at around 145 kph and remains super smooth and mellow. The effortless nature in which it gathers speed makes it deceptively fast.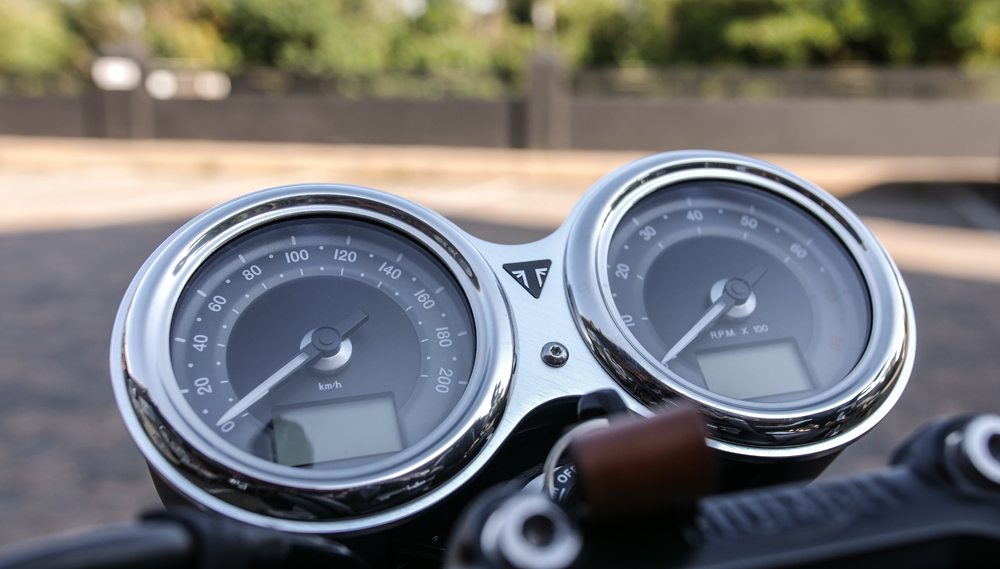 This bike reminds me of the days before specialised bikes that cater to a particular purpose. Those days when you bought a bike and it did everything you needed to. Commute to work, tour, one up or two up, carve corners, even do a track day. They didn't excel at any one task, but did pretty damn well all round.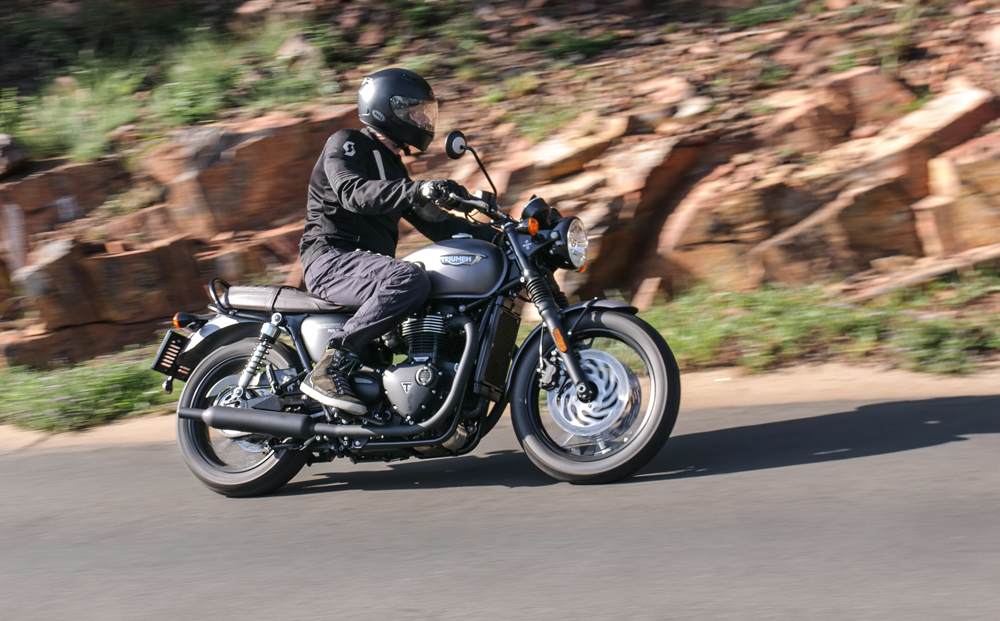 Today we think we need bikes for dedicated tasks. Adventure, sport, commuter, etcetera, etcetera. Flip! How complex has life become? Anyone buying a T120 Bonnie can revel in its simplicity and user friendliness. Brakes are twin 310mm discs up front chomped on by 2 piston Nissin callipers, with a single 255mm disc at the back. Stopping power is progressive, with good feel.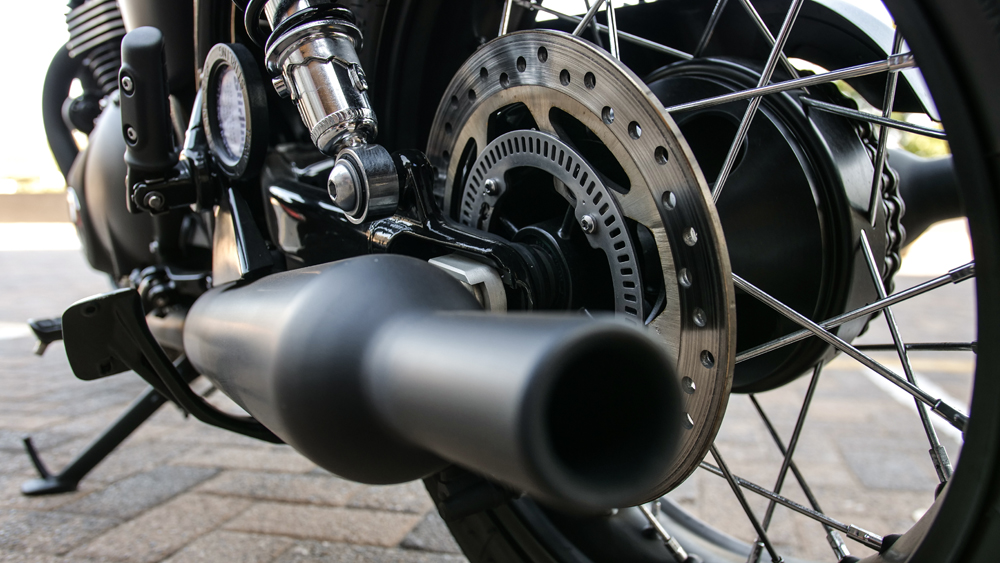 Suspension on the Bonnie is only adjustable for preload on the back. The standard settings are plush and keep the bike tidy through the bends. I suspect that if you got ham fisted and pushed the bike really hard, you would find the limits of the suspension. Ride it the way that feels right, and it's just fine. Don't expect your Labrador to be an attack dog. He is just going to be a totally reliable faithful companion that you love spending time with. So it is with the T120.
That, my friends, is both its strength and weakness. Many will revel in its easy going nature. Despite a really descent turn of speed, and never feeling underpowered, some may feel that it is just a tad too nice. No problem, because for you, Triumph has just launched their Speed Twin. Toss 28 kg, add 20% more power and torque, firm up the suspension and tighten the riding position ever so slightly and you have a Labrador cross Pitbull, with just a streak of mean to liven up your life.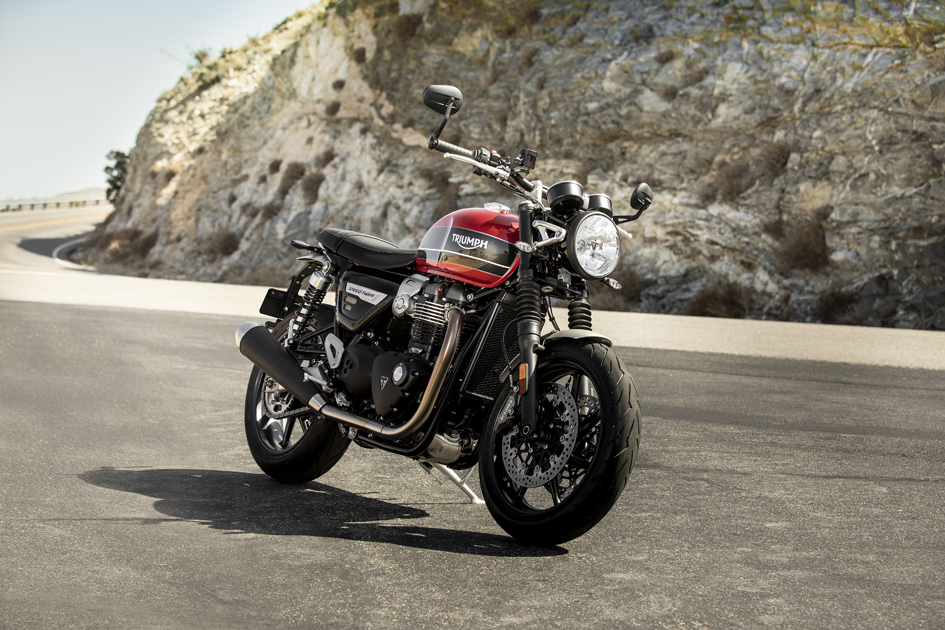 So there you have it sports lovers. No matter which way you roll, there is a Bonnie to tickle your fancy. The 1200 Scrambler, with its dirt worthy tweaked motor and brilliant suspension is going to seriously tarnish some Adventure bike egos. Mark my words. The Bobber and Speedmaster take street cool to new levels in an incredibly authentic way. Speed Twin is retro cool performance in an amazing, attractive, simple and effective package. The T120 brings it all together in a competent, authentic classic retro way that really pleases. If you want a timeless bike that oozes soul and is a blast to ride, look no further than a Bonnie. A real Triumph of function and form!
For more information visit: www.triumph-motorcycles.co.za
Triumph Bonneville T120 Black
For more information on the bike that we tested in this article, click on the link below…