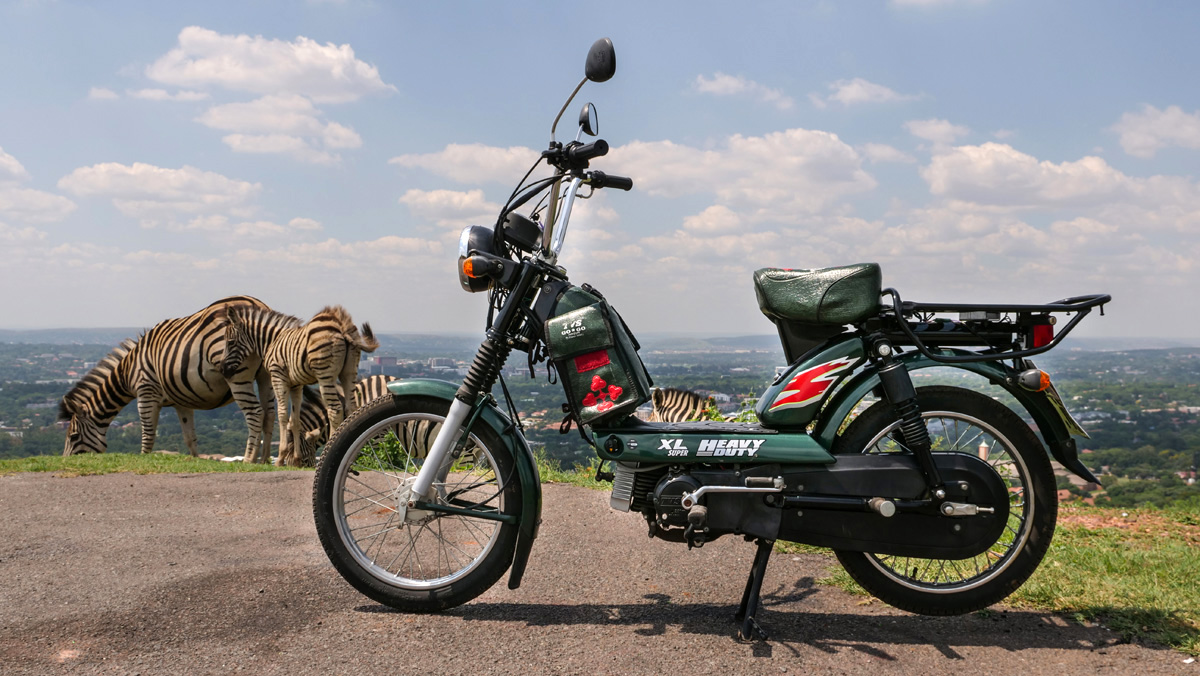 Do not for a moment believe all you read on Google! Google "Indian beast of burden" and you will come up with a Gaur or a Zebu. Never heard of them? Well, nor had I until I asked Google. Turns out a Gaur is like the Asian equivalent of the American Bison. It is a seriously large bovine that, when domesticated, is used for all manner of work, not least of which is lugging stuff around. A Zebu on the other hand is a "humped Ox". This too is a large bovine used quite extensively as a beast of burden in India and elsewhere in Asia.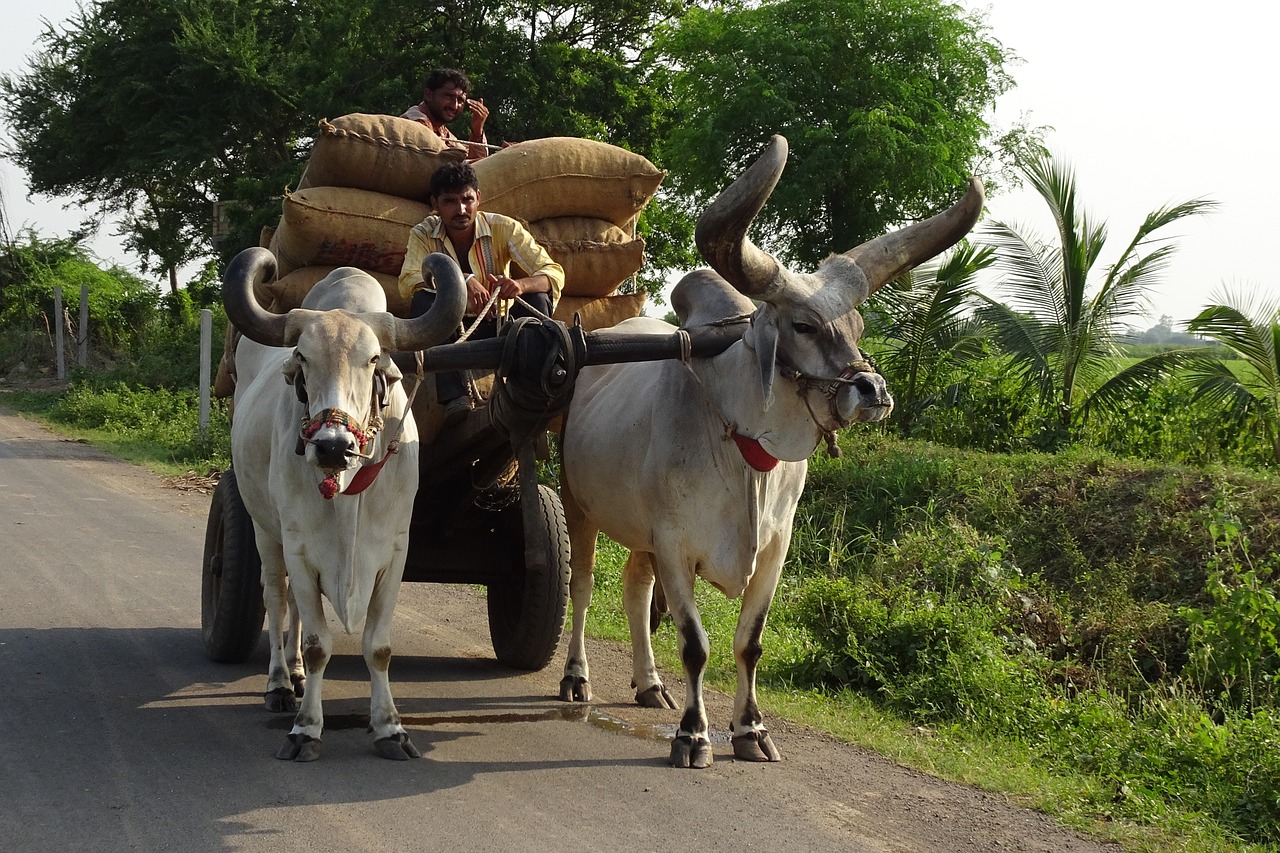 If you have never been to India you could be forgiven for believing Google. However, if you have travelled a bit in India as my mate Simon and I did a few years ago, Google, or nobody else for that matter will be able to pull the wool over your eyes. You will know categorically that the true Indian beast of burden is a motorcycle. Not just any motorcycle, but the TVS XL Super Heavy Duty to be precise.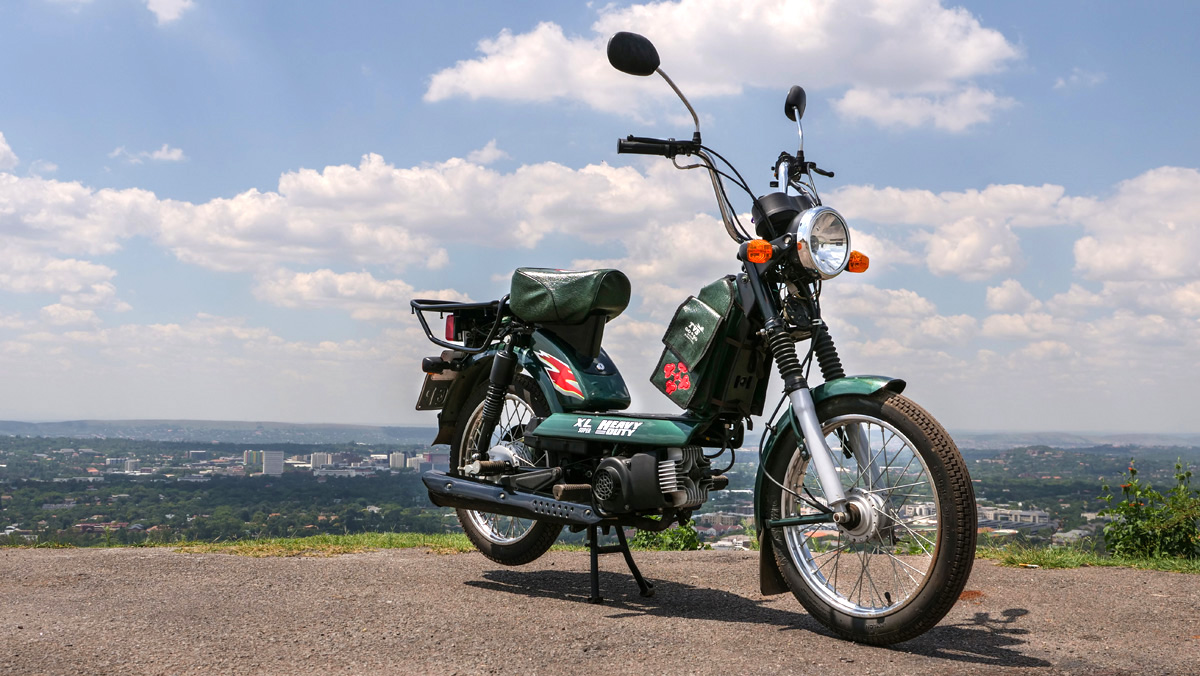 You could even be forgiven for not knowing that TVS is the third largest motorcycle manufacturer in India, founded in 1978 and with an annual revenue of around 2.1 billion US Dollars. Not too shabby hey?.
South African bikers probably only really became familiar with TVS as a motorcycle manufacturer when they collaborated with BMW in a joint venture to build the motors for the BMW 310 R and GS. TVS, in a similar way to Honda with their legendary C50 step through, built their reputation on a diminutive step through "help my trap" which evolved into the ubiquitous XL Super Heavy Duty.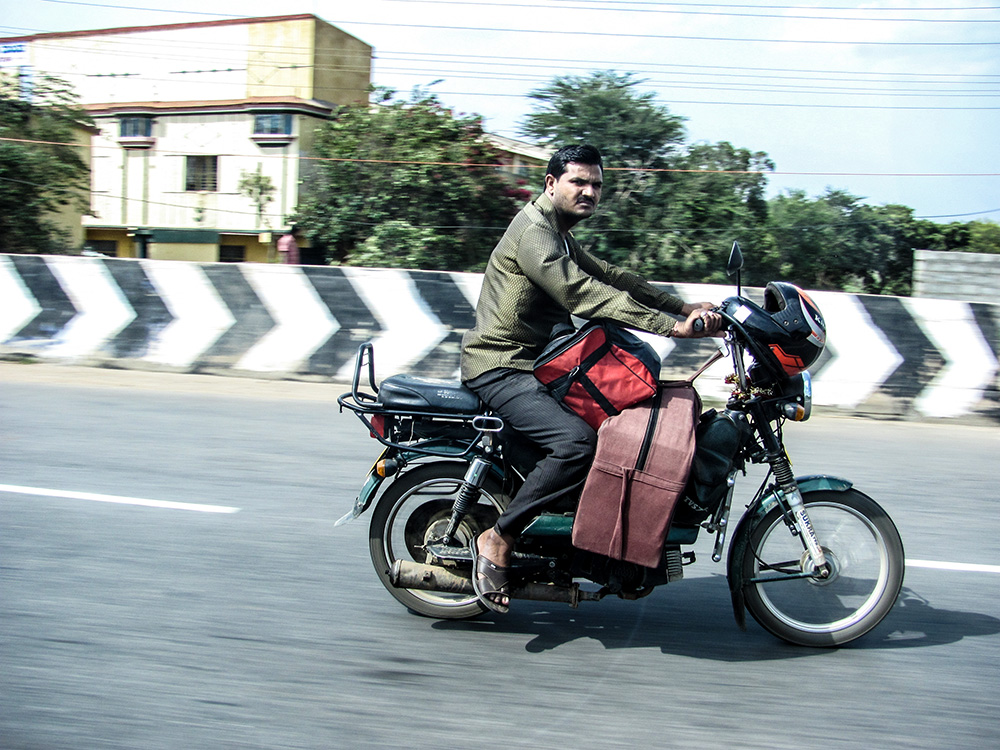 The first bikes were so easy to ride that anyone who had ever ridden a bicycle would find it a doddle to ride. The shape was similar to what we know today, but with pedals to get the little beast going as well as to assist on really steep inclines.
Sporting a somewhat asthmatic 50cc two stroke motor the tiny TVS was an instant hit. Equipped with a single speed twist and go throttle and a really practical design, the little workhorses where dirt cheap to buy and maintain. With a population in excess of a billion people, many of whom are financially challenged, the tiny TVS provided transport for the masses.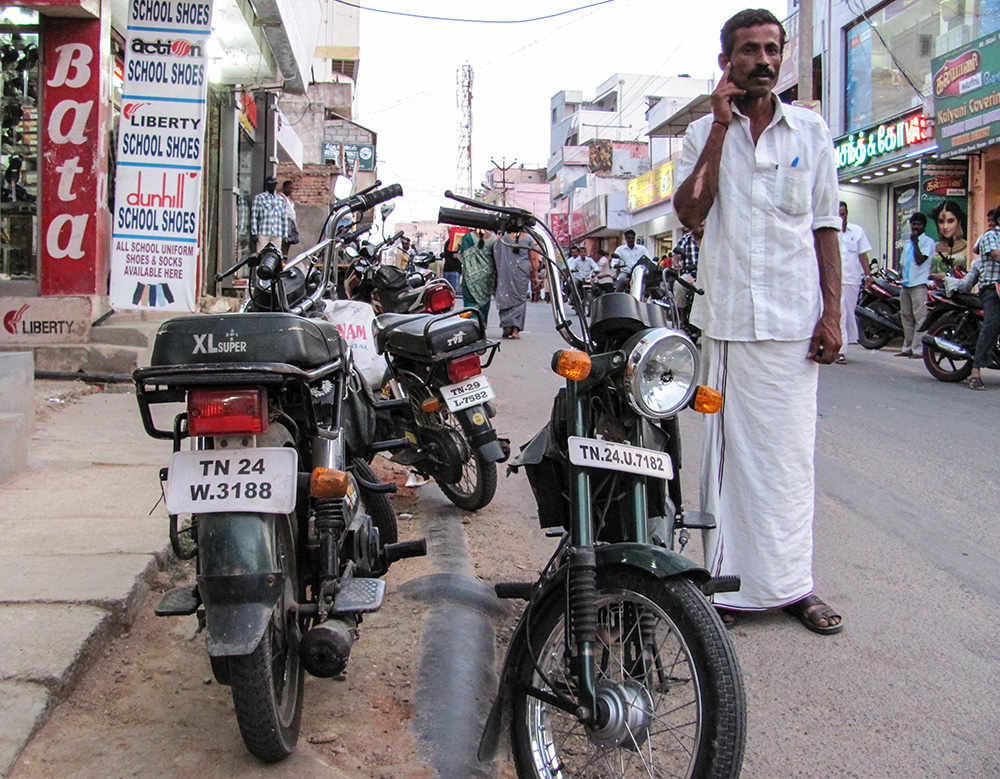 The instant popularity soon saw TVS bump the motor to 70 cc [69.9cc to be exact] and fit the bike with footpegs and a kickstart, rather than pedals, to light it's fire. The bike remained super easy to ride and came standard with a decent carrier behind the rider.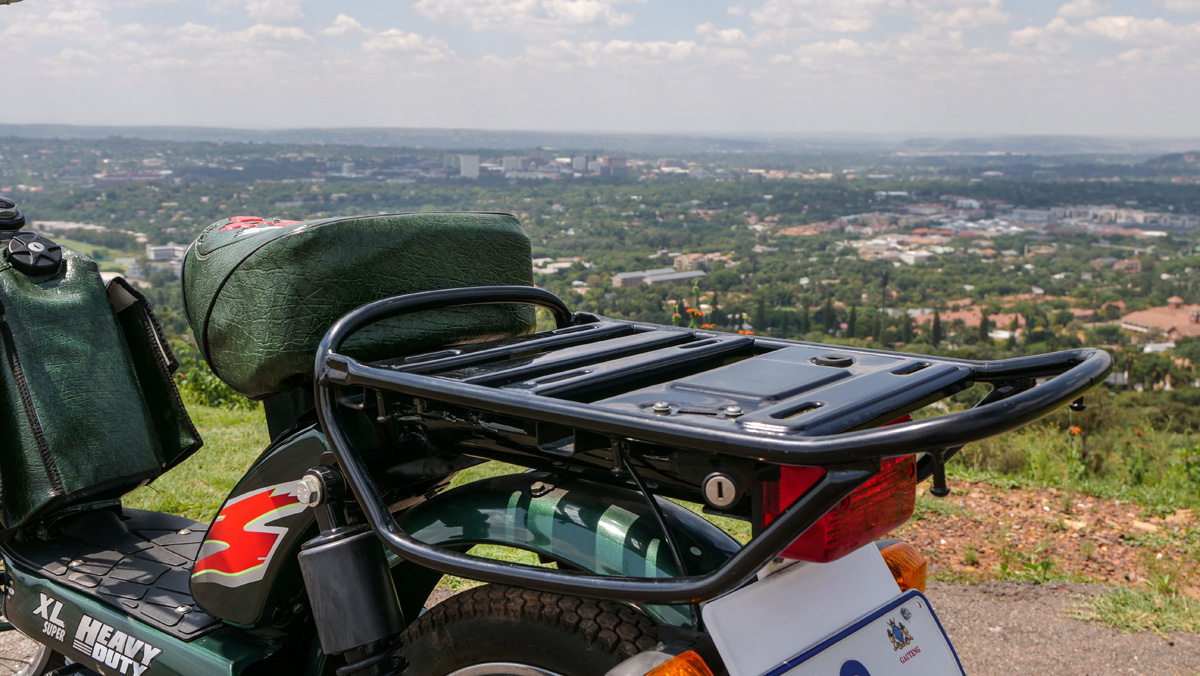 The step through design allowed riders to carry a huge bag of flour, or whatever, between their legs, with some other goods lashed to the rack.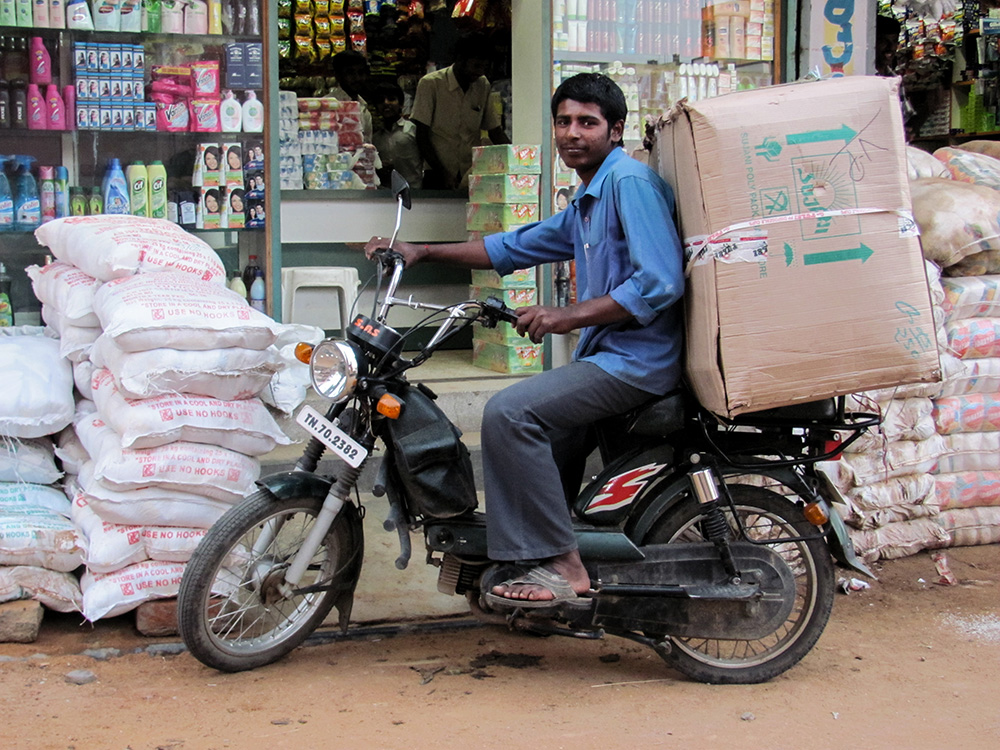 A removable seat can be attached to the rack in seconds to accommodate a passenger.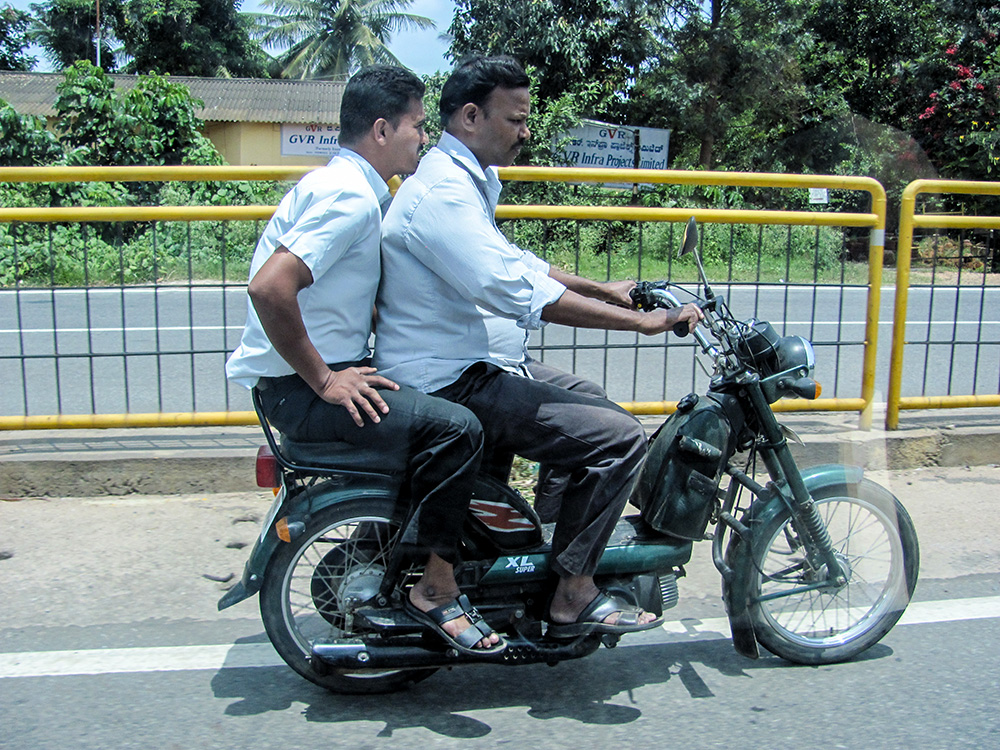 It is not at all unusual to see a family of three or even four cruising around on a Heavy Duty. Dad riding, Mom holding a baby on the back, typically riding side saddle, with a toddler standing on the front floorboard between his Dad's legs. No problem!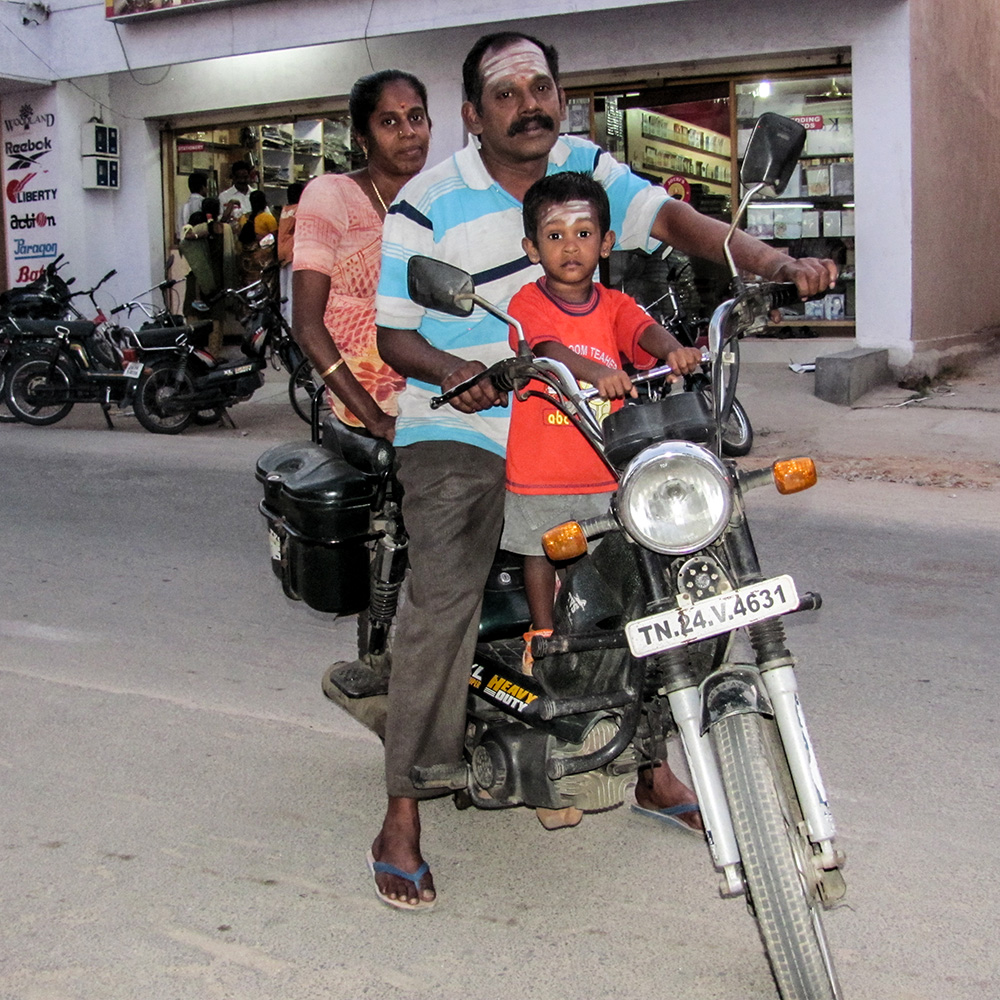 The tinky two stroke churns out 3.5 Bhp @5000 rpm and 5 Nm of torque @3759 rpm. Not exactly Hyabusa type power I concede, but enough to get the job done. The 4 litre tank of premix will take you around 240 kays!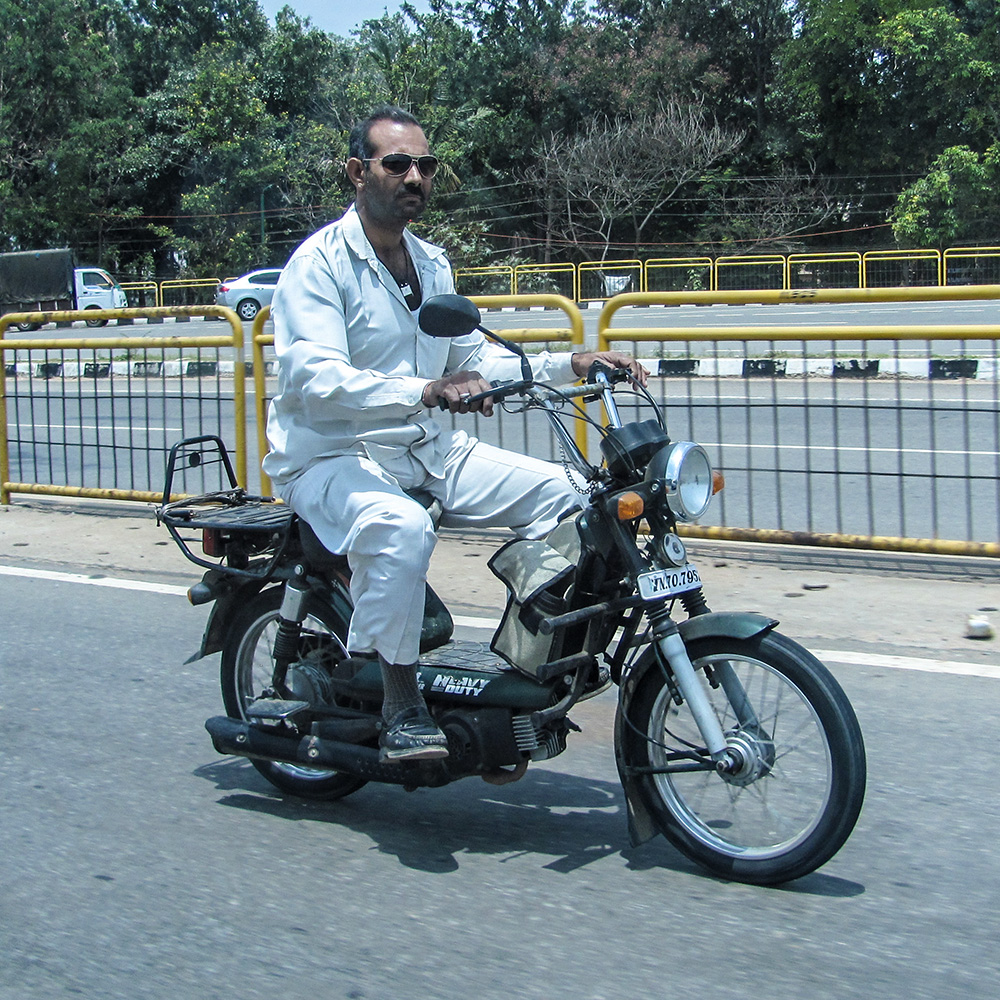 The chain is fully enclosed, keeping maintenance to a minimum and not allowing the chain and sprocket to eat your wife's Sari (or teeth).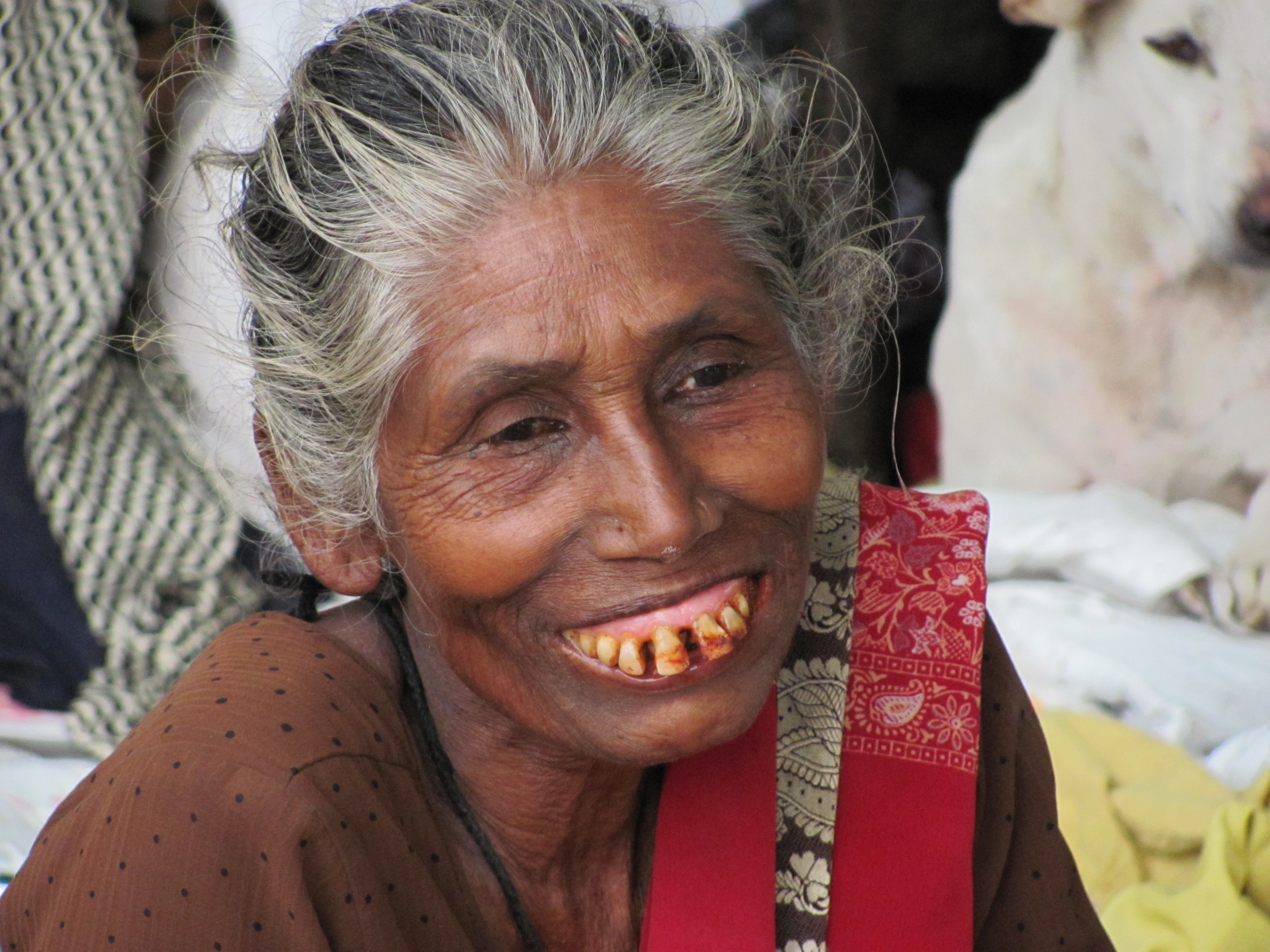 Fully fuelled, the wee beastie weighs in at a mere 66 kg's, yet boasts a payload of 130 kg's. Not that your average Indian owner will take much notice of silly numbers like that.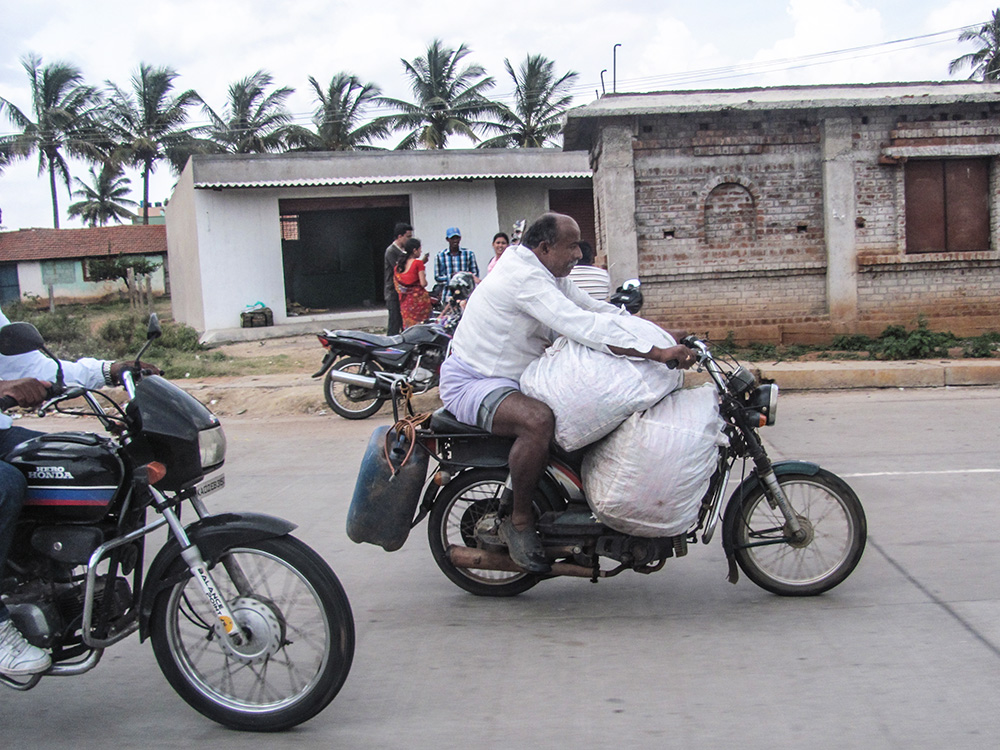 It is widely stated that you can load up to 400 kg's on your TVS. Owners obviously take the "Super Heavy Duty" seriously! Marie biscuit 2.5 x 16 spoked wheels somehow manage to take crazy abuse and stay reasonably round. A puny 80 mm drum brake on the front is assisted by a 110 mm rear drum to contain the 60 kph speed potential of the Super.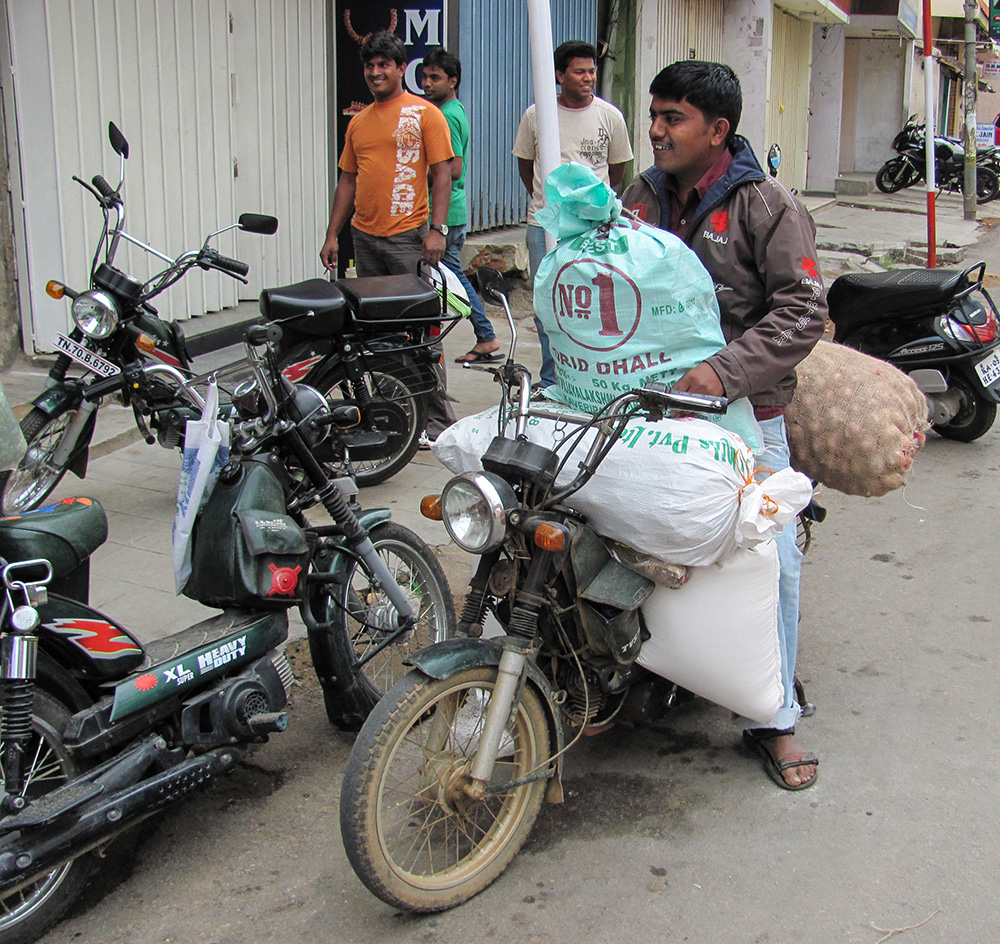 Beast of burden? Damn straight! Check out some of our photos to see what Indians carry on their Super Heavy Duty beasties. If I told you, without photographic evidence, I would not blame you for a moment for wondering whether I was spinning you a line. It truly beggars belief.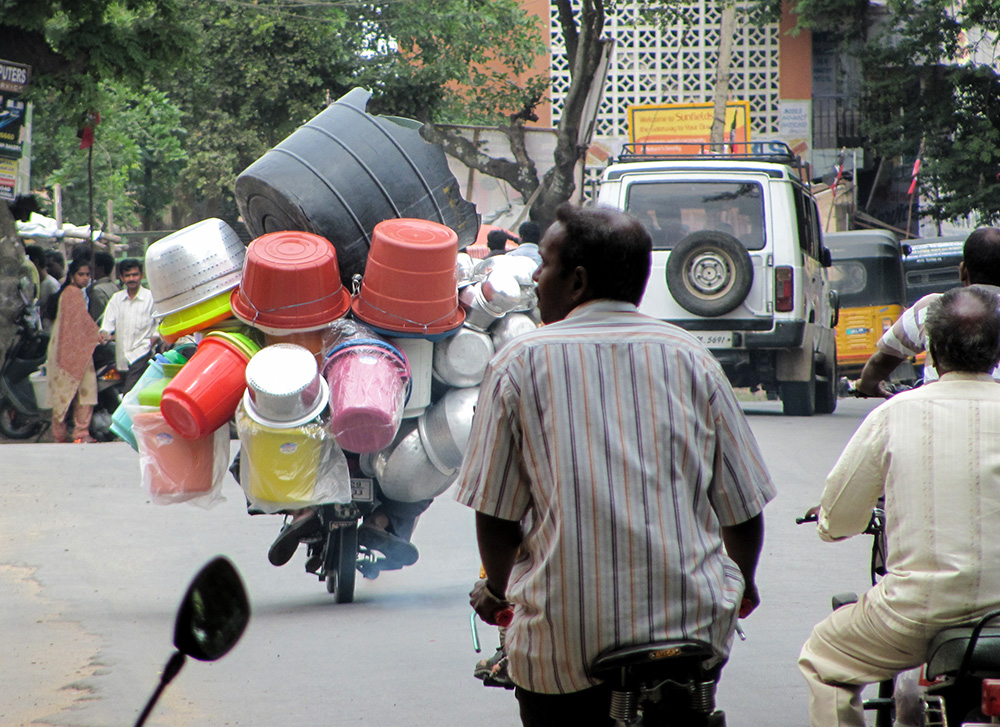 The TVS XL Super Heavy Duty has such a huge following that it has spawned a cottage industry. There are manufacturing facilities that make a living primarily from making accessories for Heavy Duties.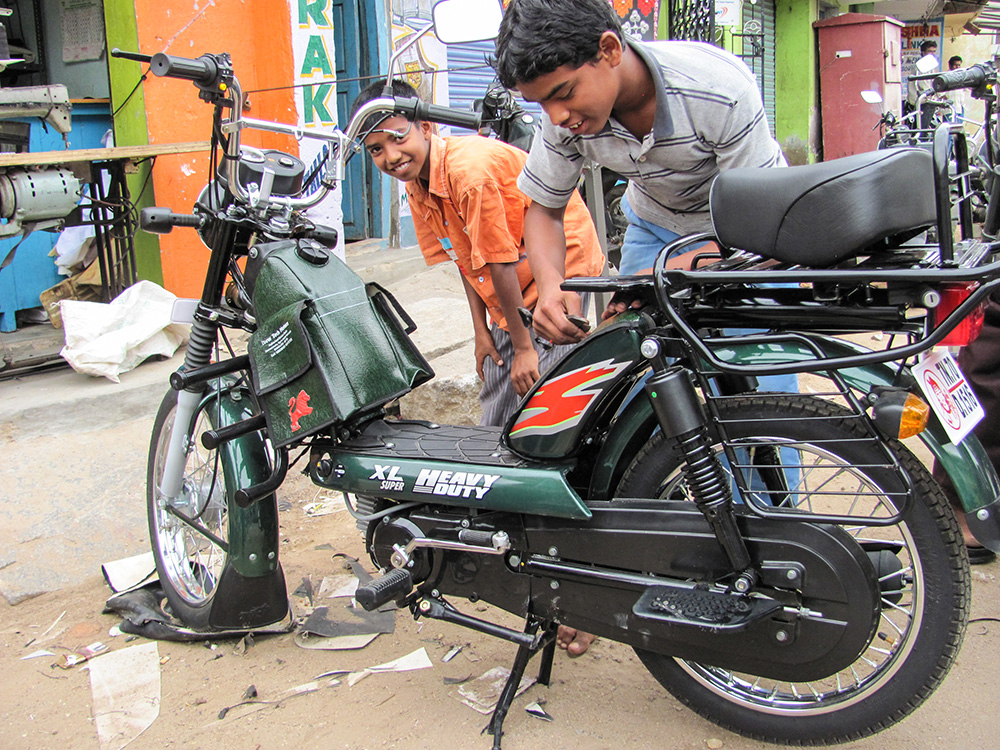 Tankbags, seat covers and passenger seat covers abound in every design that you can imagine. Simon and I were so taken by these amazing little bikes that we decided there and then that we would import one.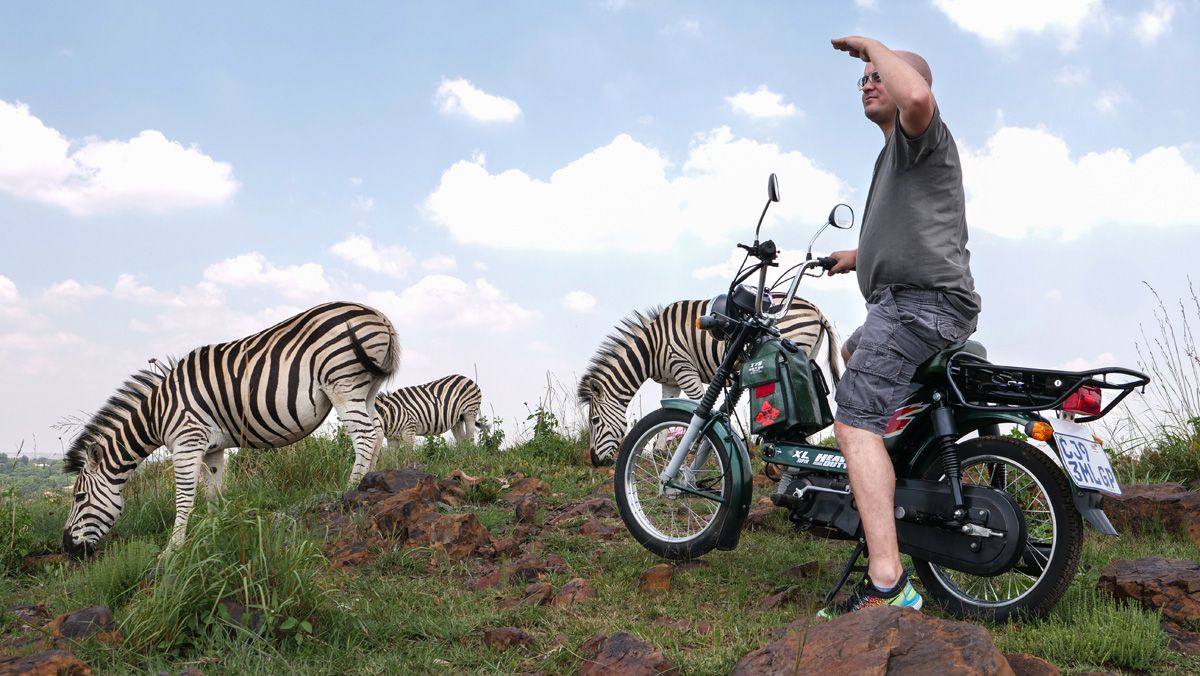 Simon got a set of accessories custom made to his design. We literally waited while the goodies got sewn up.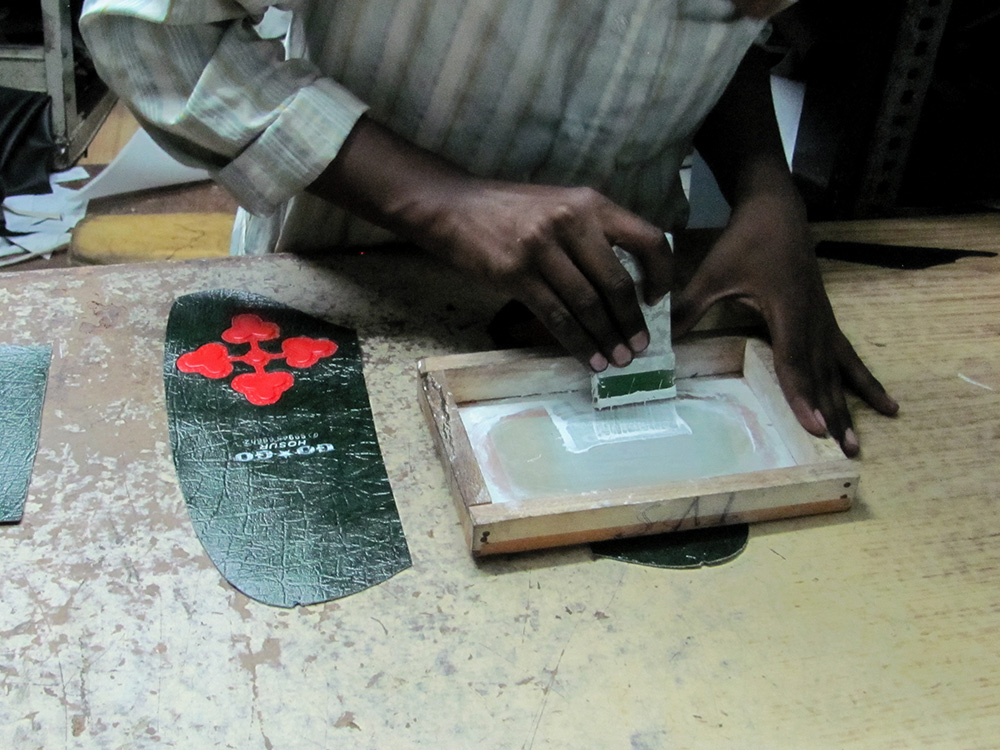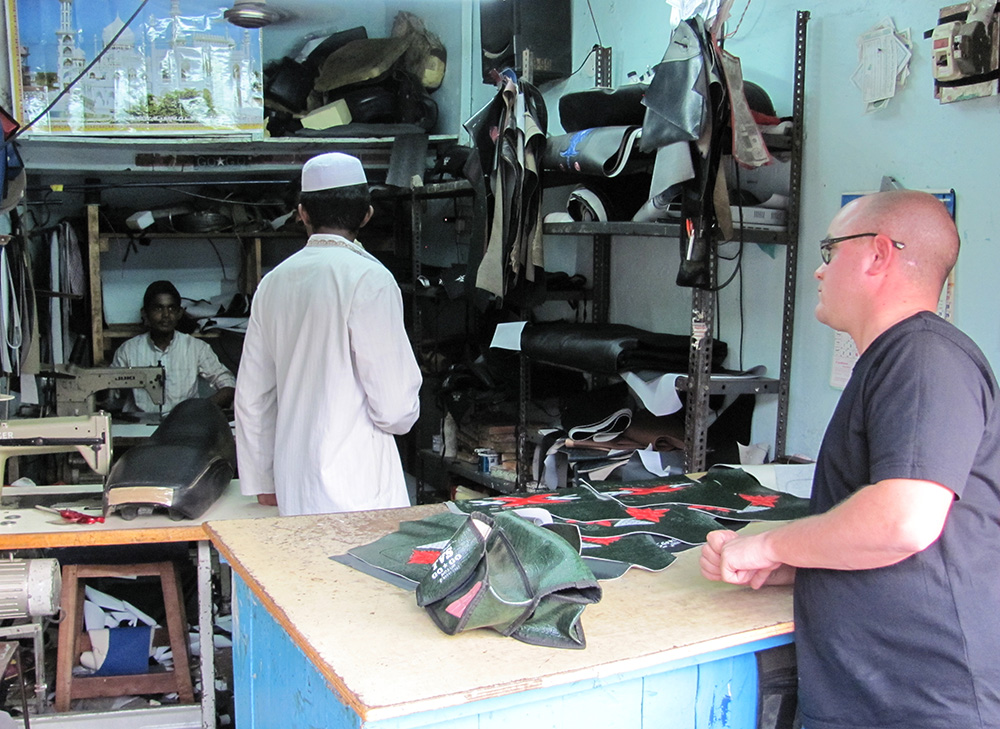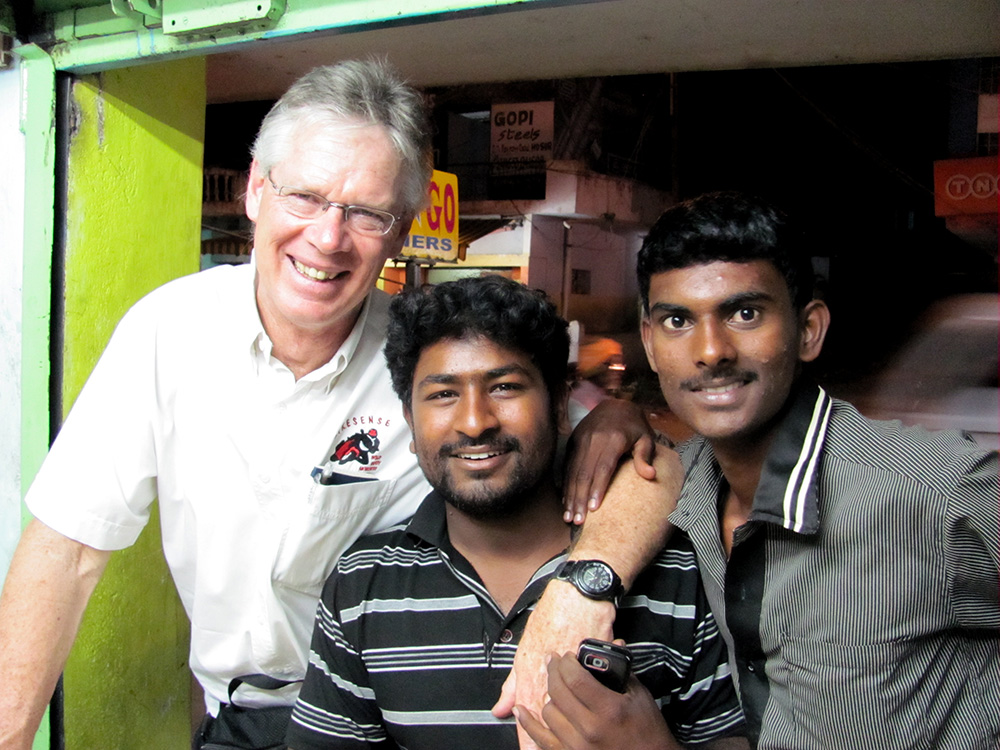 To us, the Super Heavy Duty is a fascinating little example of an amazing Indian success story, yet to literally millions of Indian families it is a faithful companion. It fetches and carries tirelessly, providing families with affordable and practical transport. You have to wonder why we do not see bikes being used in a similar fashion by cash strapped South Africans.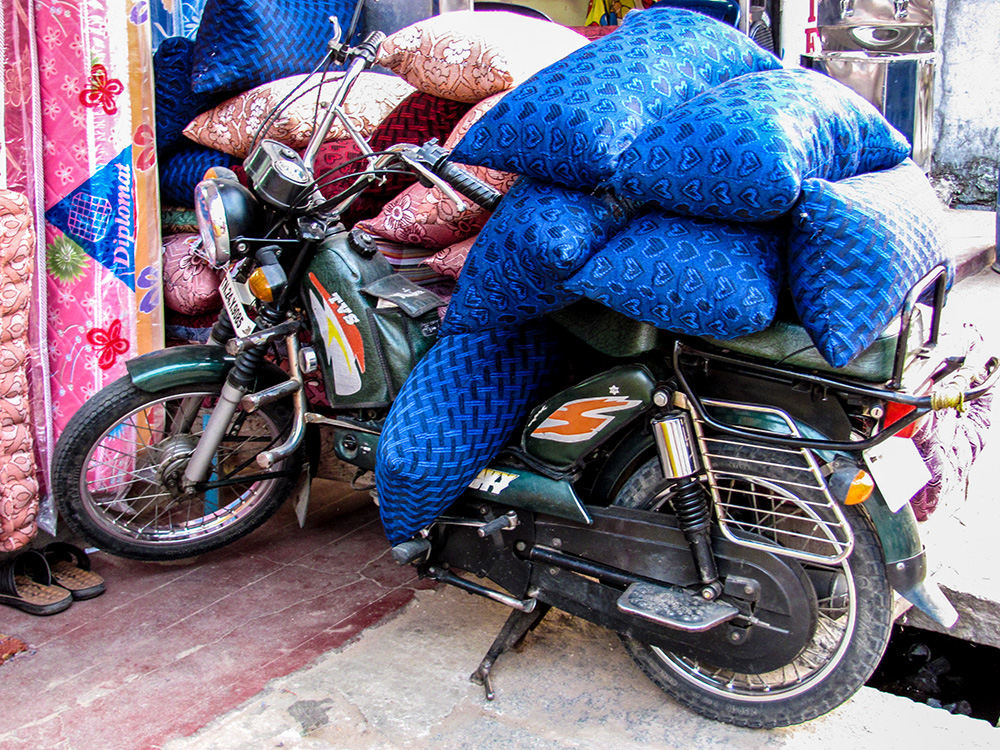 For only a few months taxi fares they could have their own independent transport. The penny has dropped in countries like Angola, the DRC, Uganda, Kenya, Rwanda and Burundi to name a few.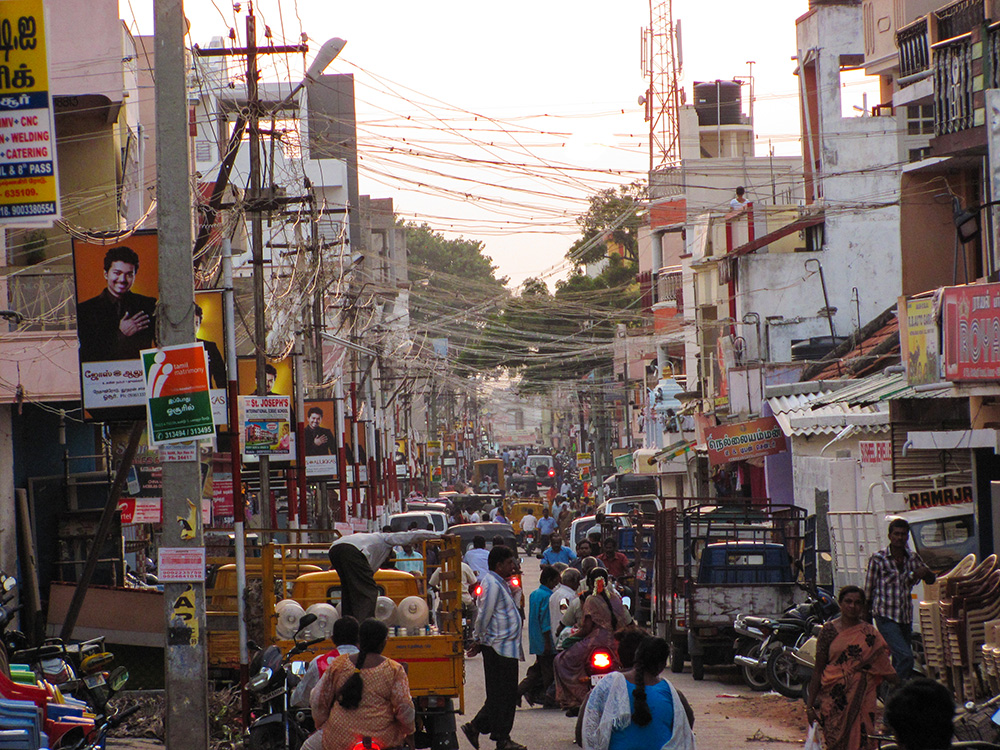 Small bikes abound in those countries, even being used as taxis. Just a final word on the star of this story. TVS has discontinued the 69.9 cc two stroke motor in favour of a 100cc four stroke powered version.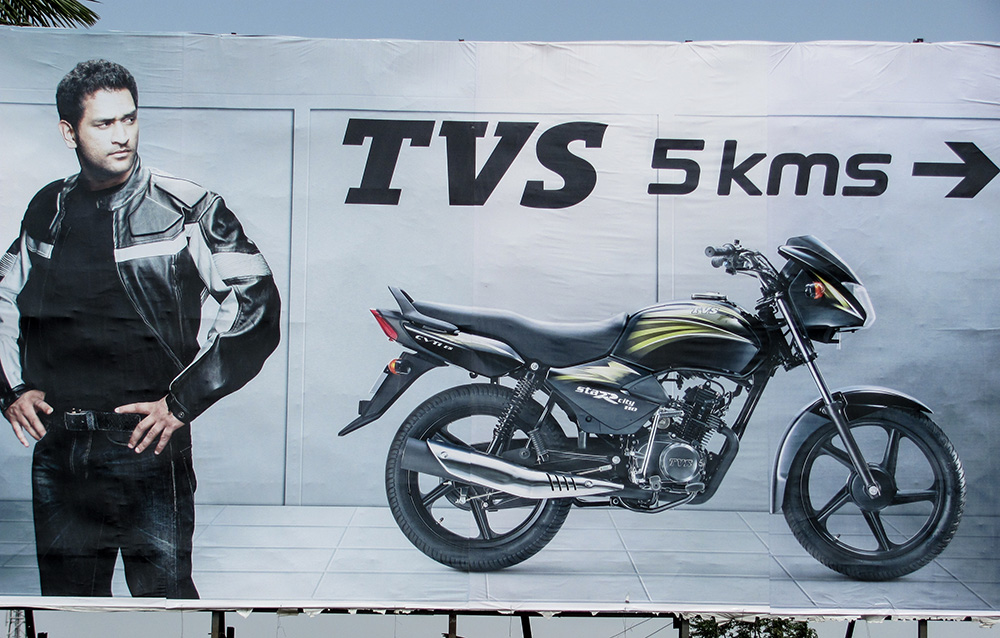 So if you thought that Virat Kohli or MS Dhoni are the best known and loved Indian legends, you better think again. That title is surely owned by another Indian legend, the tiny motorcycle with a big, big heart. The TVS XL Super Heavy Duty.
For more information visit: www.tvsxl.com