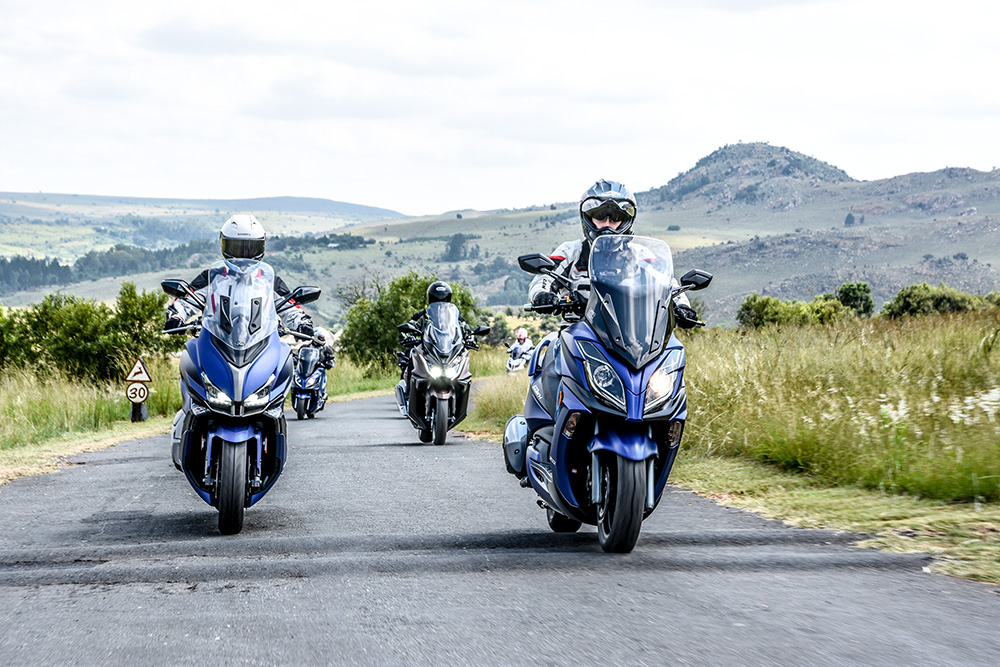 The Kloofzicht Estate is situated in the Cradle of Humankind. Fostered by mountains all round, it is quite a mystical place. Mirror smooth lakes, game roaming free in lush, summertime greenery, it's the kind of place you will visit more than once in your lifetime.
But there is work to be done, so time to focus. A few souls are fortunate enough to sit in a dimly lit boardroom, busy watching a video clip of an electric Supersport motorcycle that is capable of accelerating from 0-250 km/h in just 10,9 seconds. The motorcycle is called the SuperNEX, manufactured by Kymco. But that is not what this story is about.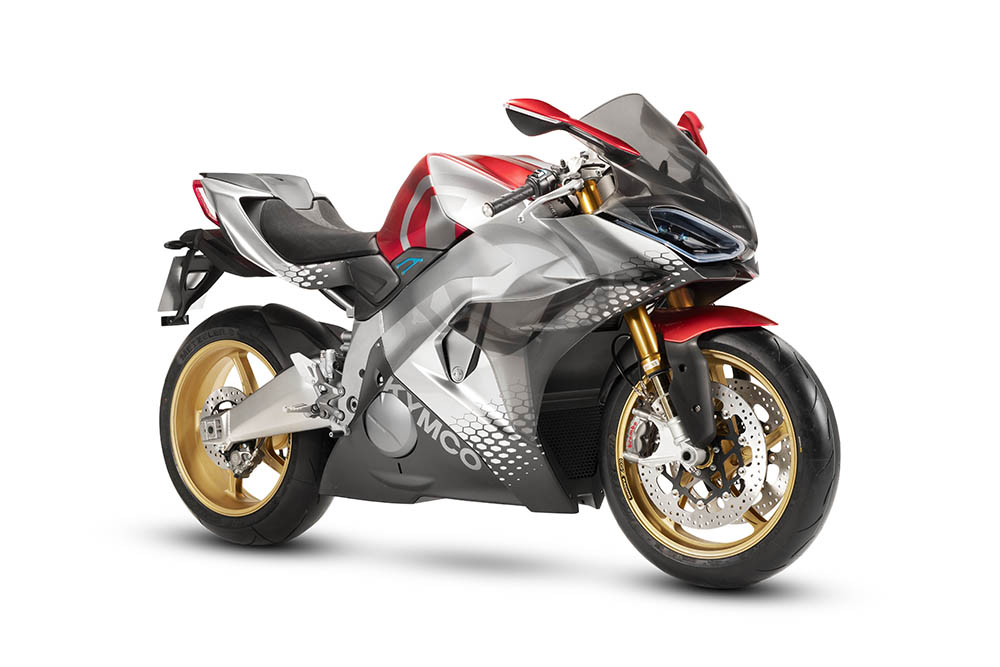 Known mainly for scooters and ATV's, Kymco as a brand requires little introduction to the local motorcycle industry. In the early 2000's, there were many to be seen on our roads. After a period of success, the small and seemingly vulnerable local importer closed its doors due to unforeseen circumstances. This was quite sad and left a lot of owners stranded.
Manufacturing in excess of 570 000 vehicles annually, with close ties to Kawasaki and BMW, it was only a matter of time before the re-emergence of Kymco to the local market.
Enter "Tuning Fork (Pty) Ltd", who has been awarded the sole rights to import and distribute Kymco to the South African market. A company perhaps better known as "Yamaha SA", in layman's terms.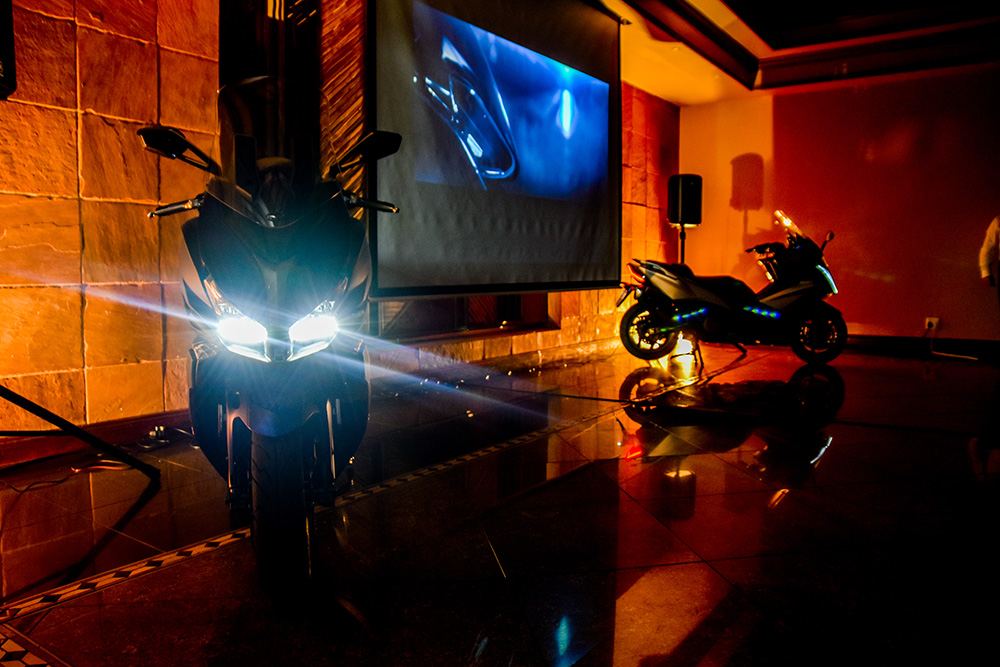 Robin van Rensburg, the newly appointed Managing Director of Tuning Fork (Pty) Ltd, shares his vision for the road ahead. He seems to be a man of action and has brought about many telling changes already in just a short space of time. Next up, Peter Wilkins gets down into the "nuts and bolts", introducing the range of products in more detail. This likeable man has been the point man at Yamaha for many years and will now also be the head of operations on the Kymco side.
Peter continues to introduce each model to us in methodical fashion from smallest to largest. The range to be imported to the local market seems more than adequate and consists of different capacity scooters, quads and side by side ATV's.
I will try and be as methodical as Peter in giving brief feedback of the various models as I experienced them during some lengthy test rides.
Noodoe Navigation
The newest Kymco range of scooters from 400cc and above sports the revolutionary Noodoe GPS and tracking system. As far as my knowledge goes, this is a first in the scooter market. This is a built in GPS system that is interactive and can be customized to the riders taste.

It also has the added benefit of tracking other Noodoe enabled scooters that form part of your group to make sure no one gets lost. A really slick piece of kit indeed.
Scooters:
Agility RS 125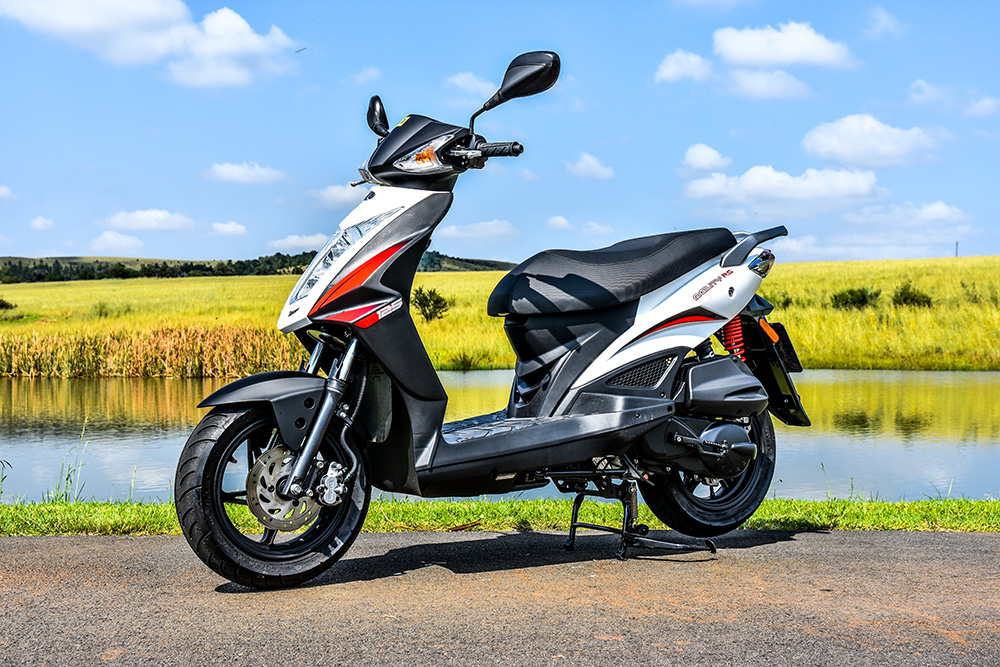 This little scooter weighs only 97kg dry with a seat height of 800mm. It seems small and agile, hence the name. Meant for heavily congested city traffic, this little one should be lots of fun to ride. This is one of two models that we did not get the opportunity to ride.
Price: R 19 950
For more info click HERE
Like 125i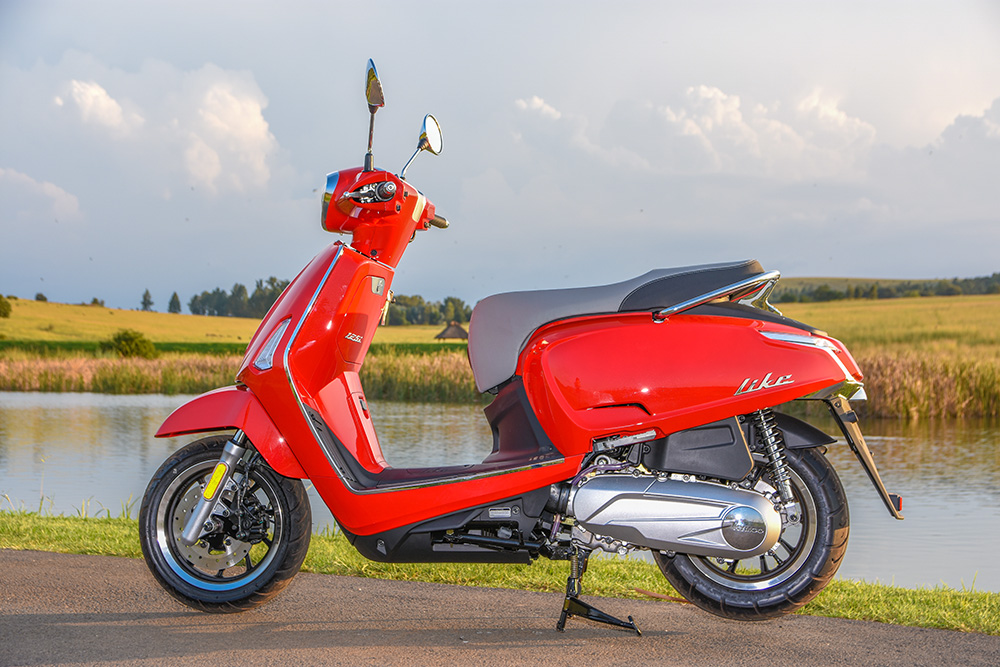 The "Like 125i" is the fashion statement of the range. This very cute scoot resembles the looks of a Vespa and is capable of speeds of over 100kph. The seat height is only 770mm and is therefore ideal for shorter riders. This one was also unavailable for testing.
Price: R 34 950
For more info click HERE
G-Dink 300i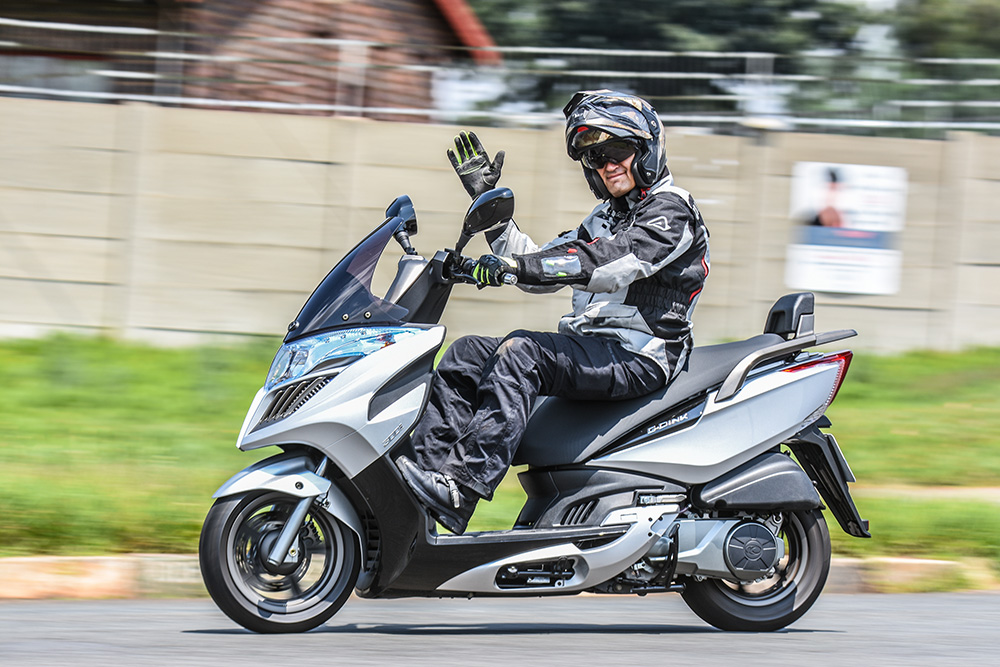 The G-Dink 300i was available for test riding. This is a scooter in the typical Kymco tradition and is very well priced. An even lower seat height of 760mm makes this a real possibility for anyone who wants to take up motorcycling as a means of transport. The seating position is very upright and the scooter seems small when climbing aboard. This is the first step in performance scootering and can certainly hold its own in any traffic condition.
Price: R 49 950
For more info click HERE
G-Dink 300i ABS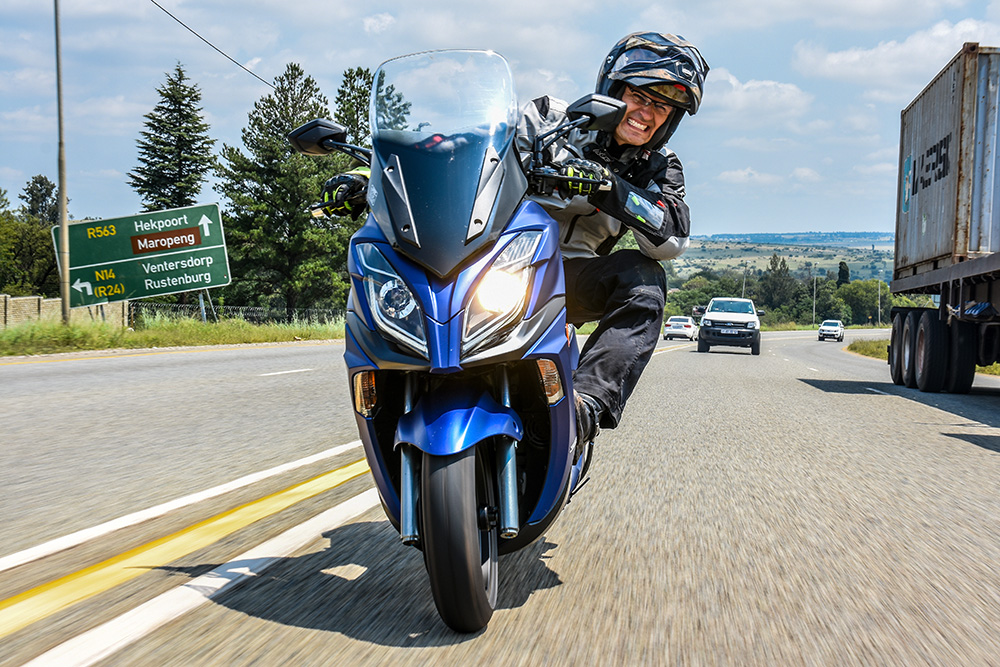 I will make no bones about it, but the G-Dink 300i ABS was my favourite scooter on the day! It certainly seemed most zippy and agile. Although it only has a single disk brake at the front, it still offered excellent stopping power, with the ABS giving that wholesome reassurance. Bill Hunter, my fellow journalist and I had huge fun conducting roll-on acceleration tests between the pair of 300's, and the G-Dink 300i ABS was certainly the strongest performer.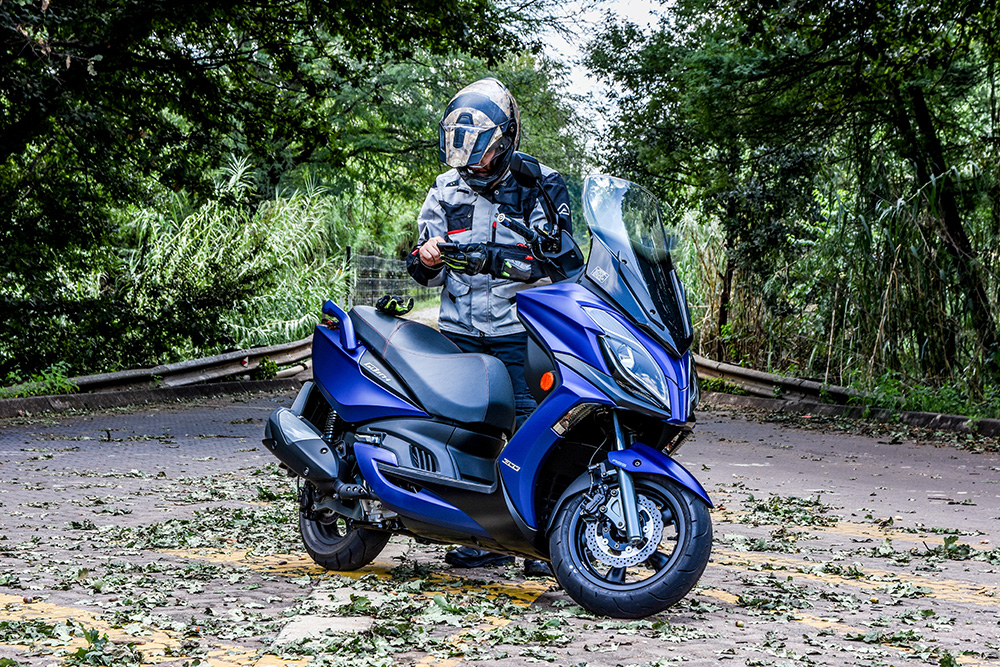 I can see myself on this scoot for the daily commute as it has ample power to deliver you from evil and good handling to boot.
Price: R 69 950
For more info click HERE
XCITING S 400i
The XCITING S 400i is a serious piece of engineering. As standard, it sports the Noodoe navigation system mentioned earlier. With more than 26Kw of power on tap, this scooter makes light work of intercity travel. It can cruise effortlessly at highway speeds all day long and still has some of the sporty feel that I mentioned on the G-Dink 300i. The fuel capacity of 12,5 litres should deliver about 250 km between refuels.
Price: R 99 950
For more info click HERE
AK 550 Touring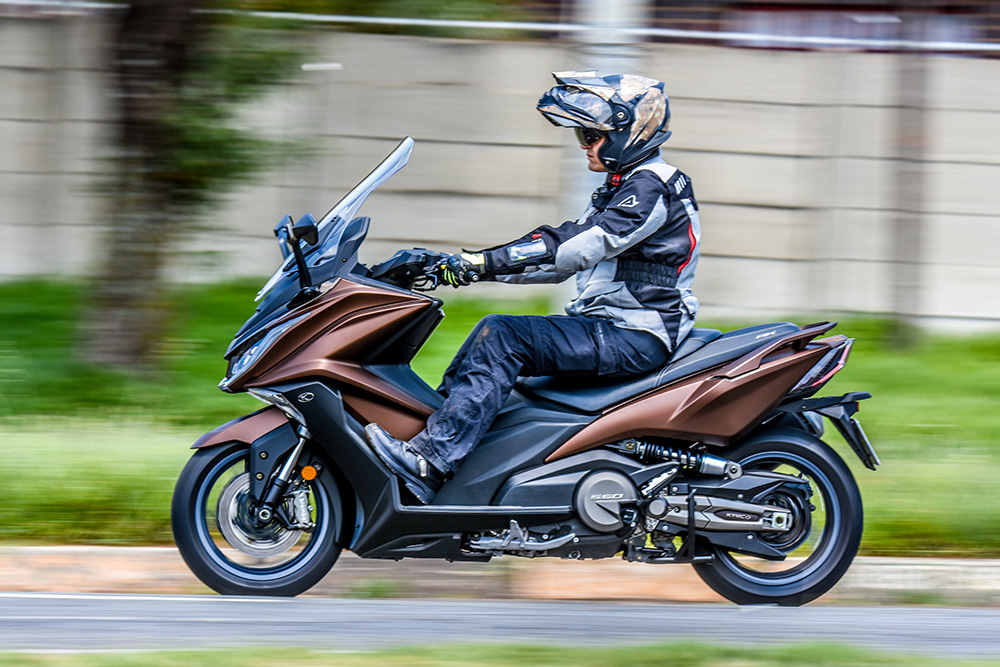 This is the flagship of the Kymco scooter range and is a monster that should be taken seriously. It has an array of features, which include Noodoe navigation, Keyless ride and Brembo ABS brakes. Tyre pressure sensors is also a standard feature. In my personal frame of reference, the touring scooter does not make a huge amount of sense, but be that as it may, it will certainly put a smile on your face every time you turn the throttle. It is very roomy and comfortable, with ample focus given to passenger accommodation. Needless to say, this was a favourite among the press!
Price: R 154 950
For more info click HERE
All Terrain Vehicles (ATV):
MXU 150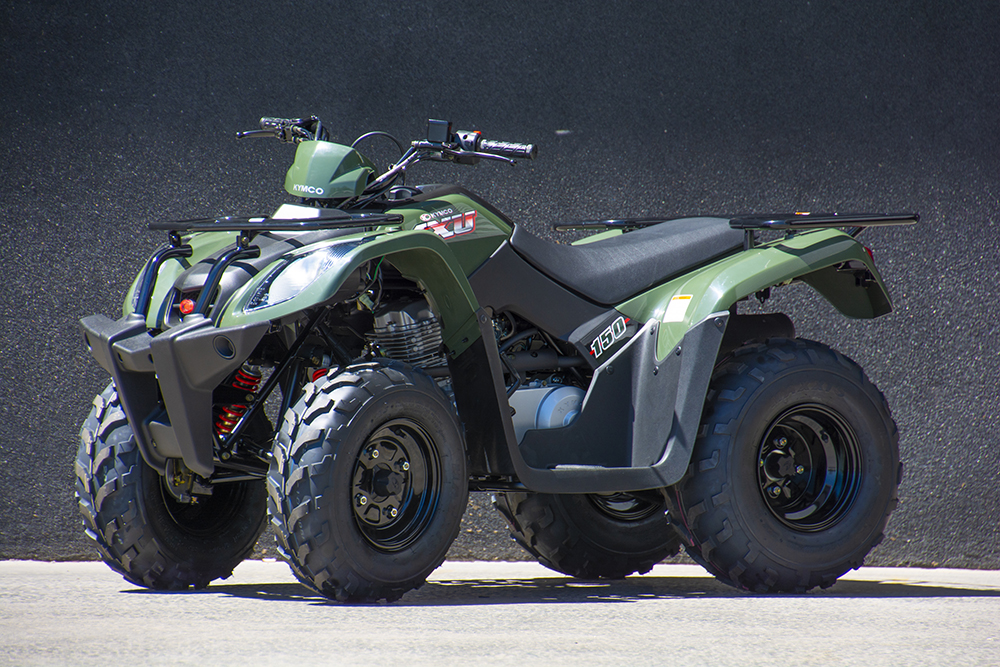 Price: R 49 950
For more info click HERE
MXU 250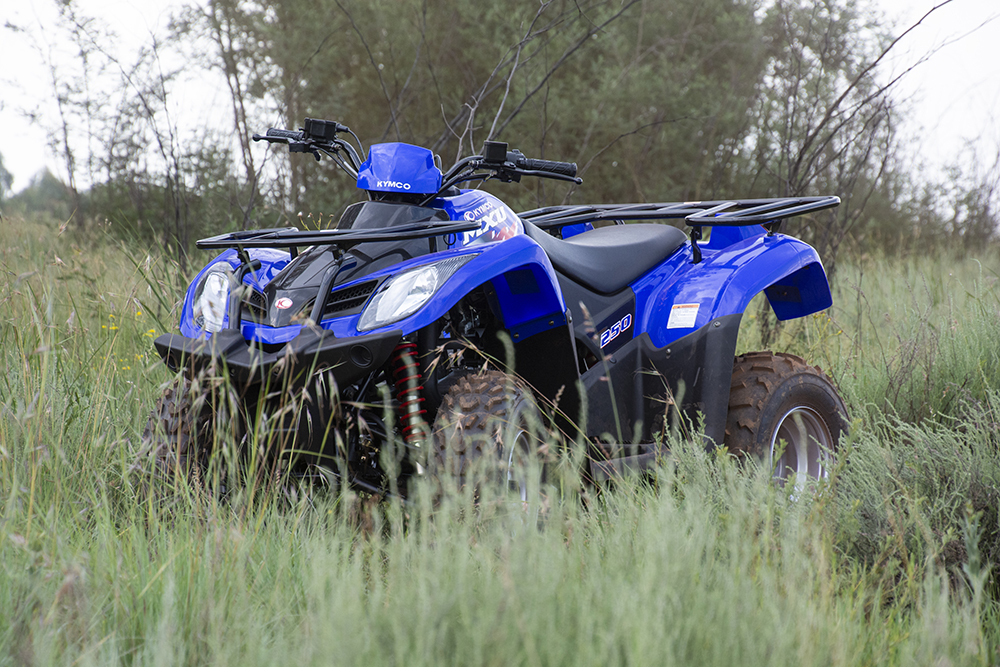 Price: R 64 950
For more info click HERE
MXU 450i 4×4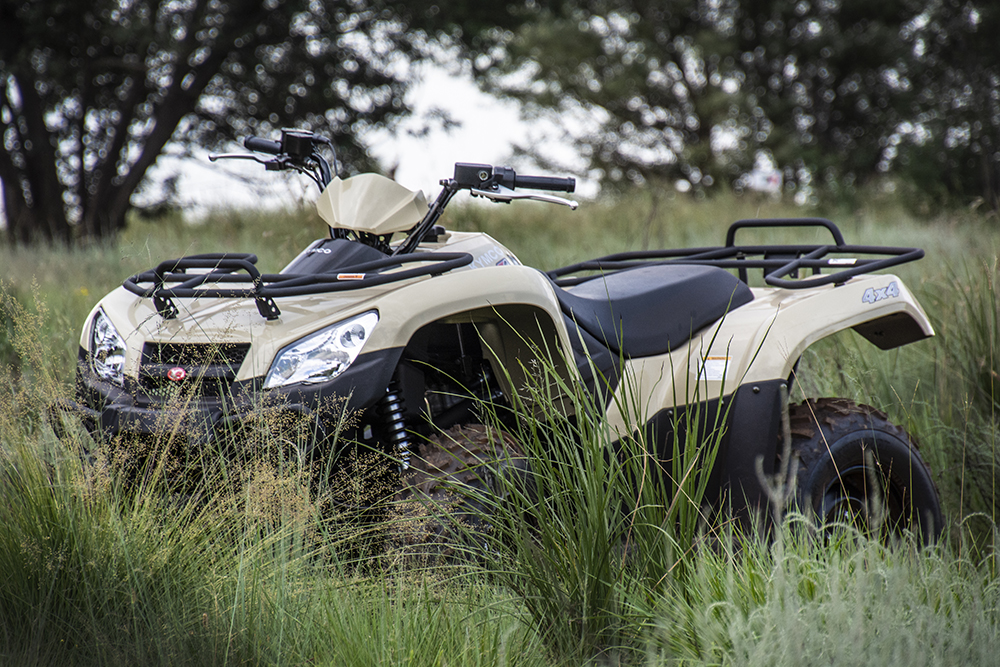 R 104 950
For more info click HERE
We drove the scooters to a proper 4×4 facility, where the full range of ATV's awaited us. This was really a nice touch and I must confess, the highlight of my day. We had some good laughs and the best pizza in Krugersdorp, freshly prepared while we were having fun on the various offerings.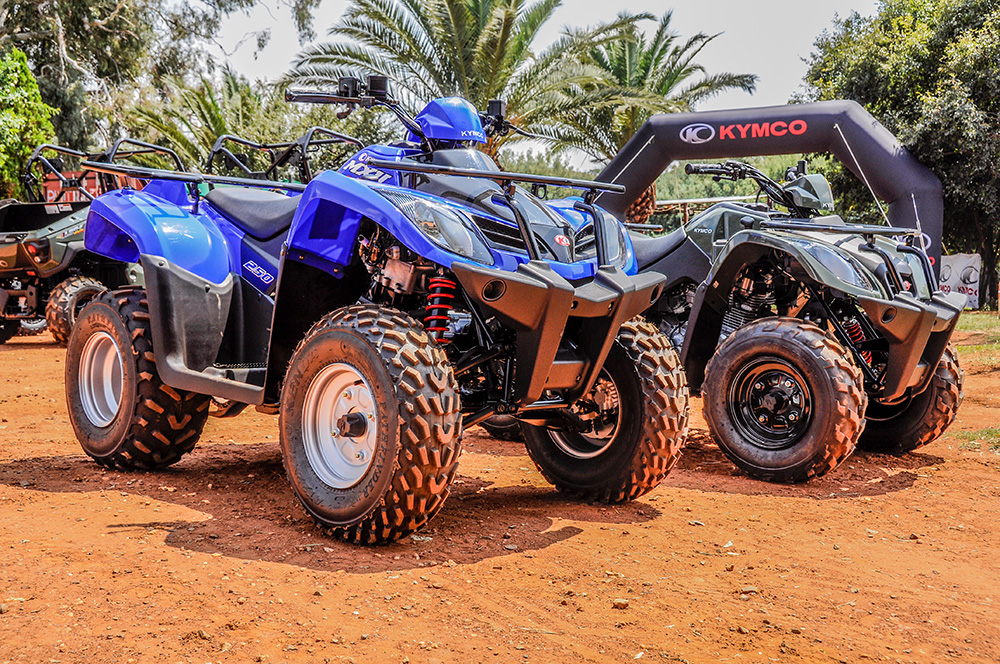 Daniël Pienaar and myself "got lost" on some of the most scenic trails that the venue had to offer. The capabilities of these quads were properly tested in all sorts of terrain. To be honest, I do not have much experience on ATV's, so I have limited frame of reference to compare these quads with. All I can say is that the quality, power and handling was more than adequate for much enjoyment.
Side by Side:
UXV 450i 4×4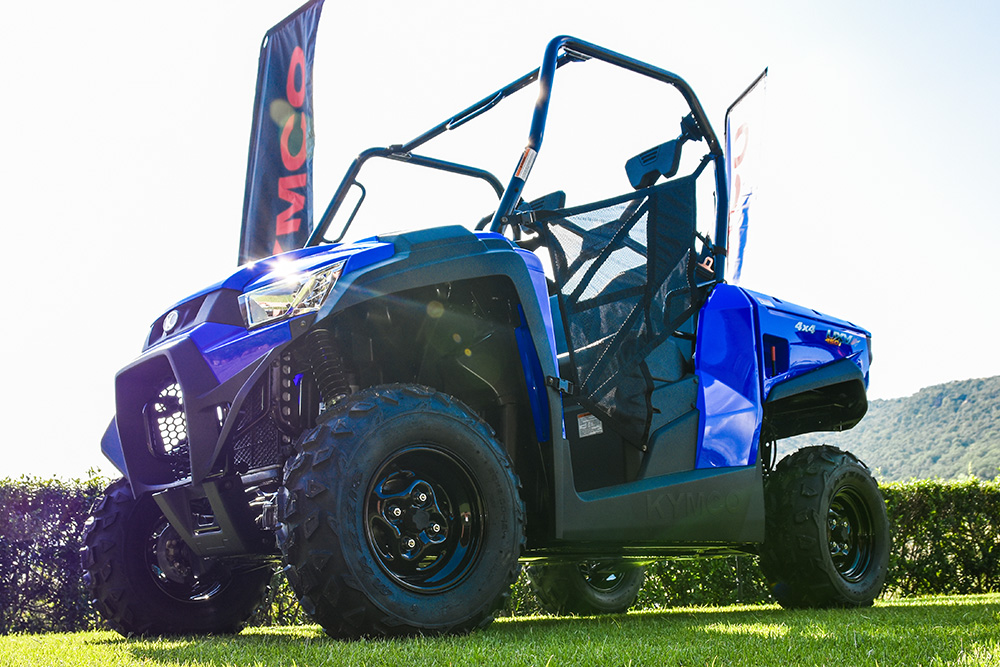 Price: R 149 950
For more info click HERE
UXV 700i 4×4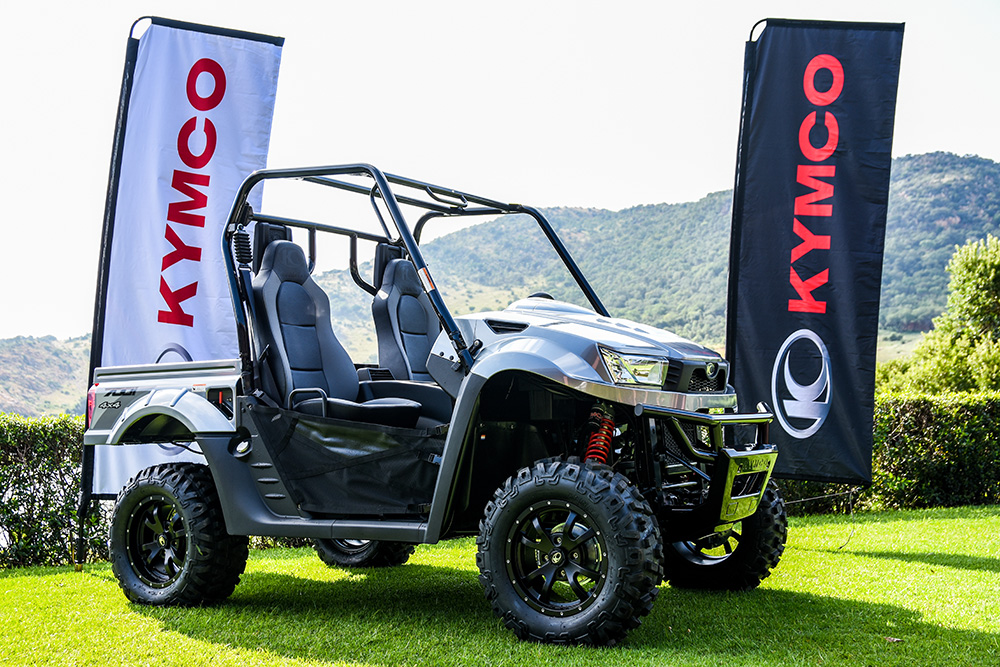 Price: R 169 950
For more info click HERE

This was the pinnacle of fun on the day! For most of us, this would be the first go in a Side by Side vehicle and we didn't really know what to expect. The roll cage and safety belts went a long way to reassuring us that all was going to be okay. It was amazing how much we achieved as first timers. There was this really scary off-camber, rocky ledge that we traversed successfully, despite limited experience, as mentioned previously.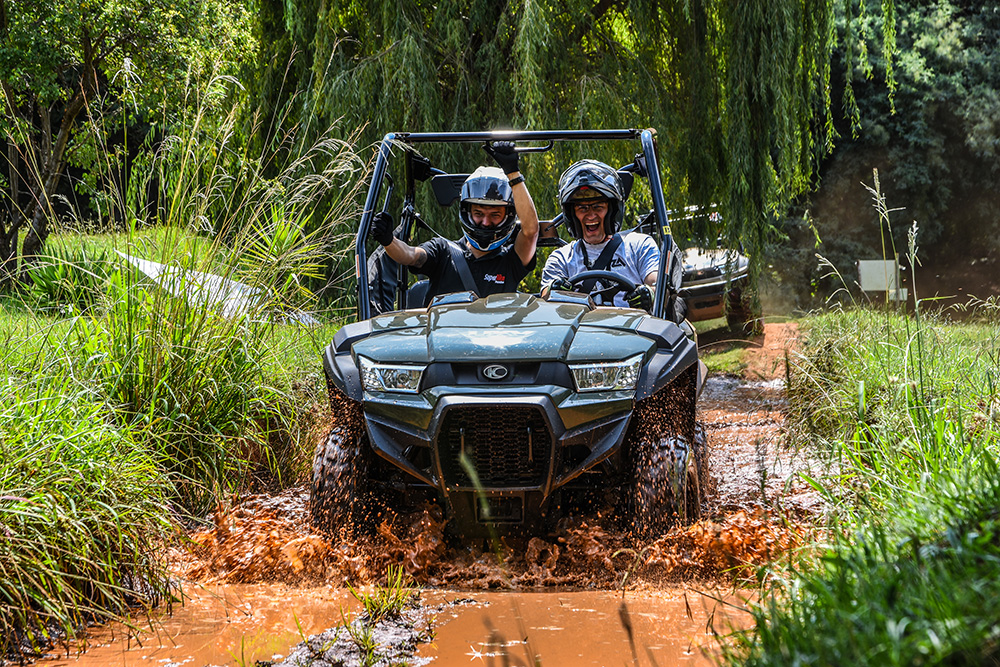 These Side by Side vehicles offer 4 wheel drive, low range and high range, load carrying capacity and more than enough ground clearance. I can see them being widely used on farms and Sunday outrides for the whole family.
In summary, this was a day that we all enjoyed and the memory will stay with me for some time to come. Not to single anyone out, I would like to commend Jessica Jooste and her marketing team for a well planned, memorable day of fun and laughter. This was certainly a team effort that required careful planning and vision.
May this be the start of a successful new venture for the Tuning Fork company and the new home of Kymco as a brand.
For more information visit: www.kymco.co.za
Kymco AK 550, XCITING 400i, G-Dink 300i ABS, G-Dink 300i, Like 125 & Agility RS 125
For more information on the bike that we tested in this article, click on the link below…