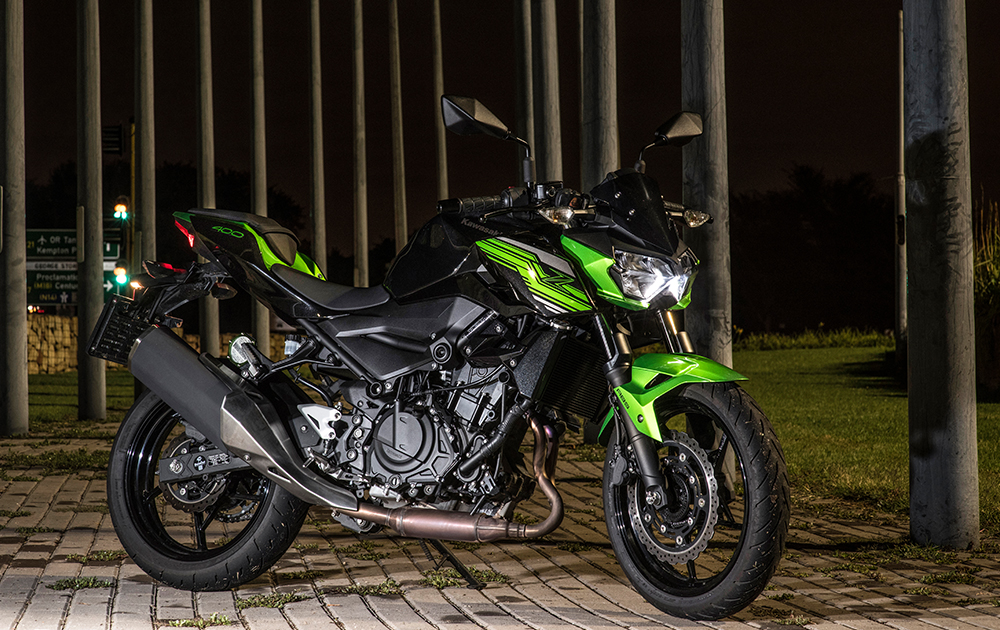 On the dark side of Japan, there's a group that rule the streets and they go by the name of "The Z Gang". This notorious group of street fighters live and breathe the Sugomi lifestyle, which translates to something wild, something fierce and ready to pounce on its prey. With rumours floating around about a new Z on the block, I decided to track down this new so called Z to find out if it has what it takes to wear the Z badge. Midnight was the hour and down town Fountains Circle was the location, in which I spotted the Z400.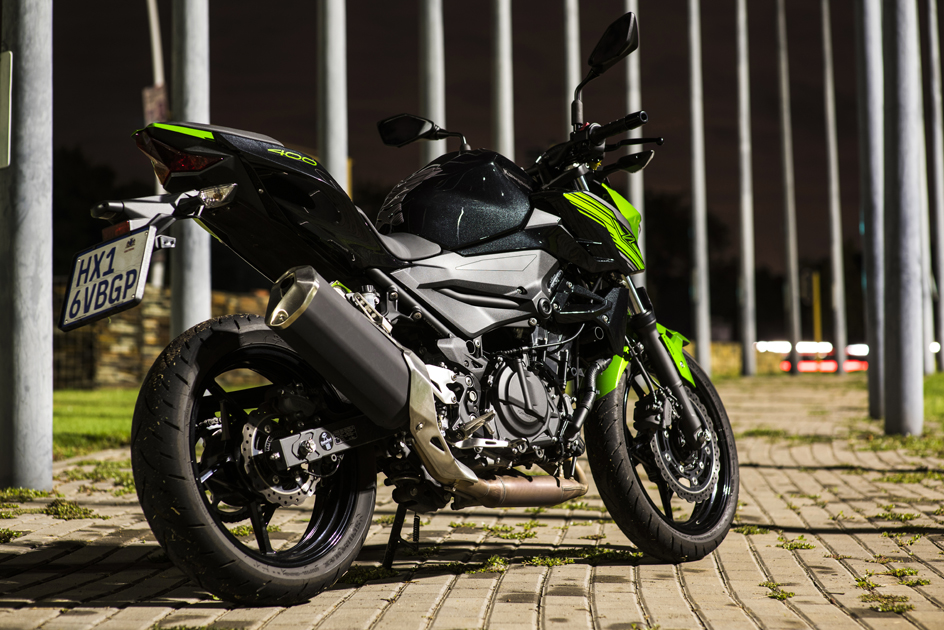 With every step bringing me closer to the growling 399cm³ twin, perplexed thoughts started to line up with small details making it unambiguously clear. Starting from the infamous evil lights, to the sharp shoulders in front of the tank right till the strikingly sharp tail, leaving you this squat down kind of look. From a looks perspective it certainly has the "Sugomi" effect with every line showing off an aggressive persona and alongside it's design the paint job is very stealthy. Kawasaki call this paint job "Storm", with a metallic black tank and some candy green looking Z finishes on the side fairings, this really underlines it's aggressive design features.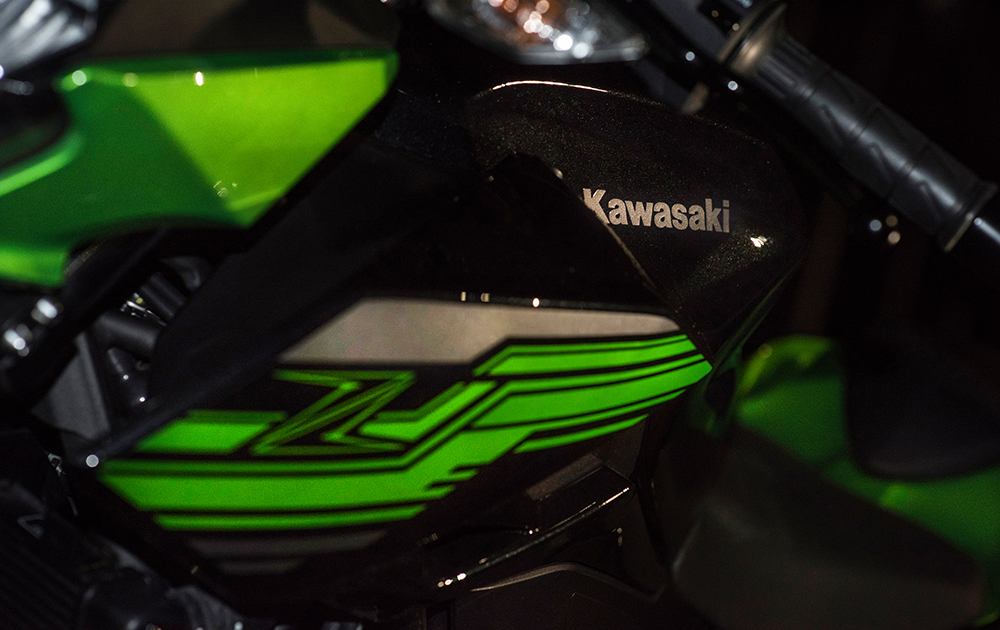 After spending a few days and a few hundred kay's together, the Green Hornet and I have become somewhat familiar with one another. Although the bike is styled very aggressively, don't let that put you off. As far as ergonomics go the Z400 is "Spot On" and is by far the most enjoyable and comfortable light weight naked bike that I have rode within it's segment.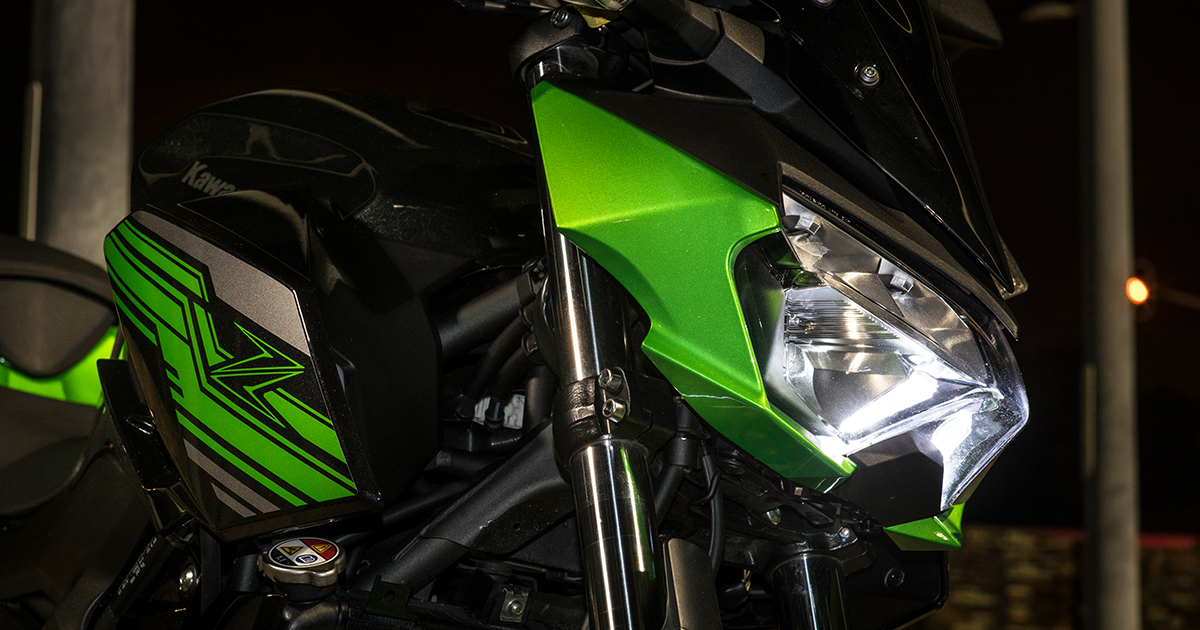 Grab the bars and swing your leg over and the first thing you will notice is the low seat height, which is there to accommodate a larger variety of riders as well as to give you more confidence. Another thing you will notice is that you are not mounted on top, but rather in the motorcycle, with the tank being higher and the bars within easy reach. A soft seat combined with a small fly-screen is close to luxury for us naked bike riders and that is what you get on the Z400. Kawasaki do have a taller screen available but honestly by sitting so low in the saddle, I don't feel the need for one.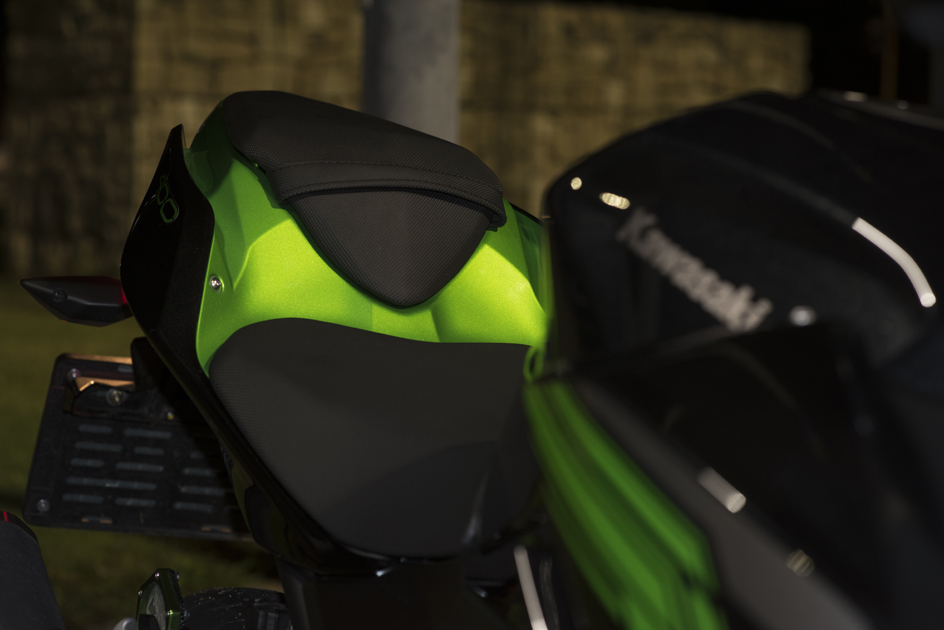 Put the key in and turn the ignition on, the green hornet has a Z650 inspired dash with all the information one needs to know. Ok, so it's not a TFT display but to be honest the Z400 has a dash that just works and with less distractions, I was certainly a happy sailor only having to deal with two buttons. The switch gear is very basic and just like on the Ninja 400, unfortunately not backlit but again once you get familiar with the controls this becomes second nature just like pulling in a clutch.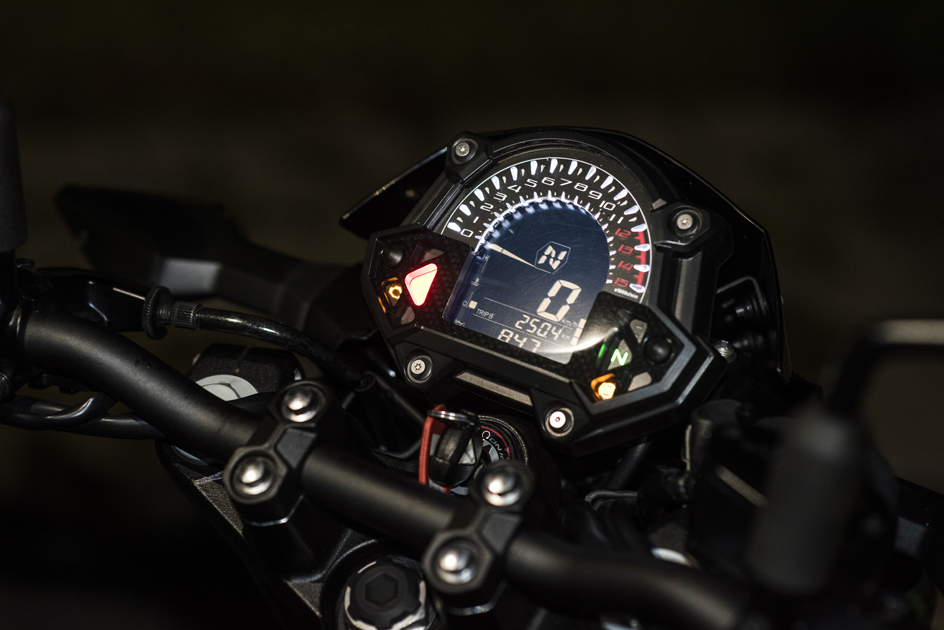 Time to slide on my Arai and zip up, for the Z400 and I have some dark streets and alleyways to tear up. With Queen's song "Tear it up" playing in the back of my mind like a back track to a getaway scene in a movie, I felt like a total badass on the Green Hornet. Nothing inspires a rider more at the darkest hour than a good set of lights. The Green Hornet's evil eyes stare into the darkest of dark and bring forth the light. All this is done with ease as the dark is taunted by a smirk coming from the Z400 and a growl as I shift past 7500 RPM, just where the downdraft intake starts to purr.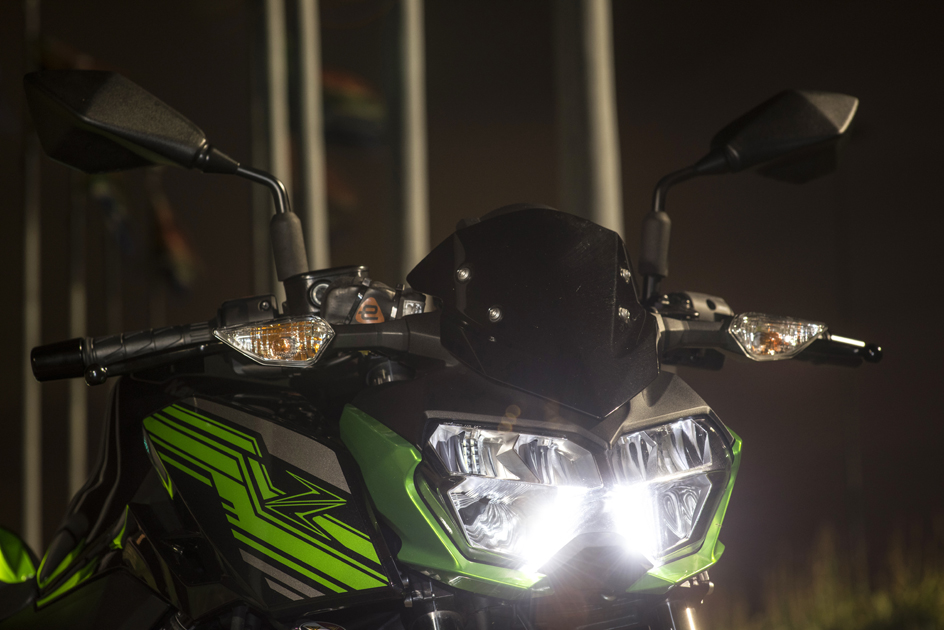 The Z400 has the same 399cm³ motor that has proven to be a versatile and fun crackerjack of a motor in the Ninja 400. What many manufacturers do when making a naked version of a bike is change the gear ratios, making the naked option shorter geared for town use but this usually leads to a massive blackhole on the highway or on the open road. Kawasaki have not changed the gearing on the Z400 so you've got an easy and smooth bike to ride in town under 7000 rpm with peak power only kicking in at 10 000 rpm with an impressive 44.5hp and a good hit of 38Nm of torque. This all translates to a comfy 7000 rpm at 120km/h in 6th gear on the open road with still 5000rpm at hand before the red line is met.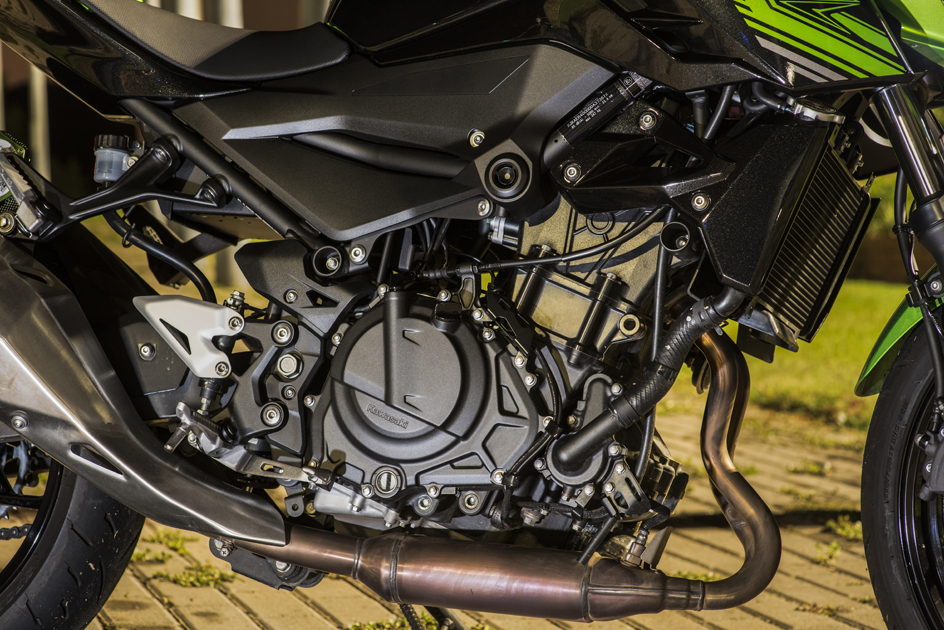 With low revs being achieved, thanks to Kawasaki's smart gear ratio, you are blessed with not only a class leading top speed but also a great fuel economy. A 14 litre tank is what you get, and with those 14 litres of fuel I managed to get just under 318 kilometres (22.7km/L) in which there was mostly urban and highway riding involved. I must add that this was achieved due to ZA Bikers weight protocol (My 70kg's), just like in MotoGP were weight is critical when it comes to the handling of a motorcycle and in my case fuel economy on the smaller bikes.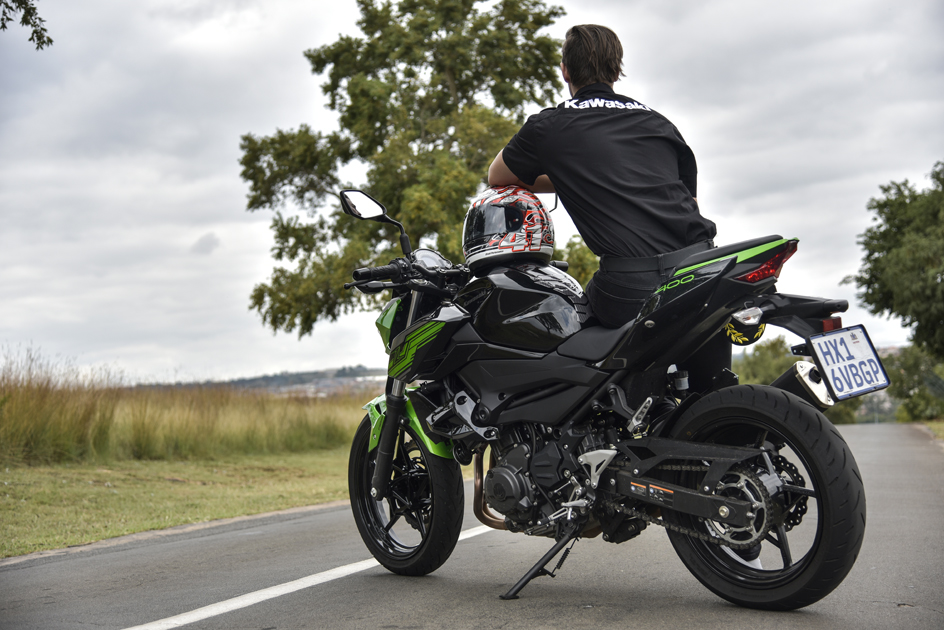 As the Sun starts to rise the Green Hornet and I are greeted with sunny skies and dry-ish roads. Whilst approaching corners, gear after gear is found smoothly and without any hassle. Two knocks down with my left foot and the slipper clutch is released, with the help of both ABS equipped Nissin callipers, the front Showa forks are compressed and ready to lean in with the Dunlop Sportmax tyres warmed up. From entry to mid and beyond, the Z400 holds it's line giving you supersports bike confidence and naked bike comfort all at once. Kawasaki say they have softened the suspension by 10% and man my thumbs are up because it hasn't taken anything away from sporty riding; and for the streets it has actually improved it all round.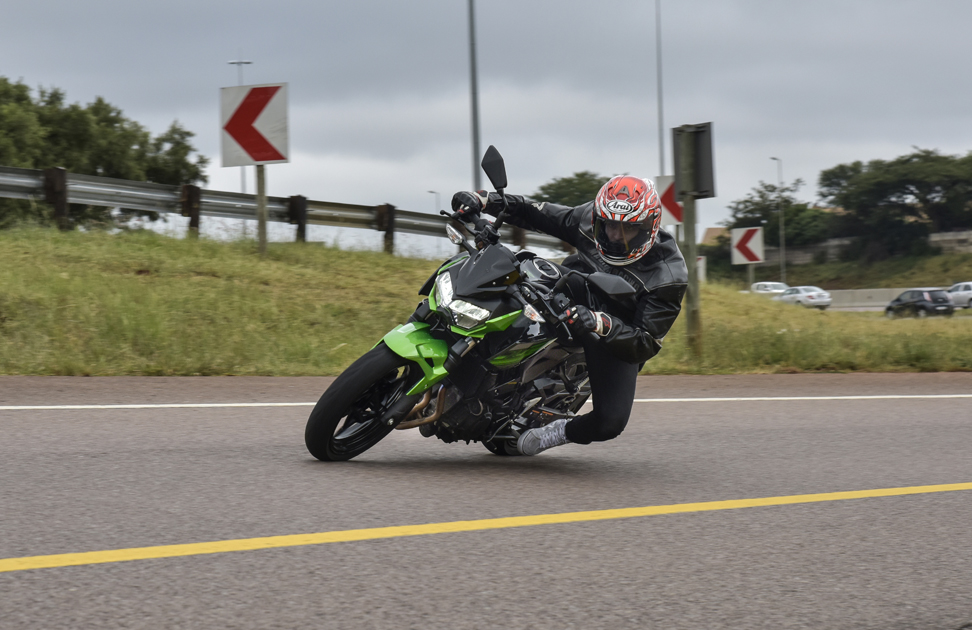 So I was asked the question by Simon and Dave, whether I would park the Z400 or the Ninja 400 in my garage. Watching all of Kawasaki Motors "Toughest Choice Ninja Or Z" videos the past year, I never thought it would be so difficult to answer the very question myself. After what felt like years of thinking and meditating on all the strong points of each bike, I nearly went into a mental state and just decided to flip a coin because honestly they are both awesome bikes. Unfortunately the coin landed in a pond so my answer is inconclusive but do yourselves a favour and visit a Kawasaki dealer and take both bikes for a doddle. You won't be left unsatisfied – that I can guarantee.
For pricing and more information on the Z400 visit: www.kawasaki.co.za