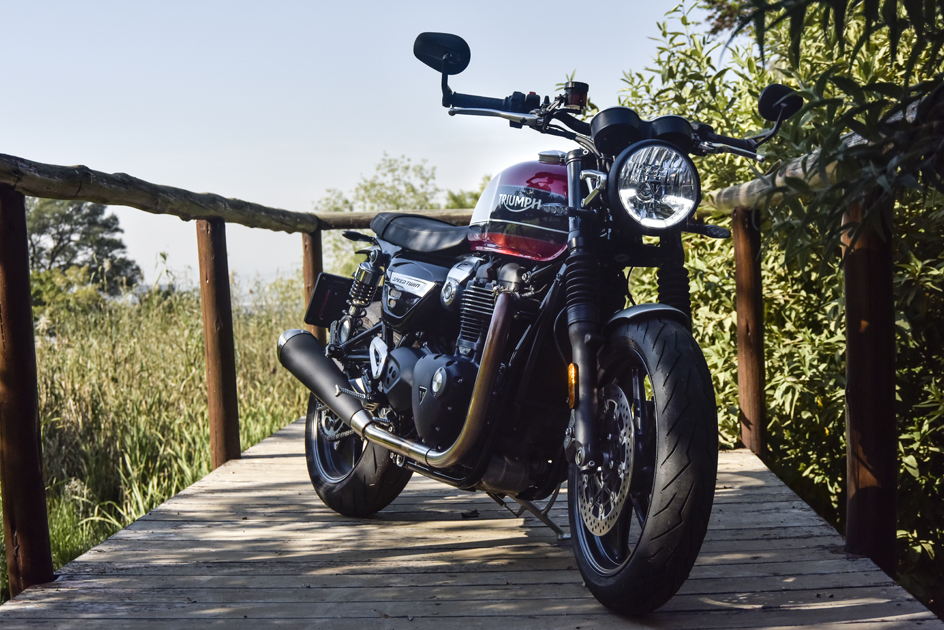 How many of you bike fundi's out there know that Triumph motorcycles have German roots? Honestly. Dig into the history of Triumph and you will see that the company was started in 1886 by a German immigrant named Siegfried Bettman who moved to England from Nuremburg. Three years after settling in the cathedral city of Coventry, he established the Triumph Cycle Co with the aim of building bicycles. In 1886, the New Triumph Co, funded by the Dunlop Pneumatic Tyre Co, built bicycles for local consumption and export. We can be eternally grateful that in 1902 some forward thinking fellow at Triumph saw fit to cobble a Belgian Minerva engine into a bicycle frame, creating what was destined to become the first in a long and illustrious line of Triumph Motorcycles.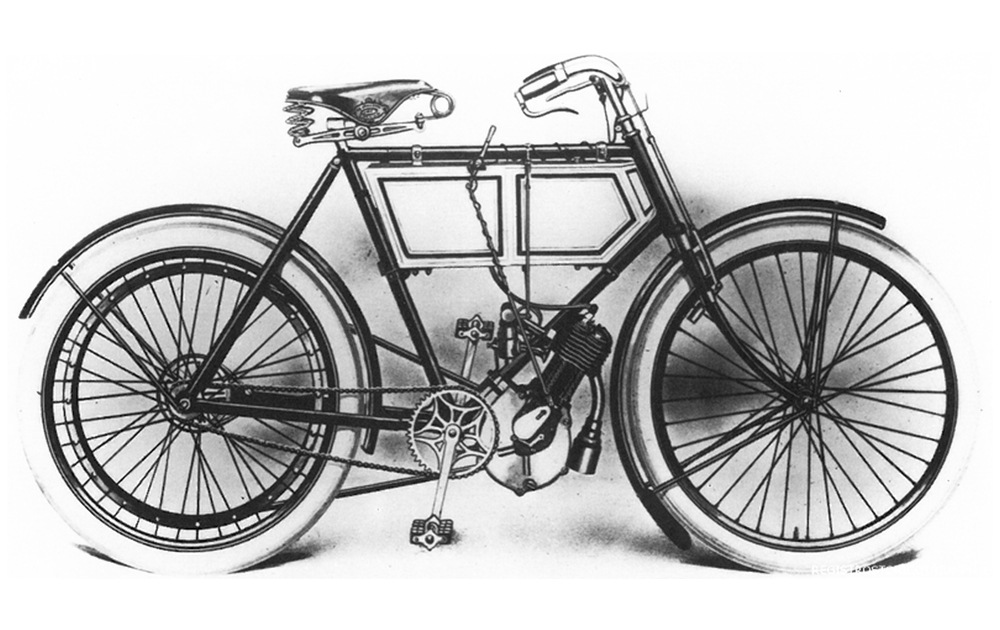 Factories in Coventry and back in Bettman's hometown of Nuremburg were established in 1902 and a steady stream of Triumph's emanated from them. The German factory, known as "Triumph Werke Nurnburg", operated until as recently as 1957, albeit turning out Triumph's, which were dubbed TWN's. Back in Coventry, 30000 Model H Roadsters were built, many of which supported the war effort during The Great War of 1914/18. They earned a solid reputation for quality, which had them known amongst owners as "Trusty Triumph's".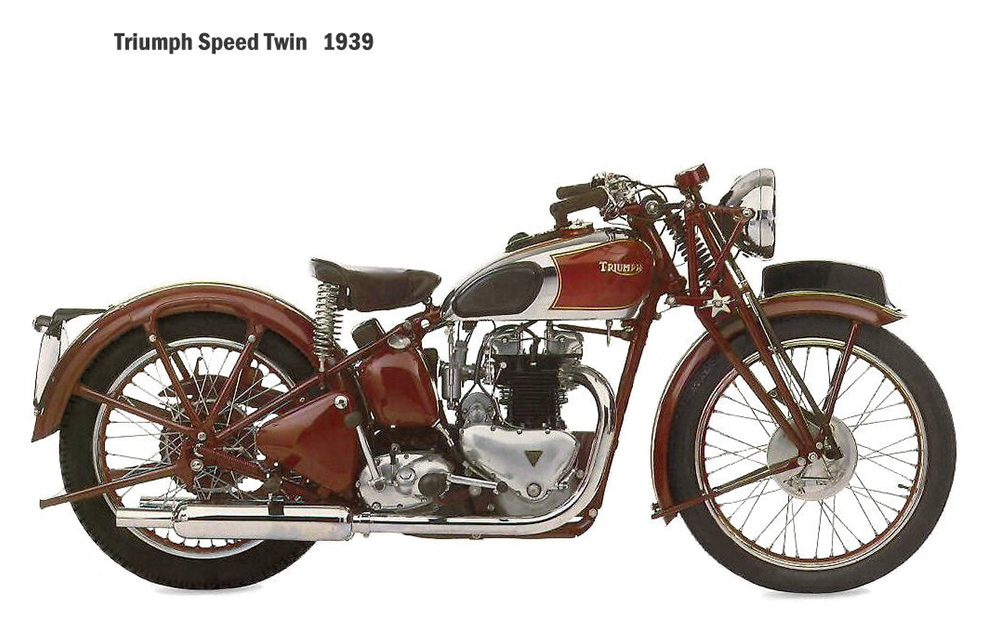 A clever fellow by the name of Edward Turner, designed a parallel twin with a capacity of 500cc. It was, at that point, the fastest Triumph ever built, so was rightly called the Speed Twin. In 1936, some of these bikes found their way to the States, where they established a somewhat fanatical following. The second World War saw the Blitz extend to Coventry and the Triumph factory was one of many factories levelled by the tons of explosive ordnance dropped by the Luftwaffe on the hapless city. It was as a result of this that the Triumph factory relocated to Meriden, where Triumph's were built up until 1983, albeit under a slew of different owners.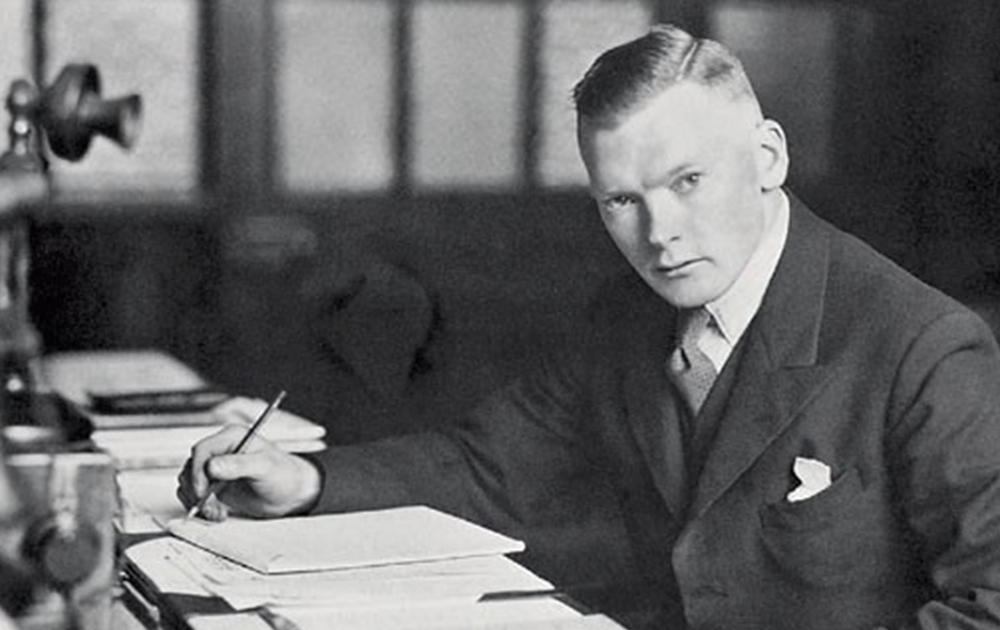 The modern day Triumph success story came as a result of massive investment by John Bloor, a property tycoon, who bought Triumph lock stock and barrel in 1983. The 20/20 perfect vision of hindsight shows that the resurrected Triumph has had a knack for building unique, relevant, riders' bikes. Like with the Speed Twin of old, modern day Triumph buyers seem to be joined at the heart with their rides. Riding Triumph's latest version of their legendary Speed Twin, it is not too difficult to understand why.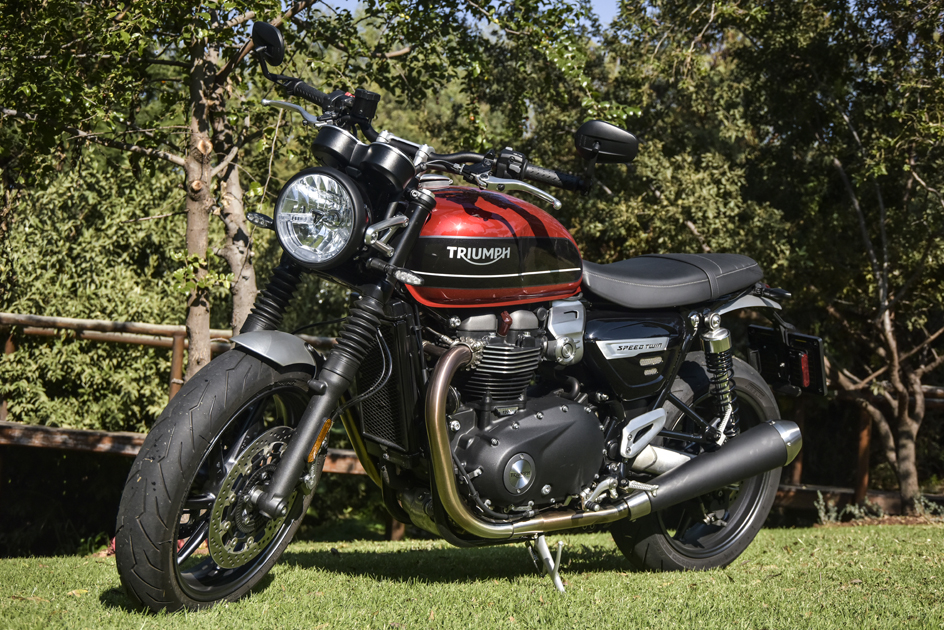 When you name a particular model a "Speed Twin", it should obviously have a twin cylinder engine and have enough mumbo to justify the Speed part of its name. Sporting the lovely 1200cc motor from the Thruxton R, SA Bike of the Year of a couple of years ago, speed is a given. Smooth and refined, vibration is best described as a muted rumble which is endearing rather than intrusive. 96 horse's provide decent thrust, but what really gives instant get up and go, is the 112Nm of torque, produced at a lowly 4950 rpm. Hang on the cable, [fly by wire actually] and the Speed bolts forward with thrust that is almost disconcerting. All this translates to real-world practical power, at any engine speed and in any gear. The Speed Twin is a rapid motorcycle indeed. Torquey motors are deceptive in that you don't feel a progressive power and speed build up, which can give an illusion of great speed. The Speed Twin is instantly up and gone, then rolls into a satisfying top end shove as well. Lovely and addictive.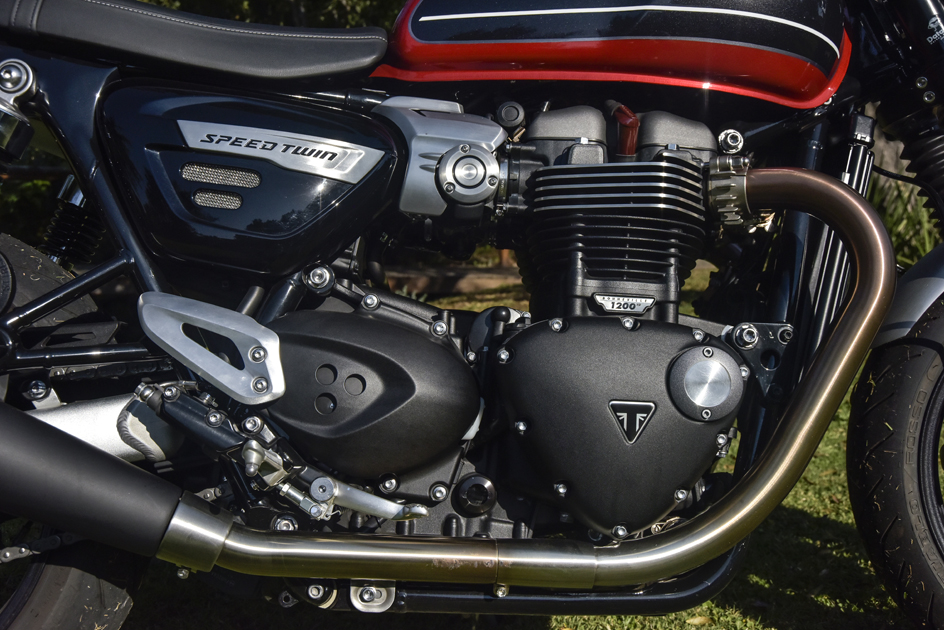 Power is frustrating without control. The Speed Twin rolls on a 160/60×17 back tyre with a 120/70×17 in the front. Simple and handsome seven spoke magnesium wheels are shod with Pirelli's brilliant Corsa Rosso 3's. Conventional, right side up front forks of 41mm are allied to twin back shocks with which they share 120mm of travel. The ride is amazingly supple, yet controlled.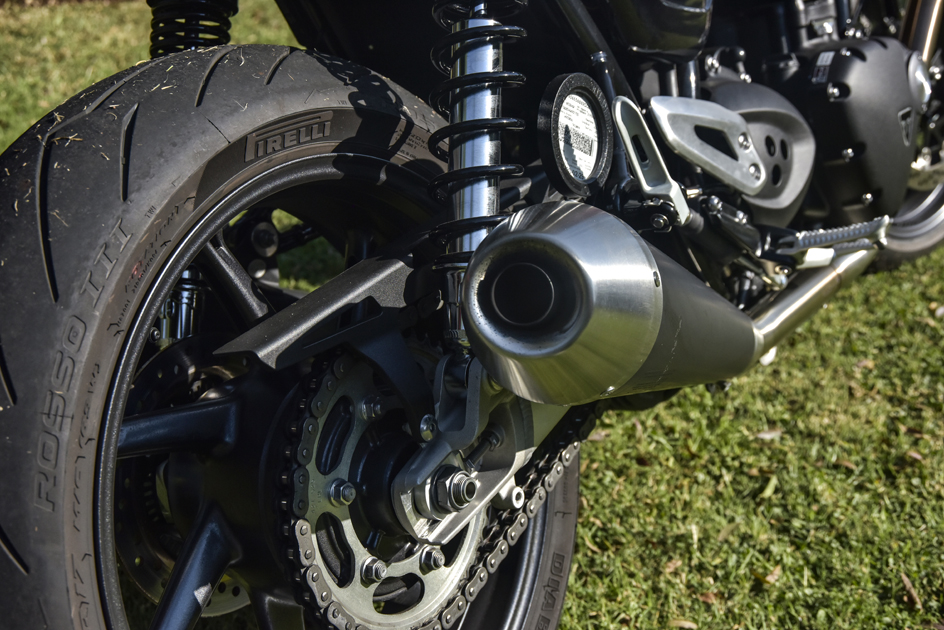 I spooned in two more steps of preload, which firmed up the ride and gave better turn in. Put this all together and you have an agile, good handling motorcycle. The flat, low rise bars fall naturally to hand and pull you just enough forward to have your torso "ride" on the air stream created by your right wrist.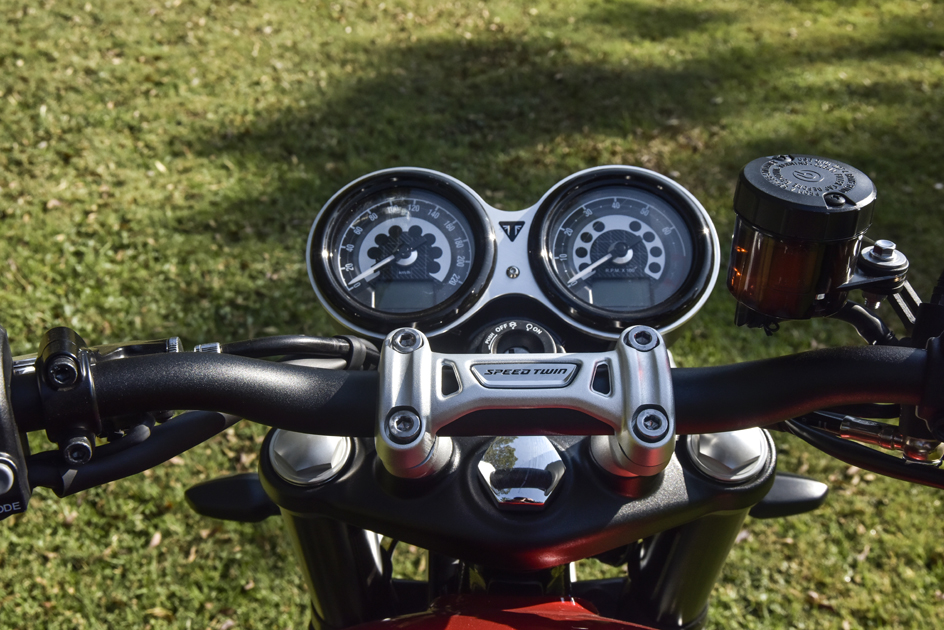 I rode the Speed to Sun City and back to give it a thorough go. I wanted to get there early to spectate at a triathlon in which my son was competing, so I left in the dark. The LED headlight is bright and effective, providing both a good spread and projection. Cruising at 130 to 140 was both effortless and comfortable. The seat is flat and of a good consistency, which remains comfy even for extended rides.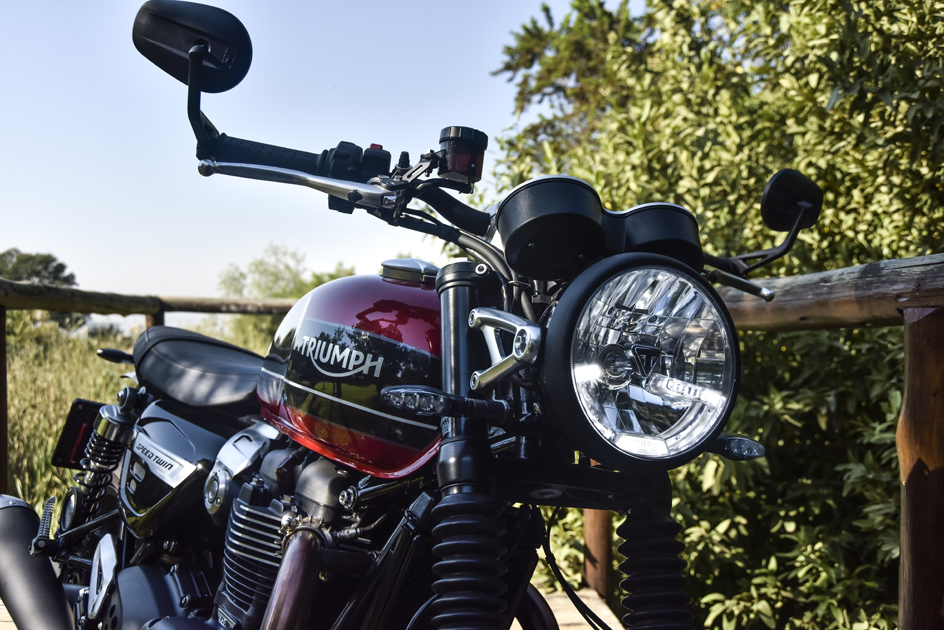 The tank takes 15,5 litres of fuel and is mounted in what is a slightly forward sloping line. This gives an optical illusion of an aggressive stance, which is totally in keeping with the bike's general persona. A blacked out motor and stubby silencers enhance this look. The side covers are things of beauty. Painted gloss black, they have aluminium accents with mesh panels which scream "class"!
In keeping with the Modern Classic look, the clocks are analogue with digital panel inserts which give all the info that you require. [fuel gauge, range to empty, consumption, present and average, trip meters, service indicator and rider modes, including ABS status] The nimble ride is made easier by a dry weight of only 196Kg's.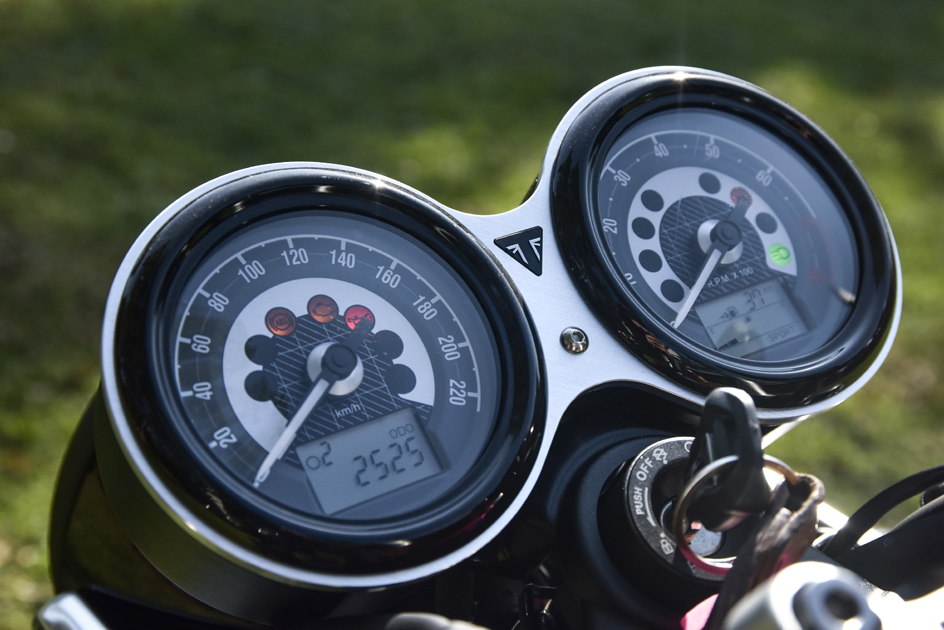 I was initially disappointed by the small tank, which I felt hamstrung the bikes touring potential, until I saw how far the bike could go on very little fuel. The torquey twin sips fuel at only 4,6l/100 at a cruising speed of 130 plus. This gives an easy, stress free, 250 K's range between top up's.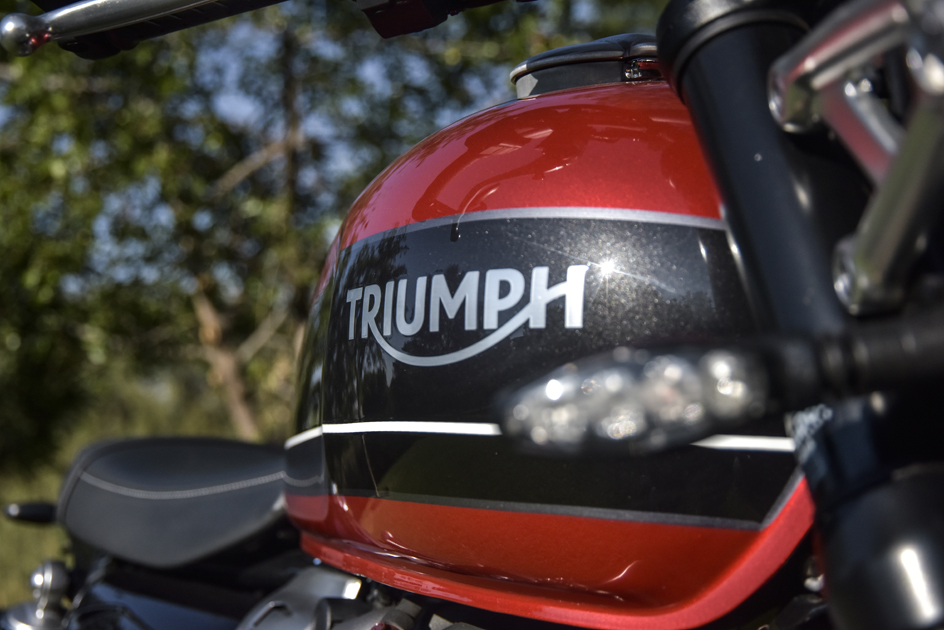 Braking is in keeping with the performance capabilities of this naked Roadster. 305mm twin front discs are retarded by Brembo callipers, with a smaller 220mm disc doing duty on the rear wheel. This bike stops properly from all speeds and in all conditions, with good feel at the levers. If I tell you that this bike is "fun" to ride, you may think it is frivolous, kind of candy floss, not steak. Believe me, this is the real deal, well able to cut it with any other naked roadster out their when it comes to riding enjoyment and satisfaction.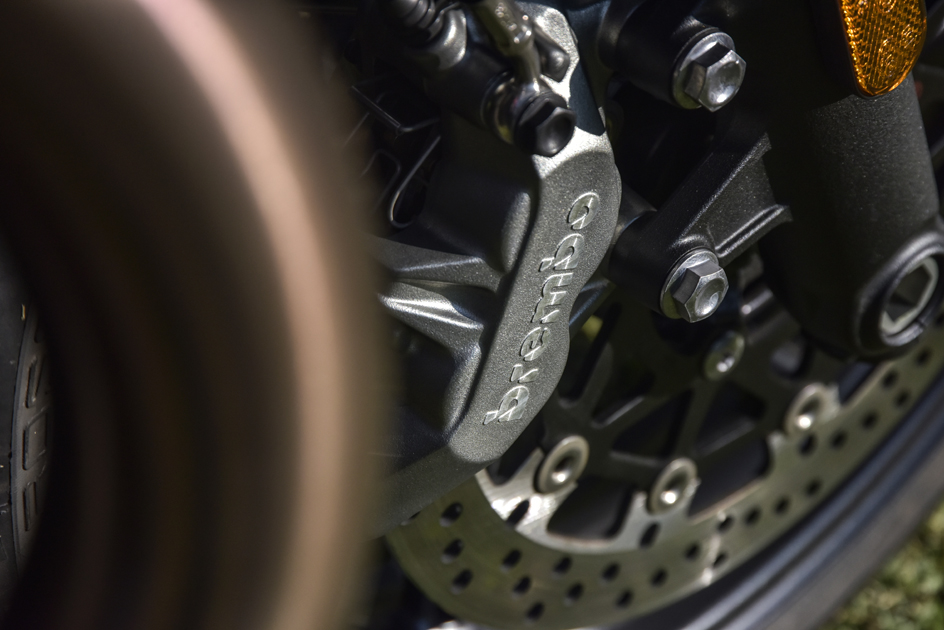 At a base price of R179000, with a slight premium for fancy colour schemes, it is a powerful contender. It feels physically small when you climb aboard, yet was spacious enough for a comfortable two up ride for Irene and me. The low seat height means it is accessible to virtually all riders too. The brushed aluminium short fenders complete the power Roadster picture.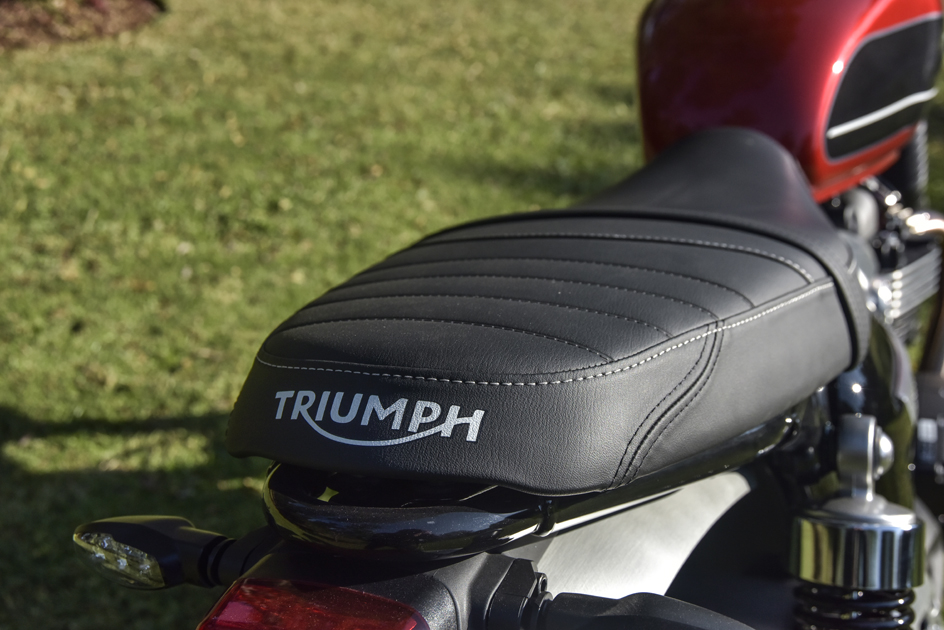 This bike is a classically styled, handsome naked, which will tick many boxes and provide endless pleasure to its owner. It really is hard to fault. Once again, as with their new Scrambler 1200, Triumph have applied modern technology to a classic recipe and come up with another winner. Edward Turner, father of the original Speed Twin, would be proud!.
For more information visit: www.triumph-motorcycles.co.za
Triumph Speed Twin
For more information on the bike that we tested in this article, click on the link below…