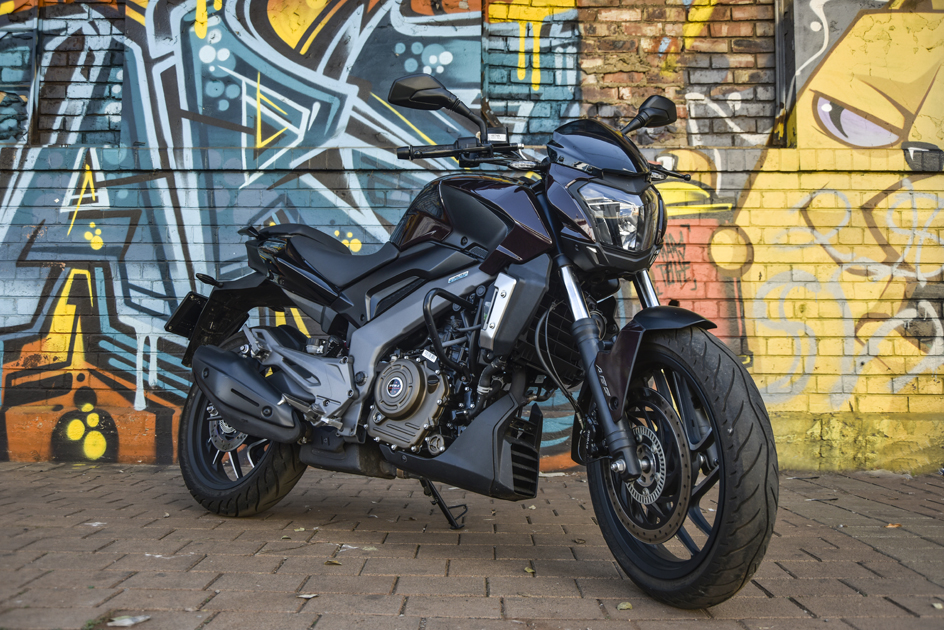 I was quite intrigued to be offered the opportunity by Biker's Warehouse, to ride the Bajaj Dominar 400. Here is why. Bajaj just happen to build one of my favourite single cylinder fourstroke motors. I am, of course, referring to the cracker of a mill in KTM's 390 Duke. Smooth and torquey, it punches way above its weight. The Dominar shares the same bore and stroke as the 373.3 cc KTM motor, but differs in that it has a Single Overhead Cam head, versus the DOHC setup of the Duke. This explains the softer power, with the liquid cooled Dominar motor maxing out at 34.5 bhp against the robust 43 bhp of the little KTM.  Both motors produce 35 Nm of torque.
A six speed gearbox and a slipper clutch complete a pretty comprehensive and up to date mechanical pedigree. The 2019 version of the Dominar, which we don't get as yet in SA, is a DOHC with 40 bhp. It also sports different colours and it gets USD [Up Side Down] front forks. So now that you know what's coming let's get back to the subject of this test.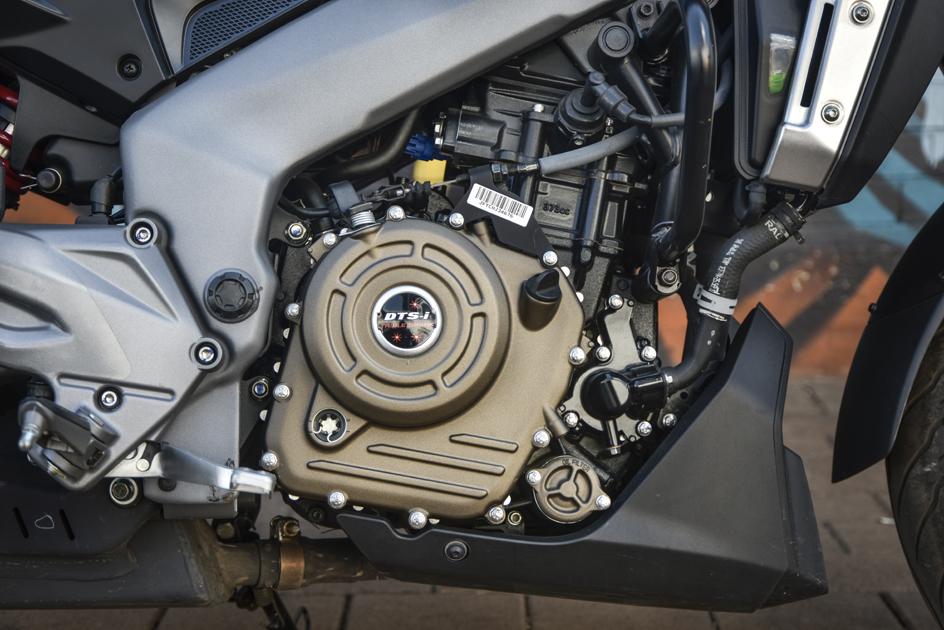 Styling is really cool. The headlight and little fly screen are reminiscent of a Suzuki B-King. The 13 litre tank with its shrouds has a broad-shouldered look tapering into a waspish waist and a stylish, modern looking tailpiece, complete with passenger grab handles. The exhaust is small, tidy and understated in matt black. The bulk of the plumbing is discreetly hidden under the motor. All this styling is somewhat nullified by the Canyon Red paint job which is in essence a kind of browny maroon. Different strokes for different folks I concede, but the colour does not do it for me at all! Glacier Blue or Rock Matte Black may be better, we will have to see. The 2019 model comes in a stunning metallic Ninja green which makes the bike really pop. On a practical note the tank has a protector as standard. Why doesn't every manufacturer think of that?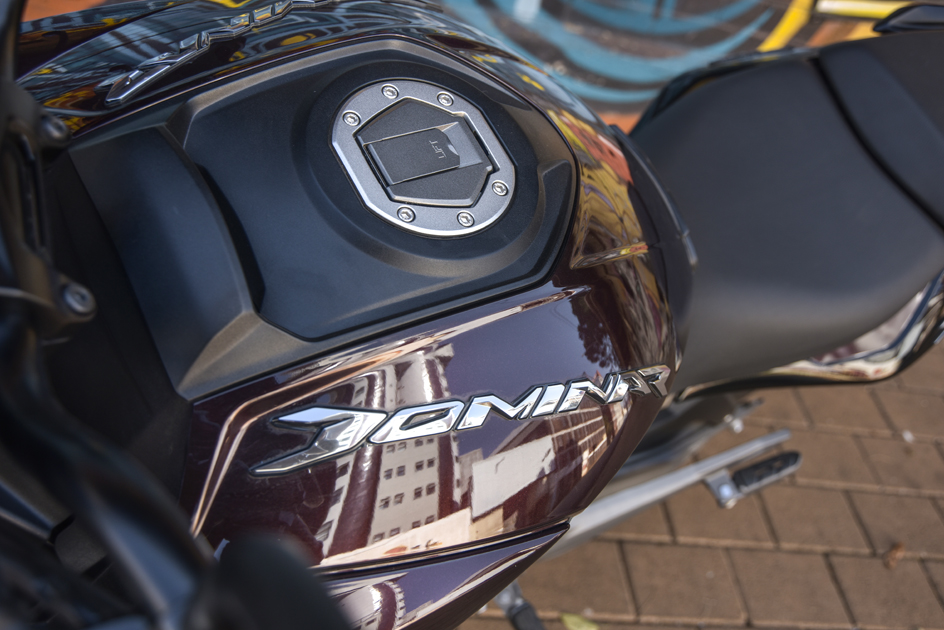 You will know by now that for me, the jury is still out on motorcycle offerings from China, but I am a big fan of Indian built bikes. Many k's on TVS Apache's have made me a believer. Robust, almost to the point of being over – engineered, they are indestructible. I have also had the privilege of visiting India and seen first hand how the bikes are built. You can buy with complete peace of mind, believe me. The Dominar gives me the same feeling. Suspension is taught and properly damped.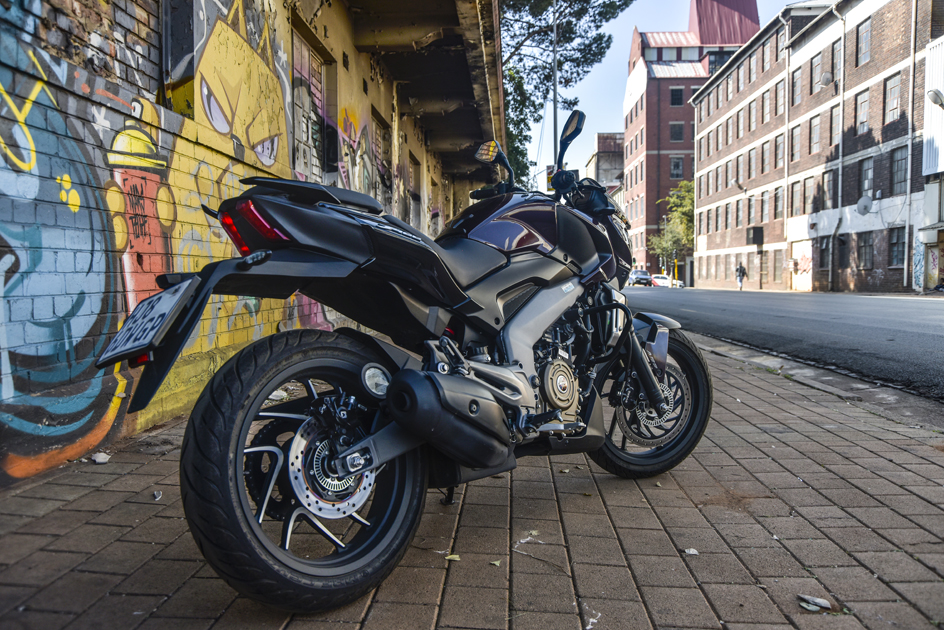 Front forks are a hefty 43 mm's. No flex there! The rear shock has a remote reservoir, and works just fine. The motor has a strange "boom" when you get hard on the gas or are travelling at speed. I could not quite work out where it originated but probably primarily air-box type roar. It was exacerbated by my Bell Adventure helmet which seemed to amplify the noise. I rode the bike wearing a conventional full-face and the noise was so muted that it was of no consequence. Interesting.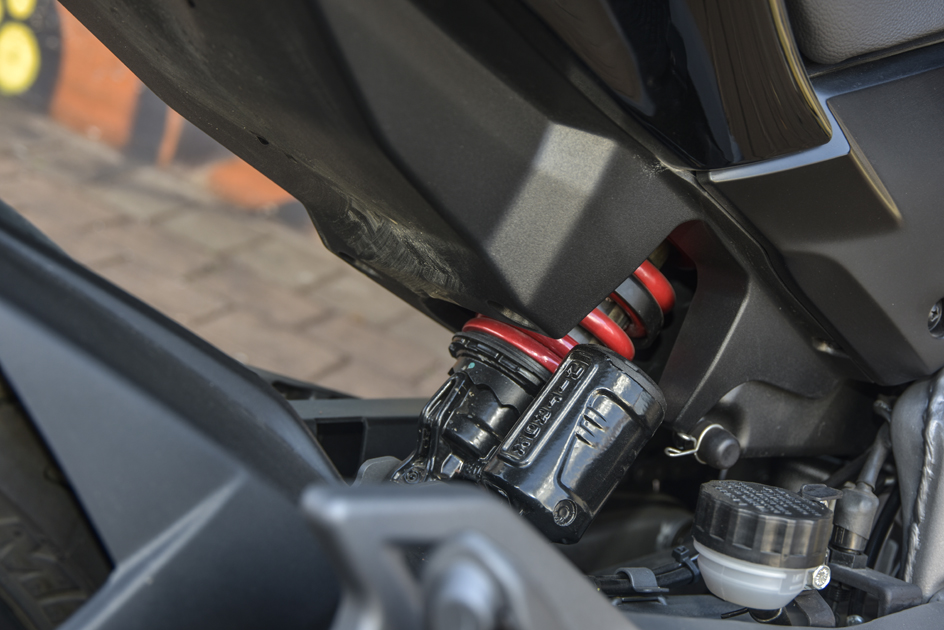 The Bajaj pulls pretty darn well for a 400 single. Not in the league of the KTM, but it hauls off the line ahead of most traffic without a sweat and cruises at 6500 rpm at 120 kph. At highway speeds it still has something in hand for overtakes on the freeway. Redline is at 8000 rpm and peak torque is at 6500 rpm, helping the bike run up long hills without losing speed. The bike sports a "rpm limit" indicator light on the dash which lights up from 5500 rpm. Hopefully it is adjustable and set for running in purposes, failing which it is a little dof for a bike making its peak power at 8000 rpm. I didn't have the bike long enough to test consumption, but my experience of Indian bikes is that they are particularly economical. No reason to doubt the claimed 27 km/L figure. This equates to a decent range of over 350 k's. The whole package is taught and controlled with the handling both easy and accurate.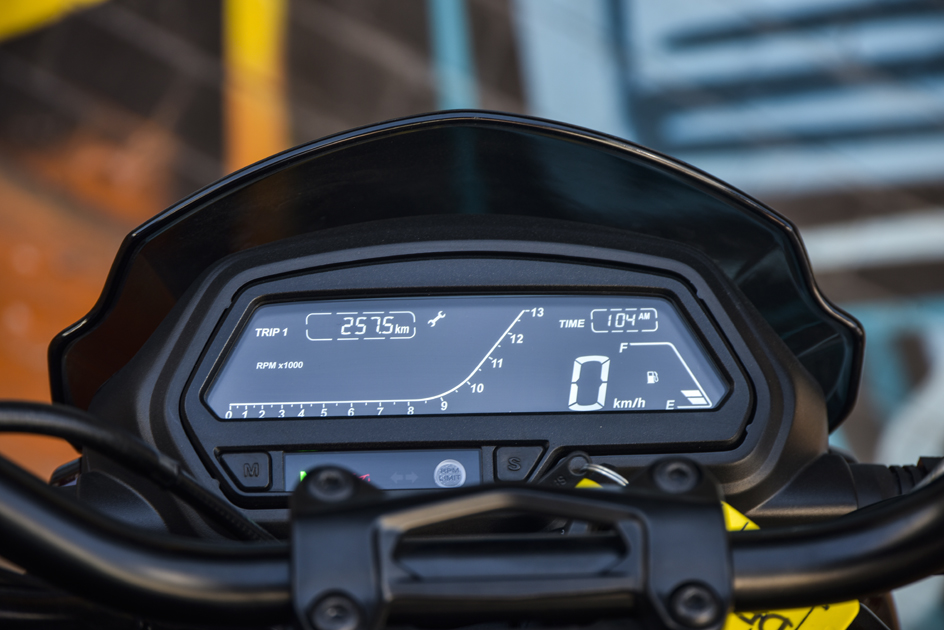 Brakes are by Bybre, with a 320 mm disc up front and a 230 mm rear. No problems there. The bike weighs 182 kg's and is sizable enough to be comfortable for riders of all sizes.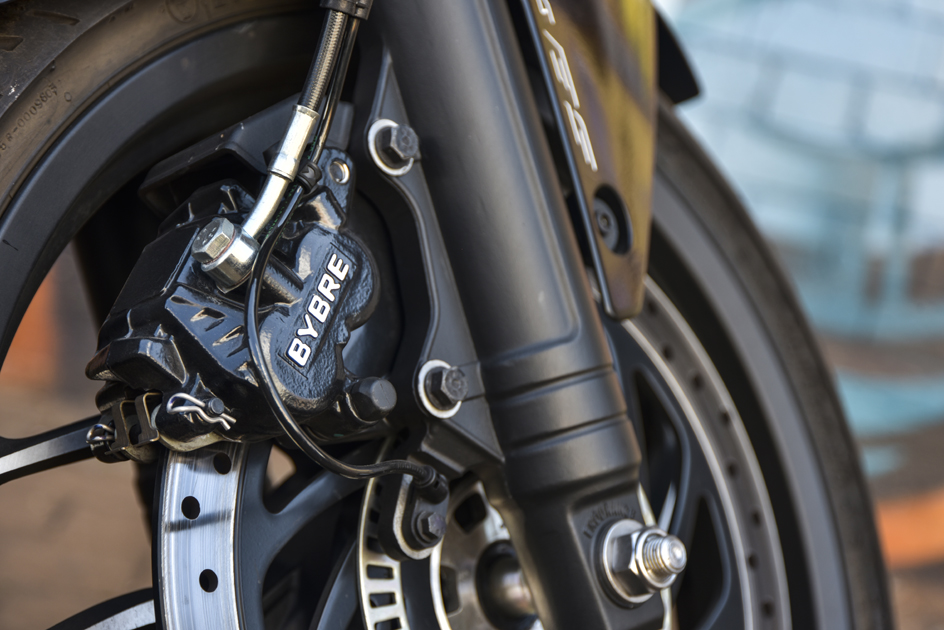 The fly-screen alluded to earlier, which is attached to the headlight housing, does very little to deflect much wind. Makes me wonder why they wouldn't just make it 10 to 15 centimetres longer, then it would fulfill some function rather than purely cosmetic. Lights are LED and excellent, as is the hooter. Makes the horn on my BMW R 1200 GS Adventure sound piddly!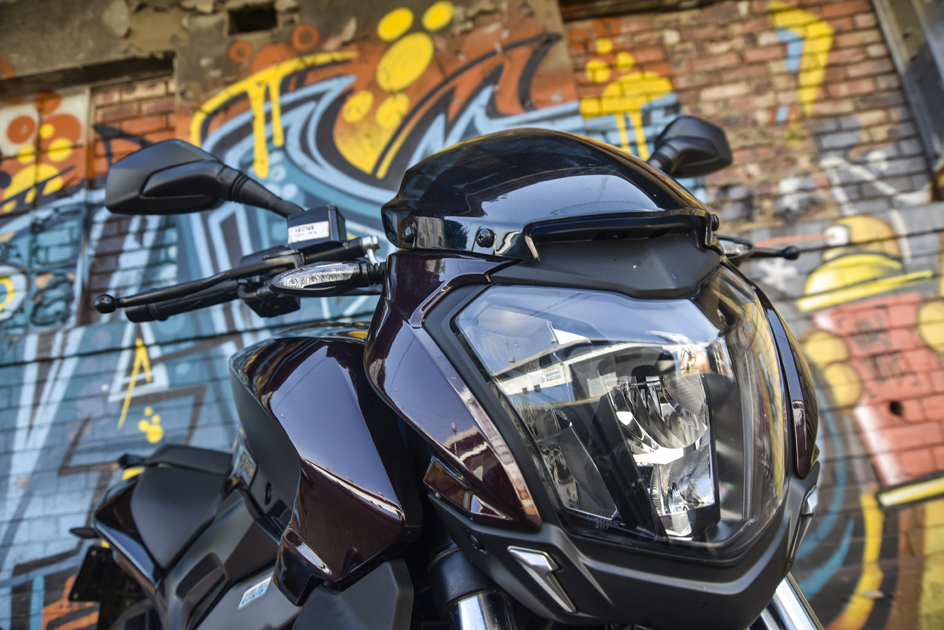 All in all the Bajaj Dominar 400 makes a significant statement as a value for money commuter, or, for that matter, adapted for commercial duty. R56,500 is really not a lot of money for what is a solid and capable bike that is likely to perform well for many thousands of kilometres. Bring in the 2019 model with it's uprated spec and funky colours and more peppy motor and I could definitely be tempted.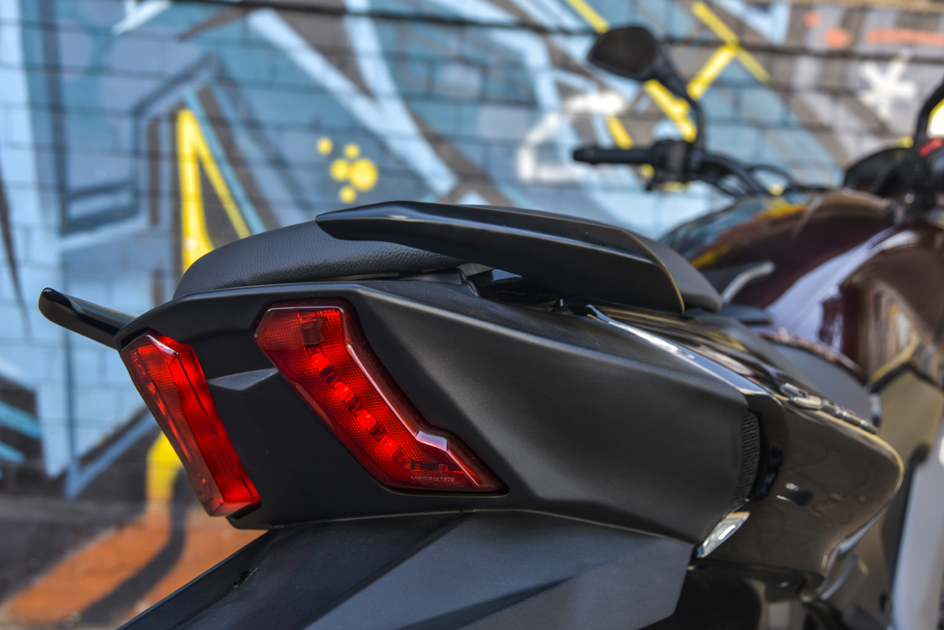 This bike offers pretty much what the BMW 310 R does, but at a significant discount. Worth thinking seriously about.
For more information visit: www.bikerswarehouse.co.za