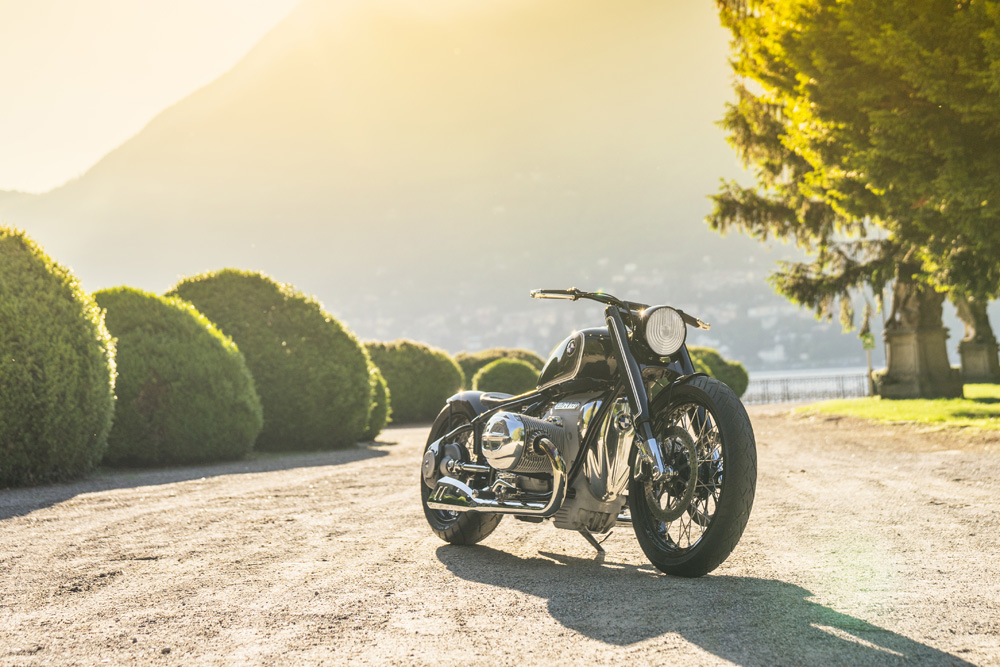 It has been some time since BMW played in the Cruiser space with their R 1200 C. That could all be set to change. BMW Motorrad unveiled the R18 Concept at the Concorso d'Eleganza Villa d'Este held at Cernobbio recently. Concepts are always fascinating to dissect because they give an indication of how the winds of creativity are blowing. In a way, German thinking does not lend itself to the development of this kind of bike. The Teutonic tendency is typically more focussed on function than on form. Take their GS as an example. The "Captain Beaky" styling had opinions very divided when the original R 1100 GS was launched. Over the years, possibly as a result of the GS's huge success, it has become a familiar shape that we have grown accustomed to and become to like. In the deep recesses of our brains, we have possibly started to associate the GS shape with what the bike represents and in a weird way, function has made us accept the form.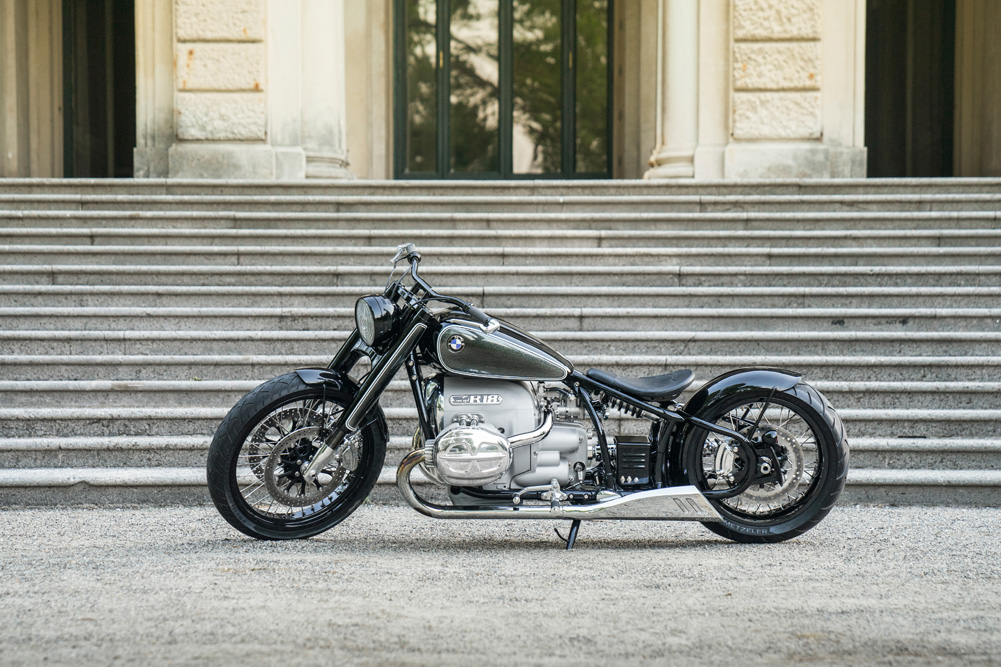 Enter the R18. At first passing glance, it is hugely reminiscent of the early Bee Emm's right back to the R28 and on. Designer, Bart Janssen-Groesbeek has reached deep into the nostalgia bin and built a motorcycle that is something really special. I have, and this is totally a personal view, never considered the Boxer motor as an obvious choice for a custom build.
Slim and trim has always had more appeal for me. When a manufacturer looks to iconic motorcycles from their past and builds a modern interpretation, it is a totally different thing. They are not trying to be someone, or something else, but rather who they are! So it is with the R18. The low slung, rigid frame appearance with the classically BMW styled tank, complete with hand-painted pinstripes is absolutely beautiful.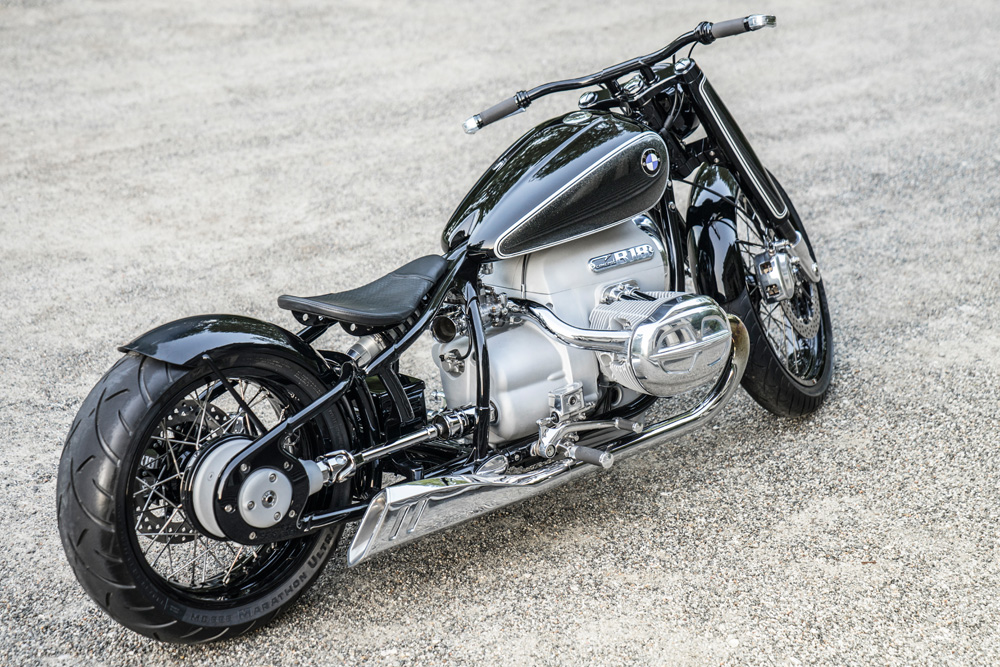 Wheels are oversize, but not in width but rather in diameter, 21 and 18 inches fore and aft, again in keeping with bikes of yesteryear. The exposed shaft, chromed to stand out, even more, looks spindly, yet Oh so right. The diff is small and tidy driving a black hub laced with shiny spokes to a black rim. A beautiful long Bobber type fender hugs the wheel, also finished in translucent black. A gold tinted clear coat gives the paint a wondrous lustre in the light. Truly spectacular.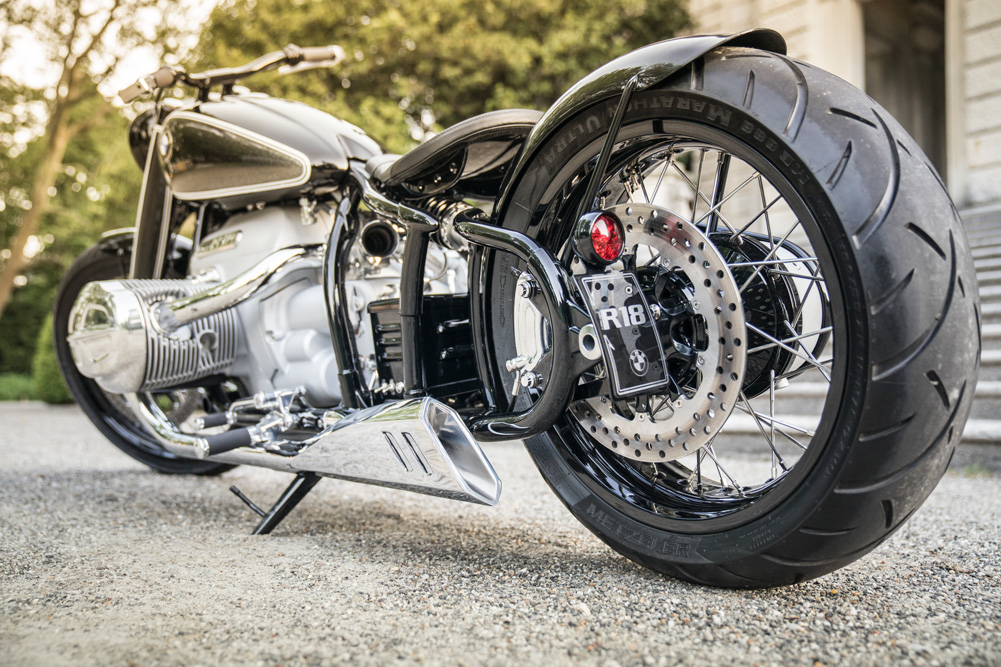 The bike has an almost visceral appeal. Not only does it evoke the urge to sling your leg over it and cruise off down endless byways, it is sooo easy on the eye. Sip on a coffee and just eyeball the bike. Run your gaze over the detail. The simplicity of it all. Upside down front forks with pinstriped shrouds. A wide, essentially flat handlebar. The headlight is smallish, black and simple.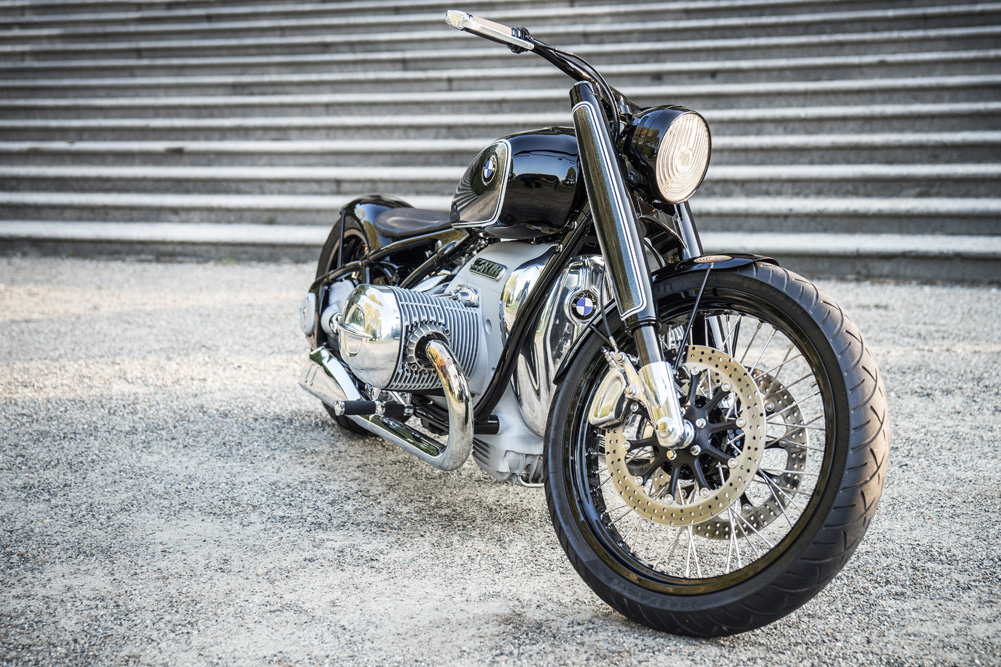 The only detail being dimpled grooves that are so classy. The Concept bike is devoid of instruments, accentuating the simple design and classic lines. And then there is the engine. Boxer layout, obviously, but a whopping 1800cc. Hence the R18 tag. The glass bead blasted satin aluminium finish is set off by a highly polished front timing cover. The classic blue and white BMW roundel subtly adorns the bike here and there. Everything hangs together in a way that looks just right. At this point the bike sports a Bobber style single seat, covered in embossed leather, of course.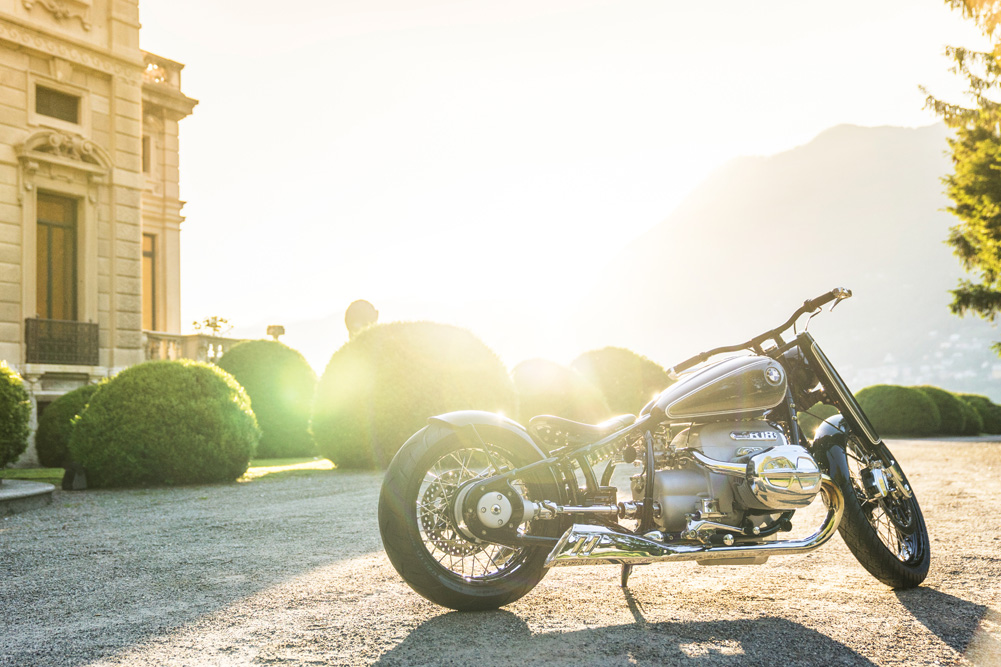 For me, this motorcycle opens up a new world of possibility for BMW. Granted it will undergo some changes before production. The Concept has carbs which won't work given emission rules in Europe and elsewhere. Some form of instrumentation will also be a must but notwithstanding these obvious issues, the direction BMW Motorrad have taken with this bike is so right for these times. In our ever-changing world, it is bikes like these that take us back to a time when things were so much simpler and made much more sense. As Edgar Heinrich, Head of BMW Motorrad Design so aptly says, "it is an analogue statement in a digital age".