I am in creative conversation with Miguel Lage, Dealer Principal at RAD Moto, Rivonia. He carefully studies the digital map and the route that I have proposed for our next soulful adventure, without saying a word. Lesotho has been his playground for many years and I value any input that he may have to share.
I get a grin on my face, as I study his – I love these moments! Moments when I see a grown man become a boy again. An adventure seeker to the core, he eventually breaks the silence and the wisdom starts to flow. He knows full well what we will encounter in the days ahead. I can see him shifting schedules around in his head, trying to find a way to join Hennie Olivier, Pieter Du Plessis and myself, to this biking paradise. It was not to be and I will keep haunting him to join us on future travels.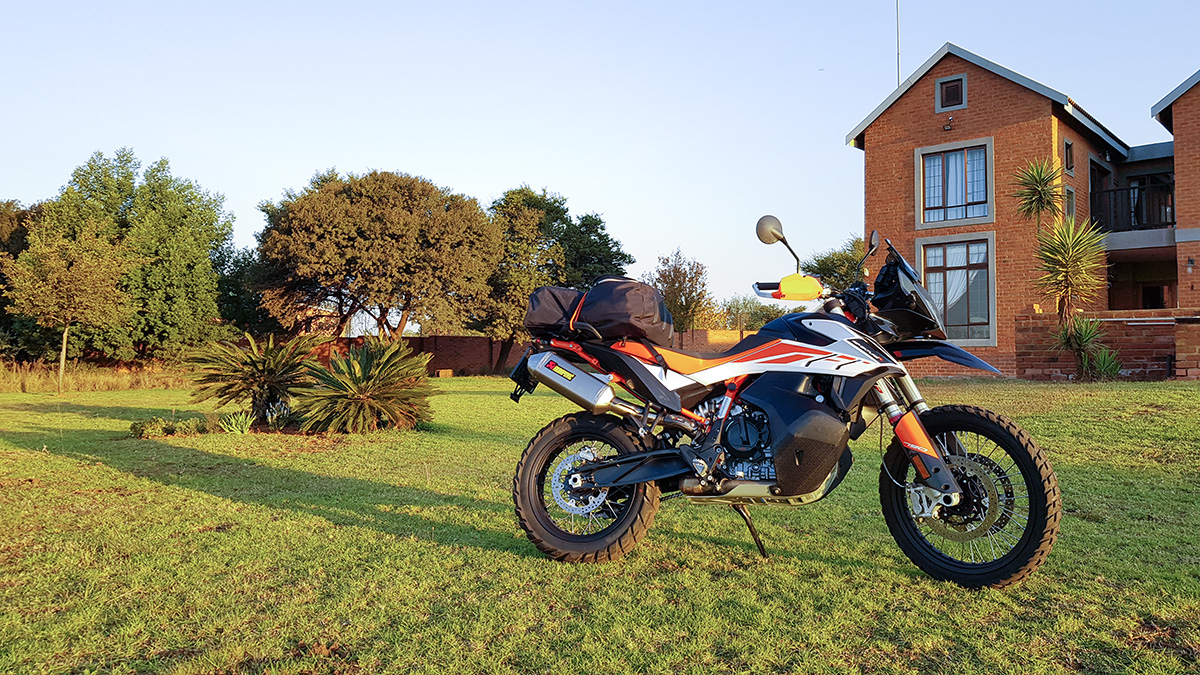 Back to the opening statement. The bike he is referring to is the new KTM 790 Adventure R. He believes this is the weapon of choice in KTM's vast arsenal of adventure sports motorcycles. Riaan Neveling, likeable Marketing Manager at KTM South Africa, was kind enough to arrange one for me as the backdrop to this experience.
The brief was simple; I wanted to test the KTM on a proper 5-day journey, with every conceivable type of terrain thrown into the mix. The weather would be moderate to cold, with no rain or snow forecast in the coming days. Camping equipment and the like, to be strapped onto the bike by means of a generic soft luggage system.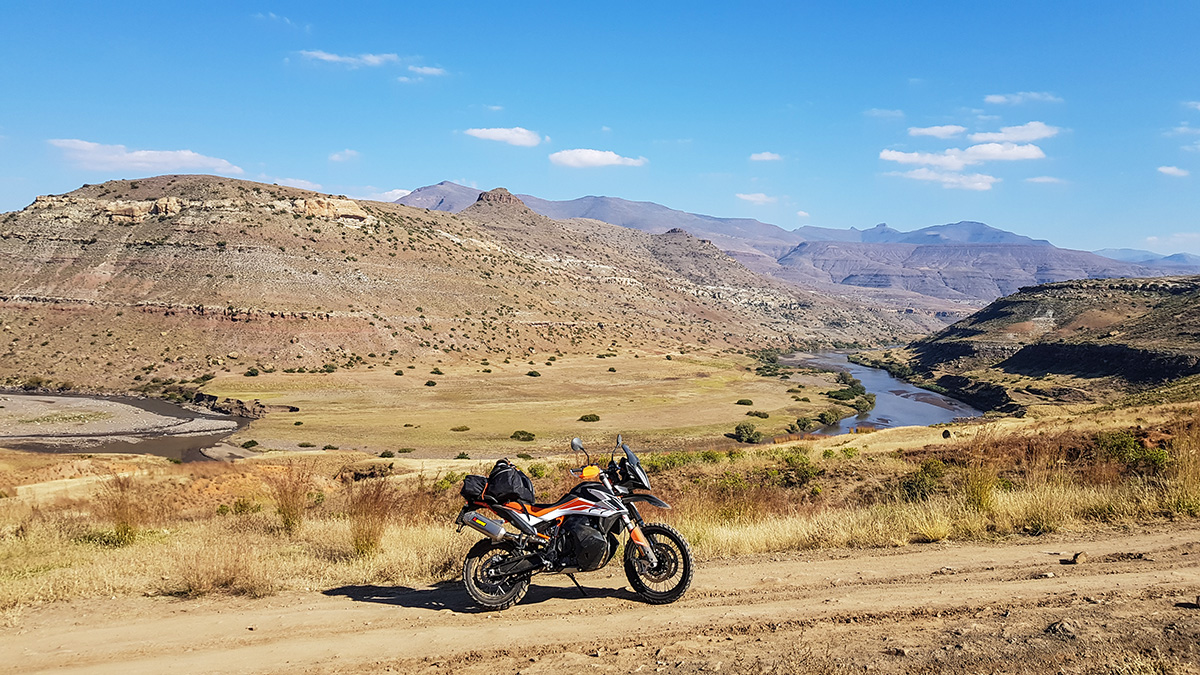 Riaan rose to this challenge without a moment's hesitation and started making the necessary arrangements. I was ultimately supplied with a squeaky clean 790 Adventure R, complete with Akrapovic slip-on. Even the chain had been meticulously cleaned and lubricated as a final touch. A few unavoidable battle scars gave the bike an authentic ring and we were good to go!
"Tally-ho" is a term used by modern-day fighter pilots when they engage the enemy in a dog fight – no holds barred. I felt like screaming this in my helmet as the scenic cattle tracks on the plains turned into a steep, twisty, rutted and badly maintained Matebeng Mountain Pass. Entering Lesotho from Matatiele on the South African side at Ramatsediso border post, which is towards the southeastern side of the Mountain Kingdom, you can look towards the vast, far-reaching mountain line and possibly see a communication tower. This signifies the summit at 2960 meters above sea level. Loose rocks strewn all over the place, we negotiate switchback after switchback on what seems like a never-ending climb.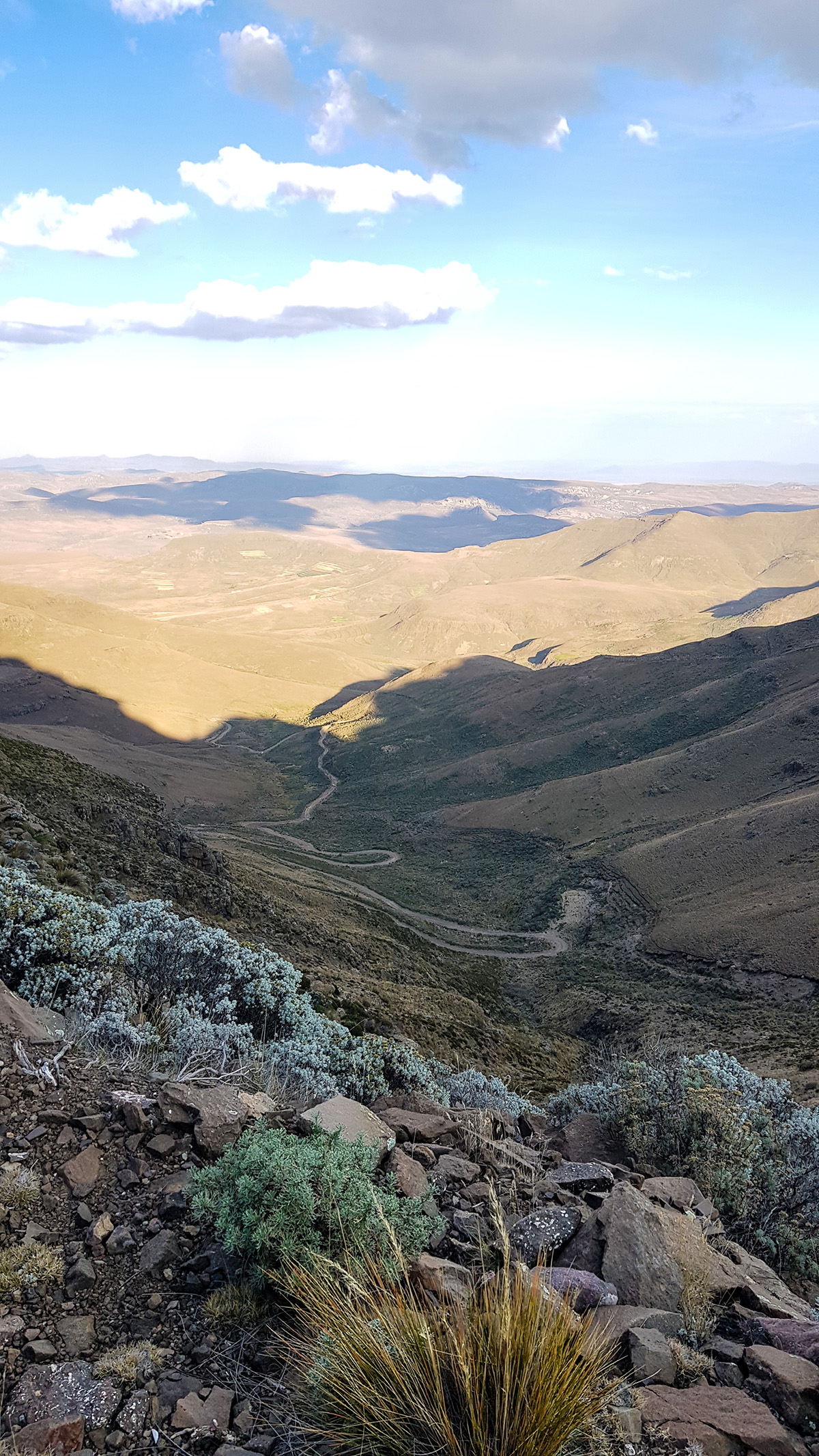 This is the stuff dreams are made off; the stuff that makes campfire stories come to life! I have to use my best behaviour not to put a foot wrong. Drawing on a few years of enduro riding experience, I wrestle to the summit, as mentioned previously, with only a communication tower and my two riding buddies gracing the endless mountain line. For the technically minded, the vertical elevation from the valley floor to the summit is 700 meters.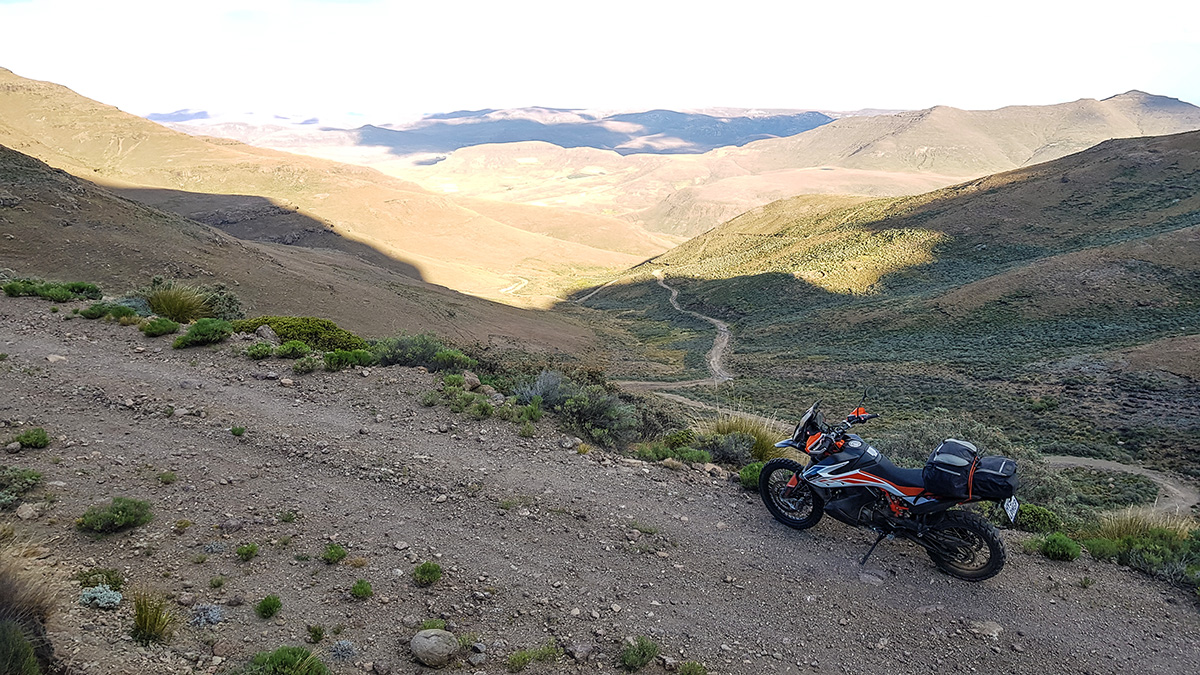 I stop for a brief moment to peruse our progress and make the decision to tackle the very challenging descent while my mind is in harmony with my body. For the first time, it was necessary to dab with the left foot from rock to rock while carefully modulating the rear brake in the standing position. The elevation drop on this descent was a staggering 1200 meters. Tense moments, as the last thing I want to do, is compromise the goodwill extended to me by KTM with the unconditional loan of this highly anticipated wonder machine.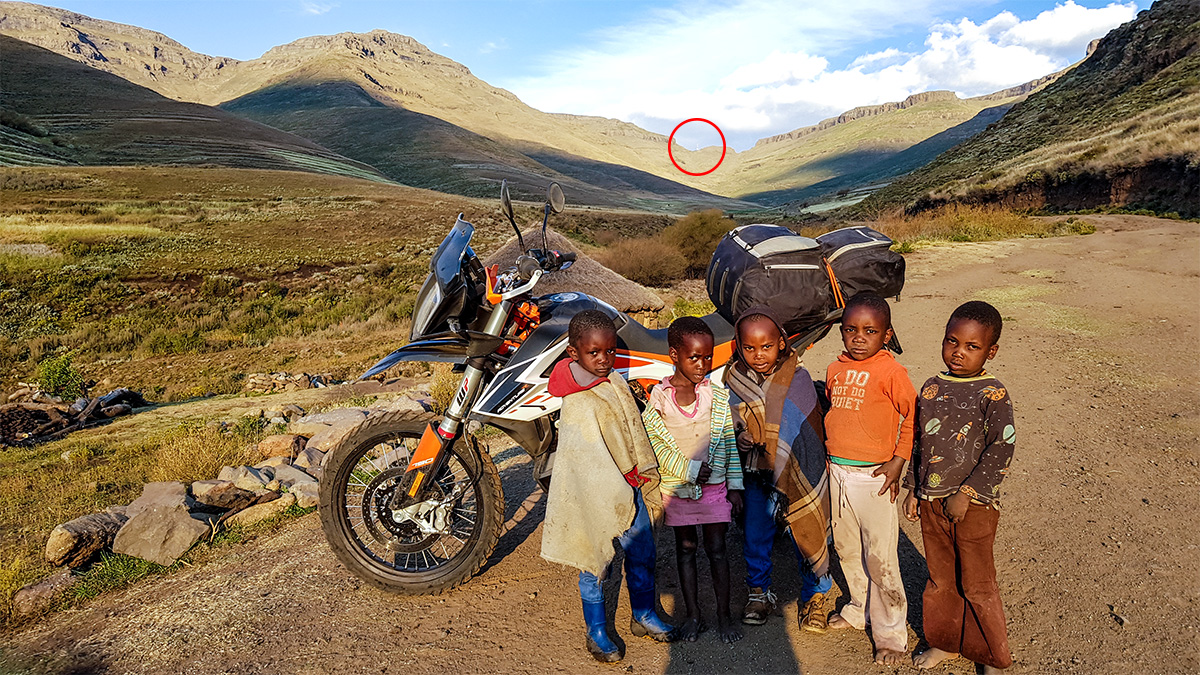 Eventually reaching the valley floor without incident and a fair bit of relief, we follow a twisty track that ultimately leads us into the most pleasing, secluded, camping spot and not a soul in sight. Majestic oak trees grace the crystal clear river line to the one side, while an imposing mountain towers over us to the other side.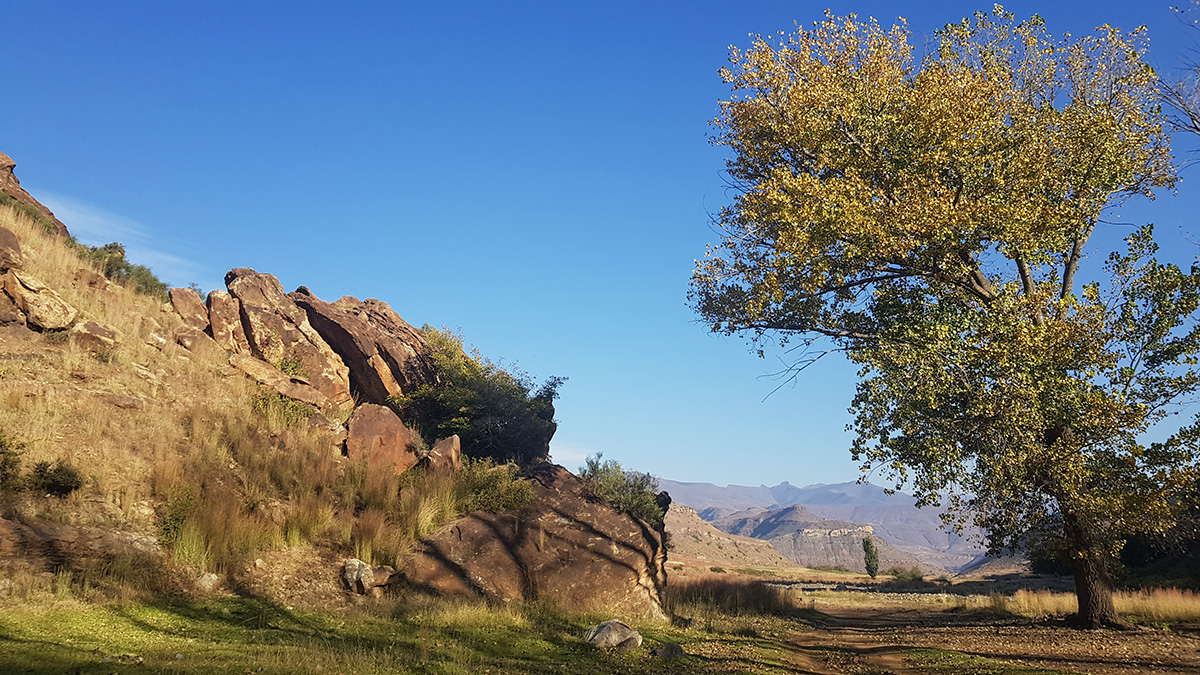 "This is where we will set camp for the night", exclaims Hennie while carefully watching my reaction. He knows all too well that this is the moments we live for. I look at my dream maker friend with a contented smile as we start setting up camp. Hennie and Pieter stumbled onto this piece of heaven on a previous visit and vouched that this will be our next camping spot under the African stars.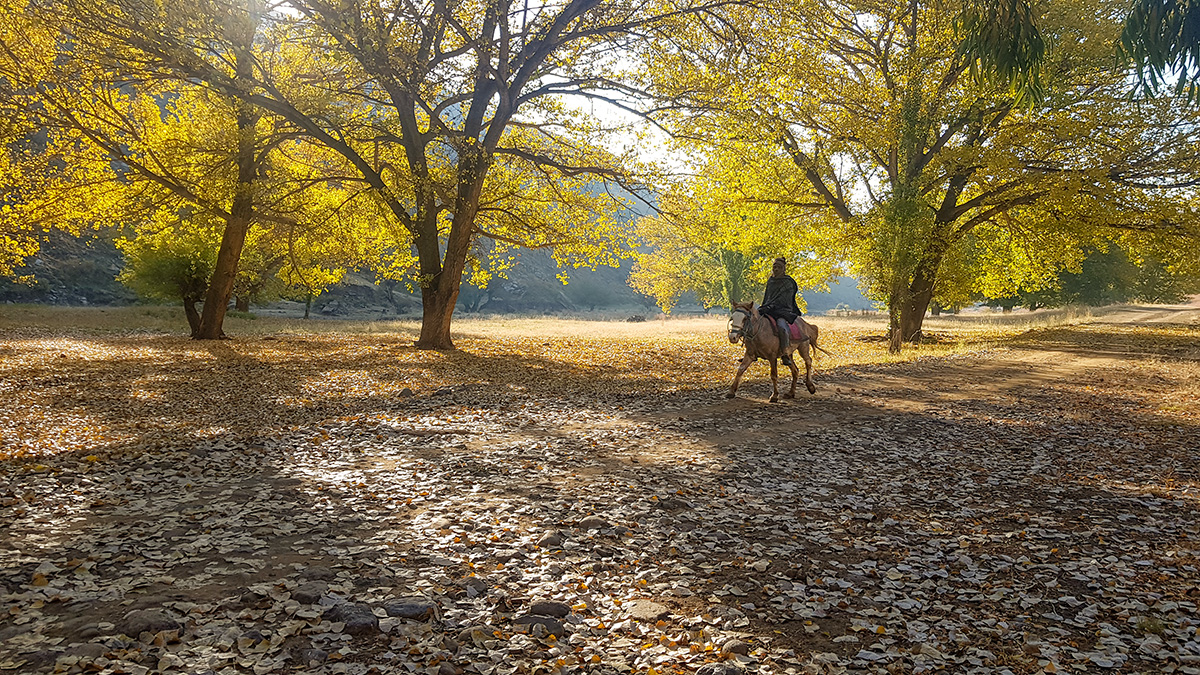 As the sun sets slowly, autumn colours accentuate the yellow oak leaves falling to the ground forming a rustling velvet carpet underfoot. We set up our tents facing each other, sharing a hot cup of coffee in the autumn chill and light-hearted conversation, we settled in for the night with an almost full moon peeking through our canvas tent walls. Who knows what tomorrow will bring…?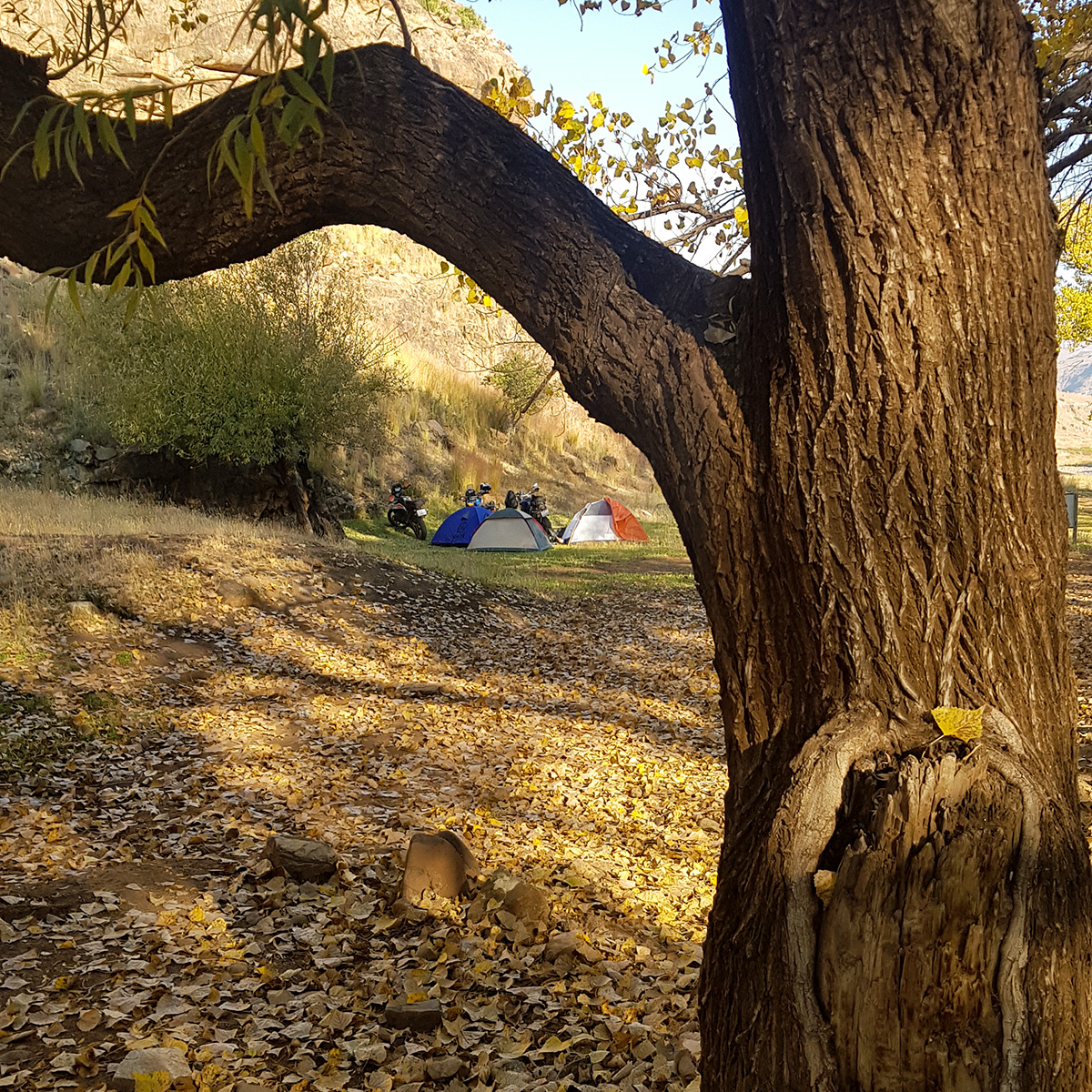 Day breaks and the lazy autumn sun is reluctant to show its face in this secluded, well-sheltered place. We decided to wake up early and just enjoy the surrounds for a few hours before moving on. This seems to have been a very wise choice as all sorts of friendly, curious visitors start showing up. First off was the sight and sound of the cattle herders, leading their livestock past the campsite and further up the mountain. Pieter is well versed in Sesotho and strikes up a friendly conversation.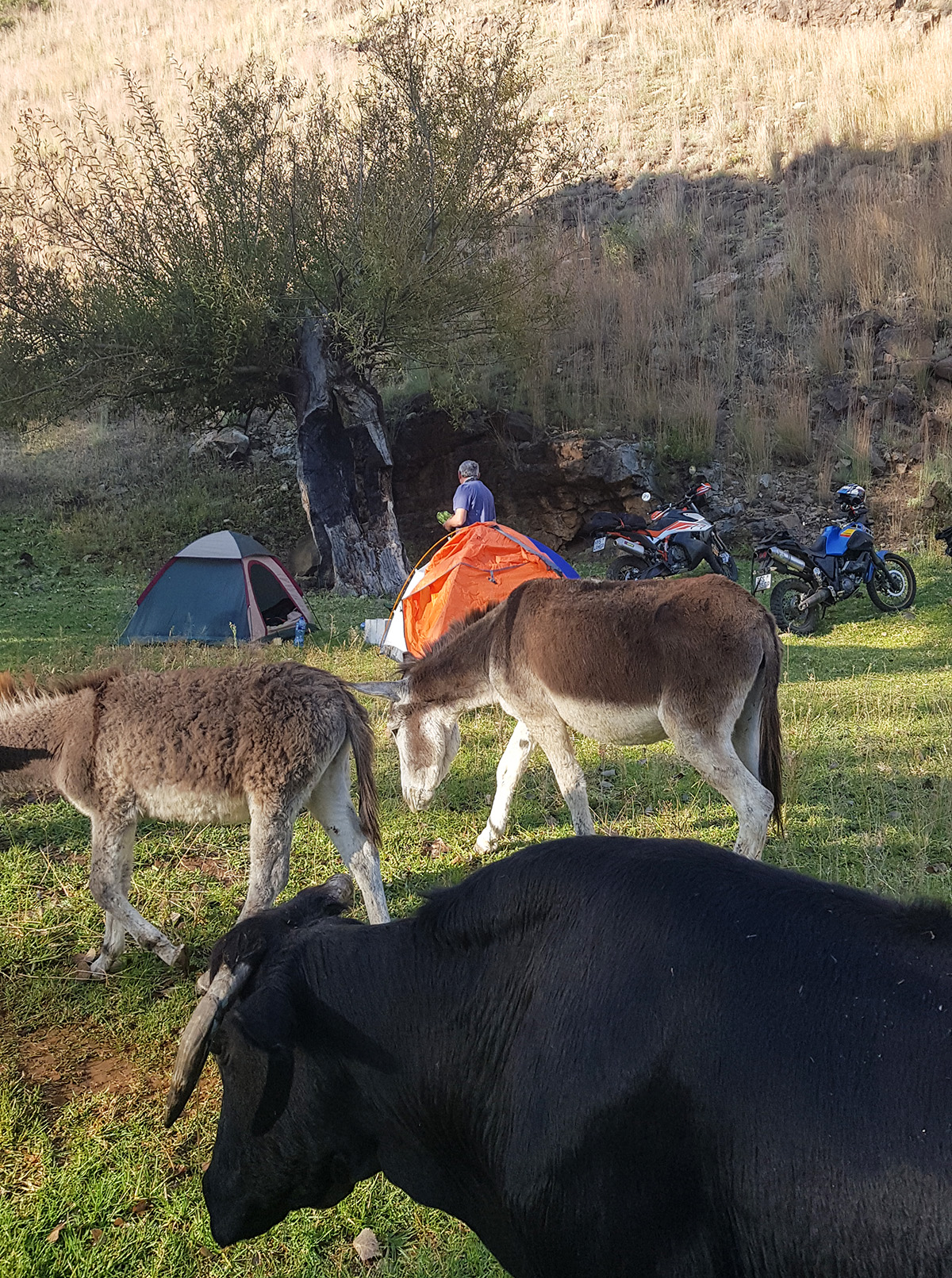 Next up was a symphony of bells as the sheepherders came past from the little village nearby. Rush hour was now in full swing and I could only chuckle when I met the sheepherder. Technology seems to find a way into every corner of this world as I noticed him holding a portable solar panel in each hand, carefully wired to the mini "jukebox" around his neck. Man, this was funny and so original. I made a video and took some pics. Of course, the friendly young man could not figure out what the fuss was about.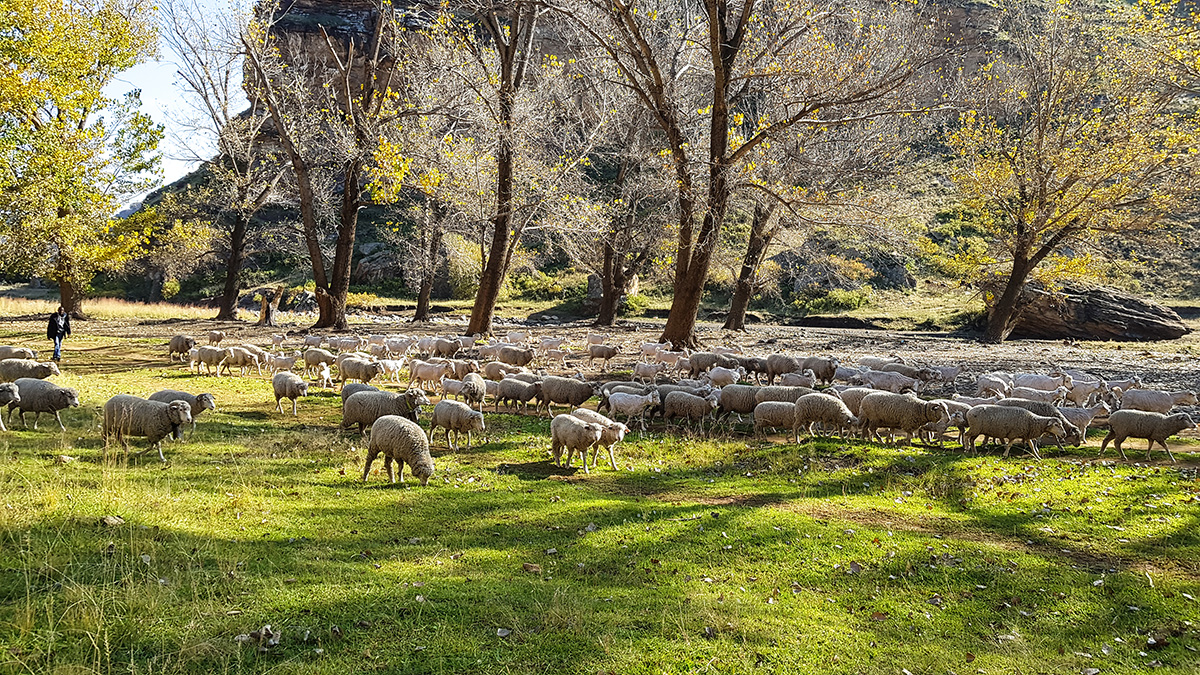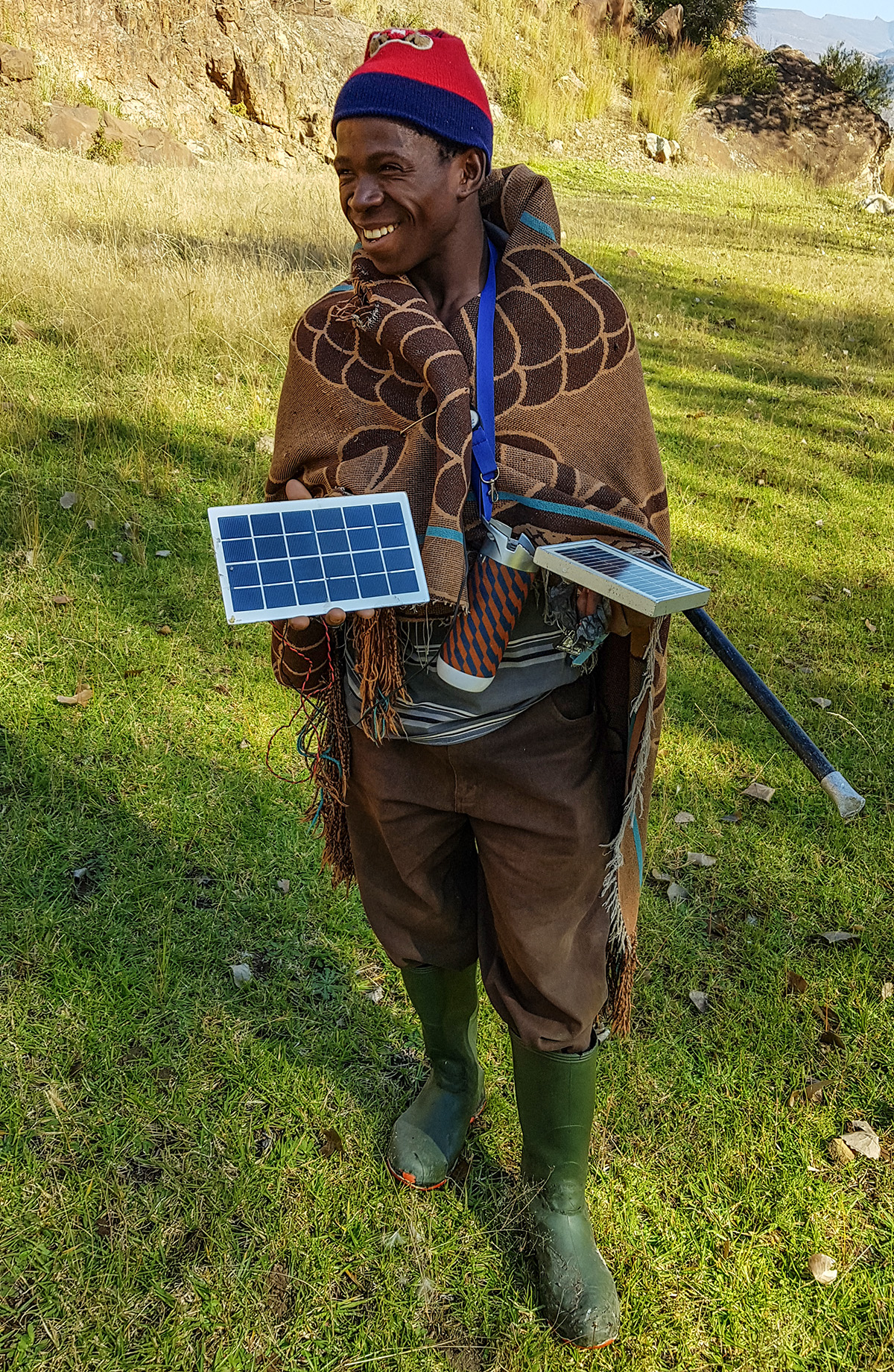 Soon afterwards we decided to take a dip in the icy mountain stream carving through our little piece of heaven. Hennie and I challenge ourselves on every trip by doing something out of the ordinary. It's about making memories, after all. Needless to say, this ordeal was quite entertaining for the locals but, for some reason, they could not be persuaded to join us. We took the opportunity to wash away the dust and dirt and just enjoy the near-freezing temperatures on offer. If you have not done this yet, then you are probably wiser than us….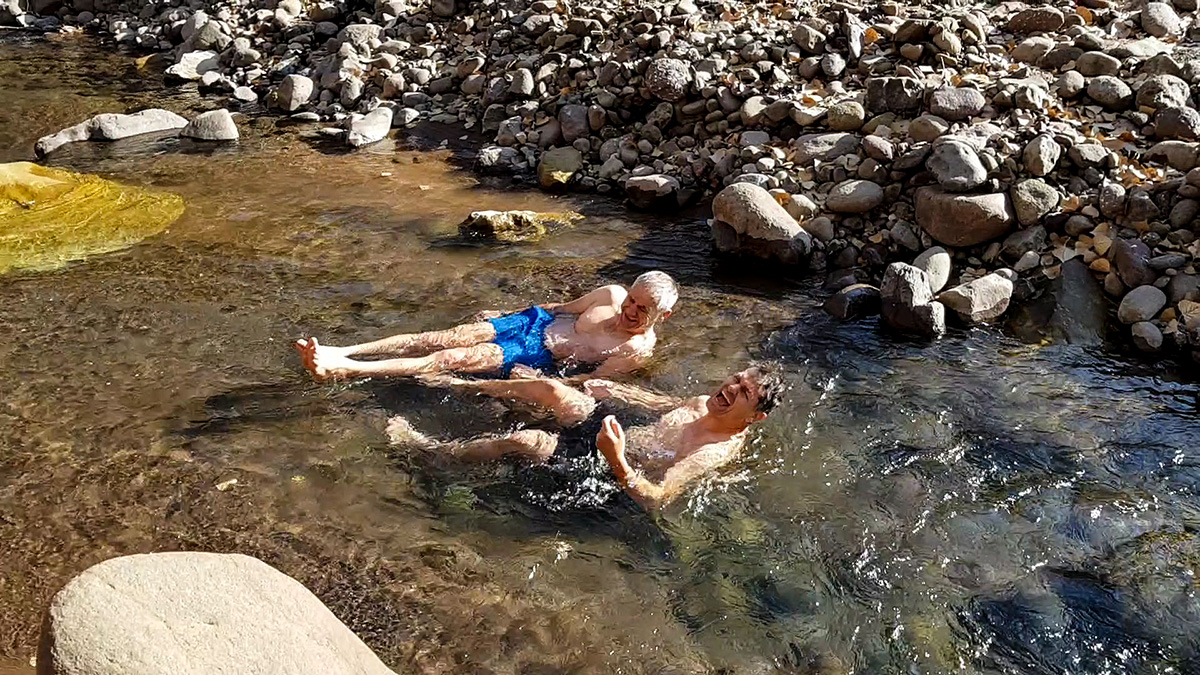 After some wholesome conversation with the campsite manager, we parted with a camping fee of thirty Rand per person. For our American friends, this equates to about two dollars. We signed the visitors' book and off we went on what promised to be another blissful day of clear weather and picture-perfect scenery.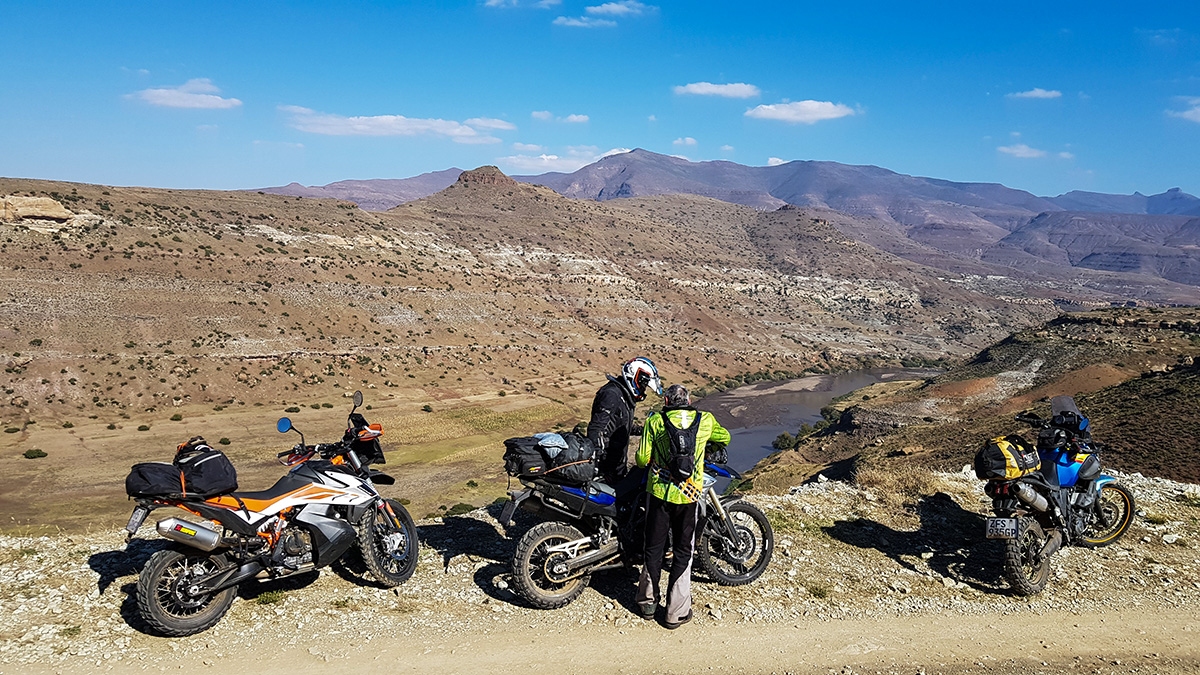 The smooth gravel road took us all along the Orange River over bridges, streams and glorious mountain passes with deeply carved valleys on either side. This is the unpaved road that leads from Matebeng to Taung. It seems that rainfall in this part of Lesotho is less as the gravel surfaces are in very good, smooth condition. Very little traffic and low population density epitomize the remoteness of this landlocked kingdom.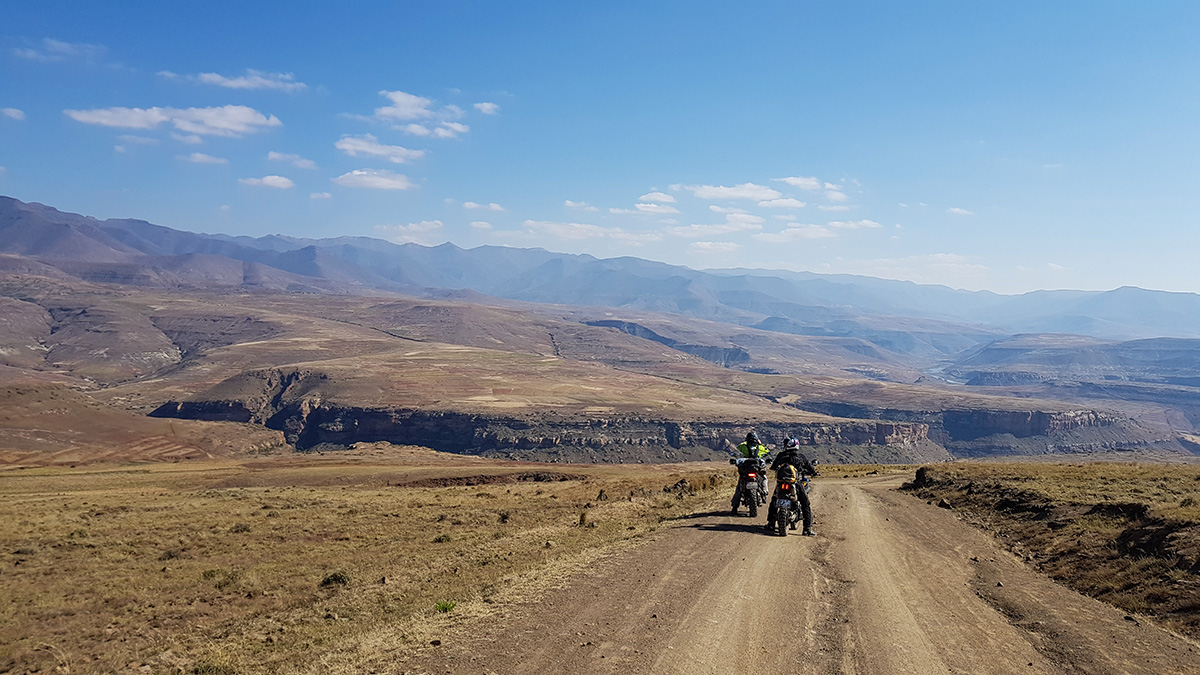 Due to the near-perfect conditions, we go on the offensive and test our limits on the KTM. Was this a revelation? The suspension and chassis seem to have been designed with this windy gravel road in mind! The harder I rode, the more composed the bike became. The power delivery was predictable, yet direct in the "Off-Road" setting. The OEM Metzeler Karoo 3 tyres could barely hold their own and I can remember wishing they were Michelin Anakee Wilds, which is my first choice adventure tyre at the moment. Small details aside, this bike made me feel like I could relaunch my now-defunct racing career. It was that good!
An immediate observation is that the suspension setting favours function over comfort. You get the best from this bike when riding it hard – that's just the way it is. I am sure that the suspension can be adjusted to favour comfort above ultimate performance, in order to suit touring type riding styles. I can remember laughing out loud as bike and scenery just mesmerized all sense and sensibility. On this very road, I waved Hennie and Pieter down and insisted that they each take a go at riding this wild child. There were smiles all round and it took them the rest of the day to remember that they were Yamaha and BMW fans respectively. We had huge fun all morning…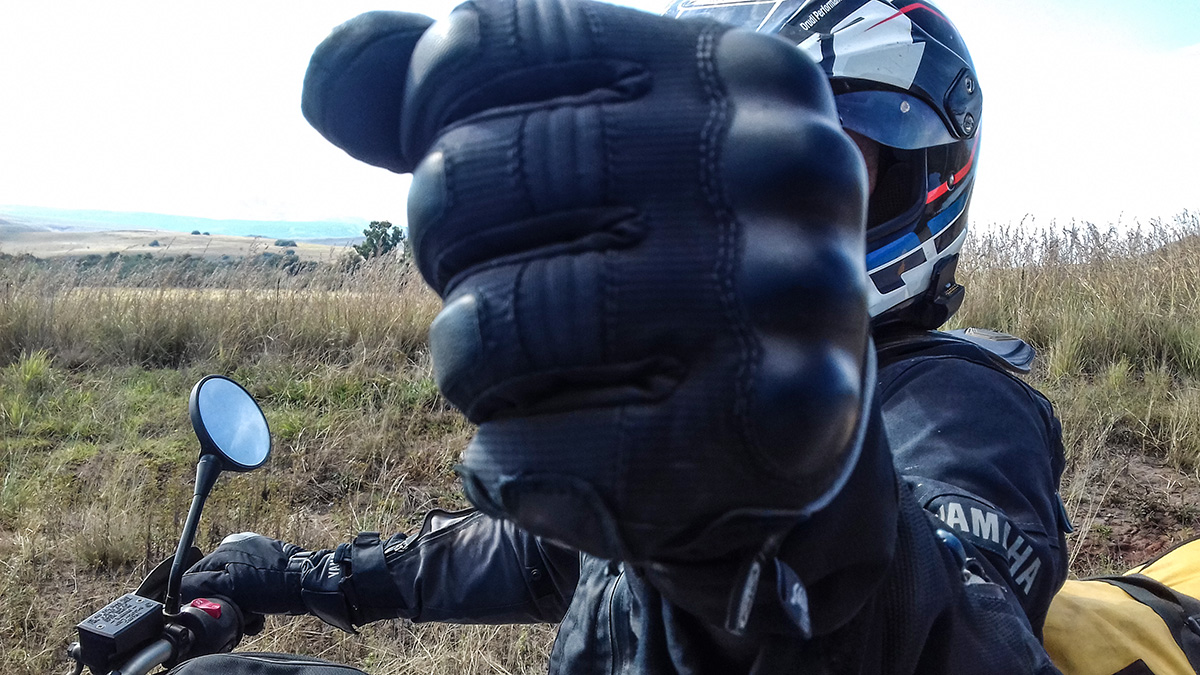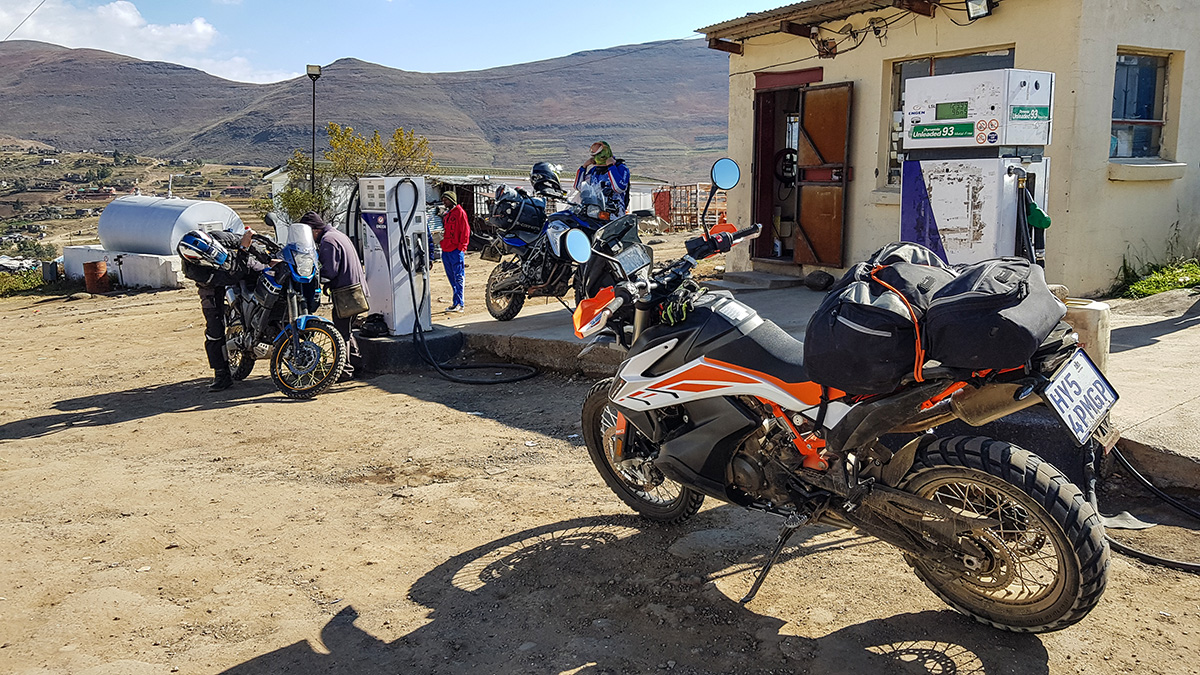 We refuel in Thaba Tseka and start making our way to Katse Lodge. This was another gravel road, wide and twisty, but badly rutted from ample rain in preceding weeks. This rocky surface was a real tester for man and machine! Over the years, I have learned to take decent, smooth lines through these kinds of corners out of respect for my equipment. It was on the 790R that I realized this no longer applies. I could select just about any line through these wide corners. With this kind of suspension performance, the inside line was perfect, but so was the middle line and the outside. This was just crazy. Some corners would see me seated and others would see my 'full-on-attack' mode in the standing position.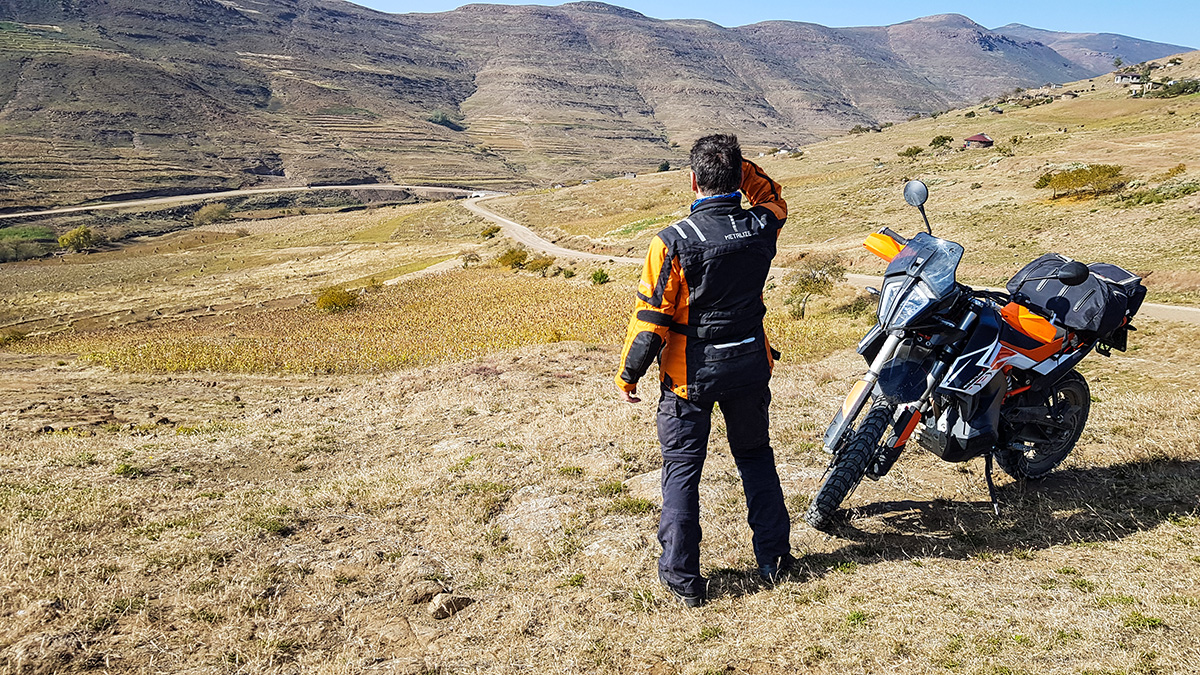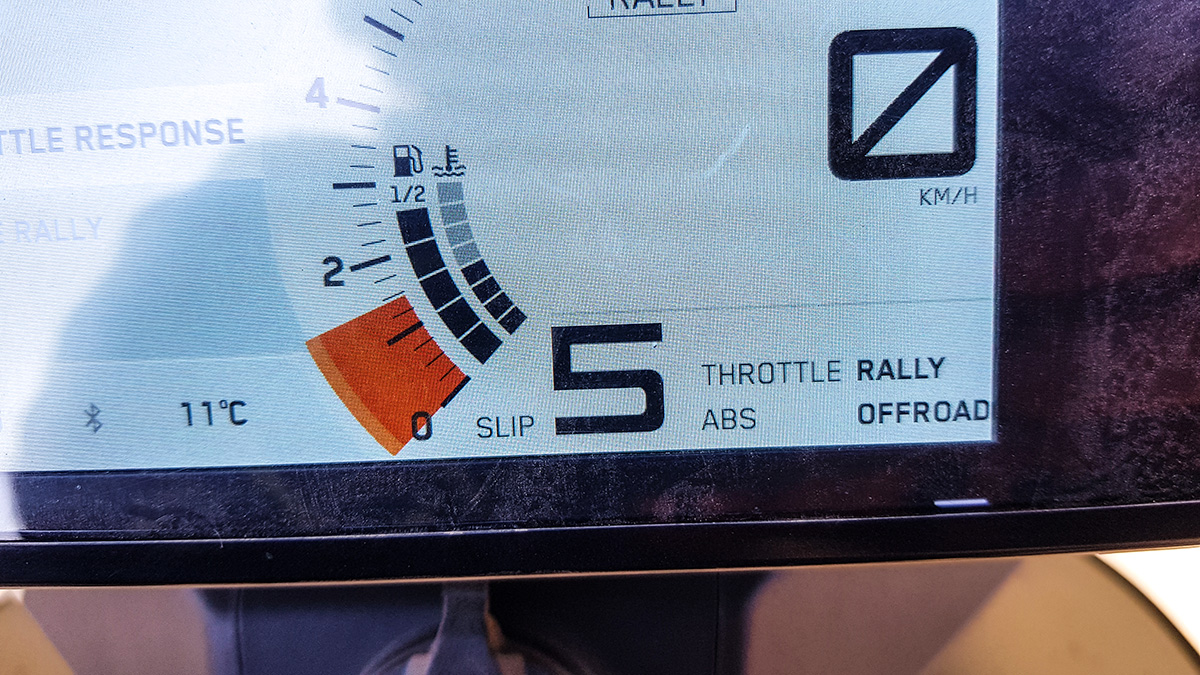 It was on these roads that I tested the 'Rally' mode. This transformed the bike into an off-road animal. Do not try this mode if you are in the wrong headspace. The difference from "Off-Road" mode to "Rally" mode is immediately tangible. The throttle response becomes brutish and demands your full attention! With this kind of riding my soft luggage started ripping to shreds and would never be the same again. I made a plan with some of my old faithful bungee hooks, in order for me to ignore this fact and have some more fun. We reached Katse Lodge shortly before dark, where we bunked for the night, enjoying some good food and a decent shower. We sat on comfortable couches by the fireplace until it was time to get some rest.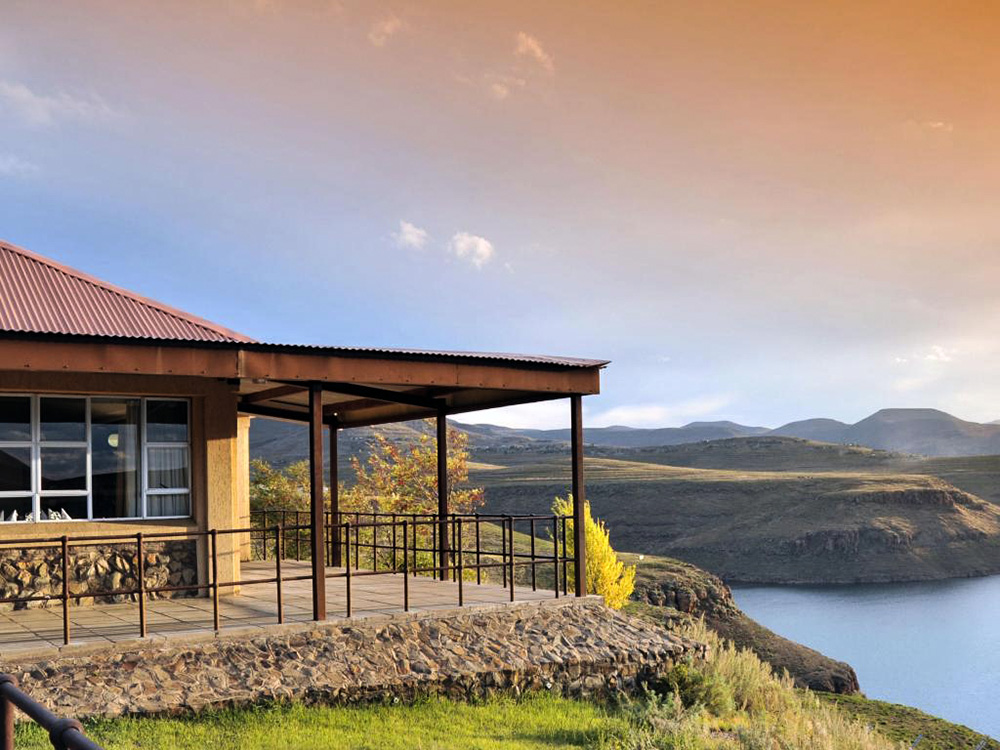 Well rested, we woke up early to capture the sunrise over Katse Dam. Another good day beckons. We took this wild route back to Thaba Tseka for a refuel. From here we followed the tarred A3 and A5 towards Roma, Ramabanta and ultimately to Semonkong Lodge for a late lunch. Dear reader, these are small sentences that cannot begin to encapsulate these amazing roads. It was heaven on earth. There were many miles where we rode on the crest of the mountain ranges with deep valleys on either side. The quality of the surface was amazing as these roads see very little traffic and hardly any cattle. After two hard days off-road, traversing these mirror-smooth roads felt like a gift from above.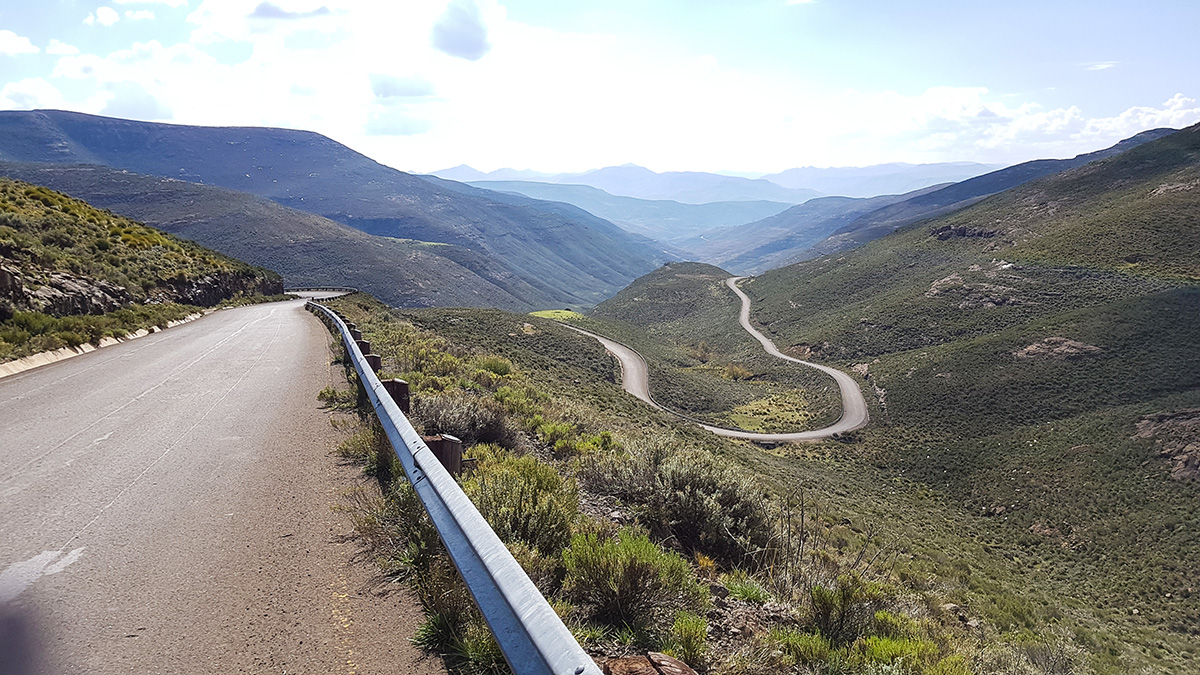 This is where the Metzeler Karoo 3 tyres stamp their authority as possibly the best tar road adventure tyre around – I could throw that 790 from side to side with reckless abandon. I moved into what I call the 'Zero Zone'; my description for the perfect ride in perfect conditions. We eventually pass the towns of Roma and Ramabanta and then onwards to Semonkong Lodge in the early afternoon where we encountered some American tourists and a well deserved late lunch. We were in very high spirits, as this trip escalated from good, – to better – to brilliant!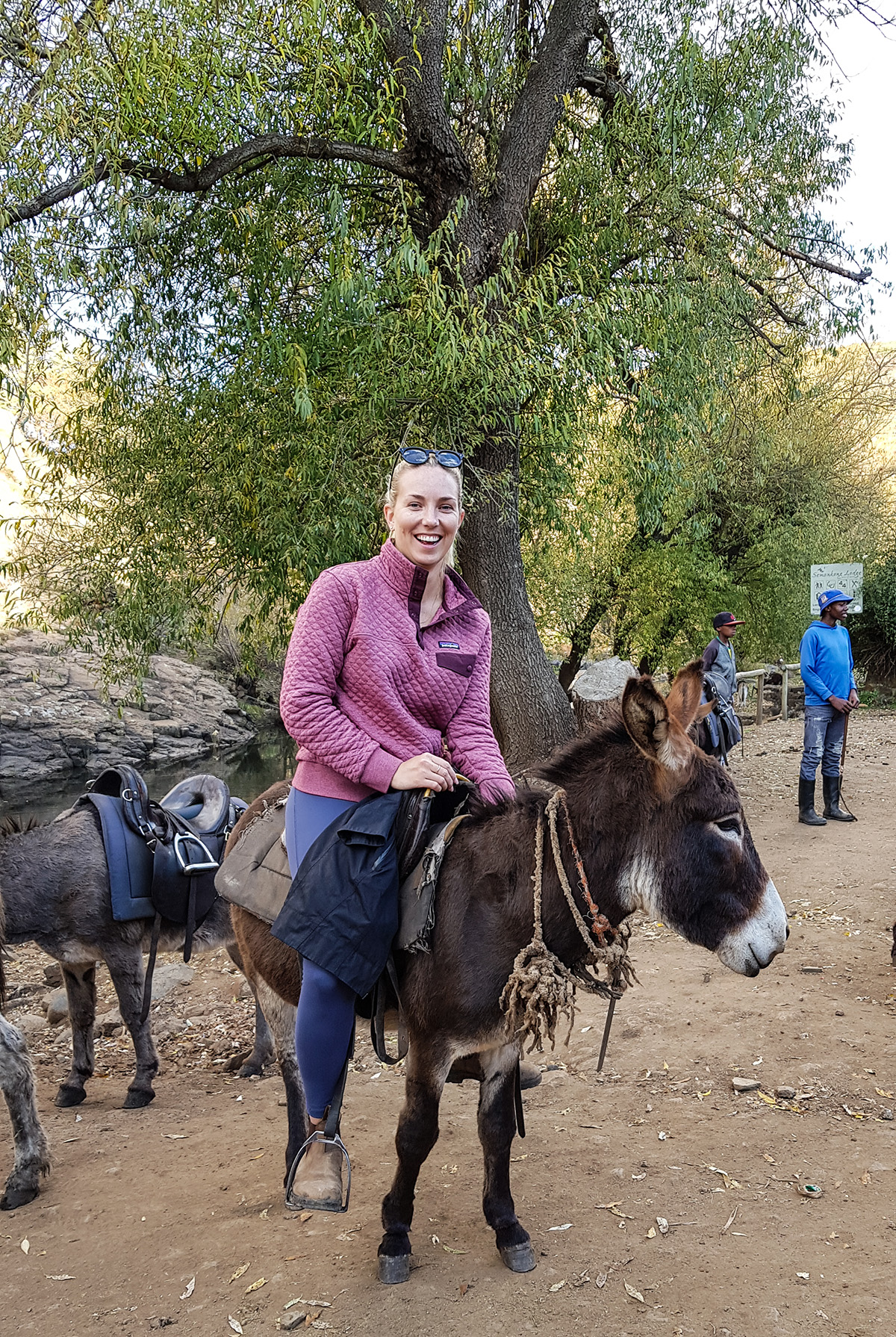 As mentioned in previous travel blogs, we like to travel towards a theme rather than merely a destination. This ensures an open canvas, allowing creativity about routes and places to visit. I have been fortunate enough to align myself with like-minded people from all walks of life in this pursuit. Hennie Olivier is a well-travelled, highly entertaining specimen. He is a master at putting routes together that needs very little modification. We have travelled to weird and wonderful places together and there are certainly no plans to stop doing this in the near future. Pieter Du Plessis is the kind of person you want on every trip. He is a soft-spoken, easy-going individual. He is a very competent rider that you never have to worry about or look after. He goes wherever the road leads and is well organised. He also speaks a few native languages which are invaluable when we find ourselves in the remotest parts, far from civilisation.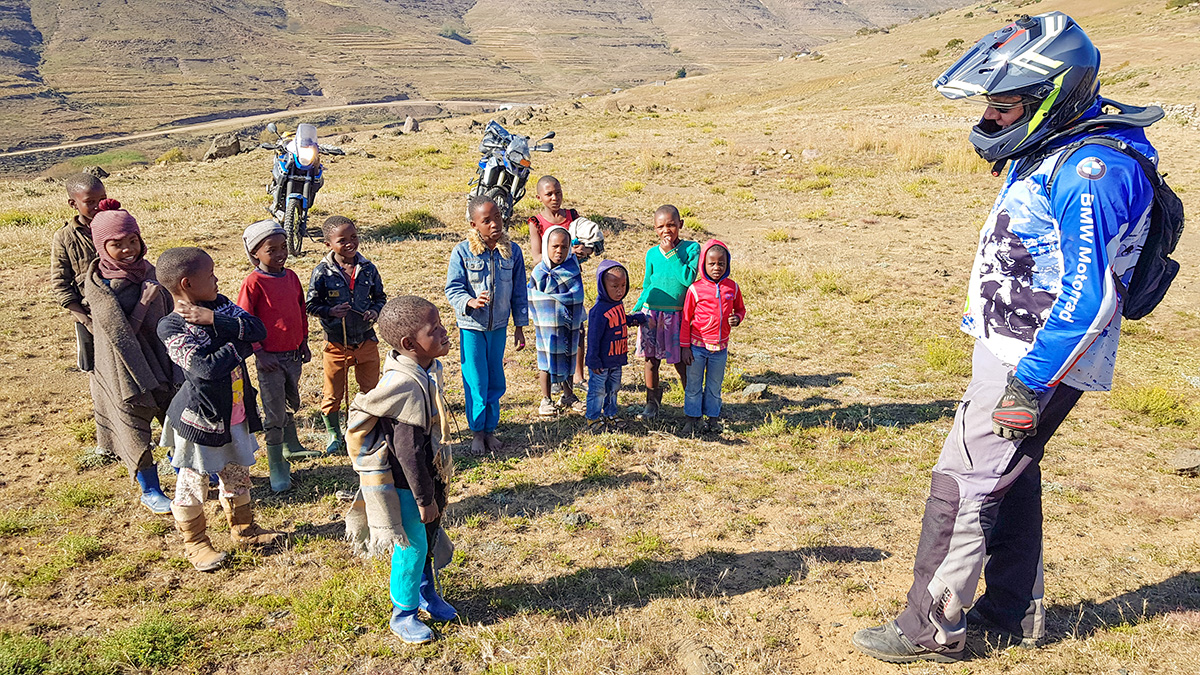 Shortly after our last excursion, I mentioned that I would someday like to pitch my tent right on the escarpment overlooking the Maletsunyane Waterfall close to the town of Semonkong. Next thing I knew, Hennie had the whole route mapped out and raring to go. Travel buddy Cobus Bekker could not make it due to professional commitments, so in the end, it was Pieter, Hennie and myself.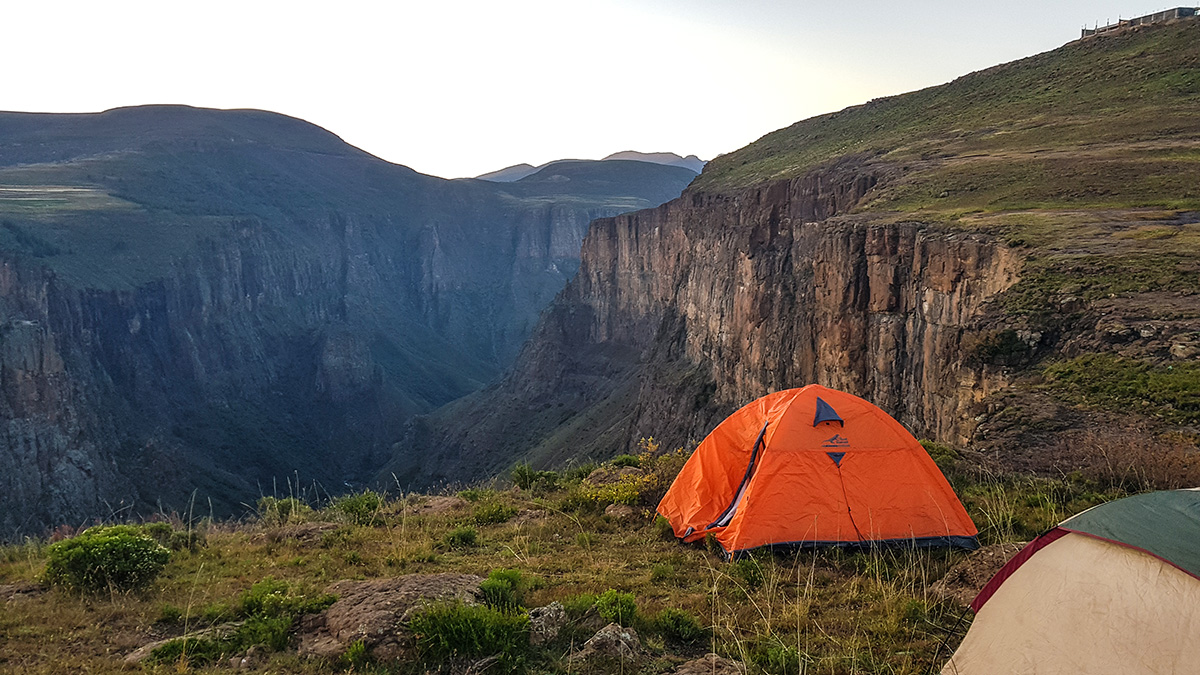 Maletsunyane Waterfall is one of the highest single-drop waterfalls in the Southern Hemisphere. It plummets a staggering 192 meters from top to bottom and is a glorious sight to see. We were fortunate enough not to just see it, but camp on the escarpment in full view of the raging water. This was the 'destination' part of our trip; the embodiment of our brief. Needless to say, this is a must-do activity while it is still somewhat of a secret. Lying in our tents that night, listening to the sound of the laughing waters, the full moon as our backdrop, makes me relive the last few days. I dream myself to sleep…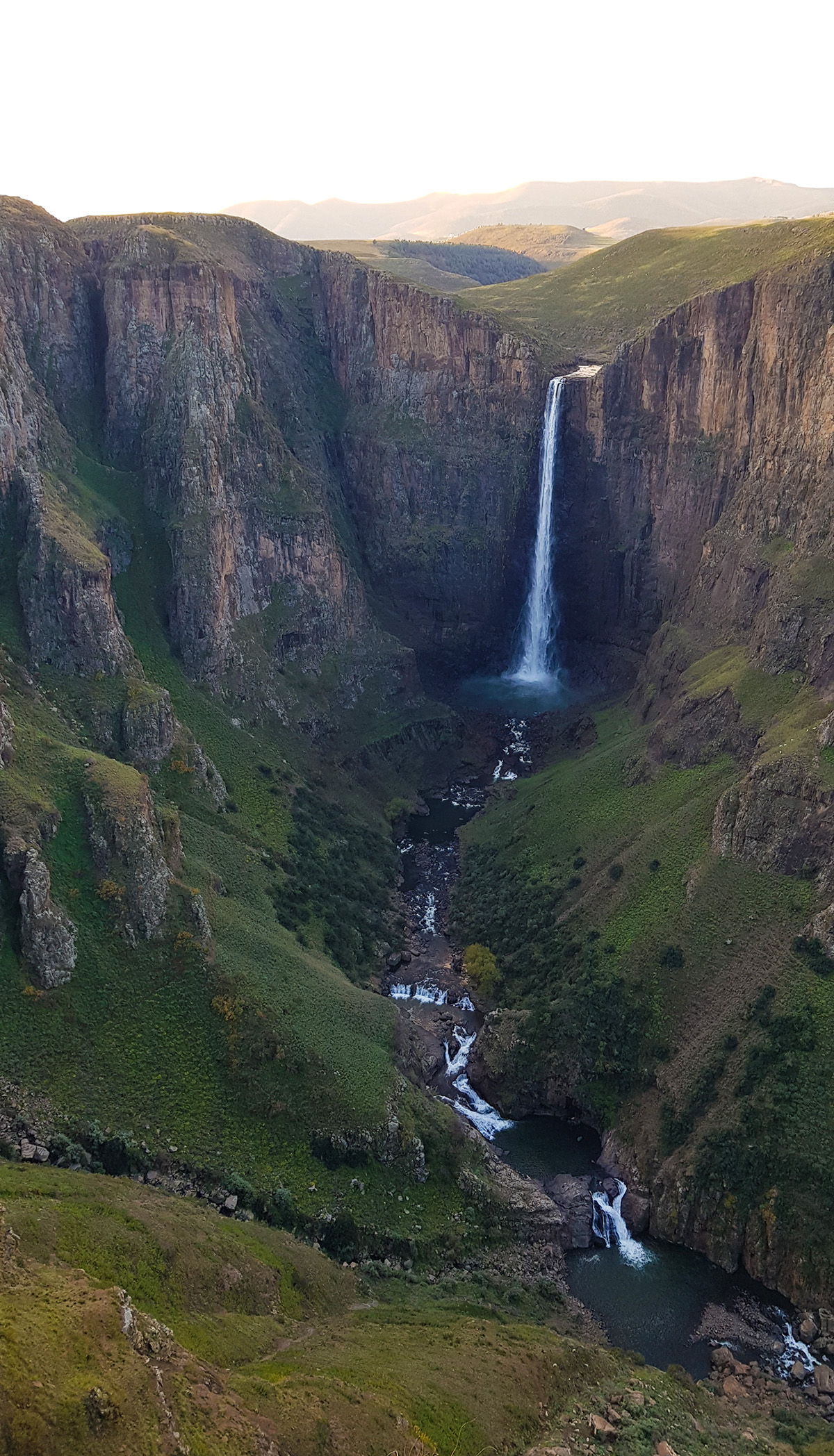 The next morning saw some more antics and laughter as we slowly packed-up to head home, back to the Big Smoke and an altogether different kind of sound. Hennie led us through to Peka Border Post, close to Ficksburg, in our bid to make it back home. I declined their offer for lunch in Bethlehem, as I wanted to revisit these amazing days in the privacy of my helmet, with the muffled sound of the wind through my earplugs, pondering why we ride.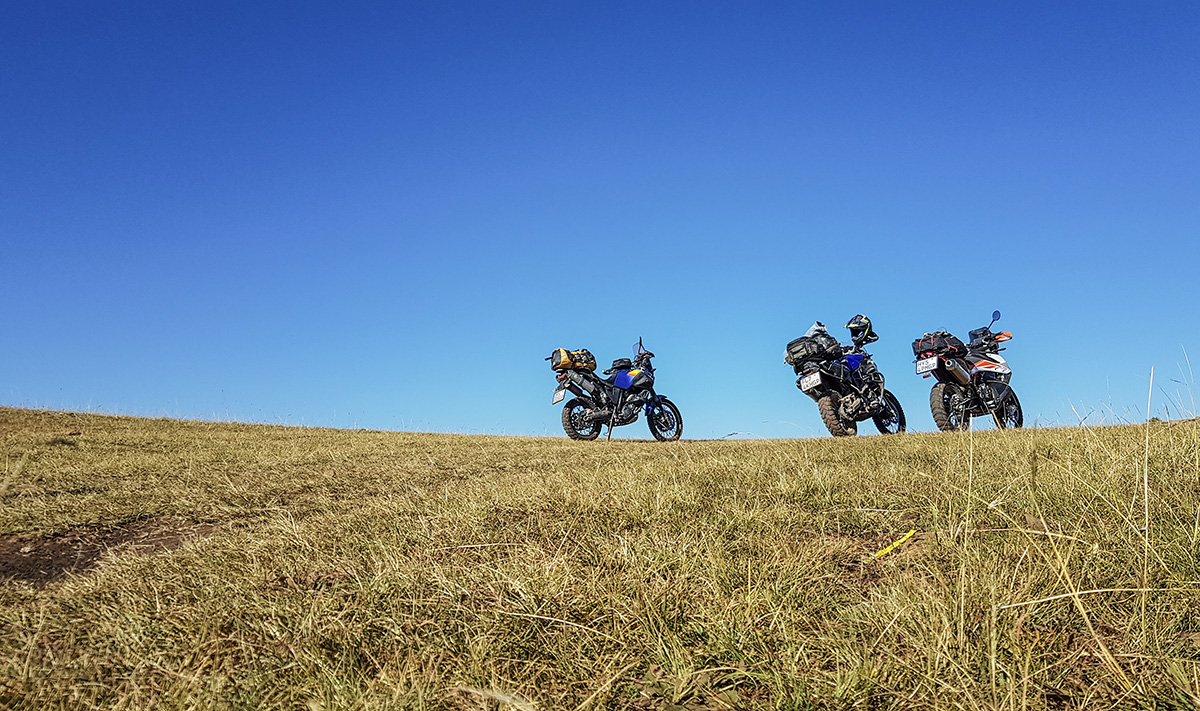 The answer to this never really seems to fall on the tongue because there are just so many reasons as to why we do what we do. It's somewhat like a pilgrimage; a religious experience; a self-awakening; an educator of sorts, and a sure way to keep us humble.
Onto the next adventure, discovering a world of endless wonder…