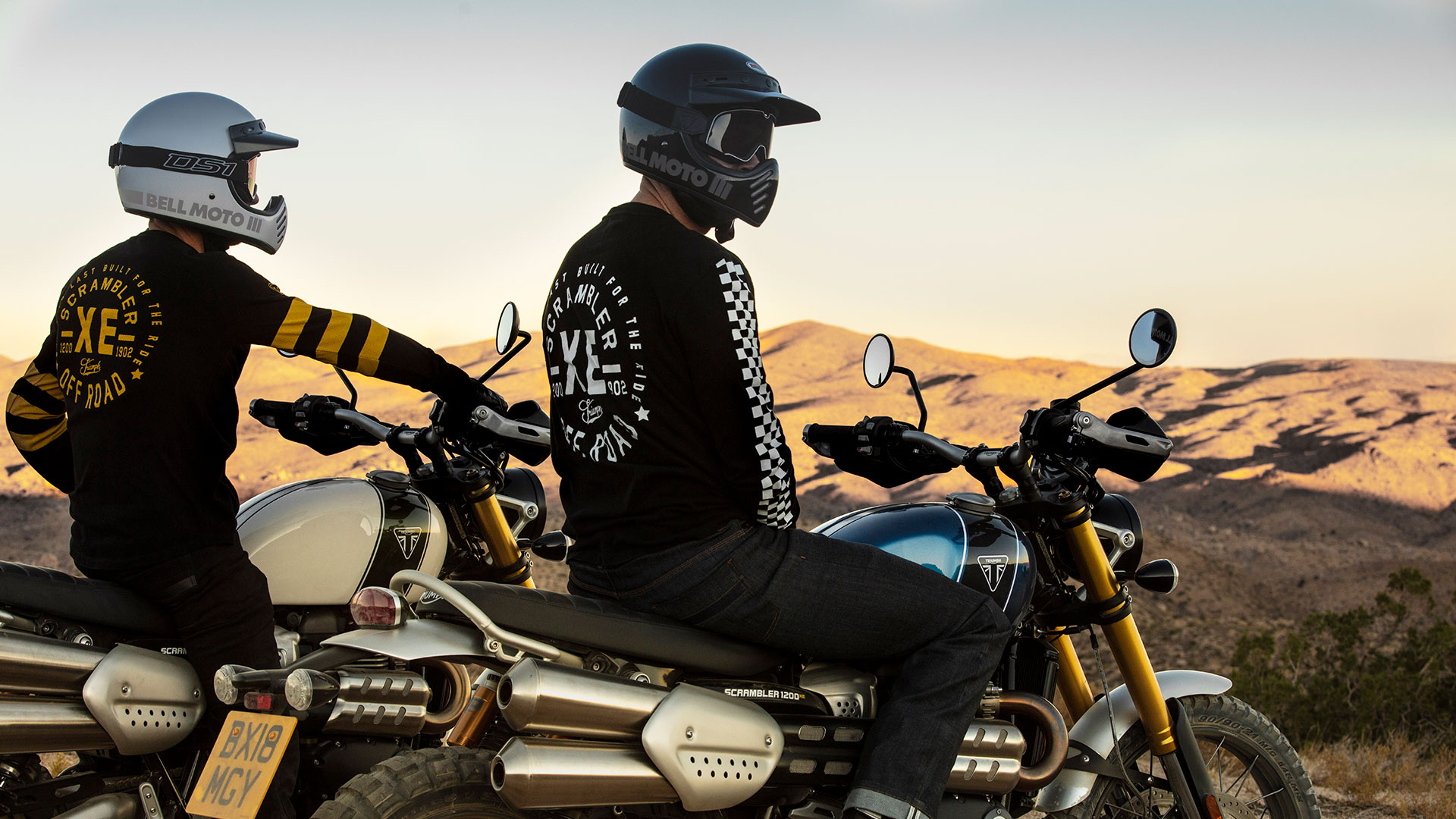 Triumph South Africa recently launched their online store, and we've been browsing. Online shopping has become the go-to for many South Africans—but for some inexplicable reason, the local motorcycle industry is lagging. So it's high-fives all around whenever a major brand gets with the program.
It also doesn't hurt that Triumph's gear is functional, stylish, well made and devoid of any garish branding. A couple of ZA Bikers team members already own Triumphs—but even those of us that don't have been eyeing out some of the British company's new kit.
So here are five pieces of gear from the new Triumph South Africa online store, that we'd be happy to wear on just about any bike.
Raven 2 jacket
The Raven jacket has been part of Triumph's line-up for the longest time—and it's easy to see why. It's a no-fuss, well-priced leather jacket, with a neutral cut and vintage styling that's not likely to date quickly. This is the second iteration of the Raven, and it's kitted with a host of functional updates.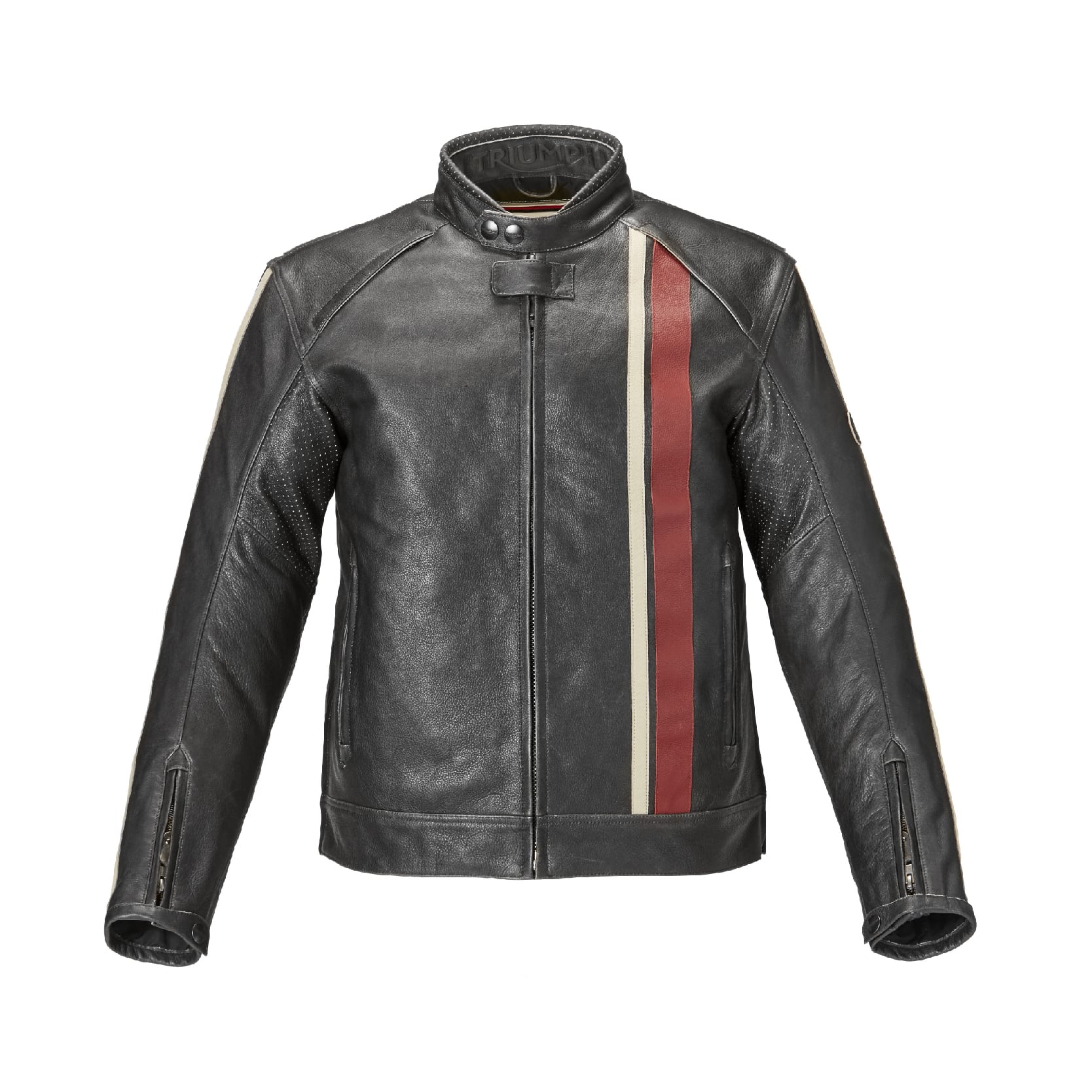 There are perforated sections under the arms, and vents at the chest and back, to aid in airflow. And there's a removable, long sleeve quilted thermal liner inside too. The Raven 2 also has removable, CE certified D3O armour at the elbows, shoulders and back. If you're not familiar with D3O, it's a lightweight and flexible material that hardens on impact—making it some of the most comfortable armour on the market.
Best of all, the Raven 2's branding is extremely subtle—so you don't need to feel guilty wearing it on your Harley-Davidson Sportster.
Andorra Ladies jacket
Not all women want motorcycle gear that's pink, or covered in tribal flower patterns. The Triumph Andorra Ladies jacket is a classically-styled leather jacket that doesn't scream 'biker'—but has all the functionality you need for riding.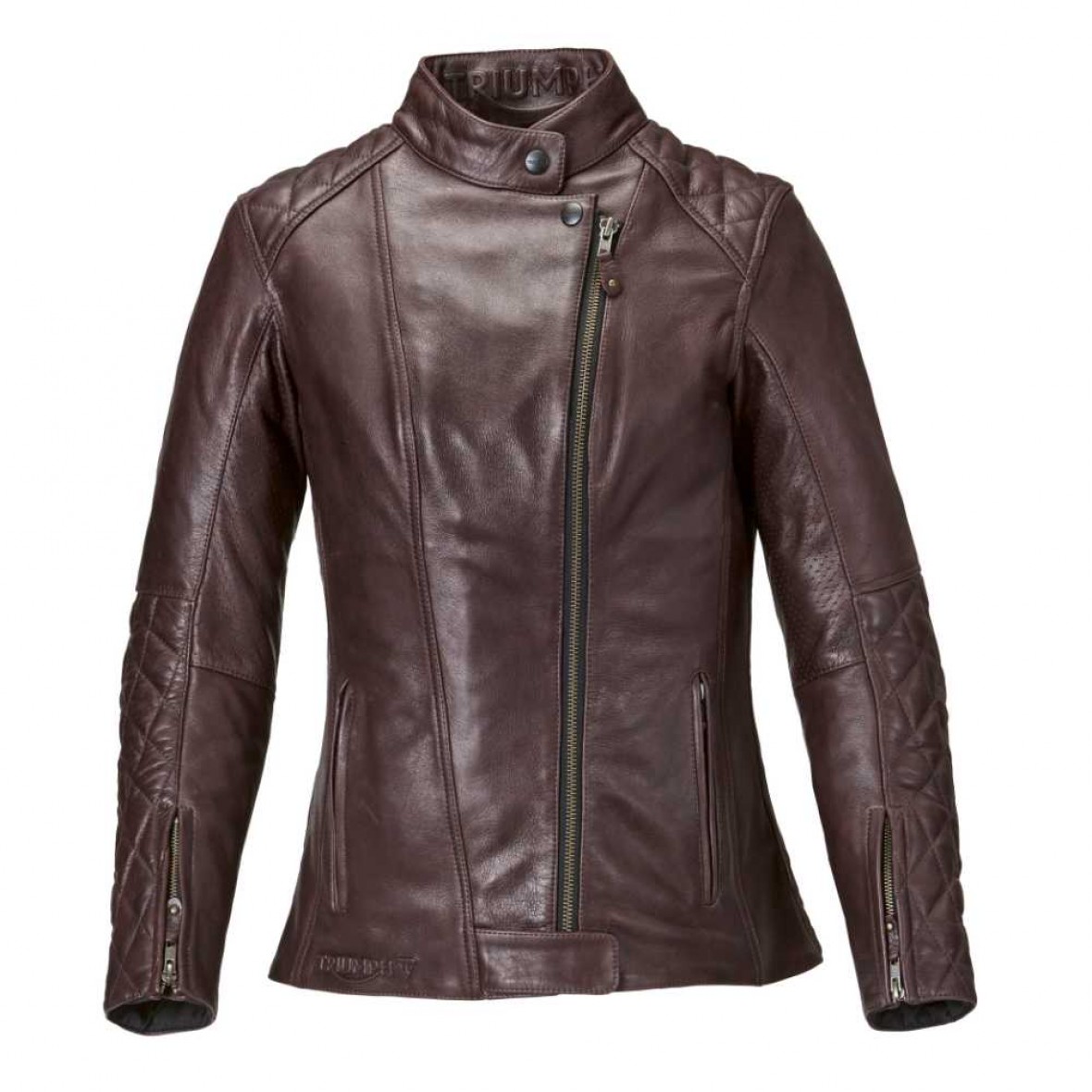 The outer shell is 100% leather, with CE-certified D3O protectors at the elbows, shoulders and back. There's also a removable vest liner for chilly days, and a zipper to connect it to any of Triumph's riding jeans.
The Andorra's styling is pure throwback, with an asymmetrical zip and quilted sections—all in a rich, red-brown leather. It's specifically tailored for women too, with stretch panels at the hems to cater for a wide range of body types. And just like the Raven, there's very little visible branding.
Pure Riding jeans
It's easier to take off a helmet and jacket when you reach your destination, than to swap out your trousers. So if you're someone that likes to blend into the crowd when you're off the bike, casual-looking riding pants are a must. And Triumph's Pure riding jeans are as casual as they come.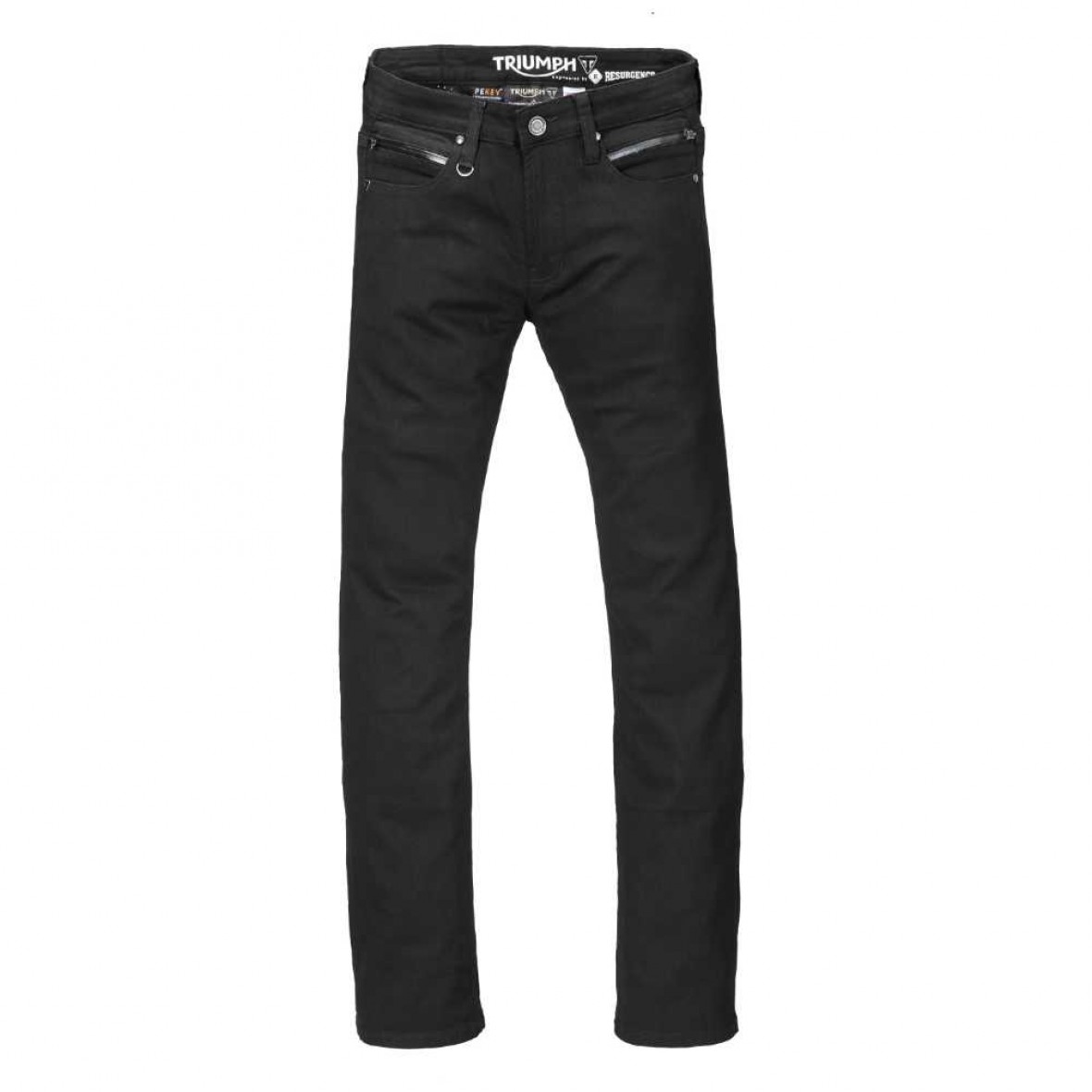 They look like a regular pair of black jeans; straight-cut, with a little stretch built into the denim. But they're highly protective too. The denim's lined with PEKEV in key areas—a tough material that adds a measure of impact and abrasion resistance. And there are height-adjustable D3O protectors at the knees too. The jeans are also lined with a breathable, moisture-wicking air-mesh layer, and come in short, regular and long sizes.
Mono Flag gloves
These gloves are for those that like to wear their heart on their, uhm, hand. With a Union Jack motif on top, the Triumph Mono Flag gloves are pretty brand-specific. But they're also extremely stylish—with a mix of black and cream leather throughout.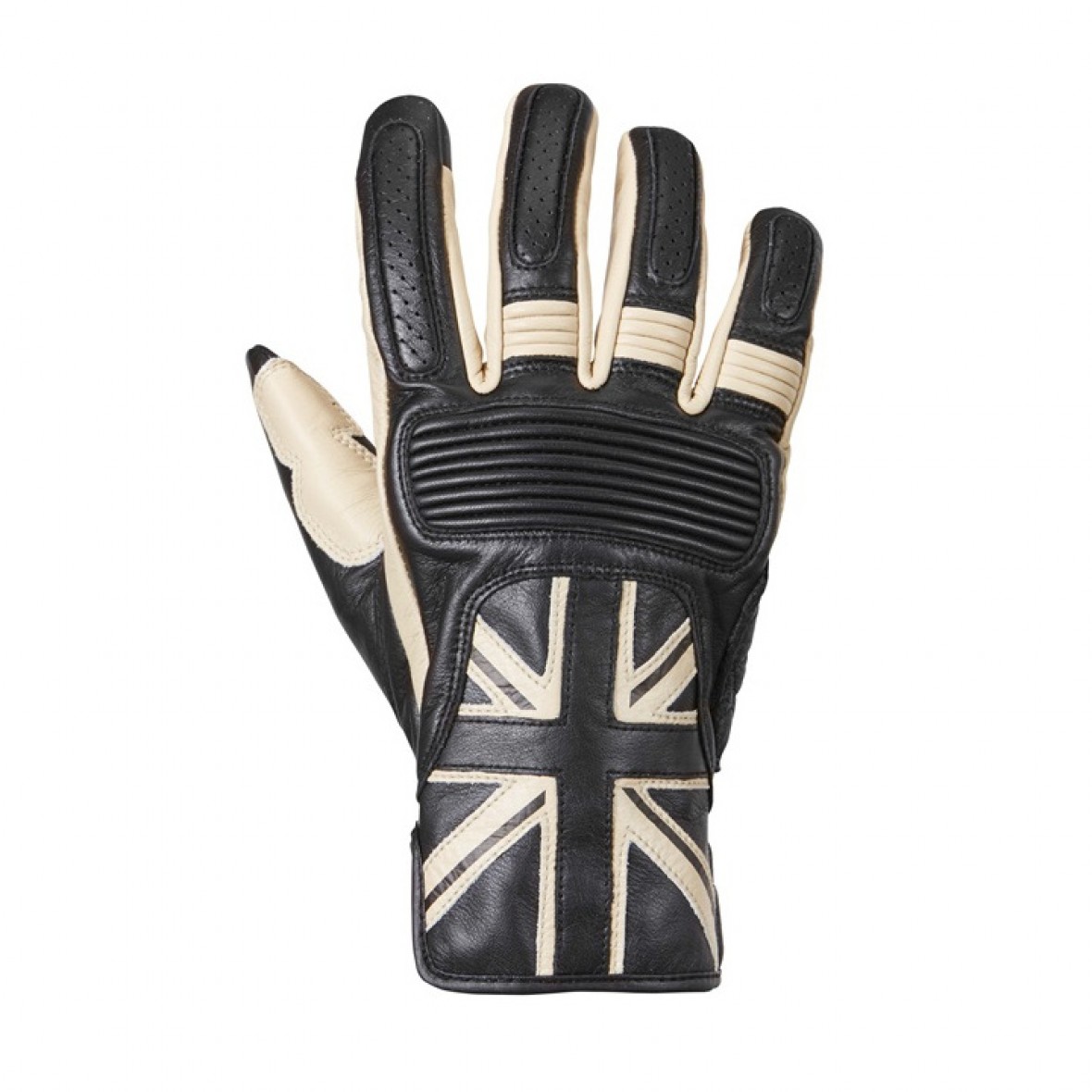 They aren't the most protective gloves Triumph offer, with only light padding on the knuckles and fingers rather than hard protectors. The fingers are pre-curved, and there's a conductive material at the index finger tip designed to work with your smartphone's touchscreen. And if black and cream is too subtle, there's a full colour version of these too.
Dirt boots
Motocross boots offer the ultimate off-road protection—but they're total overkill if you're exploring gravel roads instead of hitting whoops. Triumph's Dirt boots blend the best features of motocross boots, with the practicality of touring boots and the comfort of hiking shoes.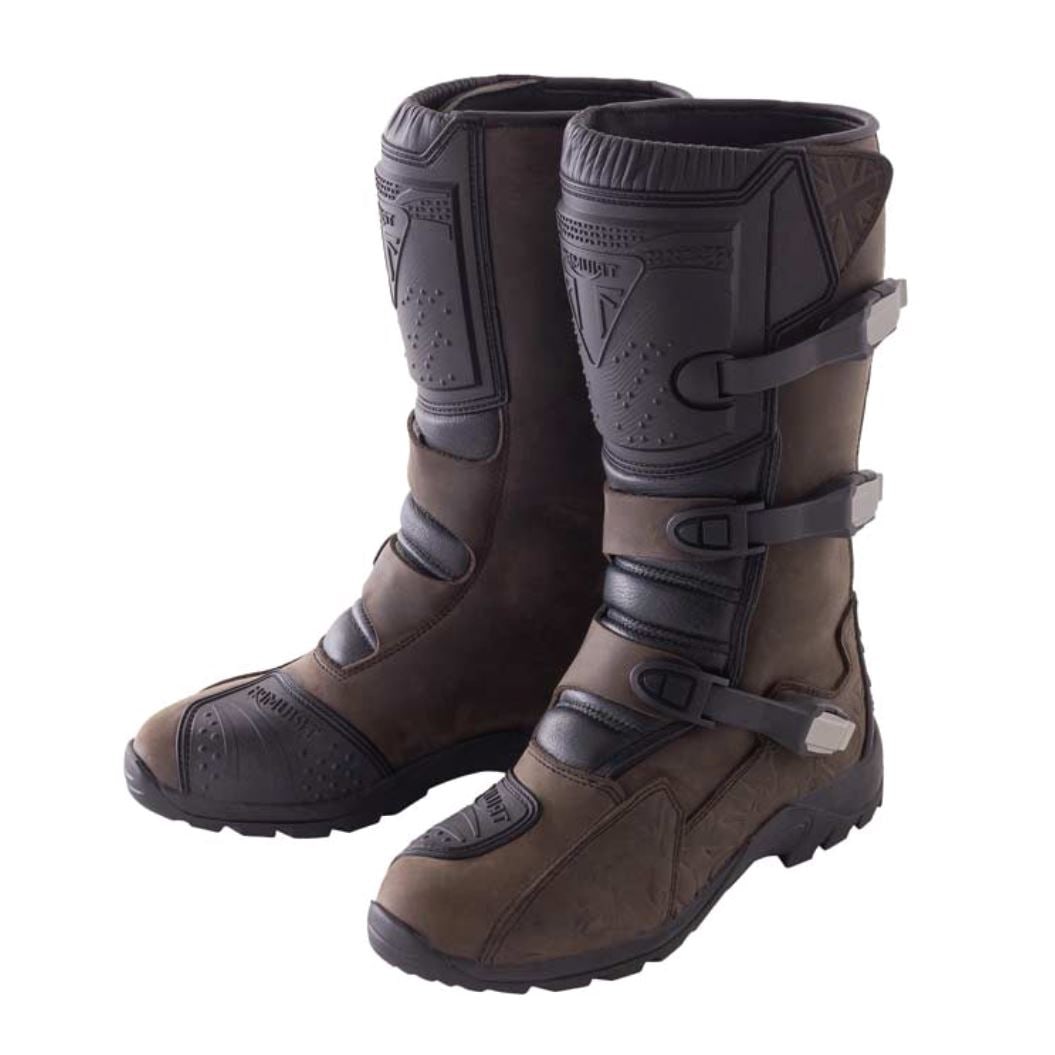 They feature adjustable MX-style buckle fasteners, hard shin protectors, reinforced ankles and chunky, anti-slip soles. But they're also equipped with Triumph's proprietary TriTex liner, making them waterproof yet breathable. And while they have a CE safety rating, they're super casual too—thanks to their brown, full-grain leather outer shell and subtle black details.