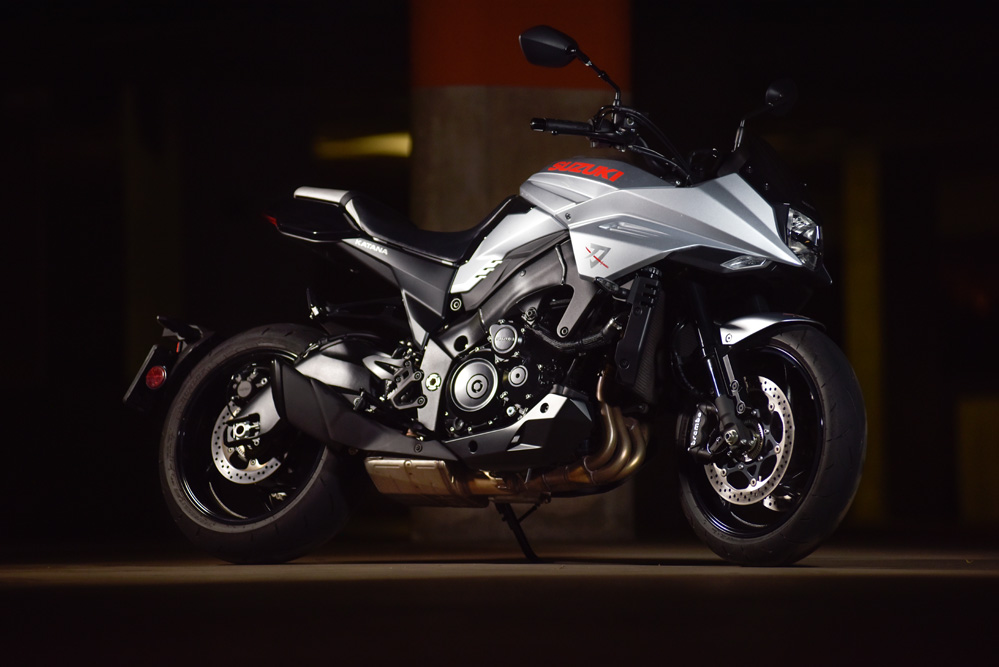 Suzuki has a penchant for giving their motorcycles interesting names. More often than not there is a deeper meaning to the choice of name. Let's take the Hayabusa as an example. The fastest production motorcycle available at the time of the 'busa's launch was Honda's Lockheed SR71 inspired Blackbird. Turns out that the Hyabusa is a breed of falcon native to Japan that feeds on….. you guessed it, Blackbirds. Needless to say the 'busa quickly established itself as the new benchmark for those who worship at the Altar of Speed. So what the hell is a Katana?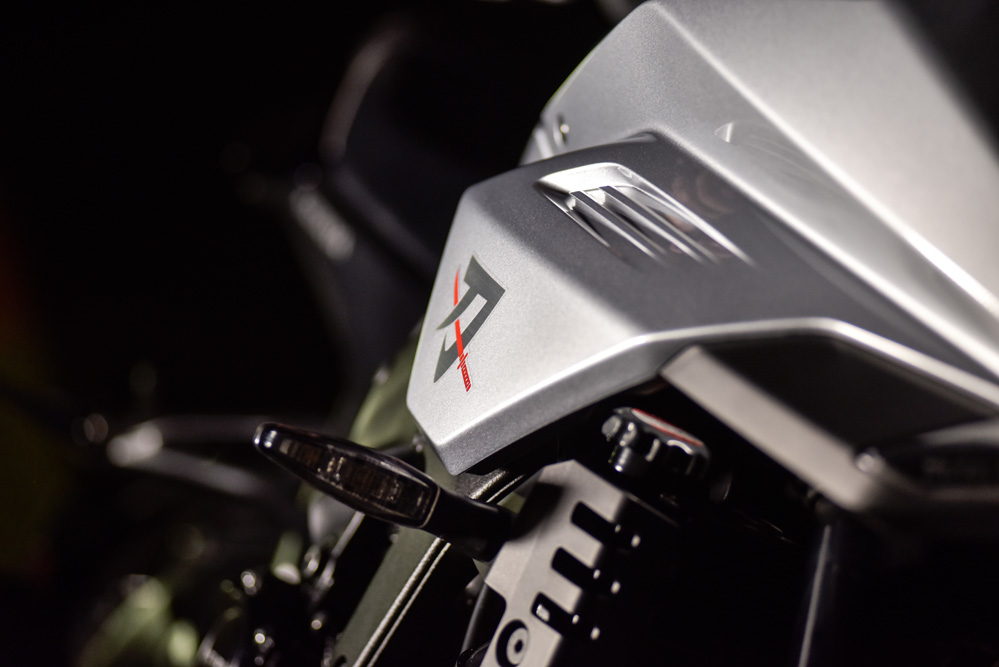 Back around 1400 AD the Japanese warrior class, known as the Samurai, were at the forefront of the battle against marauding Mongol Hordes. The Samurai at that point were incredibly skilled mounted archers. They carried swords as symbols of class rather than primarily as weapons. When the fighting got really heated they found that the swords they were using were not particularly effective against the tough boiled leather armour worn by the Mongol warriors. Enter the Katana. Swordsmiths made a double-handed sword with a slim, slightly curved blade. Said blade was only sharpened on the leading edge and could be utilised for cutting and thrusting. A process similar to Damascus steel manufacture was used to forge the "tamahagane", Japanese sword steel, to a water quenched, consistent hard blade that could be honed to an edge that would slice through Mongol armour. [and the Mongol!] As recently as the Second World War, Japanese officers carried Katana's as a sidearm and symbol of rank. In light of this, I believe Suzuki had a cutting edge weapon in mind when their Katana was conceived.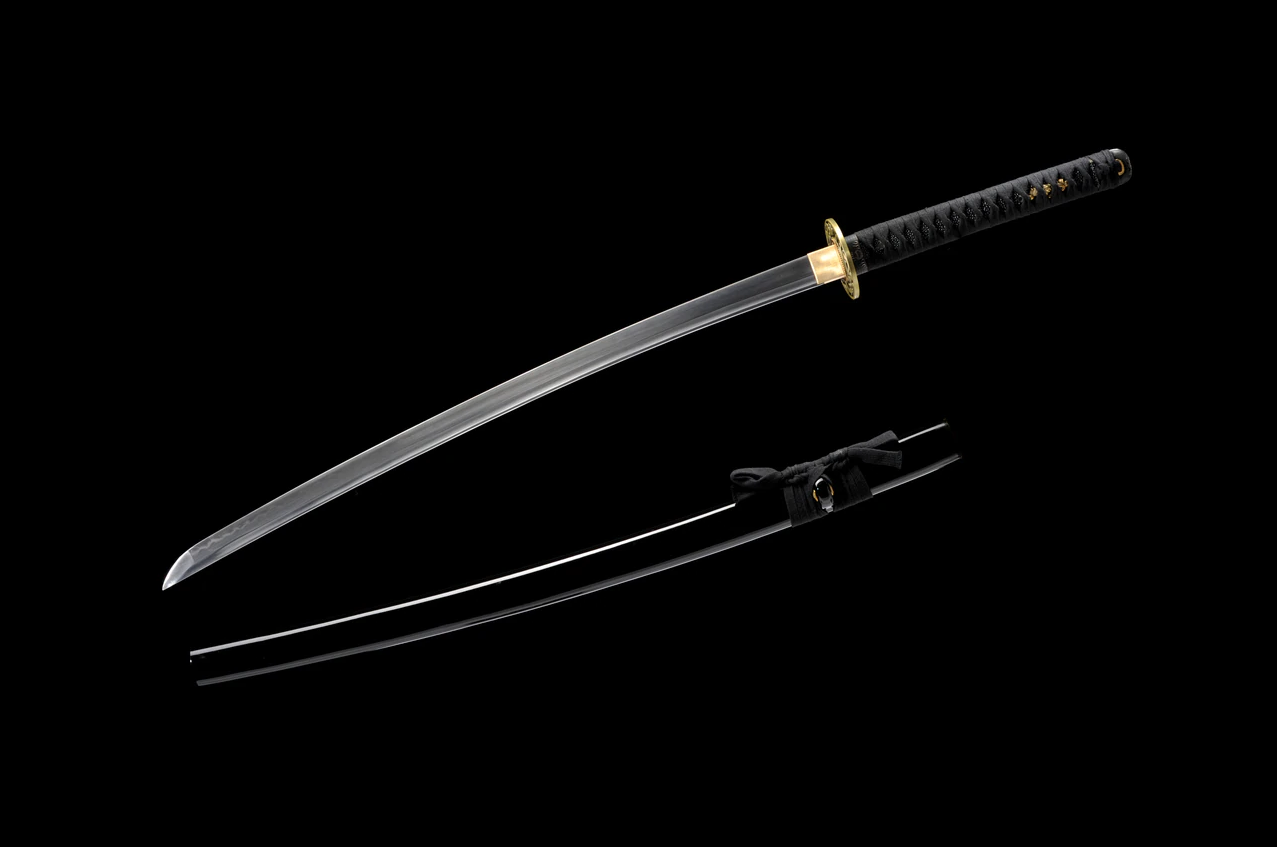 Back in the late 1970's Suzuki approached a German design studio to style a bike that would take their sports offering to a new level. The bike that resulted was the Hans Muth designed "Katana". The big Kat was a far cry from Suzuki's GSX 1100, which was a great bike but not really easy on the eye, with slightly bulbous and frumpish lines. The Katana was radical. Sleek, sharp and low slung, it dispensed with the bull horn handlebars of the GSX in favour of clip on's. It had a frame-mounted fairing with a tiny yet effective flyscreen windshield. Pegs were rearset and the whole package was unashamedly sporty. It was sold alongside the standard GSX 1100 and inspired a range that included a 550, 650 [shaft drive],750 and 1100. In 1983 it sold for the princely sum of R5500!.  A homologation 1000cc "Special" was also built, featuring spoked aluminium rims that were slick tyre compatible. The other Katana's all wore mags. The 550 and 650 had some canine genes in their DNA, and despite their zooty Katana clothing were slight "dogs". The 750 and 1100 Katana's were a totally different story. The late Wayne Heaseman was immediately onto the podium in local 750cc class road racing. New Zealand import Neville Hiscock took the fight to the dominant Honda CB1100 RC's with some significant results. The Katana soon developed a strong following amongst the local sportbike faithfull. The DOHC roller bearing crank engines built a solid reputation for reliability. The robust motors also responded well to tuning and a few very potent Katana's prowled South African streets full of Yoshimura high-performance goodies. In the fullness of time, the GSXR range became Suzuki's sportbike weapons. The beloved Katana lingered on in the memories of their owners, and a few well-preserved examples are still around.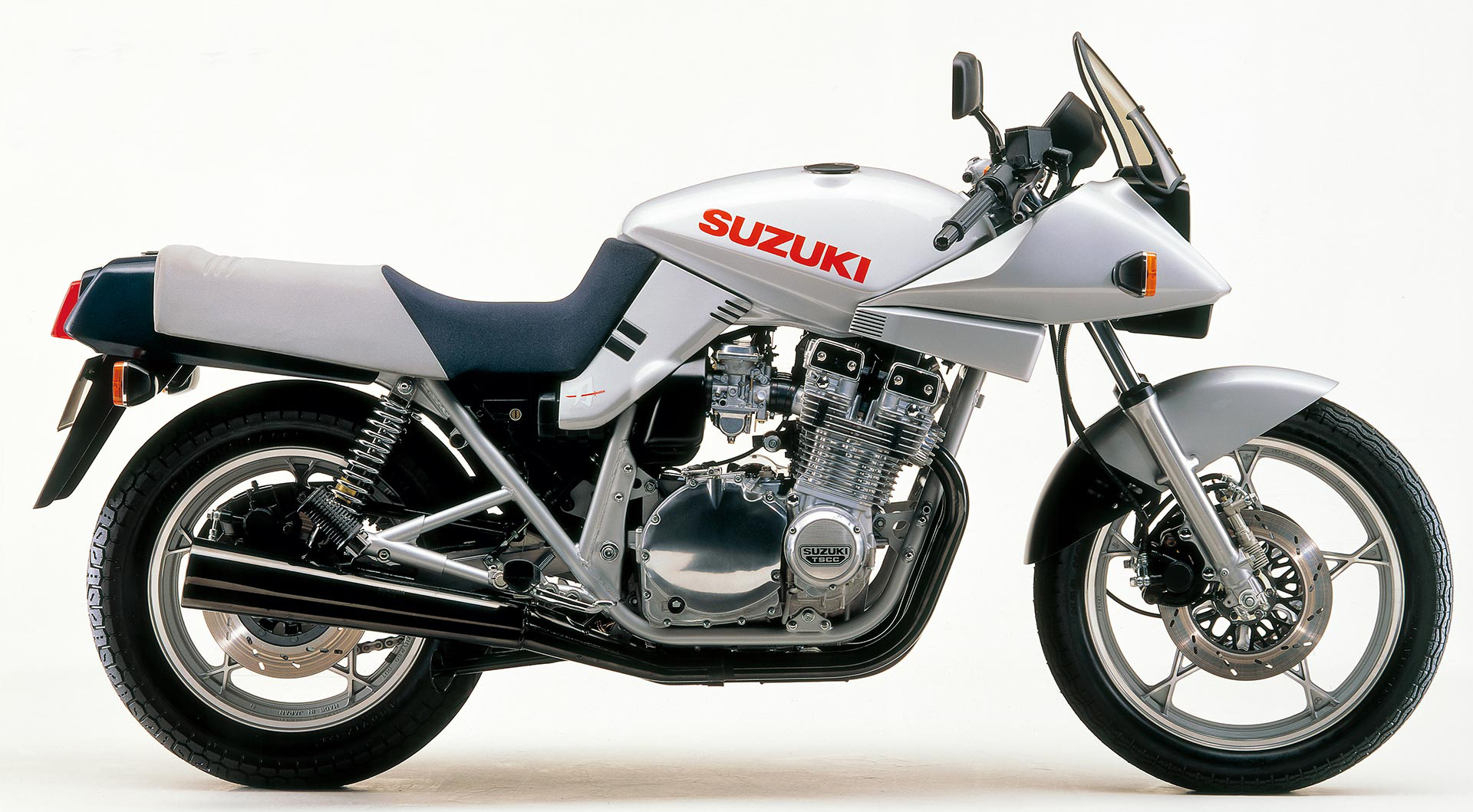 For a while now the wind of nostalgia has been blowing through the motorcycle industry. Modern Classics is the name applicable to these thoroughly modern motorcycles which are styled to take us back to heady days of yore. Suzuki, not wanting to sit out this party, chatted to Italian designer, Rodolfo Frascoli, asking him to do a modern take on their iconic Katana. I have just been afforded the privilege of being the first South African journalist to sling a leg over and ride the remade Kat. What a ride it has been! You have to understand that this is a big deal to me. I was riding and racing motorcycles when the original Katana was introduced and remember vividly the impression it made. Opinions were divided as the styling was radical for the time. It didn't take long for us to grow accustomed to the sleek lines, and I for one was smitten! And so it is with the 2019 Katana. I dig it!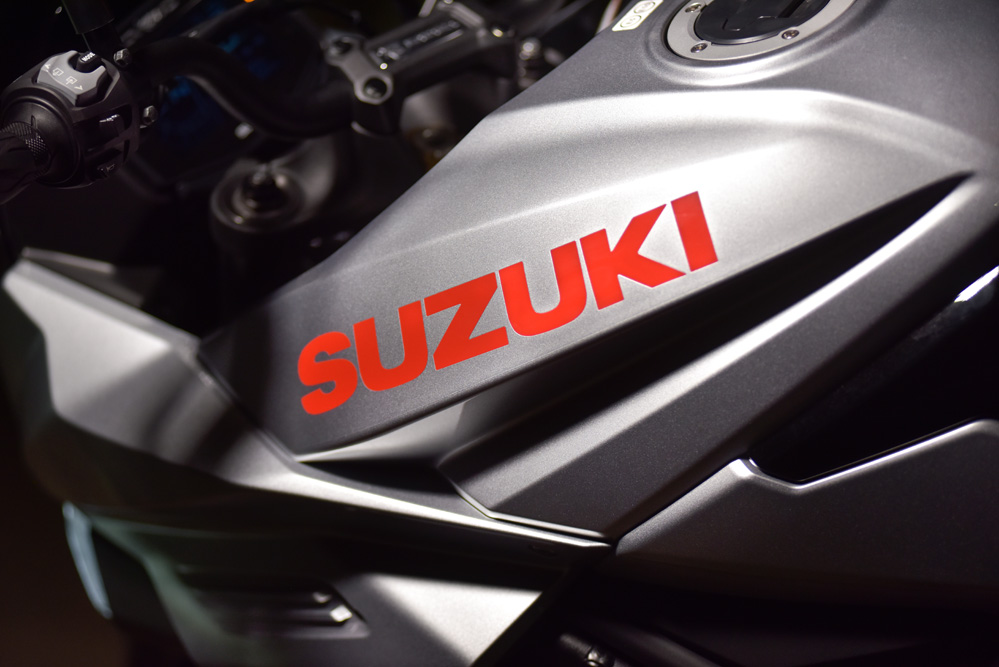 Suzuki have approached this project in a really appropriate way. The bike features a 1000cc motor based on the brilliant mill that did duty in their K5 GSXR. Torquey and smooth with a proper top-end rush, the engine is an absolute peach. It actually makes me yearn for the time when sportbikes were still good and proper weapons for road use.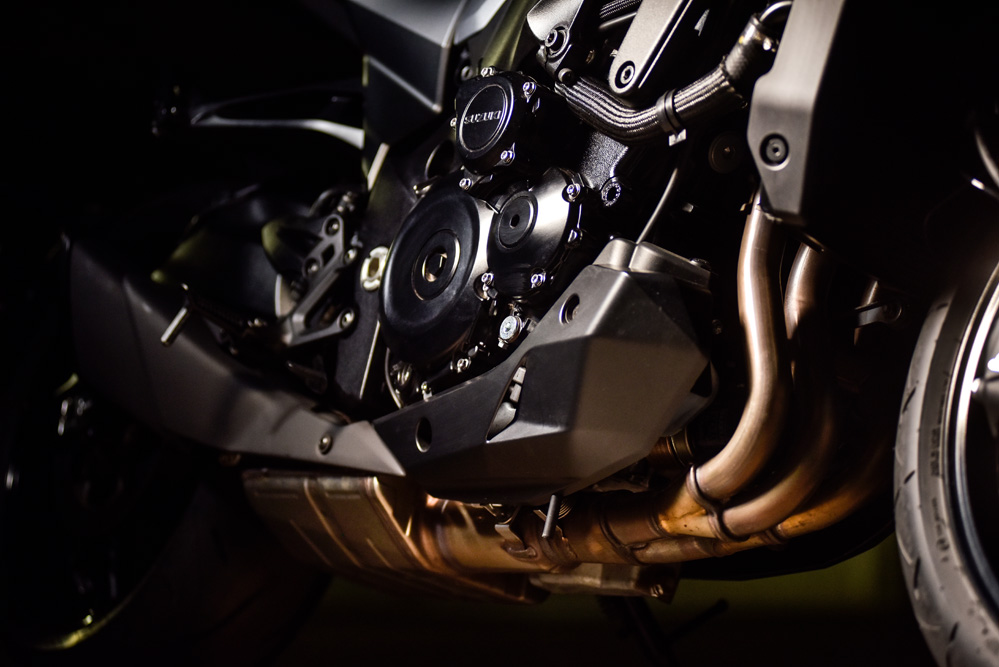 The current crop are unashamedly track tools and as such have lost significant appeal for everyday use. The new Katana fills this gap to perfection. Electronics are limited, thankfully, to 3 levels of traction control with less or more aggressive intervention. The ECU is programmed to give a slightly softer response from the cable operated throttle and works with Suzuki's Low RPM Assist and Easy Start to give stunning, seamless riding. The motor is good for 150 horses and believe me, they are not the Shetland Pony variety. We are talking thoroughbred Arab stallions here!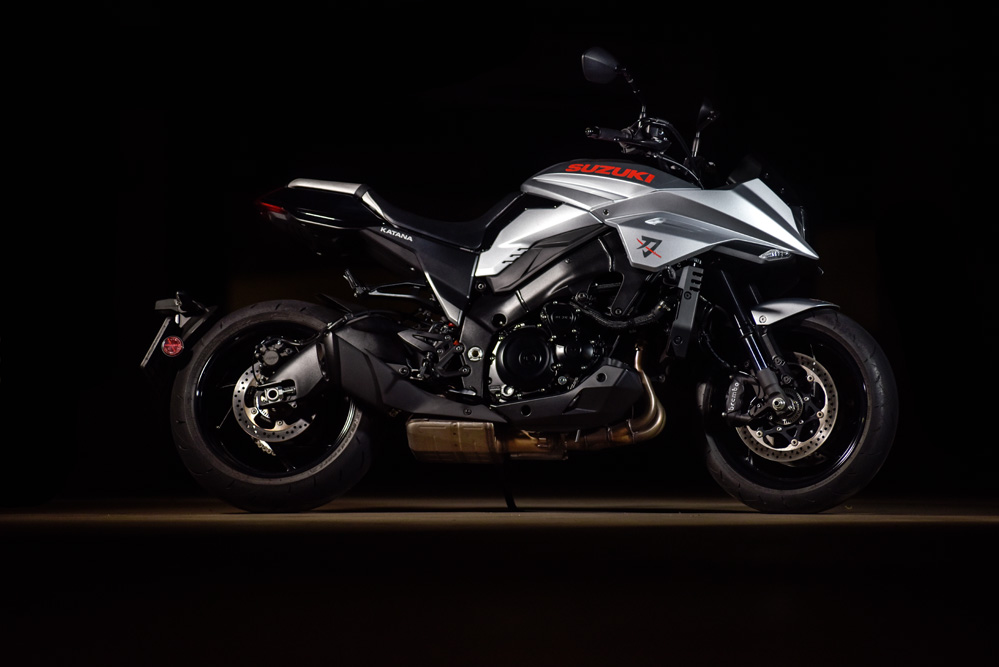 I am not going to go into detail about the styling, because you can see the incredible images of the new Kat that our resident shutterbug, Bjorn Moreira took, and make up your own mind.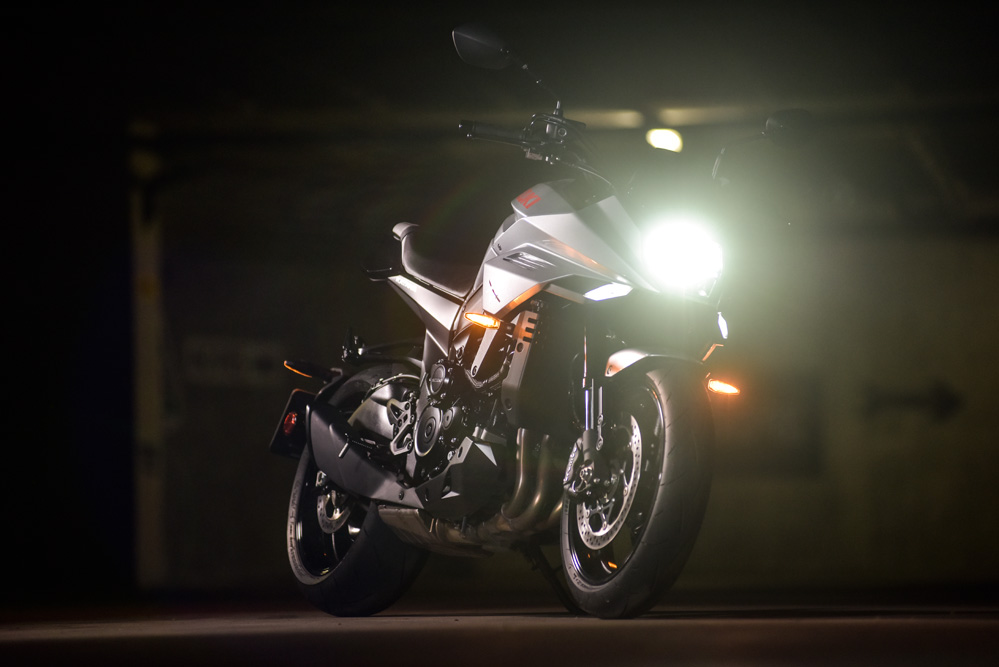 Those of you old enough to be familiar with the original Katana will immediately get that clout of nostalgia. The new Kat has, probably in the interest of rideability, been equipped with low rise handlebars as opposed to clipons. I would have loved clipons, but do get their drift.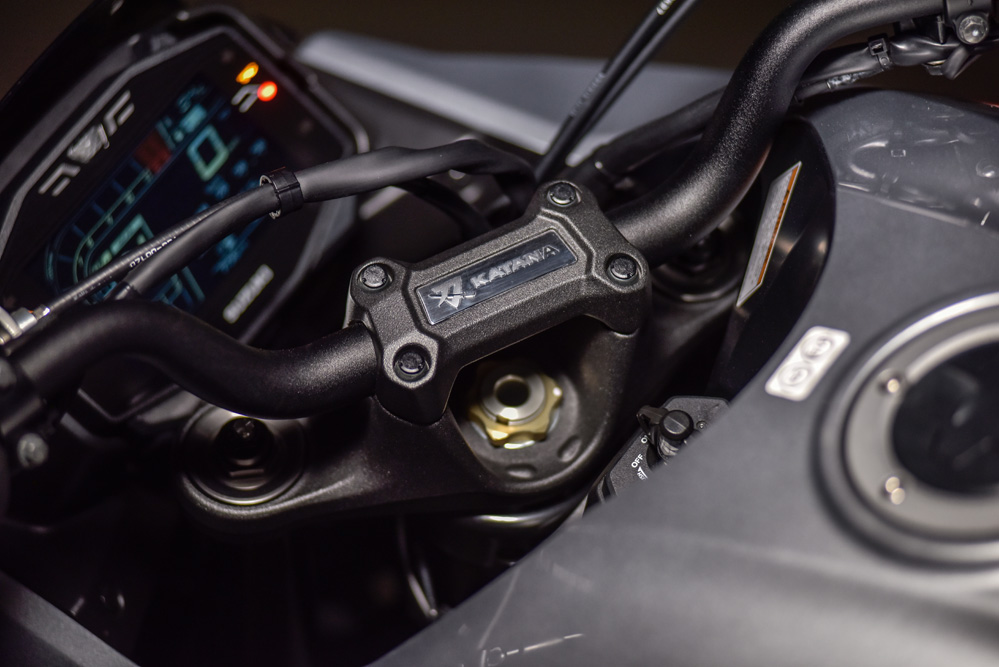 The Katana is properly comfortable and is good for extended periods in the saddle, tank range notwithstanding. Fuel capacity is a scant 12 litres which will curtail the fun pretty damn quickly if you ride with gusto. Having said that, I averaged 20 k's to the litre in town and around riding, being gentle on the gas. Good luck to you if you think you could sustain that. The big Kat is way to entertaining to do anything more than the occasional "economy run", and 15 odd km/L is then more realistic.
Lights are LED's and look fantastic. The headlight offers good spread but I would have liked more reach. I did not have time to see if I could adjust it, besides, that would have intruded on my ride time.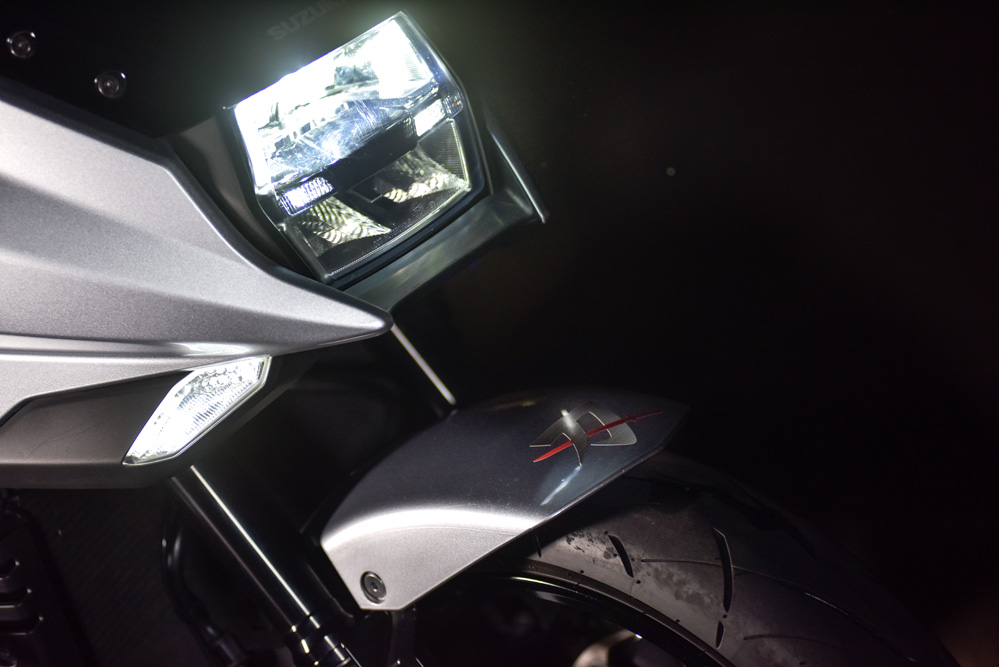 The seat, despite its stubby appearance, accommodates a passenger quite nicely. The taillight and rear indicators are part of a BMW GS style remote rear mudguard. The tail tidy industry will undoubtedly give us a way to lose the whole kit and caboodle thus tidying up the back end wonderfully.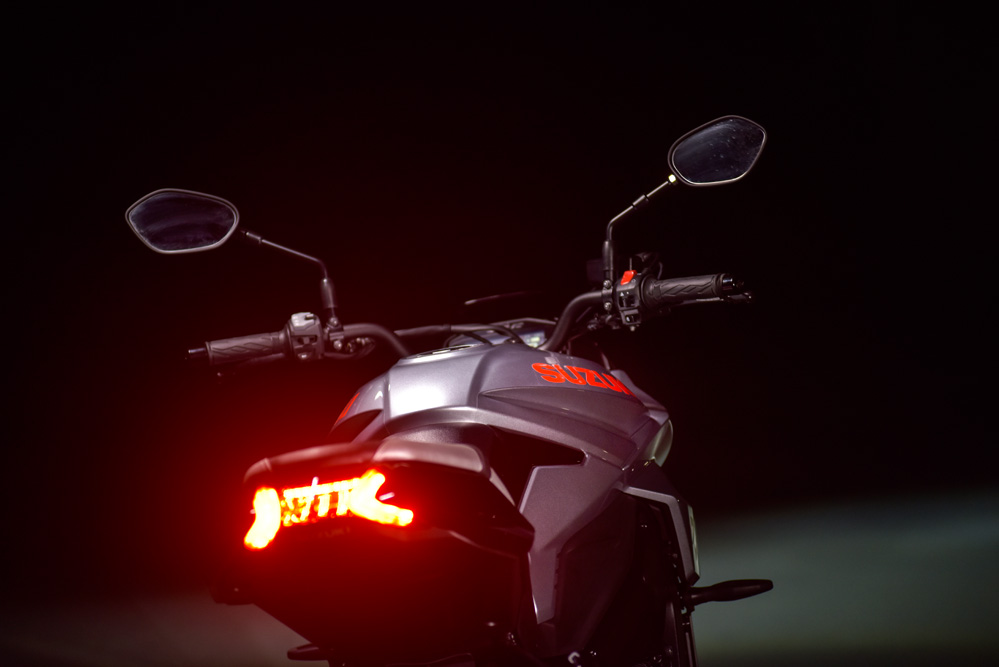 The back wheel is a 190/50×17 and gives clean KYB mono-shock rear end an aggressive look. The front wheel is a 120/70×17 suspended in upside-down, fully adjustable 43mm KYB forks. The large section back tyre slows the steering slightly and the bike is supremely stable at all speeds and on all road surfaces. The rear swingarm comes straight from the 2016 GSXR-1000. The frame is aluminium, not unlike that of the GSX-F. When you put all this together and combine it with an excellent riding position, brilliant 108 Nm and 150 HP motor, then it becomes the perfect recipe for FUN!. When you need to curtail the fun, and I'm talking really fast fun here, then 310 mm twin front discs are arrested by radially mounted Brembo Monobloc 4 piston callipers. Powerful, secure braking performance is a guarantee.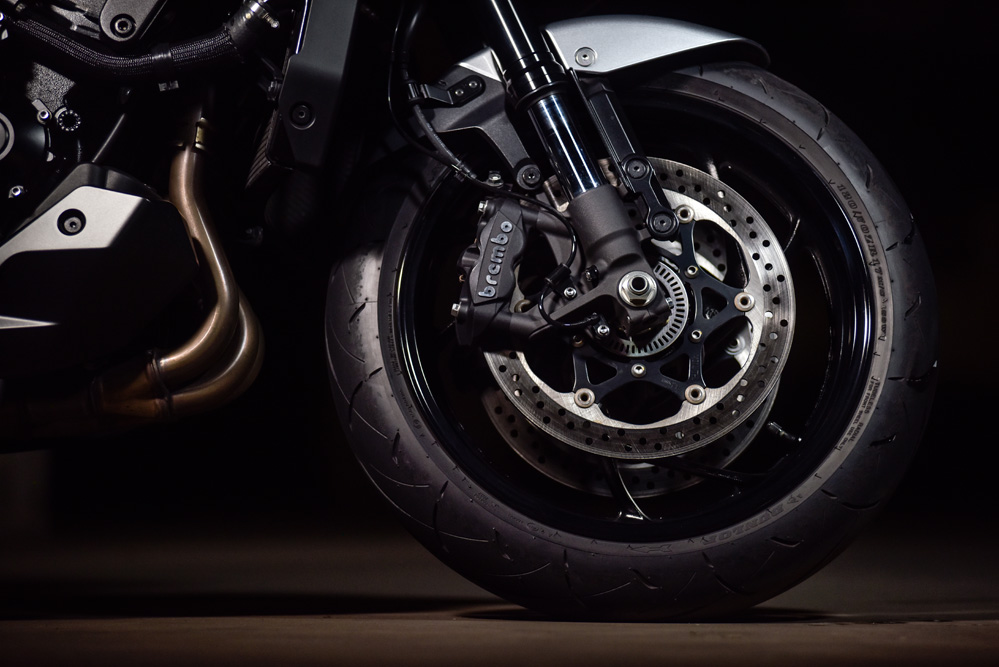 The Katana sports a simple instrument nacelle which digitally informs you of what gear you are in, fuel consumption, range, trip meter and how much fuel you have left in the tank.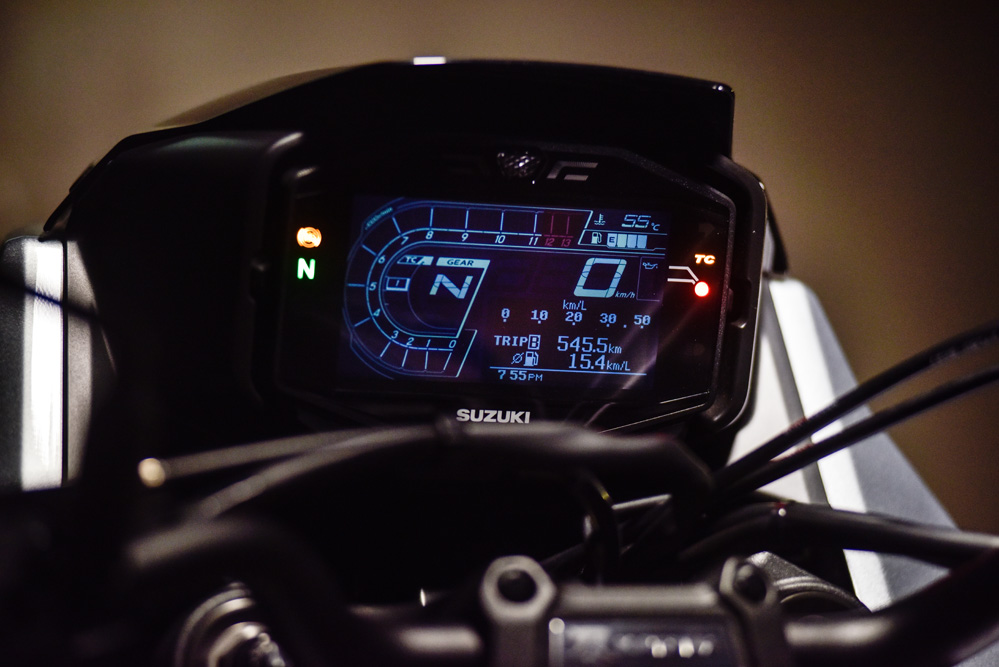 The "new" Kat has a tidy four into one exhaust which emits a surprisingly throaty note. It is quite simply a truly pleasant and fast motorcycle that is also beautifully packaged, with real appeal. Sure, the side stand should be a cast piece rather than a flattened pipe, and it could have been a tad more "special", but hop on, fire it up and ease that clutch with a man-sized pullout, and all is forgiven! The big Kat rocks! At R184500, it comes at a "nostalgia premium", but still offers solid value.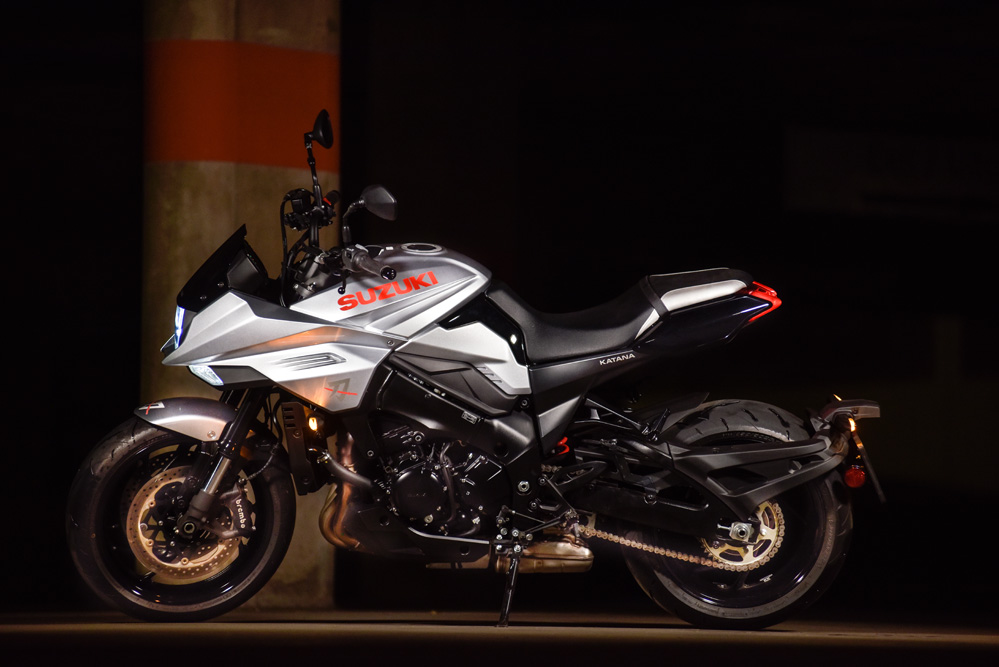 Ride it and judge for yourself. In the world of modern classics the Katana is cutting edge and without a doubt a worthy weapon!
For more information visit – www.suzukimotorcycle.co.za
Suzuki KATANA
For more information on the bike that we tested in this article, click on the link below…