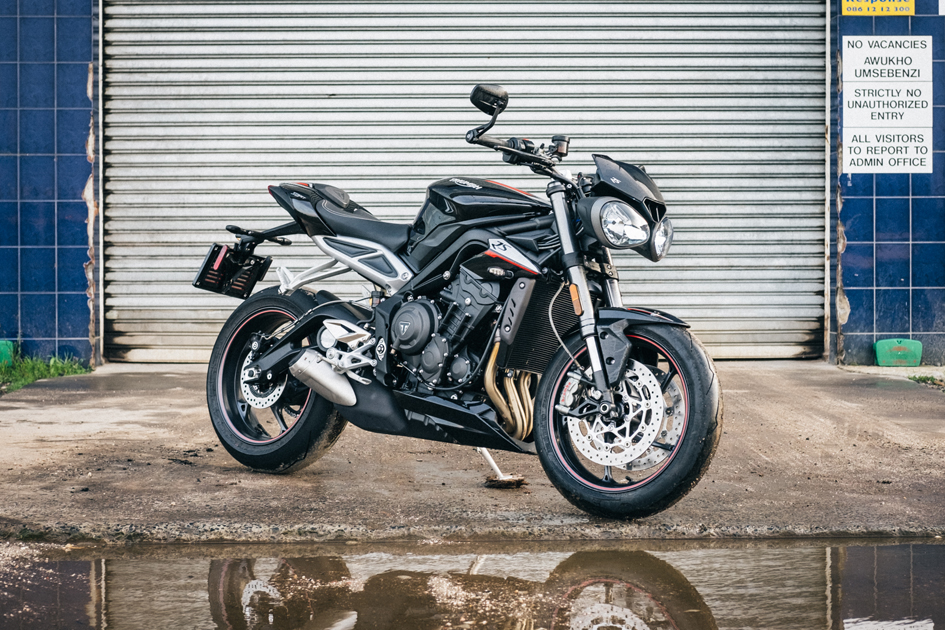 When the Triumph Street Triple first broke cover over a decade ago, it was a massive hit. The combination of the Speed Triple's unapologetic styling, and the Daytona's 675's much-lauded motor, struck all the right chords for both critics and customers. It achieved what very few bikes do: it was an instant icon.
So the latest iteration of the Street Triple has some pretty big shoes to fill. Luckily, it's powered by Triumph's new 765 cc triple—a street-tuned version of the motor that's currently powering the Moto2 race series. And the overall package is so good, that it easily fills those shoes…with change.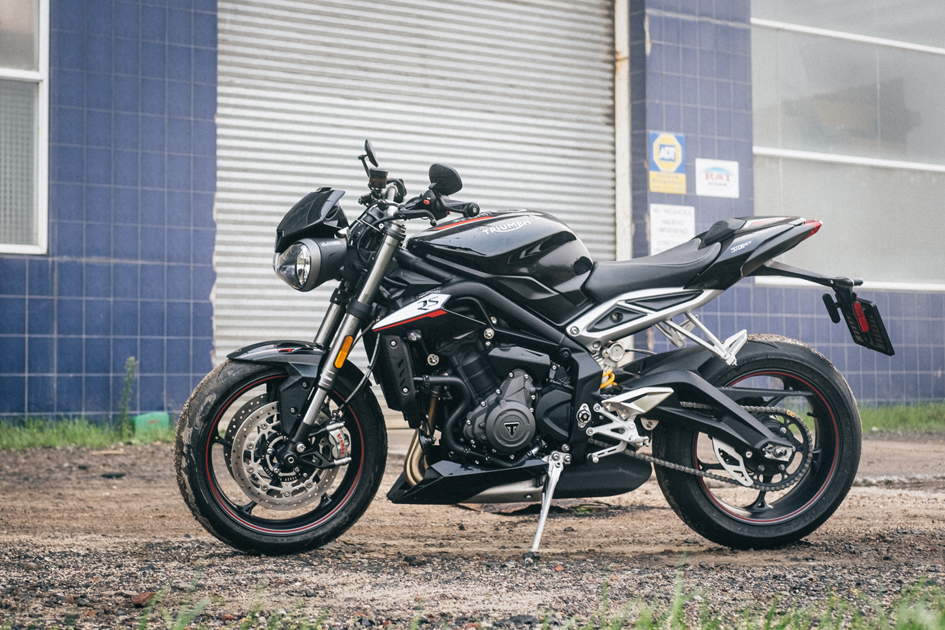 The new Street Triple '765' comes in three flavours: S, R and RS. They each have their own engine tune, make different power and torque numbers, and come in varying levels of equipment spec. Here in South Africa, we only get the R 165,000 Street Triple RS—and that's a good thing, because the RS is the top model in the range.
Let's look at the numbers. The RS makes 121.2 hp at 11,750 rpm, and 77 Nm of torque at 11,000 rpm. That's a pretty significant jump up from the older 675 Triple's 106 hp and 68 Nm. And despite the extra cubic centimetres, the new Street Triple isn't any less compact than its predecessor, and even weighs two kilos less (it's 166 kg, dry).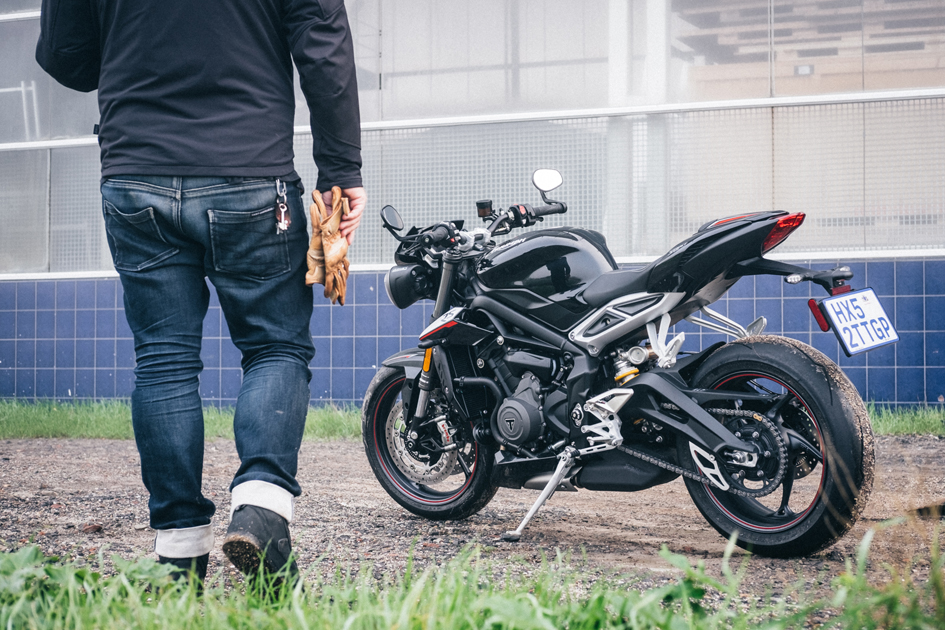 The RS spec also includes a bevy of top-shelf parts. The front forks are fully adjustable Showa 'big-piston' units, and there's a fully adjustable Öhlins STX40 shock out back. You also get a quickshifter, Brembo M50 monobloc front brake calipers, and Pirelli Diablo Supercorsa SP tyres. And even the electronics package is slightly tweaked, with an additional riding mode ('Track') and a lap timer.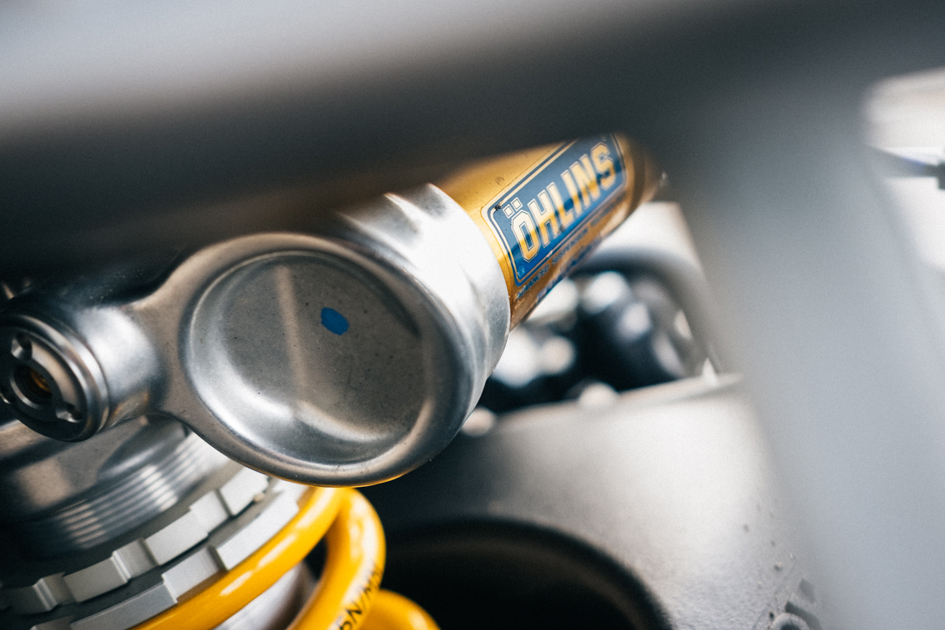 Features that are shared across the Street Triple range include a ride-by-wire throttle, switchable traction control and ABS. There's also a six-speed transmission, and a multi-plate, slip assist clutch.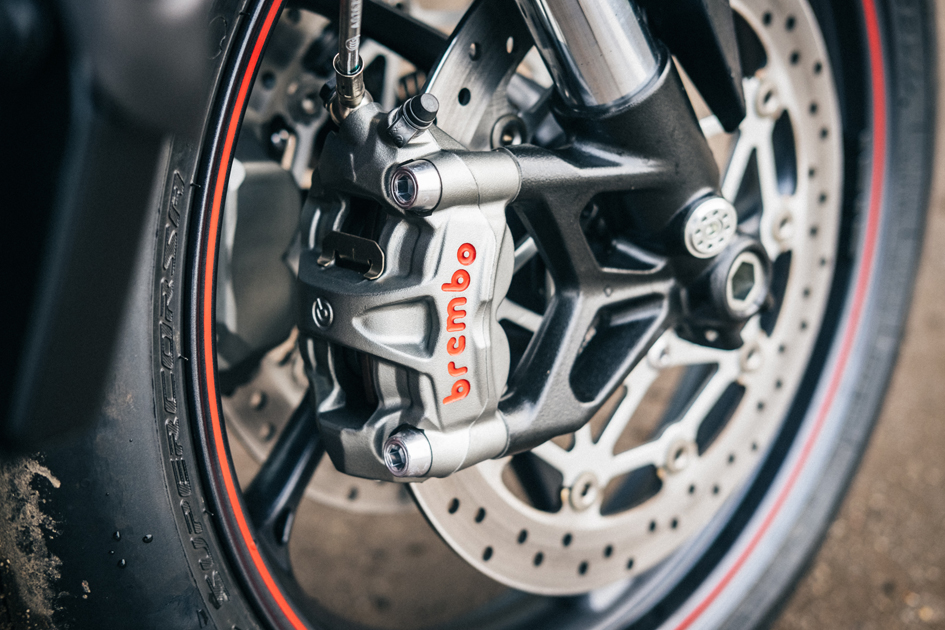 The dash is a 5", full colour TFT unit, controlled by a nifty little joystick on the left switchgear. It packs in a ton of info, but it's also easy to read and straightforward to navigate through. Your current speed, revs, gear and fuel level take centre stage, and all the other info is toggled through on one neat line.
There are three built-in layouts, along with a day and night mode (you can choose them manually, or set them to 'auto'). Hitting the 'mode' button on the right switchgear calls up the Street Triple's rider modes on screen; Road, Rain, Sport, Rider (a programmable mode), and Track. And if you dive deeper into the display's menus, there's a whole bunch of settings you can tweak.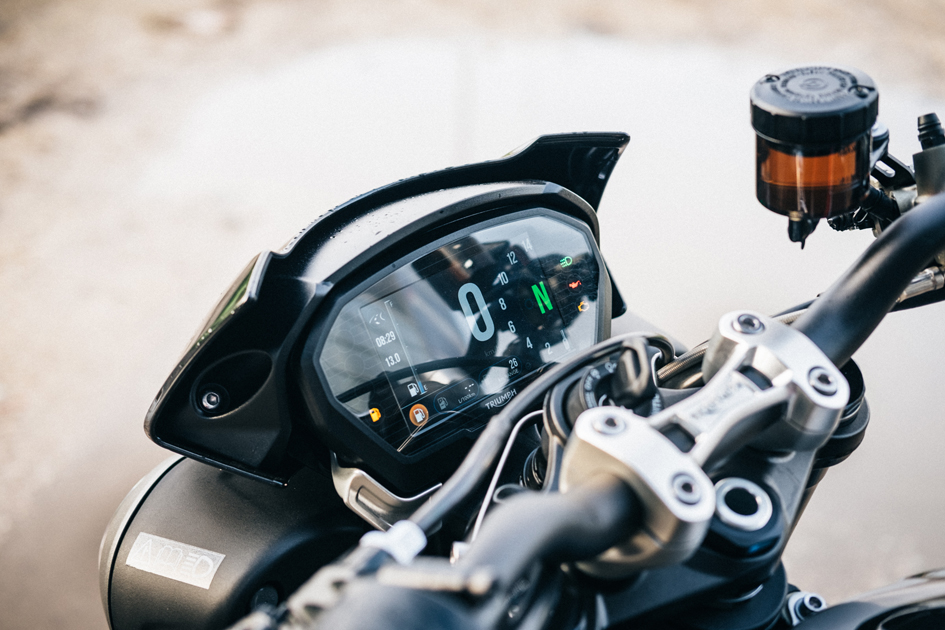 Looks-wise, there's not a whole lot separating the new Street Triple from the old Street Triple. It still has the controversial twin, angled headlights—only they've morphed slightly, and now feature slick LED daytime running lights.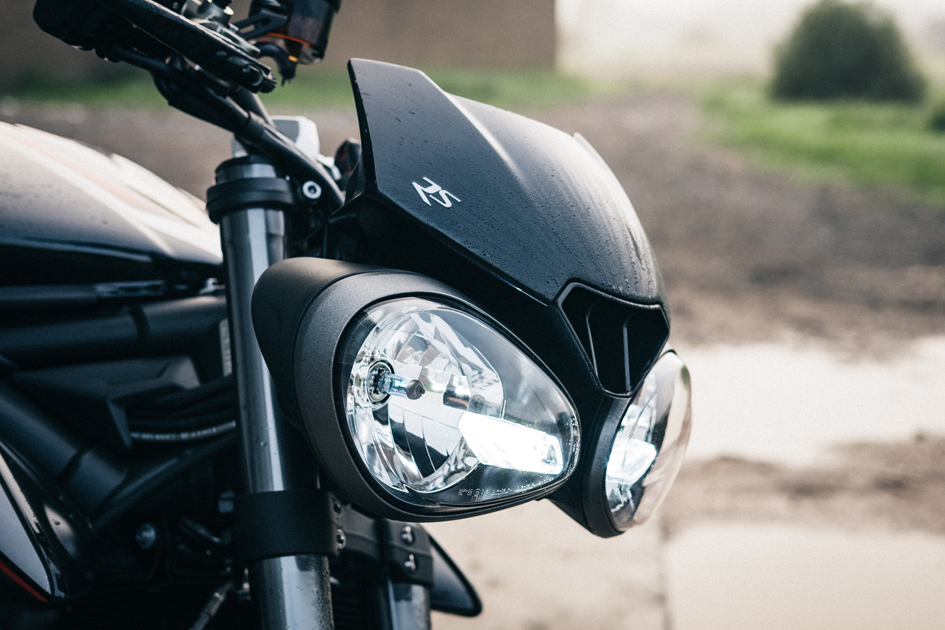 The front bit of the frame is Triumph's unmistakable twin-spar aluminium design, with die cast components for the subframe, and an aluminium swing arm lower down. Between the heavily contoured 17,4 l fuel tank, sharp tail section and alloy wheels, it's still one of the best-looking naked bikes on the market.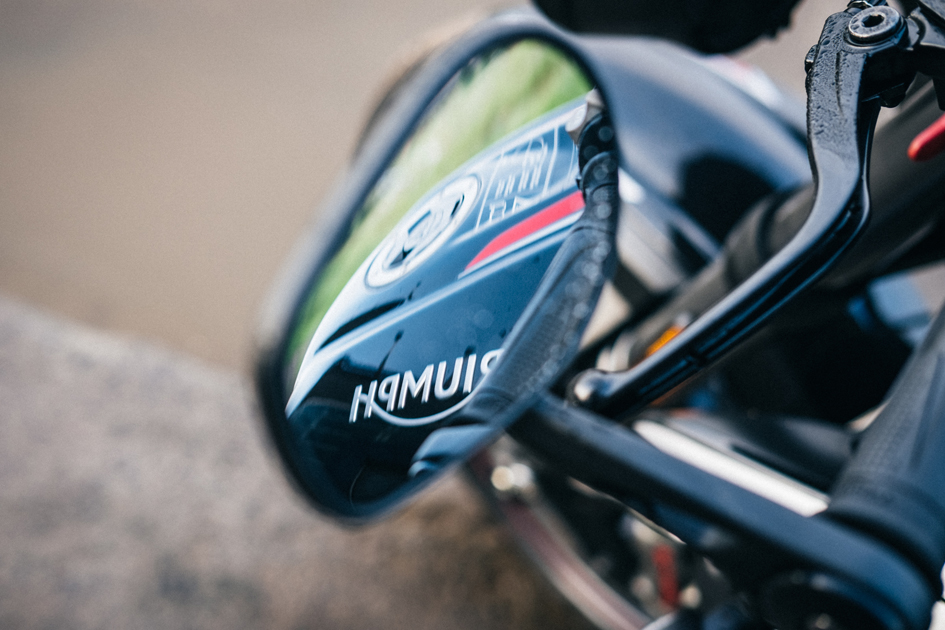 The tail section's cover can pop off and be swapped for a pillion seat. Standard equipment also includes a fly screen, belly spoiler, and bar-end mirrors. It comes in white too, but the black-with-red colourway that my test unit came in is just perfect.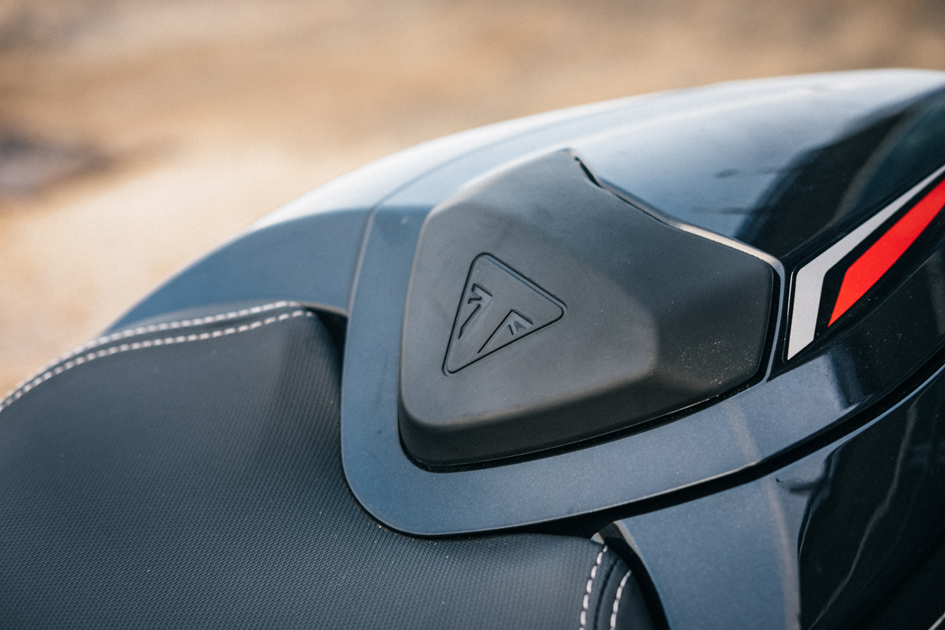 So it's nice to look at, and fast on paper. But how does it perform in the real world? Is it still the ultimate weapon for both road use and track days? Pretty much.
Triumph's marketing blurb throws around terms like "explosive" and "adrenaline charged," and honestly, they have every right to. The Street Triple RS fires off the mark and gets up to speed frighteningly fast. Since peak power sits higher in the rev range, the motor responds well to being held wide open while you blip through gears with the quickshifter.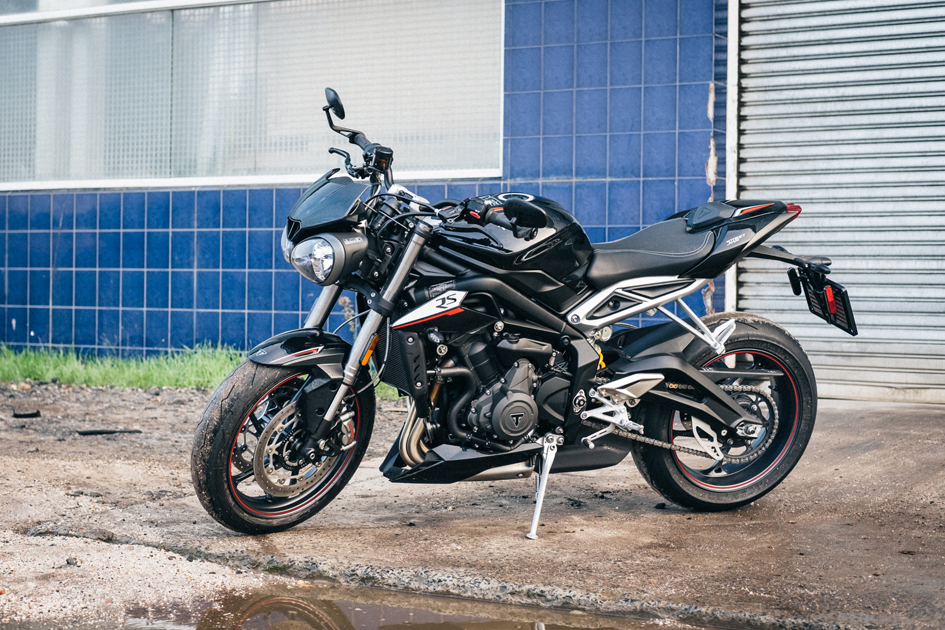 That three-cylinder motor sounds bananas at full tilt, and even angrier when you shift back down through the range. It's just a pity the quickshifter works on upshifts only, because an auto-blipper for downshifts would have rounded out the package nicely.
With its rev-happy and punchy nature, you'd expect the Street Triple to be a handful. But between the various rider modes and the built-in traction control, it's anything but. And that's one of its big strengths—it's an extremely usable motorcycle.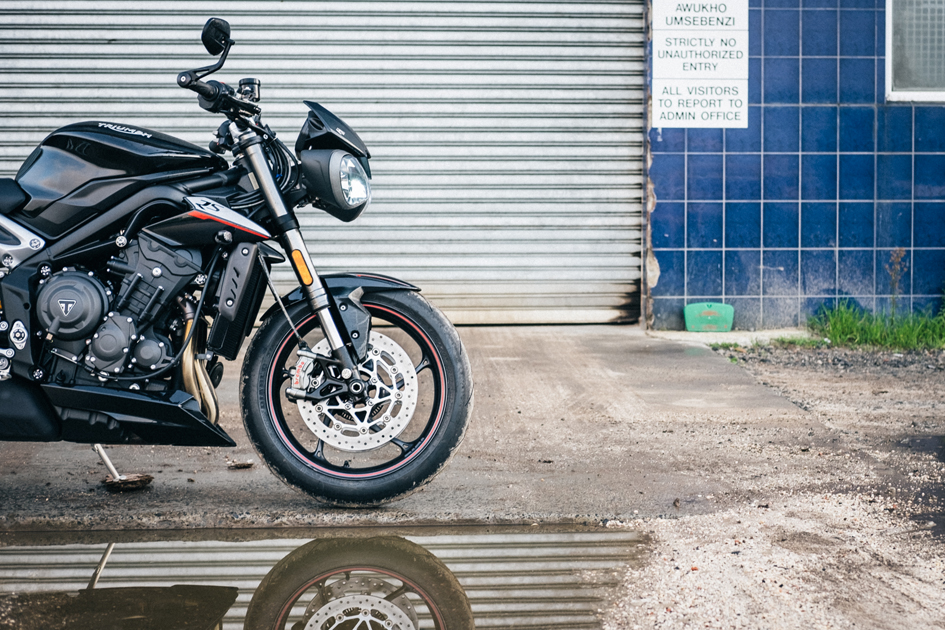 Like every Triumph triple I've ridden, throttle response is a little jittery first thing in the morning. But once it warms up, everything's peachy, and power delivery becomes smooth and predictable. The various riding modes are spread apart well, with each one delivering exactly the sort of ride you'd expect. The traction control keeps the front wheel mostly on the ground, and the slip-assist clutch forgives harsh downshifts.
But if you want the Street Triple to get wily, it will. It loves to be ridden with a heavy hand, and if you can figure out how to switch off the traction control (hint: use the programmable 'Rider' mode and set it up just how you like it), unbridled hooliganism awaits.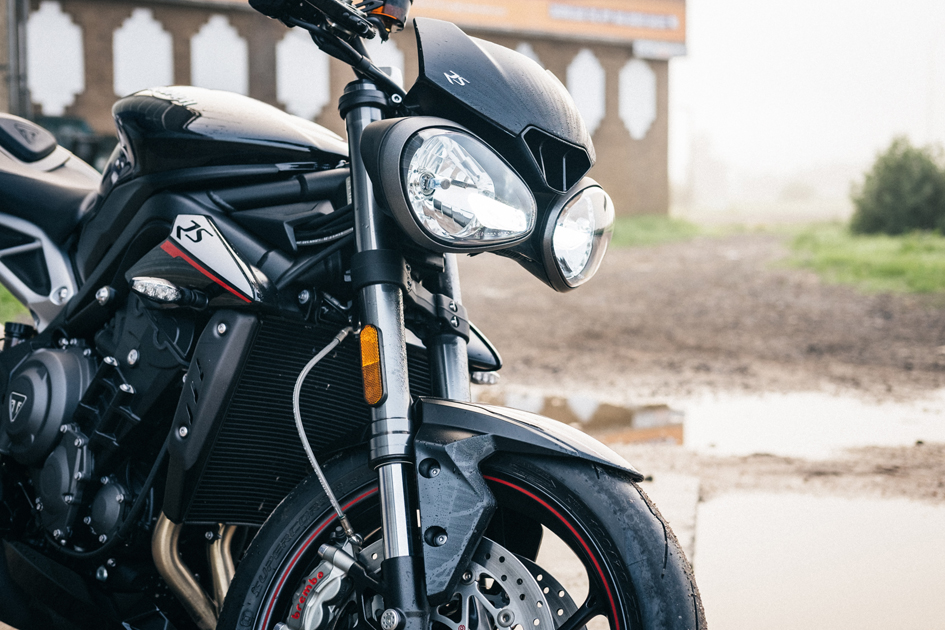 But a perky motor isn't the only thing the Street Triple has going for it. Its other big strength is that it's uncannily nimble. Its wheelbase is a mere 1410 mm—that's shorter than the Ducati Monster 821, and just a hair longer than the diminutive Yamaha MT07. It also has a sharp steering angle, and a pegs-to-seat-to-bars layout that keeps you engaged at all times.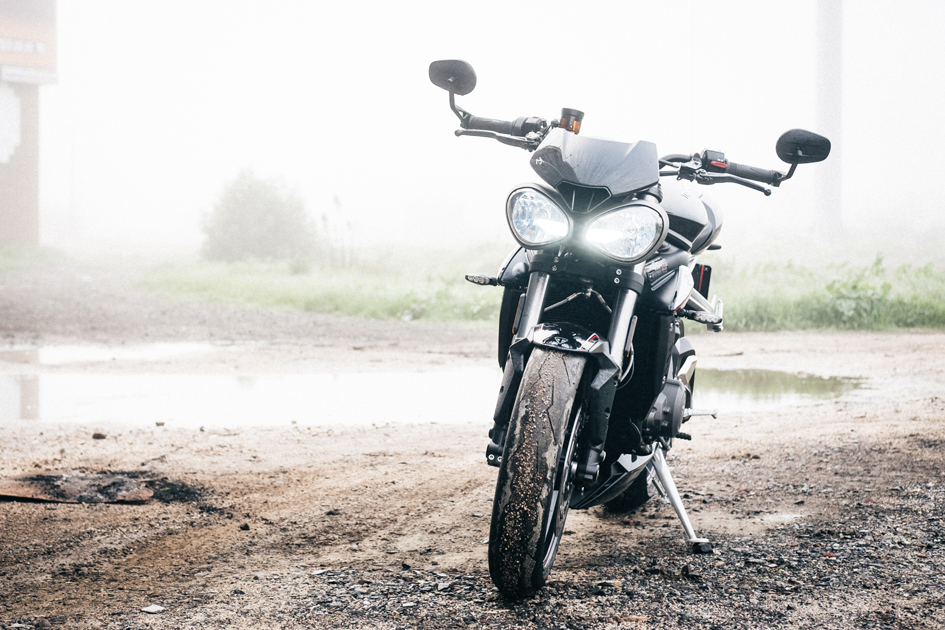 The Street Triple is so compact that it's almost too small for my 1.86 m frame. But that makes it even easier for me to throw around. It'll edge into a corner with the lightest of touches, and if you're hustling it through a sequence of turns, it'll change direction almost intuitively. (Seriously, it's so easy to manoeuvre, that it's borderline unnerving.)
That's backed up with a sweet brake and suspension package that never really get bent out of shape. Sure, the front brake can be a little snatchy if you're not delicate—but there's more than enough stopping power to keep things civilised. And if you take the time to fiddle with the suspension settings, it's possible to dial the Street Triple in find your own personal sweet spot. (I managed to get it from 'OK' to buttery smooth with minor fettling.)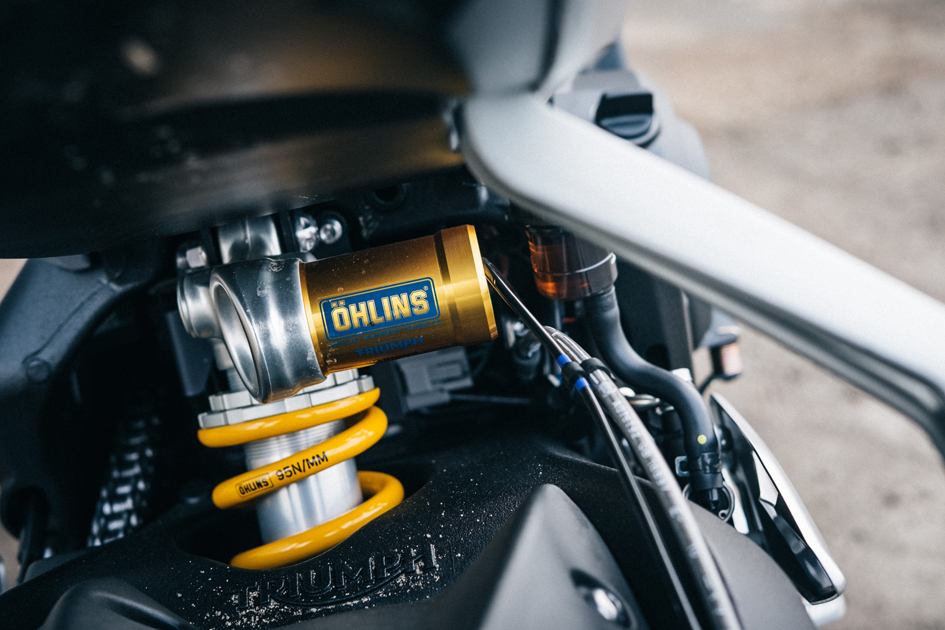 I didn't have the opportunity to unleash the Street Triple RS on the track, but I'm sure it would excel. From its snappy acceleration and slick handling, right down to the ability to tweak a wide range of setup options, it has all the right ingredients.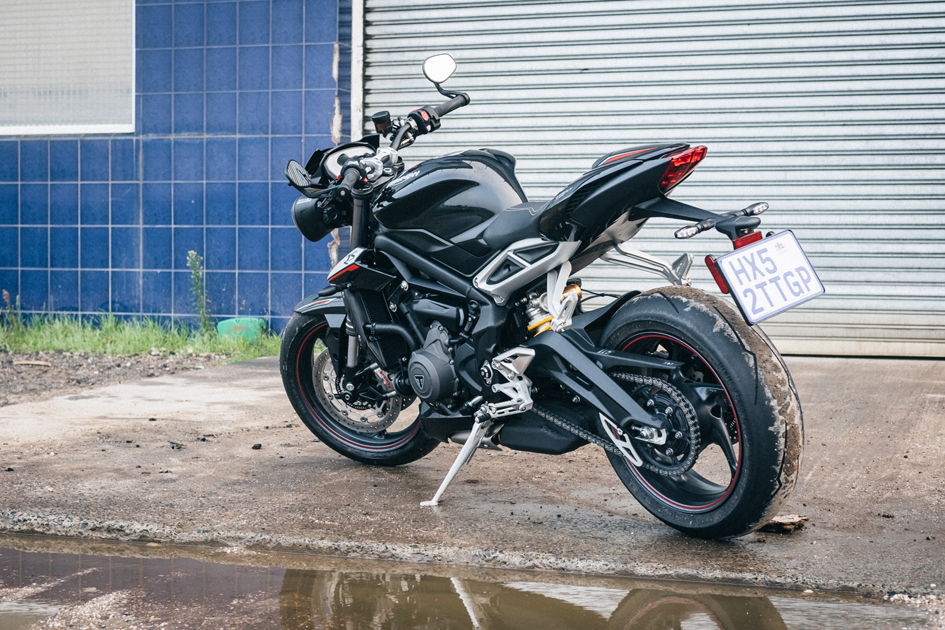 The Street Triple RS is another home run for Triumph, and a worthy entry in the Street Triple lineage. For more information visit: www.triumph-motorcycles.co.za