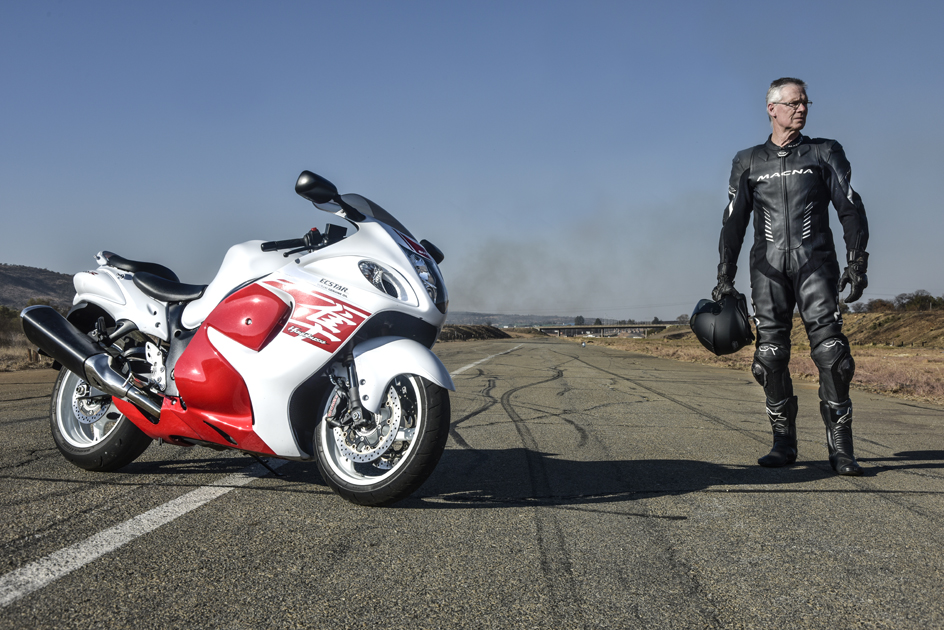 The Hayabusa, "Highway Abuser" or 'Busa, as it has become fondly known in SA, the story started, incredibly, way back in 1999. In fairness, it was Kawasaki, with their wickedly fast ZX-11 Ninja who threw down the hyper bike gauntlet way back in 1990. The big Ninja wailed to a top speed of over 180 mph. Not to be outdone, it was Honda that was first to retaliate with their 1100 Super Blackbird, which pipped the ZX-11 by a couple of miles per hour. Suzuki waited to the end of the decade before delivering a sledgehammer blow to the opposition. Enter the Hayabusa GSX 1300 R. Their first statement was in the name. "Hayabusa" is the Japanese name for the Peregrine Falcon, which dives at speeds of up to 325 kph. It was not purely coincidental that the main prey of the Peregrine Falcon is Blackbirds! Did it deliver? Oh hell yes!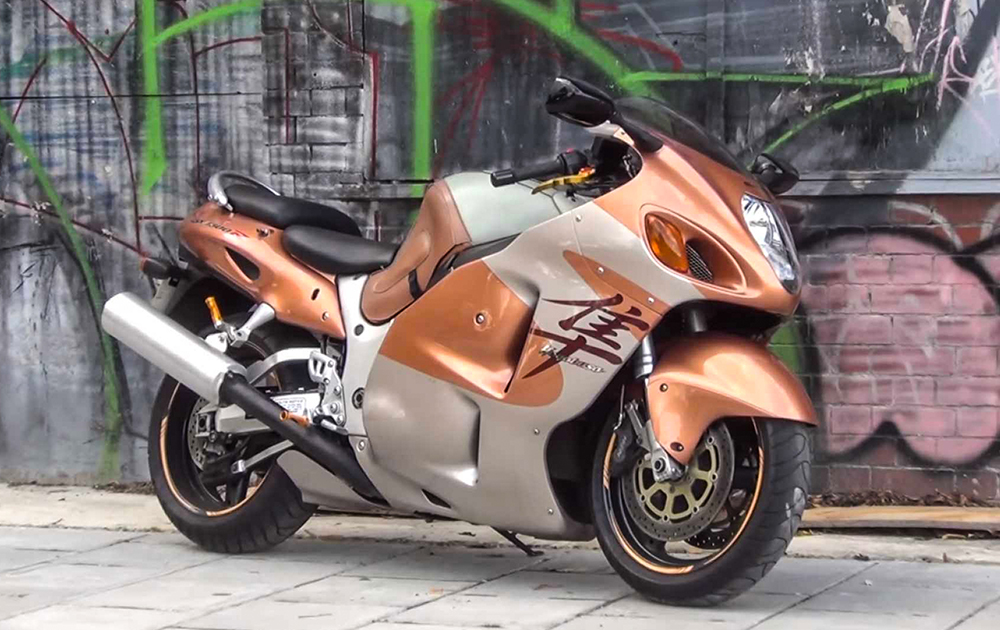 Suzuki endowed the 'Busa with a twin cam, 4 – valve motor displacing 1299 cc's. To a large extent designer, Koji Yoshirua allowed the wind tunnel to shape the big 'Busa. Bulbous and bold it divided opinion on its appearance from the outset. The nose, with it's stacked headlight and massive air intakes is pointy and made to penetrate the air as efficiently as possible. The air intakes bring a ram air effect into play with the airbox being pressurised to increase intake manifold pressure. This bumps horsepower the faster the bike goes. The full fairing belly pan extends to the back wheel to make the bike as slippery as possible. The end result is looks that are distinctive, and I suppose as always, beauty is in the eye of the beholder. This beholder has never been won over by the 'Busa's looks.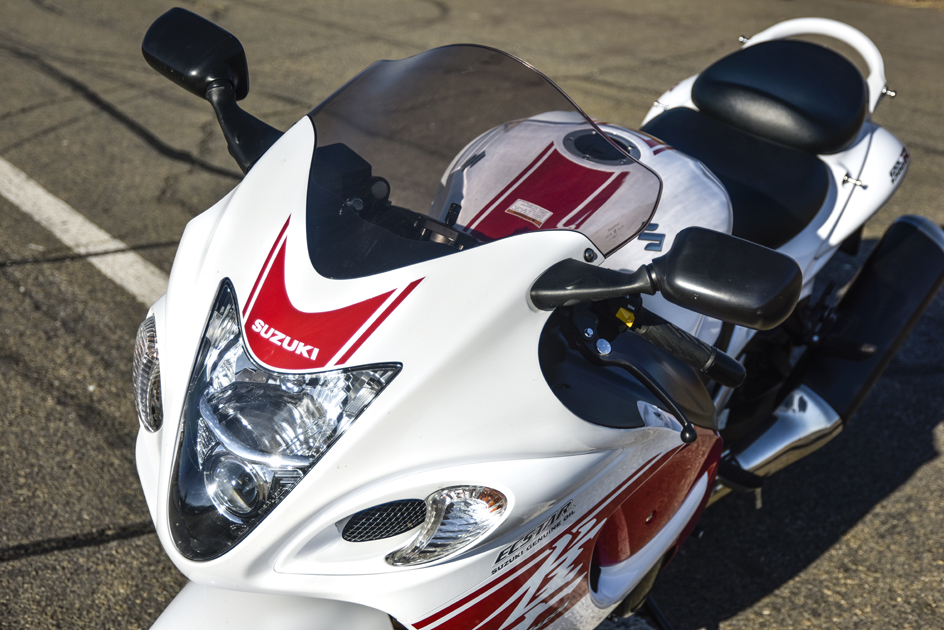 For me, it fell out of the ugly tree and hit every branch, and then some, on the way down. Early paint jobs and colour schemes didn't help much either. Interestingly, where most bikes sell well after their introduction and taper off over time, it has been the other way round with the big Suzook. To me, that suggests that as the 'Busa's talents shone through, and people came to grips with the looks, it 's fan base has grown consistently. An American traffic law enforcement agency uses a Hayabusa as a high-speed pursuit vehicle and painted it pitch black. It looks stealthy and fantastic in a single colour, especially black.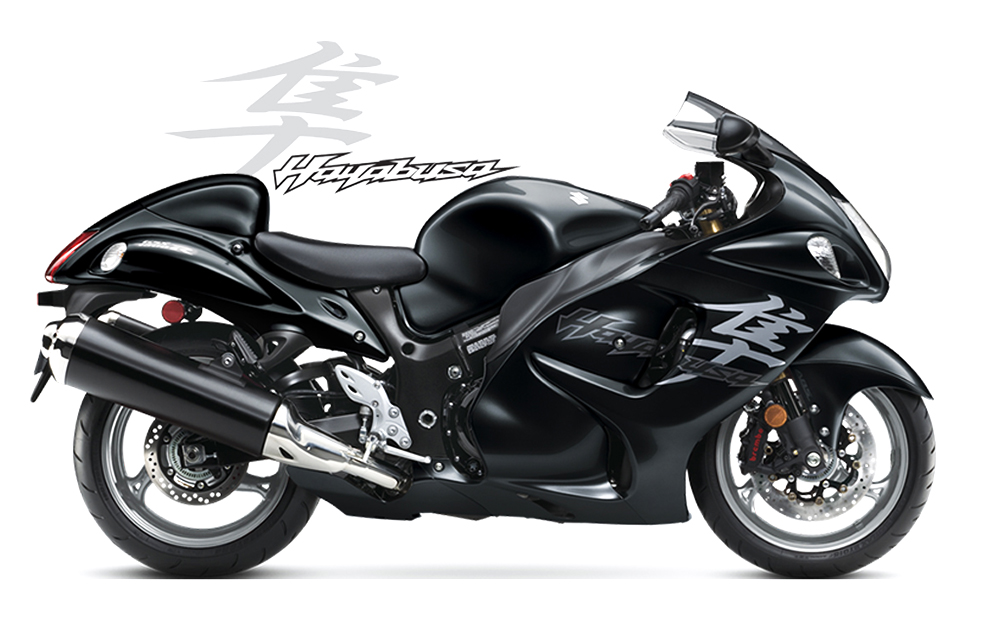 The latest four into two exhaust system sports two of the largest silencers that you will find on a two-wheeled conveyance. Ditch them for a set of Yoshi RS 3's or the like and you will probably lop off at least ten kilos of weight. You will also liberate an exhaust note. The stock setup is whisper quite.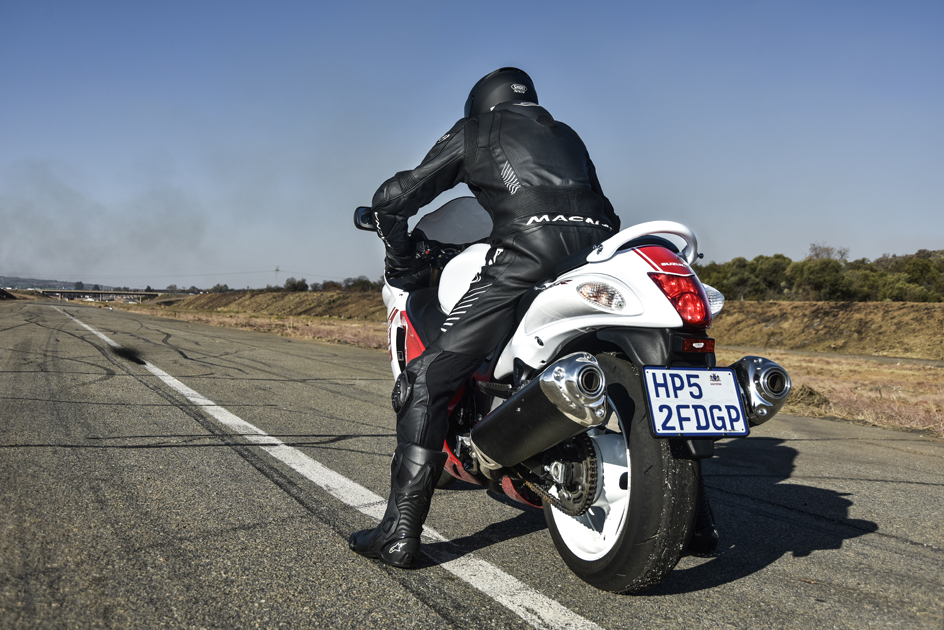 My test 'Busa had the 2018 red and white paint job, which is certainly striking, especially with the white wheels too. After a steady diet of Adventure bikes of late, the 'Busa's riding position took some getting used to. Quite a stretch to the bars and high rear-set footpegs put you in a sportbike crouch, sitting in, rather than on the bike. The clip-on bars are also lowish, so the bike is hard work at low speed but this is categorically not what the 'Busa is about.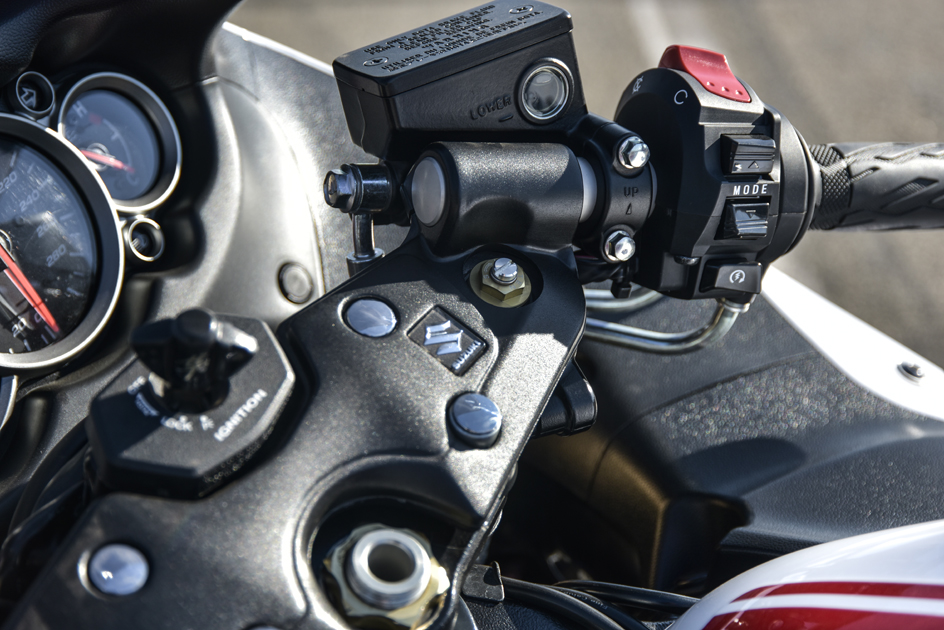 Taking the on-ramp onto the N3 the Suz immediately struts its stuff. The bike turns in with little effort and holds a line perfectly. The 266 kg weight all but disappears and simply slows the steering to the point of making the bike feel super stable. Not even bumpy roads upset the composure, with the suspension coping admirably. The wheelbase is 60 mm longer than a GSXR-1000. This enhances high-speed stability yet does not make the somewhat lardy 'Busa feel cumbersome or ungainly.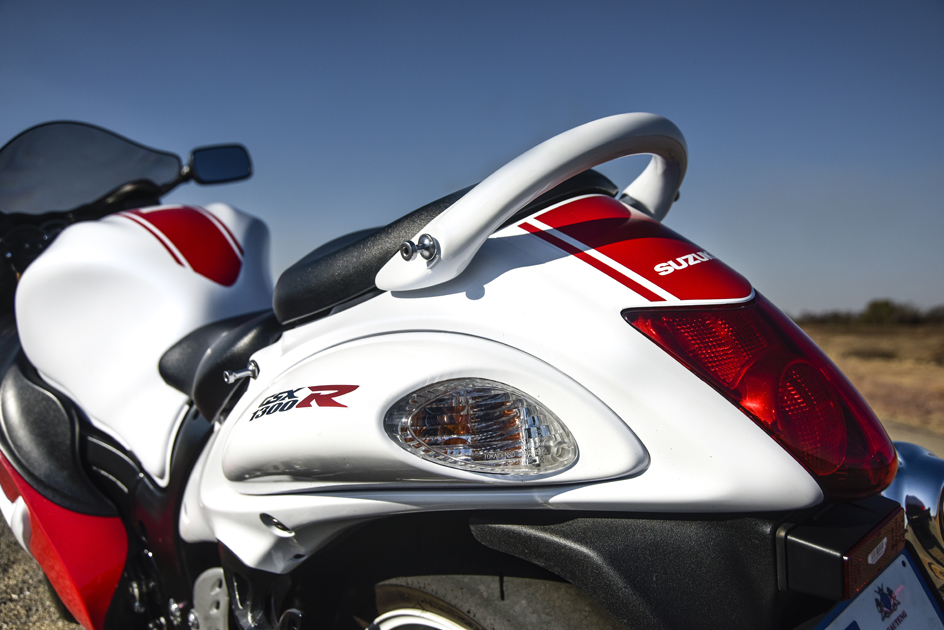 I absolutely love the fact that the Hayabusa churns out 199.7 horsepower and 155 Nm of torque, yet has not been emasculated with a bouquet of electronics that would make an astronaut's eyes water. Three engine modes and ABS. That's it! The progressive power delivery, ferocious as it is, makes the bike a doddle to ride. Having said that, it is only a bike for experienced riders of large and powerful motorcycles. A proper man's bike!. Just before the turnoff to Suzuki SA, there is a sign to a clinic that goes by the name of "Busamed". I had a good chuckle at the name. Treat the Hayabusa without proper respect and you could just end up there! The aforementioned engine modes are A, B and C, where C makes you think that you have water in your fuel. Clearly for some poo for brains fellow who needs to be told to exercise caution on a 200 horsepower motorcycle in the wet. B mode is for casual touring and pottering around town. A mode. Now we are talking. This is the one that most 'Busa's will stay in while their riders sing "nearer my God to Thee" in their helmets.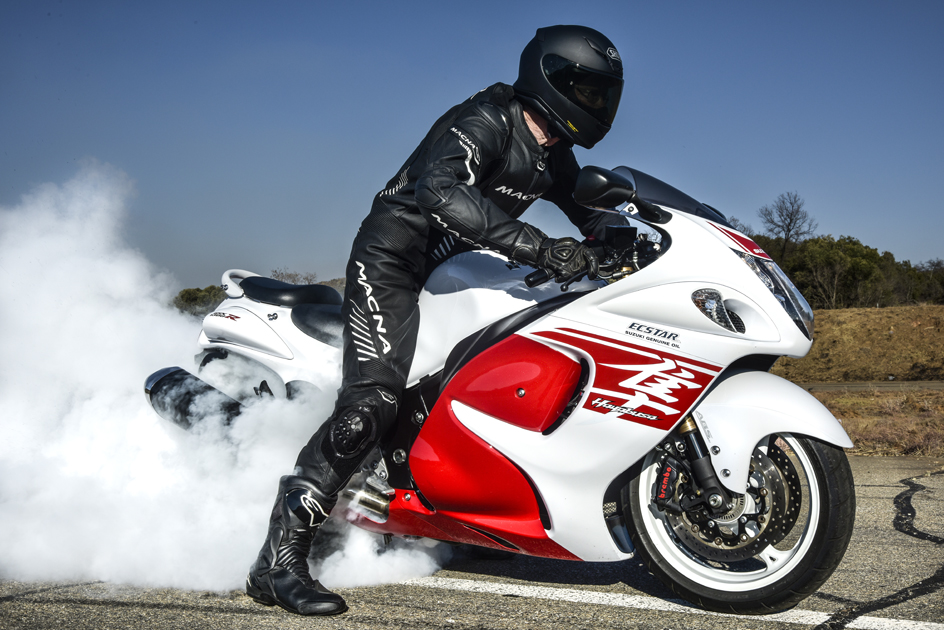 So how fast is a Hayabusa? Fact is, since it's introduction 20 years ago, the Hayabusa has established itself at the absolute pinnacle of fast! The bike sports a quarter-mile time of under 10 seconds [9.97] at an astonishing 233 kilometres per hour! The 'Busa was launched before the European legislators coerced the manufacturers to limit top speeds to 300 Kph. It is officially the fastest production motorcycle of the 20th century. Various publications ran the Hayabusa to top ends between 303 and 312 after it's launch in 1999. Since then, the 'Busa has picked up some weight but that is more than compensated for by the displacement growing to 1340cc and power and torque increasing by around 20%. The motorsports titanium valves, shot-peened conrods, and a slipper clutch. A typical Suzuki, it is also mega strong.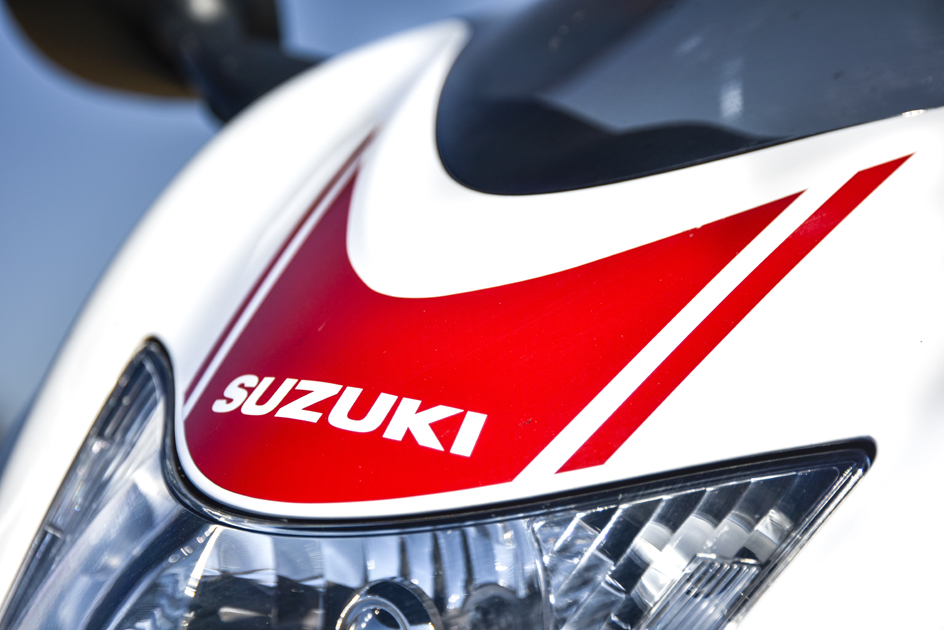 'Busa's are a firm favourite with the hot rod crowd. They have been turbo'd, supercharged and injected with nitrous oxide to generate insane power and speed. There are street registered Hayabusa's in the USA making over 700 hp and capable of top speeds in the region of 270 mph! [437 kph]. That, sports lovers is Flippen ridiculously fast. Bill Warner, way back in 2011, set a World Land Speed Record with a Turbo 'Busa of 311.945 mph [502.027 kph] Let's face it, love it or hate it, no none can question the Suzuki Hyabusa's performance credentials.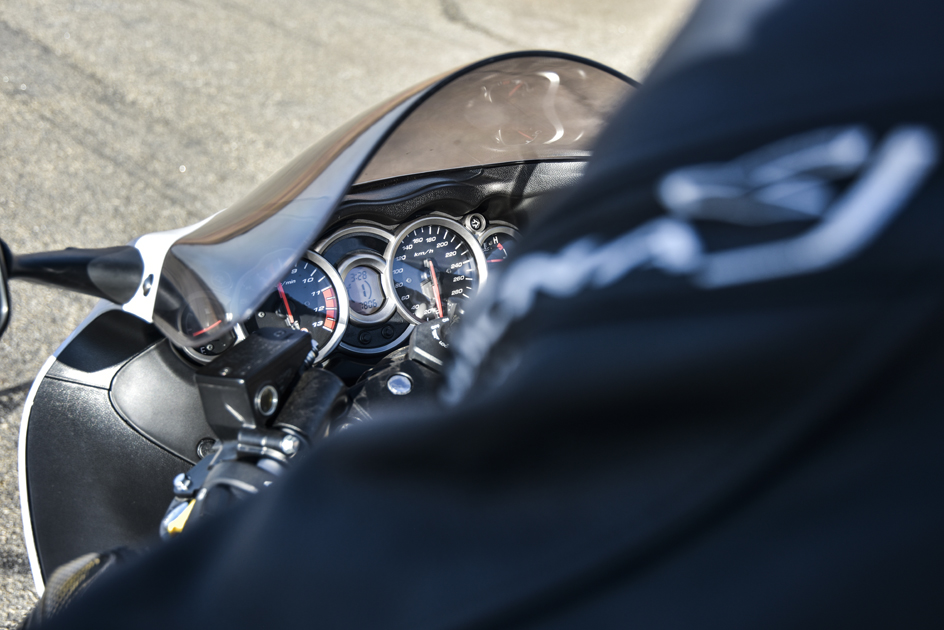 Yeah, that's all good and well, but this is 2019 we are talking about, where almost every 1000 or 1100cc sportbike boasts 200 hp. So is the 'Busa's speed still awe-inspiring? You betcha! Get this. The Hayabusa revs to 11000 rpm. At a lazy 5500 rpm, the Suzuki is running 160 kph! The weight and size of the Hayabusa makes running these speeds a kind of a non-event, and herein lies the potential problem. The bike is blindingly, blisteringly fast, yet makes it all sooo easy. Lightweight sportbikes with huge power are twitchy and flighty, reacting so fast to rider input that it can be unnerving. Not so the 'Busa. Whack open the throttle and it doesn't try to rear up on its back wheel and smack you between the eyes.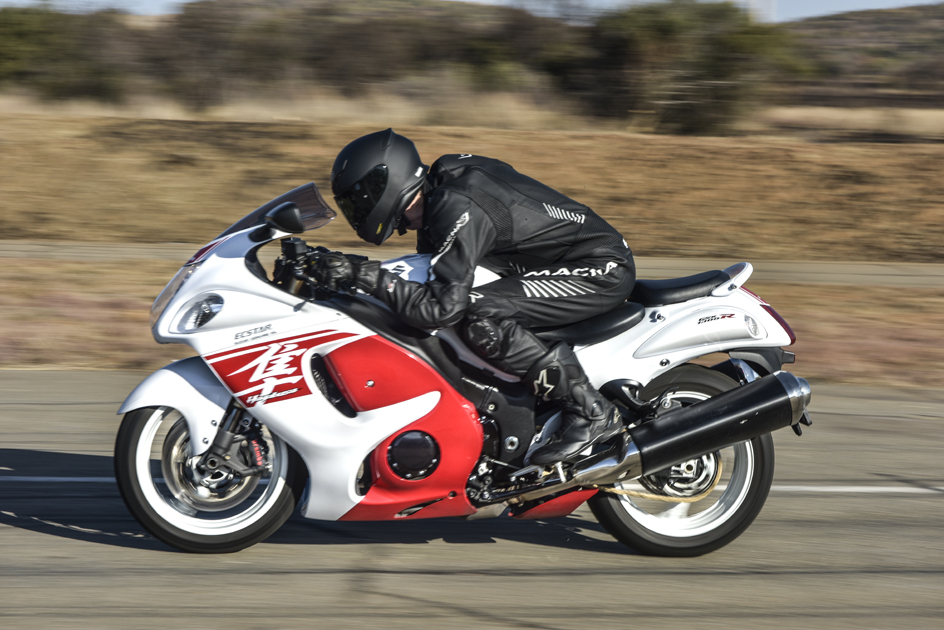 The front-wheel weight bias and long-wheelbase just allows the back wheel to hook up and launch you forward. Even coming off the line hard spins the back wheel for metres yet you can still keep the bike running reasonably straight as the back tyre scrabbles for traction. Easy peasy. Despite the huge torque the bike still really starts to haul with insane gusto as the revs rise and every one of those 199.7 horses makes their presence felt. The Hayabusa is not a one-trick pony. It handles with a deftness and stability that belies its age. Our resident photographer, Bjorn, sets himself really high standards, as can be seen by the superb quality of his work throughout this site. He had in mind some very specific shots which he felt epitomised the arse-kicking attitude of the Hayabusa. On our way to the location for the photoshoot, we needed to negotiate a few highway roundabouts. With the confidence that full leathers bring, I found it easy to drag the knee sliders with the big 'Busa inspiring total confidence even when pitched on its ear. The ground clearance is excellent, with nothing touching down even at serious lean angles.
Comfort at speed is good. The windblast keeps you neutral without too much weight on your wrists or helmet, whilst the screen does enough to allow really high-speed cruising. The seat for both rider and passenger is of a consistency that is super comfortable for long days in the saddle. With this sort of power and torque, the bike doesn't even know when you have a passenger aboard. Bungie hooks fore and aft of the seat are a practical touch. The 'Busa has a relaxed demeanour with the motor hardly working even at very high speeds. The engine has a gear-driven counterbalancer which keeps things smooth at all revs. Clutch and gearbox are beyond reproach. I spent almost an hour in rush hour traffic without the bike running hot or complaining in any way. It is, and I know this sounds like a cliche', almost impossible to ride the 'Busa slowly on the open road. 160 honestly feels like 120 [I swear Officer!] with the bike so utterly relaxed and stable at speed. The tank holds 21 litres, so if you are able to show some restraint it will give you an adequate fuel range. The fuel gauge is a trifle weird. The needle doesn't move for a hundred kays then drops faster than a slut's panties. The reserve light comes on with a full five litres still in the tank. Running a tank of fuel through the 'Busa returned 16.9 k's per litre. Please understand that this included some seriously spirited riding, so cruising at a constant 130/140 would probably improve the consumption significantly. 300 plus kilometres on a tank is very do-able.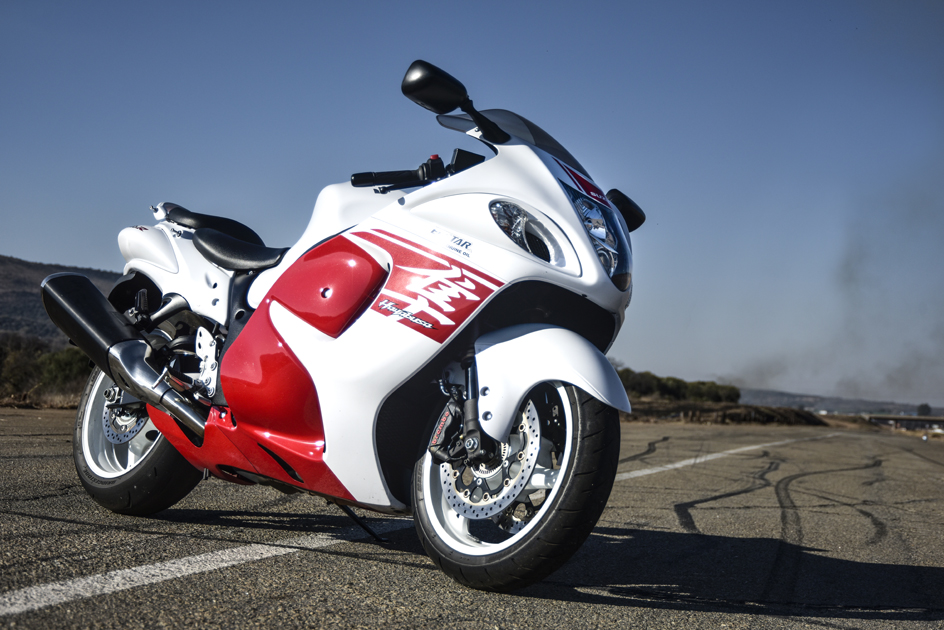 Speaking of gauges, the Hayabusa clocks are old school and to my mind super functional and cool. On the left is a circular fuel gauge with a needle indicating the fuel level. Left of a central digital display is an analogue tachometer and to the right a speedo. The digital display shows you what gear you are in, your engine mode, the time, and trip and odometer displays. A temperature gauge balances things off on the right. I am so tired of everyone waffling on about TFT displays. Give me the 'Busa's setup any day. Functional, easy to read and simple. Why, for pity sake would you want to change that? This is one of the reasons why Suzuki can sell the Hayabusa for just under R207000. We don't have to pay for a toilet full of electronic gimmickry that doesn't add a rat's patootie to the riding experience. Brakes have been upgraded from Tokico to Brembo callipers, which are now radially mounted and work just a treat. Powerful and with excellent feel, they inspire confidence no matter what speed they are required to slow the bike from.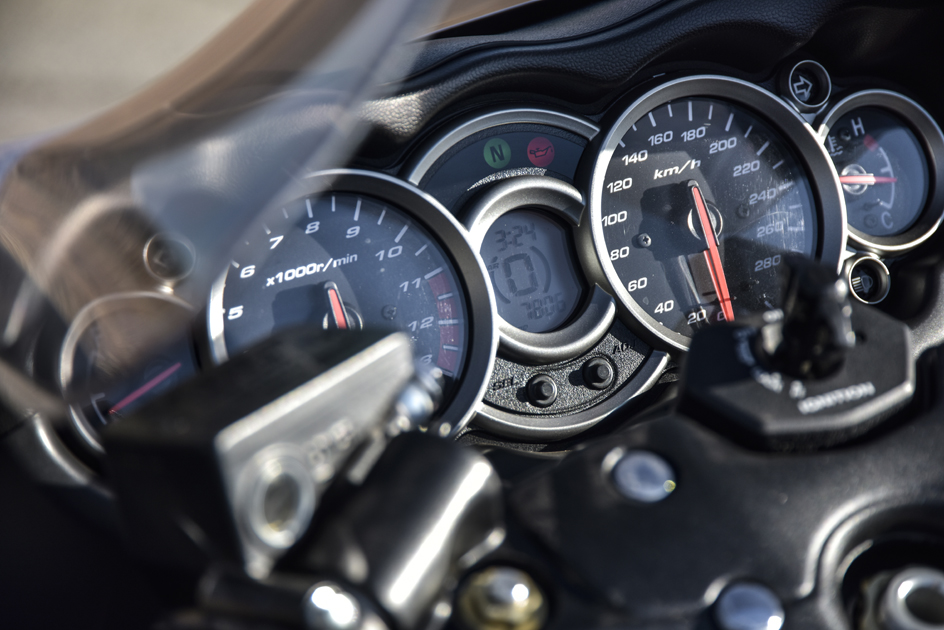 Typical of a bike that has "evolved" over time, the Hayabusa really doesn't have any vices considering what it is. Thrilling to ride, with a totally unburstable feel, it is a deliciously old school package that simply works. A prominent motorcycle journalist summed it up rather well when he said: "the Hayabusa is all about speed, but speed is not what it is all about". A rolling piece of thrilling motorcycle performance history, there will probably never be another motorcycle like it. A reminder that we really haven't gained much with the relentless march of technology. A well ridden Hayabusa will give almost anything a serious go on real-world roads. Be that two-wheeled or four. It deserves all the accolades ever showered on it. And then some.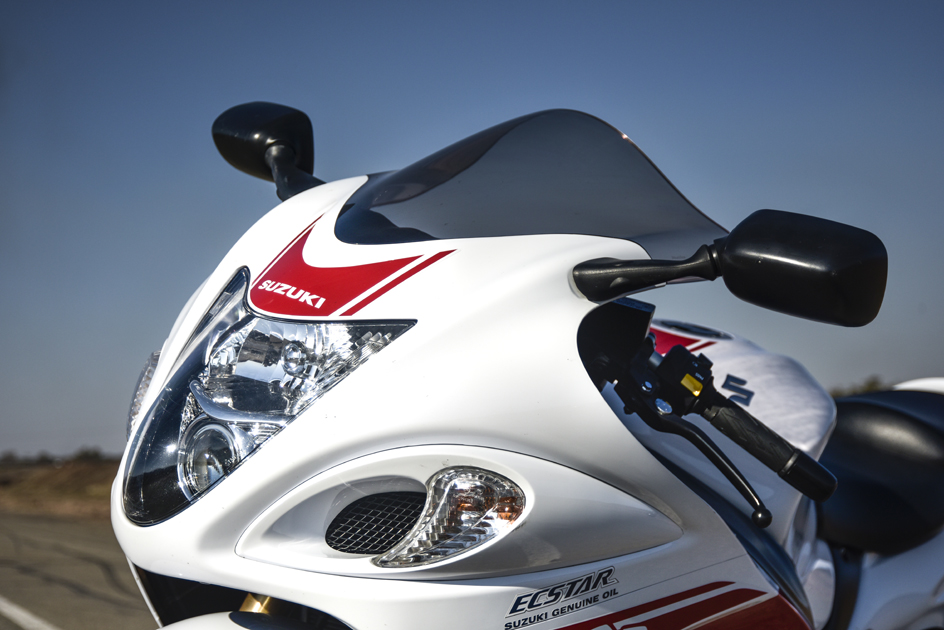 For more information visit: www.suzukimotorcycle.co.za