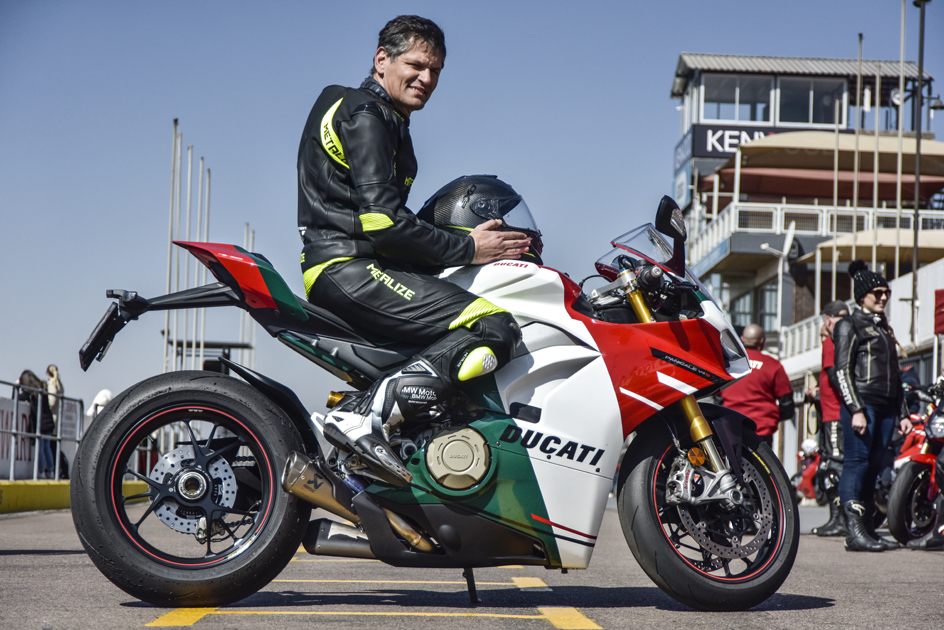 I will never forget that perfect Mediterranian evening in the village of Monterosso, where I first met Scarlet. On a particularly quiet evening in Ristorante Miky, a very popular and cosy dining place, this sensual, mystical and very Italian beauty waltzed into my life, never to leave in some mystifying way.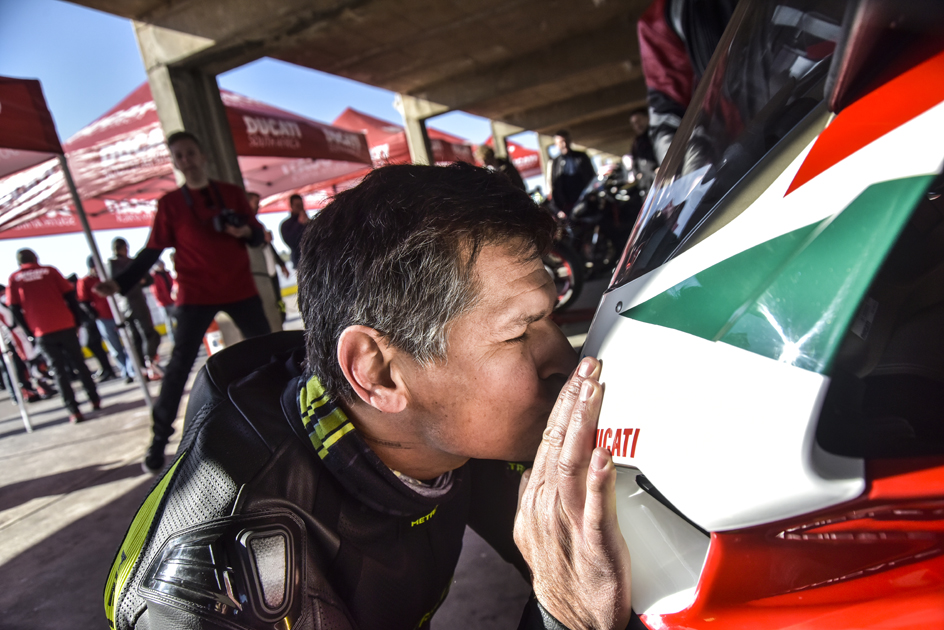 What followed was nights of endless passion, laughter, and conversation, as we drifted into neverland with the touch of white satin on our skins.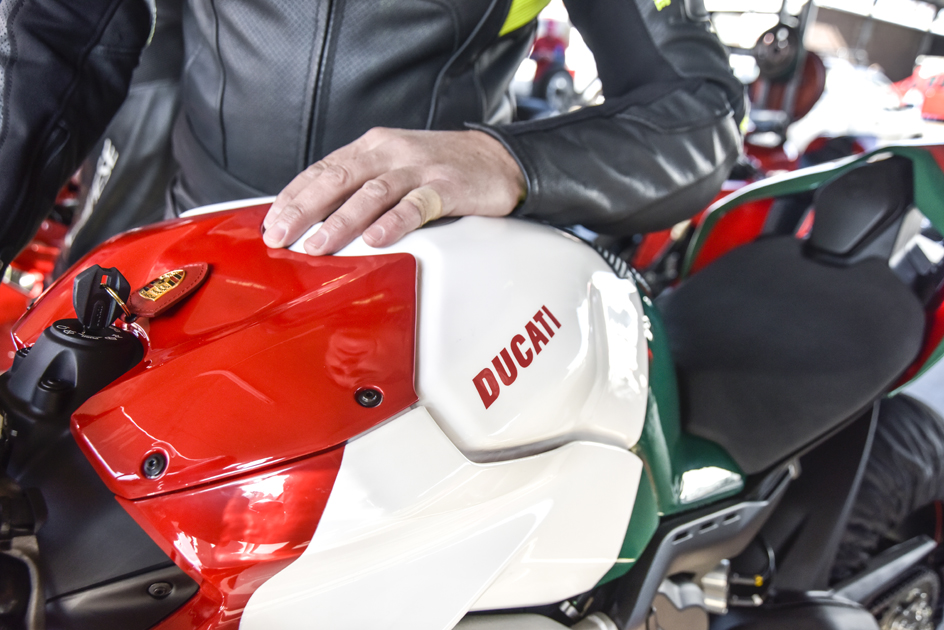 Moments like these leave an everlasting stain of beauty in our feeble, cluttered minds, yet guarantee a place of return whenever we need an anchor of meaning in an otherwise noisy existence.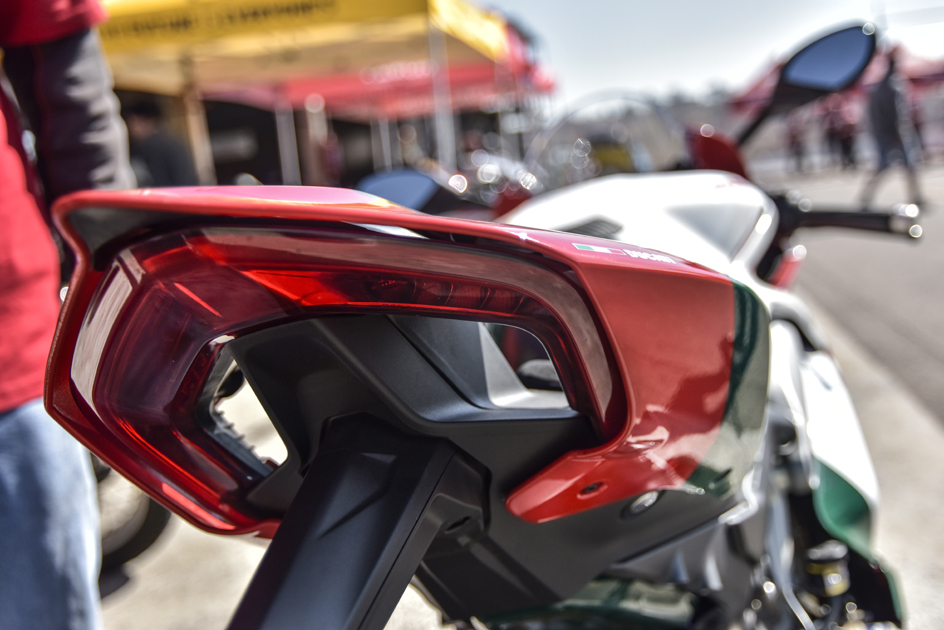 Now, many years later I find myself involved with another Italian beauty! It is a bitterly cold morning on an ice-cold race track in the heartland of South Africa's economic hub. I have been very patient on the first three laps, getting some proper heat into the tyres, before picking up the pace. My patience rewards as I start making sense of my surrounds.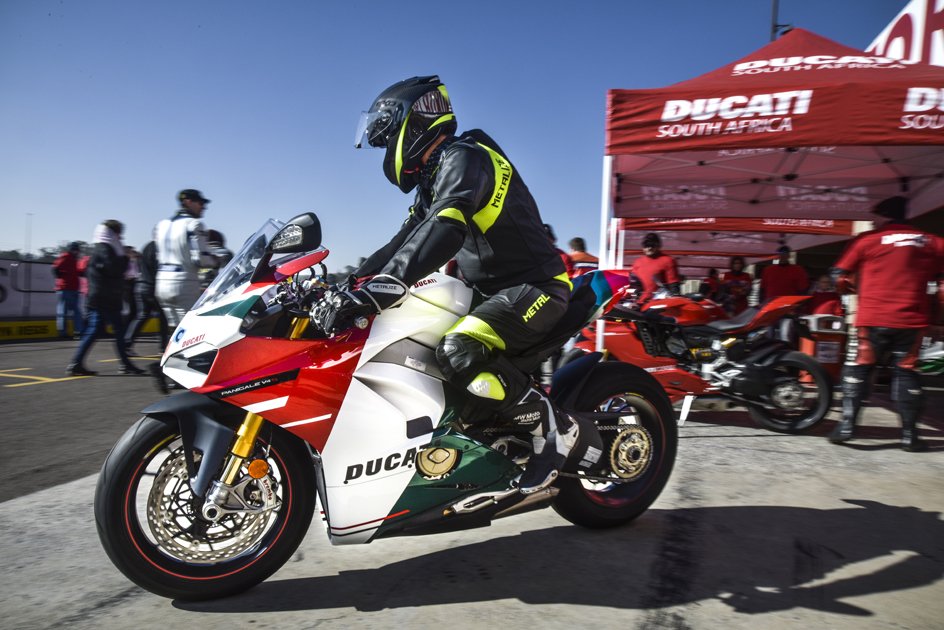 Diving into turn four, the notorious, fast right-hander at Zwartkops Raceway, I pull up alongside a KTM Superduke that I had been stalking for the last lap. I am fully committed, as is the rider on my inside. We crack open the throttle at about the same time and my red Italian beauty simply rockets past the Superduke, never to be seen again in this particular session.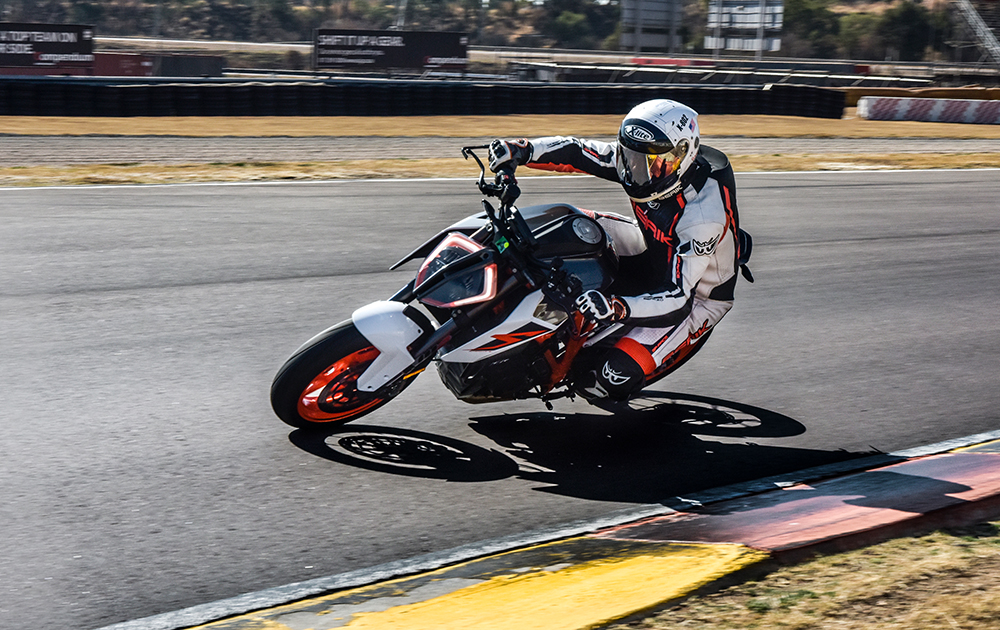 This is quite significant for many different reasons. The KTM Super Duke had established itself as the most badass production KTM of all time. It delivers monster torque, backed by loads of horsepower. Yet, it is simply no match for the Bolognia bullet I have straddled for the first time ever just a few peaceful minutes ago.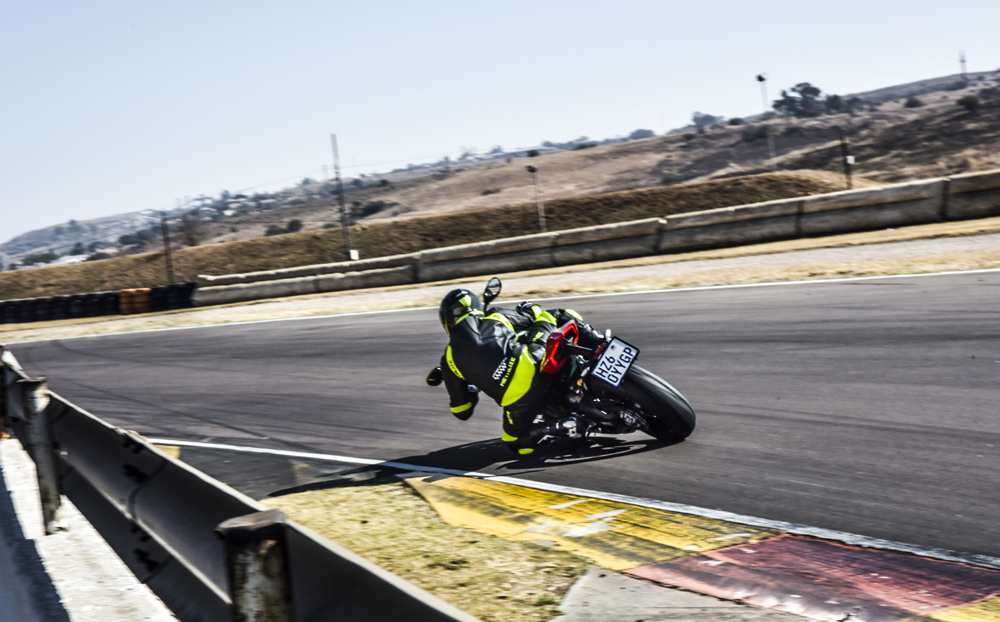 To say the overtaking maneuver was plain sailing would be far from the truth. As I cracked it open, the wide handlebars shook energetically from side to side, as if to say; "be respectful, my friend!". This was the only time on the day, that I managed to upset this two hundred plus horsepower machine to the point of protest. The rest of the day was absolutely faultless in some abstract Italian way!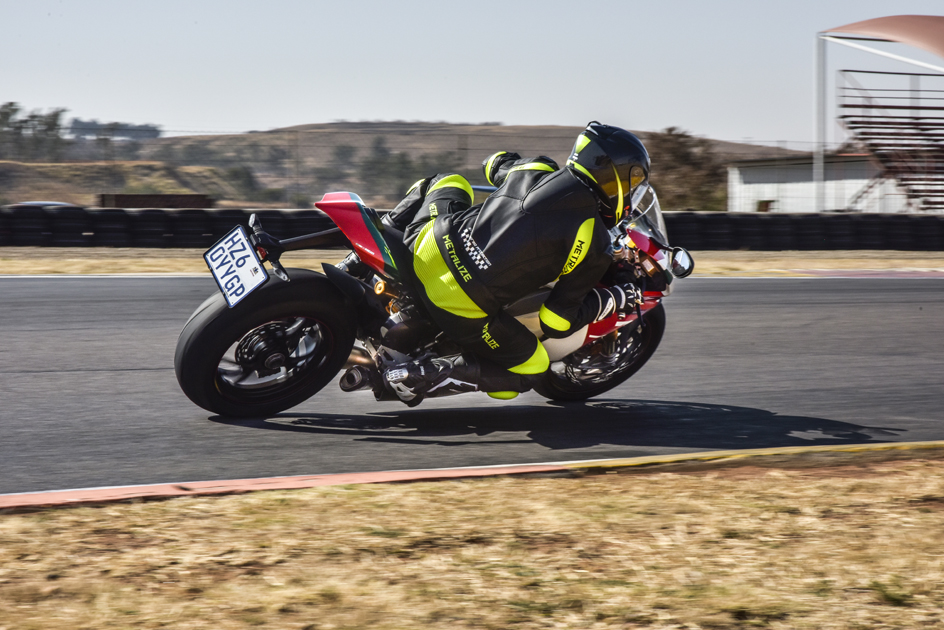 I am aboard the Ducati Panigale V4S and she sounds like a symphony. The exhaust note on the clutchless downshifts pierce the silence and cannot go unnoticed by the fans of speed in attendance. I have elected to ride this beast without earplugs, as I was ready to listen to this kind of music all day.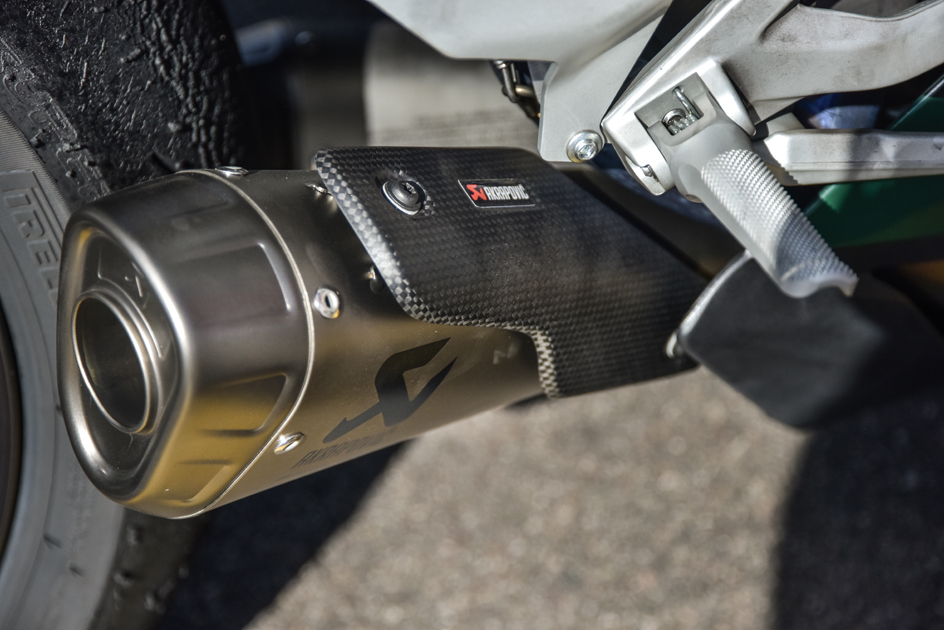 Talking of which, I have never encountered a smoother quick shift action and gearbox than on this machine. It was crucial for me to get the shifts right first time, every time. I asked Zoki, Ducati's master of all things technical to set the engine braking to the max, as I like this sort of feedback and clutch control to smooth out the deceleration that ensues as a result. There is very little time to rectify mistakes at these speeds, especially on this calibre of machine.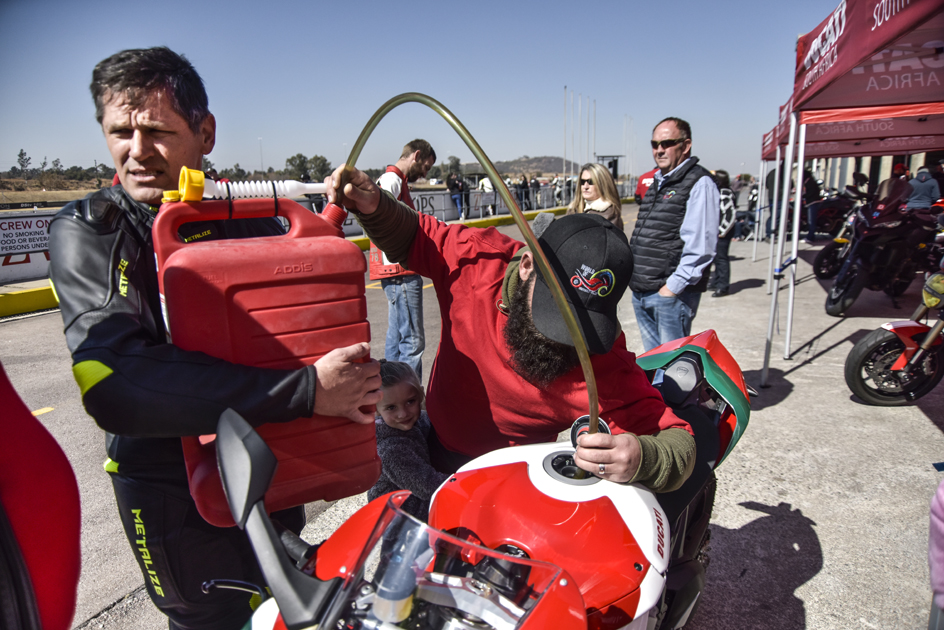 In my racing and track career, I most often found myself on inferior, underpowered machines. This allowed me to become very creative and skillful in outsmarting the competition. I honed my racecraft weekend after weekend, with less than favorable outcome on many occasions.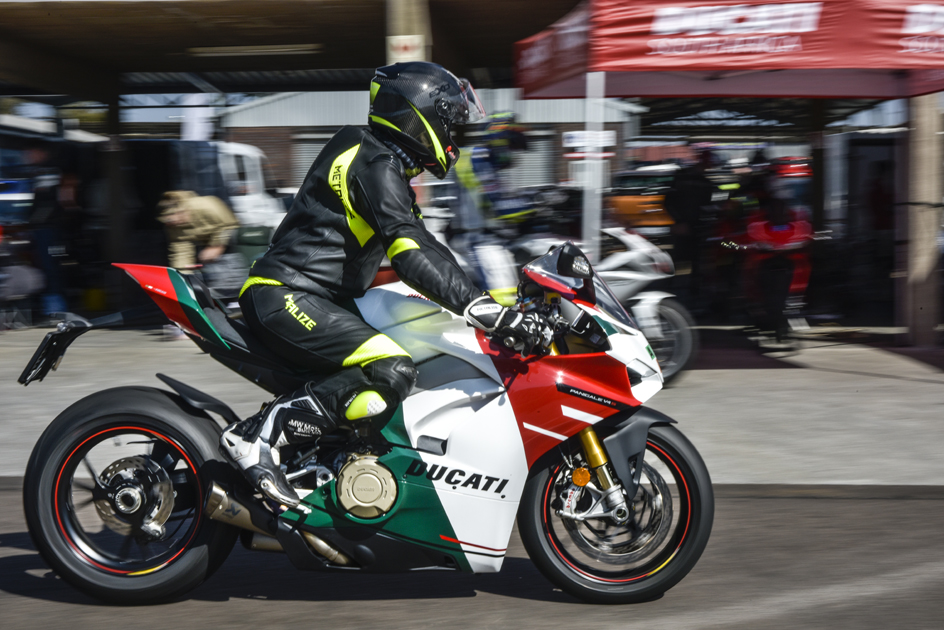 Yet on this occasion, I was on the right side of the spectrum. There was simply no bike I encountered that could not be bullied and intimidated by this Scarlet rocket. There is that name again….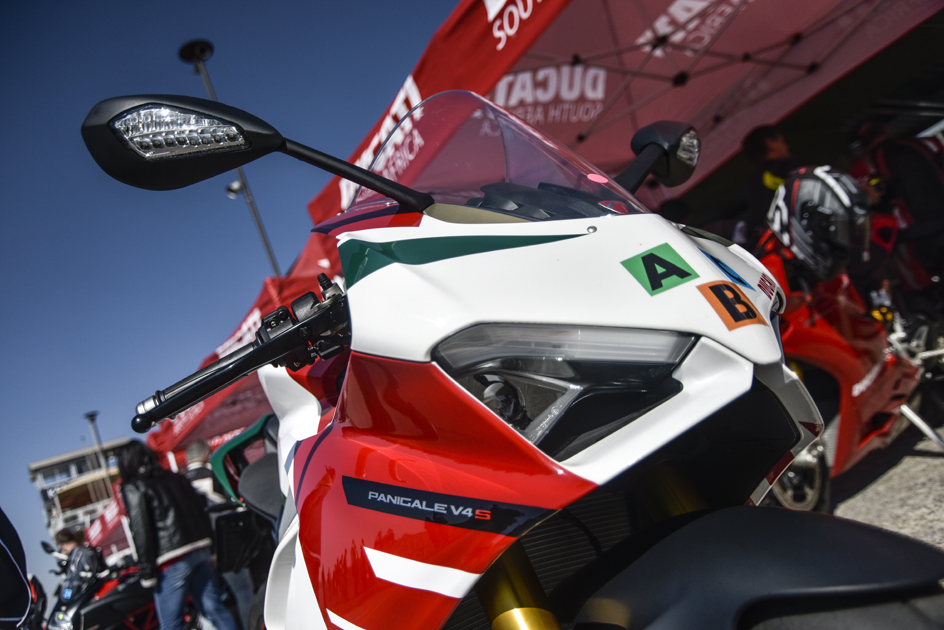 Understanding very clearly that I have gone faster on lesser machines, yet none have been this exciting to ride. In some weird, paradoxical way, true race bikes are built to go fast, and not be exciting. The more "boring" a race bike is set up to be, the more the rider can concentrate on going fast. Do not expect this trait on the V4S. There will be no way, in my thinking at least, to tune the wildness out of this machine. Deep in the core, this machine was built on passion, as is most things Italian, most things Scarlet.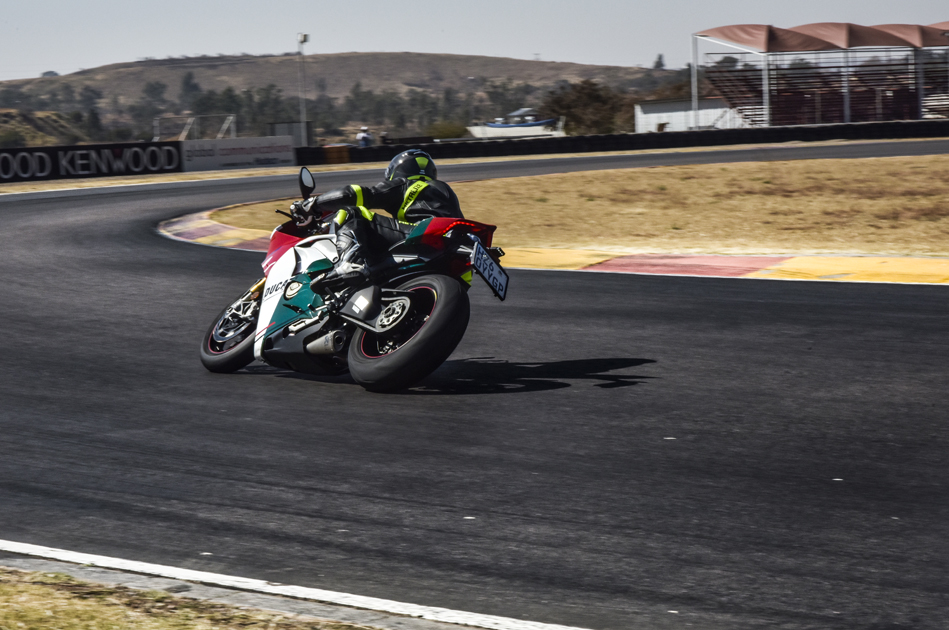 Ask any true racer and they will admit that the starting point of successful racing platforms is a strong motor, always! It all starts with wild, stomping grunt, or torque and horsepower for those more refined in their application of words. Starting with a strong motor, you can spend the rest of your racing season tuning the chassis and suspension to harness the wildness, or to just adjust your riding style as best you can, to accommodate this wildness in true Kevin Schwantz style! I would love few things more than the challenge of learning to dance with this enigma.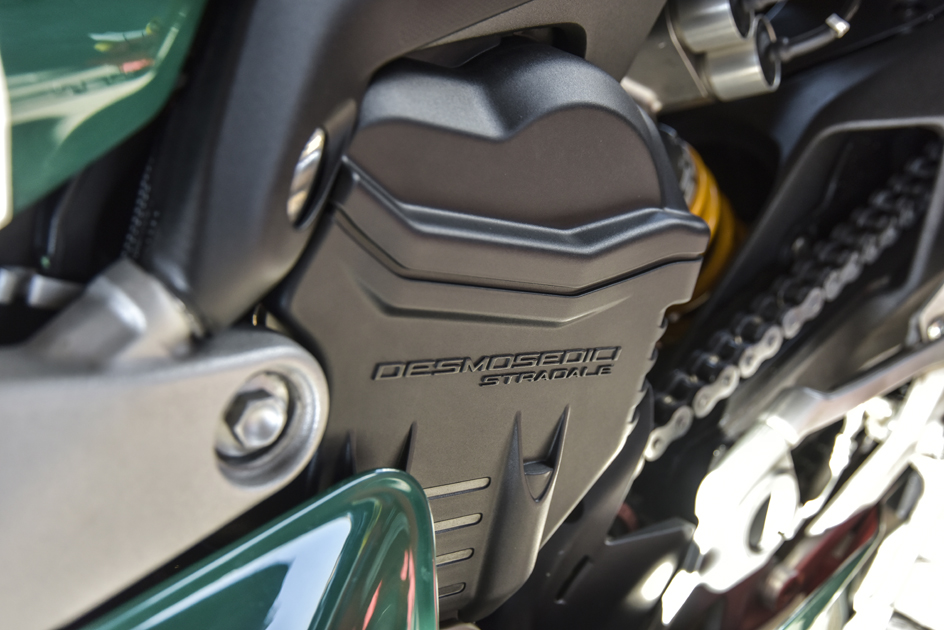 The basic setup of the bike was not suited to my exact preference, as I struggled to get my size 10 boot between the footrest and gear lever for smooth upshifts. But this turned out to be a blessing in disguise. Being a typical twin rider, I just love bikes with lots of torque to catapult me from corner to corner. Being unable to upshift on many occasions, forced me to frequent the redline of 14 500 rpm.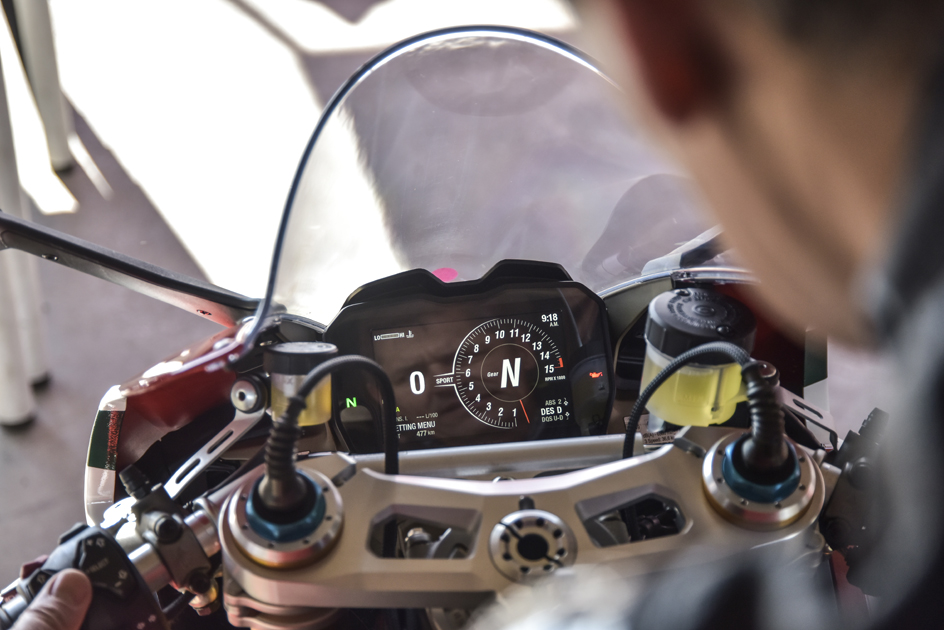 This is a mind-altering experience, etched into the dark crevices of the memory bank to be replayed over and over, just like the nights with Scarlet, so vividly narrated in the opening sentences…. 
The two hundred horsepower you unleash as a result of this is one thing, but the way in which it manifests can not be justified by words, or at least by my feeble attempts. She is a wild child, to say the least, and you have to ride her on your personal limits to extract the most from this experience. The reader must understand that this is more than a mere ride around the park. This is a true onslaught to everything sensual. This is like a dance with the gods of speed!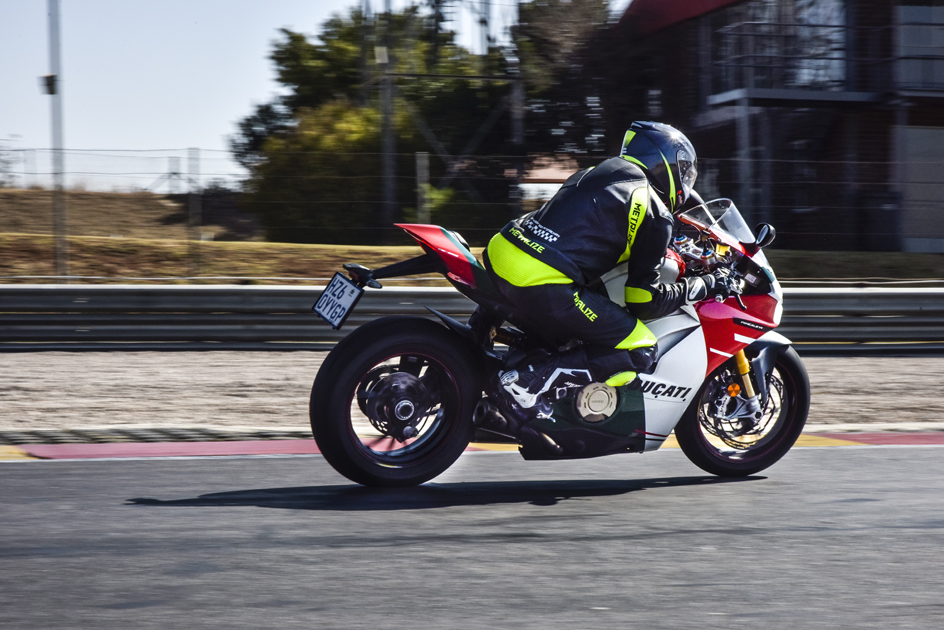 Heartwarming, on this occasion, was the support garnered by Jos Matthysen and the team from Ducati SA. Jos is a family man and he invited all his staff and their families to join in the festivities on this day. Many familiar, smiling faces always make a day like this more special. And the sight of so many Ducati's in the pits alongside mine is always special.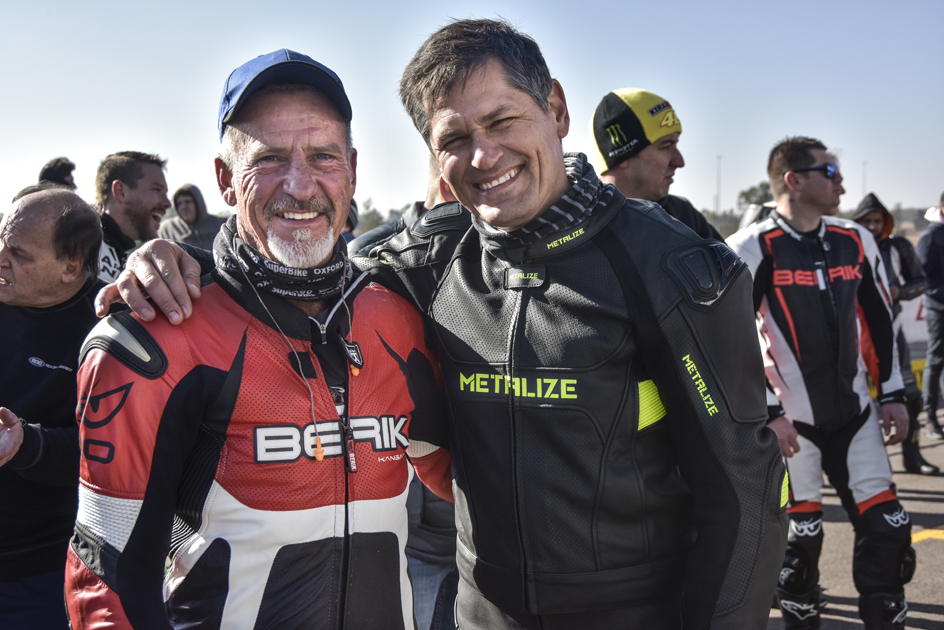 Most of these machines are immaculately turned out and meticulously cared for. An open invitation was communicated to all Ducati owners and many came to enjoy good food, good company and a fix of speed!
I am happy to report that the team at World of Motorcycles, the new home of these fine machines, performed beyond expectations in their first month under Jos's keen eye. This momentum has been carried into their second month with lots of shining new stock arriving throughout the month. 
Jos was trackside after every session to download feedback and celebrate progress with me. Jos himself being a former racer and keen, fast rider, allows for these feedback sessions to make sense on a deeper level. 
The things I really liked about this bike was the plush suspension and comfortable riding position, or should I rather say "racing position". The handlebars are perfectly perched for the job and I especially like the width of the bars for better leverage and handling. Something I can certainly get used to.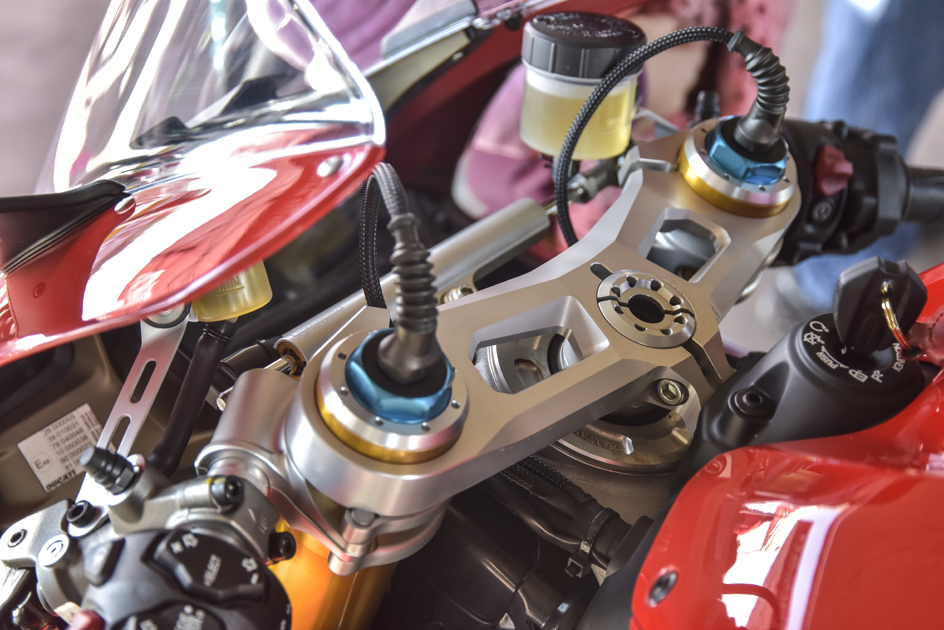 I also like the manic, yet predictable way in which the power is delivered. The Diablo Supercorsa tyres on the test machine complemented, rather than hampered the machine's performance. Good rubber can be a game-changer on brutes like this.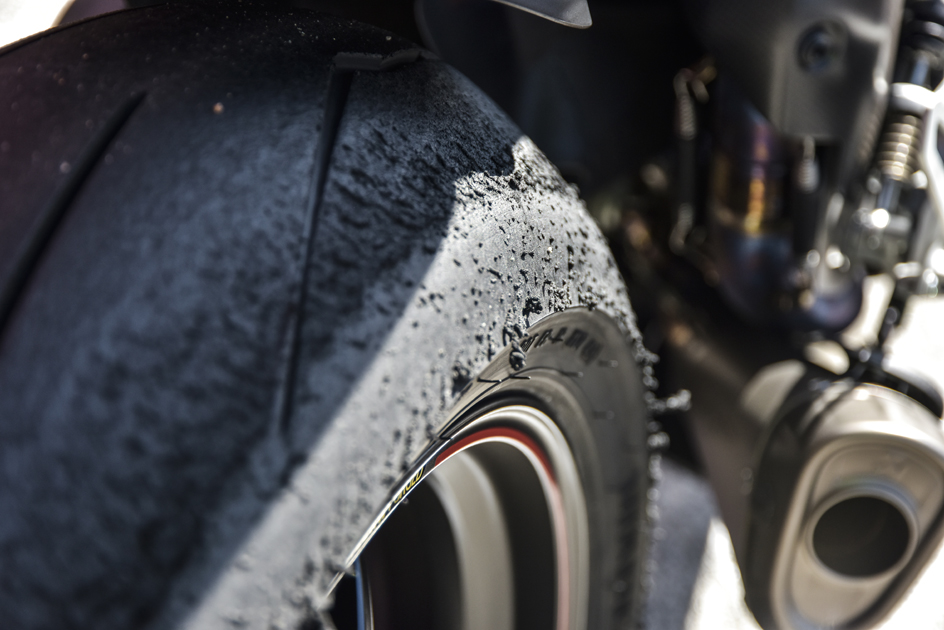 Then there are the brakes. In my personal style of track riding, I seldom use the rear brakes, so not much to report on there. But the front brakes are as good as it gets. The lever travel before brake engagement is minimal, just the way I like it. The bite is instantaneous and the brakes can be bled off with great precision. The race ABS never once interfered, just as it should be in an environment like this.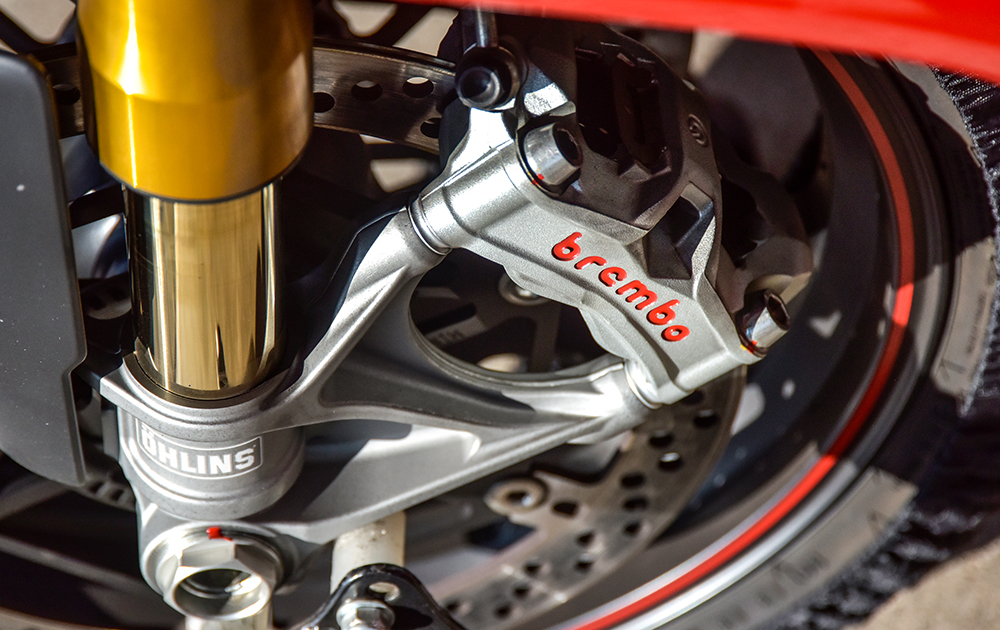 And then there is the way this bike makes you feel. I will almost always put feeling before function in my personal life. I live with passion and energy, rather than to organize my life into calculated compartments of boredom. I love to be surprised ever so often. This bike evokes the same passion in me as Scarlet did in the opening paragraphs. Riding this bike made me stand twice as tall with a very acute sense of awareness. She is an object of passion and will make no excuse to the contrary.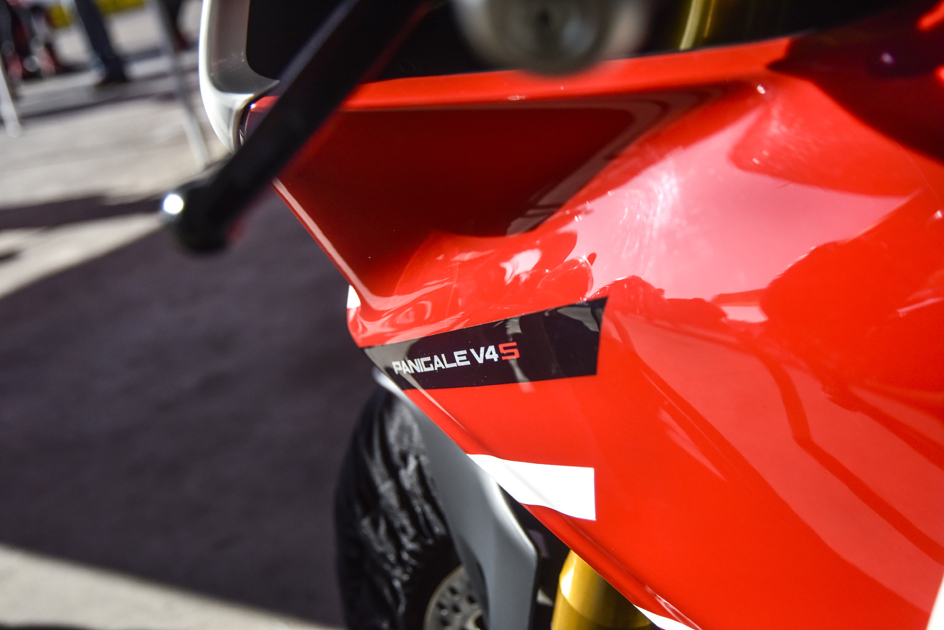 In closing, I cannot help but think about my encounters with Scarlet. I may never see her again, but that's okay. Etched into my mind is episodes so vivid, containing sights, sounds and smells of a life lived so well, so carefully wreckless that I am left with the afterglow every single time I think of our encounters on those mystical days in a place so private that none shall ever tread there…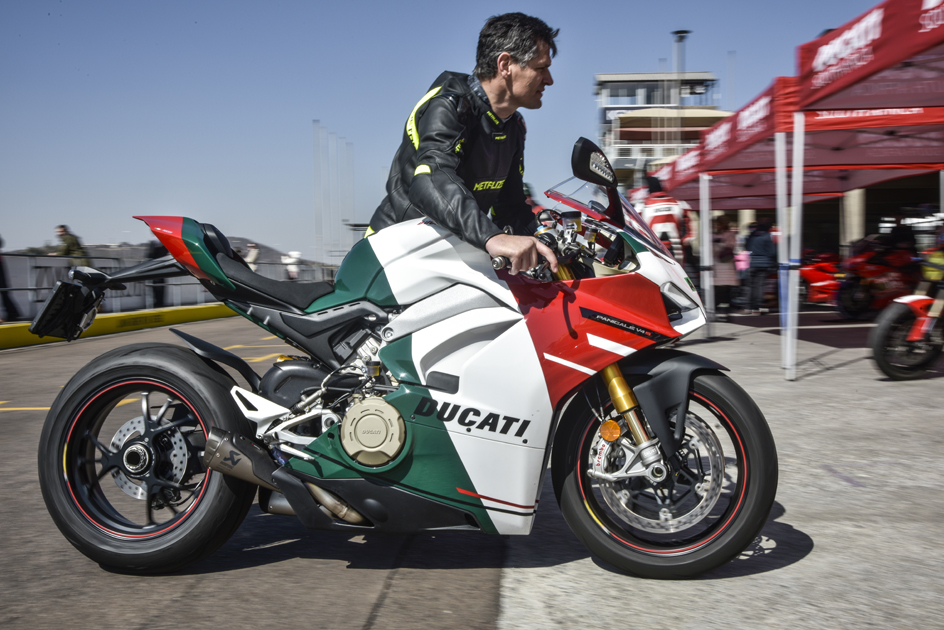 Oh, and did I mention that Scarlet is just a figment of my imagination, a place to hide my deepest feelings and life-altering moments. The day spent on this fine Italian beauty will find a place next to the fictitious Scarlet, in a much more real sense of being, as this time I was there in soul, spirit, mind, and body…
Photos by Bjorn Moreira / ZA Bikers.