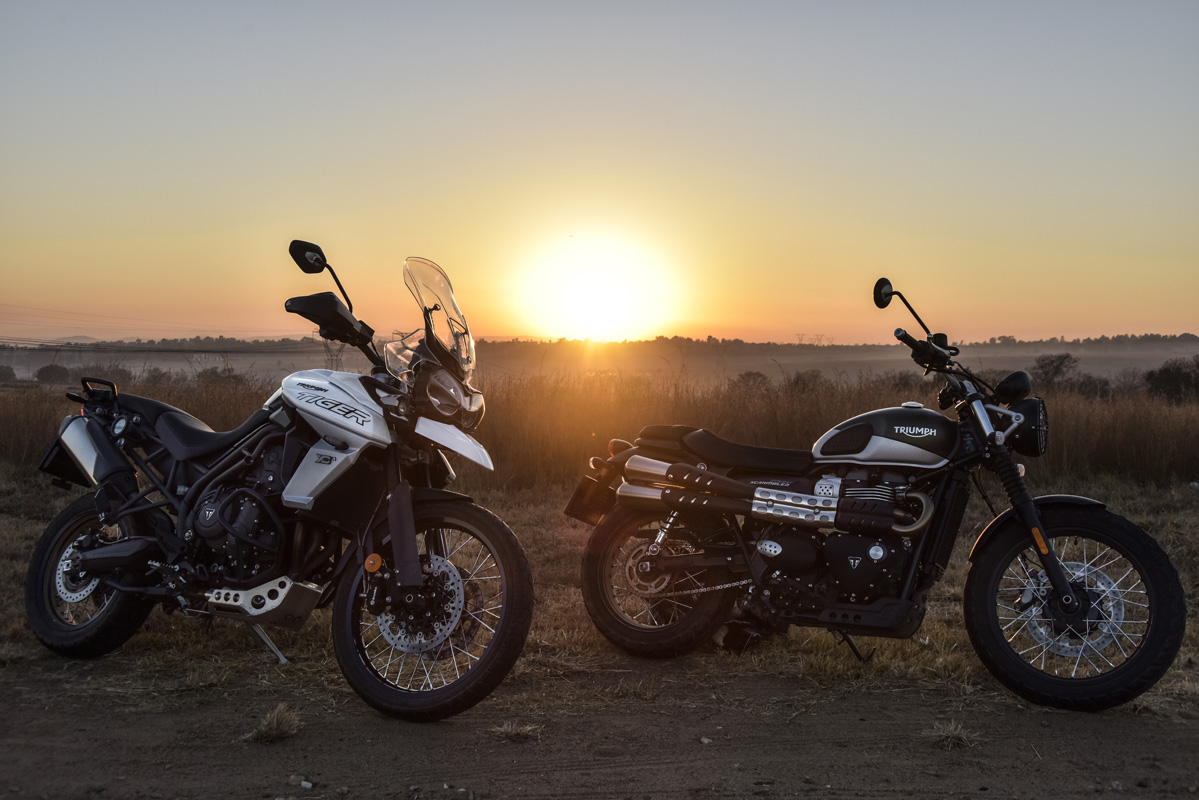 07:03 am, we had pulled up somewhere along the R512 to take shots of the morning Sunrise. It was extremely cold that morning, my bikes TFT display was showing temperatures of 1.5° and warned of low air temperatures and possible risk of ice.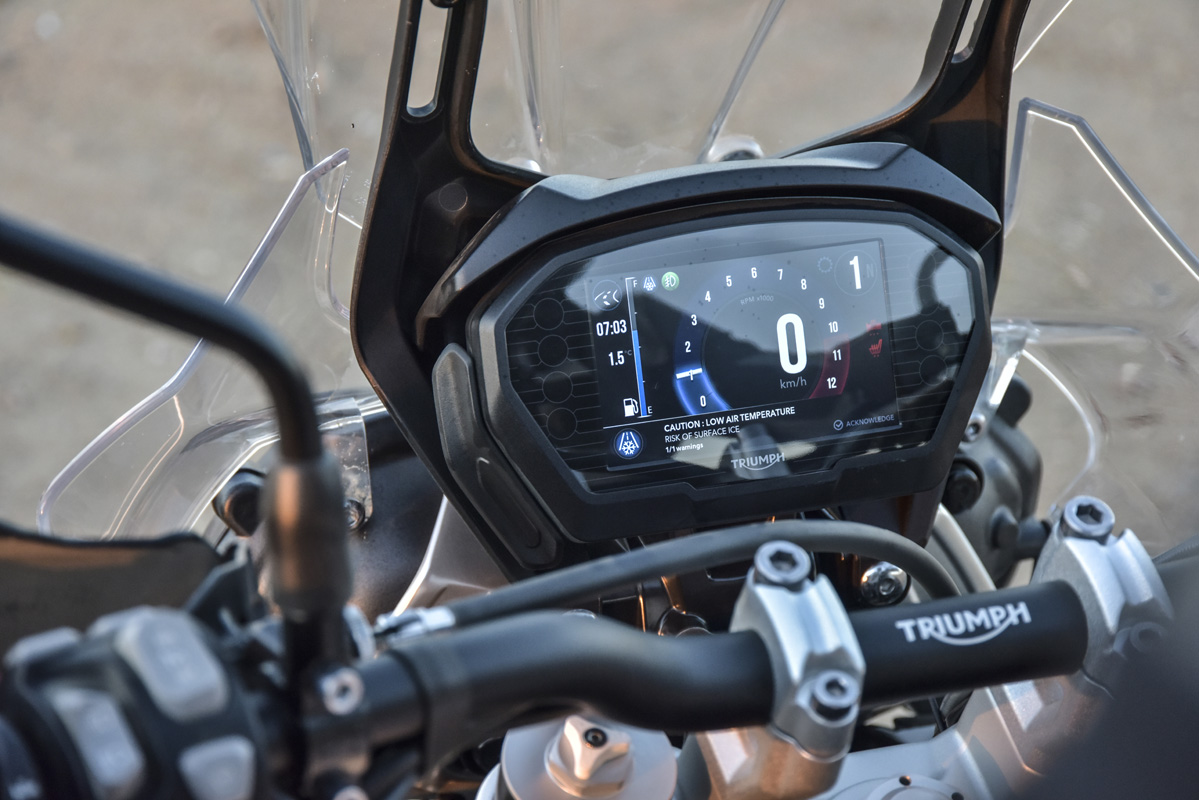 For me, that was not too much of a big deal because the Triumph Tiger 800 XCa that I was riding was fully specced and came with both heated grips and seat, add to this the unbelievable wind protection from the stock standard Triumph fitted screen and I can honestly tell you that my early mornings cold winter Gauteng ride was nice and toasty!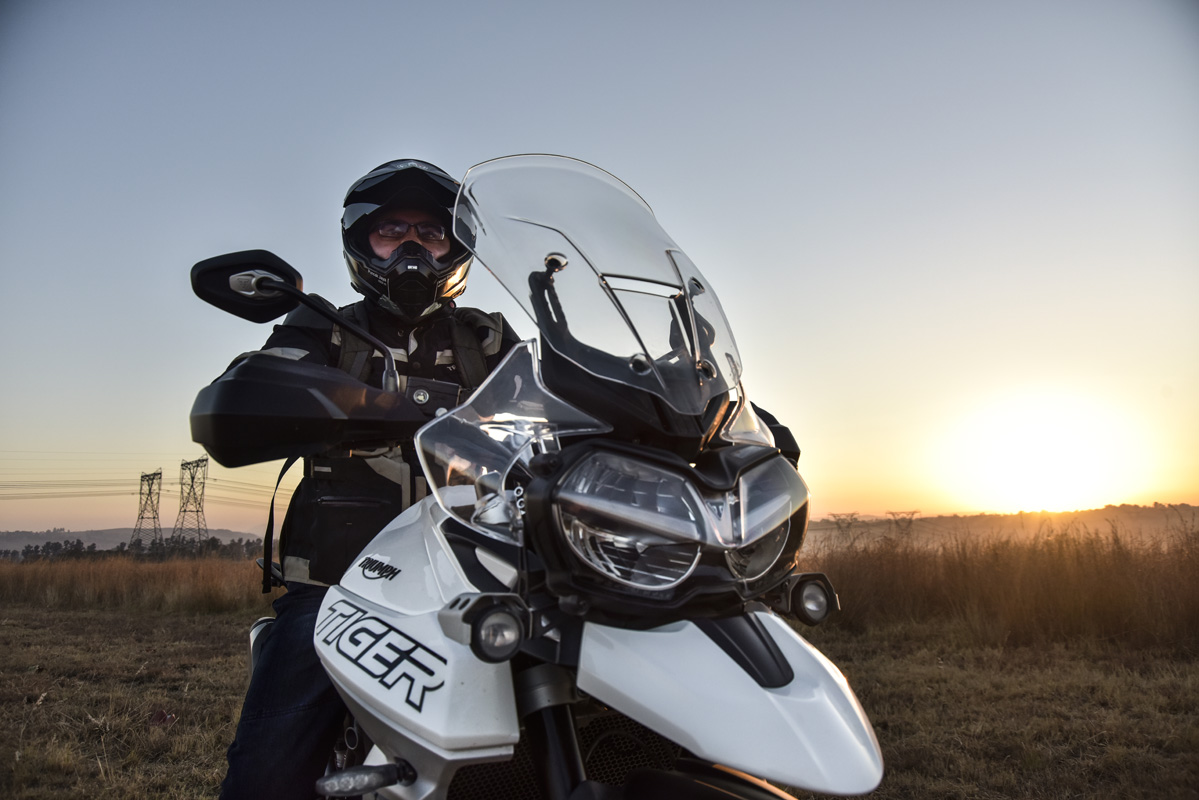 My colleague Bjorn, however, was riding a more retro-styled beast. The 2019 Triumph Street Scrambler came with none of the above-mentioned luxuries and watching him in my mirrors riding behind me was like a scene from Dumb and Dumber. Shame, I did feel somewhat sorry for him knowing what a contrast my ride was on that particular morning.
We were on our way to Leeuwenkloof Farm near Hartbeespoort Dam. I have been wanting for a while now to start going on more adventure bike trips with my fellow colleagues at ZA Bikers. I don't have a lot of off-road riding experience so I knew that part of my journey from "Road-to-Adventure" must entail some adventure rider training.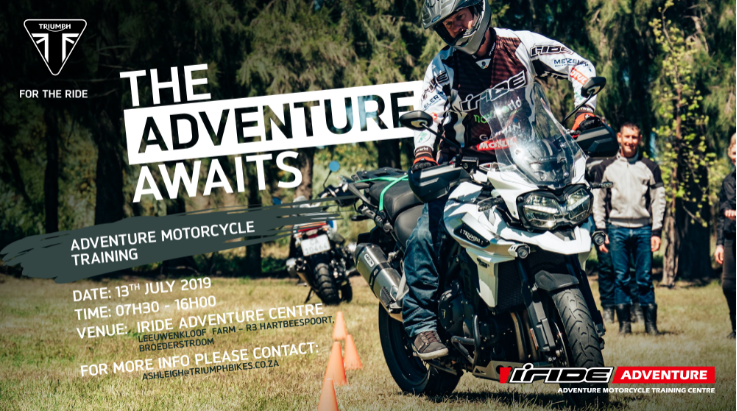 So, when Ashleigh James from Triumph South Africa invited me to join them for a day of "Adventure Bike" rider training with the guys from iRIDE Adventure, I immediately signed up for the course.
We arrived just after 8:00 am to a warm reception of hot coffee and rusks.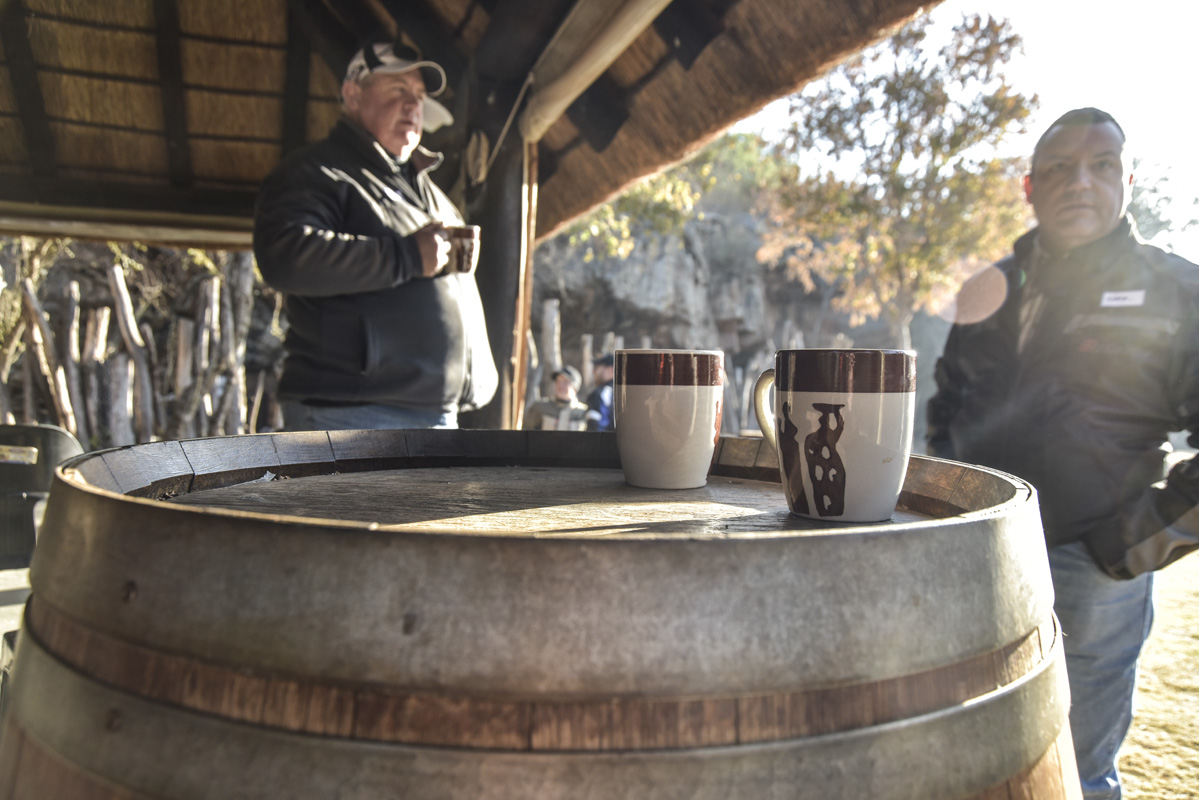 This was a Triumph Motorcycles South Africa sanctioned event, so no surprises that most of the bikes that had arrived on that day were some sort of Tiger Adventure derivative.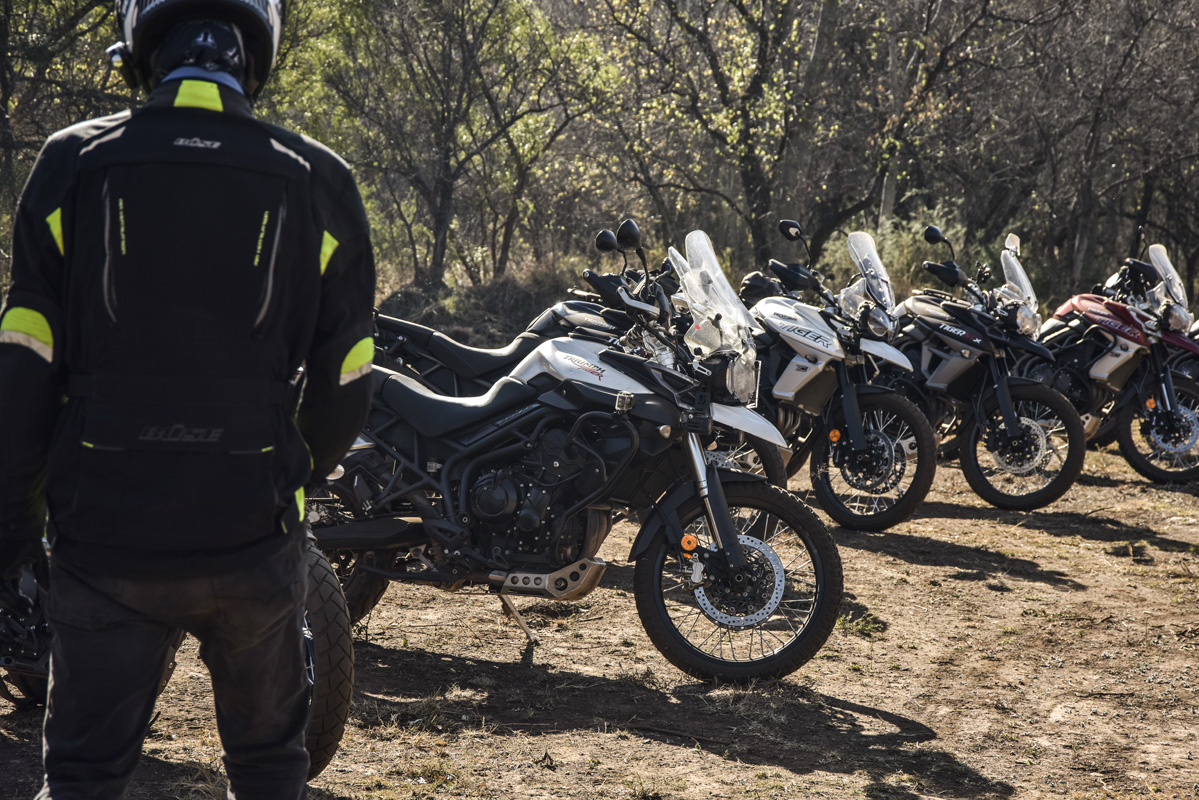 At the riders briefing, we were introduced by Ashleigh to Andre Visser from iRIDE Adventure and his team of instructors, Theo van Niekerk, and Marius Coetzee.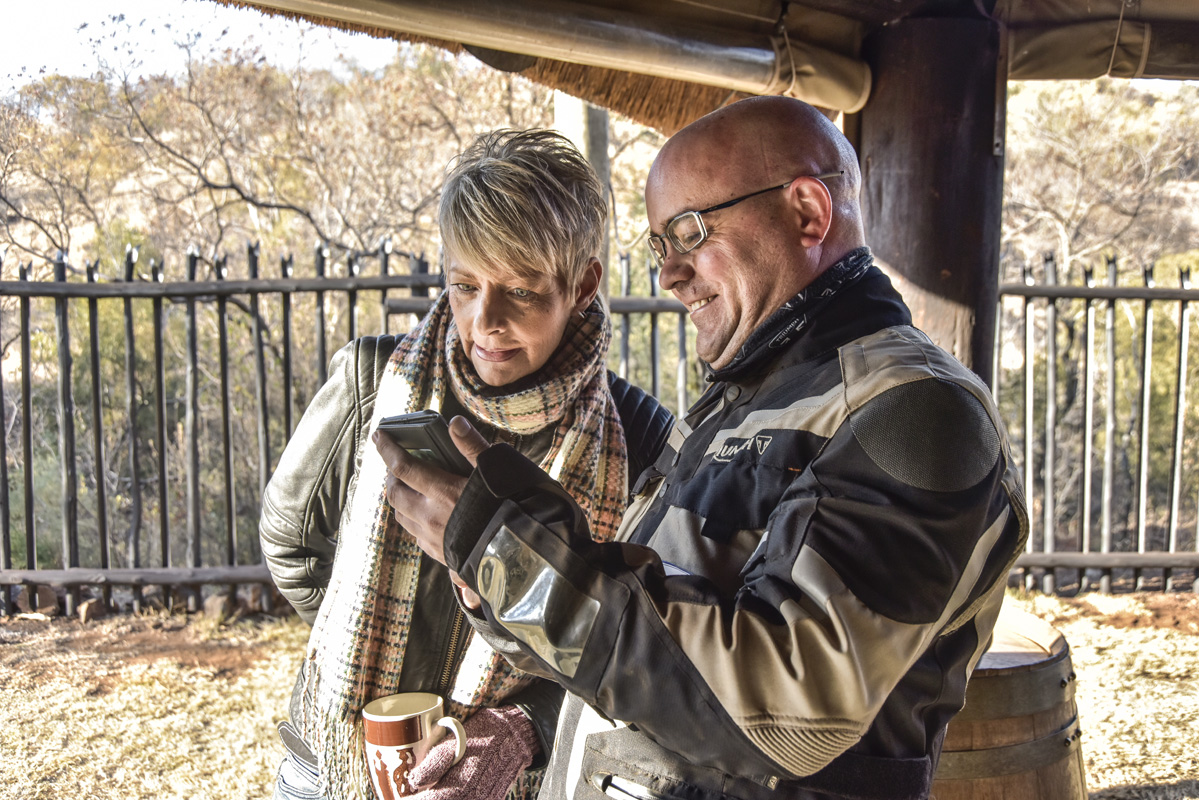 Andre then went onto explain briefly the structure for the day's event. After this, we got split into two different groups, group one for beginners and group two for intermediates. I slotted into the intermediate group which was to be led by instructor Theo van Niekerk.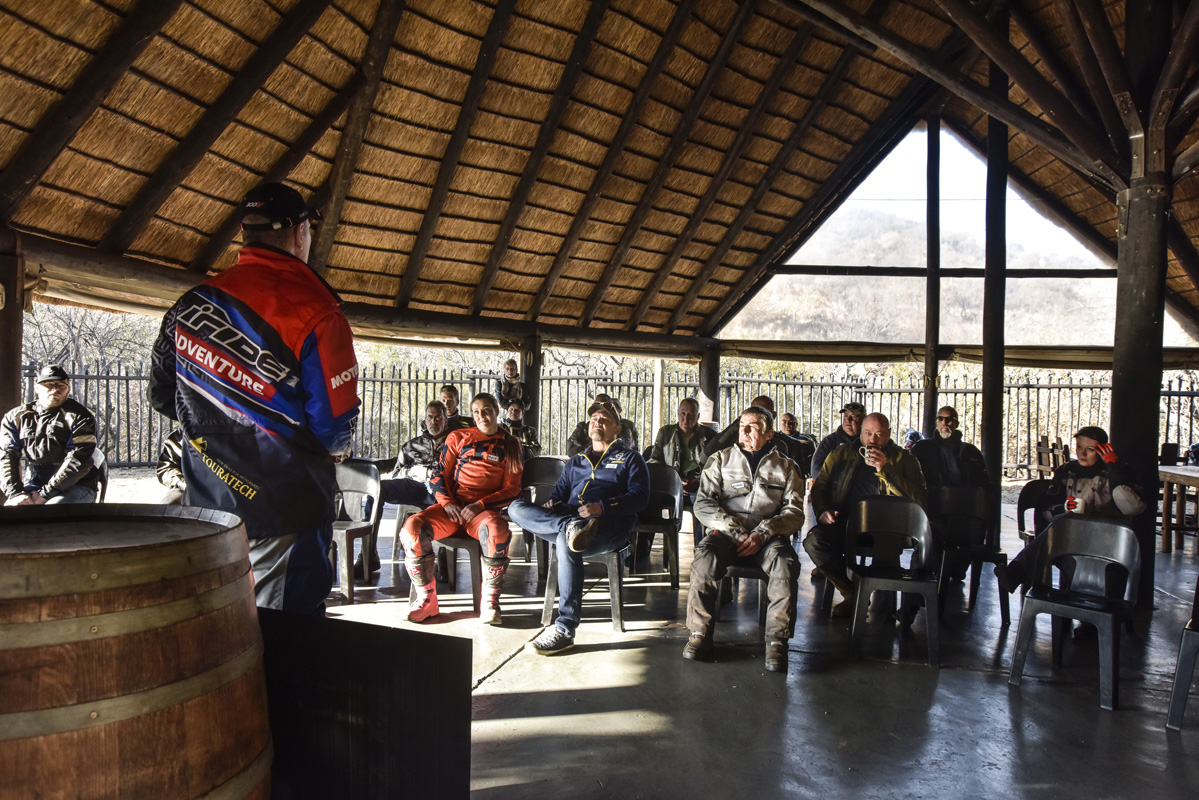 During the first exercise of the day, Theo talked to us about "Peripheral Vision" with the idea being always to look ahead and not to fixate on objects closeby. He demonstrated this by getting us to stretch out our arms to the side and then slowly moving them closer together until we could see our finger-tips.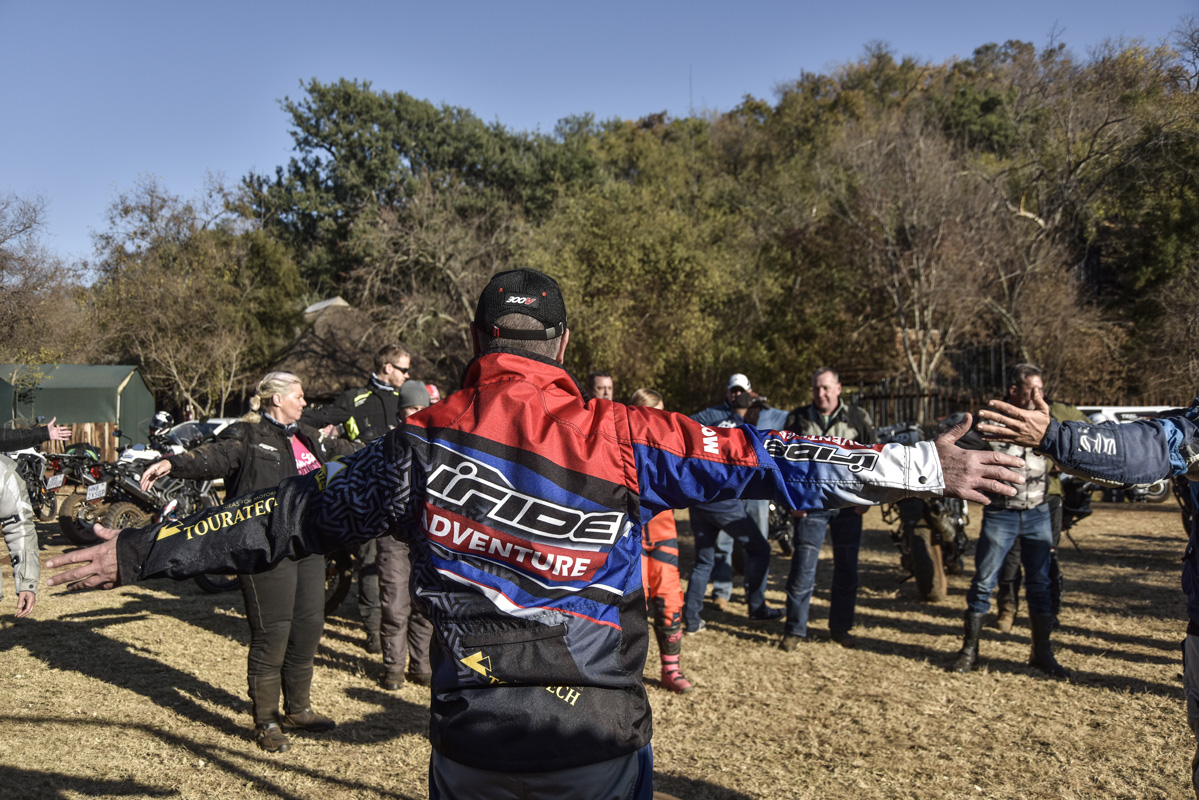 Similarly, we did the same with our feet, lifting up one leg until we could see our toes. It's amazing how little movement you need to apply before seeing both fingers and feet. Then we were given a practical exercise to do, whereby we would walk in a straight line looking ahead and not at the tyre that was in our path. The idea was to step into the tyre without touching the sides. I was easily able to complete this task by looking straight ahead and keeping my head up, this helped me understand the principle of "Peripheral Vision".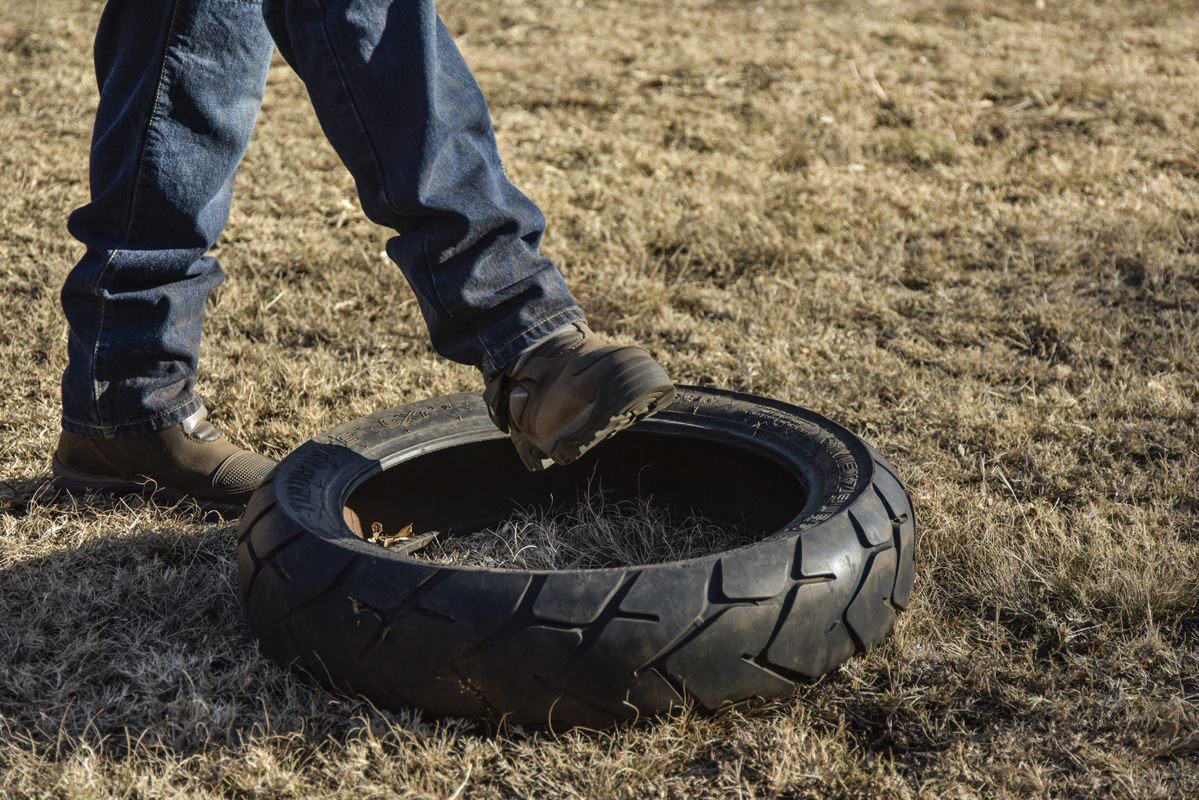 I found this very interesting and I must tell you that since doing the iRIDE Adventure training, I rode out with the ZA Bikers team on a several hundred kays off-road excursion, and I found myself remembering this advice.
In practice, I found that it's very tempting to constantly look down at upcoming dangers such as large rocks and loose sand. I kept reminding myself to look ahead and not down. When I did this, I found that it was much easier to navigate through the constantly changing pathway that lay ahead of me. This gave me much more confidence and I felt looser on the bike, whereas when I looked down I would get all panicky and tense up somewhat. This was great advice which I will always remember.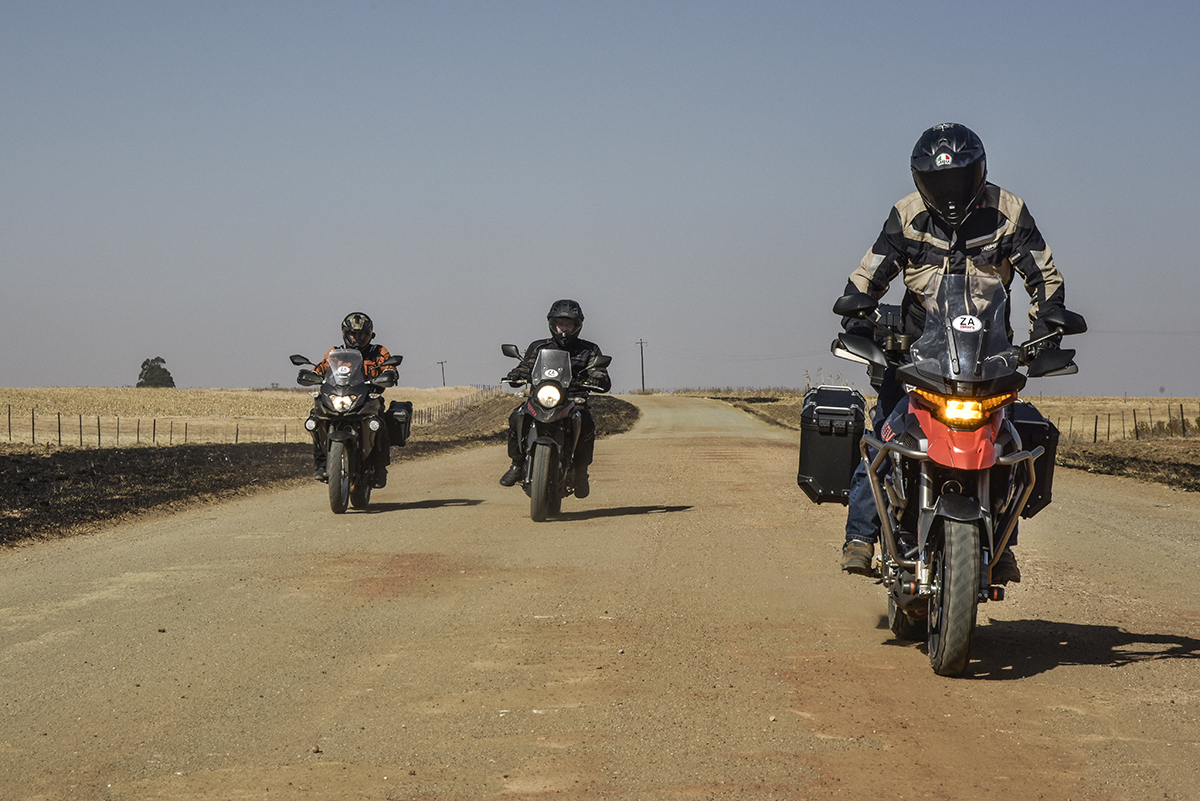 Other basics that we learned in the intro session was mainly about the correct body position whilst riding off-road, and weight distribution whilst turning the bike.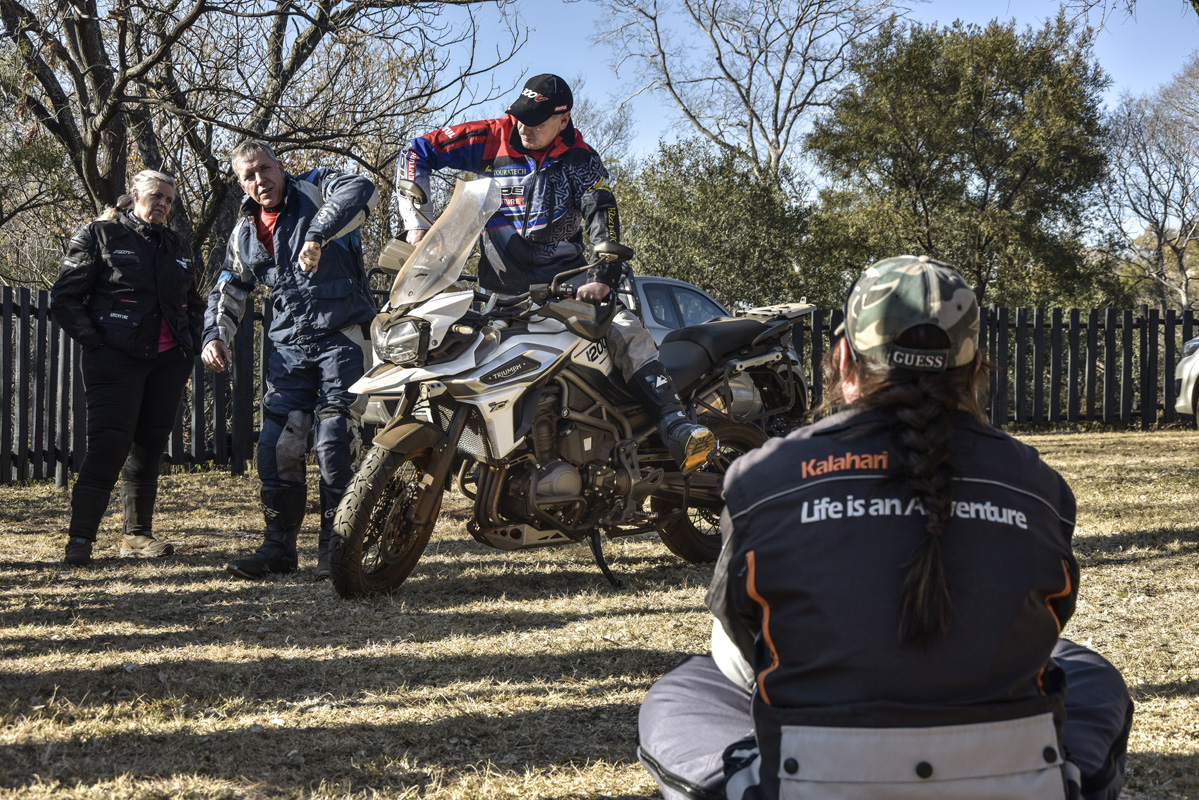 The importance of doing this was demonstrated to us with an old tyre. Basically, they explained that by shifting your weight onto the opposite foot-peg whilst turning on dirt, meant that you would get way more grip from the tyre. We took turns to feel the difference when pushing on on either side of a tyre, this gave me instant feedback and confidence in the technique straight away.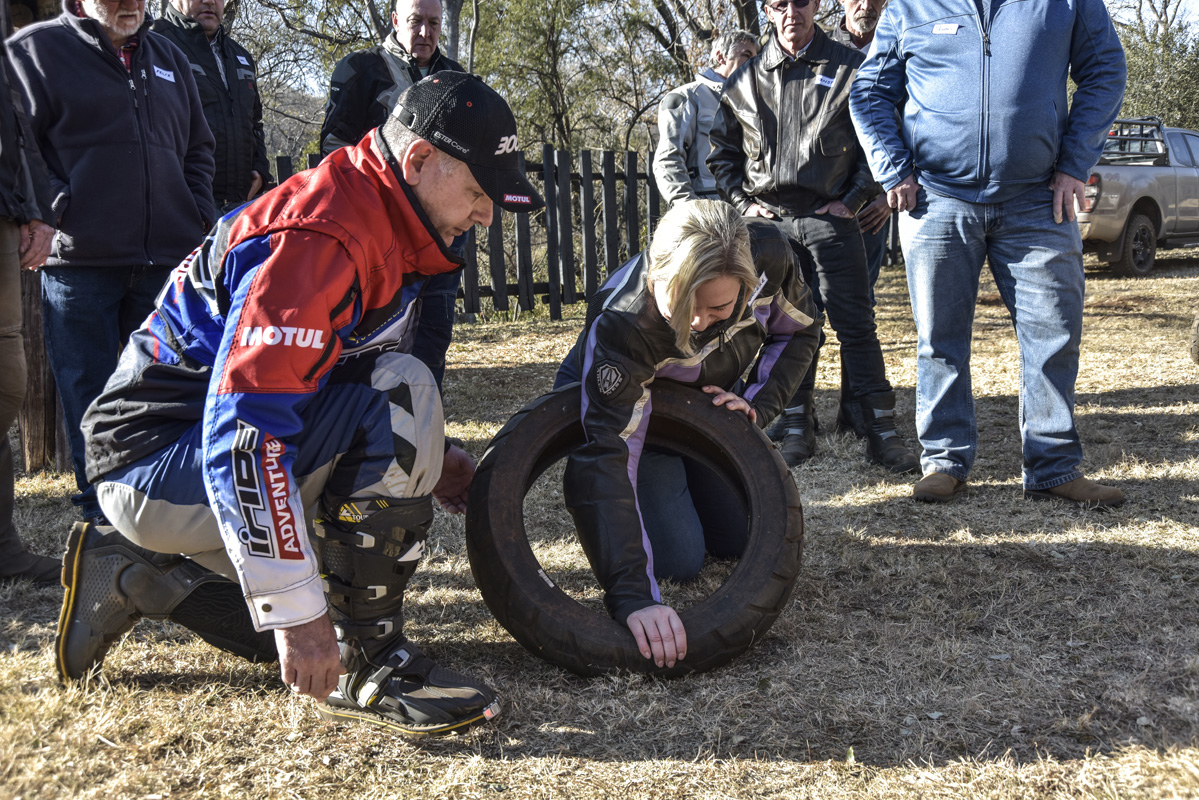 This advice seemed to stick in my mind post-training, and again, I practiced this technique whilst on a recent bike trip when riding through some fast sweeping turns. I was able to push my own limits quite confidently knowing that when applying more weight on my outside foot-peg, I didn't have to worry about grip whilst powering through the corners.
Now it was time to put all the theory into practice with a number of skills challenges. First, we did a series of body position and weight distribution exercises that included; sharp u-turns, riding in tight circles around a cone and then riding in a figure of eight.
These challenges were quite tricky to master as there were a lot to think about all at the same the time. During the course of the day, I did seem to get the hang of it though and found that the more exaggerated I would lean off the bike the sharper the bike would turn.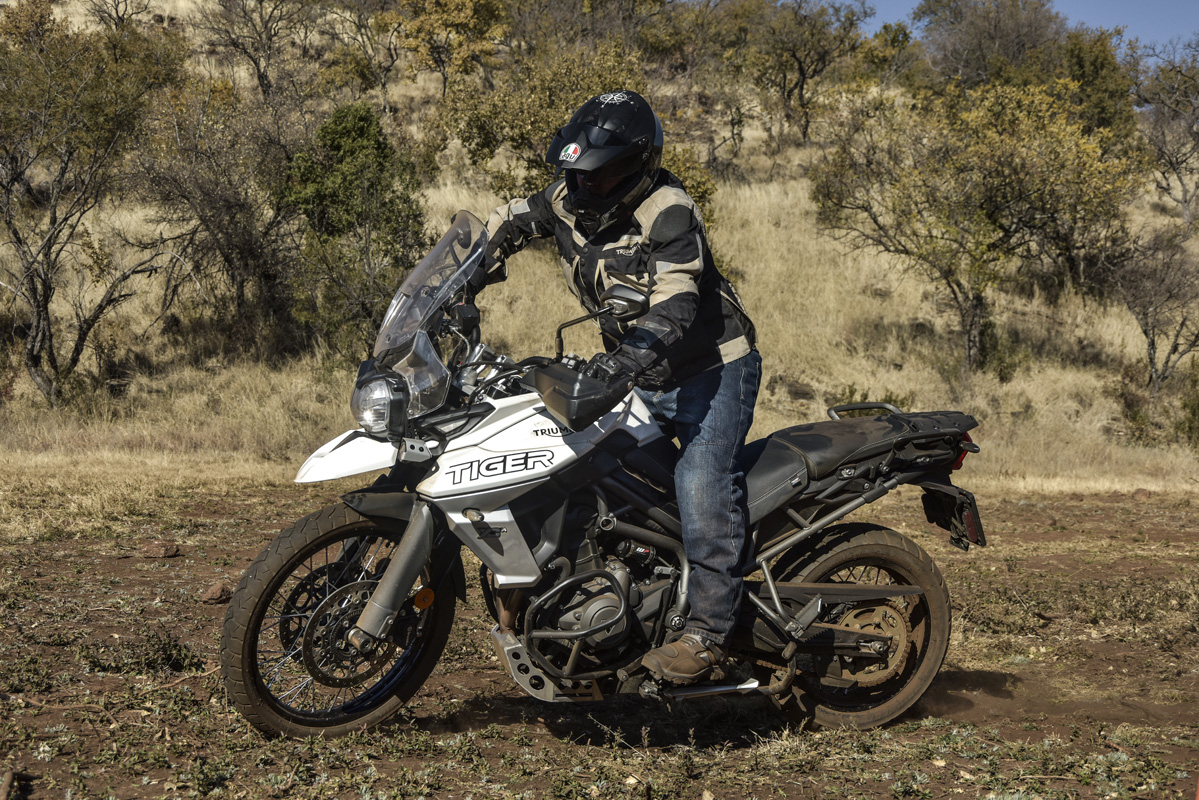 Next, we simulated a similar exercise to the walking through the tyre challenge, only this time it was on a bike through two fixed parallel wooden poles. The idea is to help you look through an obstacle instead of fixating on it. I found that this exercise reinforced my understanding of "Peripheral Vision".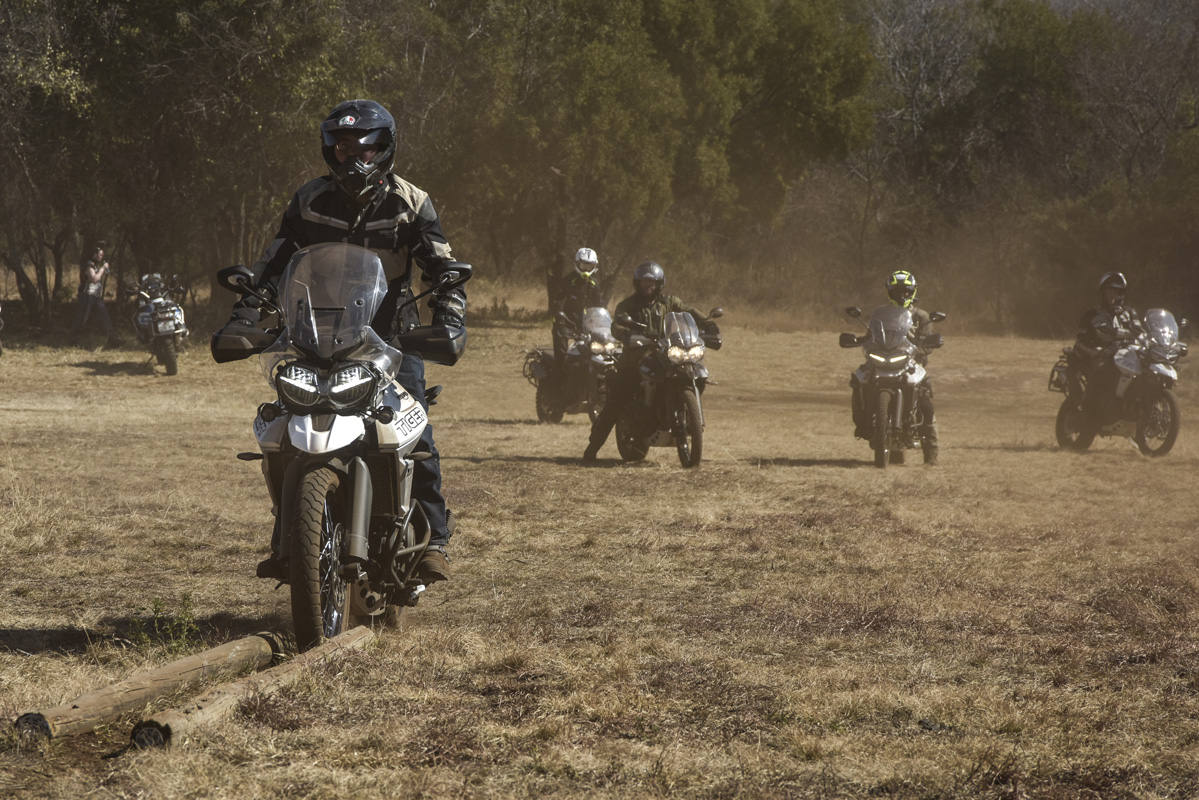 After a well-earned lunch, we then spent quite some time learning about emergency stops. Again, the correct steps were given; body position back, stamp on the rear brake, and then gradually squeeze the front brake. Onboard his KTM 1090 R, Andre Visser demonstrated to us the differences when using the wrong braking technique versus the right technique. Cones were used measuring Andre's stopping distances – an eye-opener for sure.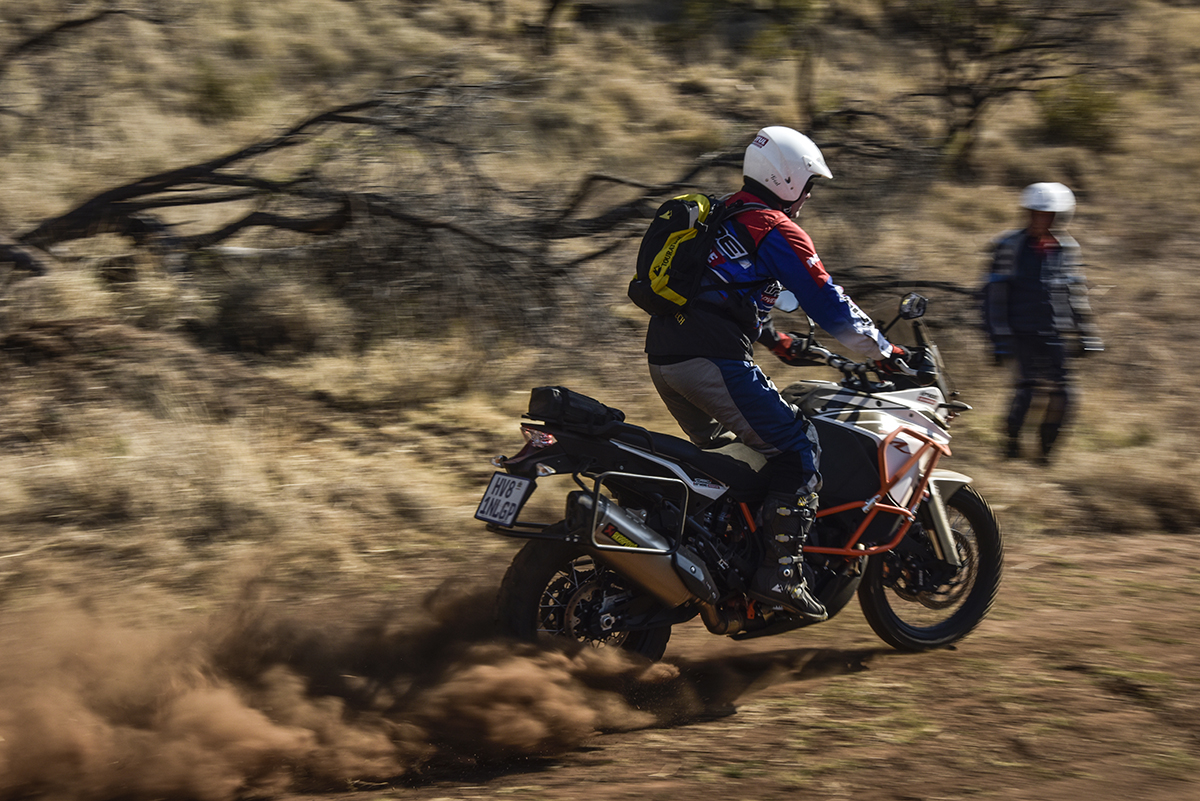 A lot to remember in a few milliseconds whilst hauling down a single-track dirt path. We then practiced this for quite some time until we had got it mastered, which I am glad we did because my first few attempts were not that great and this was probably the most serious lesson of the day.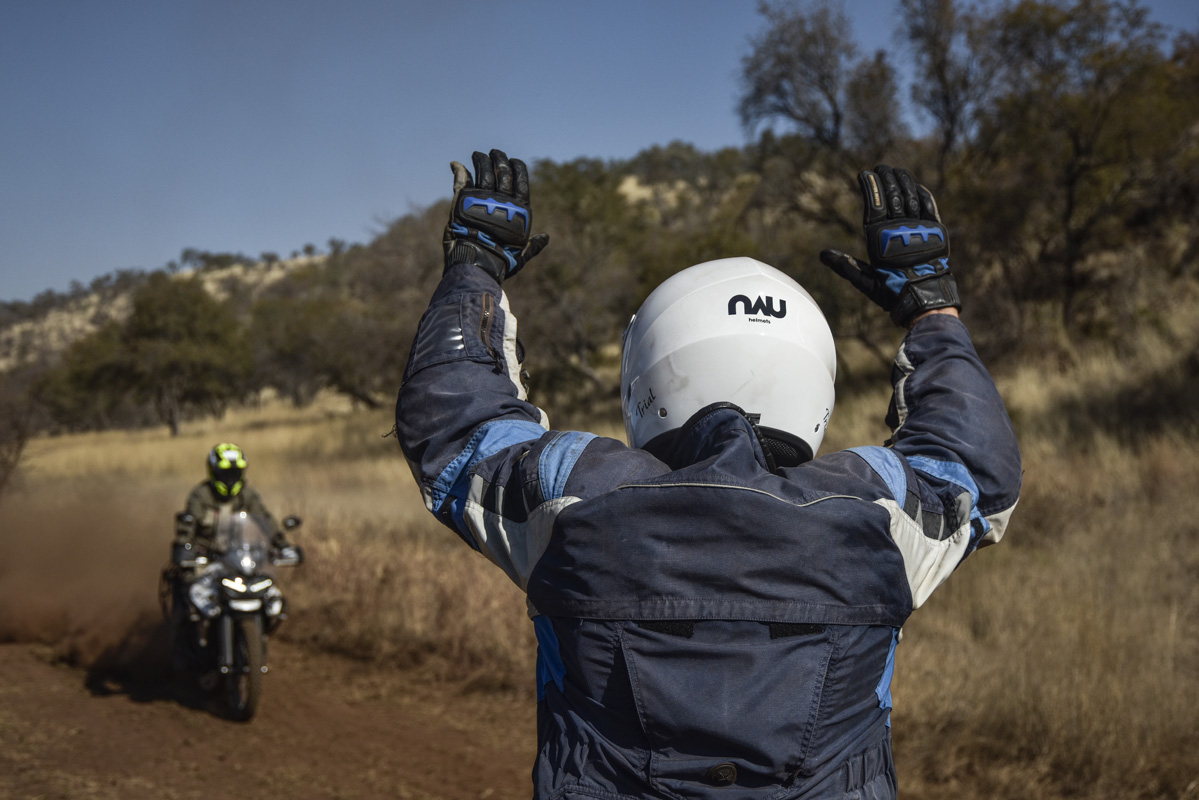 Later that afternoon we practiced bike control exercises going up and down a series of steepish inclines. The technique of leaning forward whilst going up the hill and leaning backward whilst going down was applied along with braking, clutch, and throttle control techniques that we had learned during the course of the day.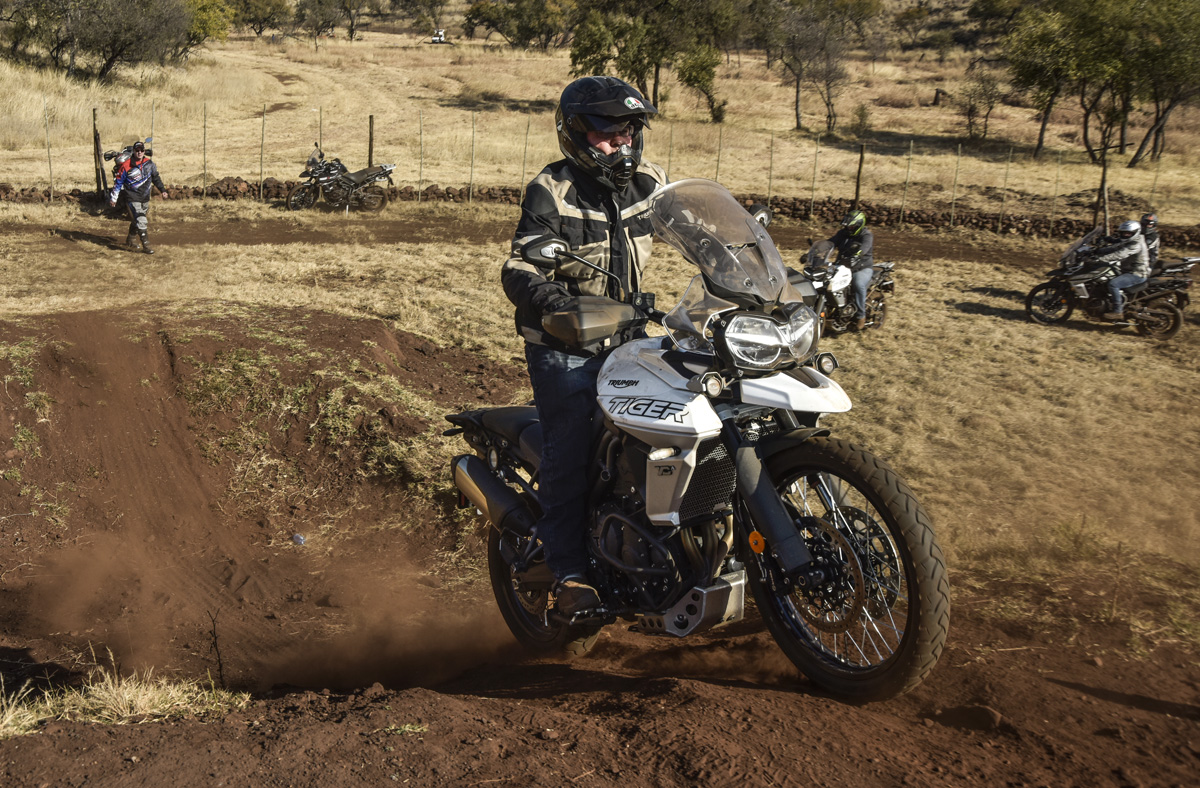 One of the first lessons in the morning's theory was to always have a finger (or two) resting on both the clutch and brake levers so that you can react quickly and have a more gentle touch on the throttle. One particular student must have forgotten this theory. He rode quite quickly down one of the steepish inclines and as he got to the bottom his suspension bottomed out, what followed next can only be described as "Whisky Throttle", as both rider and bike proceeded to launch into the air and fly for several meters crashing into a fence. Luckily he was not injured too badly, but his bike did look pretty damaged from the fall.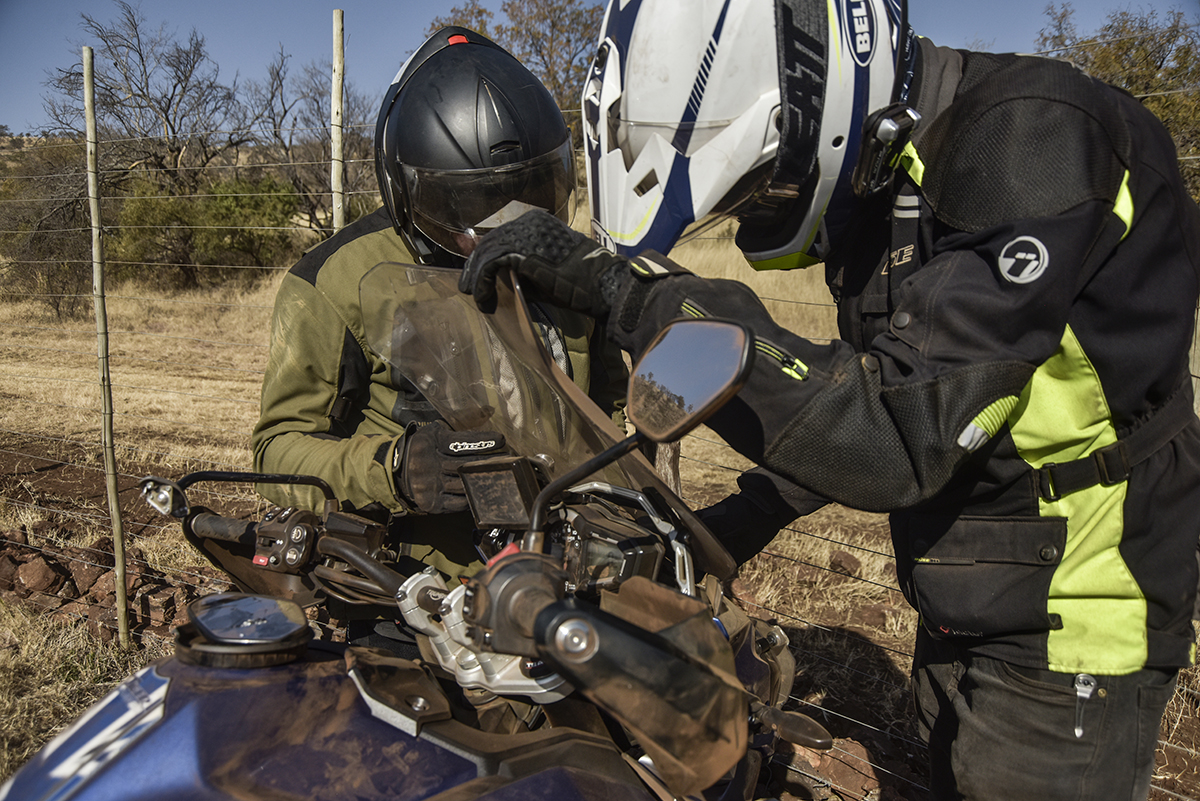 Fact is that if you do not have the correct skill level bikes can be dangerous. So, even though this incident shook up the students (including myself) it acted as a reminder of why honing your skills in a controlled environment whether that's on an adventure training course or track school is so important.
Talking of falling, most of the students had dropped their bikes at some point during the course of the day. Theo was always on hand to show us the correct way of picking up a motorcycle that had fallen down. A very good lesson indeed.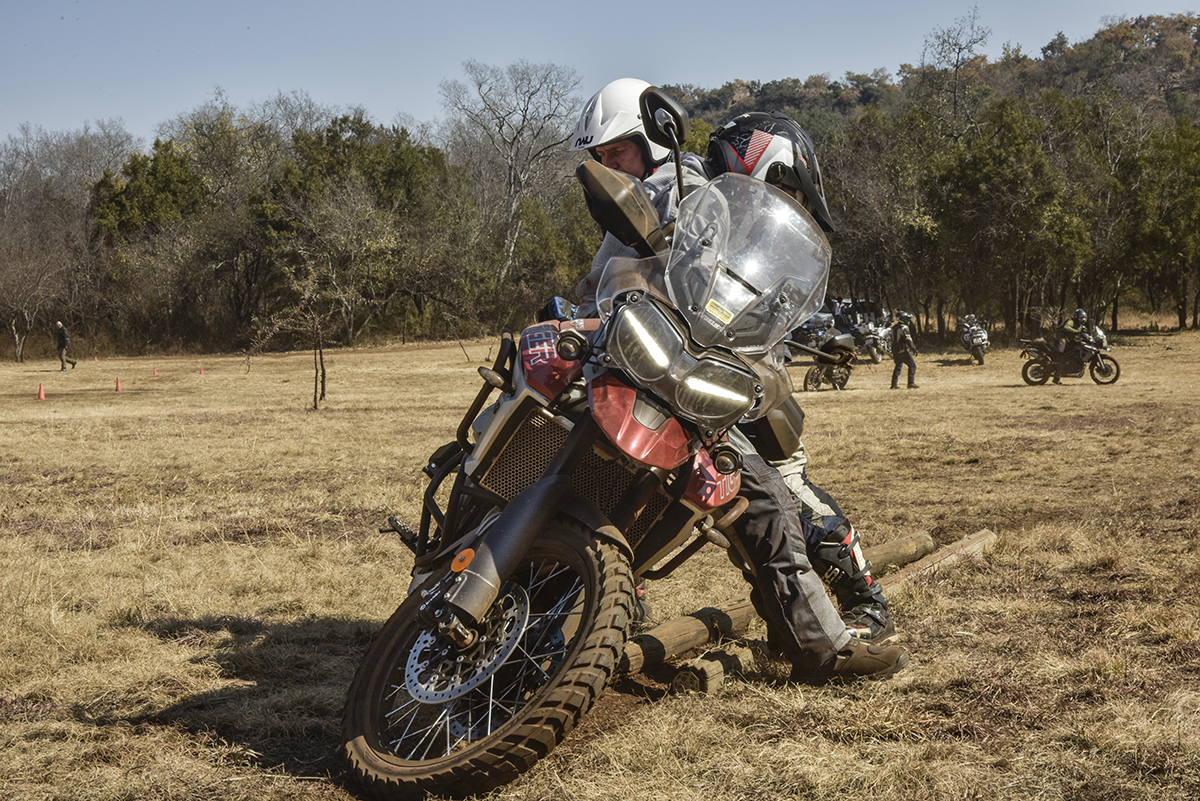 The final exercise for the day was riding through "Sand", this was definitely the hardest challenge for me. The theory is very simple, weight back and gas it. In a straight line, I had no problems, the issue that I had was negotiating a series of turns through cones that our instructor had laid out in the sandpit. Here, I struggled with turning because I would roll off the throttle and then pull in the clutch and ultimately fall. A lot of fun though, I really enjoyed this exercise even though I am not the greatest sand rider in the world.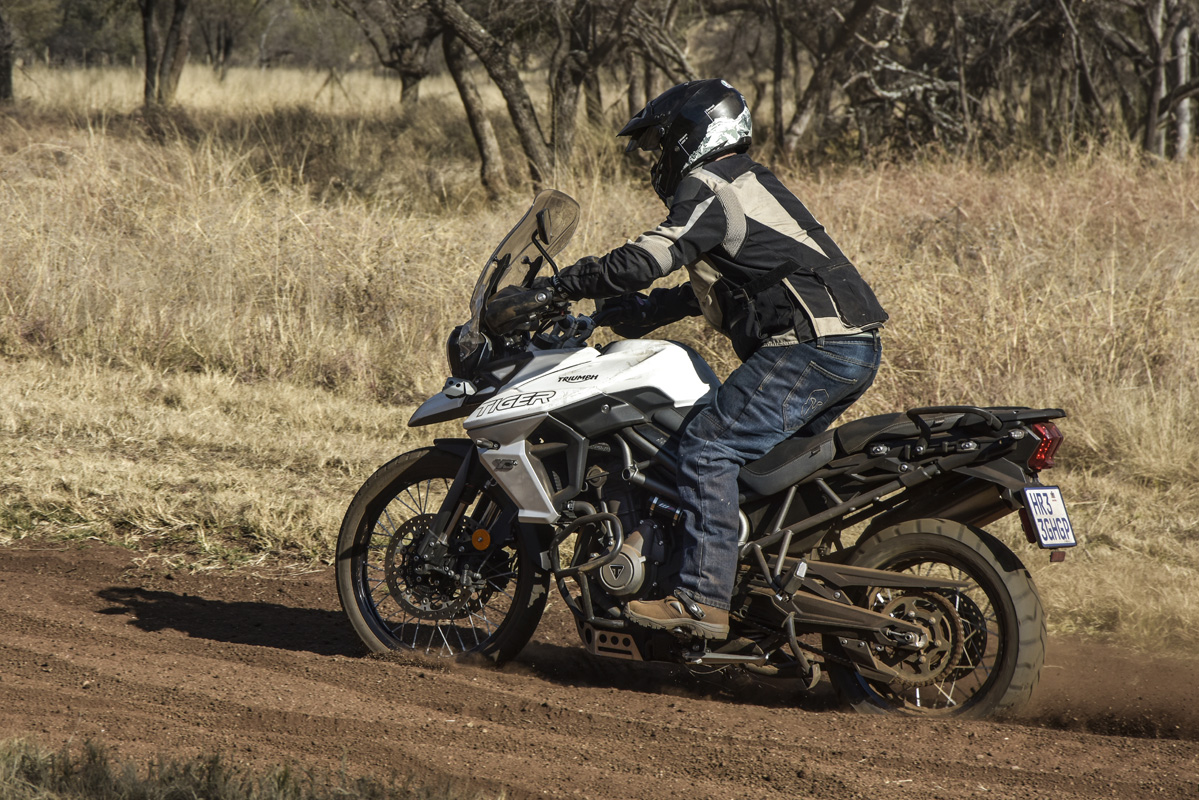 Overall I really enjoyed the days training event and I definitely learned a few new skills, I even came home with a certificate at the end of the day.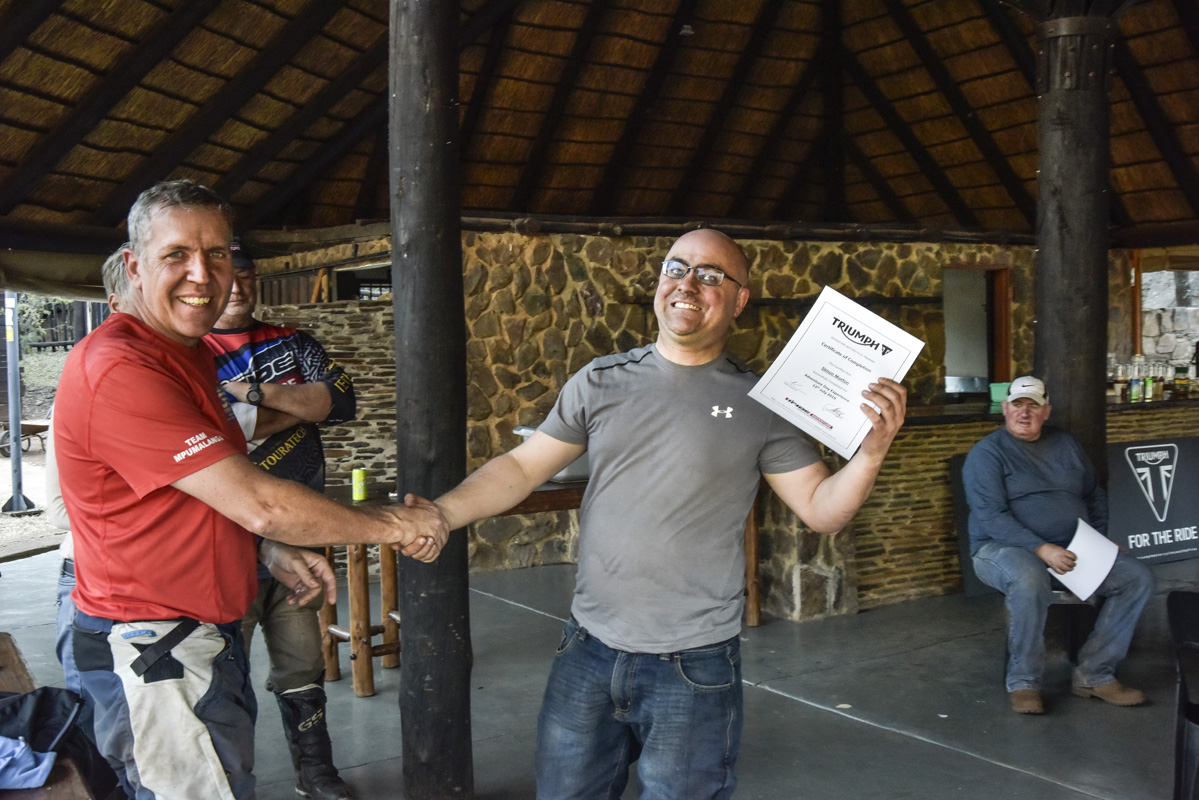 I would like to thank Ashleigh from Triumph for inviting me and for the use of their Triumph Tiger 800 XCa. I would also like to thank Andre and his team for hosting such an awesome day of adventure bike training, I will definitely be back again for sure.
In finishing, I would like to share my impressions of the Triumph Tiger 800 XCa. I really enjoyed riding this bike, and for me personally, it offers everything that I would want from an all-round adventure bike. I know that die-hard adventure riders will say that adventure bikes must have either single or twin-cylinder motors as they are more suitable for technical riding due to their low down torque.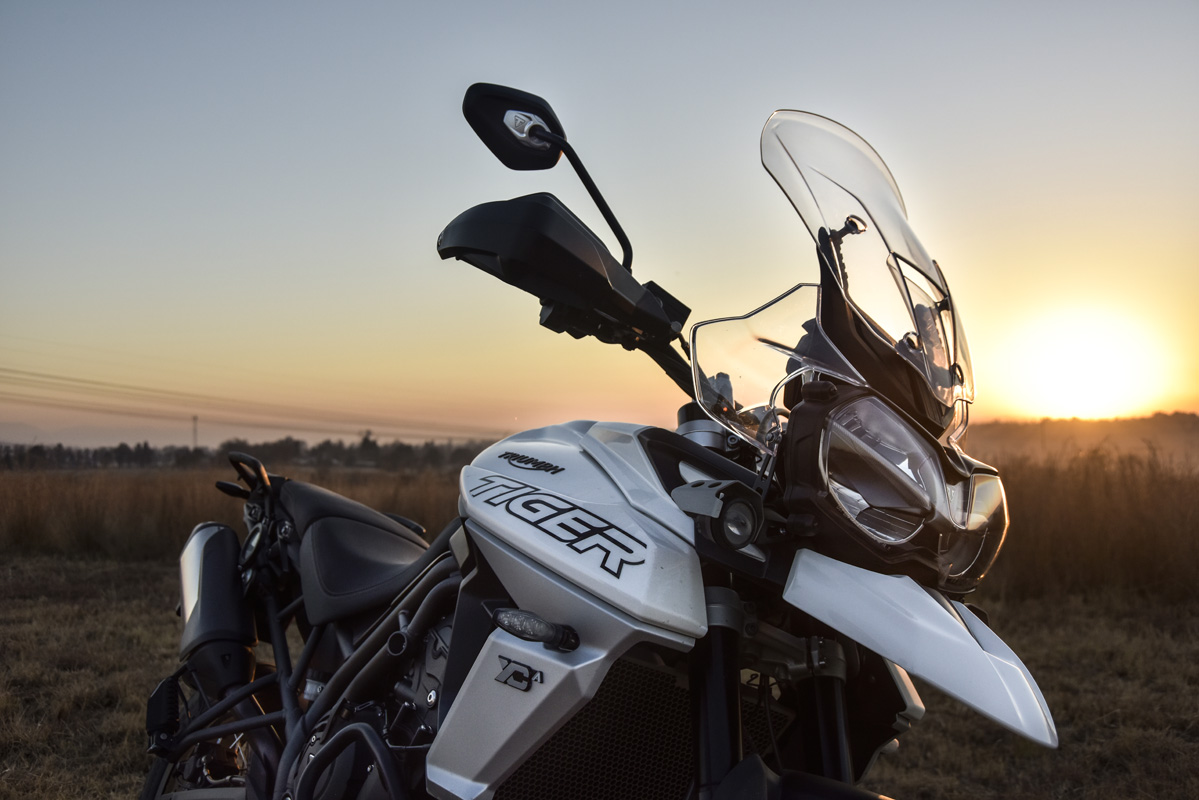 For me personally, this theory would not apply, because of the kind of riding that I would be doing on an adventure bike would be 80% of the time on tar and only 20% on decent Karoo type gravel roads. The triple motor on the Tiger 800 is an absolute gem, it has so much soul and feels very sporty riding through the twisties. As an overall package, it is really difficult to find fault with the 800 Tiger XCa. The burning question that I had when giving the bike back was – which one of my kids must I sell to buy one?
For more information on iRIDE Adventure Training please visit their Facebook page: www.facebook.com/iride.co.za
For more information on Triumph products visit: www.triumph-motorcycles.co.za