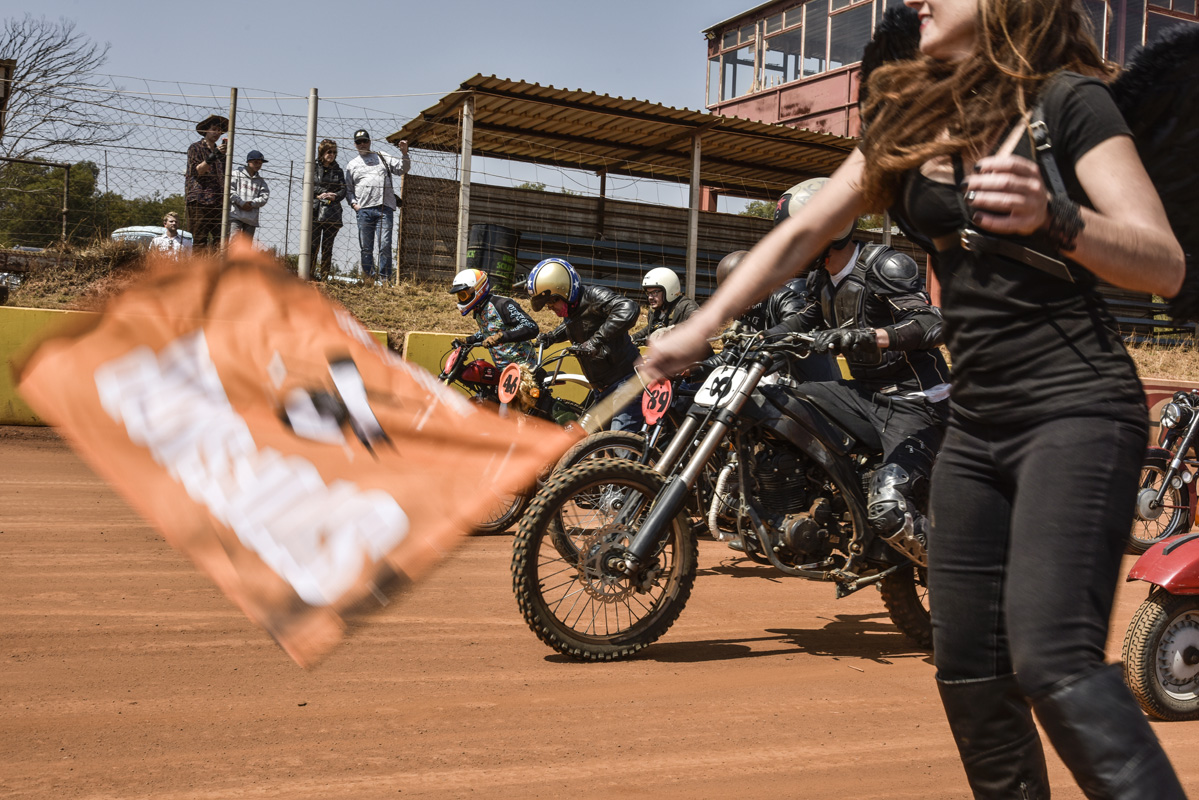 At ZA Bikers we had our intro to "Stofskop" when we raced our plucky little Sym Scooter, Social Sym, at the Walkerville Oval a couple of years back. A real mixture of a Butcher's picnic and a "run what you brung" day of flat-track dirt oval racing. A huge amount of fun is typically had by all, with fun being top of the agenda but the racing is real too.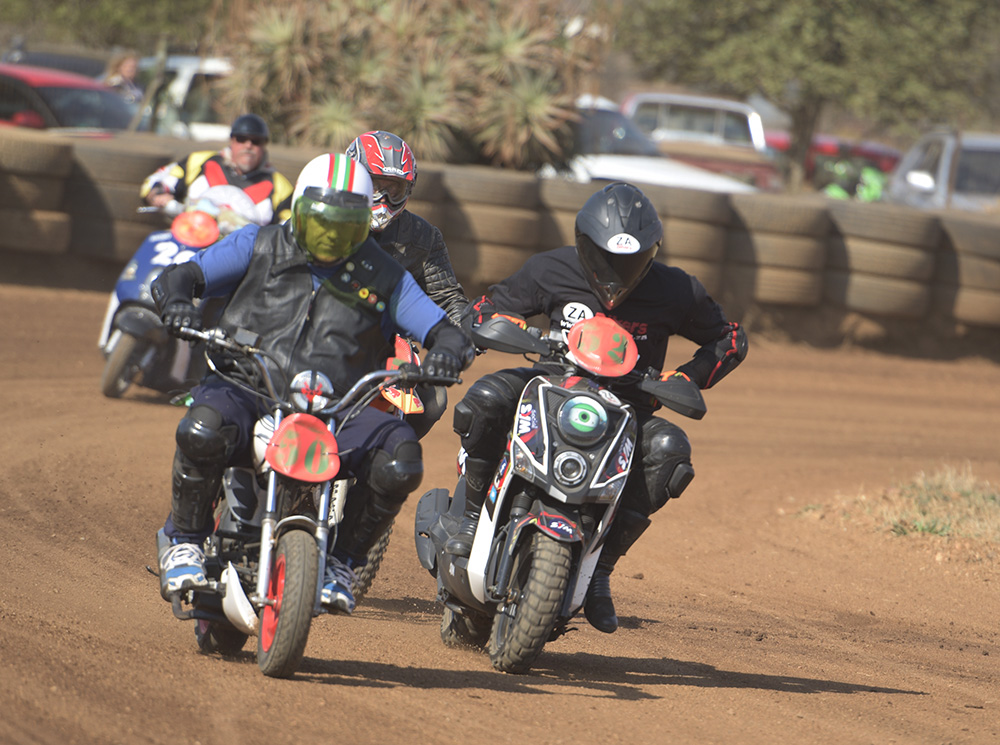 This year's event moved to the Randfontein Dirt Oval. Simon Morton, Editor at ZA Bikers, decided to enter his TVS Heavy Duty, a 70cc two-stroke, in a couple of the classes appropriate for such puny beasts. I immediately saw a glimmer of red mist in his demeanour as he voiced his intentions.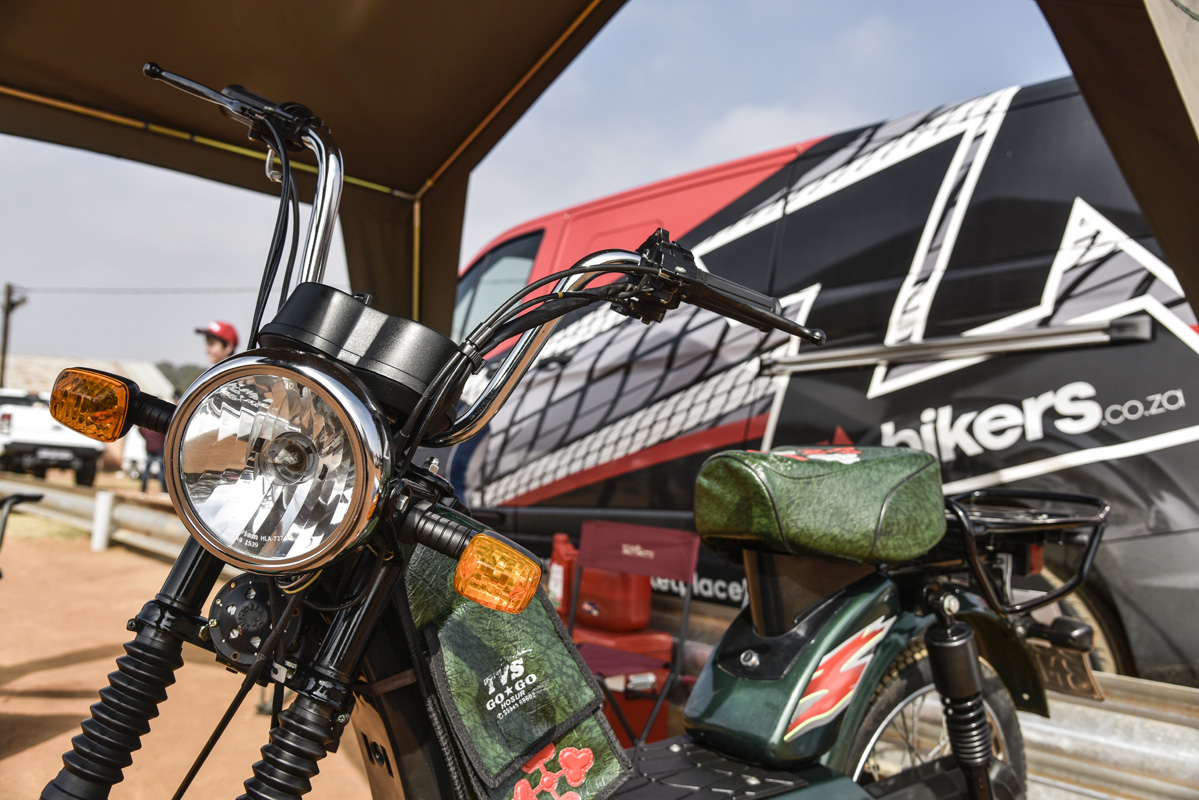 Next, I heard, he had the tiny two-stroke on a dyno! Holy Smoke! Fiddling with heaven knows what, he had the little Indian beast of burden pumping out an asthmatic 4 horsepower. [probably started with 6!] In true Stofskop tradition the race-prepped Heavy Duty was loaded into the van on race day together with Simon's race attire.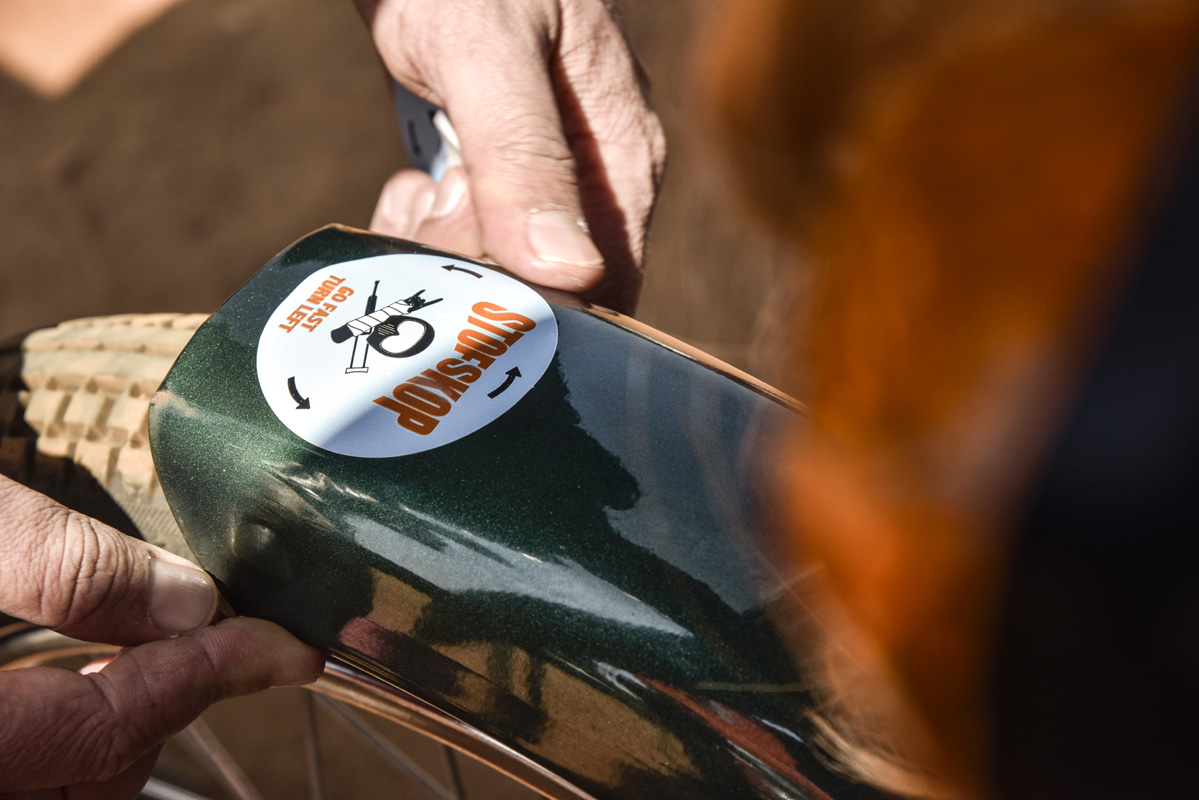 Boots, jeans and an ancient IXS leather lummie were topped off by the addition of a porn star open-face helmet that would do justice to Gary Glitter. Go Si, go!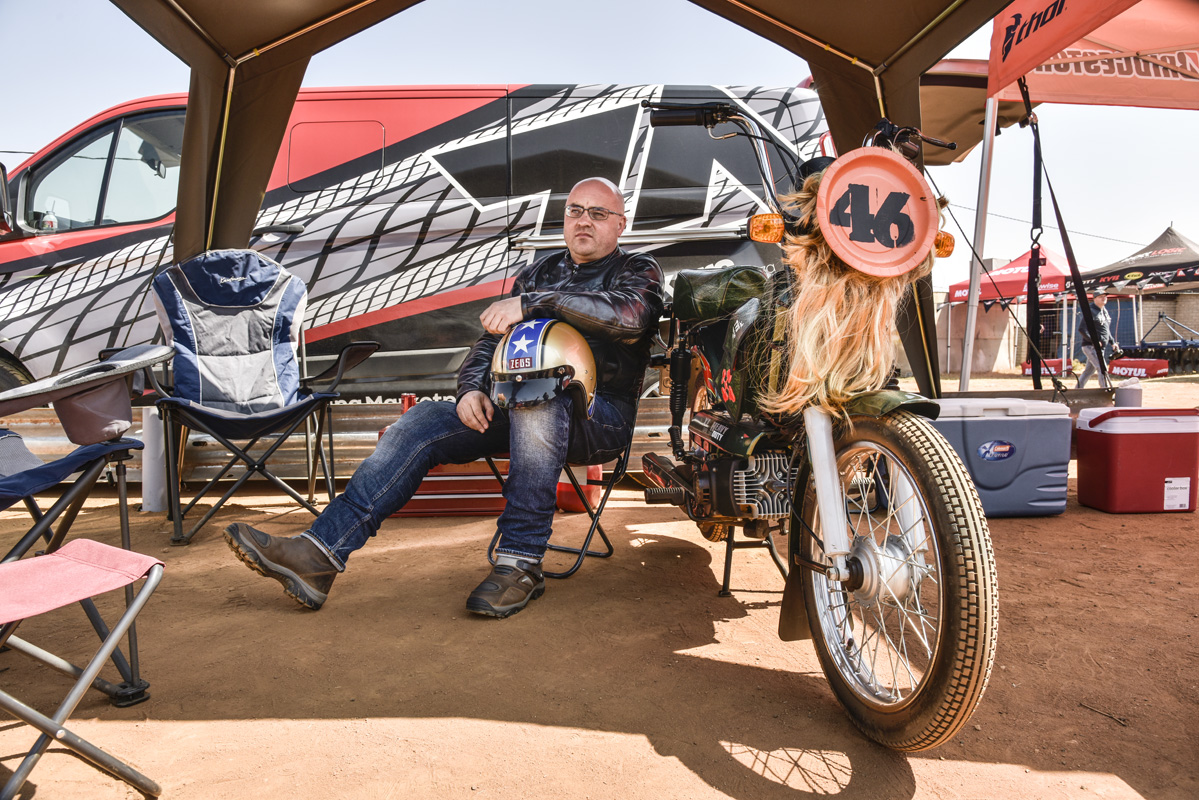 The racing was in some cases fast and furious and in others just racing. Replica board racer, scooters, mopeds, old Beezers, pocket bikes, you name it. They rolled to the line and did battle.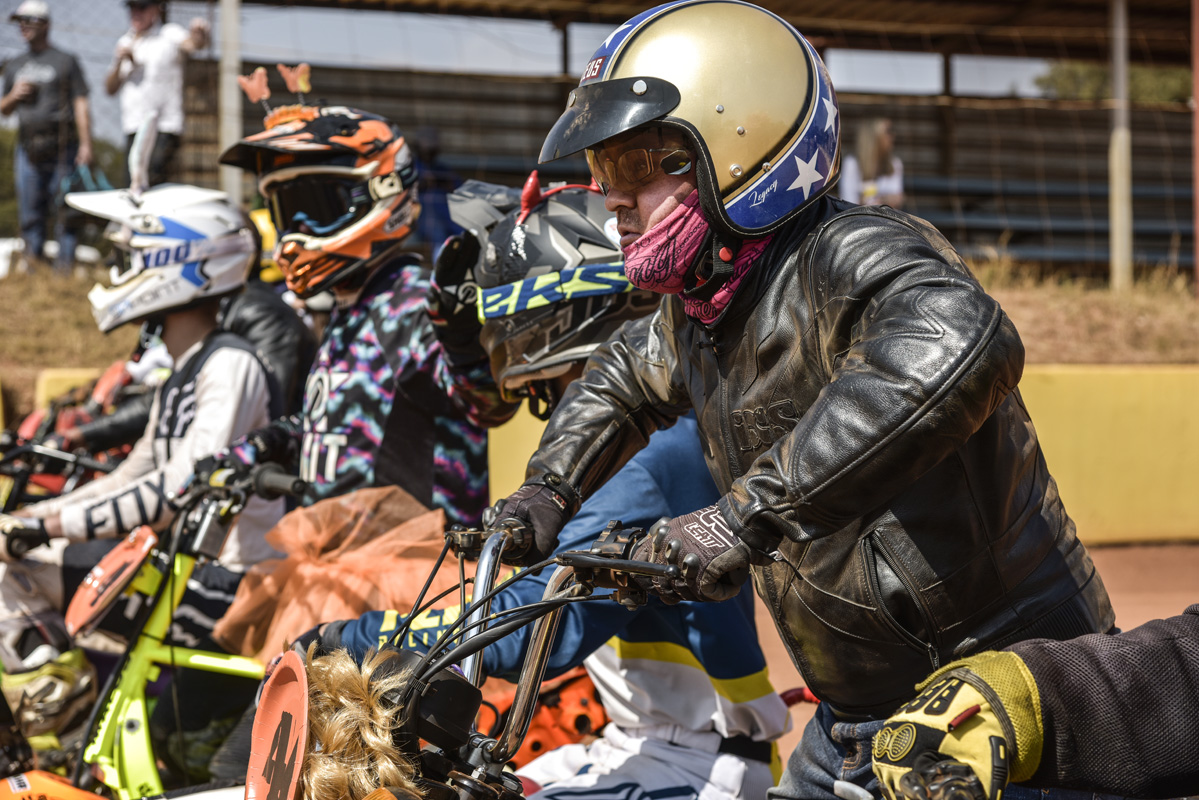 Simon got into a ding dong with a couple of other pedestrian beasts that, as pedestrian, as they were, still dropped him like a bad habit in the straights. Undeterred, our intrepid Editor just kept the TVS pinned through the turns and took back with interest what he lost in the straights.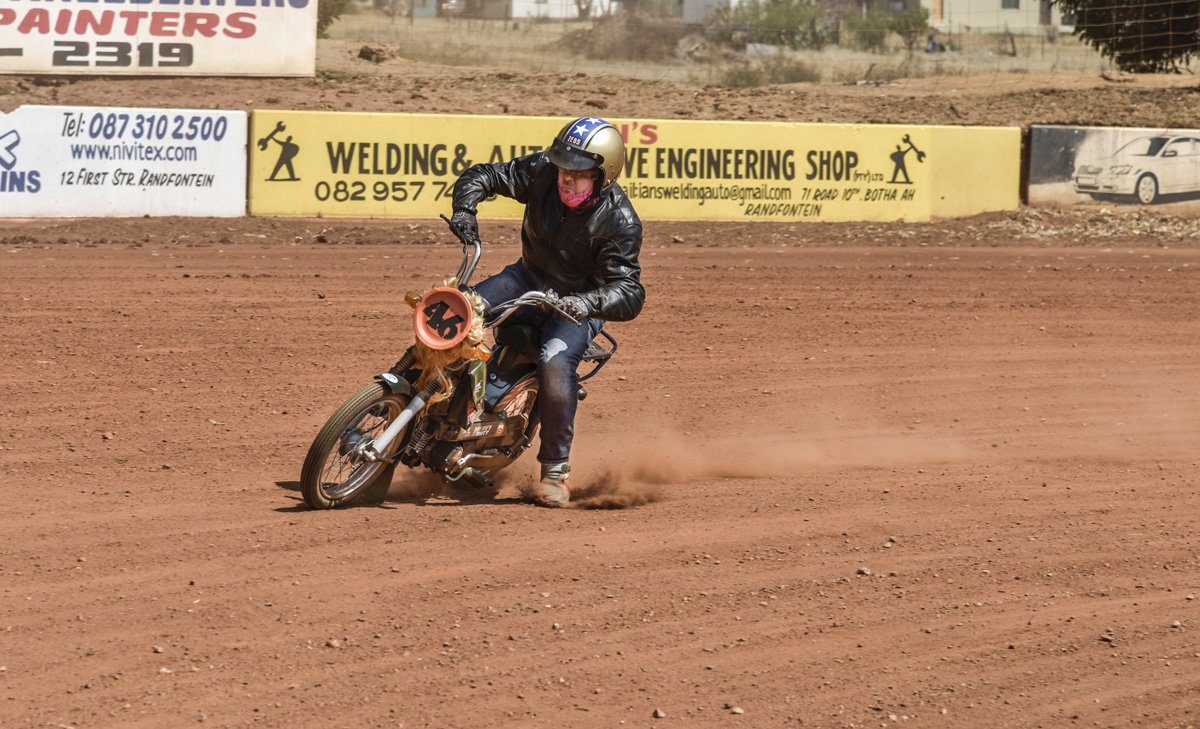 Despite the fact that the TVS is slower than a slow thing, he had a ton of fun and vows to be back next year racing who knows what. Stofskop has that effect on one.
So it was too with Justin Steyn
Justin has built a number of custom bikes over the years. A Triumph Bonneville Bobber, with a 1969 Bonnie as a base, was his first build but he then focussed his custom building skills on a couple of CR250 tribute bikes. Replicas of CR's raced by legends Jeremy Mc Grath and Ricky Carmichael. Next up was a racer. Using a CB550 Honda as a base, he built an immaculate replica of the Daytona winning CR750 Honda ridden to victory by Dick "Bugsy" Mann. Based on the 1969 CB750 K0 four, the Daytona win helped to promote the already robust sales of the father of the modern superbike in the States. Interestingly, Honda entered three works CR750'S at Daytona, with Mann's bike winning but the other two expiring with cam chain maladies. I digress. Justin's latest build is another Honda race bike. This time an extremely rare one.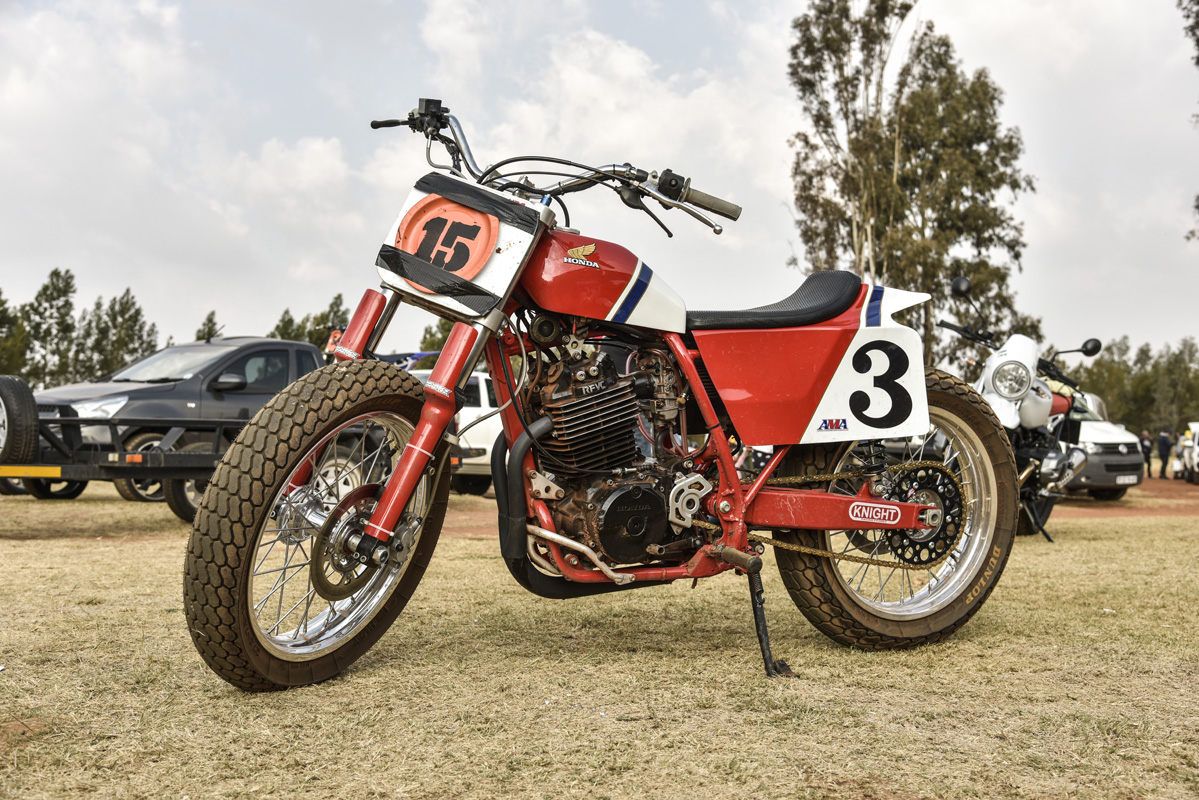 In 1985, 6 and 7 Bubba Shobert dominated the single-cylinder flat-track class in the AMA National Championships in the USA, on a Honda NS600D. This was a purpose-built flat-track weapon utilising an HRC fettled XR600 motor in a custom Knight flat-track frame. Having ridden a CR250 at Stofskop a couple of years back, Justin decided to build something "proper" that both looked good and worked well. The bike that you see in all its glory, is the result of that dream. In short, he came, he saw, he built and he conquered.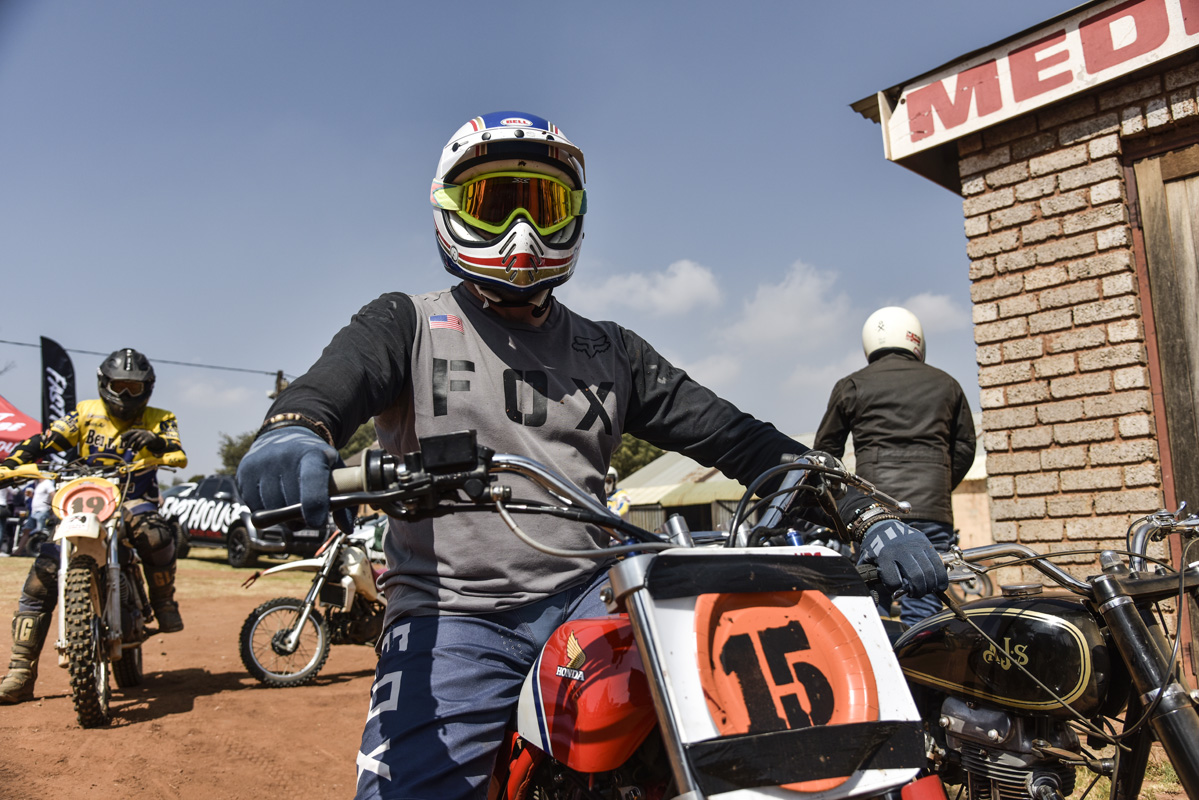 No matter how good the bike, you need to be able to peddle the thing. Justin can do that too. Riding at Stofskop with a stitched and battered, bruised and swollen knee resulting from a mountain bike mishap, he gutsed it out and put on a great display of sliding flat-track skill, taking his magnificent NS600 D to victory.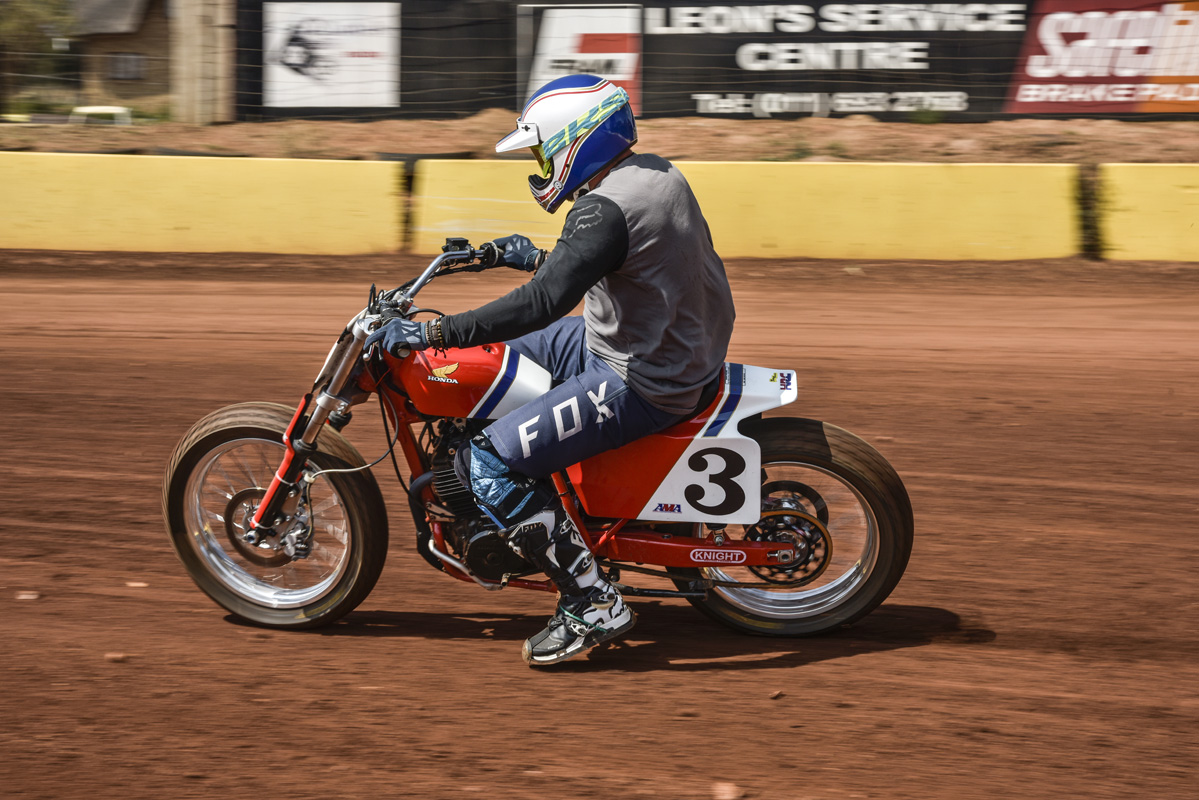 The bike started life as an XR600R. Tank, fork guards, bars, front plate and seat were sourced from Redmax in the UK.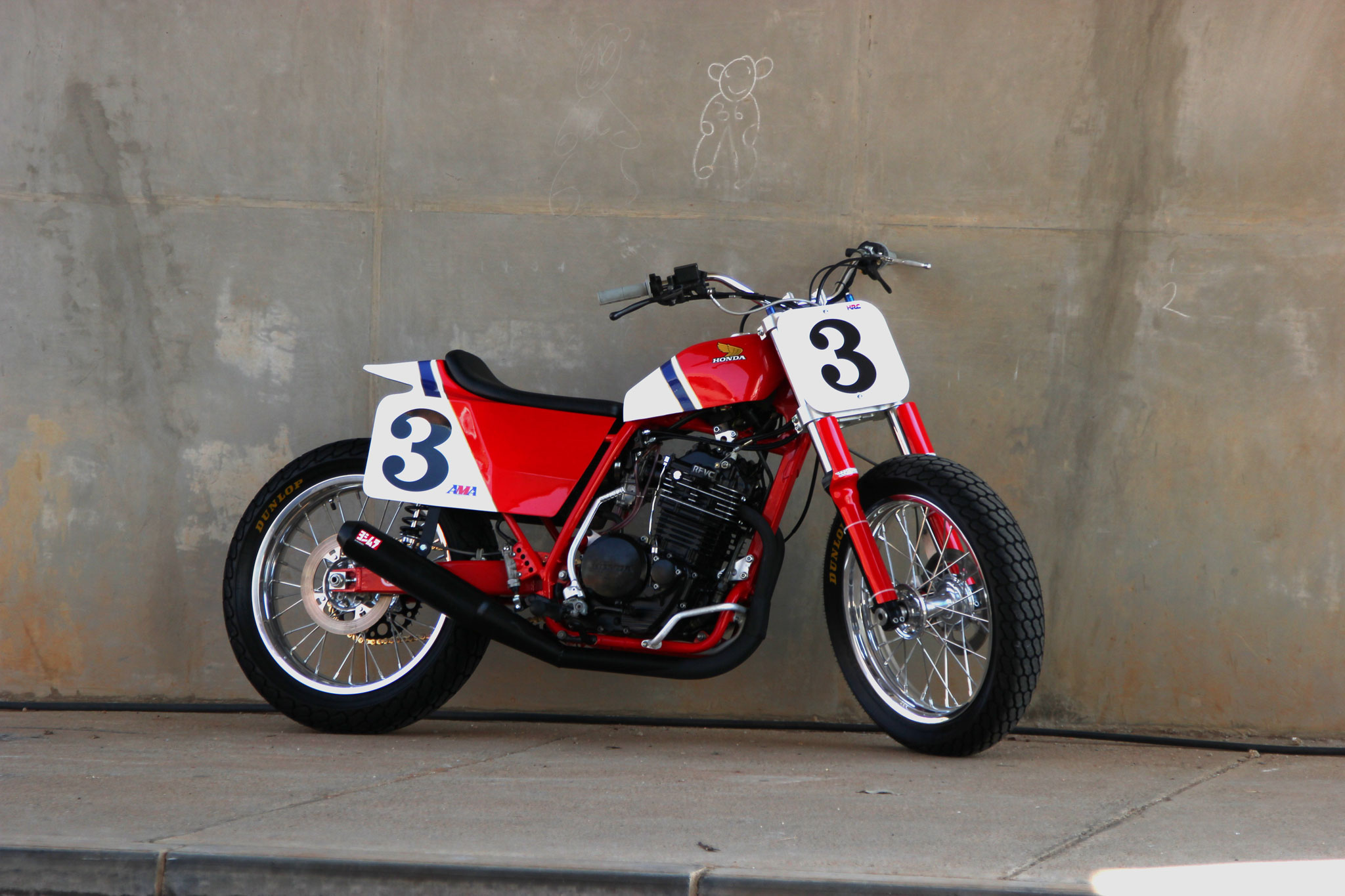 With 19" Sun rims and spokes coming from Central Wheel Components, also in the UK.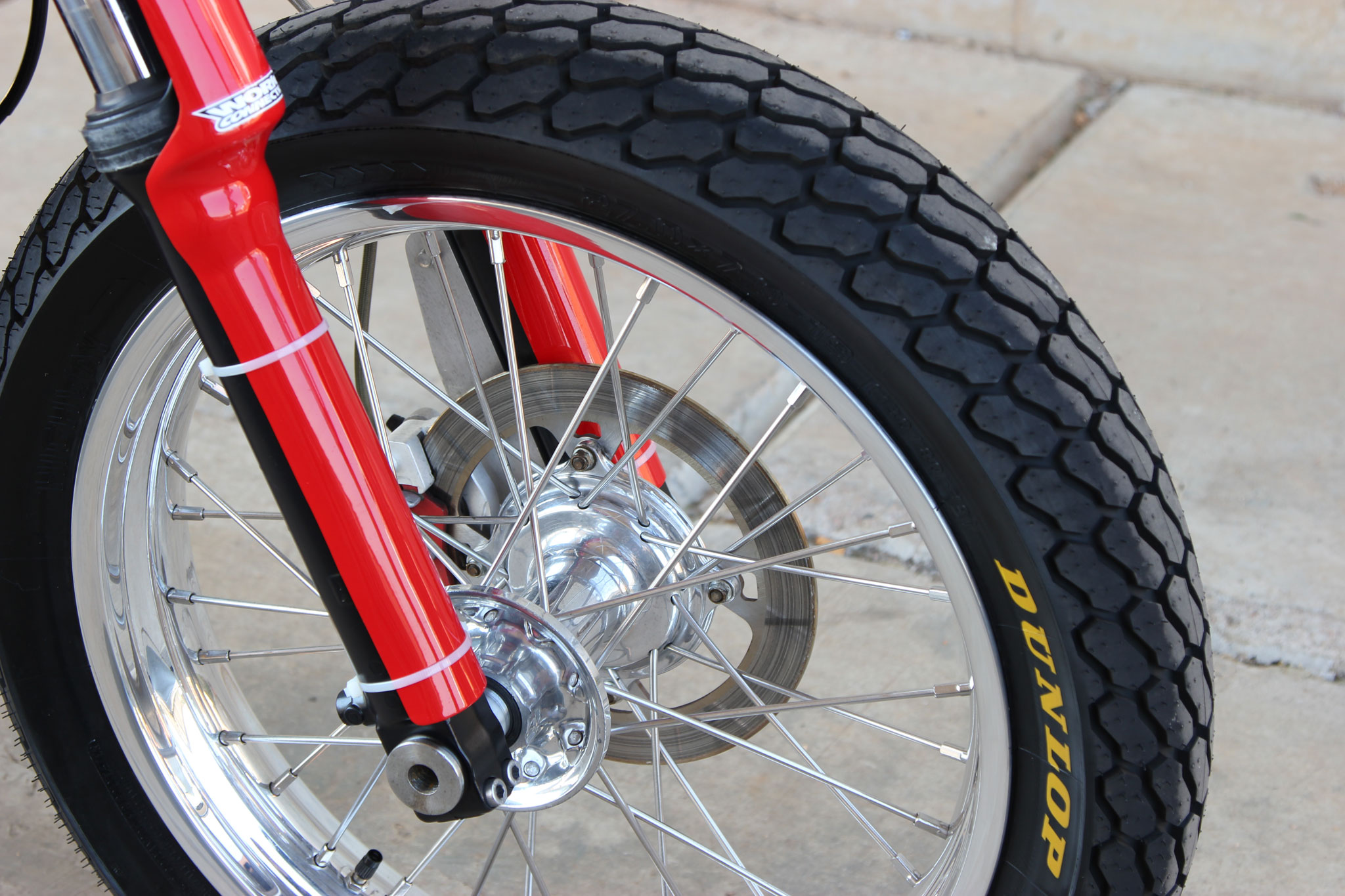 He has a good mate, "Uncle Phil", who is an old school fabricator, who manufactured many components from billet and modified the swingarm, originally from a Honda CRF, to accept a CRF hub.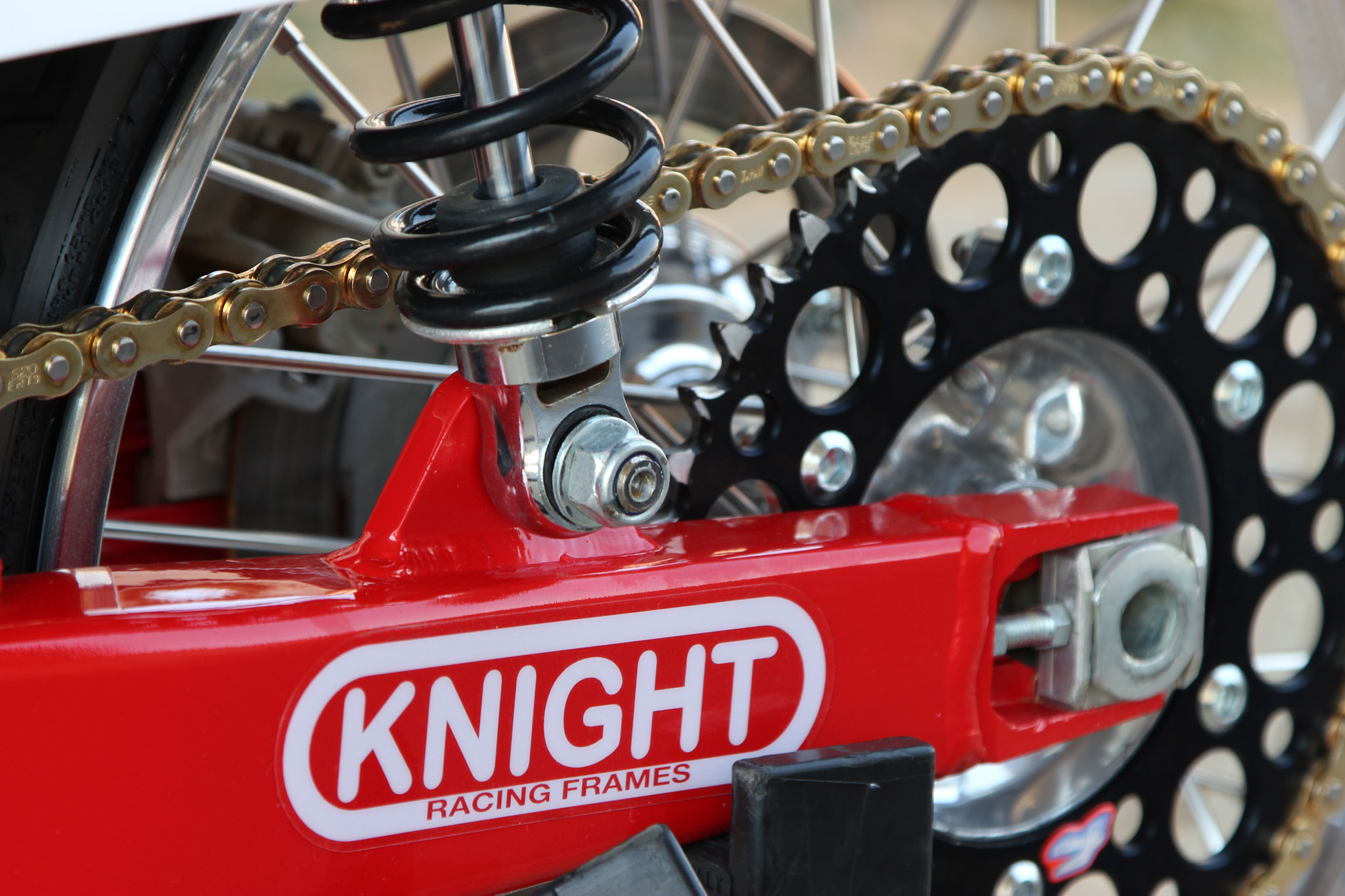 A modded CRF hub is used up front too. Twin shocks are fitted, in keeping with the 1980's original.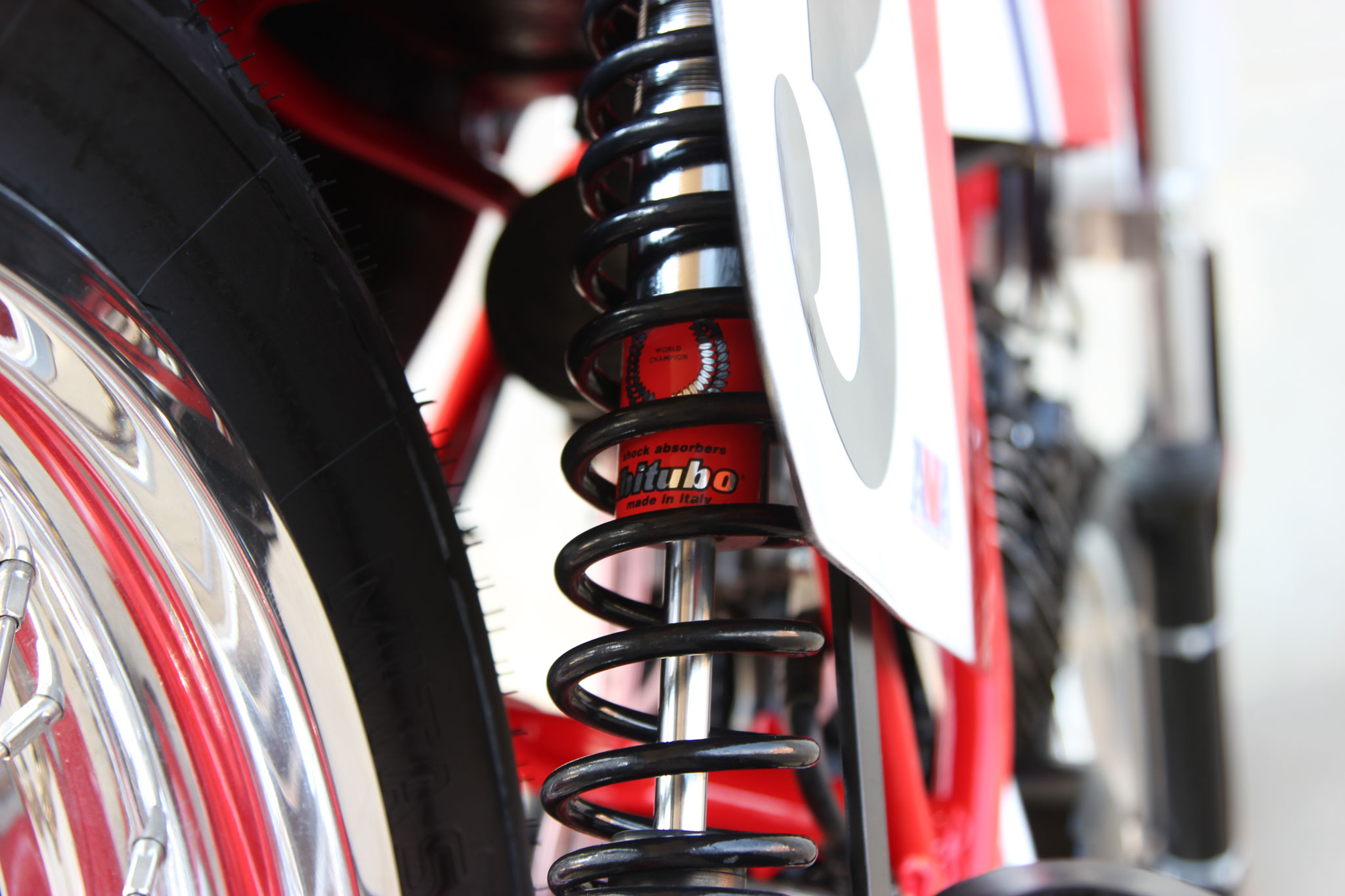 Front forks are Yamaha R6 43mm units from 2000.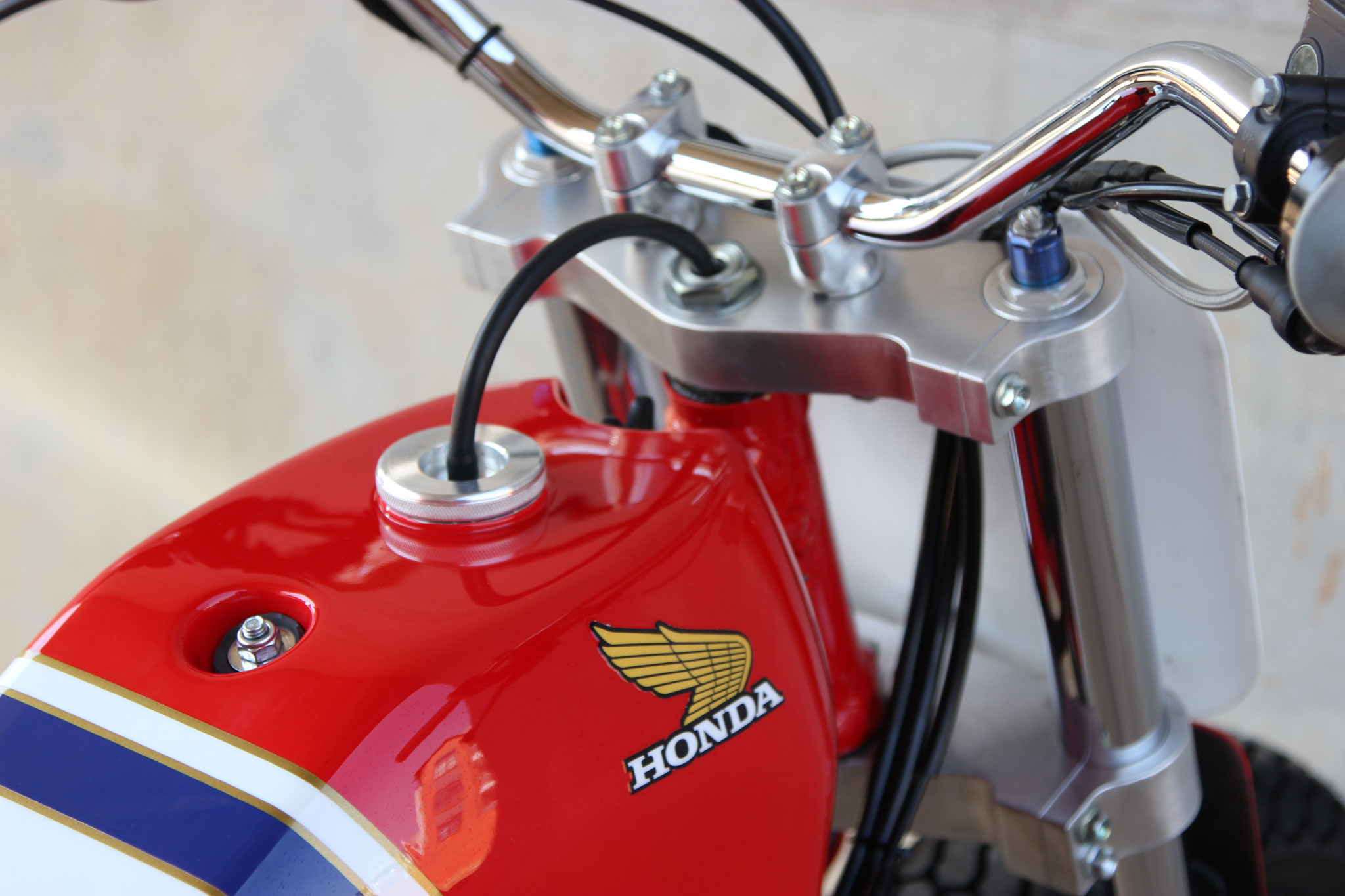 A Keihin CR carb feeds a fit XR600 motor.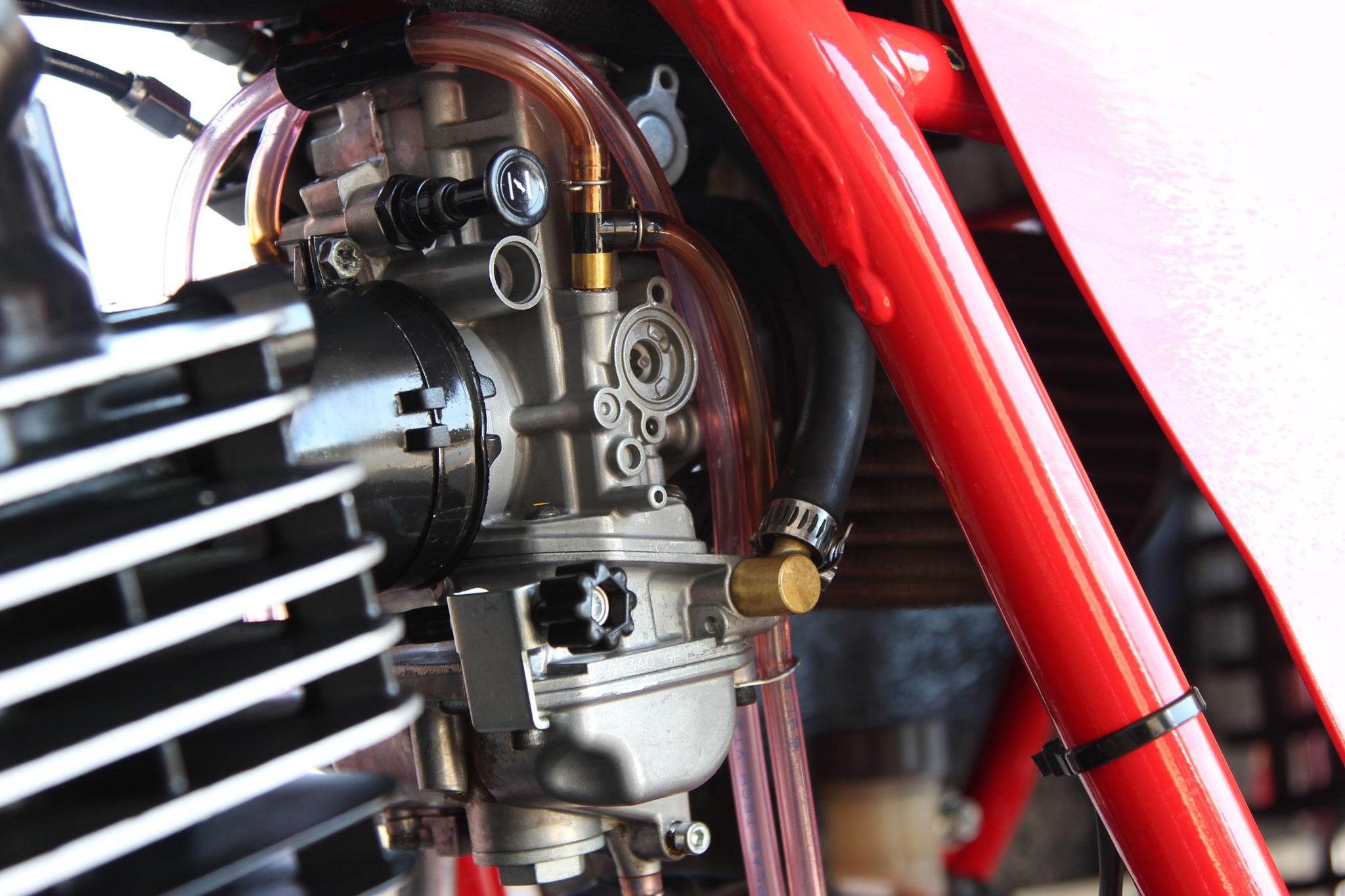 Run in "just built" form at last years event, the bike subsequently went to Wicked Wayne for painting, as only Wayne can. Resplendent in HRC colours, the bike looks spectacular.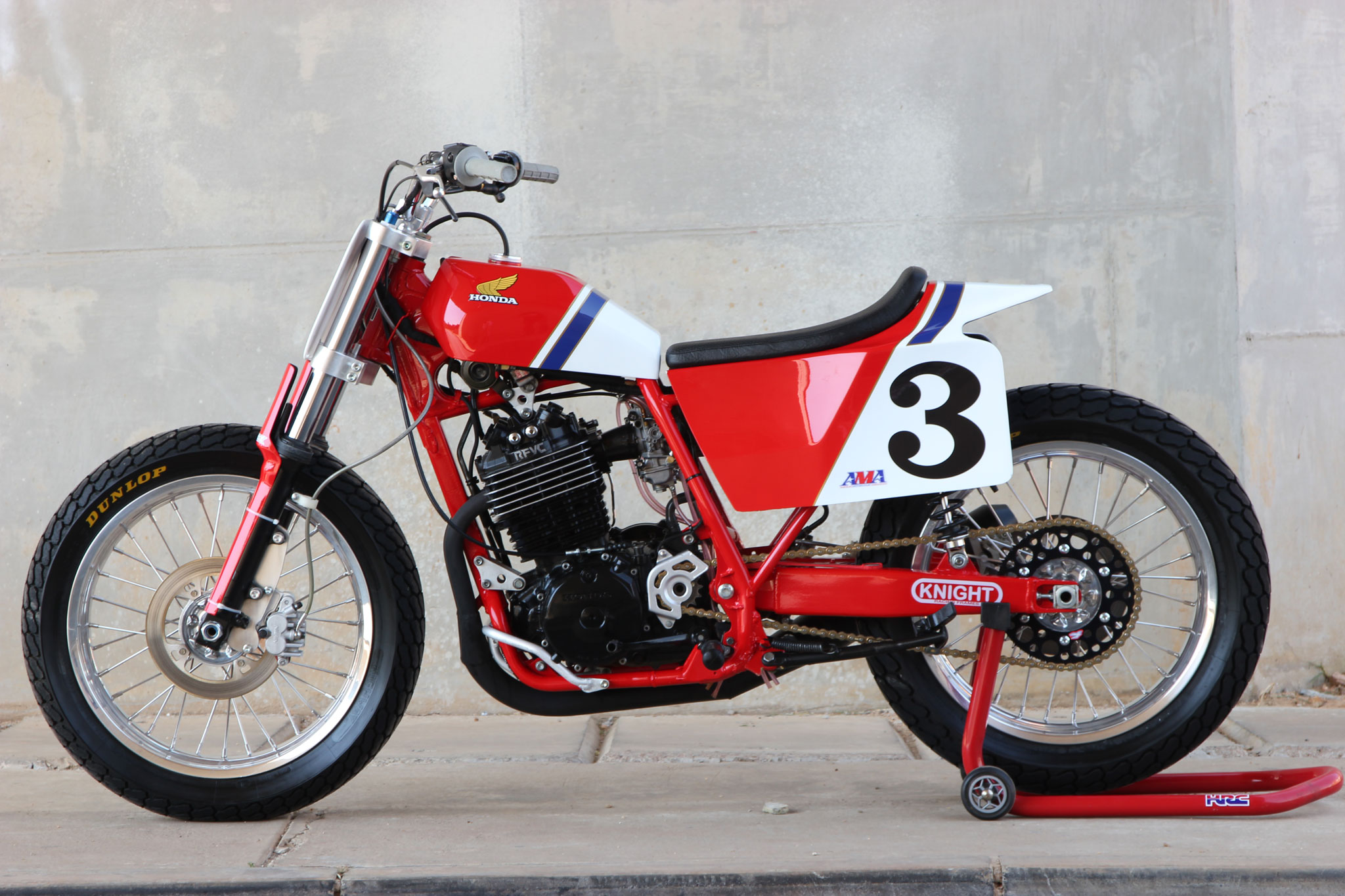 A handmade Yoshimura pipe completes the picture, finished in matt black.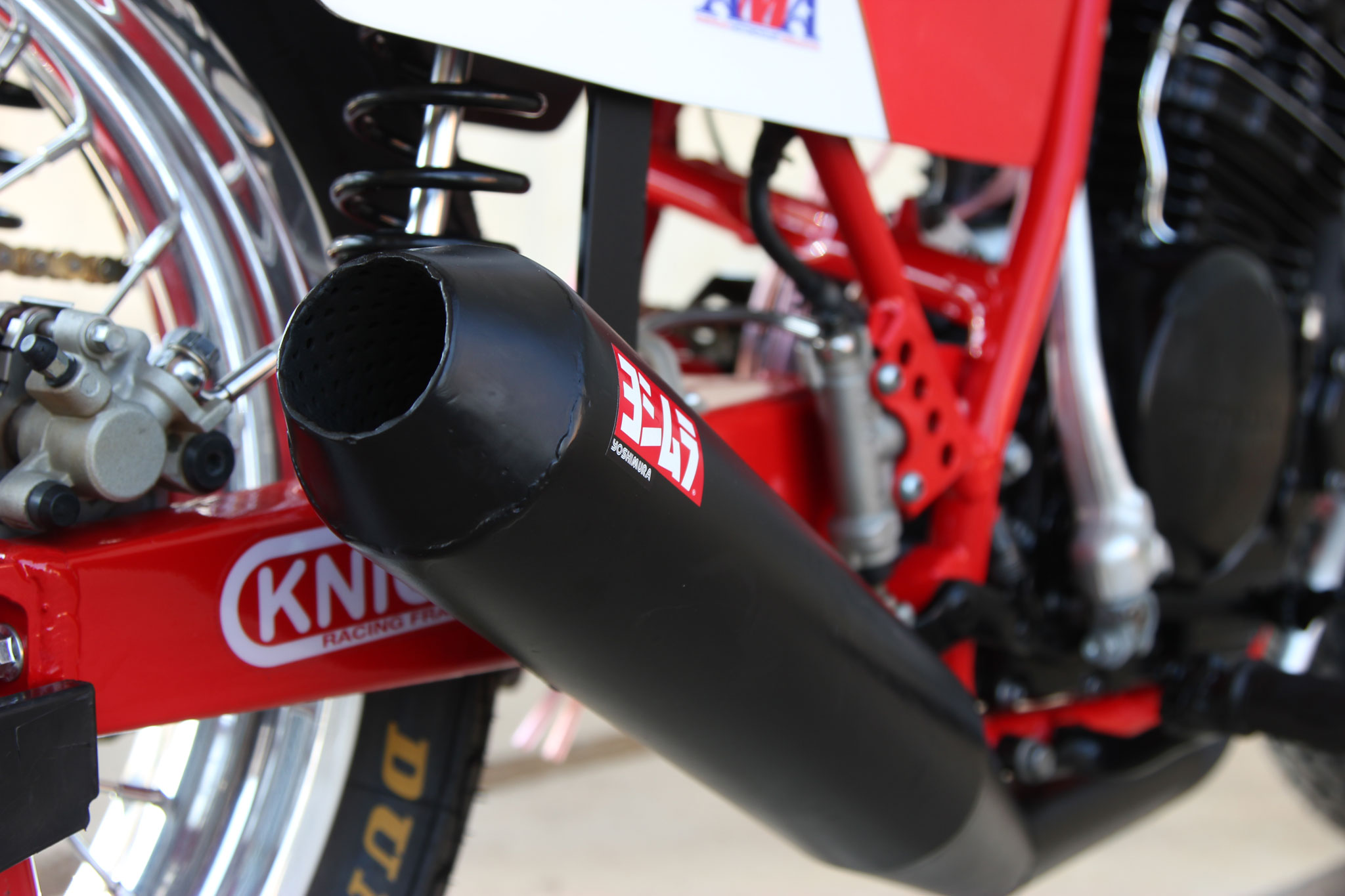 Stofskop is the kind of event that inspires enthusiasts to start the type of project that has been so incredibly executed by Justin with his NS600 D Replica. So, guys, you have a full year till the next event. How is that for a challenge?
To Motul, who so capture the true spirit of motorcycling with their sponsorships of events such as this, well done! To the rest of you who didn't make it to this year's event, see you there in 2020.
For more information on Stof Skop visit: www.stofskop.co.za