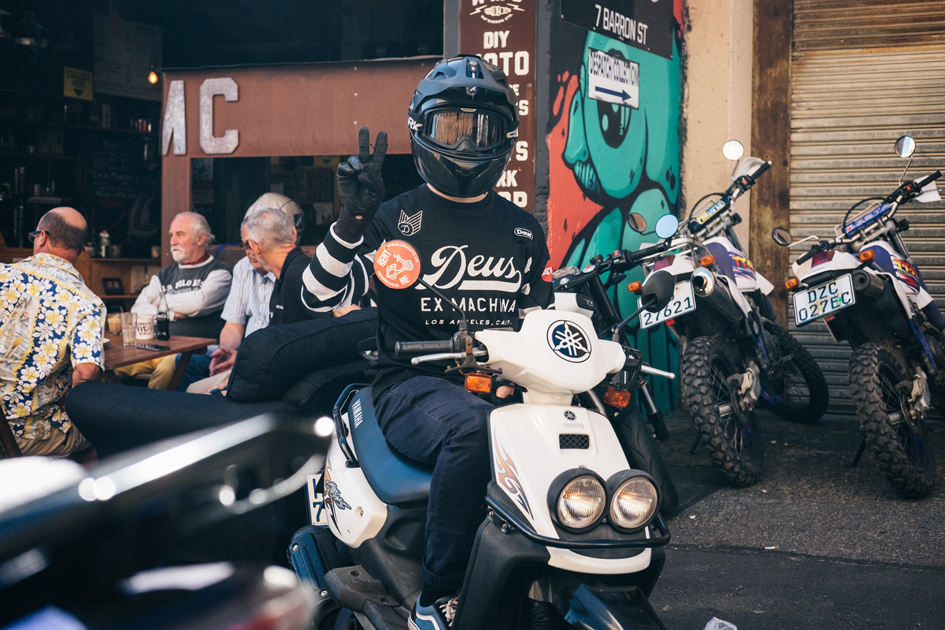 Macho motorcyclists will have a hard time admitting it, but scooters are a substantial amount of fun. We all know how practical they are; they're cheaper than bigger bikes, sip fuel, are easy to ride and usually have plenty of storage space. But on top of being pretty damn useful, they're bonafide fun too.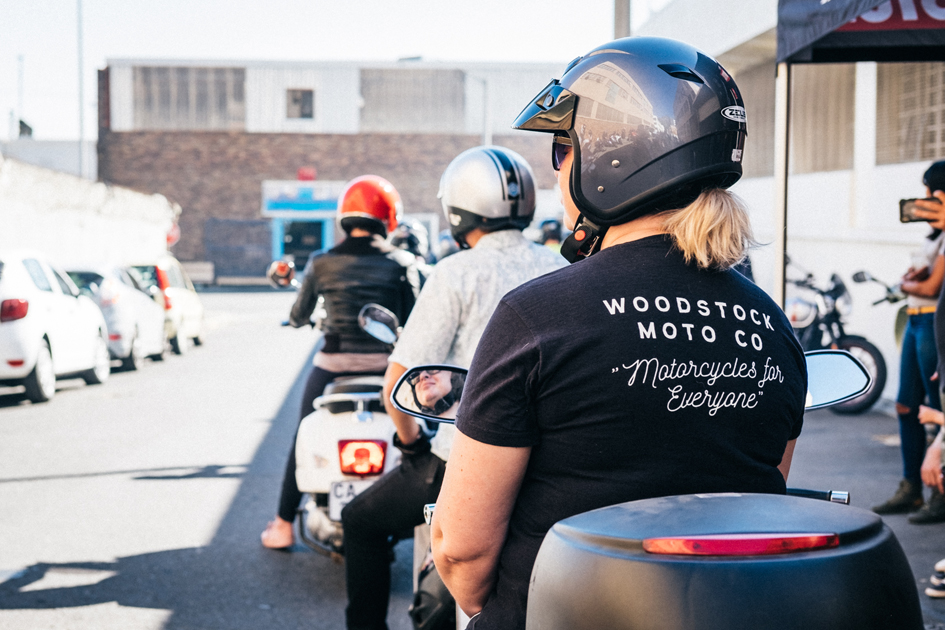 It's impossible to deny the appeal of their hop on, twist and go nature. The lack of a clutch and gear shifter makes for a much more relaxed ride, and the twin brake levers arrangement is familiar to anyone that's ridden a bicycle. And even though you should technically be wearing proper bike gear regardless of what you ride (seriously, even a scooter can hurt you), most scooterists take a casual approach to attire.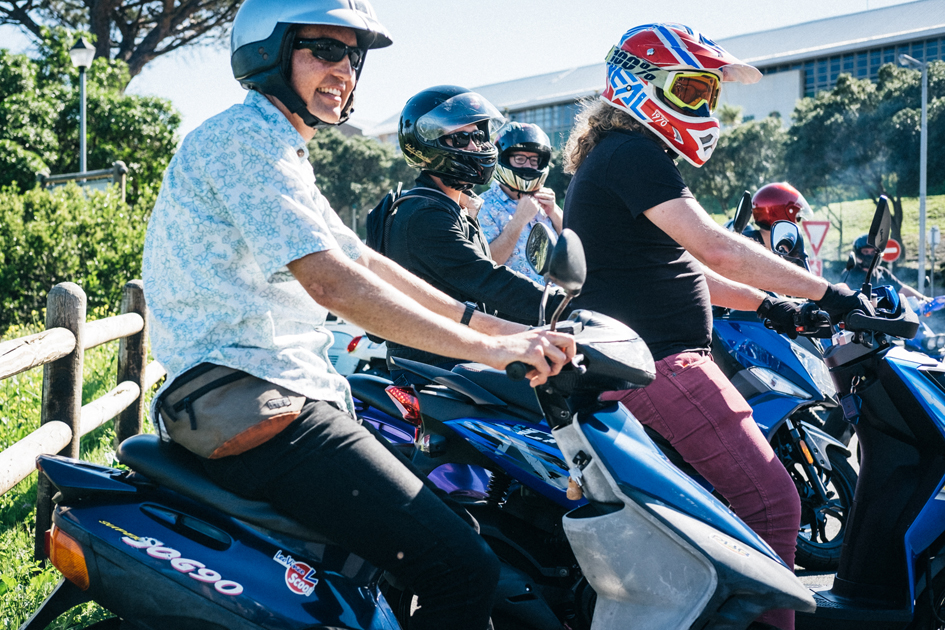 This combination of practicality and fun isn't lost on the crew at Woodstock Moto Co. Ask WMC founder, Devin Paisley, why he thinks scooters are cool, and his first response is "Have you ridden one!?" So he and his team declared September 'Scootember,' offering anyone who pops in on a scooter coffee at just R12, and organising a scooters-only ride through Cape Town.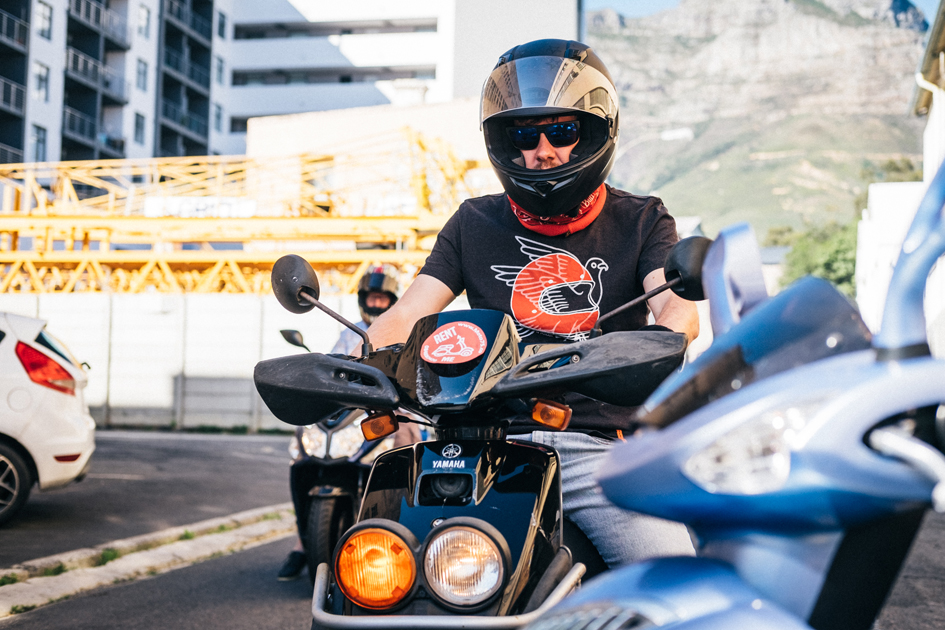 Since my first two bikes were scooters (a Honda Express, and later a Vespa ET4), I'm well acquainted with the vibe. My Vespa carried me to work and back daily, and was the perfect weekend cafe-hopper for my wife and I. So when news of this ride popped up on my Instagram feed, I jumped.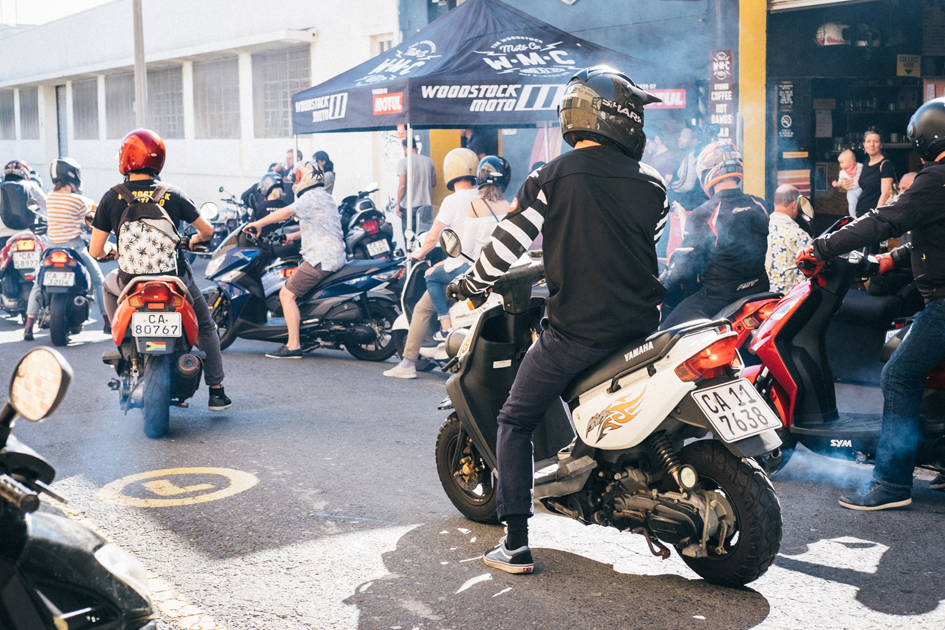 All I needed was an actual scooter to ride, so I popped into Donford BMW Motorrad Cape Town, and sweet talked them into loaning me their demo BMW C 400 X for a couple of hours on a sunny Saturday morning.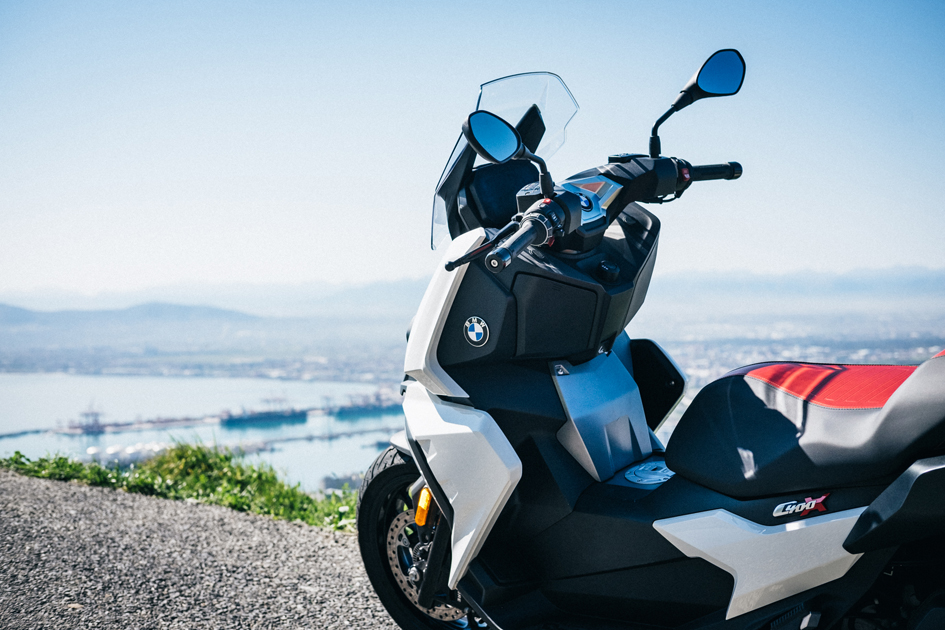 With a 350 cc single cylinder motor powering it, the C borders on being a maxi-scooter, but it's still plenty compact for usual scooter shenanigans. Output is a spritely 34 hp and 35 Nm, with a listed top speed of 139 km/h (I didn't have a chance to confirm that). The C carries 12,8 l of fuel, with a claimed consumption of around 3,5 l per 100 km—so you should be able to clock at least 360 km between refills.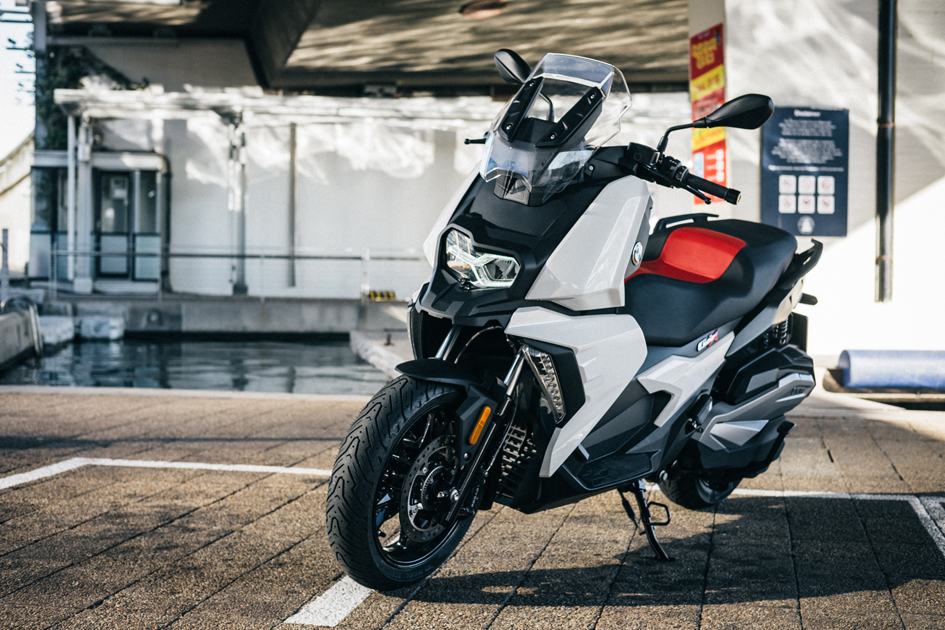 The C 400 X is pretty well specced too; ABS and automatic stability control are standard, and you also get a TFT display with the same Bluetooth connectivity features as BMW's bigger bikes.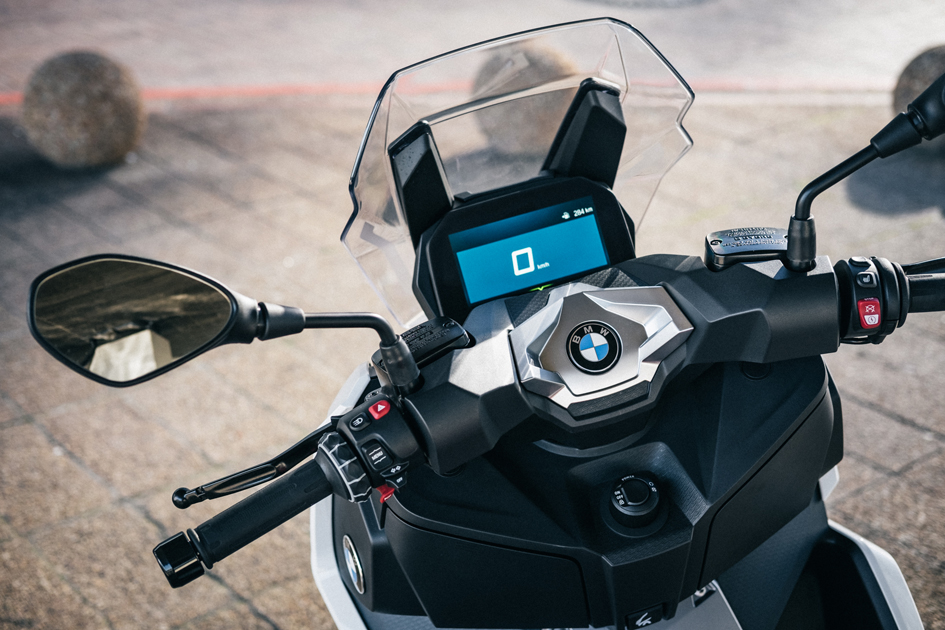 I arrived at Donford on a bigger bike and dressed in full kit—so I stripped off a couple of layers and stashed them in the C's under-seat storage. (Yeah, I'm that guy.) The C has a cubby on either side of the main fairing, and a medium sized space under the seat that can expand when the scooter is parked. It's a pretty clever system—you hit a release button and then push the base of the main compartment all the way down to the rear wheel, increasing its size enough to store a helmet.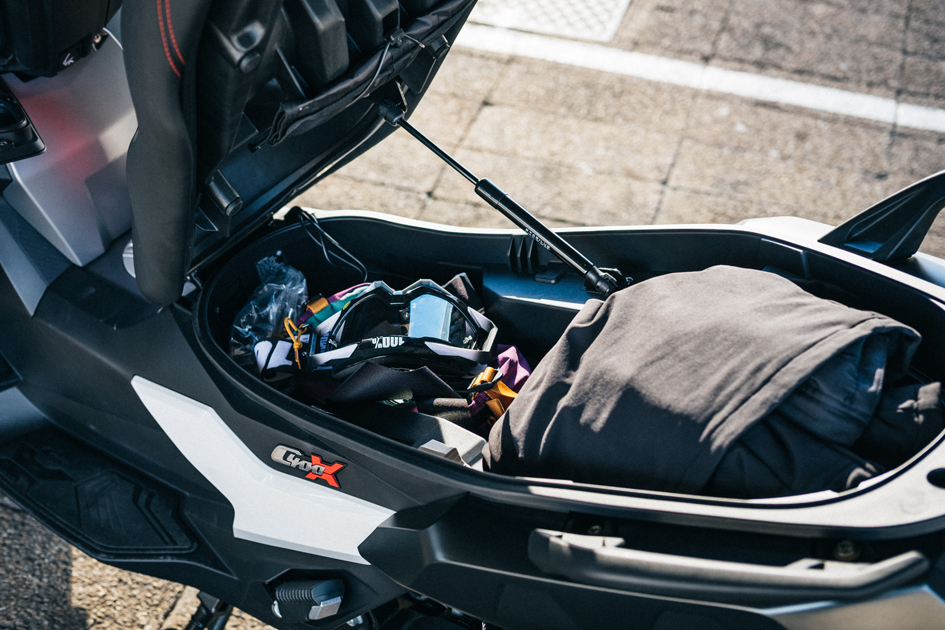 Zipping through the city bowl en-route to rendezvous with the WMC crew, I figured that I'd find just a handful of scooters gathered. I was dead wrong—clearly scootering is alive and well in Cape Town, because almost 40 riders turned up for the ride.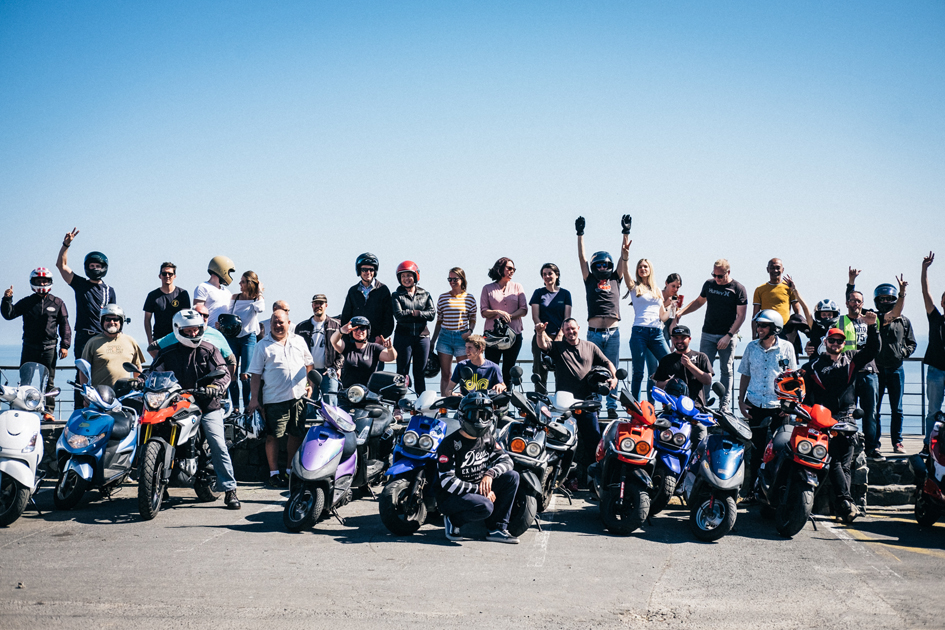 It was a pretty diverse crowd too—both people and scooters. Riders varied in age and gender, and the scooters ranged from a couple of 90 cc Yamaha Super Jogs from the 90s, right up to a heavily modified BMW C 650 super-scoot. Popular scooter marques like Kymco and SYM were well represented, and there were even a few Vespas in the crowd (old and new).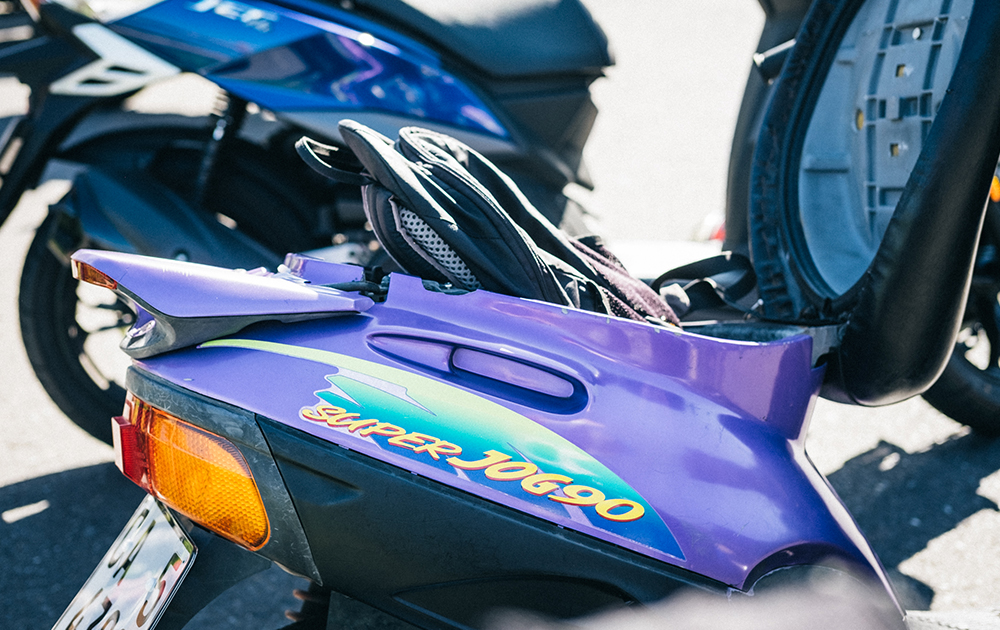 The C 400 X's angular looks and top shelf finishes set it apart from most scooters, so it pulled quite a few looks when I rolled up. It's a pretty quirky design too, and even has the same LED-equipped headlight as the F 850 GS.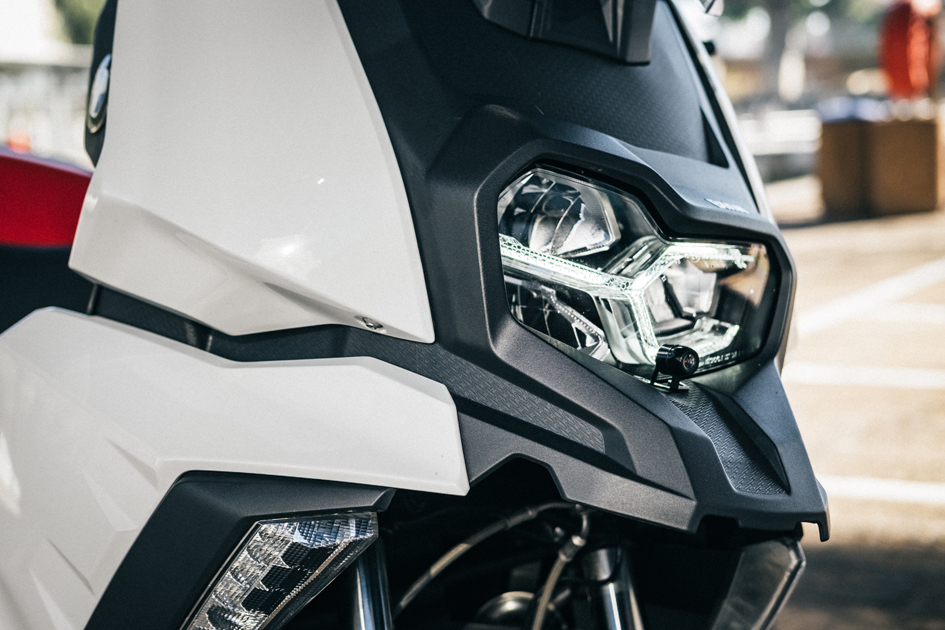 There were quite a few Yamaha BWS100 two-strokes present too. But there was a good reason for that: scooter rental shop, Moto 75, had partnered up with the WMC to offer rental specials on their BWS100s. That's right, some people wanted to join in the fun so badly that they rented scooters just to tag along. And the BWS (a cult classic in its own right), is arguably one of the best little scoots to have silly fun on.
"Ask anyone who has owned a Yamaha BWS100," says Devin. "It may be a puny 100 cc motor, but the joy that these little fun machines bring to their owners is legendary."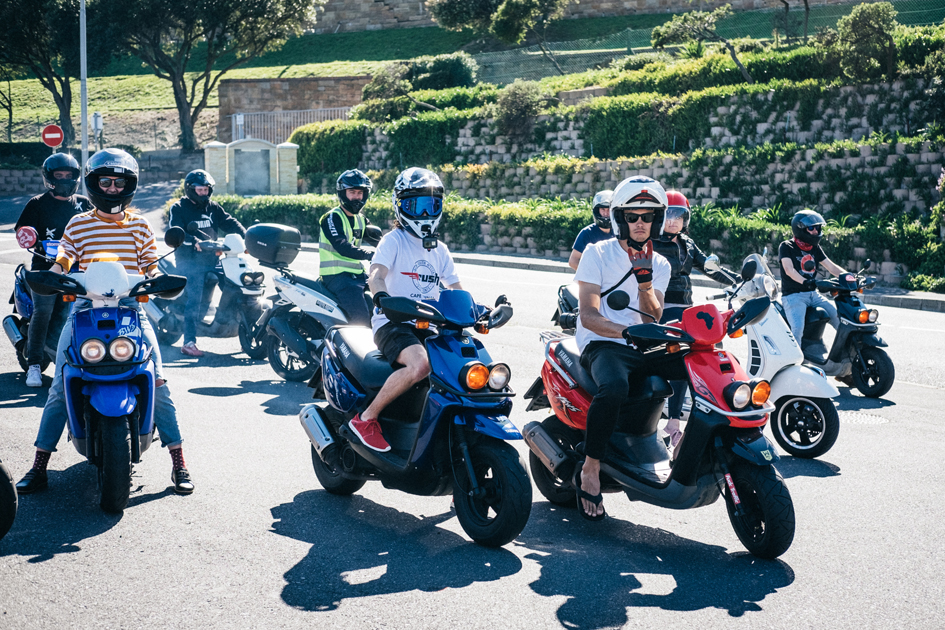 The ride itself was pretty standard Cape Town fare. Amidst the smell of two-stroke smoke, and the sound of a thousand sewing machines spinning in unison, we left Woodstock and shot straight up the maelstrom of cars and pedestrians that is Strand Street. From there we headed through Sea Point and on to Camps Bay, before pointing our scooters up Kloof and riding to the top of Signal Hill.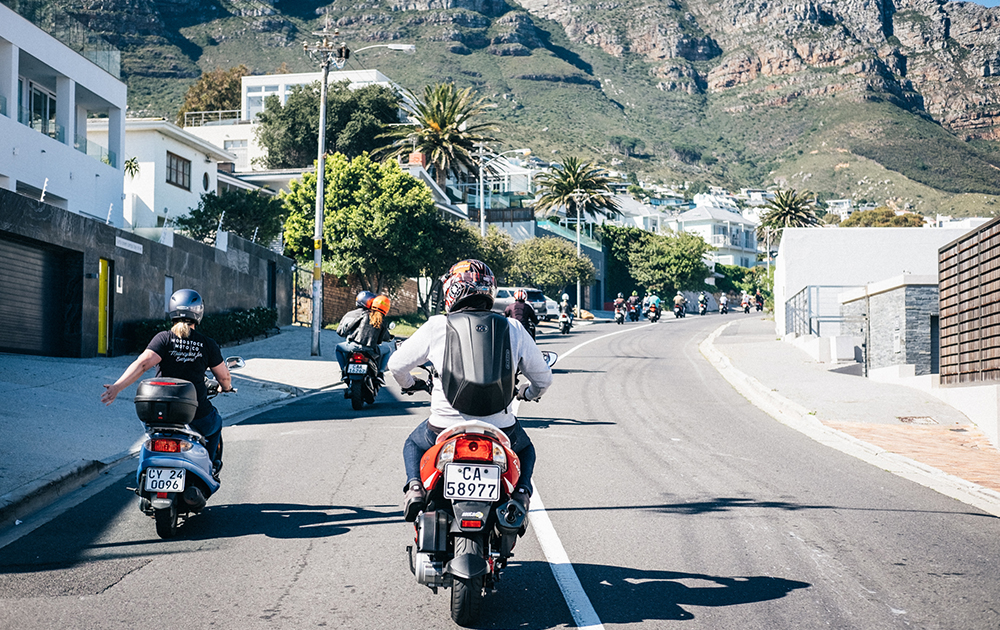 I'd originally joined the ride just for kicks, but it never occurred to me that a massive group of scooters traversing Cape Town would actually be a sight to behold. There was a lot of hooter tooting from us, and staring, smiling and cheering from onlookers, as the ride progressed.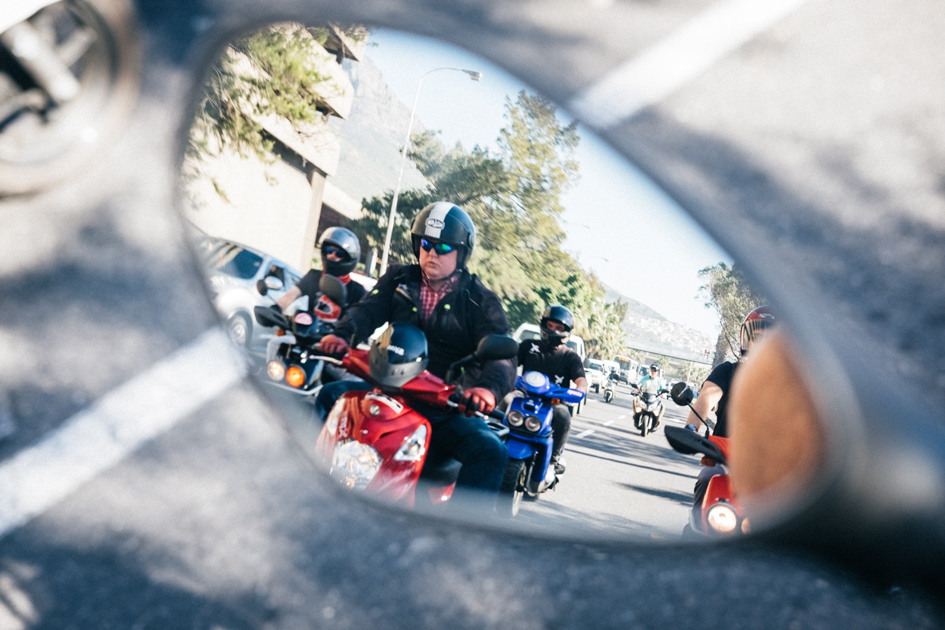 That's another big selling point of scooters: they don't take themselves very seriously. The pace was chilled, smiles were big, and an impromptu BWS100 drag race even went down at the halfway point.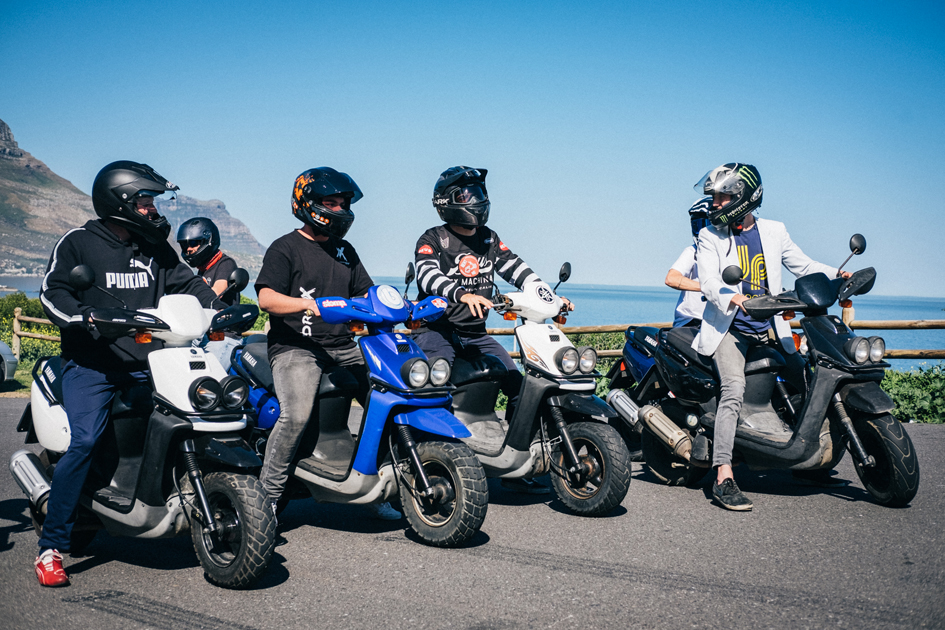 "It is one of the funnest rides I've ever been on," confirms Devin. "Seriously. Like, ever, in my 14 years of riding."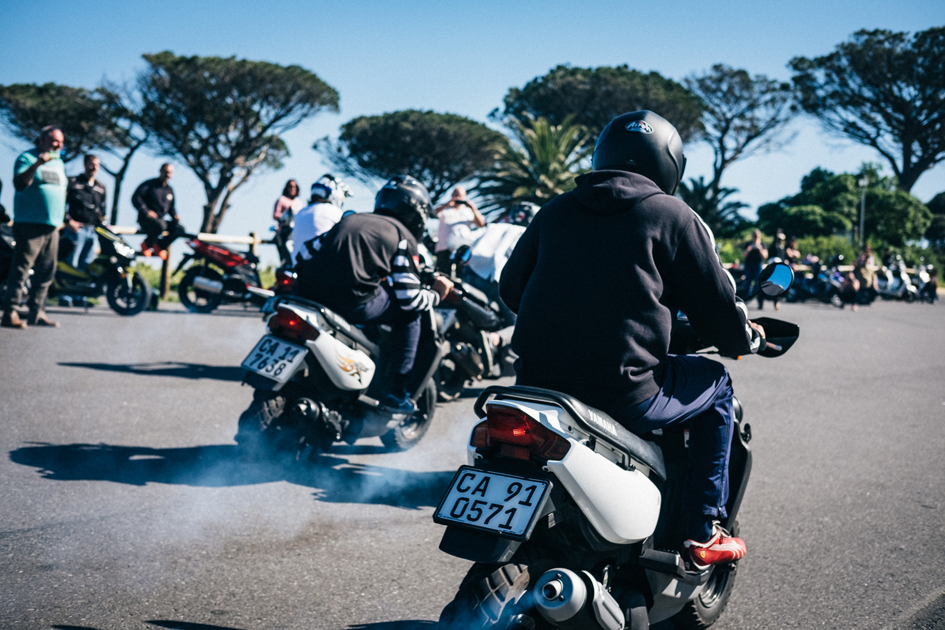 "Because we weren't doing silly speeds on loud bikes, the reactions we got from other motorists and pedestrians was completely different from the reaction you'd normally get when riding a motorcycle. It's almost as everyone is cheering you on, smiling, waving as this swarm of scooters went by in a cloud of two stroke smoke."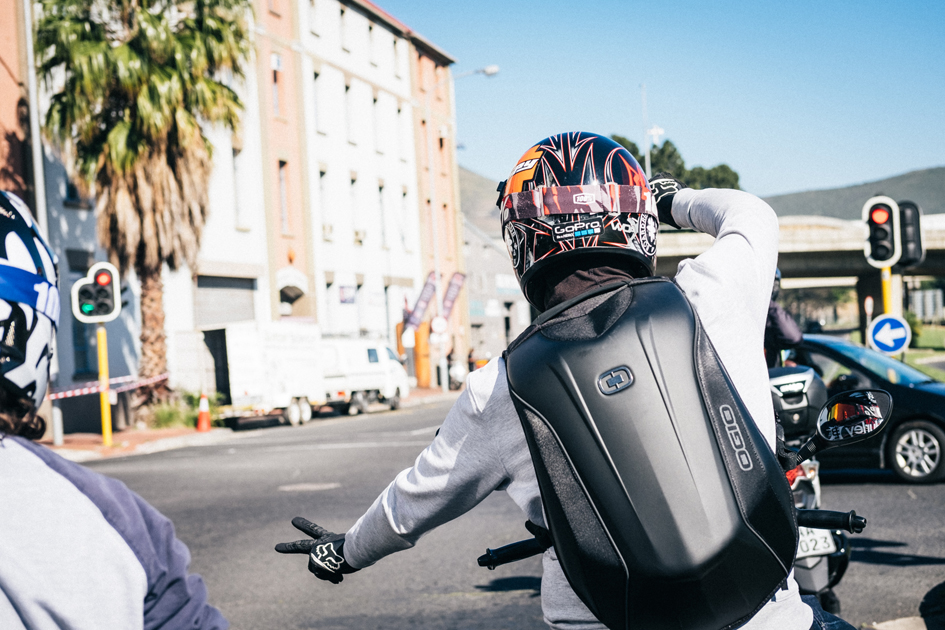 As we shot up Signal Hill, I had a moment to get ahead of the pack and wring the BMW's neck for a minute. It's a spritely little critter, and surefooted too, thanks to its 15F/14R wheel combo.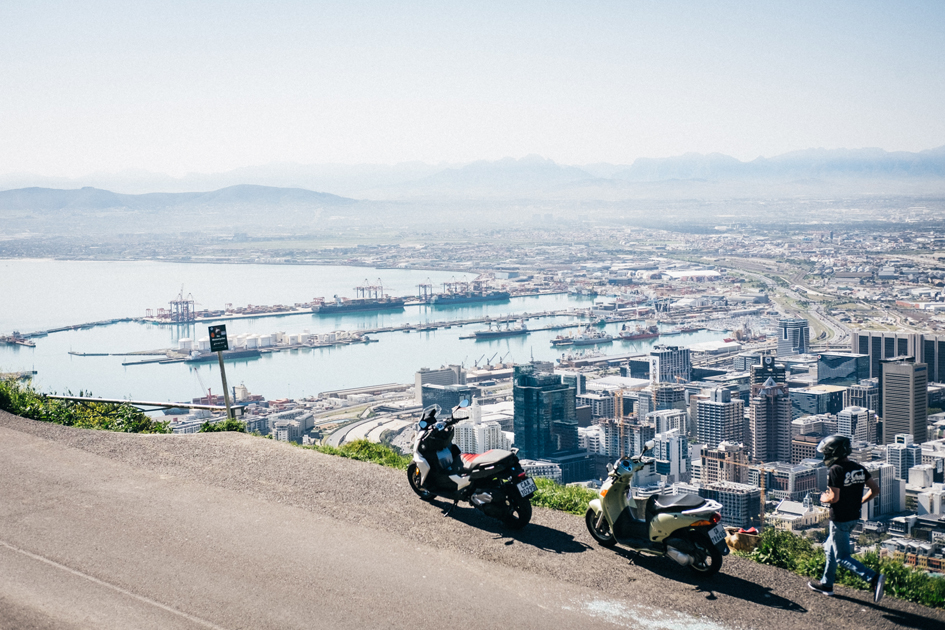 The ride ended with ice cream and soft drinks at the top of Signal Hill—a far cry from your average biker gathering. Just as I was starting to enjoy BMW's 'tweener scoot I had to return it to the kind folks at Donford.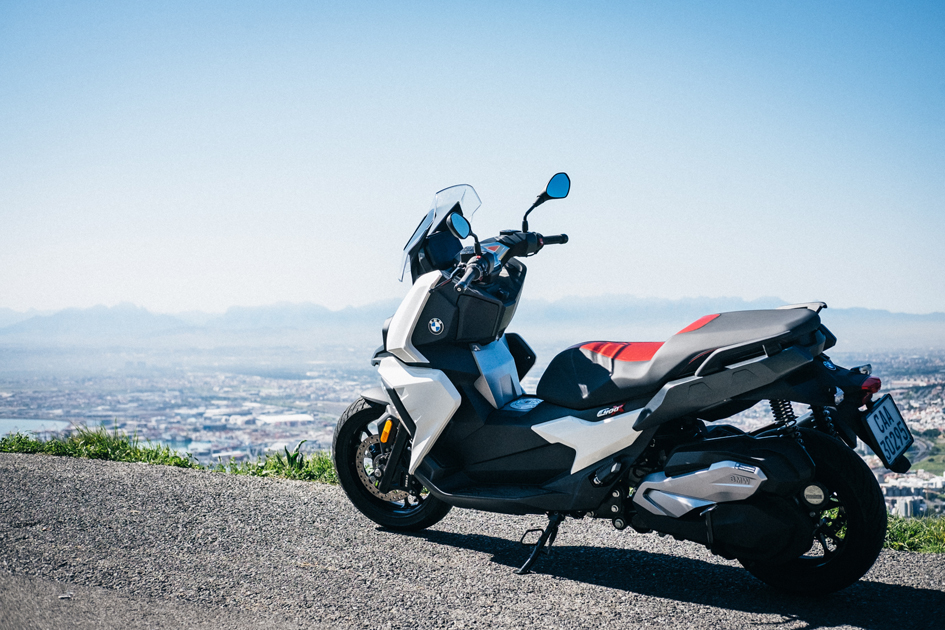 And as I caught up with friends back at the Woodstock Moto Co., now back on the bigger bike, I felt quite tangibly like the odd one out.