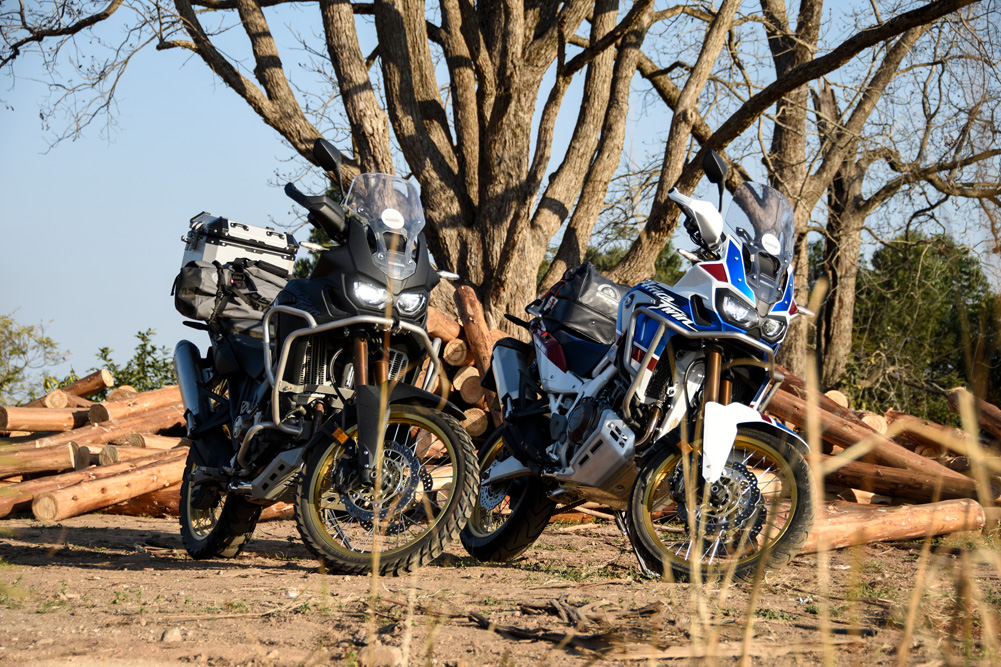 In many ways, the Africa Twin story is one filled with success, drama and irrational decision making, to say the least. Allow me to explain;
The year is 1990 as Honda launches the delectable XRV750 Africa Twin, in celebration of their "Paris-Dakar Rally" success between 1986 and 1989. This package was presented in a 742 cc, 6-valve, liquid-cooled V-twin configuration and was an instant sales success. The evolution of this model is well documented and will not be the focus of this story.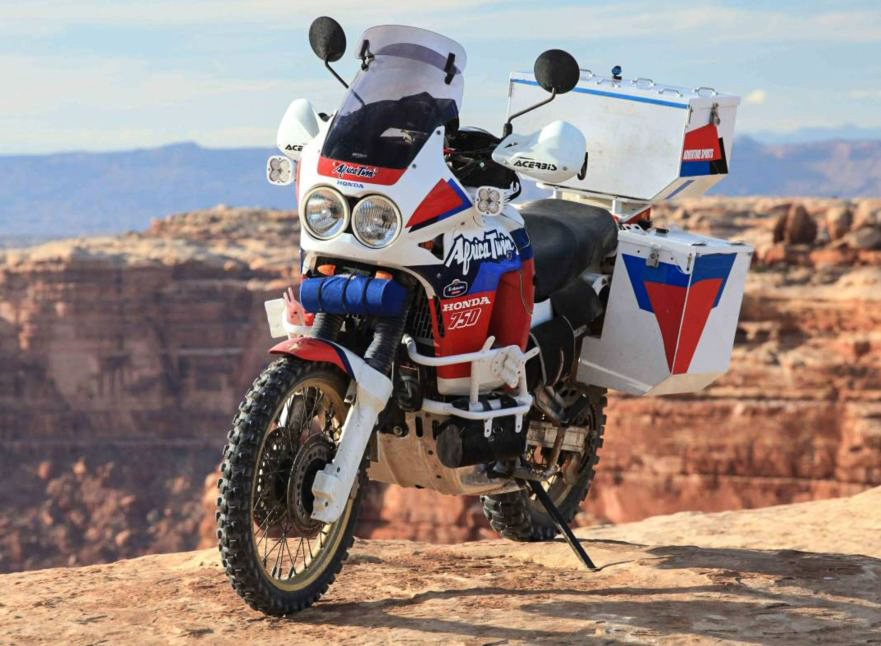 For some weird reason, Honda discontinued production in 2003, amidst the unprecedented rise of the BMW GS. The Africa Twin went "missing-in-action" for the best part of thirteen years, leaving a lot of disgruntled fans in its wake. 
This all changed in 2016, with the launch of the new Africa Twin, now designated the CRF1000L. To say this was the most anticipated Honda model in recent history is an understatement. This latest incarnation had grown in capacity to 998cc and is a parallel twin, rather than a V-twin, as has become Honda custom over the last few decades. These were exciting times and gave the power of choice back to Honda fans.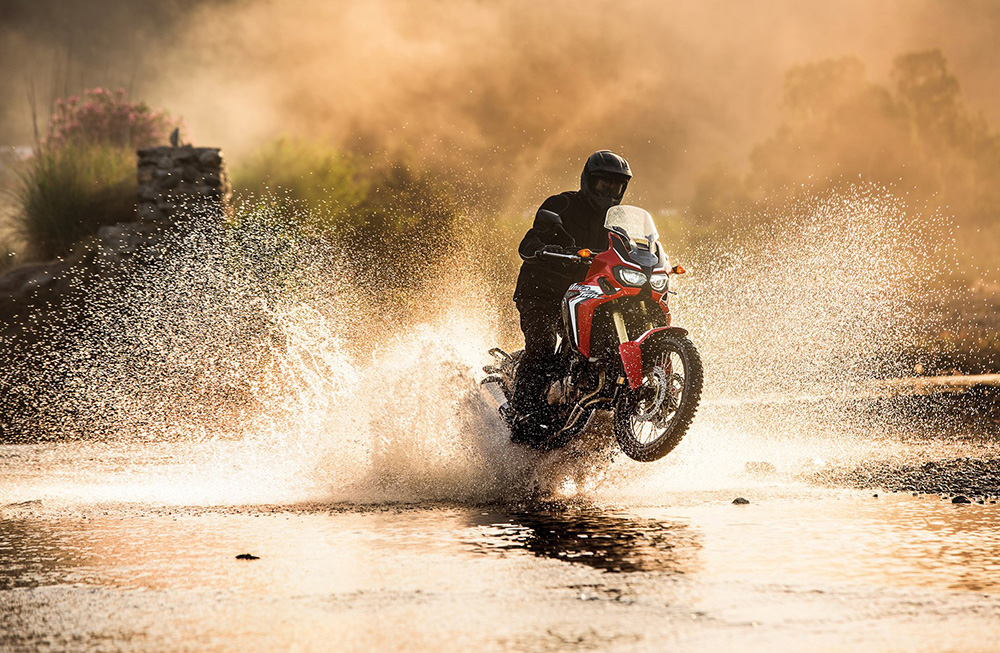 A significant bit of technical information is that the new parallel-twin mill sports a 270-degree firing order. In layman's terms, this is known as the "big-bang" firing order. The same configuration is to be found in BMW's F850GS/A, Yamaha's XT1200Z and the highly anticipated Yamaha T7. You cannot write and comment about the Africa Twin without talking about this glorious engine. We will elaborate on this briefly, as the story unfolds.
Adventure Sports Option
In 2018, a further evolution of the species called the "Adventure Sports" saw the light of day. This model has a larger fuel tank, higher windshield, crash bars, bash plate and longer travel suspension among other features. The seat was also altered for more sporty riding, increasing the ride height to 900mm in the standard position, or 920mm in the high position.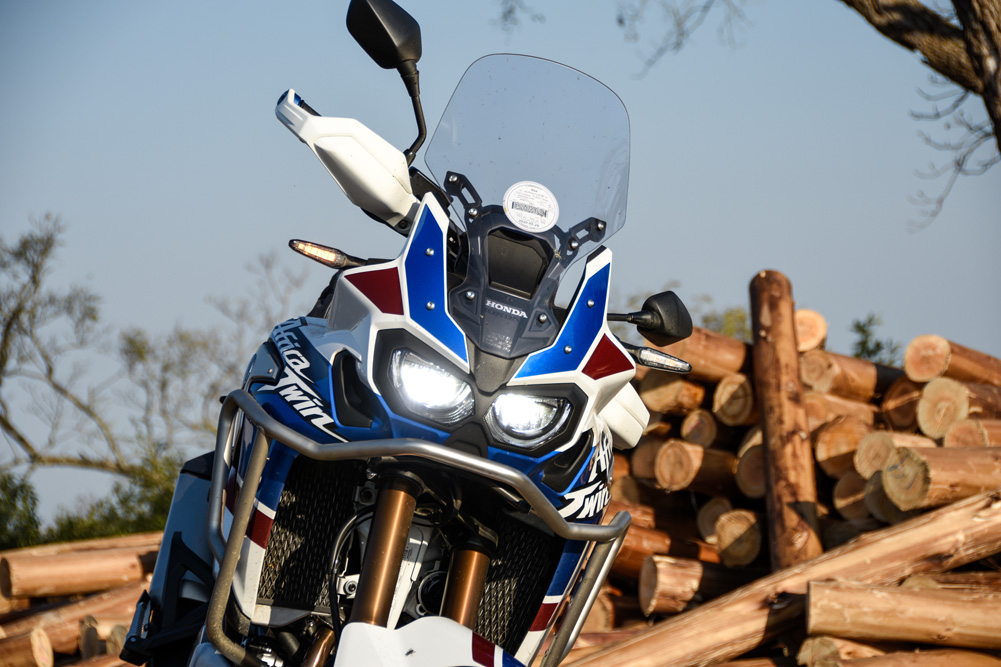 The new paint scheme on the Adventure Sports makes it one of the most photogenic adventure bikes out there. It certainly is soft on the eye and the camera lens.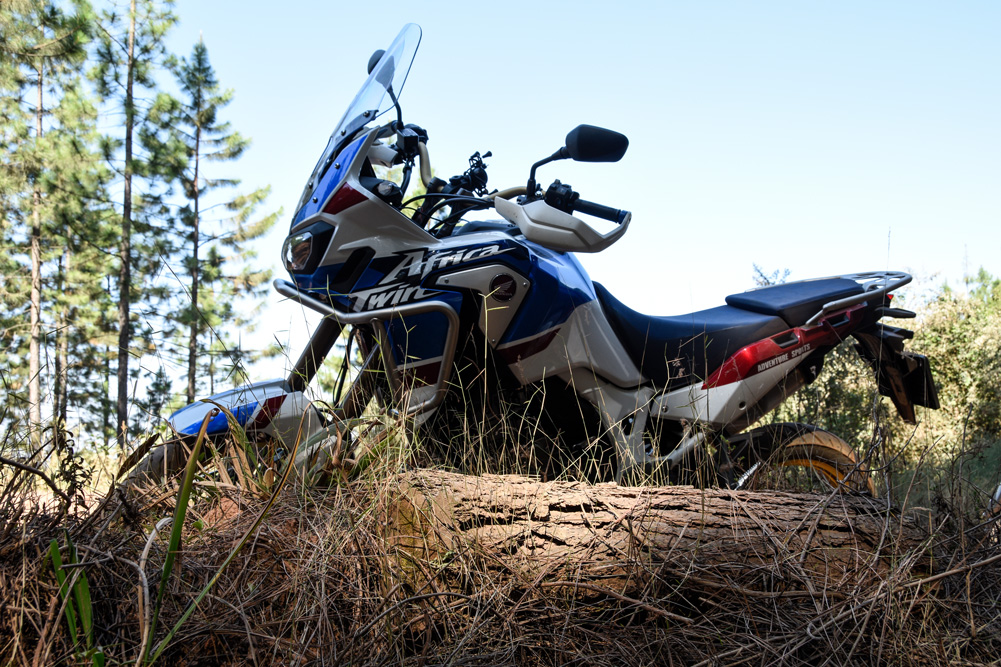 Gliding into the sunrise
So the time came for another magical travel adventure. On this occasion, we were aboard a pair of these fine Honda Africa Twins. Just to spice it up a little, Riaan Fourie, Head of Motorcycles at Honda SA, organised us an Africa Twin DCT model and an Adventure Sports manual.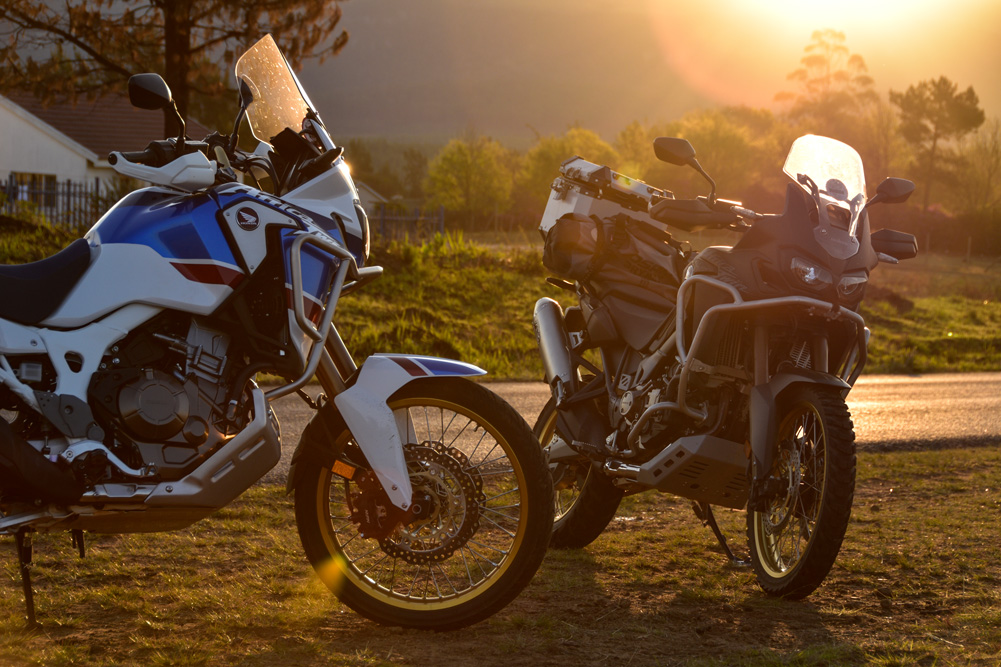 Simon and I made our way down the N4 highway, heading East from Pretoria towards Belfast. This gave us the perfect opportunity to get a feel for the Twins cruising capability. It must be mentioned, that both these bikes are truly comfortable at highway speeds. Both have the ability to put the rider in a relaxed, comfortable state of mind as you see the miles roll by on the smooth tarmac. To me, this is a very important quality! Adventure touring is all about beating the rush of modern-day living, experiencing the unknown on a machine you can trust and rely on. The Africa Twin certainly awakes this mindset.
Just outside Belfast, we transitioned onto gravel for the first time. I had many gravel loops planned as an option, with escape routes back to the main roads, should the need arise. Both Simon and I have a keen eye for photography and this caused regular stops and leisurely traversing, just the way it should be.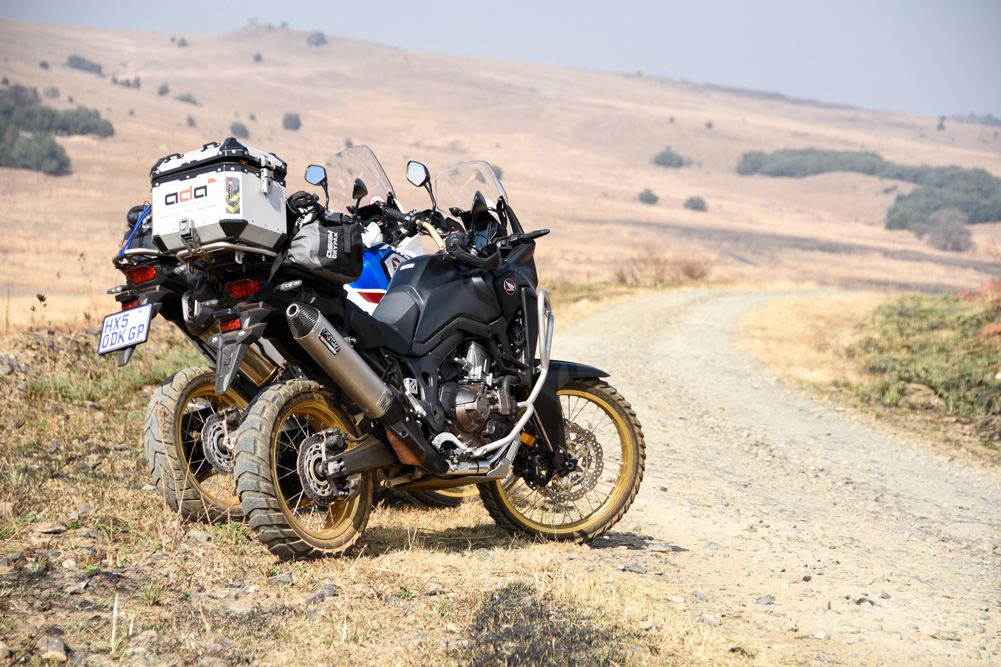 As my good friend Stefan Boshoff always says; "a plan is merely a basis for change". This is very true about adventure biking and we soon had to amend our plan by cutting out a few loops of gravel. This is a usual occurrence on my trips as there is always another option, another road less travelled and moments to be captured. 
It was a trip of firsts, in so many ways. Simon Morton, our editor in chief is a self-proclaimed adventure bike rookie. He is more of a "naked bike", "modern classic" fan, lured into crossing over to the dusty side of biking, by a few close friends. His input during the trip was very valuable and I will relay, as best I could, with what he had to say every time we stopped for a water break or photo opportunity.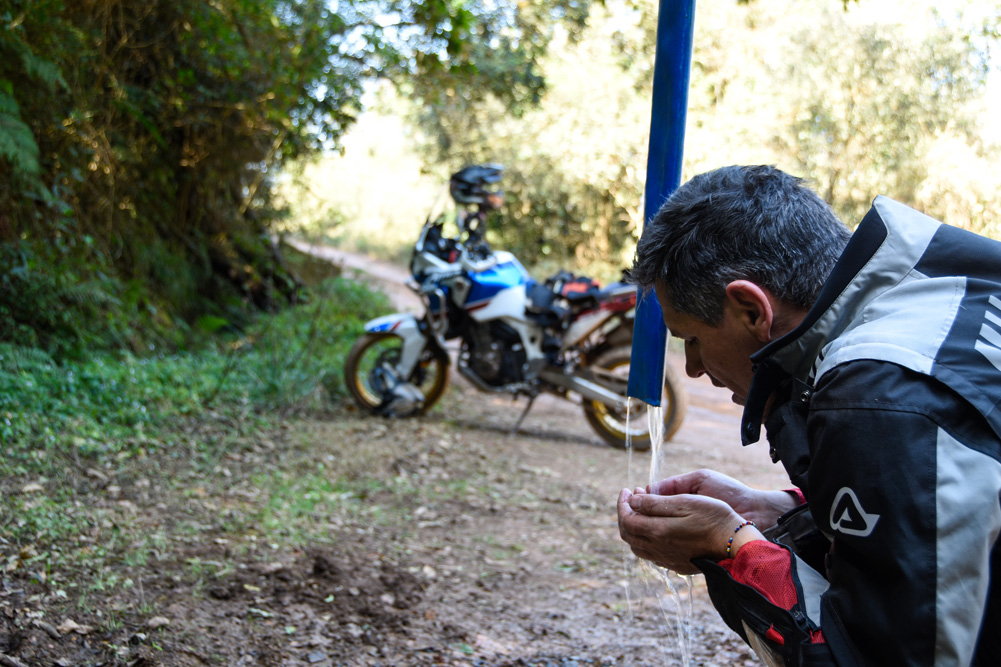 He has had a very busy time in the office and was keen to burn some daylight hours on the bike, far away from modern-day distractions. I smiled every time we stopped, as I listened to how much he was enjoying himself. When he didn't elaborate about adventure biking, he was busy telling me how much he enjoyed the Africa Twin DCT.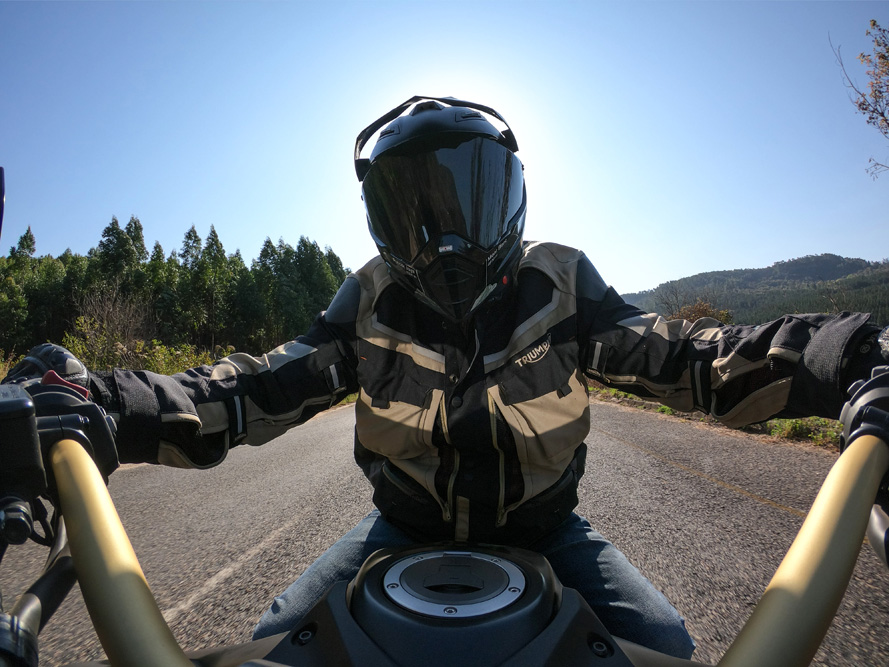 But what is DCT?
A quick note to those readers who are not familiar with the term DCT, it simply means "Dual Clutch Transmission". This is Honda's version of an automatic gearbox. I can remember Simon's scepticism before he had his first go on this arrangement. Here, was a motorcycle with a parking brake instead of a clutch lever and the complete absence of a gear lever. On the right-hand side is a switch that selects neutral, drive and sport mode. Sport mode has three different aggression settings which caters for just about anybody.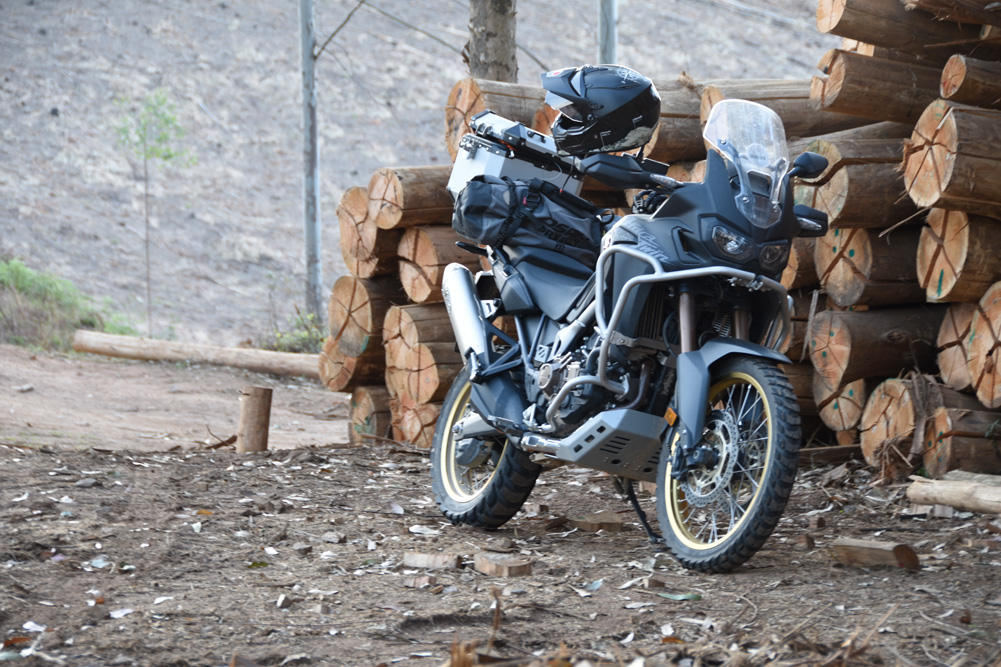 There is also an auto and manual selector on the same side as the switchgear. When selecting manual mode, you can shift up and down via paddle shift on the left thumb and forefinger. The DCT arrangement adds about 10kg of weight to the motorcycle and a price hike of around R12 000. Needless to say, most owners to be, opt for the DCT version.  
It was the first time I had straddled an Africa Twin for more than just a spin around the block. I had been invited to ride them on so many occasions, but for some reason, life just got in the way. This is a good thing, for I was to evaluate these two specimens from a brand new, fresh perspective. 
Summit Lodge
It was also the first time we were to stay at Summit Lodge, in the biking haven of Graskop, Mpumalanga. This fine, biker friendly establishment has catered for the biking fraternity for many years now.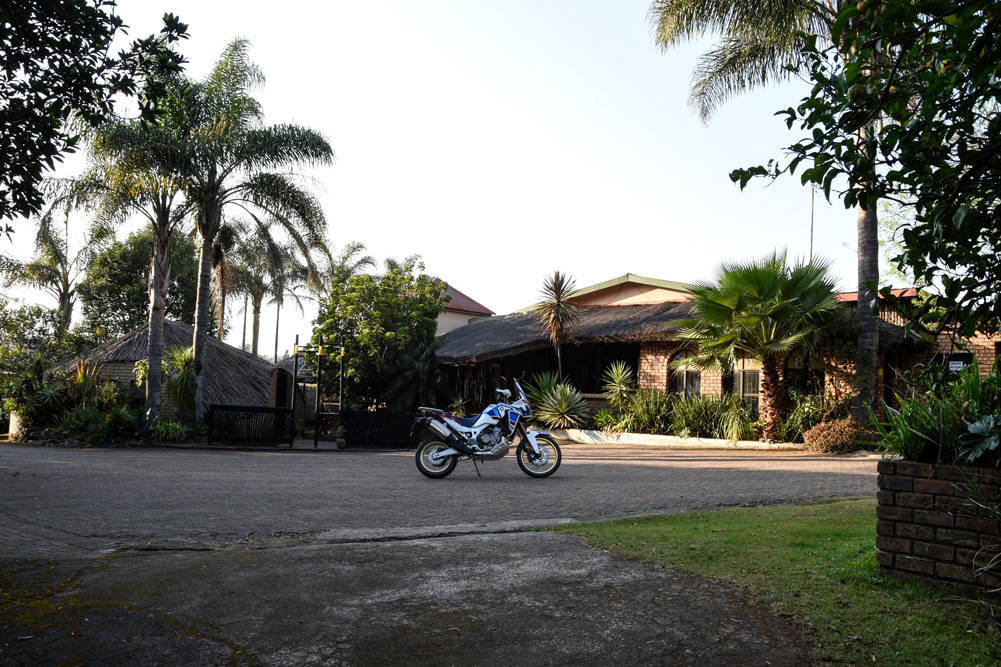 The spacious rondavels allow for more than needed on any biking adventure, complete with en-suite bathroom, shower, TV and coffee station. They also offer good food and a jovial bar for freshening up and making new acquaintances. The bar area also has a central fireplace that caters for the unpredictable weather in this area.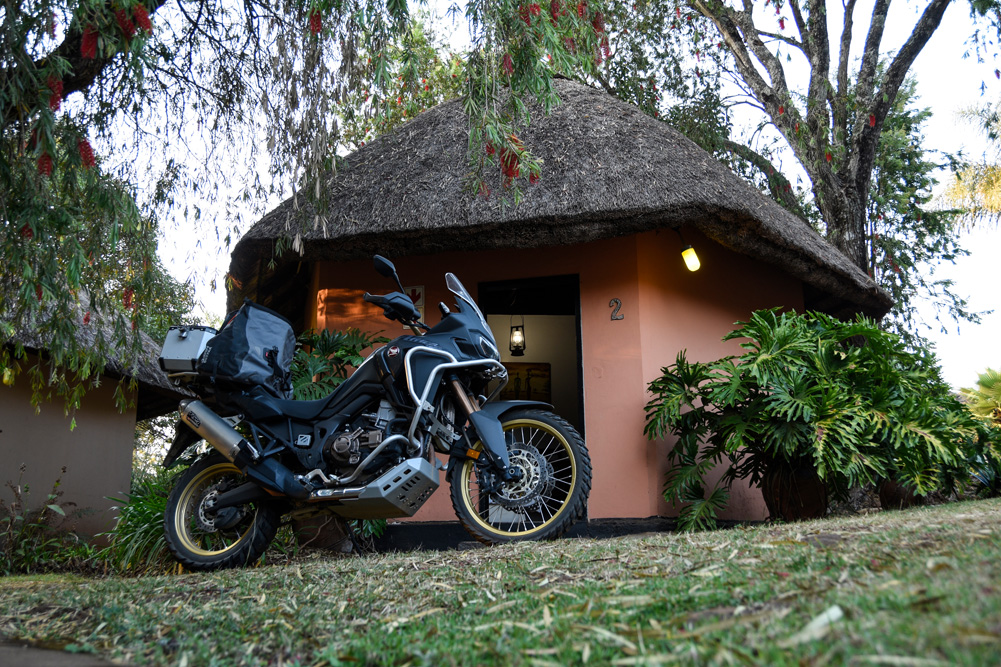 We met up with managers Wentzel and Alicia for some good conversation and many laughs. This stop-over is certainly recommended for any weary traveller who needs a time of rest and rejuvenation. Rates at the time of writing are around R500 per person, per night including breakfast, but please confirm on the link below, as I am sure rates change from season to season.
For more information visit: www.summitlodge.co.za
Glorious Mpumalanga
If you have not been to Mpumalanga proper, then you are simply missing out! The province offers a highly distinguished list of landscapes and activities. Embark on a three-hour journey from Gauteng and you are rewarded with a parallel universe of mountains, lakes, woods and farmlands. Mpumalanga is also the doorway into the wild, untamed Limpopo Province for those who want to wander further. It offers world-class "travel-and-play" opportunity for all disciplines of motorcycle riding. Also, a very popular Superbike destination, with endless twisty mountain passes in every direction.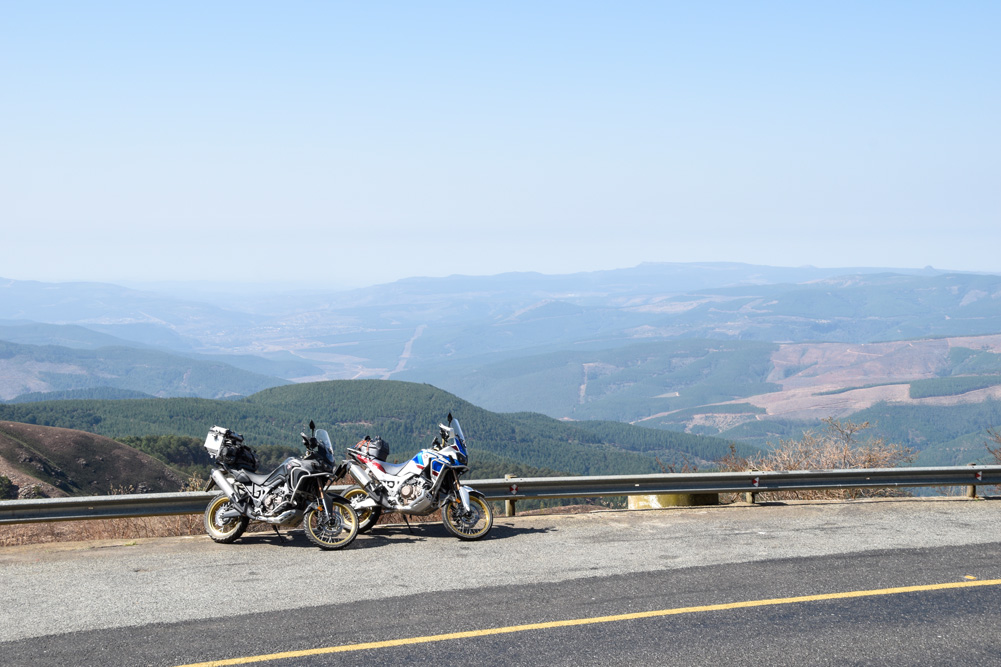 Adventure and dirt bike enthusiasts can play in a network of trails so diverse that it will take most of a lifetime of exploration. And then you speak to the locals, only to find out that even more closely guarded secrets beckon. It is a fascinating place, to say the least!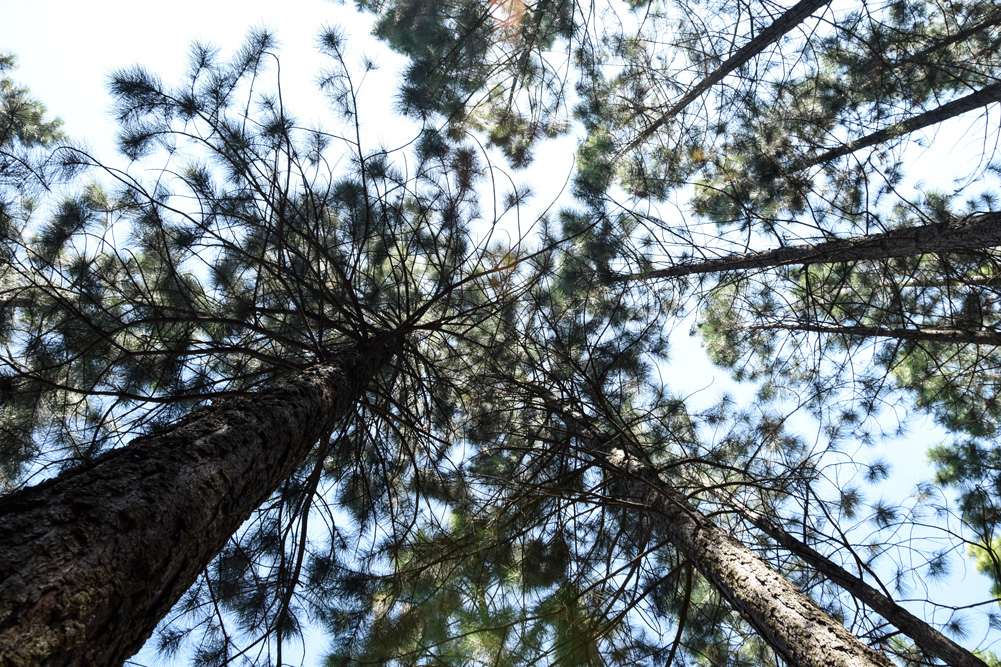 On day two, after a hearty breakfast offered by the Lodge, we had an open canvass. We eventually decided to make our way to Sabie and from there find our way into the woods. We were hoping to reach Misty Mountain via a diverse network of dirt tracks, which proved to be virtually impossible without local knowledge. I was also concerned about Simon's fitness and off-road skills but was soon to realize that there was little to worry about. We never made it to our intended destination, but that was okay. We had a great time in the woods, traversing track after track of thick, lush green bush and crystal clear mountain streams. Simon just got stronger and more enthusiastic, the further we travelled.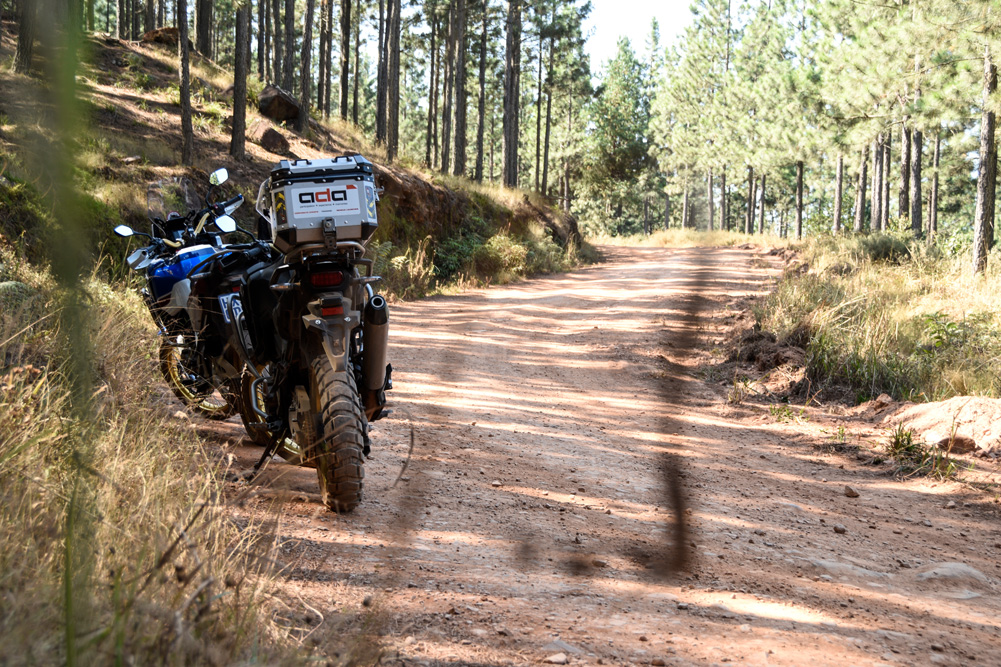 It was at this point that I received the most valuable input from him. According to Simon, the Africa Twin was an effortless motorcycle to ride, offering soft, flexible, smooth power off idle with a useful punch of midrange torque where and when needed. This must be one of the Africa Twin's greatest strengths, as I can concur his thoughts. 
The motor makes no more peak power and torque than its peers, yet the way in which it is delivered makes a very compelling argument. The exhaust note is like an ear massage and I could listen for hours as the heavily wooded area translated this beautiful, mellow sound right back to your senses. Music to the soul.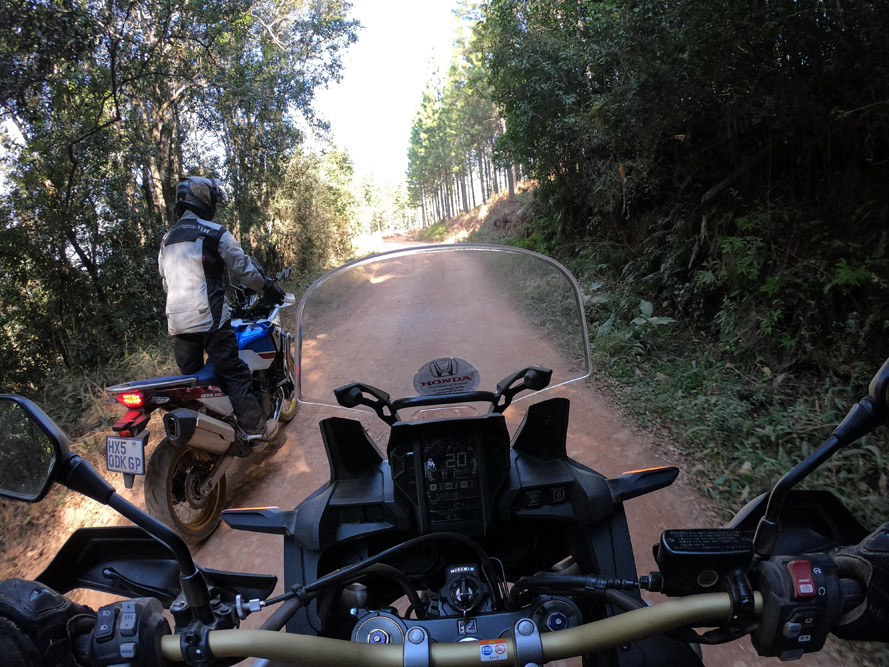 During and after our trip, we could not help but post a lot on social media, as we had some stunning photos and worthwhile comments. What surprised me was the amount of interest shown by so many owners and interested parties. We were bombarded with comments and quotes. This made me realize how much of an impression the Africa Twin has left on local shores. It seems to find its way into many hearts in a quiet, understated way.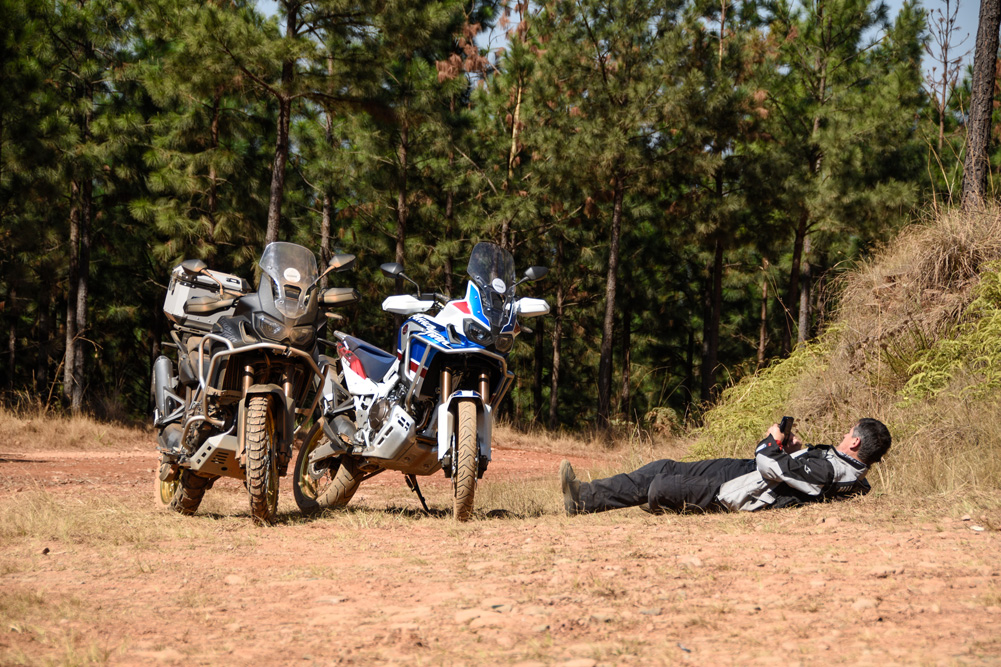 That evening we had so much to talk about, sharing a beverage around the fireplace, while enjoying local company and conversation. We had found what we were looking for.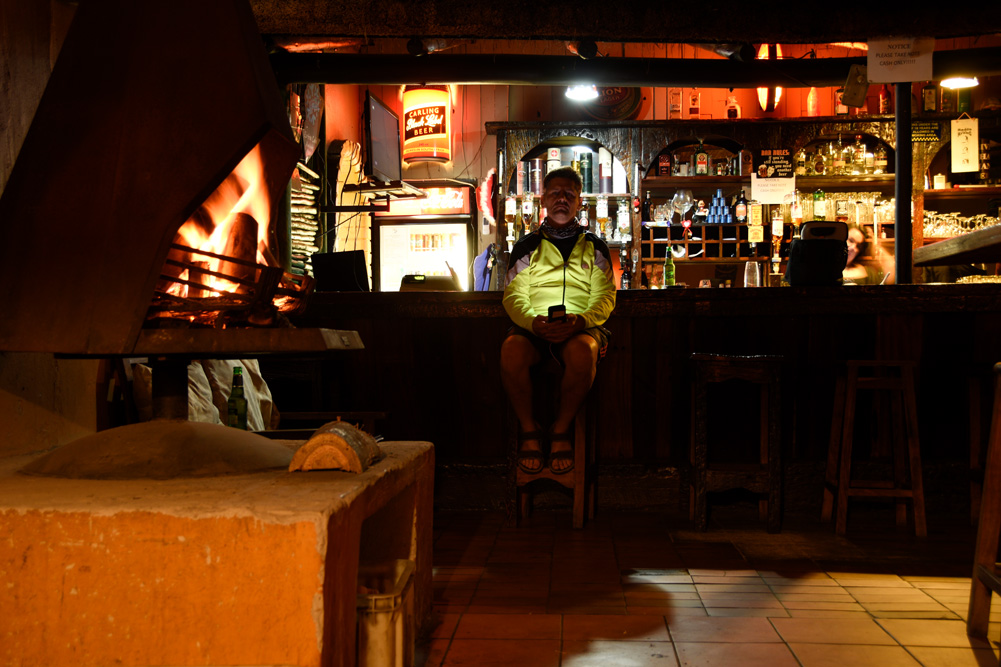 The next morning after breakfast, we said our final goodbyes and decided on the long way round, back to Gauteng. We travelled from Graskop to the forgotten village of Pilgrims Rest and from there we went down Robbers Pass to the T-Junction, turning left to Lydenburg. From Lydenburg we travelled on the all too familiar roads back to Dullstroom and Belfast. Exiting Belfast, we joined the N4 Highway, to finish off where we started.   
Over the last few years, I have come to enjoy the last boring bits of the road back to Gauteng, or the "Big Smoke" as I so often call it. This gives me time to reflect, to gather my thoughts and to just simply express gratitude for the marvellous world we live in. I never get enough from the cockpit of a motorcycle, watching the rolling, living landscapes that resemble a thousand possibilities, a thousand reasons to be grateful. And as far as the Africa Twin is concerned, you may ask about my concluding thoughts?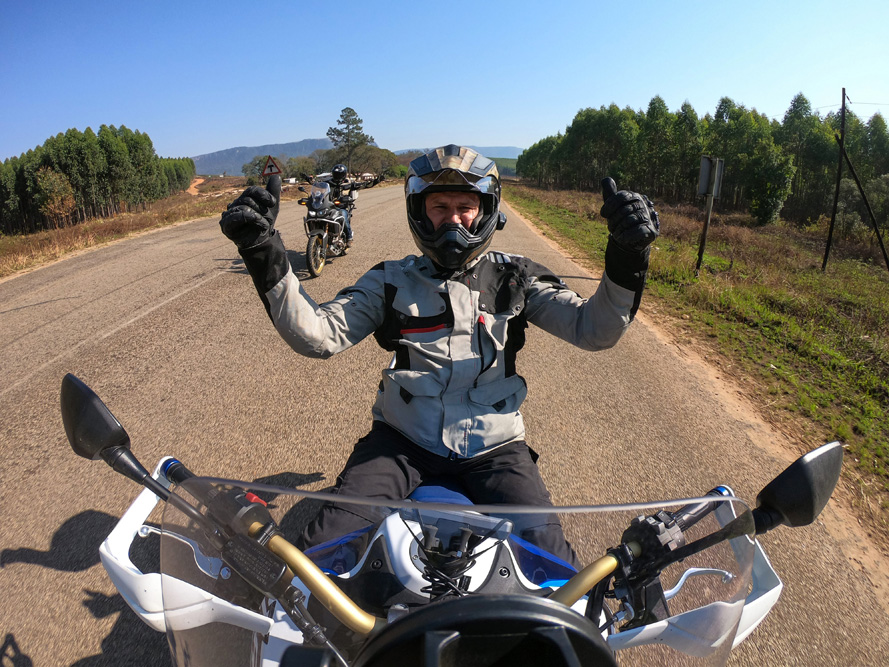 Final interpretations
Over the last few days, I experienced two motorcycles that blew me away on so many levels. I was almost "blind-sided", so to speak. I jumped onto the Africa Twin with no predetermined thoughts, no hopes and certainly only mild expectations, leaving myself wide open to being blown away by what I experienced. What I found is a gem of an engine, plush and calm suspension on the Adventure Sports and a very useful DCT gearbox on the few occasions I was fortunate enough to pry it from Simon's hands.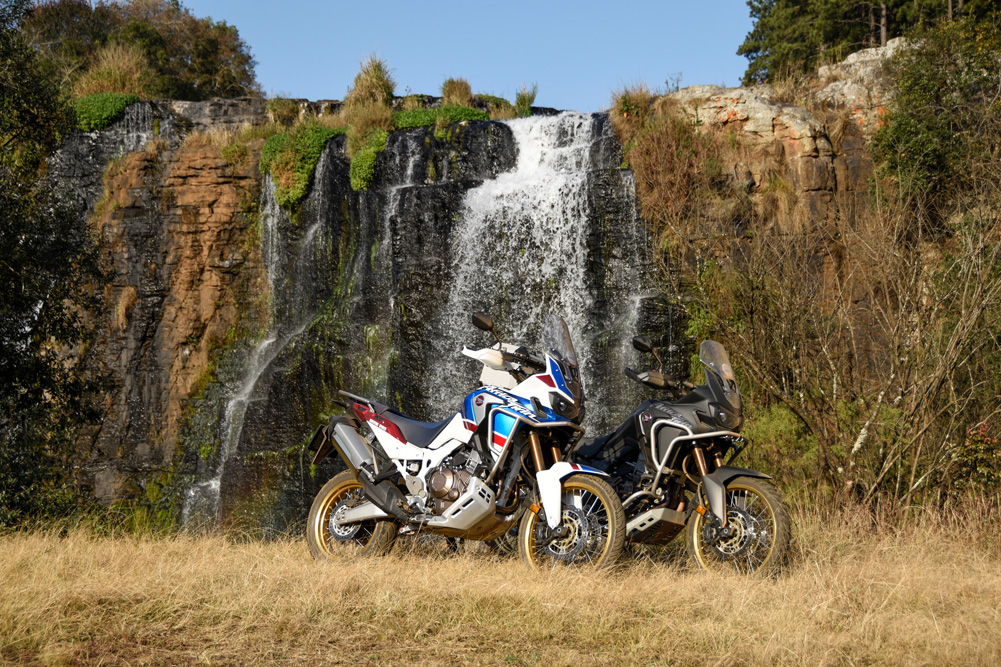 On one occasion, Simon and I went to a secluded, crystal clear waterfall for a refreshing swim. Afterwards, while kitting up, I remember just standing and staring at the Adventure Sports for some time, amidst the tranquil sound of falling water in the background.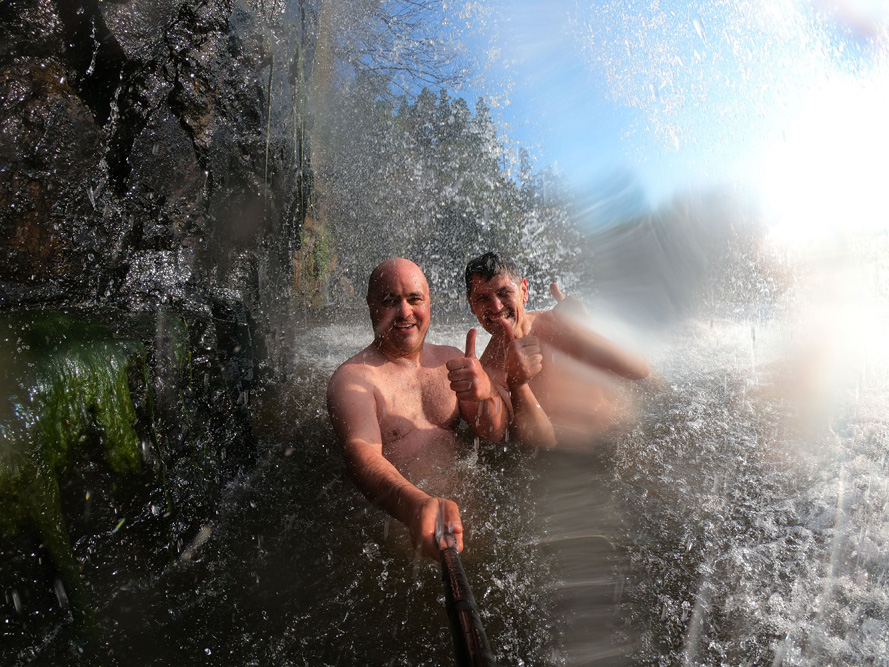 I have many moments like this in my life, many moments that formulate my thoughts. Those who know me well, know that when I climb off a bike, step back a short distance and stare without saying a word is usually a sign of affirmation and approval. I found myself doing this on more than one occasion during this trip to wonderland.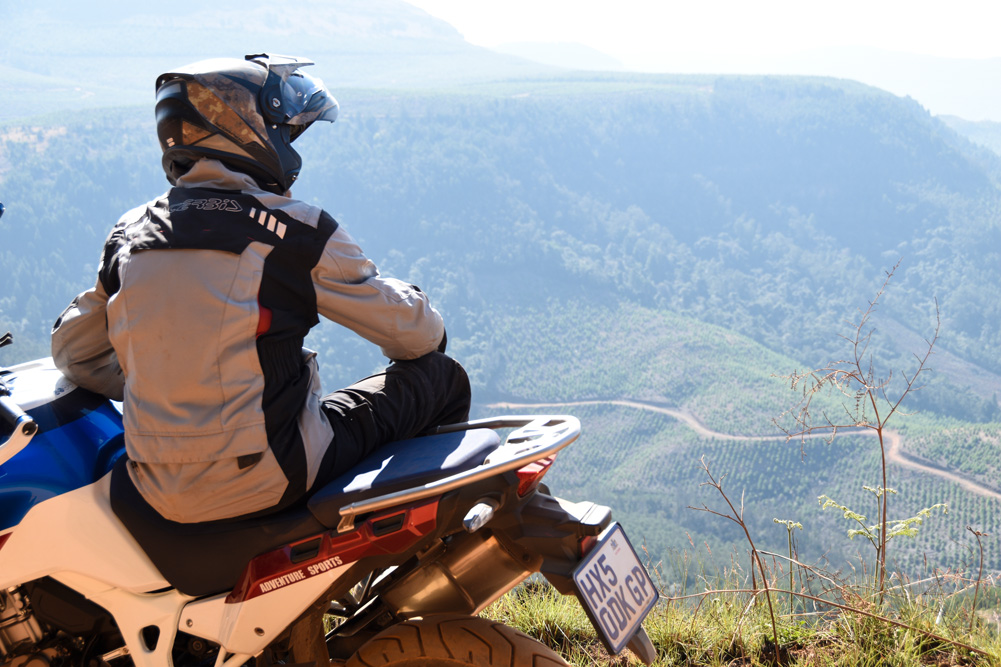 Travel on, my fellow explorers and may you find yourself somewhere deep in the bush, just staring at your chosen steed, with a smile and a nod of contentment…
For 2020 Honda is releasing a brand new updated Africa Twin and Adventure Sport to their model line up, which you can read about HERE.