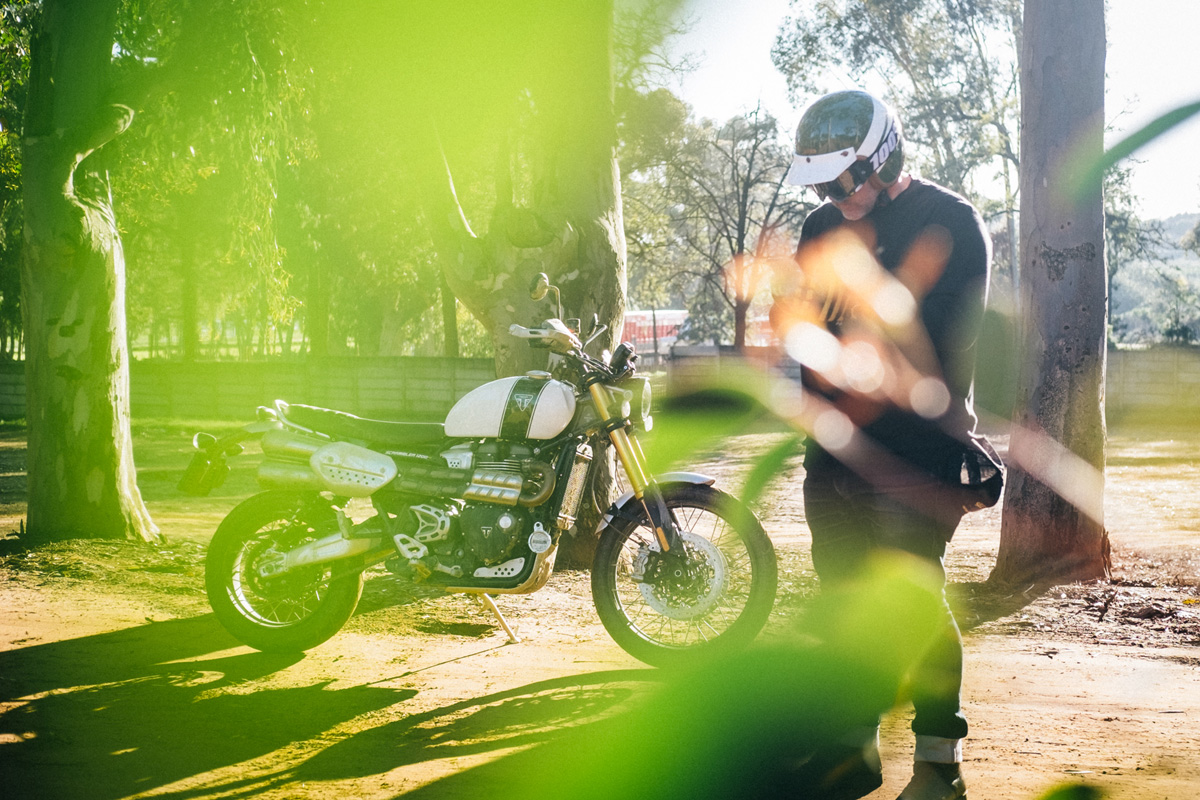 By now, it's generally accepted that any new motorcycle labelled a 'scrambler' is simply a modern classic that's styled like a vintage dirt bike. Sure, when we were all kids a scrambler was a Yamaha DT or a Honda XR… but those are called 'enduros' now. Try to keep up.
Scrambler is now an aesthetic thing—a homage to the Californian desert sleds of the 60s. And most modern scramblers only have a tiny measure of off-road capability. Tiny in the sense that, if you put the right tyres on one, you can cruise along a gravel road at a moderate pace.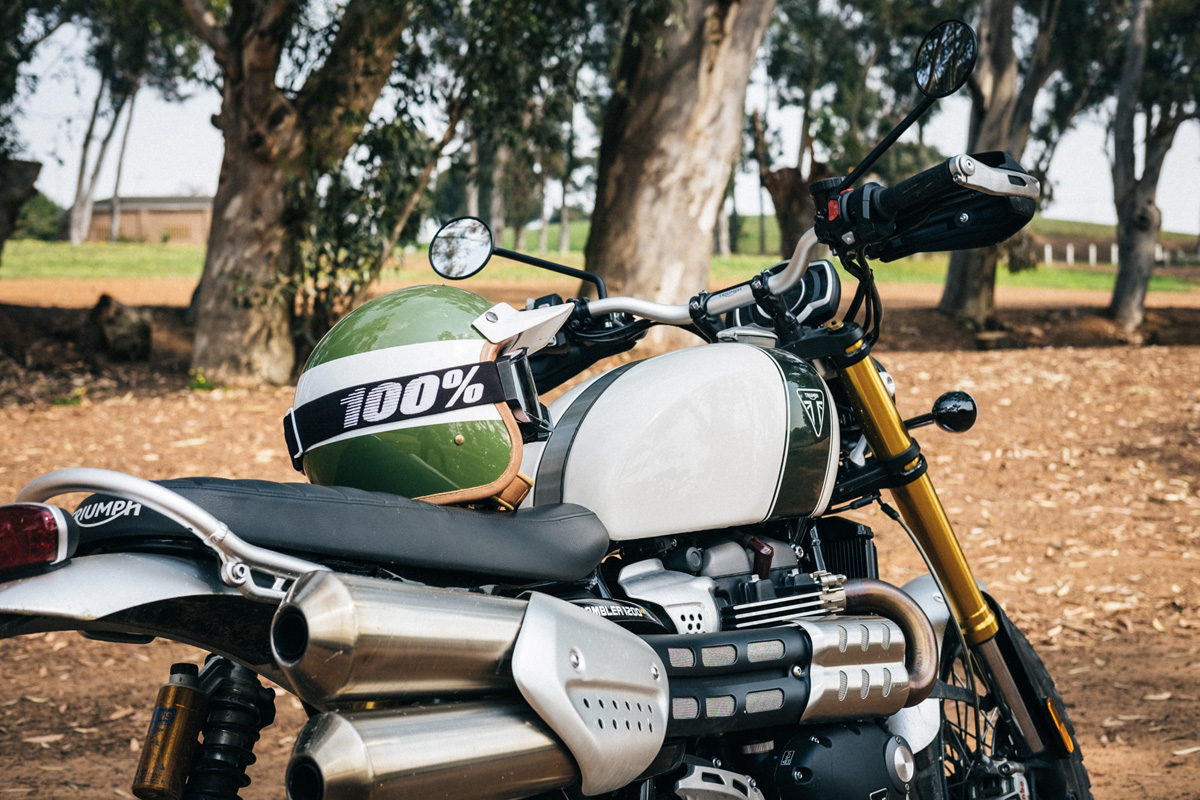 But the Triumph Scrambler 1200 XE walks a higher path. With it, Triumph have done something extremely gutsy—they've built a modern classic with pukka dirt bike chops. In fact, it'd be more accurate to call the Scrambler 1200 a big-bore dual sport with vintage styling, than a 'scrambler.'
The Scrambler 1200 XE ticks a whole lot of boxes straight out the gate. Styling is on point, with a classically-shaped steel fuel tank, bench seat, and high-mounted twin exhausts that look good enough not to want to replace right away. Take note of the long travel suspension, the generous ground clearance and the tubeless spoked wheels, and it's clearly more than just a show pony.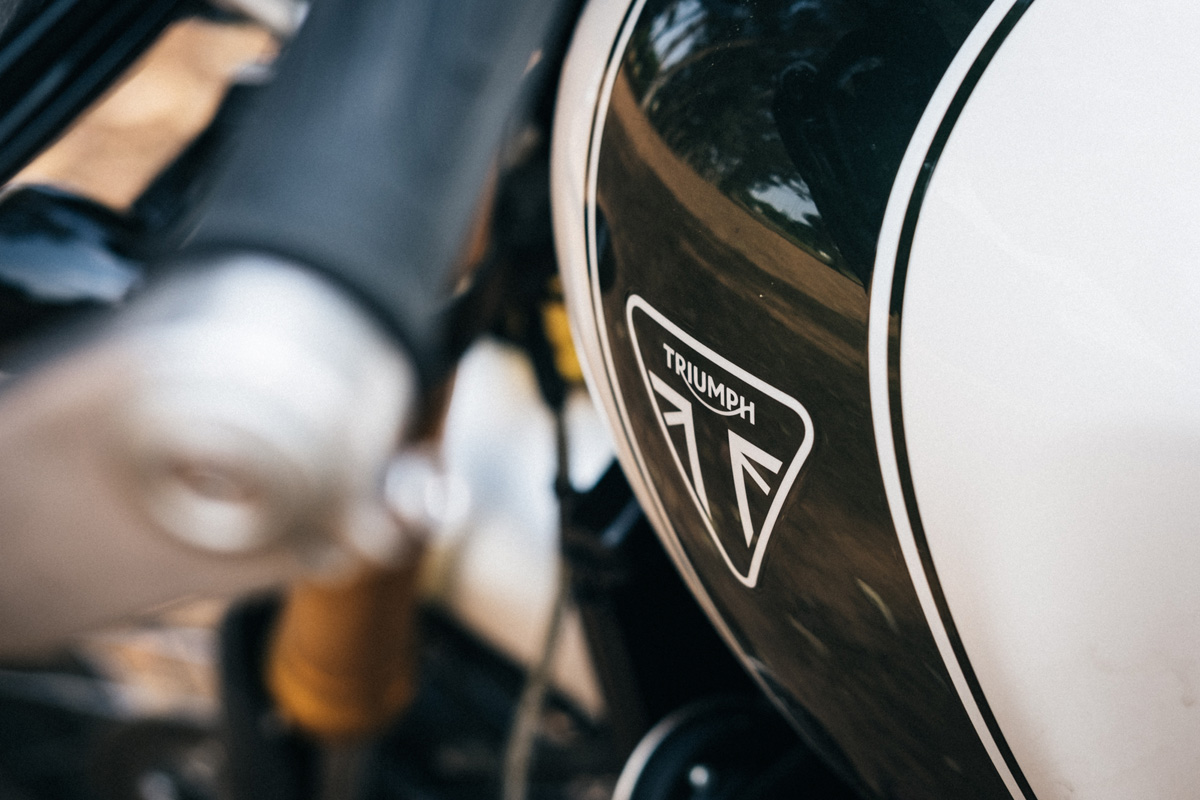 There's also a dirt-friendly 21" front wheel (with a 17" out back), a sump guard, and a pair of really burly hand guards. The rear frame loop and fender scream 'vintage,' while the feature-laden TFT display and LED lighting add modern touches. Everything feels premium to the touch, and there's even an aluminium swing arm to give it even more of a purpose-built vibe.
Under the hood, the Scrambler's powered by the same 1,200 cc motor as the rest of Triumph's '1200' range. It's a peachy parallel twin with a 270-degree firing order keeping things lively. It makes 89 hp at 7,400 rpm, but more importantly, it puts out 110 Nm of torque at just 3,950 rpm.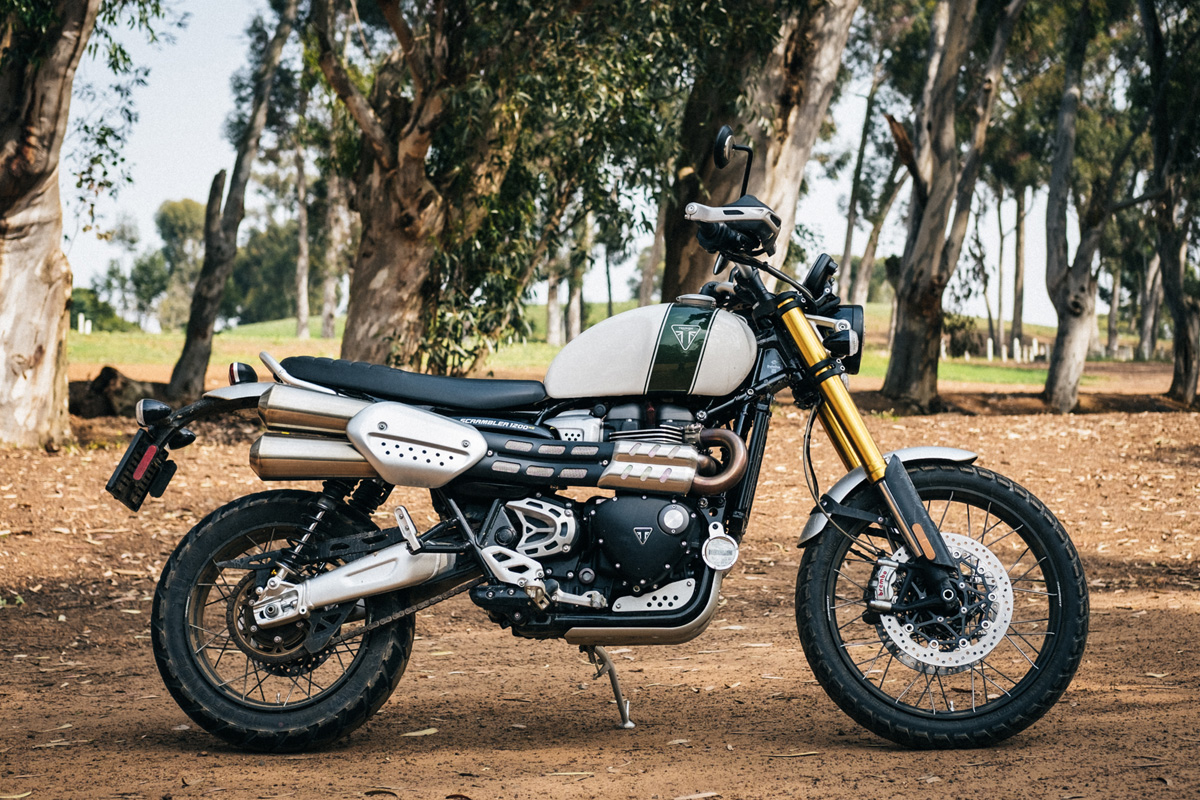 Power's handled by a hydraulic clutch and a six speed box, but more importantly, you get four different rider modes onboard—including an off-road specific one. ABS and traction control are standard, and the brakes are from Brembo, with twin 320 mm discs up front.
The 'XE' designation denotes a spec aimed at off-roading, and it shows in the Scrambler's suspension setup. The forks are 47 mm upside-downs from Showa, and the rear shocks are from Öhlins. There's 250 mm of travel at both ends, along with full adjustability. Triumph don't list a ground clearance measurement, but the seat sits at a lanky 870 mm.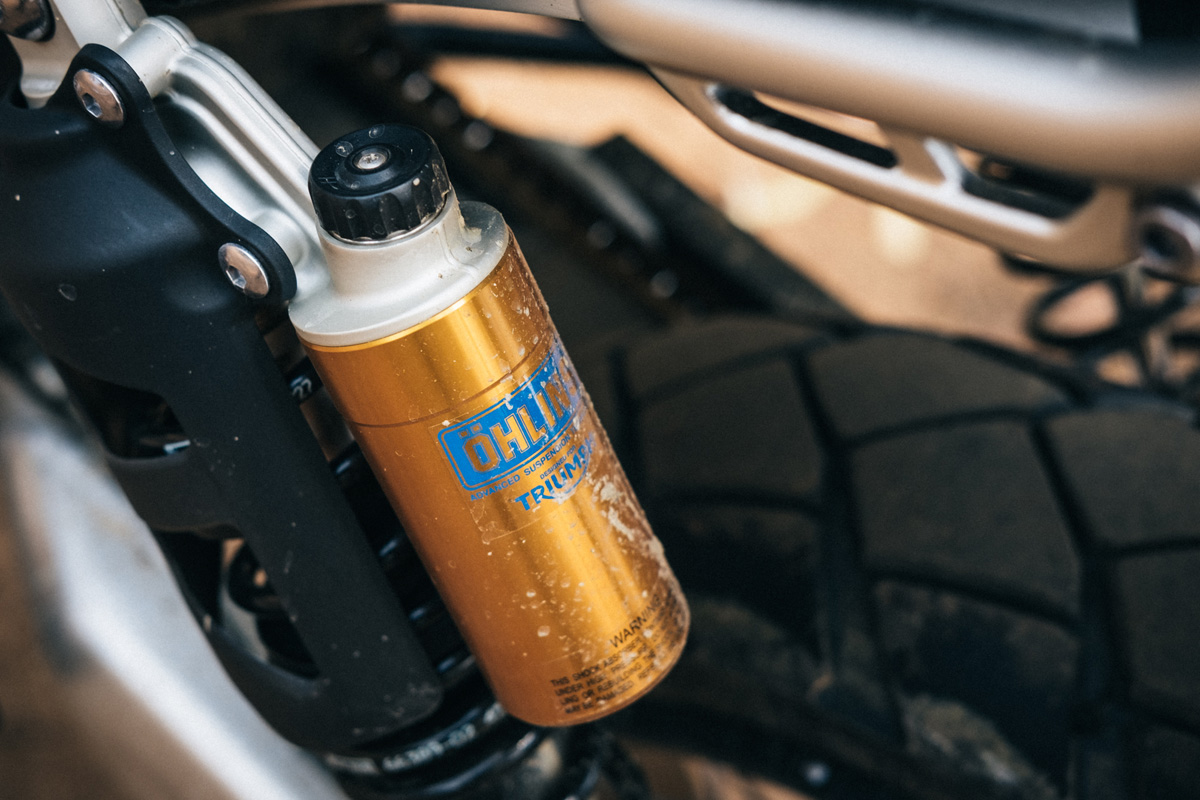 So it sure looks like it means business—but does it have the chops to back it up? Oh yeah. The Scrambler 1200 XE pulls off a massive hat trick. It's good both on-and off-road, blends modern and retro superbly, and is simply just a well-rounded motorcycle.
As Triumph have already proved with the rest of their 1200 classics range, that twin motor really is sweet. The Scrambler has its own engine tune, and its output that sits between the Bonneville T120 and Thruxton R. But like the Bonnie, it makes its torque low down—which is perfect for this style of bike. It launches off the mark and pulls strong through the rev range.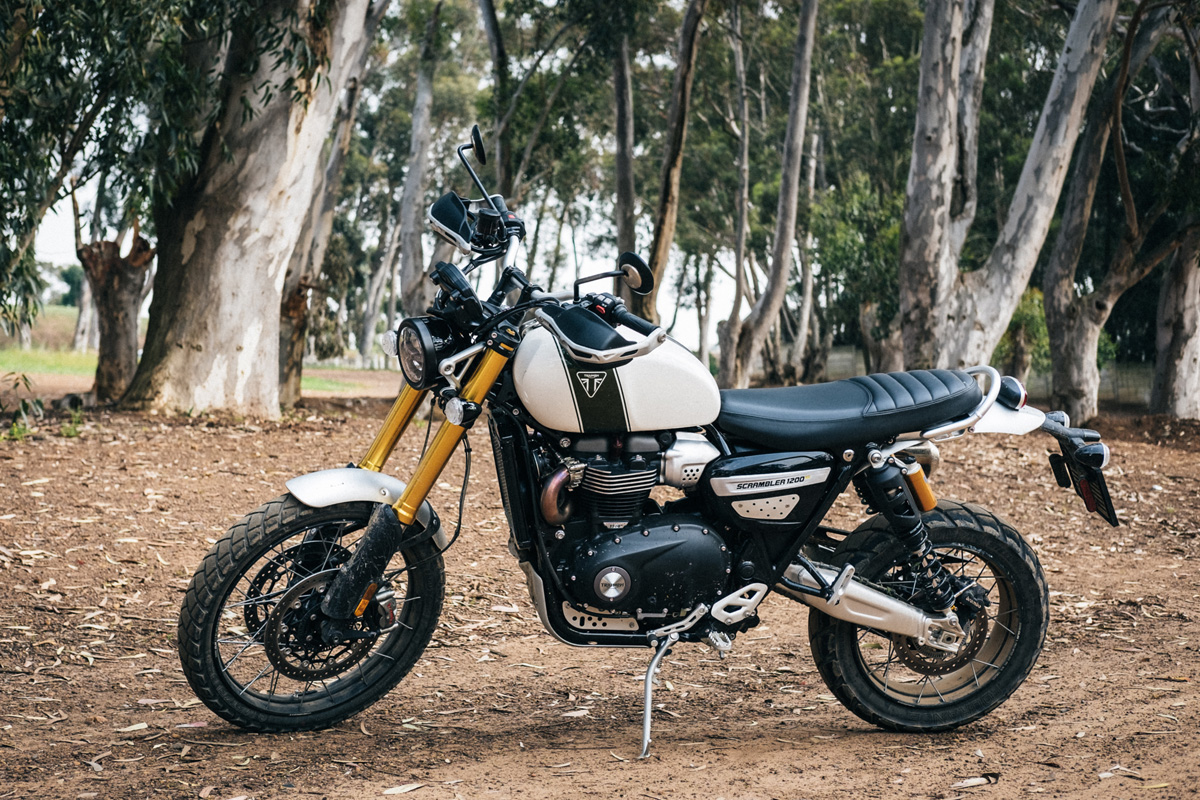 Triumph's nailed the fueling and various rider modes too, although (as with most Triumphs I've tested), the Scrambler is jittery for the first couple of minutes in the AM. It picked up another niggle during my test too: after a while, it wouldn't let me change rider modes while riding any more. (Hopefully, this is something a dealer could sort out with a software update).
With the Scrambler, you get 'Rain,' 'Road,' 'Sport,' 'Off-Road' and 'Rider' modes. Those last two are customisable, which is especially awesome if you like to tailor your bike's behaviour to suit your riding style, particularly on dirt. The standard 'Off-Road' mode has a measure of traction control and front wheel ABS. But for riders that prefer full manual control (like me), it takes a minute of fiddling with the TFT display's menus, and you can turn all that off.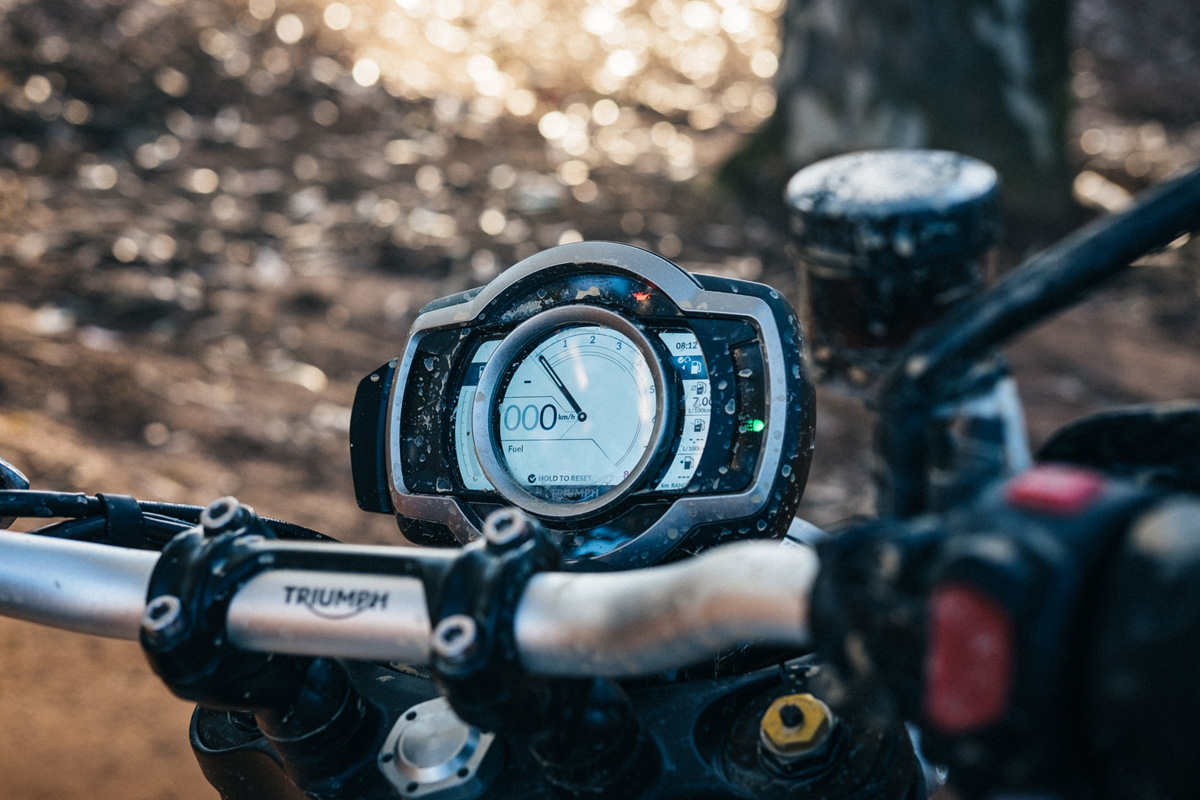 It's worth mentioning that the Scrambler's TFT display really is a masterstroke. Rather than using a typical rectangular housing, it looks like a regular set of clocks from a distance. On-screen, everything is really neatly laid out and well-designed, and once you're used to cycling through the various screens, there's a ton of info at your fingertips.
You can dive deeper into menus to change various configuration settings, and you can even punch your name in so that the Scrambler greets you whenever you turn it on or off. And it automatically flicks between light and dark modes for day and night time use (or you can pick your mode manually).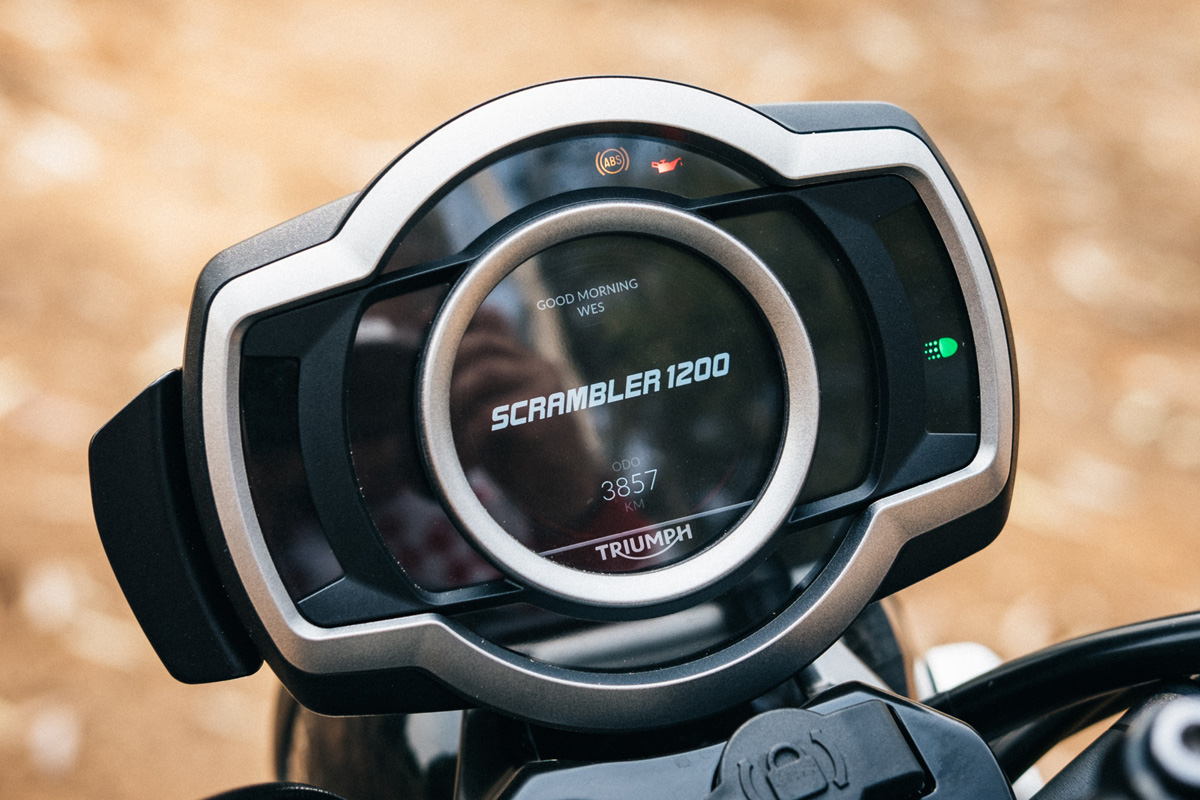 It's a high-tech setup, but there is one let down. That weather-sealed plug between the handlebars and dash is actually the steering lock—and not a USB port, which would have been an extremely handy addition.
Any dual-sport bike cuts a compromise somewhere, but the Scrambler gives very little away. On the road, its longer travel suspension and 21" front wheel do make it feel a little vaguer than its road-focused stablemates, but it's still very planted. And with a tall seating position and wide bars, throwing it from corner to corner is stupid fun.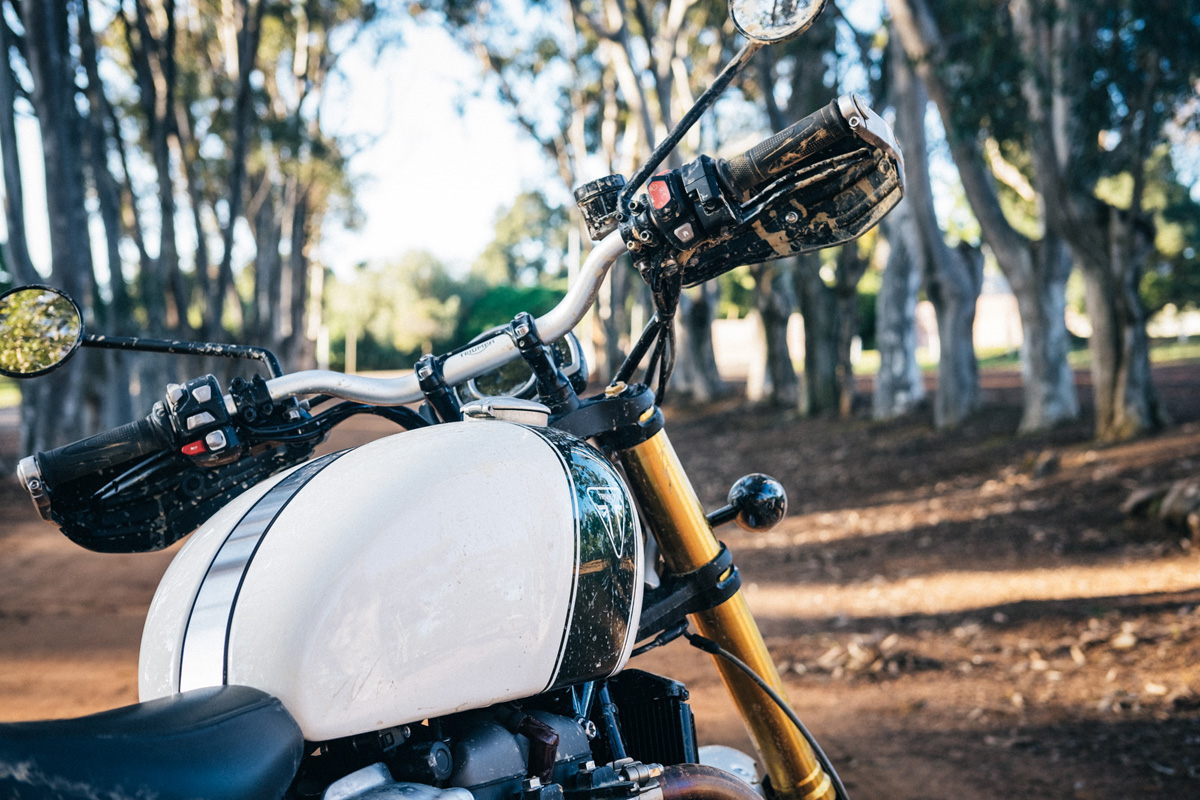 That skinny seat is more comfortable than it looks, but between its lack of bulk and the mid-sized 16 l fuel tank, you're not likely to tour on the Scrambler.
Head off the beaten track, and the Scrambler 1200 really comes into its own with a surprising level of capability. That low down torque is good for chugging through slower sections, and the predictable throttle roll is great when you need to uncork it.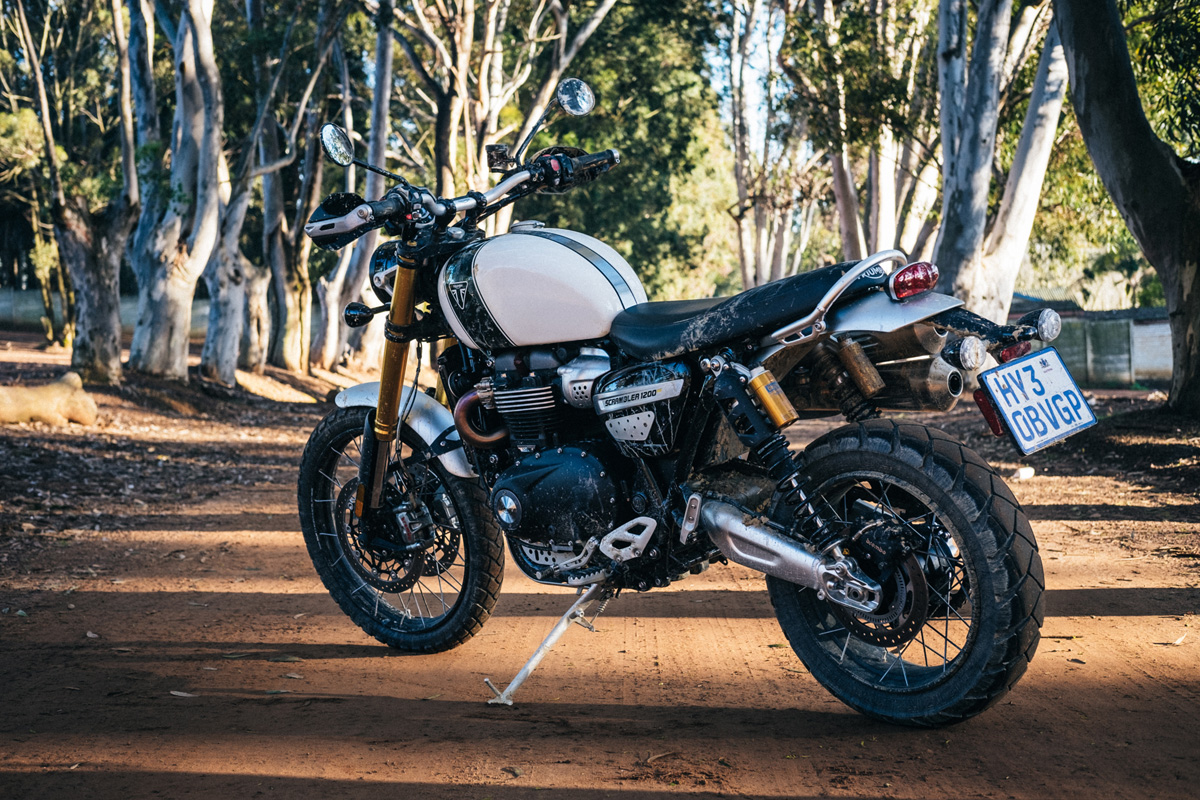 It handles well too. Not only are the tapered bars wide, but they're set high too, and complemented by a set of chunky serrated foot pegs, with removable rubber inserts. So you've got maximum leverage when you're into the saddle, and a good mix of control and comfort when you're standing.
As you'd expect, the high exhaust headers do get in the way on the right side. But you get used to working around them, and they're extremely well-insulated too, so it's unlikely that you'll burn your leg. The burly bash plate and hand-guards add a level of confidence in rougher terrain too.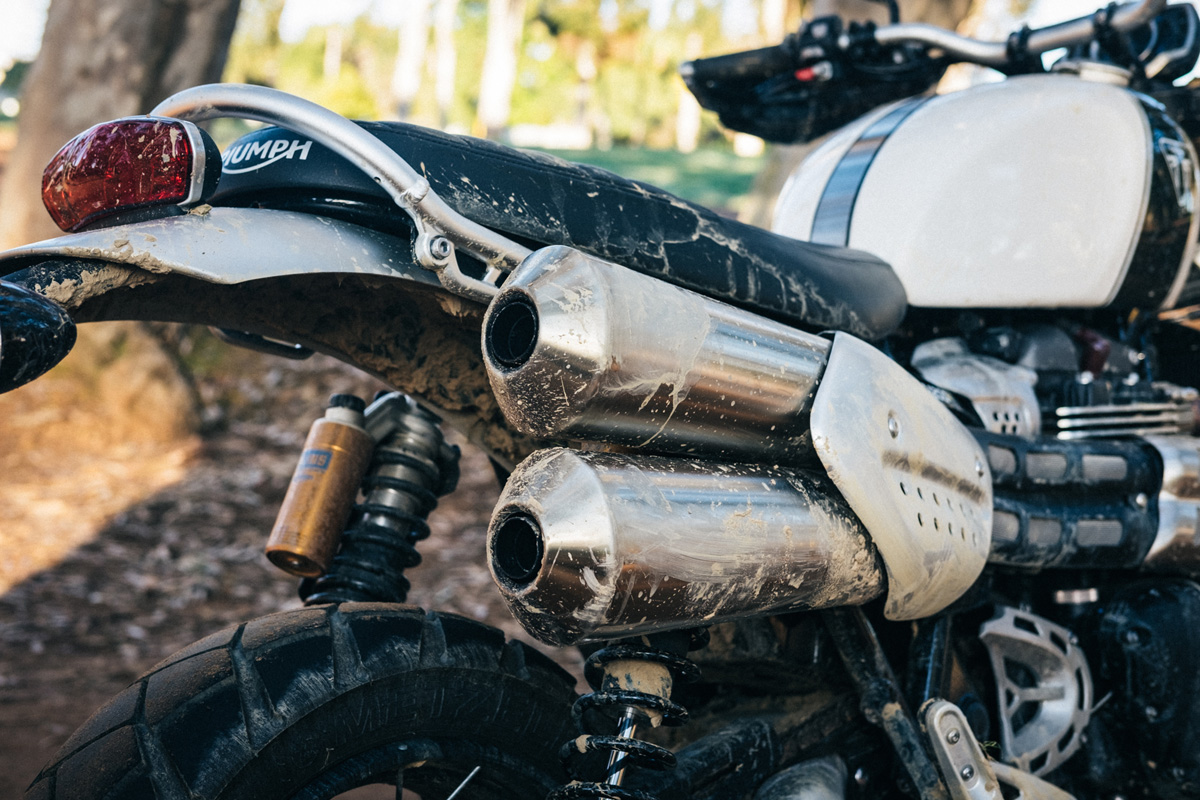 Adventure riders that love to tinker might not like the hand guards too much though—they're mounted in such a way that they're difficult to swap out for aftermarket units. (Not that you'd need to upgrade them—they're plenty tough.) At least you can remove the passenger peg mounts, if you want a more focussed and lighter setup.
The tubeless spoked wheels are a good balance of tough and practical, and the Brembo brakes have plenty of bite and enough feel for advanced riders. The Showa and Öhlins suspension components are more than up to the task, and even though I didn't get around to adjusting them the ability to do so is a huge plus.
At 207 kg it is a big bike though, but it's not excessively heavy. (For reference, that's about the same weight as the Tiger 800 XCa, and lighter than a BMW R 1250 GS). That weight only really becomes apparent when you're wrestling the Scrambler 1200 through really tight and tricky stuff, like mud or sand.
I'm not a huge fan of the Metzler Tourance tyres it comes with though, especially in really slick mud, where I managed to (very gently) lay the Scrambler down on its right side. Dropping a bike as premium as this is scary, but I was relieved that it took the knock well, with hardly any damage. Because let's face it, adventure bikes get hurt… a lot.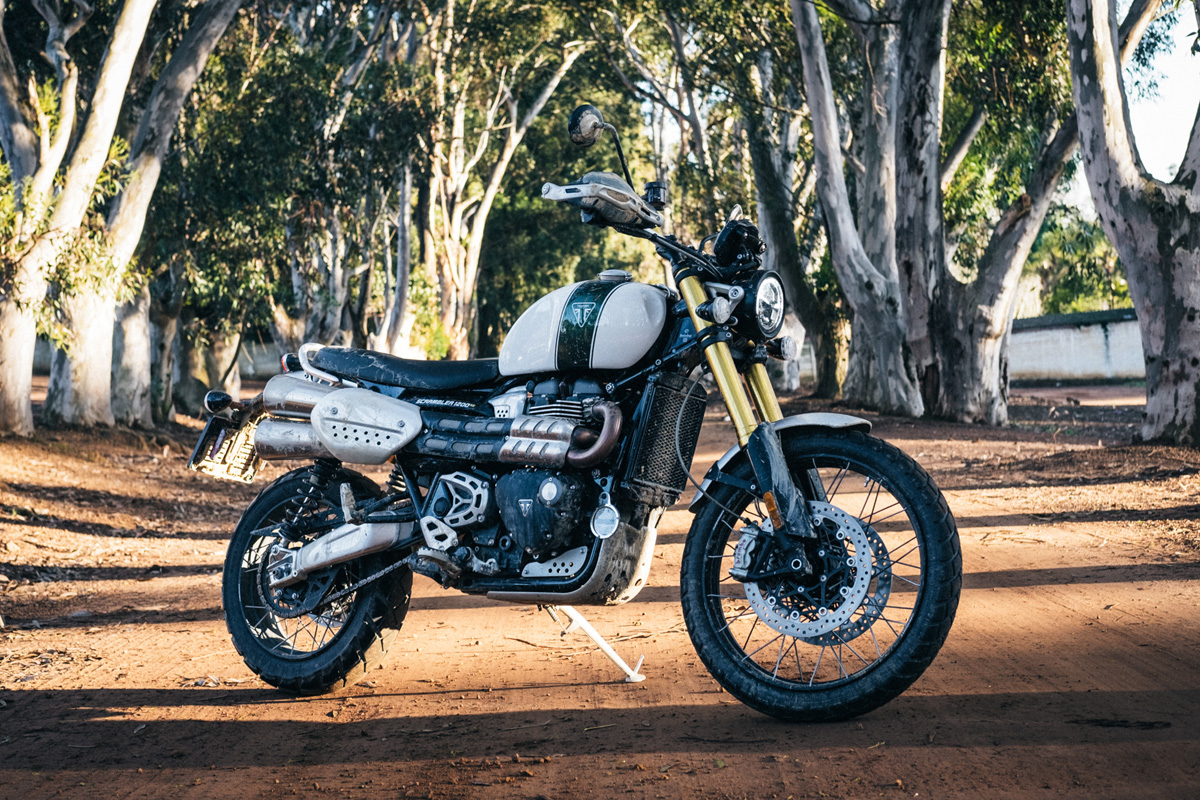 Plus it's no fun going down with a motorcycle that costs R 209,000 *. That's right—the Scrambler 1200 is the most expensive modern classic Triumph has in their range. But it's also, hands-down, the most capable and best-equipped.
It's likely that most customers will buy the Scrambler 1200 just so that they can be the coolest kid at their local Saturday morning hang. But I'll bet good money there's a small contingent of riders out there that want an adventure bike, but are put off by the style and over-built nature of modern dual-sports.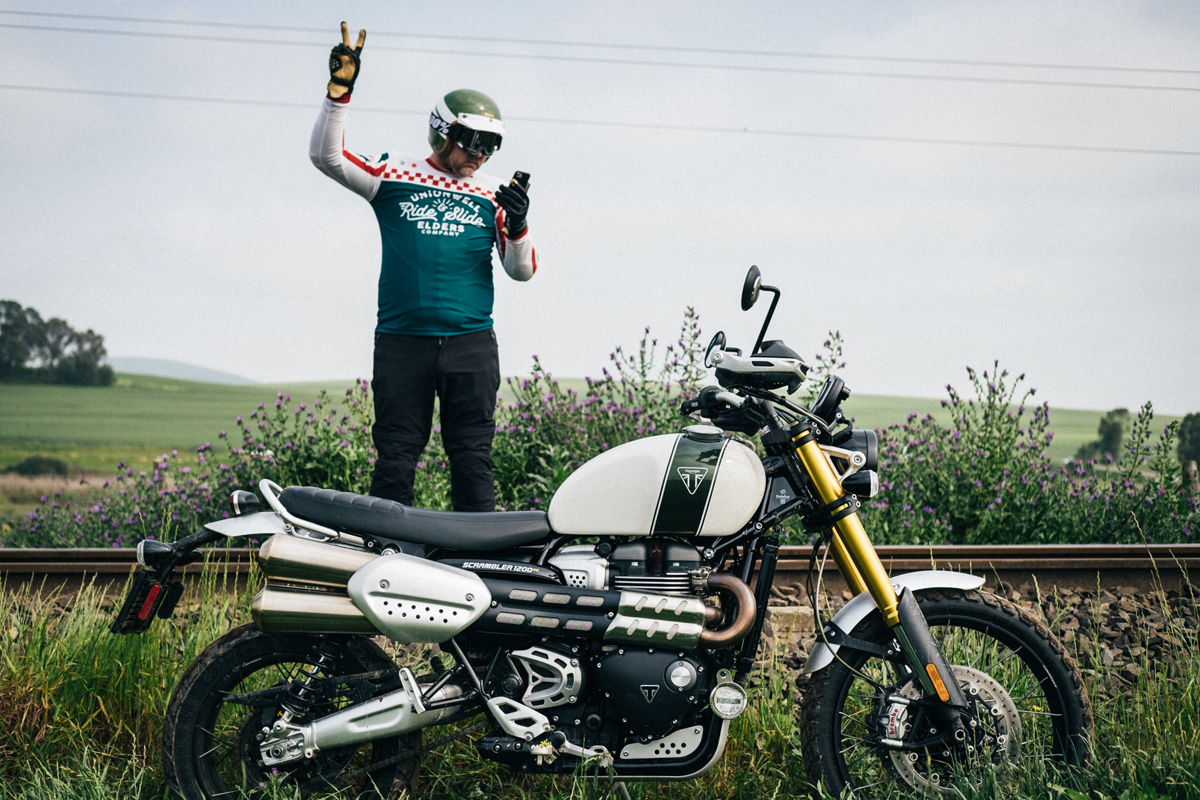 And for those riders, the Scrambler's authentic nature and retro styling—plus the fact that it can actually hold its own off-road—are sure to hit the sweet spot.
* Triumph are currently running a promotion where you get R 15,000 worth of accessories when you buy a new Scrambler 1200 XE, which should take the sting out of the price a little.
For more information visit: www.triumph-motorcycles.co.za