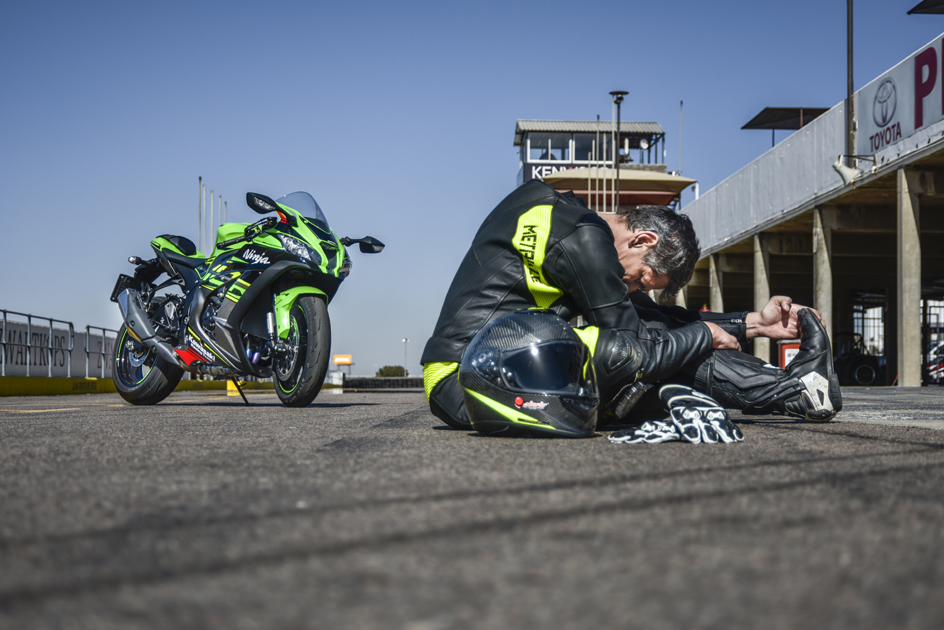 Ever so often an amazing opportunity comes our way and our job is to seize it with both hands. This happened to me recently, when I was fortunate enough to sample the Ducati Panigale V4S and the new Kawasaki ZX10R in the time span of just one week. These are proper Superbikes, which we gave proper reviews.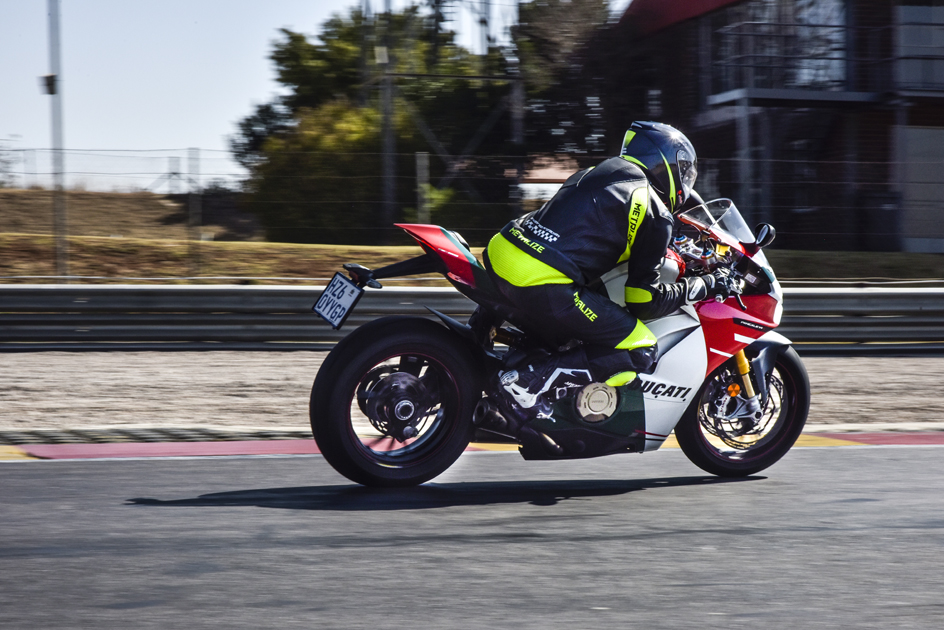 With that said, it was also time to revisit my riding gear closet and take a long, hard look at my requirements for the upcoming months and years. Upgrading my superbike riding gear had taken the back seat of late, as most of the action in my life was devoted to adventure and enduro riding.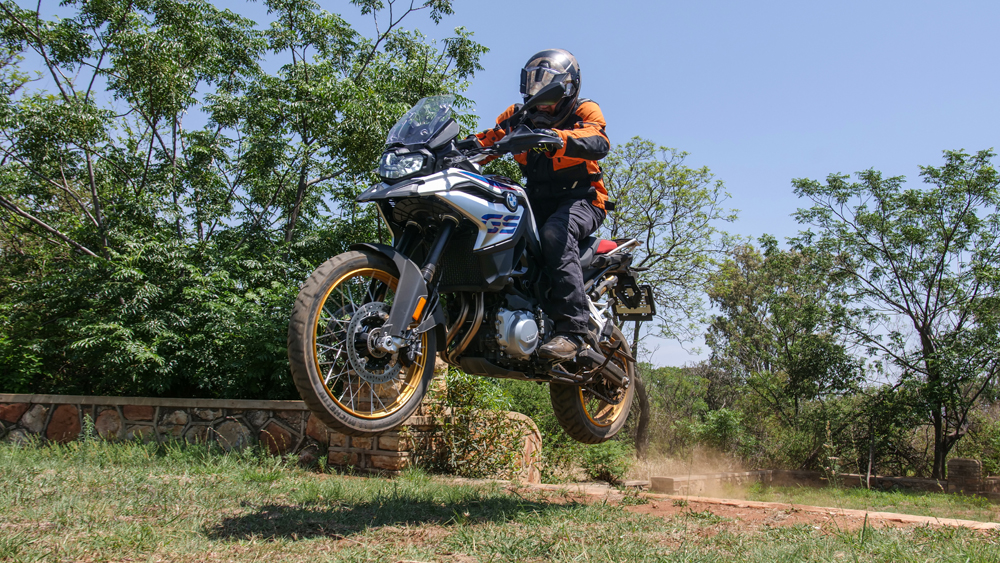 So whenever I find myself in need of proper answers on most things rider gear related, I call on one or two experts. In this instance, I dialled the number of Mark Henderson, owner and custodian at Henderson Racing Products. Mark himself is an experienced, enthusiastic rider and harbours more knowledge about rider gear than I care to mention. He is the developer and mastermind behind the "Metalize" range of rider gear. This range is developed specifically for South African conditions and requirements.
He welcomes suggestions and has a few high profile local test pilots [such as Rob Portman – Ridefast Magazine] that help with feedback in the development process. He evaluates this feedback with an open mind and makes changes on an annual basis, where necessary. It is a pleasure to engage with this passionate, entertaining business owner, as there is always something new to test whilst he works tirelessly behind the scenes.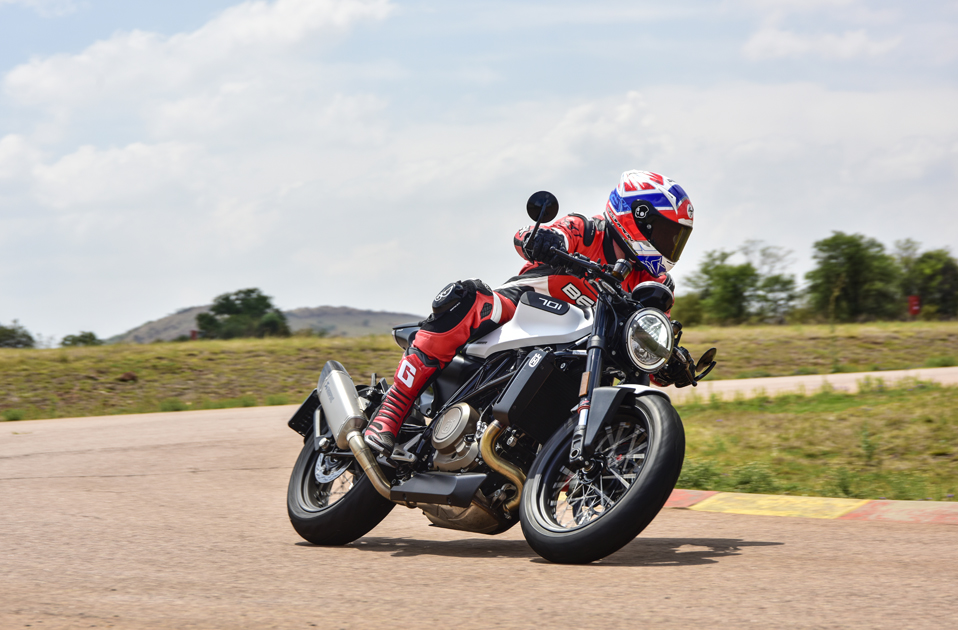 Henderson Racing Products is also the official importer for the helmet brands "Scorpion" and "Just1". Before long, I was endowed with a large amount of information and some solid options. We will cover some of these in the paragraphs below.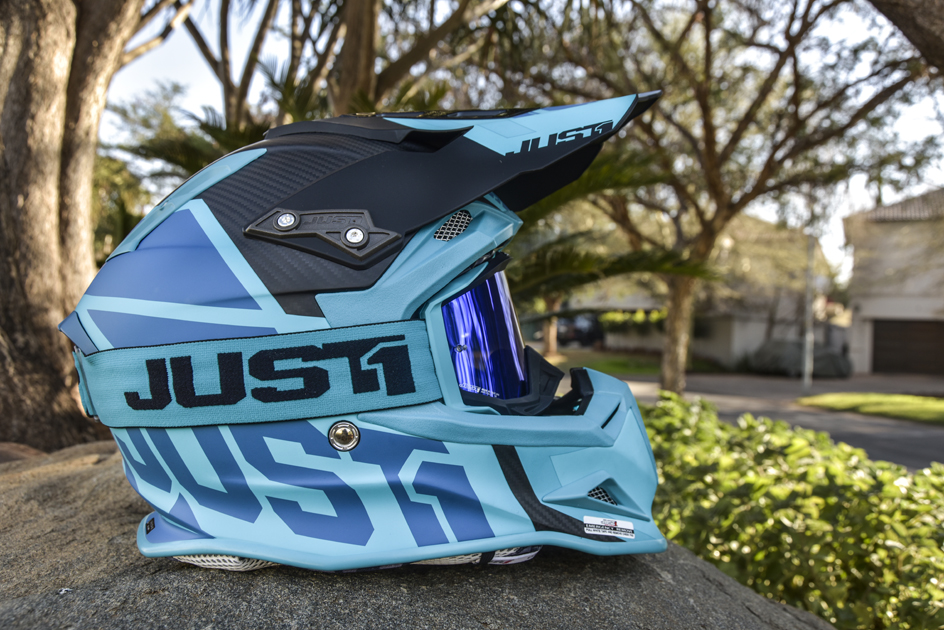 Scorpion EXO-1400 Carbon Pure
I needed a premium specification road helmet for applications ranging from full-on track riding to high-speed naked bike riding and anything in between. My requirements included a sun visor at the flick of the button, because I am very negligent when it comes to carrying my sunglasses with me. Furthermore, I needed a helmet that was relatively quiet, although that seems to be a very controversial subject.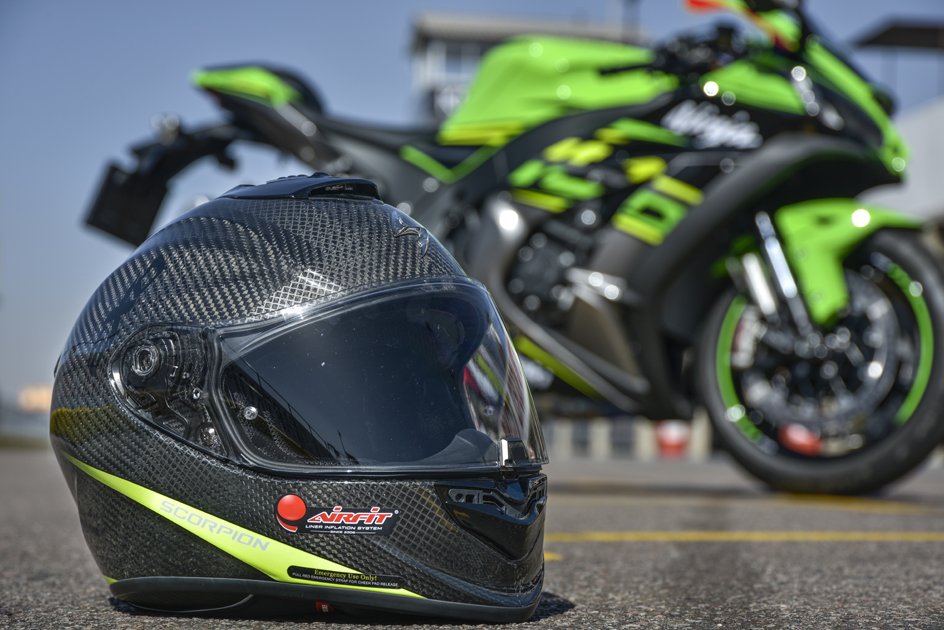 The Scorpion EXO 1400 Air must be one of the most beautiful road helmets I have seen to date! Personally, I do not like race-replica helmets that resemble comic book graphics. I prefer a plain-looking arrangement, where the helmet styling, rather than colourful graphics win me over. The oval shell was specifically designed for aerodynamic stability at sustained high speeds. Needless to say, the helmet complies with the stringent ECE 22.05 safety standards.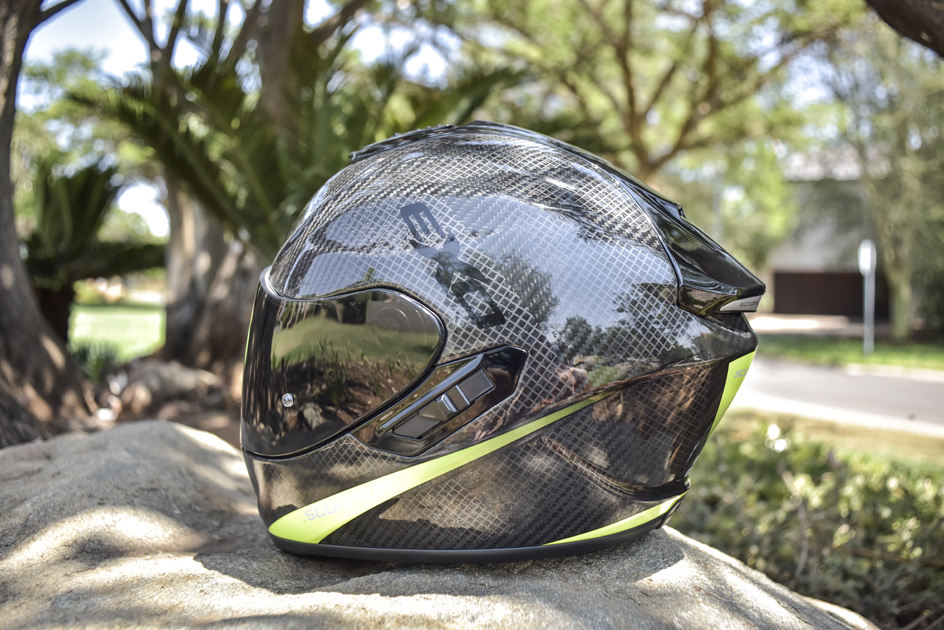 This gorgeous, lightweight helmet comes standard with the patented "Airfit System" which houses a thumb-operated air pump for inflating the cheek pads to the desired comfort levels. This, in turn, makes the cheek area a perfect fit for the wearer's specific jaw shape. It also filters out wind noise, to some extent. There is an air release valve, also operated by the thumb, that deflates the cheek pads upon removal. As far as I know, this is a first on helmets.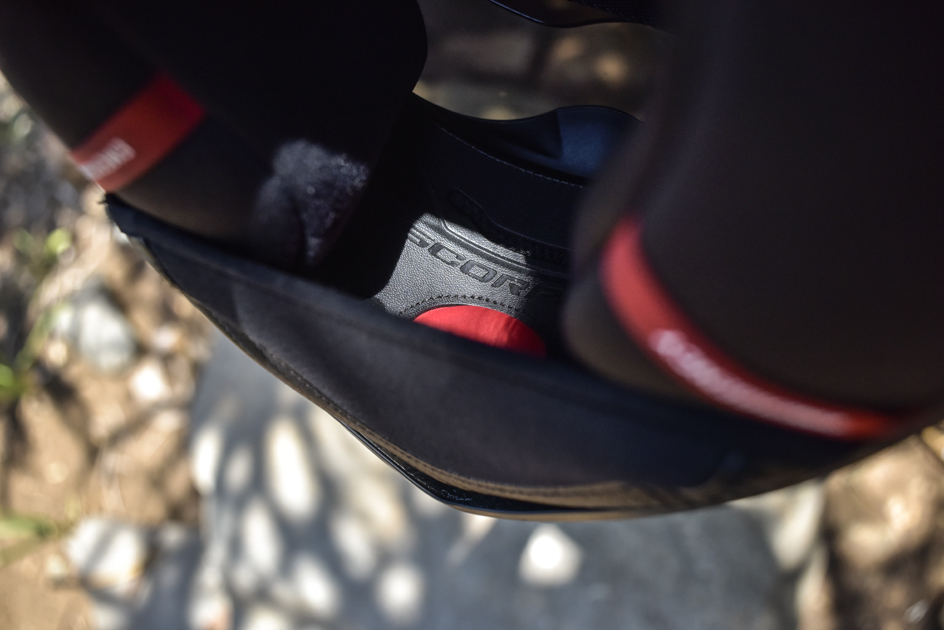 The general fit and comfort matches just about any competitor in the premium segment. Small touches like titanium double-ring fasteners, pinlock maxvision clear visor, as well as the tinted visor, complete in the scratch-free sleeve, all come as standard. It also features an emergency release system for the side pads, in the event of a crash. The helmet bag is also made of high quality, bump proof material. These are small things, but they matter to folks like me.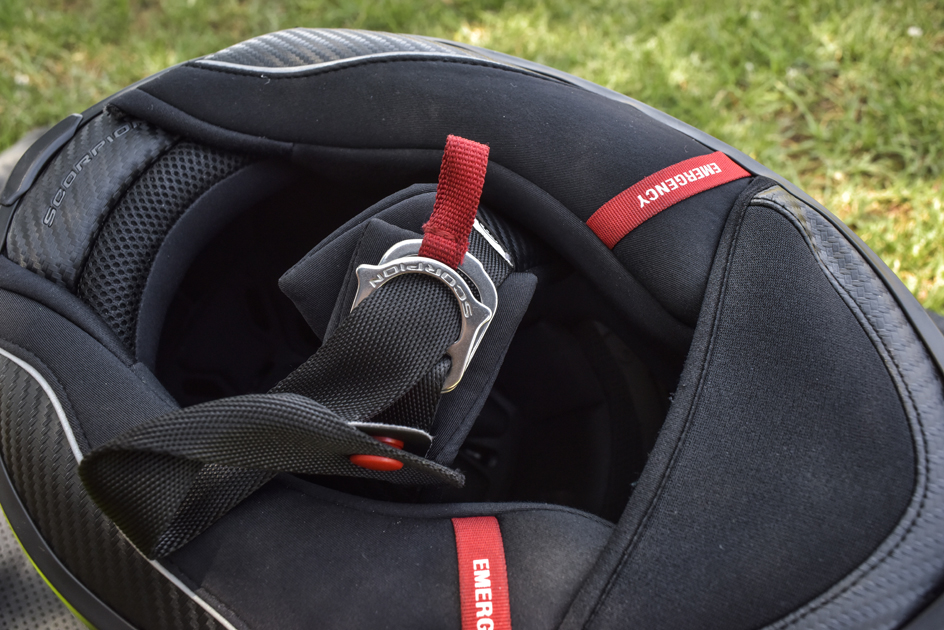 During my research, I found an interesting comparison test between 8 of the lightest road helmets, commercially available. The EXO-1400 Carbon Pure was pipped into second position by the X-Lite X-803, by only 11 grams! Having said that, to my knowledge the X-Lite has no sun visor or air fit system, which makes the Scorpion a clear winner in this department.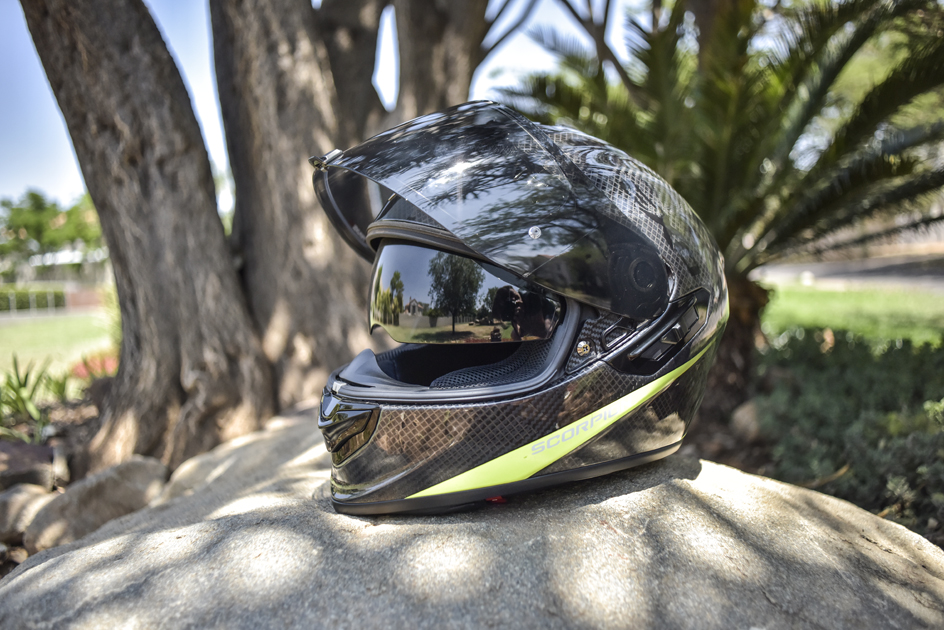 But how does it perform?
During my testing, which ranged from full-on track use to super silly high-speed street use, the aerodynamics was tested thoroughly. I also used it on my daily commute, where it gets tucked into my top box and stuffed into my work locker on a daily basis. In all these instances, the helmet delivered as promised!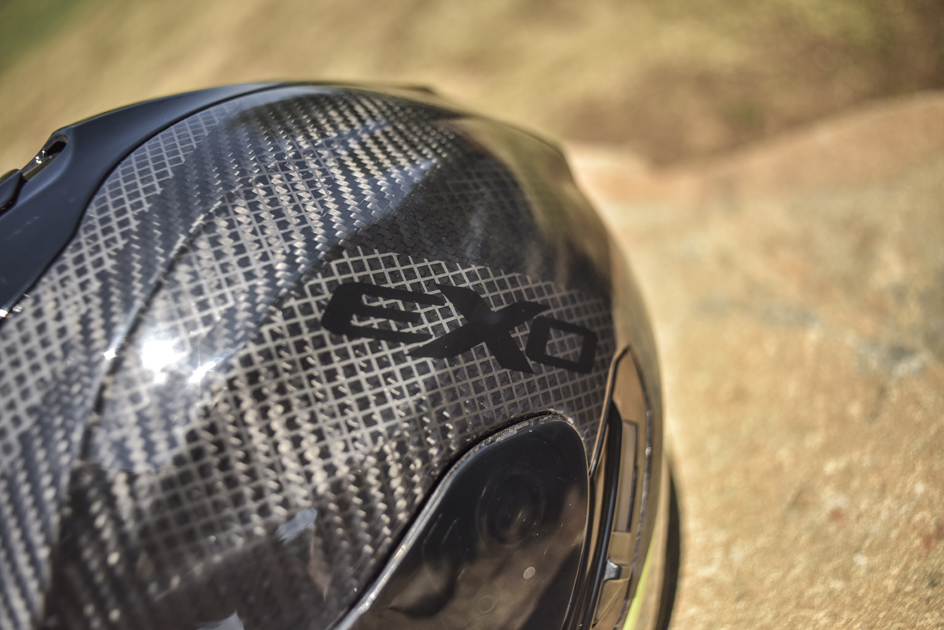 I found that the wind noise varies according to the type of motorcycle I am using. So not much to report on here. A Principal I abide by is to fit earplugs whenever my ride exceeds 50 kilometres, so wind noise becomes a low priority for me personally.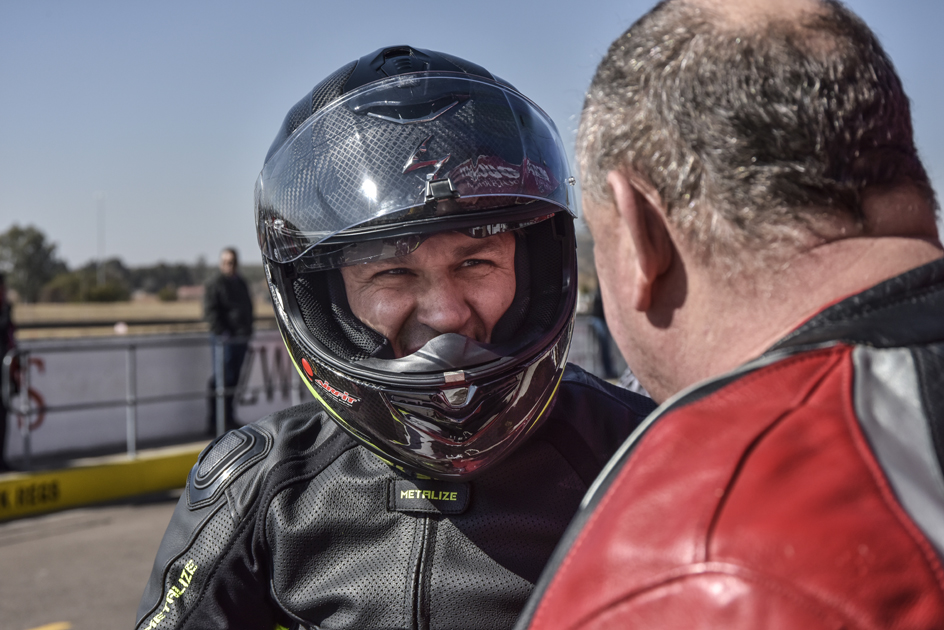 The aerodynamics on this lid, lends excellent stability at high speeds, just as promised. Peripheral vision was also spot on with a wide, uninterrupted angle of view. I did find the top part of the lid to be slightly intrusive on my vision when tucked in low around the race track. But then again, only in extreme situations.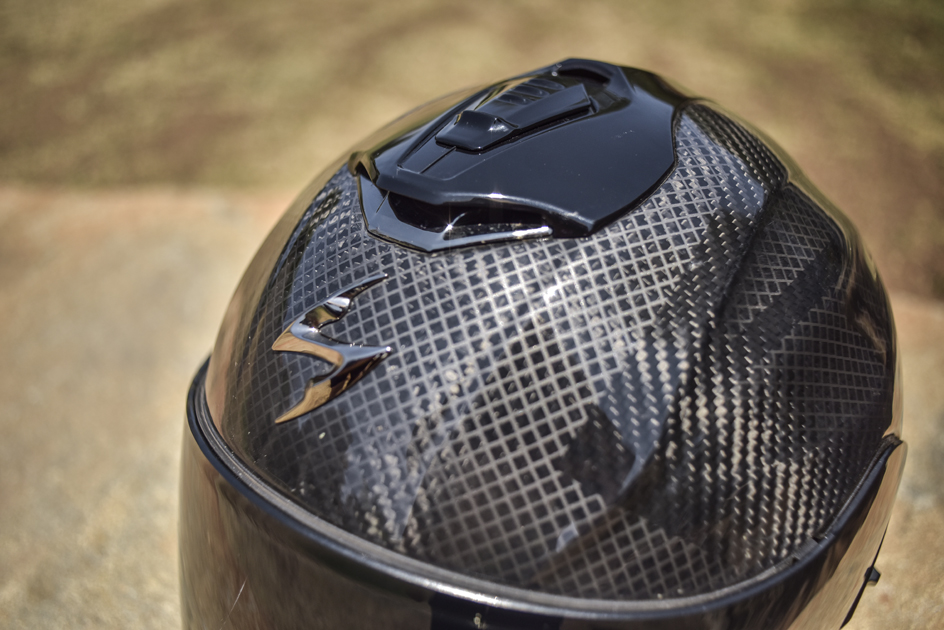 What impressed me the most, however, is the general fit and feel. The helmet fits as good as anything I have become accustomed to and the general feel of quality is certainly there. After many hours in the saddle, the interior still feels as plush as the first day I fitted it. At a price tag of around R 8 500, it certainly goes onto my shortlist of things to buy this Christmas, which is approaching fast!
Metalize Techno 2 Piece Leather Suit
I have been eyeing the Techno leather suit ever since the first time I saw it. I liked how it looked and the sinister matt black colour scheme, trimmed with Valentino Rossi yellow in the right places, makes this one very soft on the eye.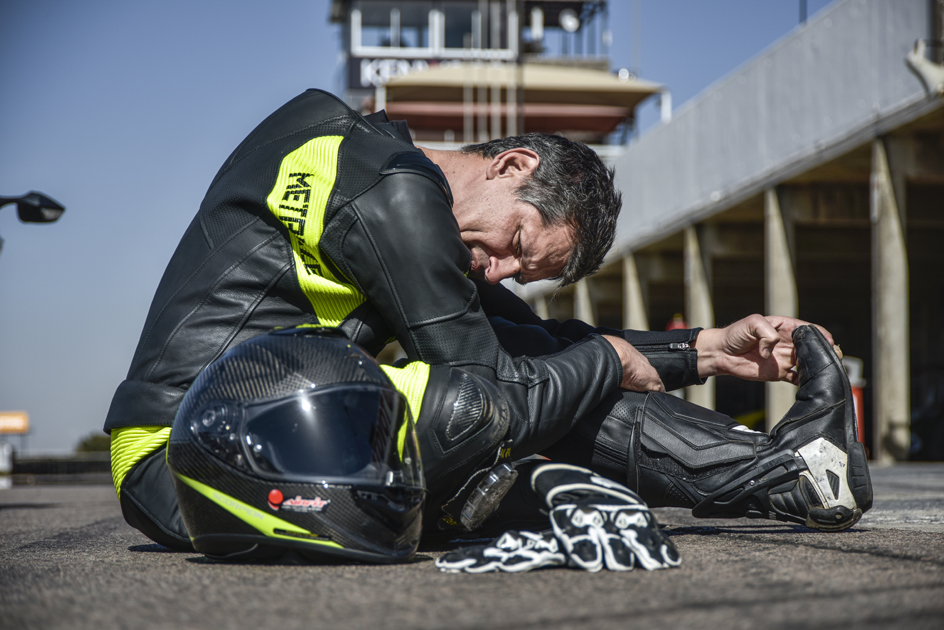 So, as we all know by now, seeing leads to desire, which in turn, leads to ownership! The heavy, quality feel of a proper leather suit will always put my senses on alert whenever I get dressed. I have suited up like this in anger on so many occasions and the adrenalin is always there. It was no different when I first tried on this arrangement. Mark and I scampered for size until we found the perfect fit.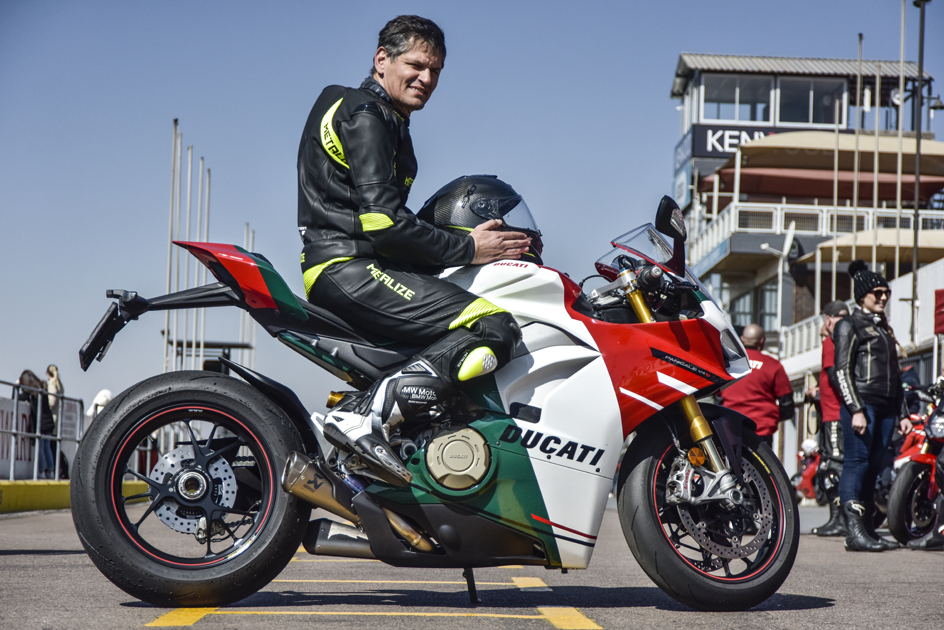 Surprisingly, at the first opportunity to test the suit properly, it was a perfect fit right from the word go. As luck would have it, that first time came aboard the previously mentioned Ducati V4S on a very cold winter's morning. When you ride a motorcycle of this magnitude for the first time, there must be very little distraction. It becomes serious business, right from the word go. This highlighted a comment Mark made during the sales process; "get ready to own the most well-ventilated suit available in SA!"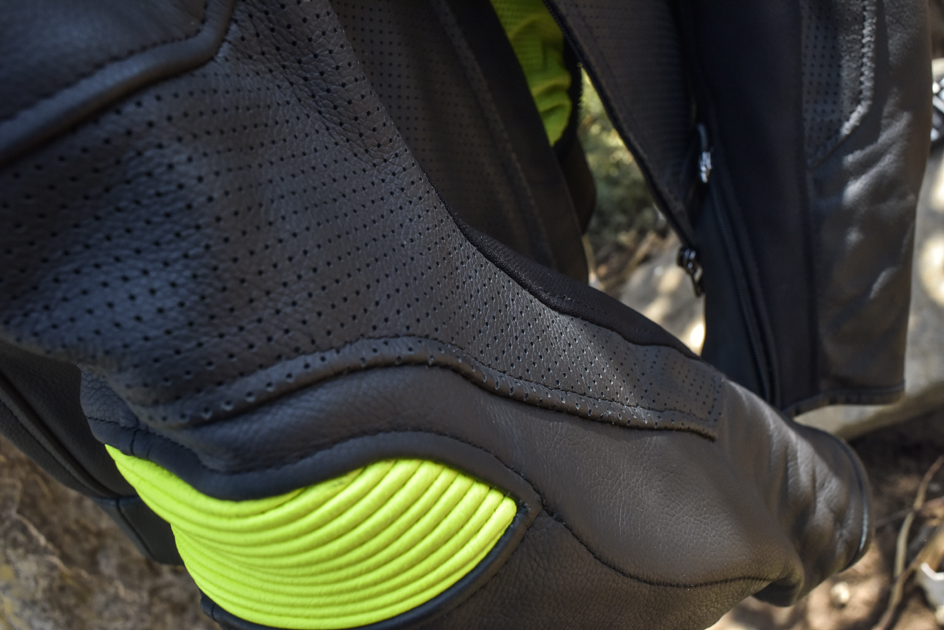 Whether this is true or not is certainly irrelevant. What is relevant though, is how well the ventilation works. The cold, crisp air certainly drew my attention to this fact. It was almost uncomfortably cool. As the morning progressed, session after session on the race track, it became just another hot day in Africa, which made me smile over and over every time the cool air breezed right through the myriad of perforated holes on offer. This, to me, is probably the biggest selling point pertaining to this fine piece of kit.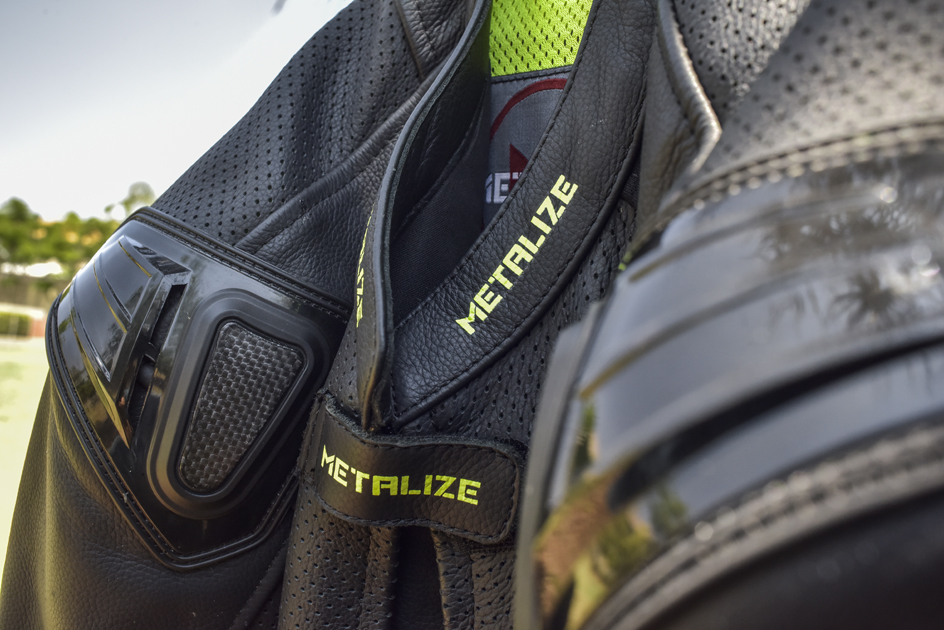 Other noteworthy features, apart from the stunning looks, include the well proportioned cut and construction quality. It fitted my average size, slightly overweight body just perfectly. The aerodynamic hump on the upper back is not too large and at no time did it interfere with my head movement. Another nice touch is that the inside lining is coloured in the same Valentino neon yellow, mentioned earlier.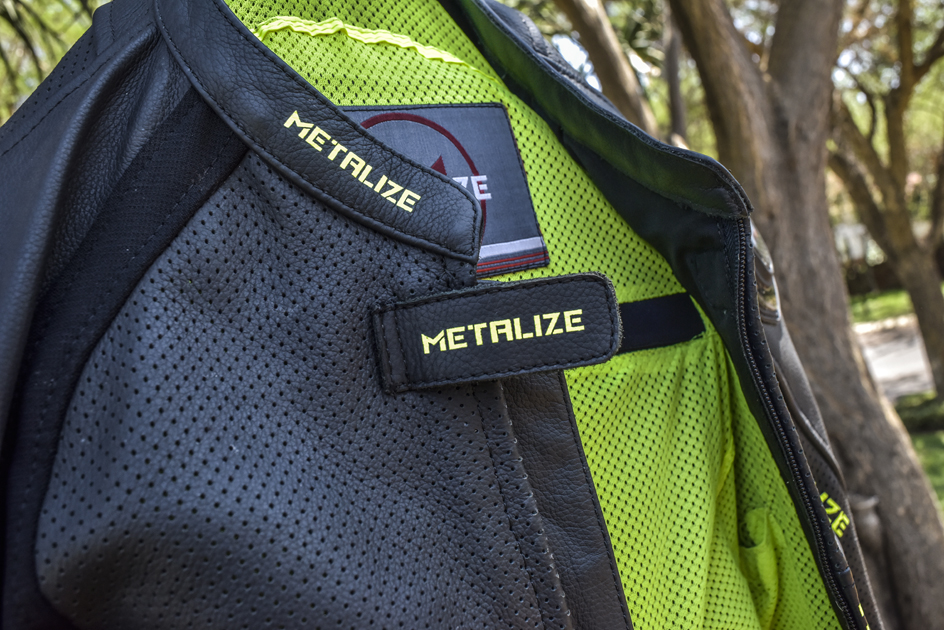 A word of advice to prospective buyers is to always choose the 2-piece option, rather than one-piece designs. Why you may ask? The reality is that very few of us will become full-on racers, most just enjoy the occasional track day or superbike weekend. The 2-piece arrangement makes it possible to unzip the jacket and use it with the protective casual jeans, also offered by Metalize, or just any normal jeans for everyday use.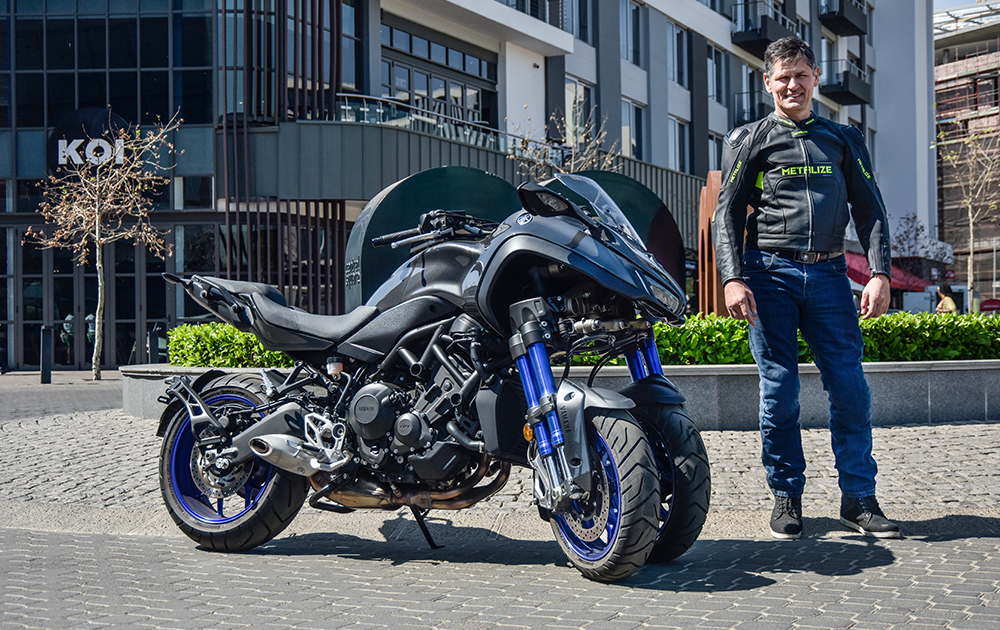 In isolation this makes for the perfect casual riding jacket, offering both function and form. One-piece arrangements are superior only in the case of ultimate, race-pace protection and are therefore mostly limited to that purpose. So remember to ask yourself what exactly you need from your chosen piece of kit. The recommended retail price of this suit is around R 8 700 which is competitive with regards to its peers. This suit could serve you for many years to come and when all is factored in, is well worth a look.
Metalize Leather Race Gloves
Metalize also offer a large range of gloves for many applications. The gloves I chose for my stints on the track, is what they simply call the "Race Gloves". Nowadays, gloves offer as much technology as any other piece of kit and all those features are offered on this occasion.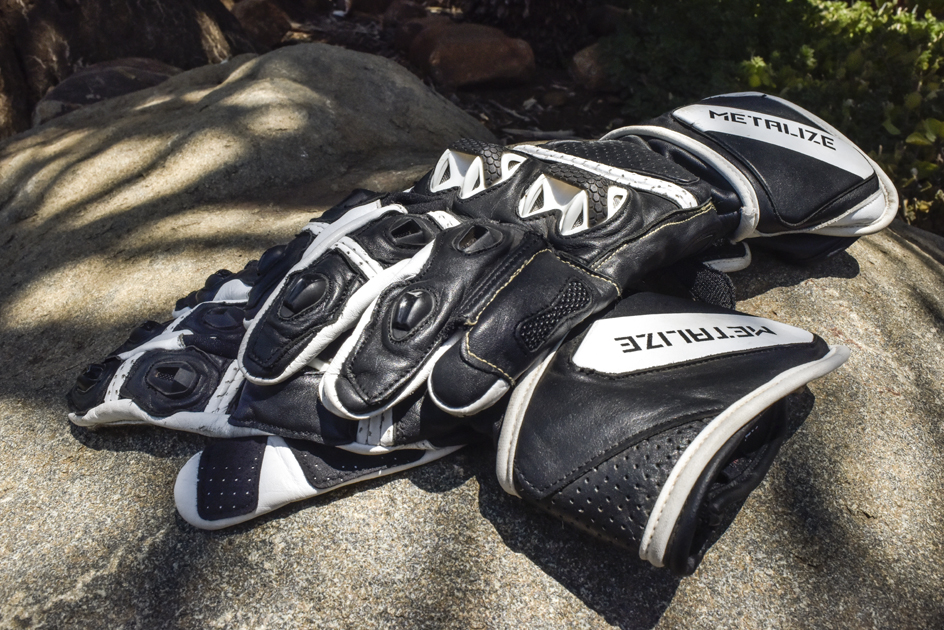 The gloves are well ventilated, offer knuckle protection as well as armour around the forefingers. Palm protection is addressed with double layering on the critical areas as well as armour for the outer palm, which usually takes the most flack in the event of an abrasion slide. Sadly the black and neon yellow colour of the suit could not be matched, but the black and white combination looked just fine.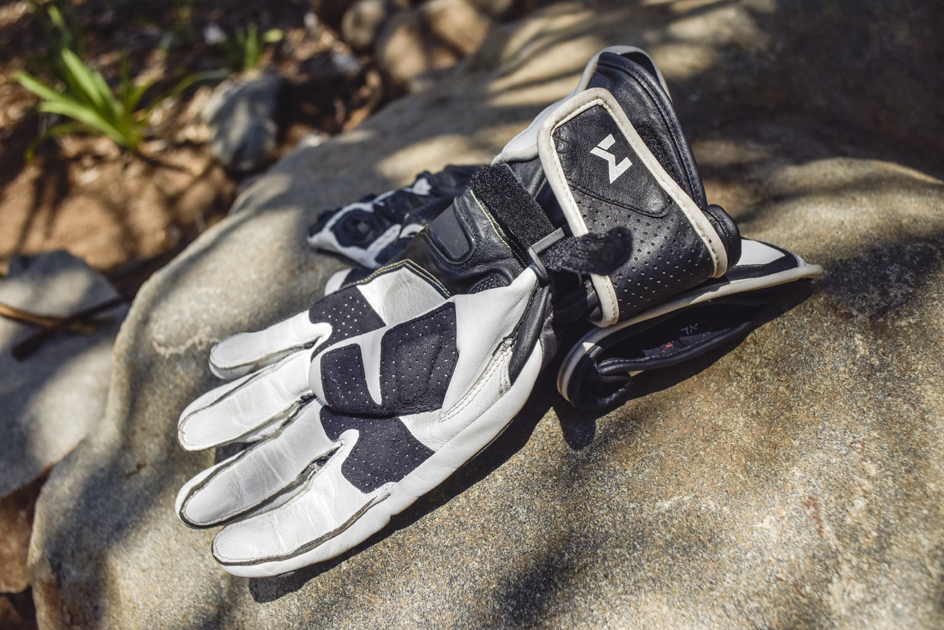 I enjoy the feel offered at the fingertips, which makes controlling the motorcycle more intuitive. The construction seems to be quite durable and I used them on adventure bike training to break them in properly. After a few days, the gloves stretched in all the right places and comfort became top-notch. As mentioned, there is a large range of gloves on offer, to suit all tastes. This specific specimen retails for about R900.
Conclusion
In conclusion, all that remains to be said is that my superbike wardrobe is now complete for at least another few years. I am happy with my acquisition and look forward to many days of adrenalin in the saddle. My thanks go out to Mark Henderson for making it his business to understand my business of riding, racing, touring and general outdoor fun under the African sun. So get those wallets out, revisit your sports bike needs and use the excuse that Christmas is fast approaching…
For more information visit: www.facebook.com/Hendersonracingproducts