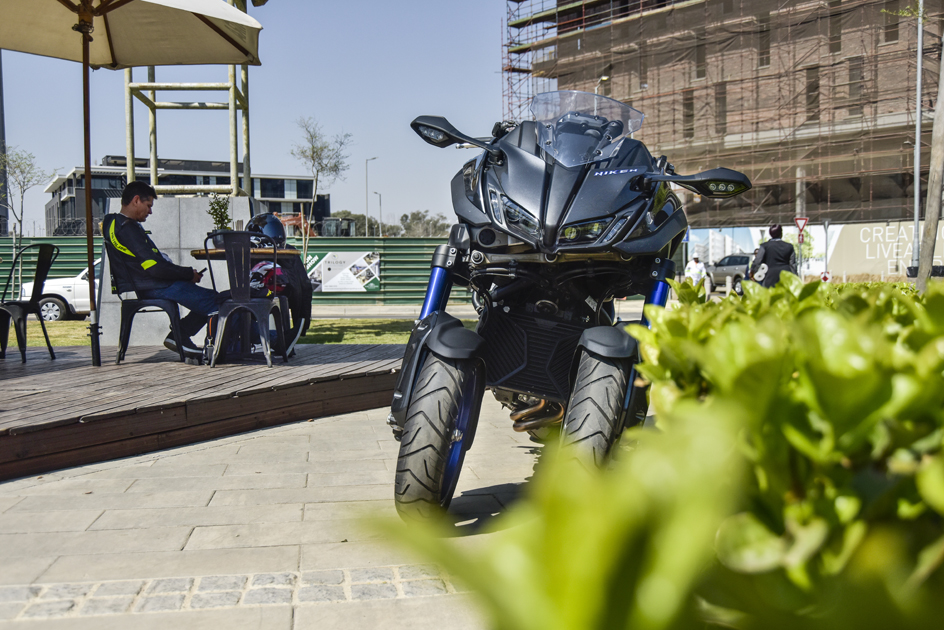 I have always wondered how it was in ancient times, being in the Egyptian army. If you were fortunate enough, you would be aboard a horse-drawn chariot, carving your way through sand and rocks meeting your enemy head-on. This must-have given some sort of psychological advantage and the awe factor must have been off the charts. Point being, riding a chariot would certainly get you noticed!!
It is the exact same thing when boarding the Yamaha Niken for the first time. When the call came from our Editor in Chief, I was more than willing to give it a go. The Niken gives you a modern-day feel of how it must have been riding a chariot back in the day. Of course, this is just my opinion and I could not find anyone from the ancient Egyptian army to confirm my findings, but that's okay.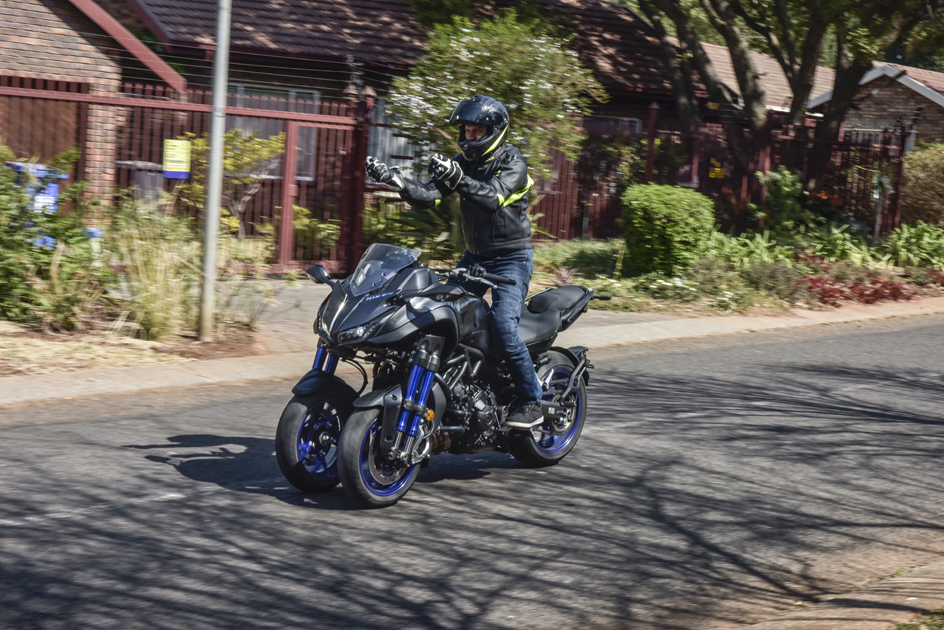 The Niken leaves onlookers speechless! I had so much fun watching the rearview mirrors of traffic about to be passed on the highway. I had so much fun watching reactions at the traffic light and yes, wherever else we displayed this peculiar beast.
Yes, I said "peculiar beast". The Niken's visual appearance, or should I rather say presence, makes quite an impression! At first glance, it looks massive and sinister with its high riding front end. Dual, single-sided front forks on either side, strikingly anodised in blue, draws your attention to something truly different and unique.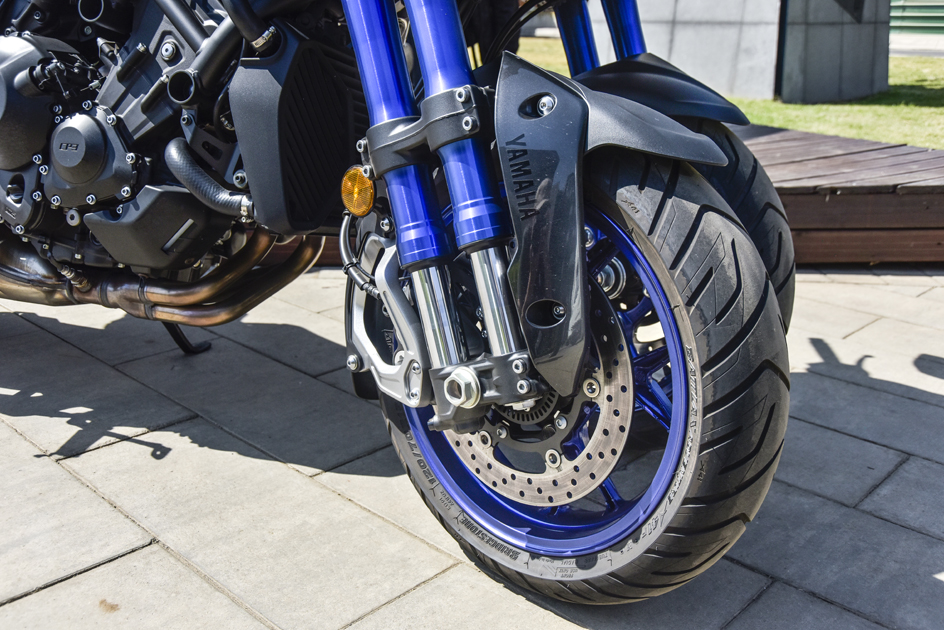 Trust Yamaha for making something unique. There have been many examples over the years, where companies like Yamaha have pushed the boundaries of design. Sometimes in such simplistic ways as could be seen on the TW200, with its fat wheels, way back in the nineties, all the way to their much more complicated, sporty 3-wheeler, which is the subject of this review.
The Niken, simply translated as "two swords", has been around for some time now. Introduced at the 2017 Tokyo Motor Show, first deliveries commenced to the world markets in the latter part of 2018. I remember seeing this specific bike at "World of Yamaha" for the first time earlier this year, pondering what it must be like to ride.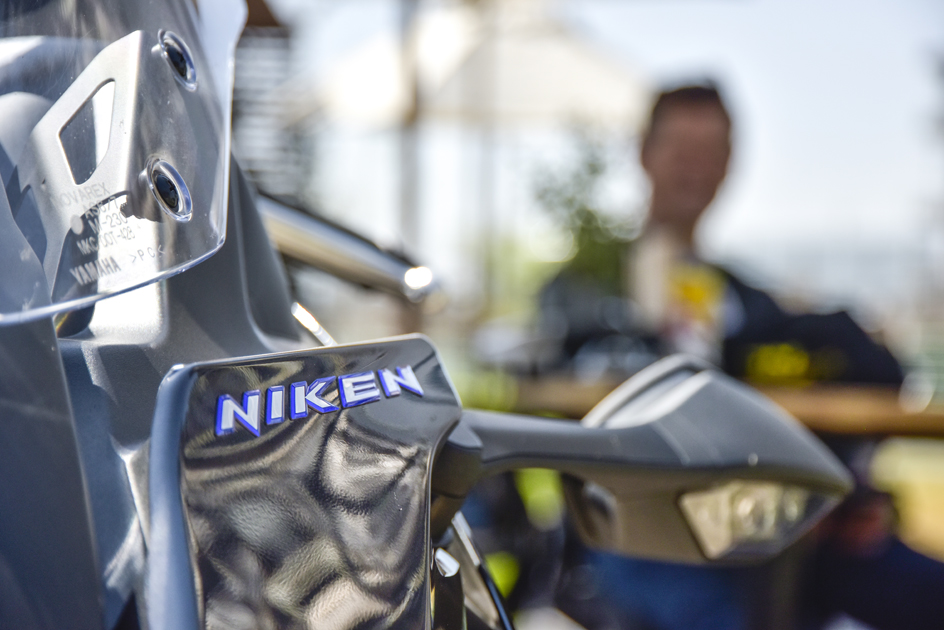 The idea with the dual front wheels being to offer more stability and traction as it leans into a corner is something even I have thought about on many occasions in the past. Needless to say, front-wheel grip is not negotiable on any motorcycle. Just the thought of losing the front end around a bend leaves many a rider with cold chills! Maximum lean angle is around 45 degrees and one could argue that many an accomplished sportbike rider would find the bike's limits quite soon.
This leaves us with the next important question; who was this bike intended for? Is this a sportbike? Perhaps a touring bike? Or is it intended for the safe option of being called a sport-touring bike? And the term "bike" is even technically incorrect….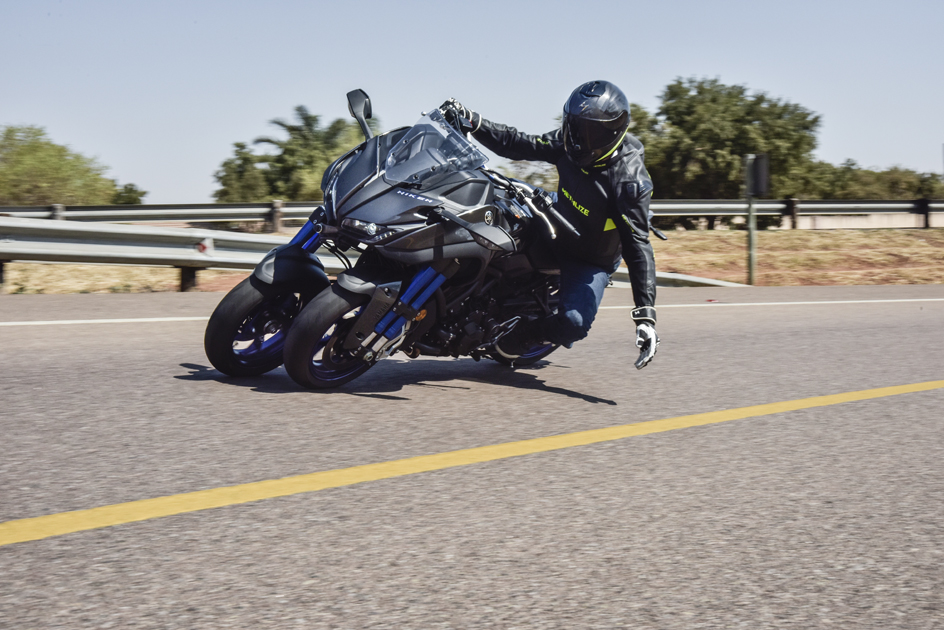 My take on this is quite simple. For the foreseeable future, sportbikes should remain quite conventional and so will those drawn to them. On the touring front, there are literally hundreds of options for those who are that way inclined. The Niken, to me at least, is probably more suited to the extroverted sport-touring customer who wants something that can deliver the thrills as well as being the very thing that gets you noticed. And yes, most of us don't mind being noticed, being different.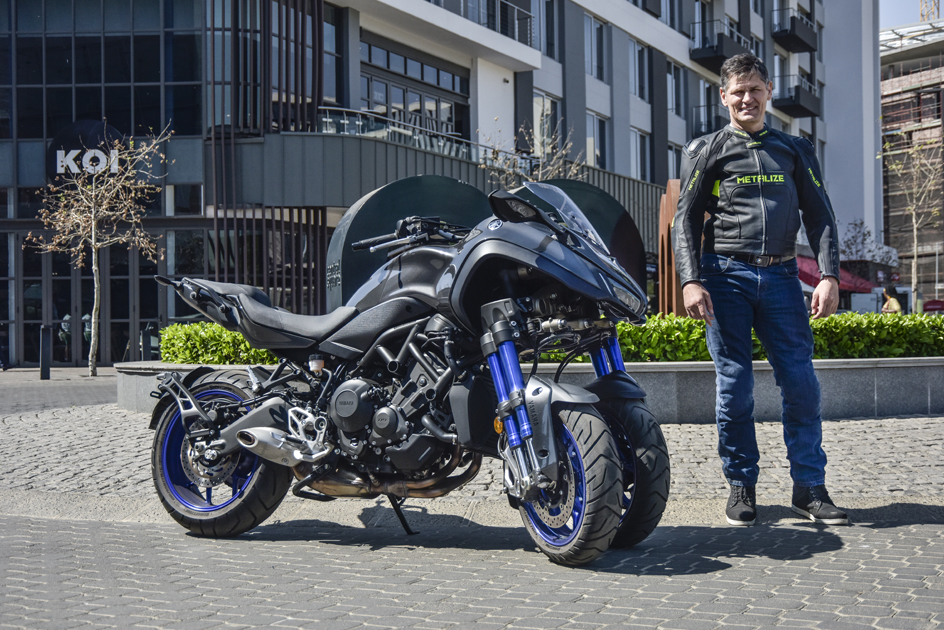 To save costs, Yamaha used the proven, conventional 847cc, triple power plant found on their popular MT09 naked bike, amongst others. This is a very exciting engine that has been responsible for making many smiles in the last few years. I even get a smile on my face as I figure that a three-wheeled bike probably warrants at least a three-cylinder engine if that makes sense.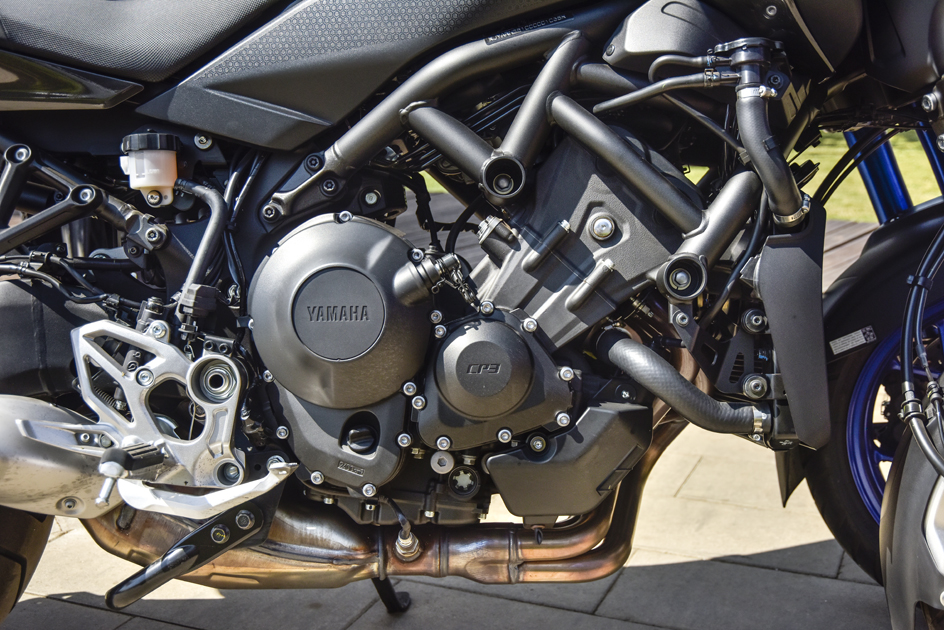 Riding the Niken actually feels very conventional. The Yamaha engineers succeeded in making the handling resemble that of a normal motorcycle. I could not feel a vast amount of feedback from the front when attacking the corners, which made me wonder how far she can be pushed. There was the odd occasion where I actually felt a slight drift from the front end with a more spirited riding style. Talking of which, the front wheels being 15-inch arrangements, tyre choice could be quite limited for sportbike riders that would perhaps want to take full advantage of the two-wheeled front end.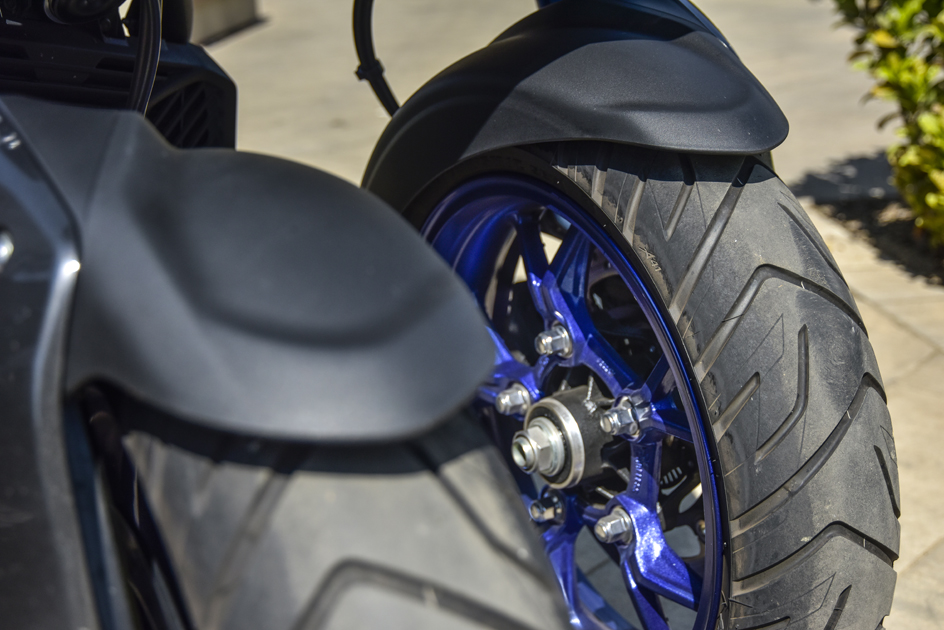 This innovations on the Niken does come at quite a hefty price tag of around R275 000. Many will argue that there is better value to be found elsewhere and they would certainly have a valid point. Another penalty pertaining to these innovations is the wet weight of around 263kg. On my urban stints, the weight was not much of an issue, but I can imagine it becoming apparent with repeated, hardsports riding in the twisty mountain passes that we so regularly frequent.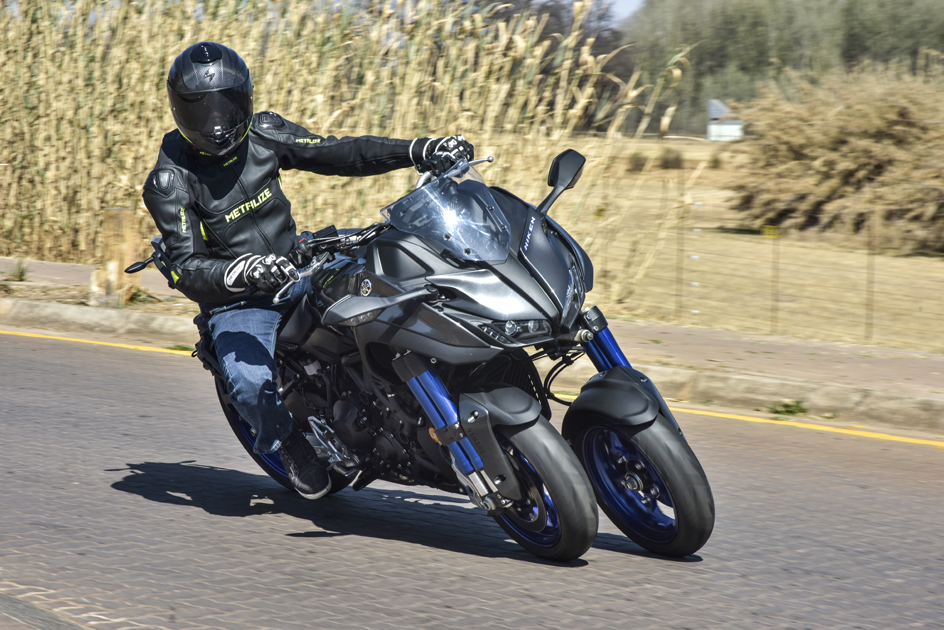 When all is said and done, it simply boils down to the Niken's uniqueness. Yes, the price is quite high. Yes, the weight could be quite noticeable. But those buying the Niken, would not consider these factors as much as the chance of riding something so unique, so visually appealing and so different. Those buying the Niken will buy it because it makes a statement of individuality, rather than an argument for future sportbikes. I know I would not mind getting my hands on one from time to time….
For more information visit: www.yamaha.co.za