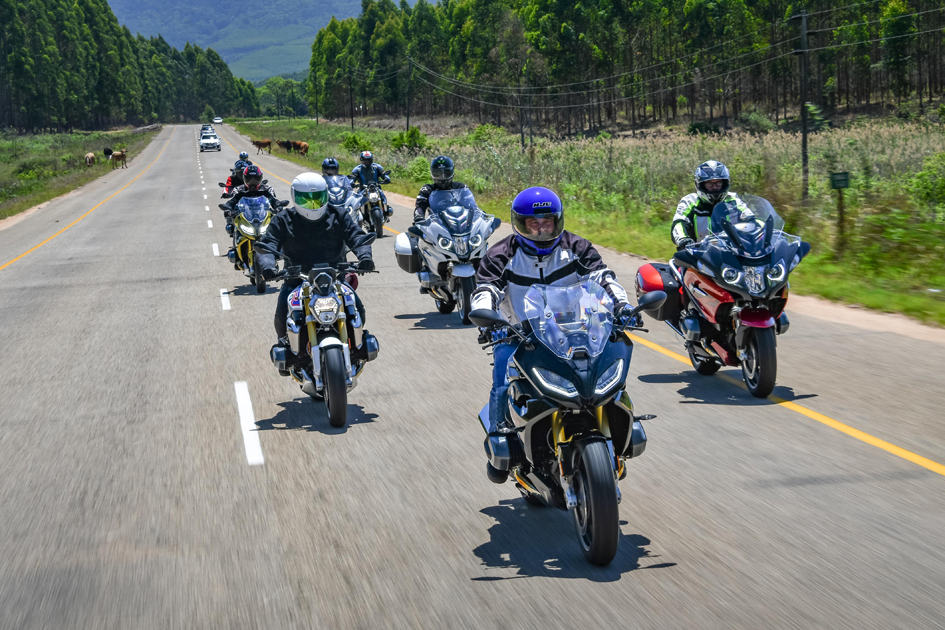 We were privileged to be invited to BMW Motorrad South Africa's media launch of the new Boxer Street range. My day started with a short flight from Johannesburg with a few familiar journos to the scorching yet beautiful mountainy Mpumalanga. We were then escorted by the friendly faces from BMW South Africa to an appetizing café nearby, where our breakfast and briefing was awaiting us. Chris Modise, National Sales Manager at BMW Motorrad SA, was to kick off the rider/product briefing.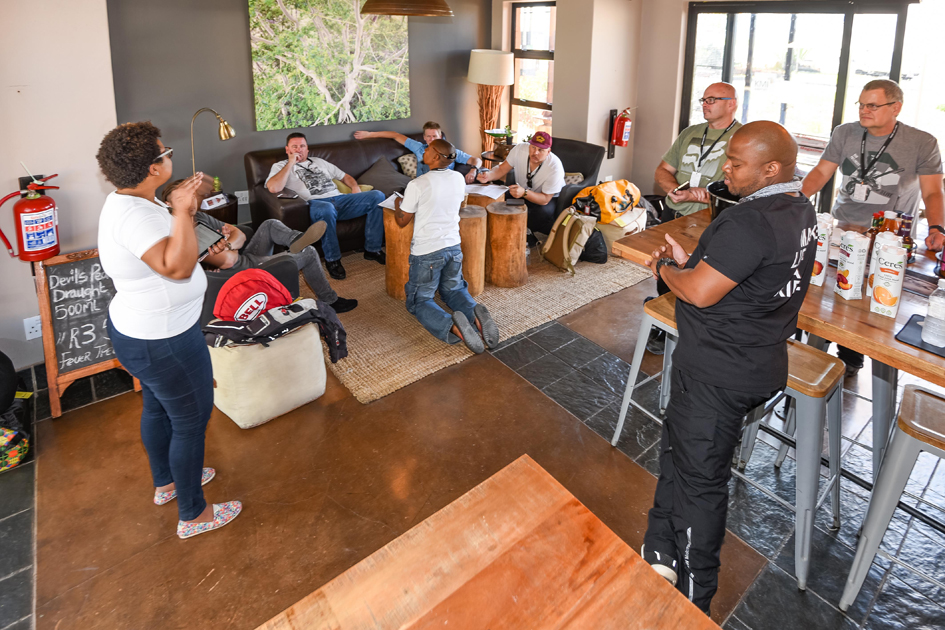 Our planned route consisted of a wide variety of road conditions, to suit each of the individual motorcycles strong points. Thus, we were to head out on a 300 km ride, which meant an average of 100 km of saddle time per bike before handing over the key to the next sensible gentlemen. With our brains filled with knowledge and our stomachs filled with a good breakfast, it was now time to suit up and meet our first ride of the day.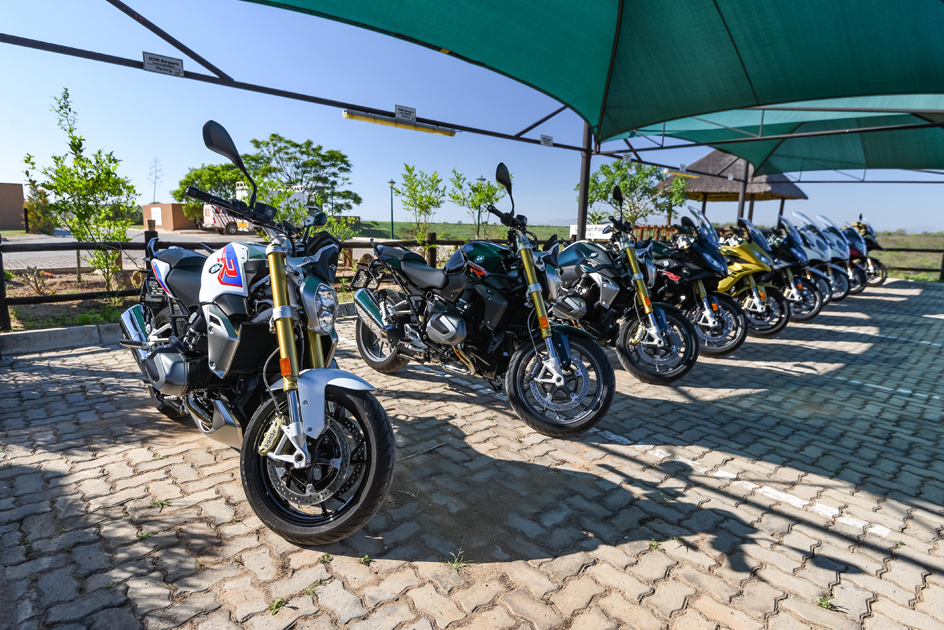 Before jumping upon our German steeds, I couldn't help but notice a few similarities between the three Boxers – these similarities are as followed:
Engine: Undeniably the same 1254 cc ShiftCam Technology beast of a motor, which pushes out 136 hp at 7 750 rpm and 143 Nm at 6 250 rpm is used throughout the new boxer range. The motor has a wider bore, longer stroke and ShiftCam Technology, which in English means an increase in power across the entire rev range, a smoother running motor, a better fuel consumption, reduced emissions and increased refinement.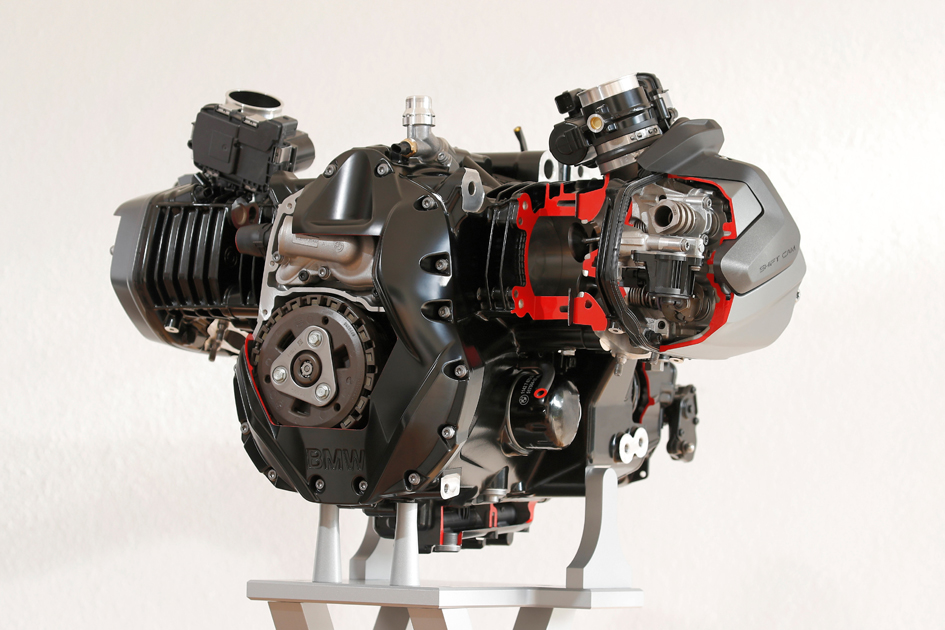 Riding Modes Pro: Riding Modes Pro, features the additional riding modes Dynamic, Dynamic Pro and Dynamic Traction Control [DTC], these modes are all configurable. DTC enables even more efficient and safer acceleration, especially when on the edge of the tyre. You also get the additional riders aids ABS Pro, Hill Start Control Pro and Dynamic Brake Assistant [DBC]. Riding Modes Pro is now available as an optional equipment item.
Suspension: Dynamic Electronic Suspension Adjustment [DESA], is now available on the entire Boxer range providing you with on the fly adjustment. You get 2 suspension options and adjustability within them. For instance, you are provided with Dynamic and Road and within Dynamic and Road, you can select min and max which will adjust the preload on the suspension spring to a much softer or stiffer setting. You also get an auto mode which adjusts the preload automatically in line with the different road surfaces.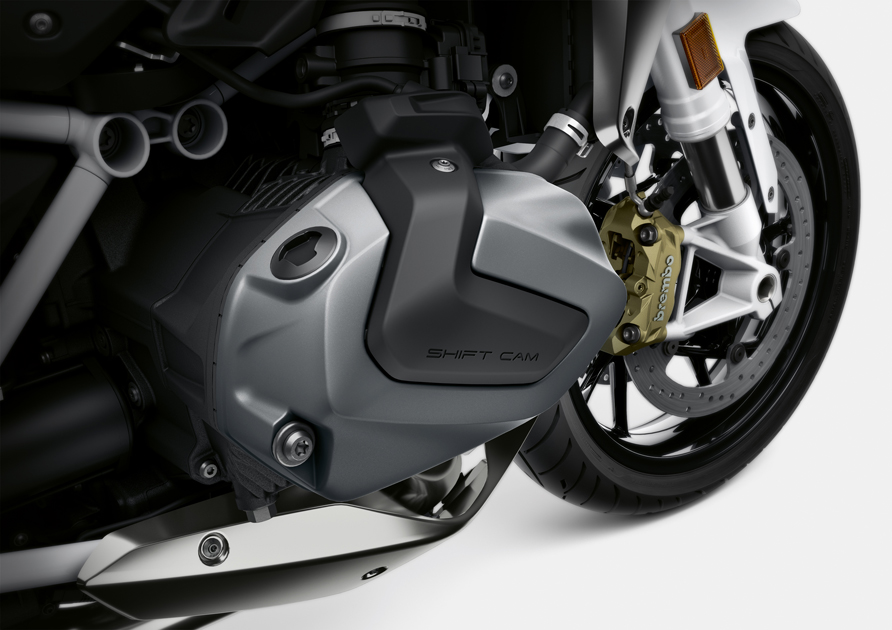 Brakes: The new Dynamic Brake Control [DBC] provides additional safety when braking, and it comes in handy in difficult braking situations. Drive torque is reduced during braking in order to make full use of the rear wheels braking power. By doing so this shortens the braking distance as well as making it more stable.
Display: On the R 1250 RS and R 1250 R you get a 6.5-inch full-colour TFT screen and equipment feature Connectivity as standard. The R 1250 RT seems a bit outdated with its 5.7-inch TFT colour screen alongside its analogue speedometer and rev counter.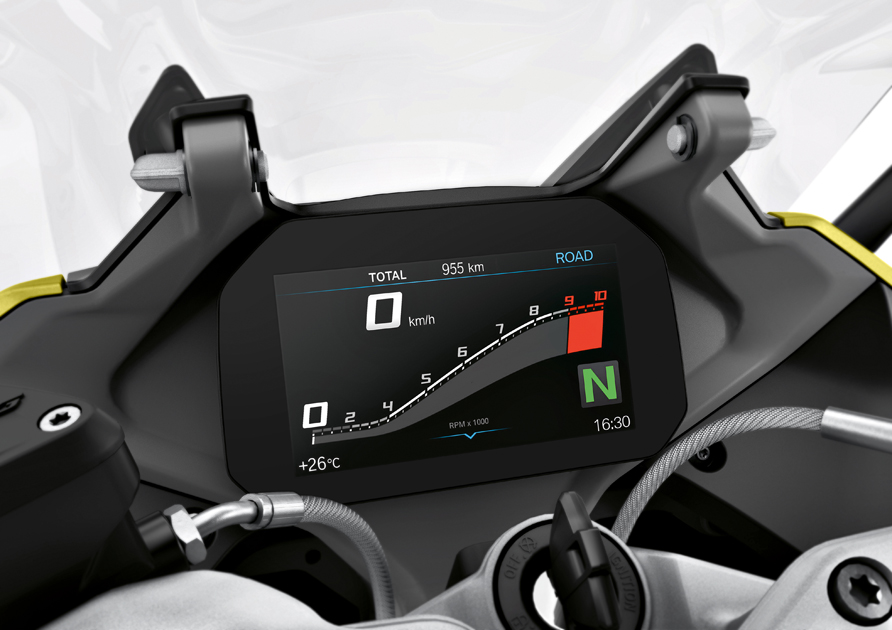 Enough tech-talk, let's get down to my riding impressions of each individual bike.
The BMW R 1250 RT
I started my day on BMW's pure tourer the R 1250 RT and I quickly got comfortable on this majestic beast. The seating arrangement is of a tourer yet still focused on the sporty side of touring with a short peg to seat ratio and a very comfy rounded off seat. On our route, we got to do some touring on the R40 before heading past White River and turning onto the twisty R37. Touring on the R40 made me realise how comfy the R 1250 RT is and the reason being, its got so many little trinkets. For starters, its got an electric operated screen, heated grips, heated rider and pillion seat, electric panniers, cruise control, and a GPS. What more could you want!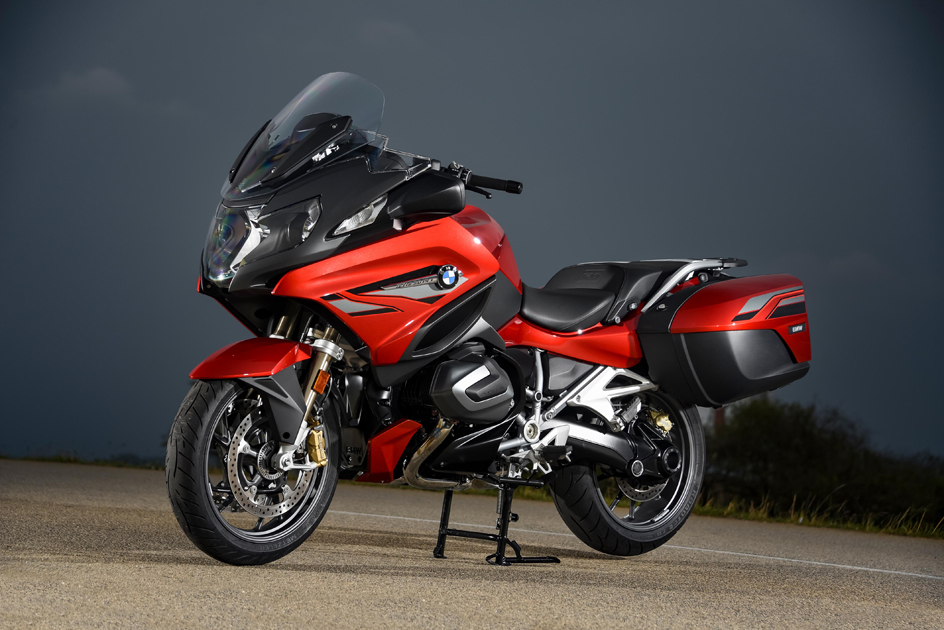 The screen on its highest setting deflected pretty much all of the wind and at stages, I felt like I was in a car. It's definitely not a bad thing but when your in Mpumalanga and the dash is reading 38 degrees, you need to anchor that screen down. During our stop and goes when slower riding was the case, I could really feel a difference in the lower revs when the ShiftCam came into play. In the lower revs, the motor uses a smaller ShiftCam making the motor torquier and smoother and when the R37 comes singing and the revs come ringing the motor switches to the HighLiftCam which gives you more top-end power.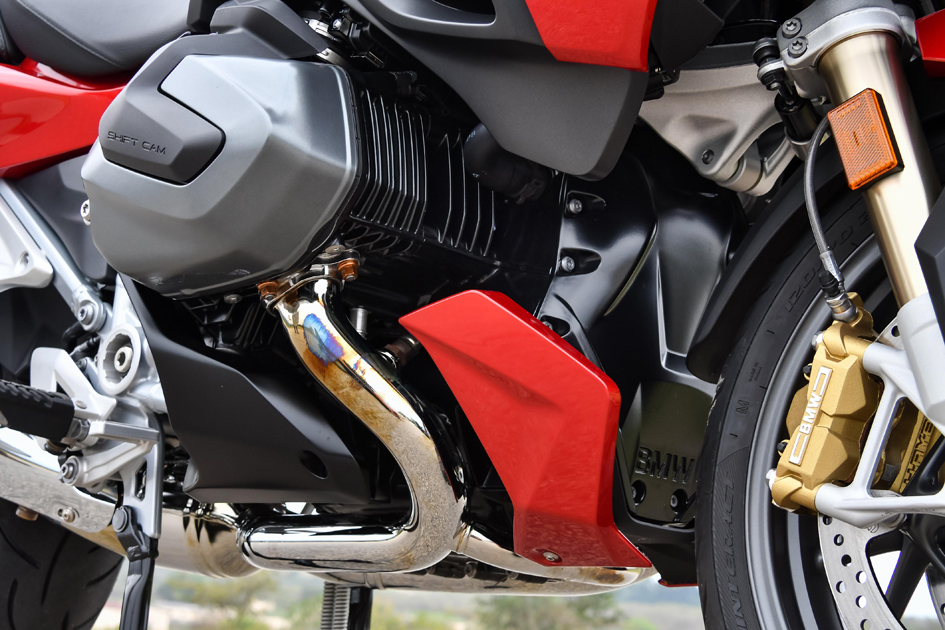 With a curb weight of 279 kg, the R 1250 RT is definitely not a lightweight but surprisingly it didn't need much muscling around in the twisties. The low centre of gravity and the electronically adjustable suspension really made life a treat whilst riding the twisties. With my engine mode and suspension mode on dynamic, I was ready to ride those long sweepers. I found the suspension a bit choppy when on the max dynamic setting, this was probably due to my weight [being quite light] and bumpy road conditions. When in dynamic min, the bike handled very predictably and had a few journo's scratching their heads when being overtaken by an RT.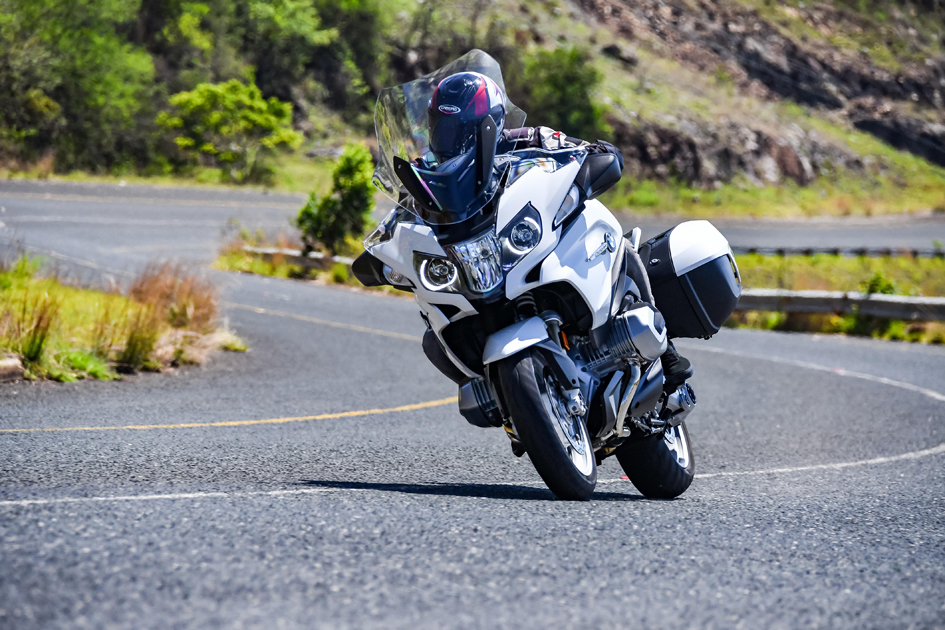 The brakes on the RT are manufactured by Hayes and are branded BMW, as opposed to the traditional Brembo's we've seen in the past. I felt that the brake feel was really good and modulation was easier on the Hayes brakes. With BMW's telelever suspension, braking really hard was not a problem due to not much dive, leaving you with plenty of confidence when braking into a corner. The BMW R 1250 RT is available in three variants, Full Spec R252.400, Style Exclusive R260.900, Style HP R262.900. This bike is perfect in every instance when considering touring. If you going to buy a tourer, just buy this one.
The BMW R 1250 R
We stopped off at an engine garage for a fill-up and a bike swap before heading to our coffee stop-off in Sabie. I was greeted by a familiar style of bike that tickles my fancy, a naked. The BMW R 1250 R is a gentleman's naked. I mean roadster. A naked is usually aggressively styled and super brash and that is exactly what the BMW R 1250 R isn't. The R is classy looking, a super refined bike and a hoot to ride. From a looks perspective, the R 1250 R doesn't look much different to the older R 1200 R but that's no problem because it's damn good looking and all it needed were a few updates. I was on the Black storm metallic R 1250 R, with my head outward and no screen or massive bars obstructing my riding pleasure. From the get-go, you can feel the performance gains on the R by being 40kg's lighter than on the RT, not that they should be compared in any sense.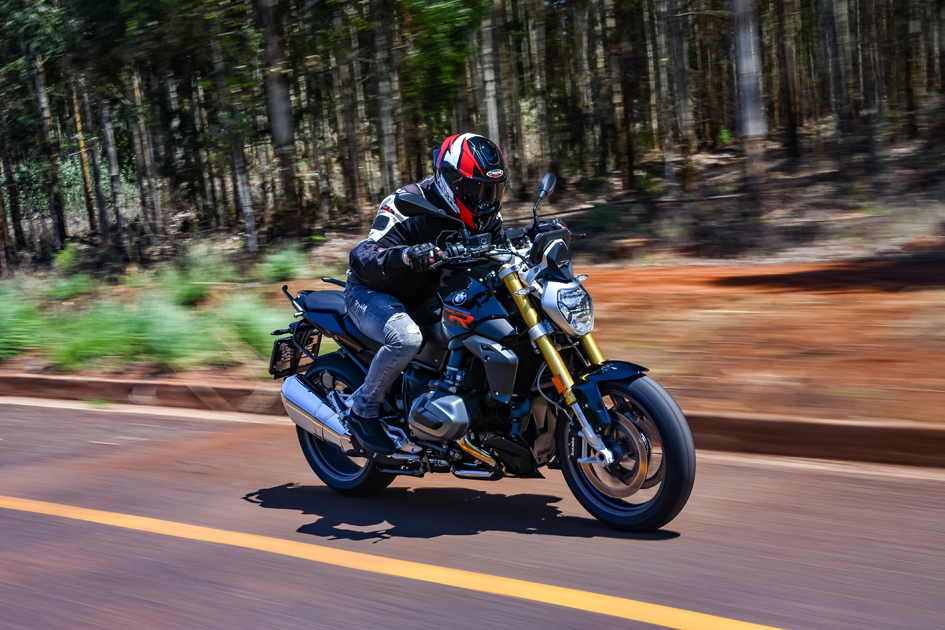 Nonetheless, back to some curvy roads from heaven. The cockpit on the R is by far the most minimalistic/attractive cockpit on any street bike, that I have ever seen. It may mean nothing to most but when riding in a sporty manner, the fewer distractions the better. All you see is an attractive floating TFT that displays everything one needs to know and in the screen option I had it set to, it displayed lean angle and boy did that make me wanna lean that puppy.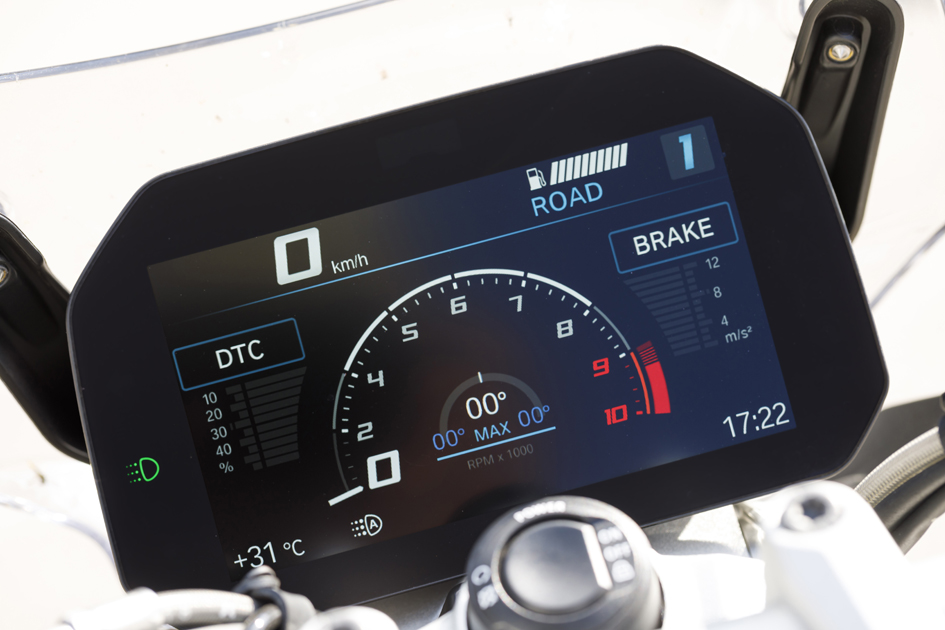 The R munches corners for breakfast and I was comfortable at a max lean of 44 degrees indicated on the lean sensor. I found that the suspension worked perfectly in Dynamic on its max setting and I suppose this is due to telescopic forks having a bit more movement compared to the telelever on the RT. There were moments where I knew I could push harder on the longer sweepers but without wind protection I found myself holding on tighter then I would have liked too.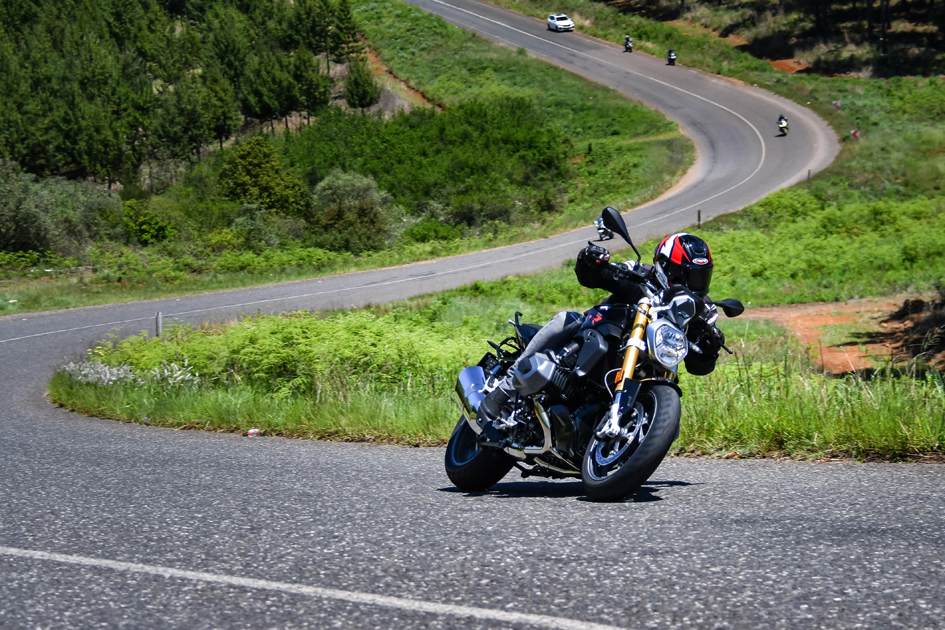 We've got Brembo's on the R and they work as they should, progressively and more than enough bite to slow this puppy down. I played with the traction control settings and out of the two, I found myself enjoying the lower setting more, allowing you to have a bit of slip coming out of the tighter second and third gear corners. We had Metzeler Sportec Street tyres on both the R and RS and I thought they were worthy sports touring rubber for the type of riding we were doing. We didn't do much urban/city riding but you just know for a fact that the R 1250 R will be the perfect urban commute and in saying that there have been many guys who have fitted taller screens and panniers on these city slickers to make them a bit of an all-rounder.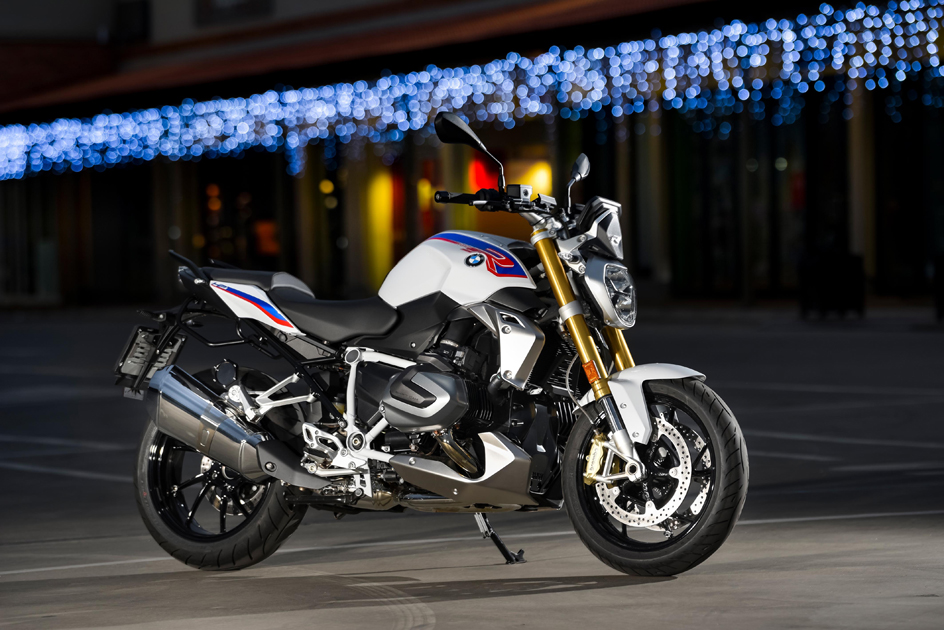 The R 1250 R is available in four colours and that being black storm metallic, option 719 Stardust Metallic, Style Exclusive Green and Style HP. You will find your BMW R 1250 R on your local BMW dealer's floor for R212.000 for the full spec, R220.500 Style Elegance and R222.500 Style HP.
The BMW R 1250 RS
After our coffee stop in Sabie, I jumped upon the infamous R 1250 RS to head for a sporty ride to our next destination in Hazyview called Summerfield's Rose Retreat & Spa. The brand-new fairing design and LED headlamp really uplifts the beauty and sporty character of the RS with a meaner and sharper front end.
Swinging my leg over the RS and then reaching towards the bars instantly gave me the sports tourer feel. The peg to seat ratio was very similar to the R 1250 R but the reach to the bars was a bit further, putting you into a more hunched over pukka possession for not only a sporty tuck but rather a comfy long-distance tour. The RS provided a very comfy cockpit, I didn't experience any strain on my wrists and the wind protection on the long open roads was phenomenal, thanks to the new front spoiler and cockpit cover.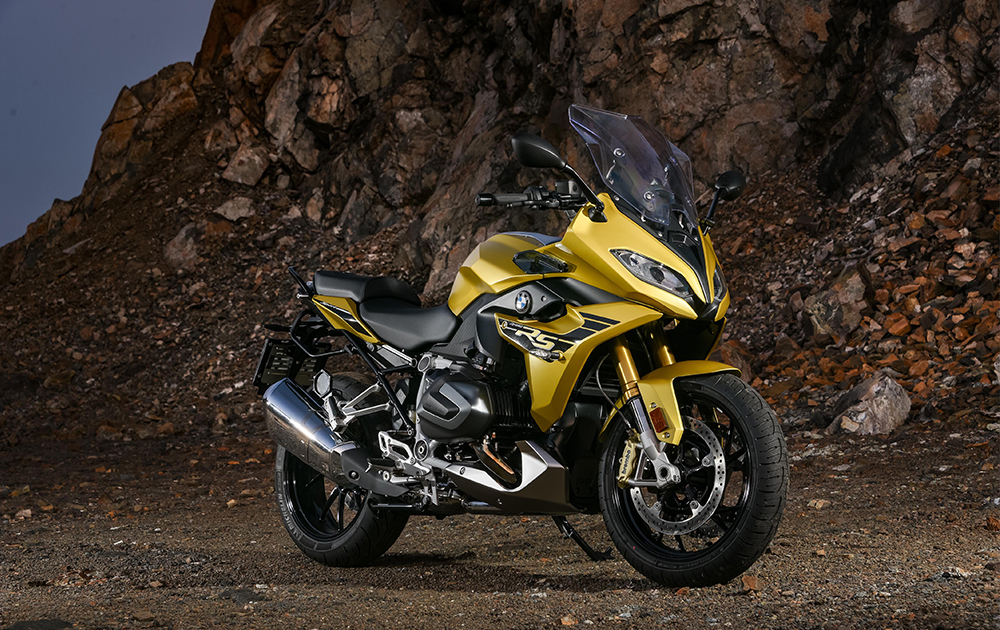 The tarmac was reasonably smooth so I left the bike in dynamic on max and when the roads became a bit unpredictable, I stuck it into auto and let the suspension take care of me. In auto mode the damping was perfect all of the time on the different road surfaces, I placed full confidence in the suspension to a point where I wasn't thinking about it anymore. I was just enjoying my ride. Thanks to BMW for making the switchgear so user-friendly and easy to adjust on the fly, this really made life so much easier and more engaging at the same time.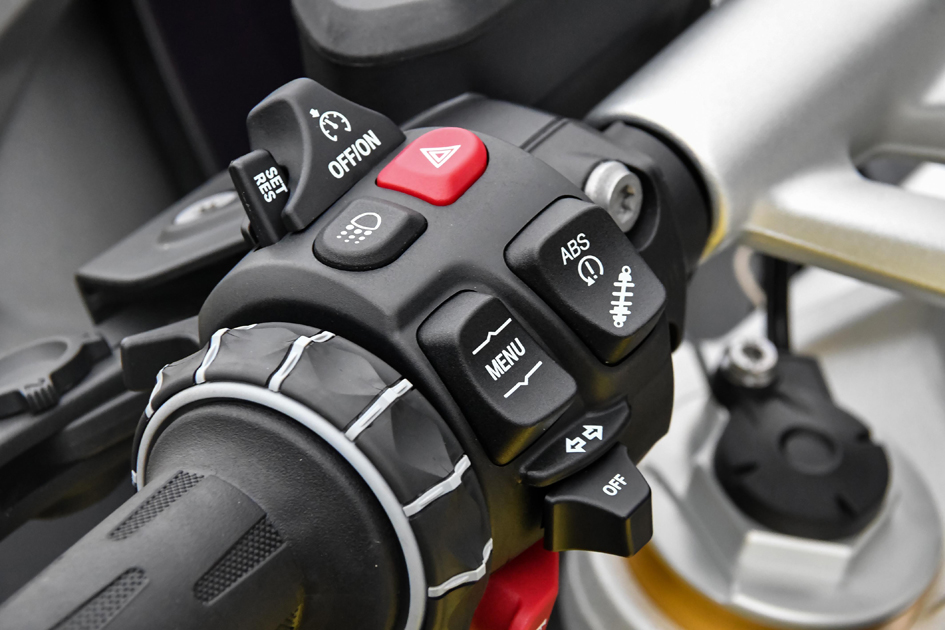 The RS is equipped with the same shinny Brembo's as the R and worked well enough to stop for our lunch break and tour of Duke Gin's distillery. The R 1250 RS is available at your local BMW Motorrad dealer in three price variants. The Full Spec goes for R227.000, Style Elegance R234.000 and the Style HP can be yours for R236.000.
So which BMW would I take home with me?
Well here's the thing, I sort of made up my mind before the ride back to the airport but when they said I could choose any bike to ride back on. I swung my leg over the R 1250 RS, I guess the sensible grownup part of me made that decision. Knowingly my self-conscious mind loves the R 1250 R full-heartedly in the HP Style with the option 719 wheels and HP Sports silencer – Oh boy, I just love this setup!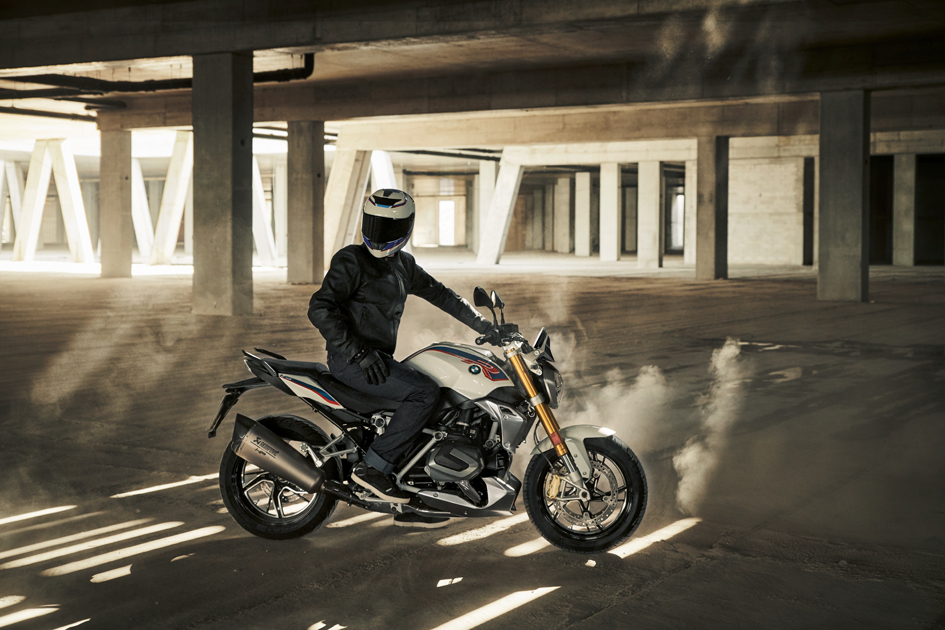 Saying this, however, I am in my early 20's, and having had the opportunity to ride the RT made me see possibly in my future touring the country with my future missus on the back, the RT ticks all the boxes as far as comfortable sports touring goes.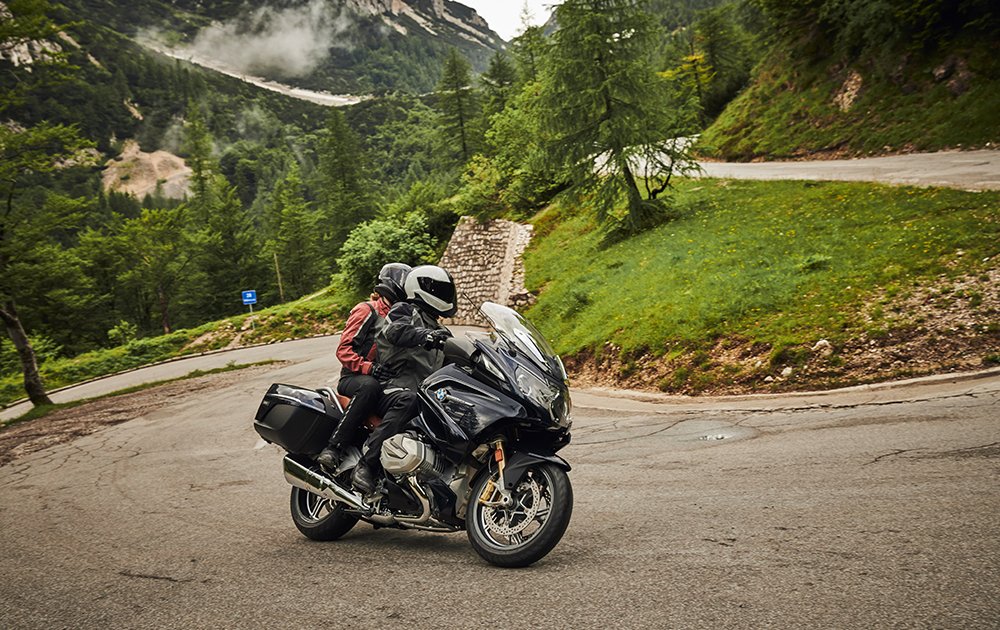 BMW has seriously done an outstanding job with the new Street Boxer range. A truly versatile range of motorcycles that I think will sell like hotcakes. Not only because they make fantastic motorcycles but because BMW offers more individuality, allowing you to trick out your new ride with extra's that just personify your personality. Another bonus is BMW has a new three years warranty for you and your new bike, allowing you to ride on & on & on.
Thanks, to BMW Motorrad South Africa for allowing me to ride these beautiful machines in such stunning surrounds.
For more information visit: www.bmw-motorrad.co.za
BMW Motorrad R 1250 RS
For more information on the bike that we tested in this article, click on the link below…