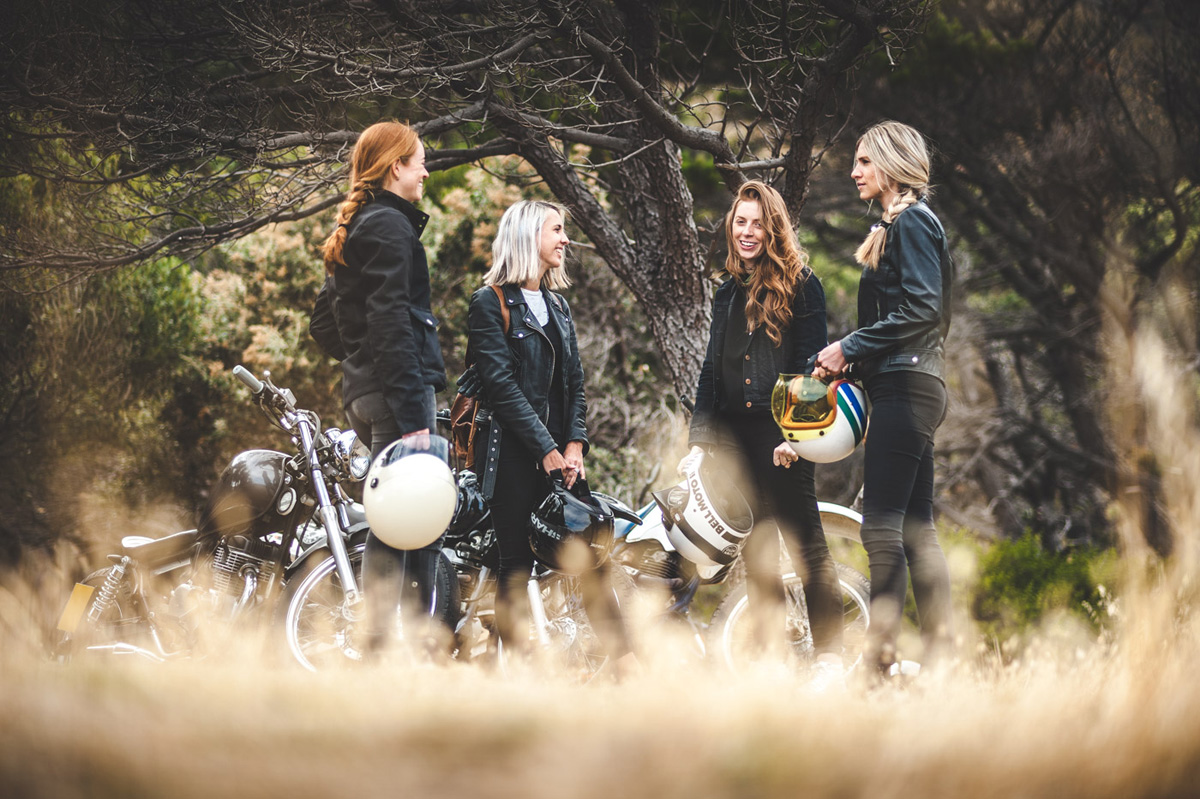 Motorcycling has traditionally been a world dominated by men—but, thankfully, that stereotype is changing. Sure, the female sector of the market is still smaller than the male side, but more women are taking to two wheels now than ever before.
To celebrate this, and to gain a fresh perspective on how the scene is evolving, we chatted to some of our favourite motorcyclists (that also happen to be women). We threw some questions about what it means to be a women in motorcycling to our Cape Town friends—Lauren, Sanela, Sunette, Teresa and Zöe; and to our Joburg friends—Ashleigh and Mercia.
Here's what they had to say…
What got you into riding motorcycles in the first place?
Ashleigh: My passion for motorcycles comes from my father, Bill James. He was the mechanic for the late Gary Hocking—a MotoGP racer back in the 60s. My riding started as a teenager back in Bulawayo. Our family now has three generations riding motorcycles.
Sanela: I started riding a scooter in Miami in 2007 while living there. It was the only way to commute in that humid heat with the wind blowing in your face, and obviously the easiest way to club, hotel and beach hop, those days! My husband is a petrol head, so he was definitely the main reason for learning how to ride a real bike in Cape Town.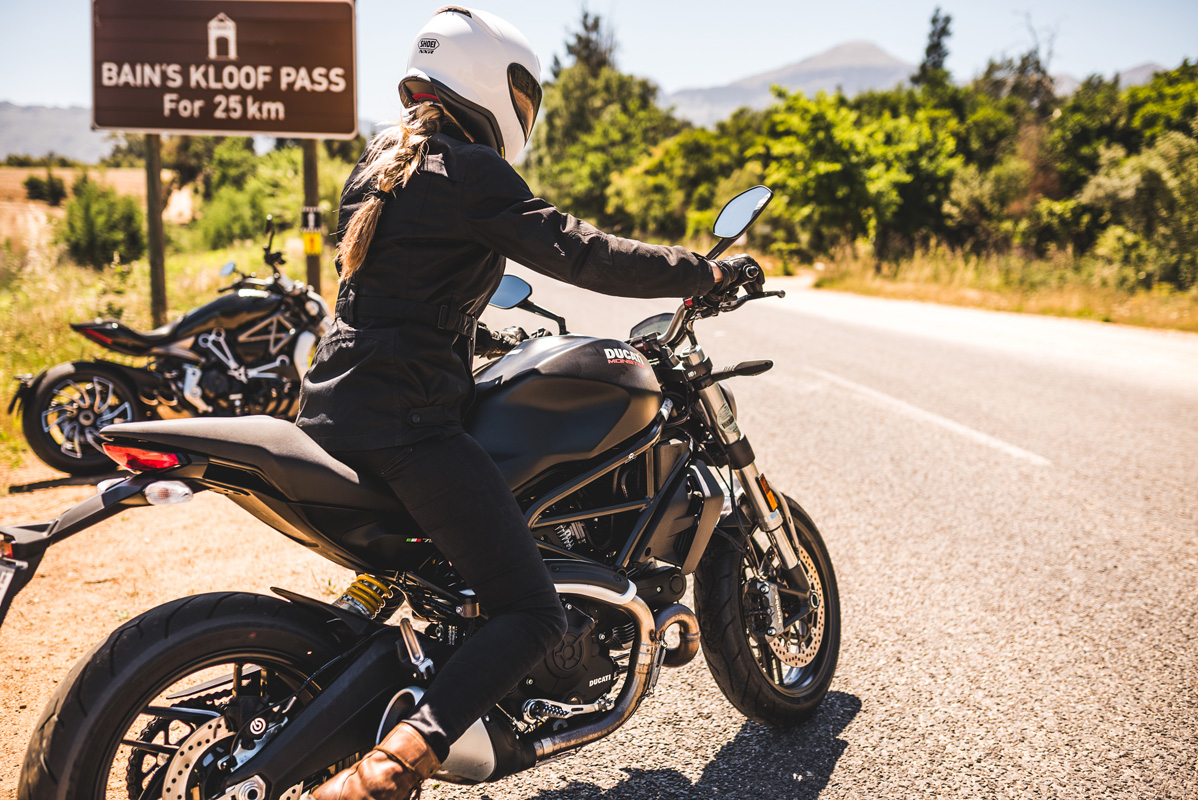 Zoë: I got into riding because I was bored of riding pillion. My boyfriend is pretty obsessed with motorbikes in all forms, so it was either get on board or get left behind. And I hate being left behind.
Sunette: I used to ride off-road when I was younger. I started riding again in 2012, on a Harley-Davidson Sportster 883, because my husband rode. I now ride a H-D Softail Deluxe—I wanted to move to a bigger bike and love the way it handles.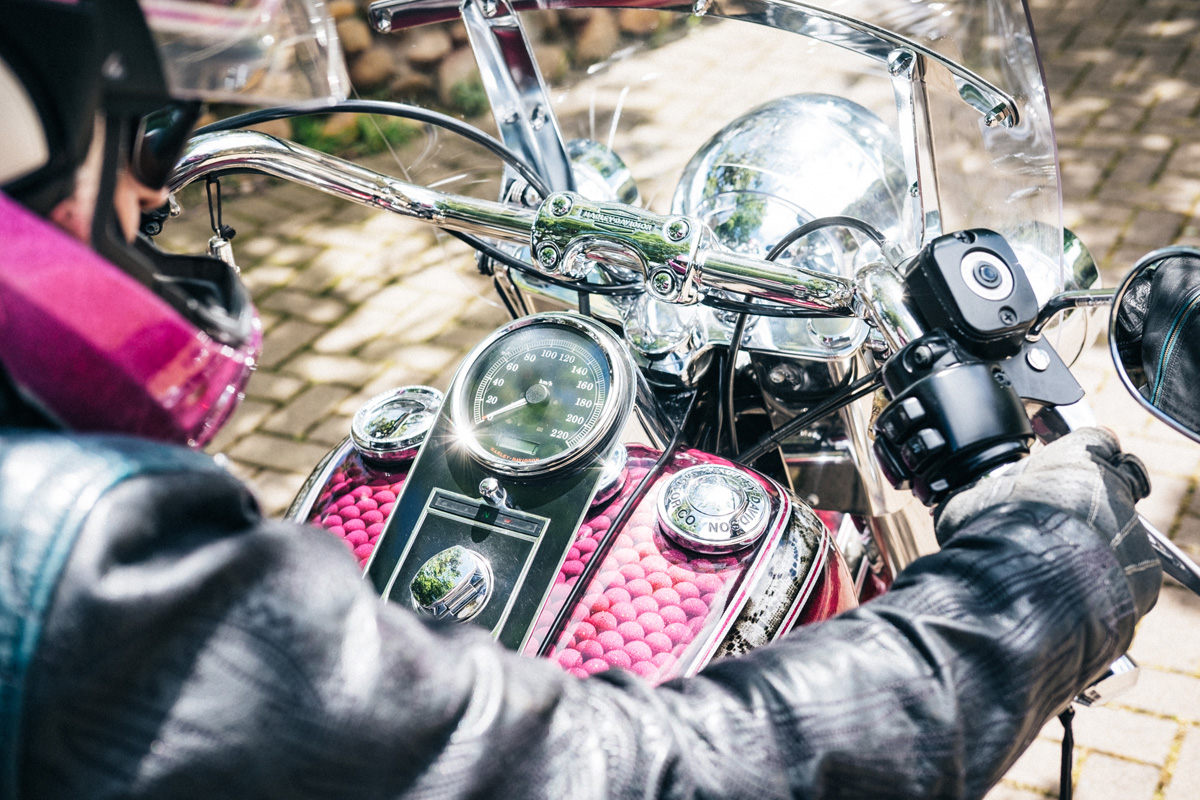 Mercia: I have always wanted to ride. My dad rides bikes so I grew up with it, but life happened and just never did it. So five years ago I decided 'it's now or never,' and I bought a Yamaha SR250 and went for lessons, and it literally changed my life. I found my true passion.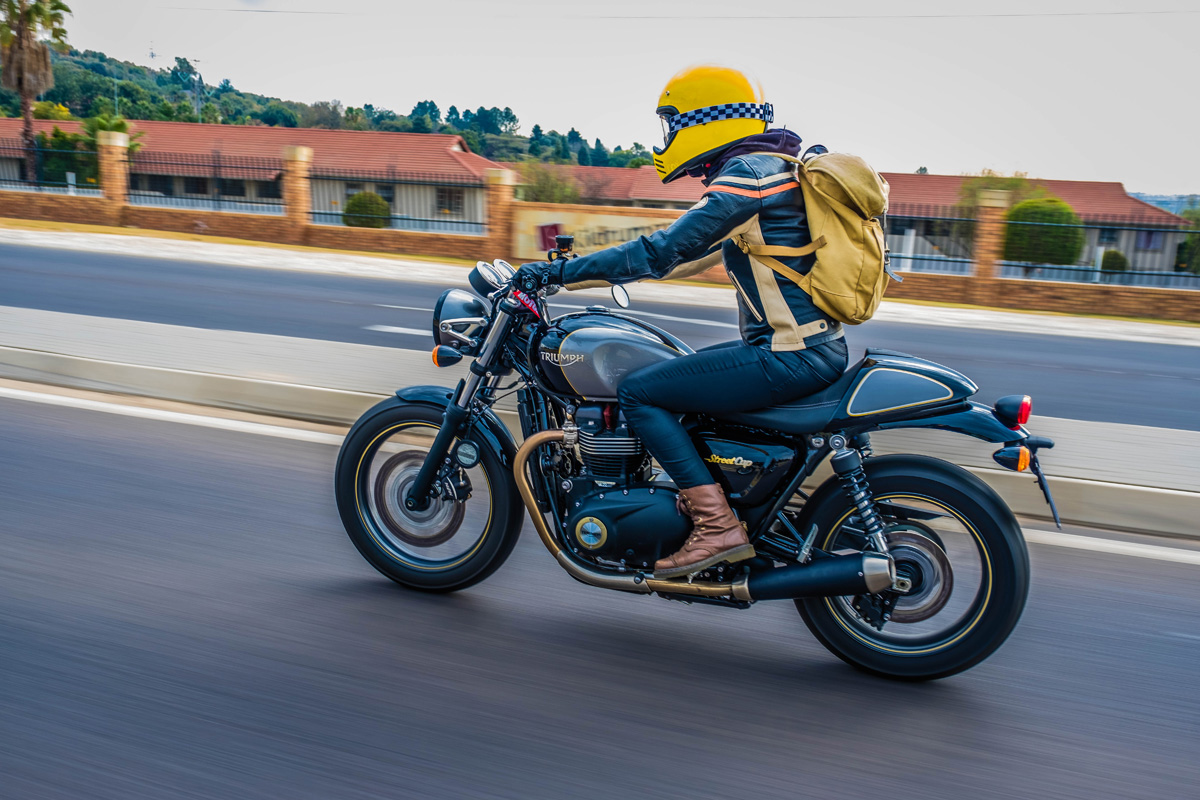 Teresa: I had never been on a bike, so when I met my husband, it was all new to me. But I love adventure and new things so I wanted to learn how to ride one myself. We got a little two-stroke Yamaha RX100 for me to learn on. I got the hang of it pretty quick, but because of the small capacity engine, I could never go anywhere to really build my confidence on it. Every time there was a ride-out, I would be pillion.
Woodstock Moto Co. in Cape Town became our hangout, and they organized an easy dirt ride out. I was determined to ride it solo with some other ladies. So I got my husband to kick-start his XT500 for me and we did a 200 km loop with over 50 other riders. I was in love! It was then that I started to actively look for a dual-sport bike and came across the Honda CRF250L.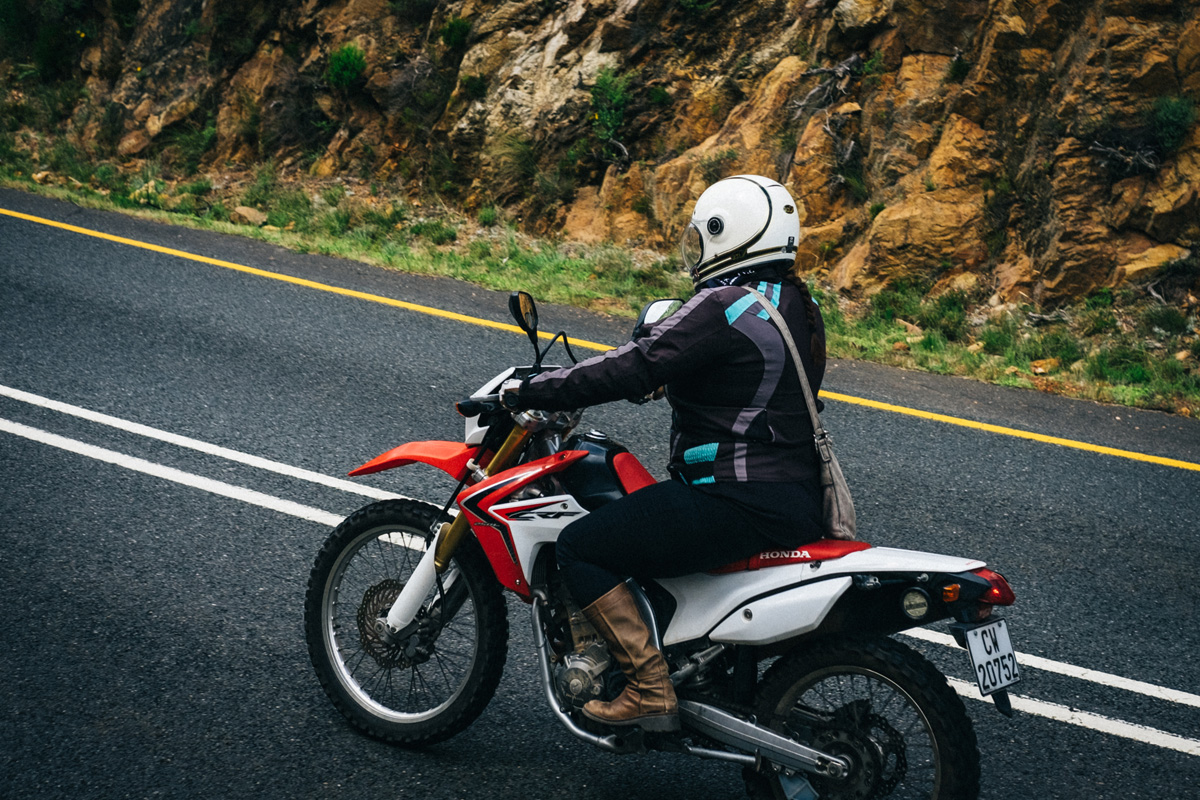 I attended a night where a British lady, Steph Jeavons, visited Cape Town to talk about her travels on her CRF250 across seven continents. It was so inspiring, looking at this tiny lady in her 40s, her bike all kitted out, travelling alone all over the world on her bike. There was simply no stopping me from that point on.
Why do you love riding?
Teresa: I love it because in that moment there is just nothing else. It's you, the bike and your environment. I ride past places I've seen every day and it's just different on a bike. A completely new perspective. It frees up something inside your soul.
Mercia: It's my happy place, stress relief and therapy. Where my mind is quiet and I just get to enjoy the moment. When I am on bike nothing else matters. I have also met some incredible people through a common love of motorcycles and been to some cool places. Riding is a perfect way to explore and discover.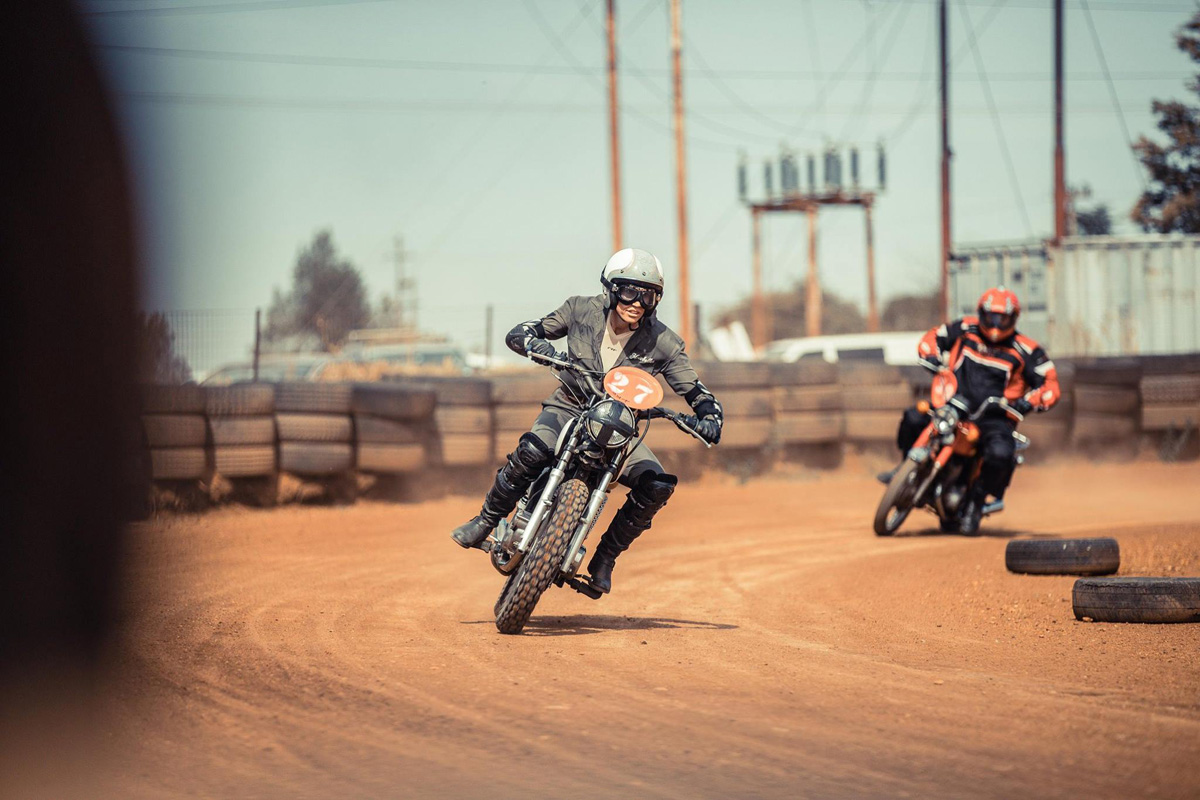 Zoë: I love the freedom riding gives you but, for me, its mainly about the places you can go on a bike. We have been on some incredible adventures since living here, exploring the country's back roads on bikes and making new friends.
There is nothing better than a challenging day of riding through beautiful scenery, which you feel so connected to, and then setting up camp and building your fire for the evening. Tired and happy, you feel like you've accomplished something.
Lauren: Because I destroy traffic! it takes me six minutes to get to work and back—you never get time back, so why waste it sitting in traffic? It's also the thrill and excitement.
I also love testing my abilities, seeing how I can ride better, faster, more skilled and, of course, bashing down those gender stereotypes. Some meetings I'm arriving in a corporate dress and high heels, in others I'm arriving in my riding jacket, boots and helmet in hand.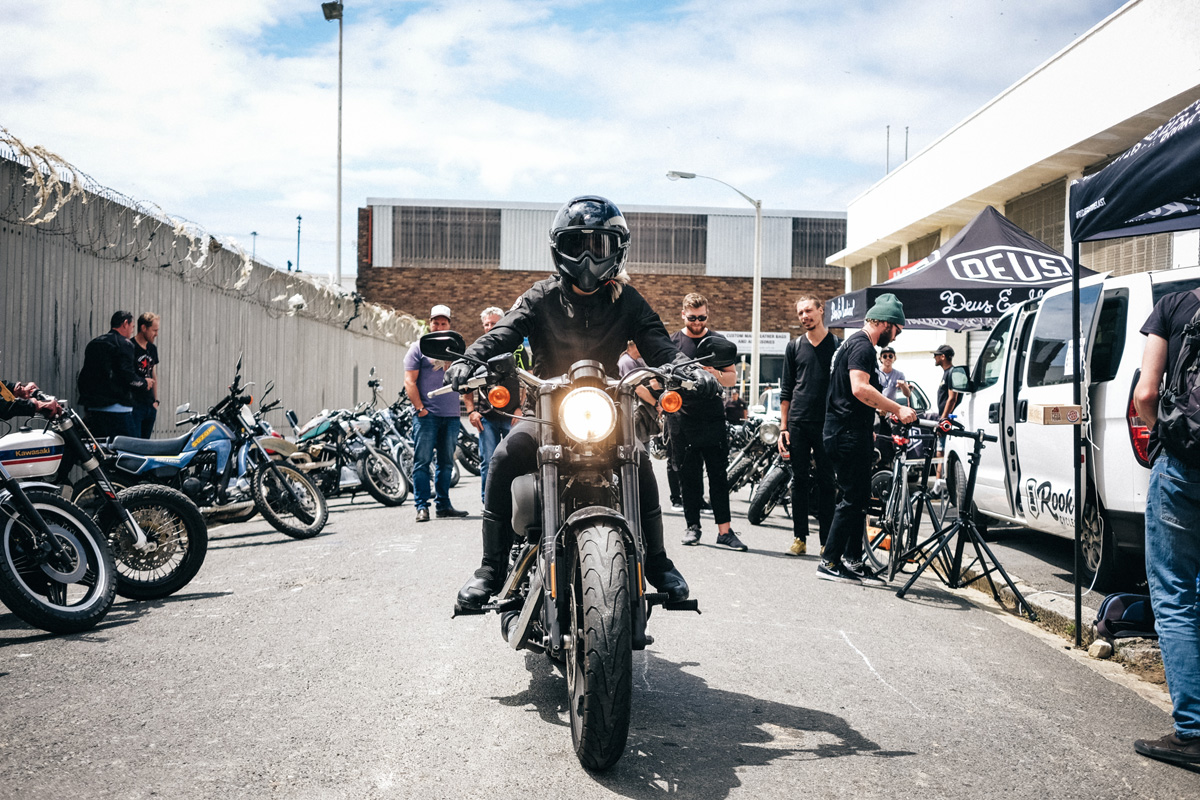 Motorcycling is traditionally a male-dominated pastime—what's it like being a woman in that world?
Zoë: I take issue with being called a lady biker if I'm honest. I think bikes used to represent a whole bunch of male stereotypes and the danger is for men to inherently be condescending about female riders. But I honestly don't pay it much attention and just try to get on with it.
We came across a farmer at a dead-end road in the Cederberg the other day, and he caught my eye and asked the guys we were with if the two 'ladies' could keep up OK… That sums up the problem!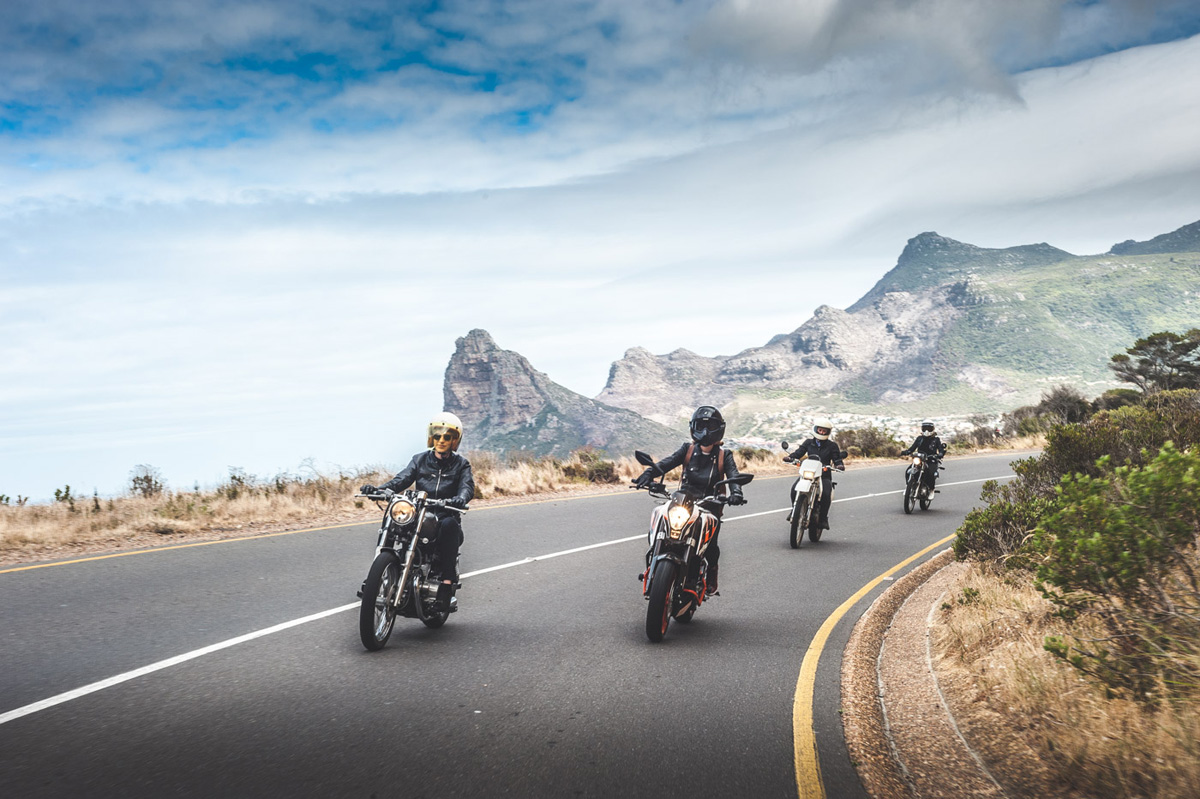 Lauren: I'm often the only female rider on the monthly group rides, and for me, there is more pressure for me to ride better because I'm female. I feel like I have to prove to them that I deserve to be there just as much as every other guy.
In the back of my mind and whenever I see someone in my mirror, the first thing I think of is 'don't f— it up.' The best thing is, none of the guys are actually waiting for me to make a mistake—in fact, there is always a compliment or two on my riding ability.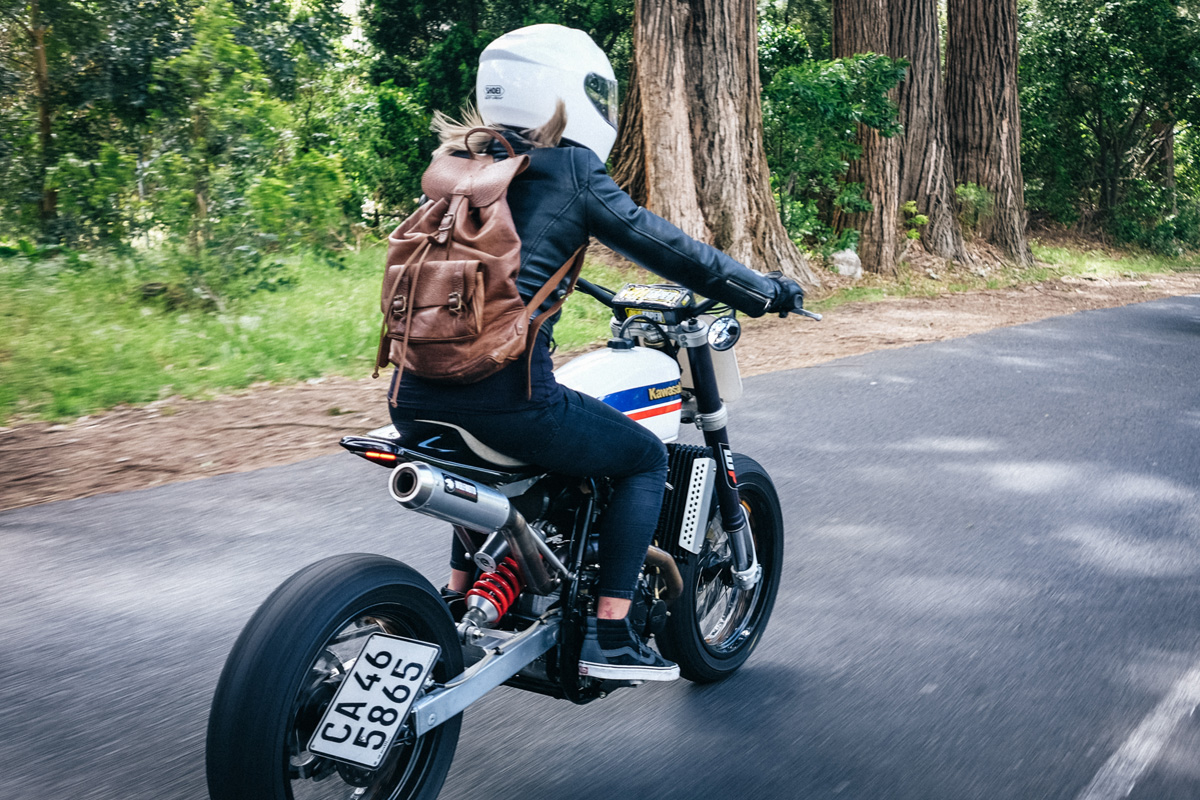 Teresa: I've always been the girl with more male friends than female friends since I can remember. So I don't find it intimidating at all.
It was so funny when we went on our first breakfast ride with the Sunday Brunch group… it was all boys. It was their 'man cave' morning and here was the wife insisting on coming along. There were a lot of semi-hostile glances during the first hour but they soon realised that I was just like them. I had the same passion, the same love and the same interest in bikes.
Sunette: I think that I ride better than most of the men in our group.  I am an active H.O.G. marshal and love doing it. The guys definitely respect me, as most of them won't marshal themselves!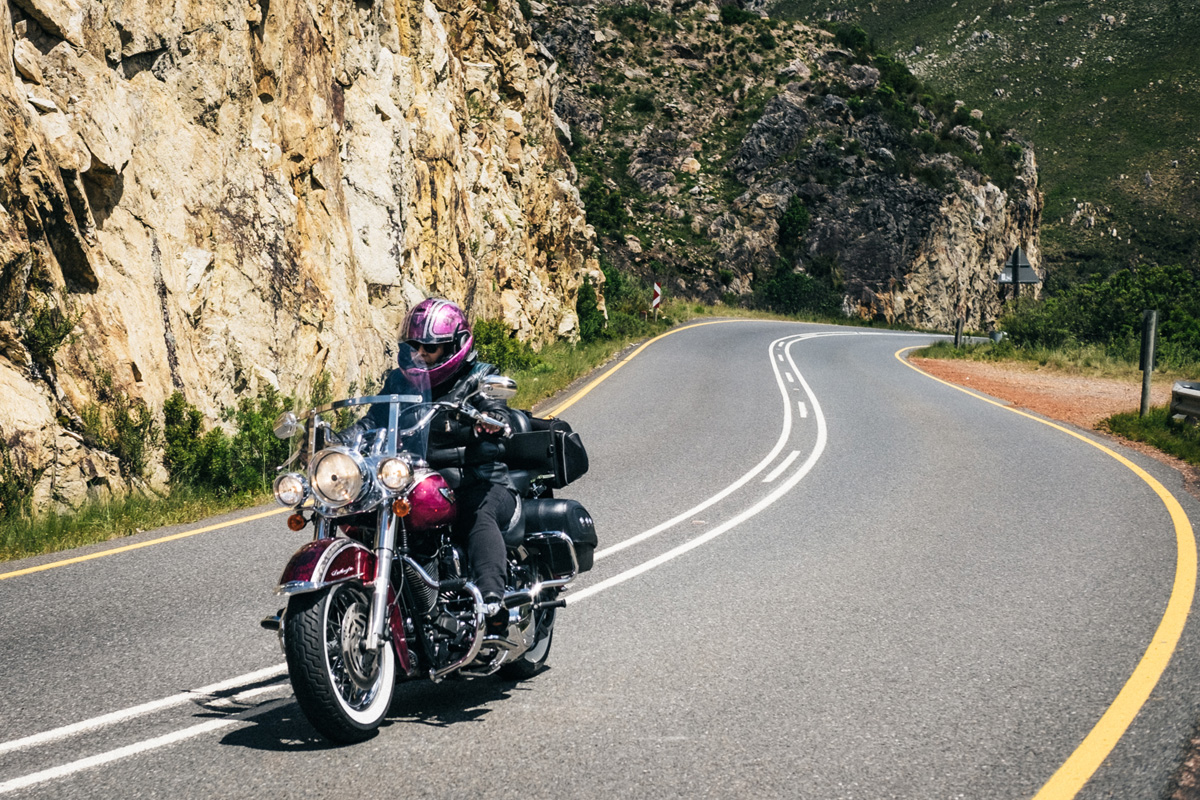 Mercia: I have always been treated with respect and I think it's because I just get on with it and go with the flow.  If you want to be in a traditionally male-dominated world you need to realize you have to just fit in and not be a princess.
I was the first girl to join the Sabie Bubble Run in December 2015 and was fully accepted as one of the guys, and it inspired more women to join in later years. Guys do tend to check on you a bit more just to make sure you are OK, but they soon let you just get on with it.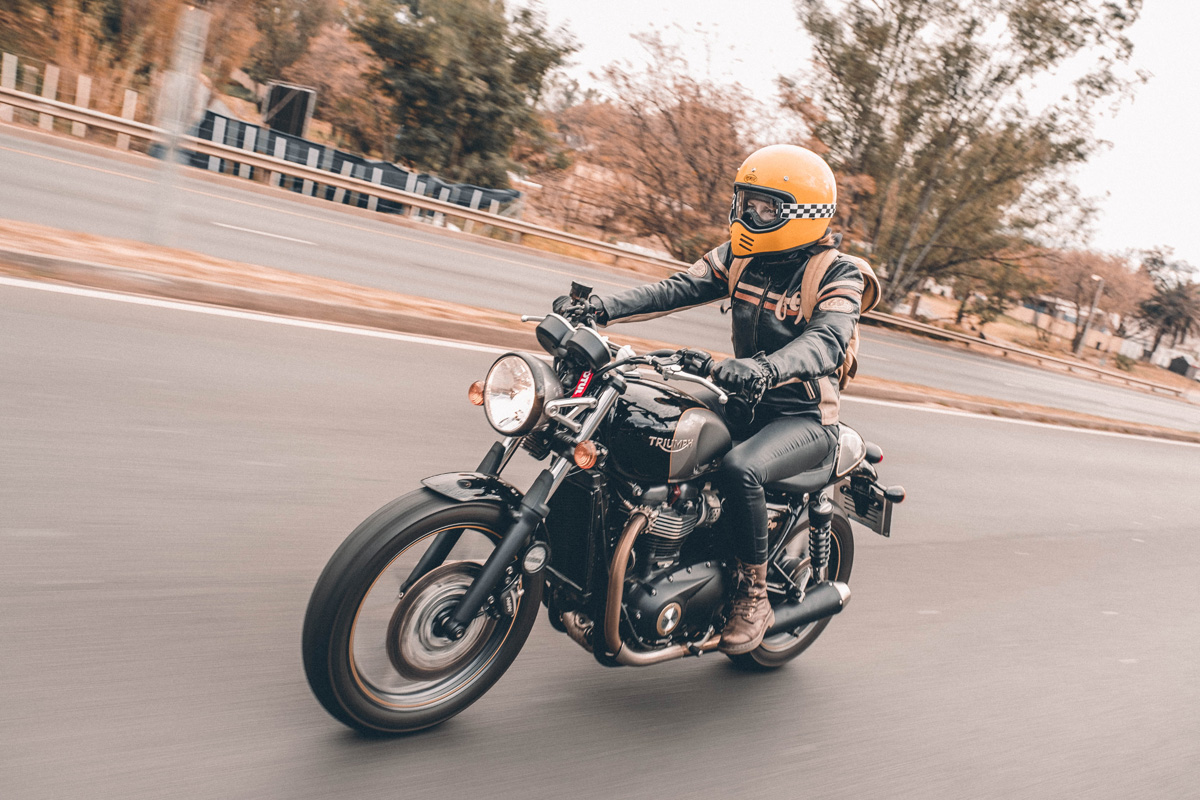 What's your take on riding gear?
Sanela: I'm all about 'All The Gear All The Time.' If you bail or get hit, it's the gear that will most likely save your life! We really do lack gear options for women in SA, most likely due to the exchange rate and the small industry of women riders. Being a woman, we like things to fit well, and yes, look decent too! No one wants to dress in chunky leathers—the stereotypical image of woman riders in the past.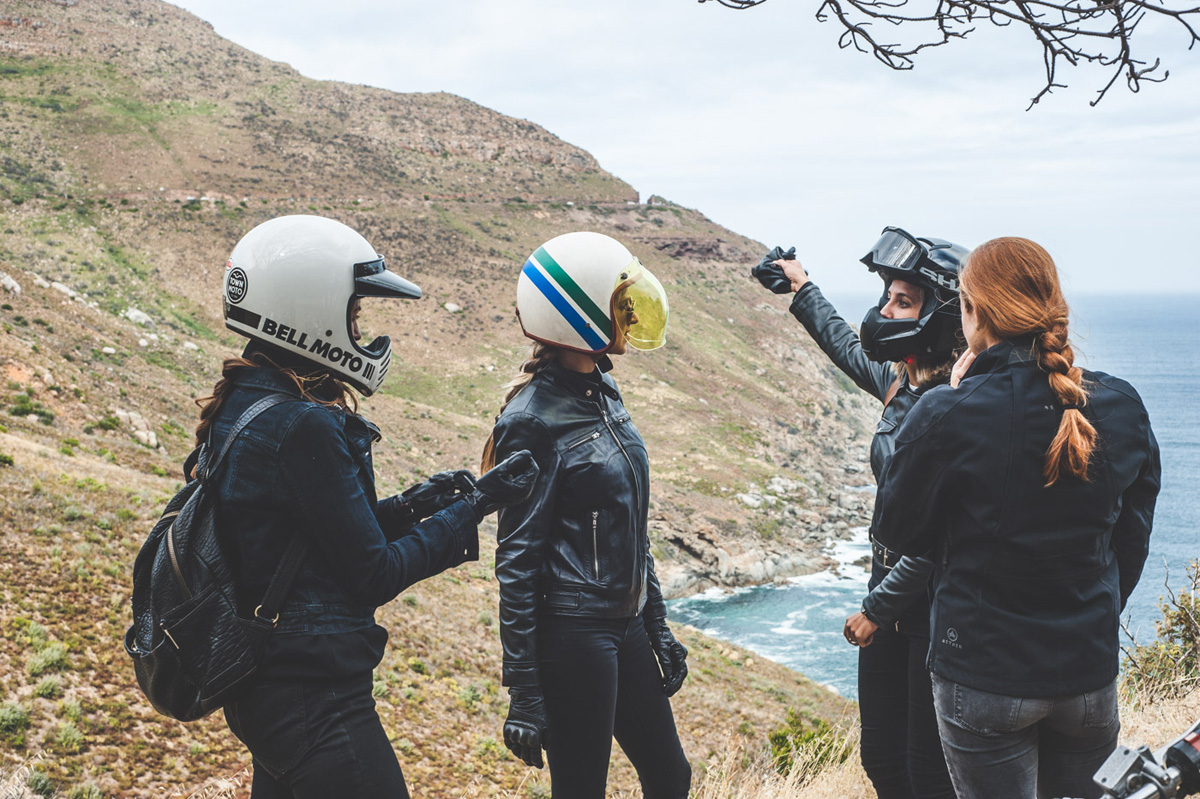 Lauren: I ride in a Shoei helmet (or sometimes a Shark), a riding jacket and some Vans high tops, but that's as far as I go. If I ever gear up fully, I look like a little Oompa Loompa and actually land up rendering myself immobile.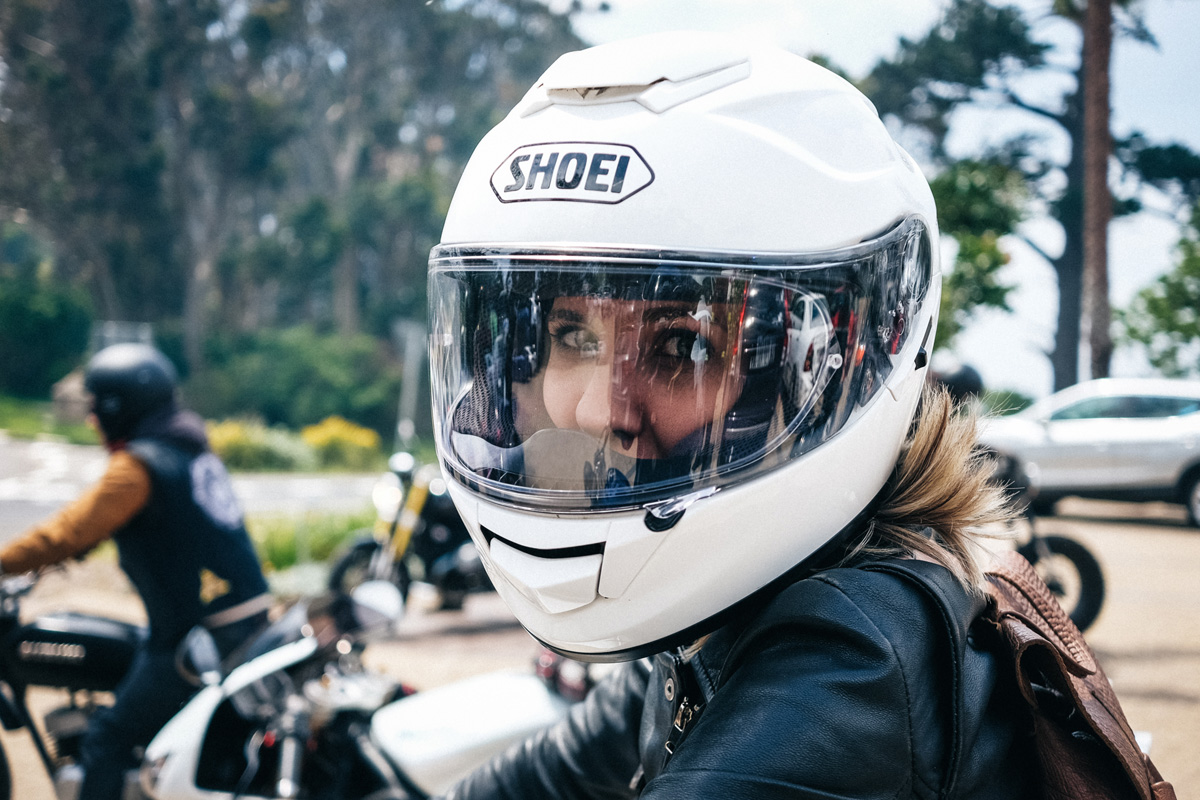 Teresa: My helmet, gloves and jacket are always on. I always wear thick leather boots as well—no flats or tekkies.
In South Africa, finding good gear is a nightmare. I don't know why manufacturers think we all like pink and frilly designs, and none of the women's gear in South Africa is flattering at all. I'm also not small so most gear makes me look like a stuffed sausage, as the designs are still based on men's gear.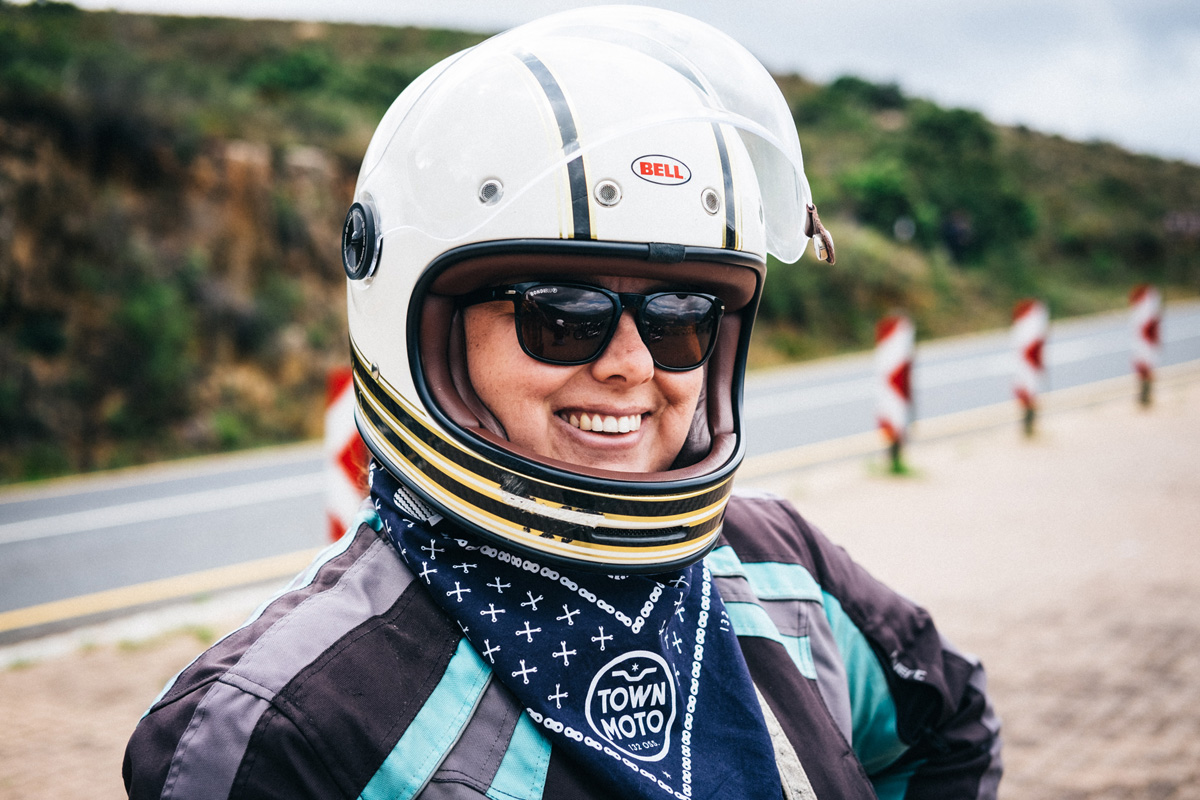 Zoë: I used to wear an open face helmet and an old Barbour waxed jacket, but my grandmother intervened and now it's a full face, goggles, boots and an amazing armoured jacket by Aether. I think all the gear is important, but the heat in South Africa can sometimes make that a very sweaty affair.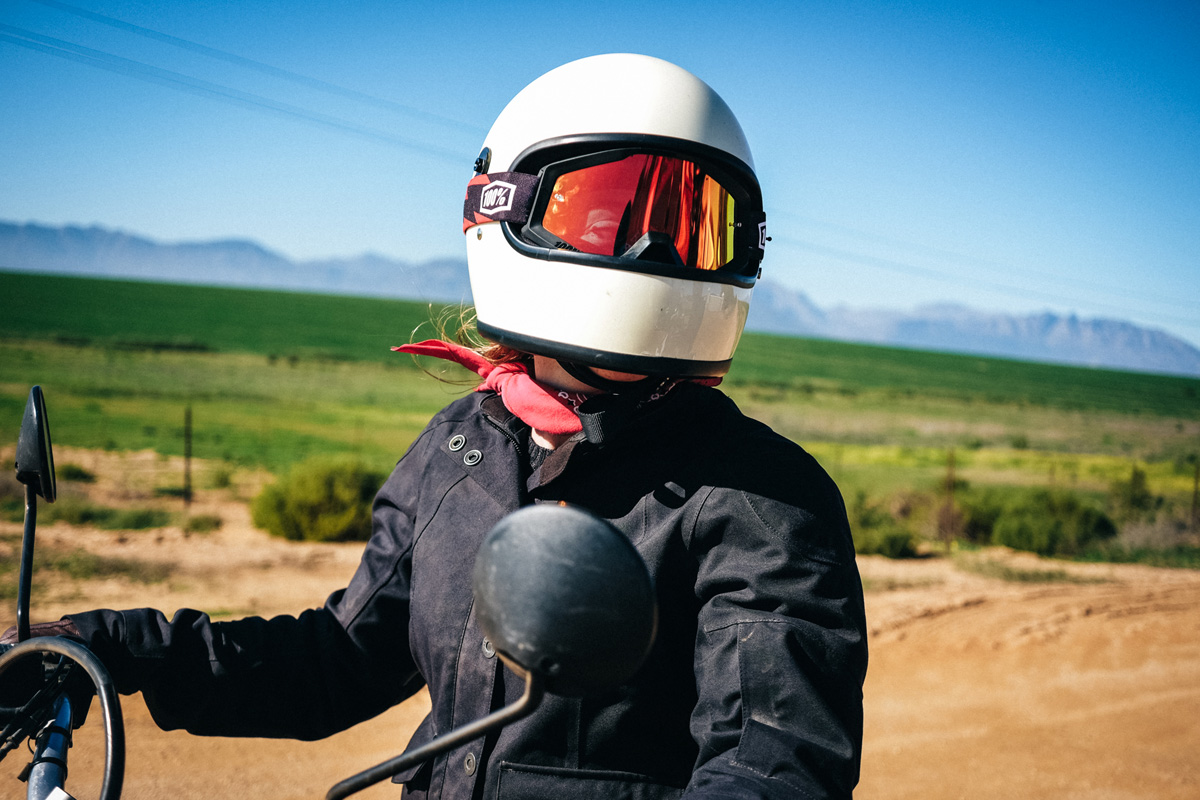 Do you think the Instagram boom of women that ride creates an accurate picture of the average female rider, or do you think social media distorts reality?
Lauren: Social media completely distorts the idea of female riders. We do not and cannot all look like goddesses on a bike wearing cheeky shorts, bikini tops and strappy vests. What looks good on Instagram is not reality.
Yes, I like to upload rad photos of myself riding—I'm proud to ride and I'm prouder to be able to ride like one of the boys and yes, I want to celebrate that. Dudes want cool photos of themselves riding and so do girls! But I'm not going to pretend my life is something that it is not, and I'm not going to stop my ride to take fifty million scenic selfies of me on my bike just to get a thousand likes.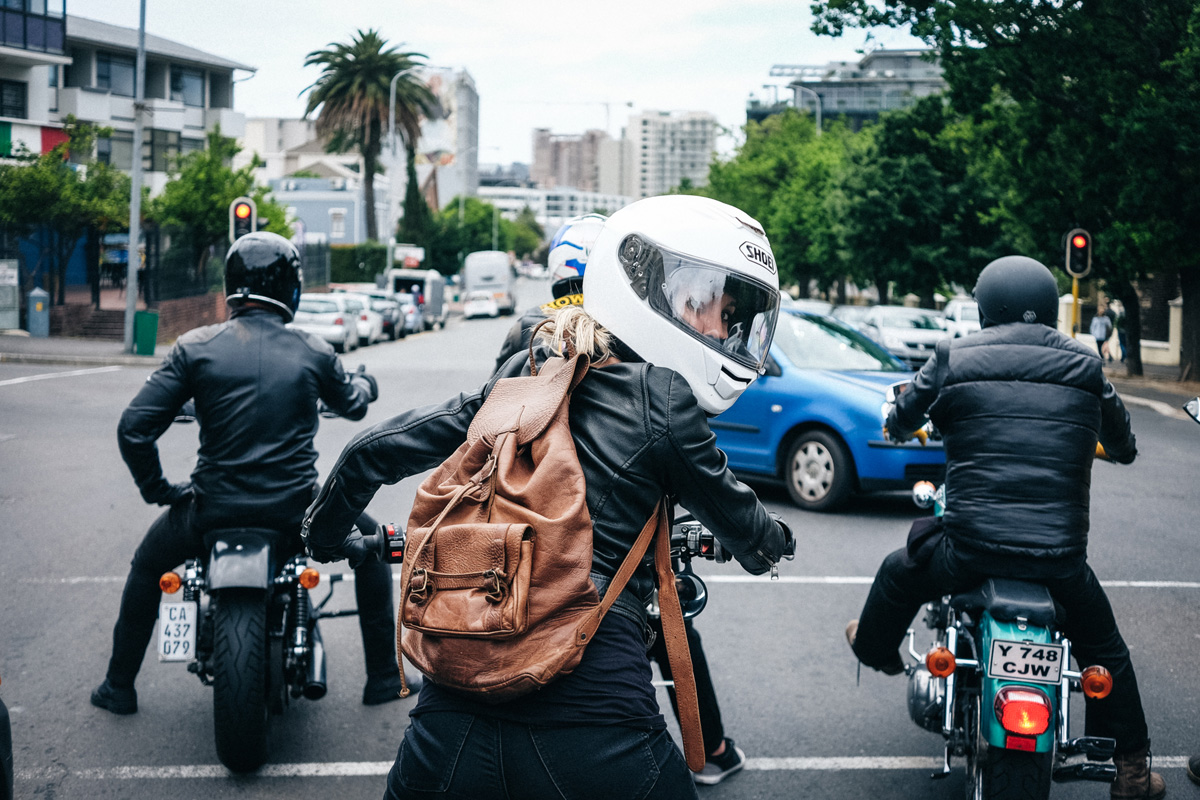 Sanela: Everything on social media is distorted, unfortunately. It's about being open to an idea from a personal interest. Where there's woman involved, there will always be some that are seeking attention.
Mercia: I think it's a bit of both. I think it has broken the stereotype of woman bikers. There are some truly inspirational real women riders on Instagram, but there is the distorted reality too. Helmet hair is a real thing, bugs hitting your face is a real thing. Very few girls get off a bike with perfect hair and perfect makeup… but they always have a smile on their face.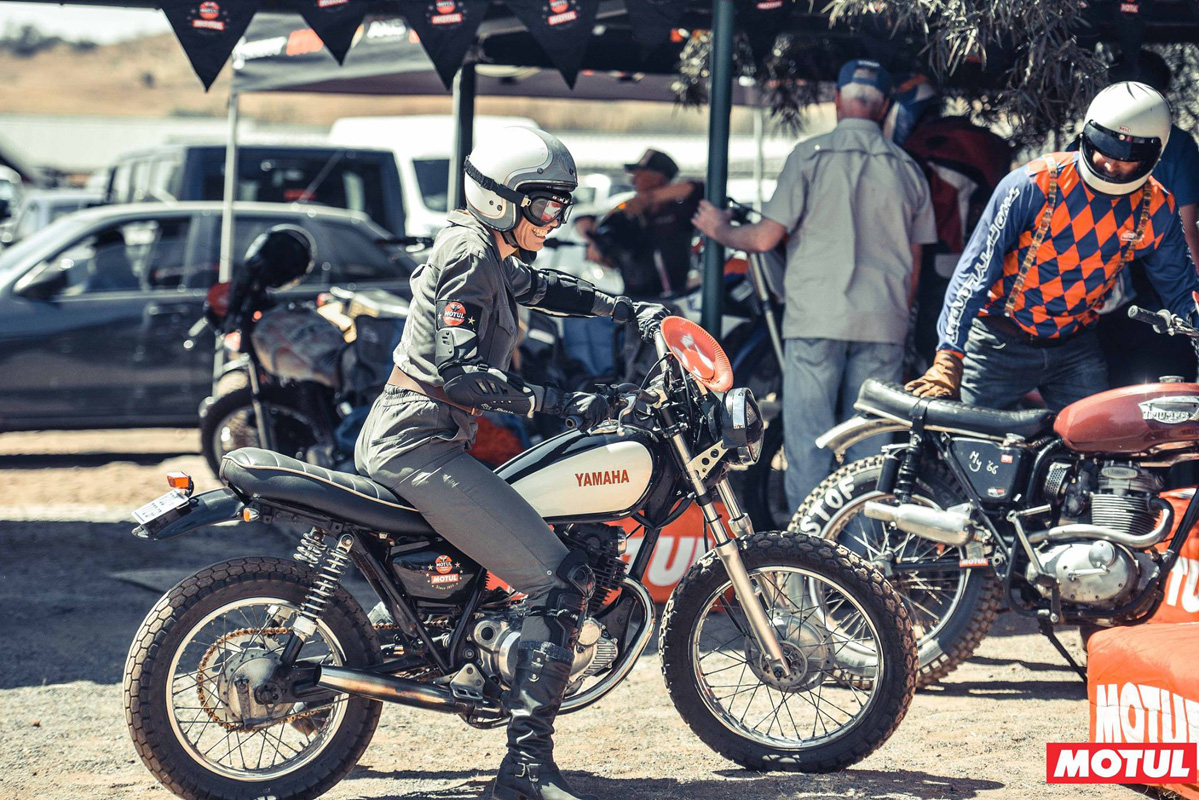 Ashleigh: The majority of social media only shows us the good side of riding. Like anything in life, there is good and bad, with safety being paramount. You have those rides where suddenly here comes the rain, and by the time you get to your destination, you look like a drowned rat, with every inch of you soaking wet. Not glamorous at all!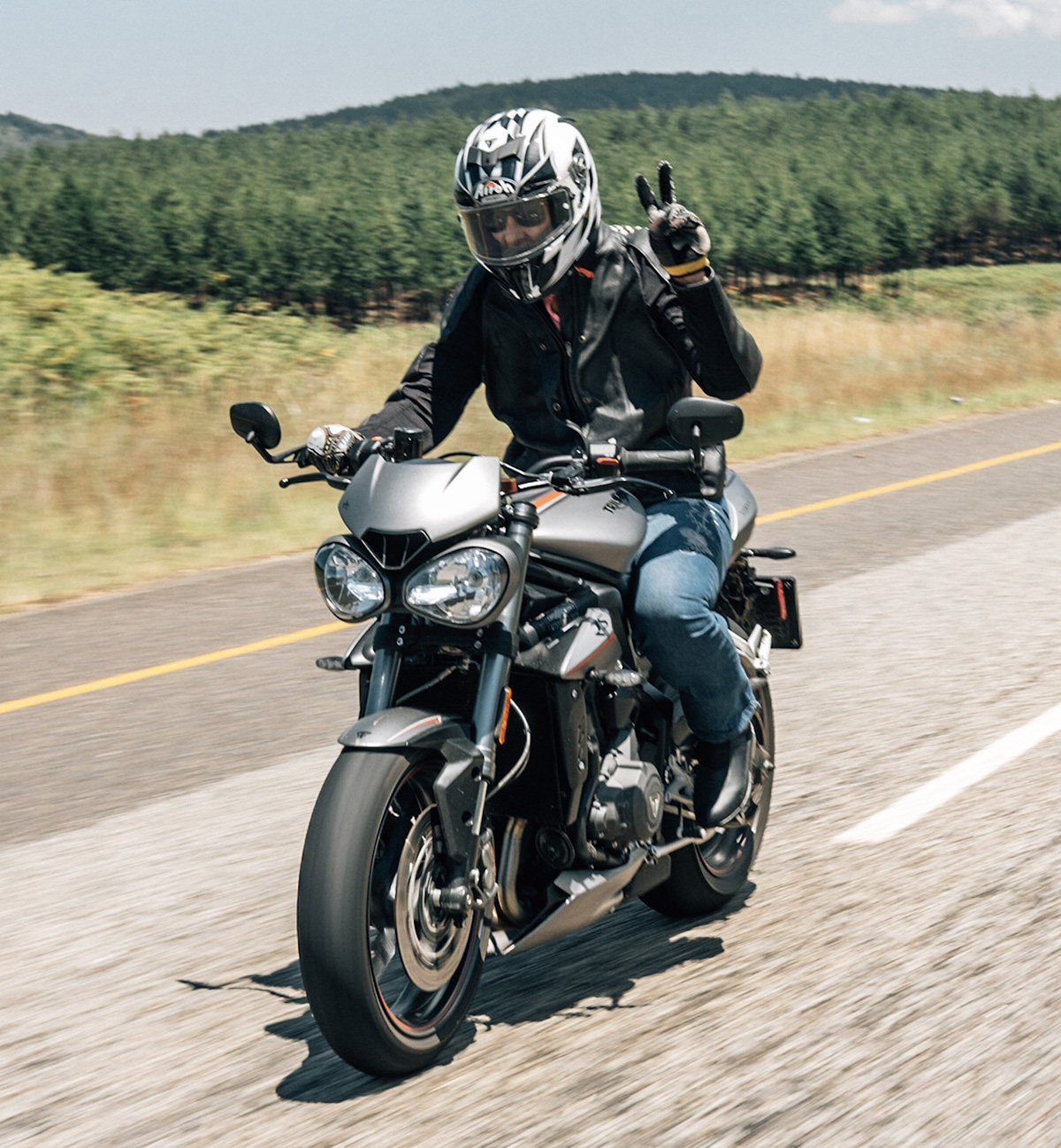 What do you wish people would realise about women who ride?
Teresa: That we don't do it for the hype. We do it because we all experienced that insanely freeing moment of doing something no one thought you ever would or could. I also think female riders are more careful, we think ahead. We plan the route out in our minds, where are we going to park…well that's what I do.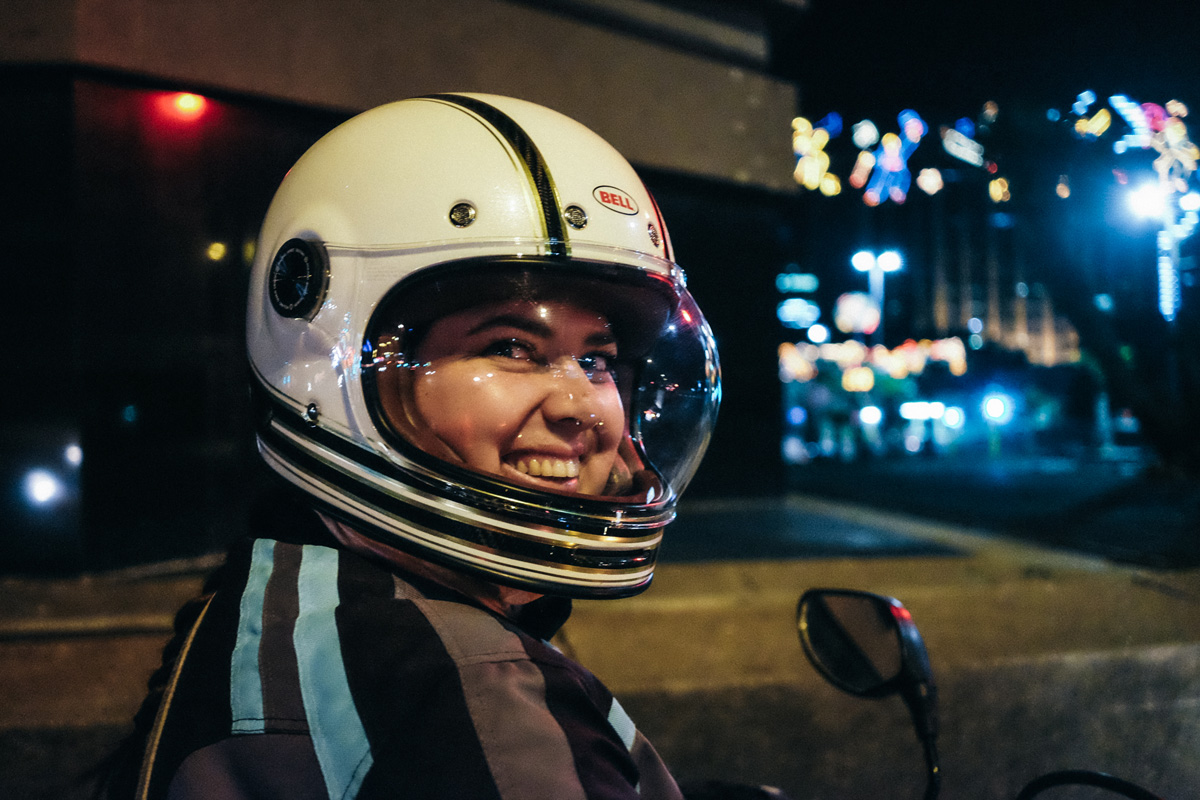 Sanela: We are not doing it to be different or to be noticed, we are doing it for the love of the feeling!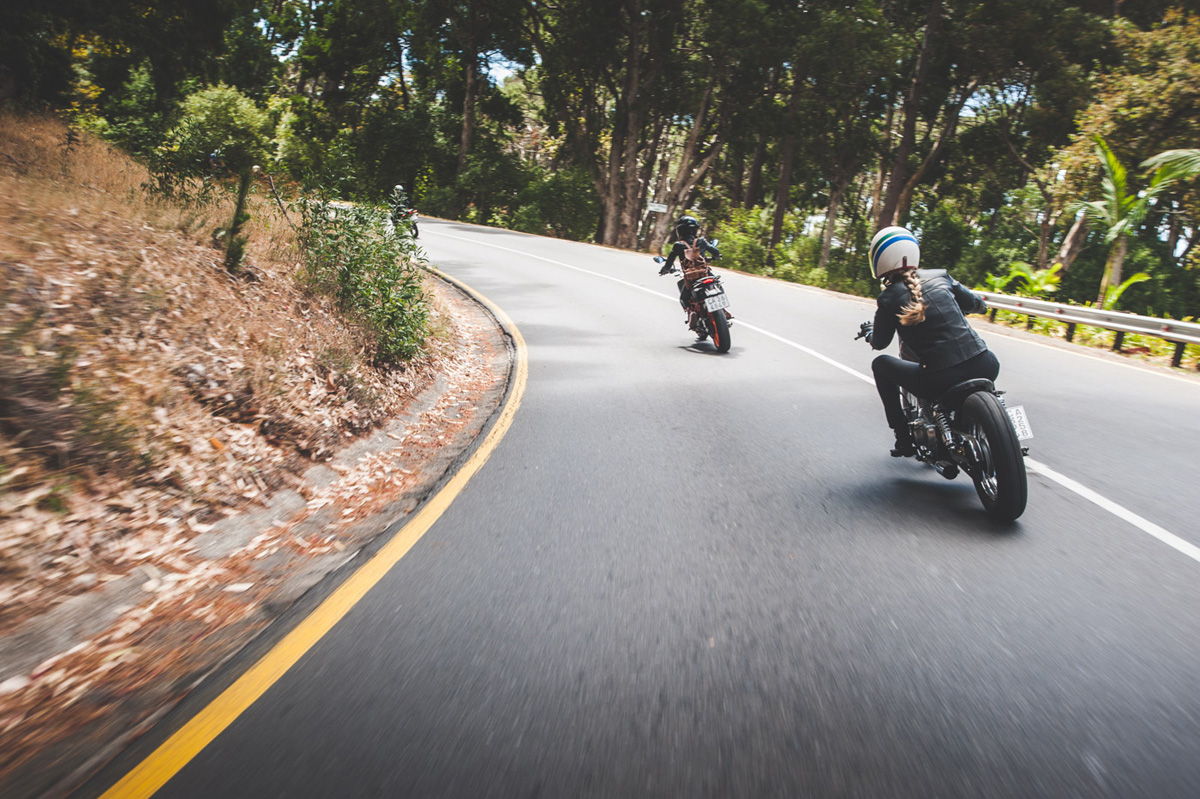 Sunette: That we actually ride our own motorcycles. Whenever I am in my riding gear I am asked, 'do you ride with your husband?' Most people think that women cannot ride their own motorbikes.
Ashleigh: I find women riders are not competitive (excluding the ladies on the track)—we all ride at our own pace and we make sure all are comfortable.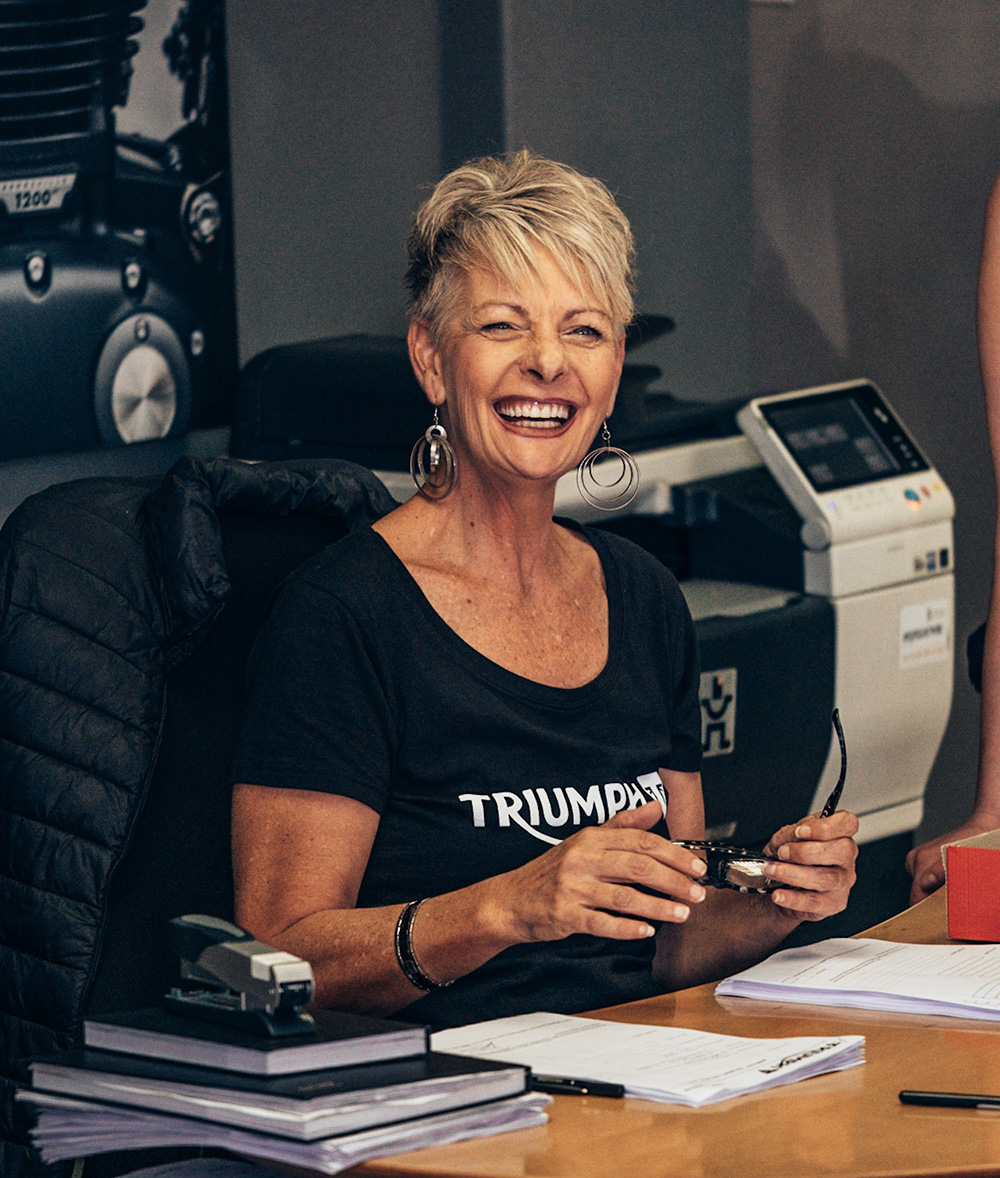 Mercia: We can wear lipstick and ride well.
What's your advice to any women out there curious about riding?
Zoë: There are a lot more barriers to entry to motorbiking for women but do not be intimidated; people are really willing to help out. Find a local motorbike garage, club or social meet up and ask for help. Check out what's happening on social media and head along. If you're in Cape Town, the WMC and The MotoSocial are the places to go to.
Lauren: Start off by riding pillion. I really do believe that being a pillion rider has given me the riding ability to progress as quickly as I have. It allowed me to take the risks where needed and ride without fear because I was able to do the same on the back of a bike. Then, get a bike that fits your frame and you feel confident on when stationary. Lastly, practice, practice, practice.
Sanela: Just do it! You won't regret it and will thank me later!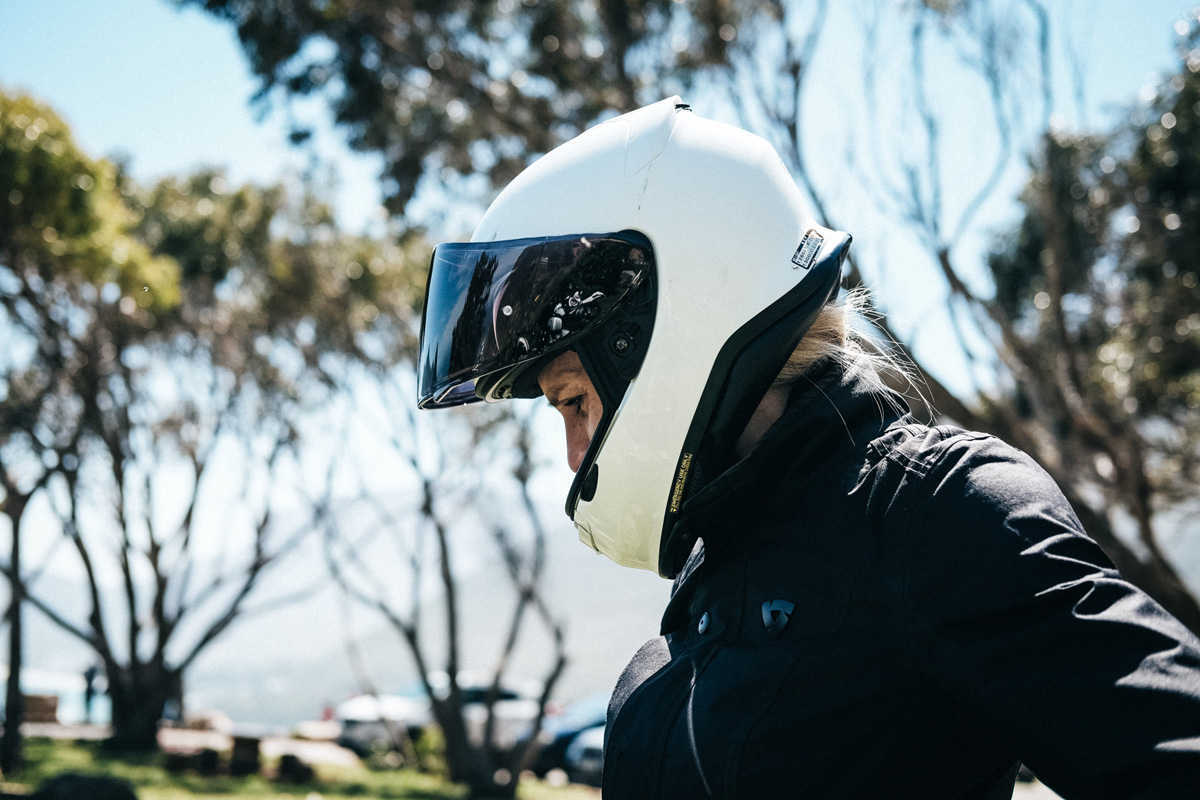 Sunette: It will be the best thing you ever do for yourself.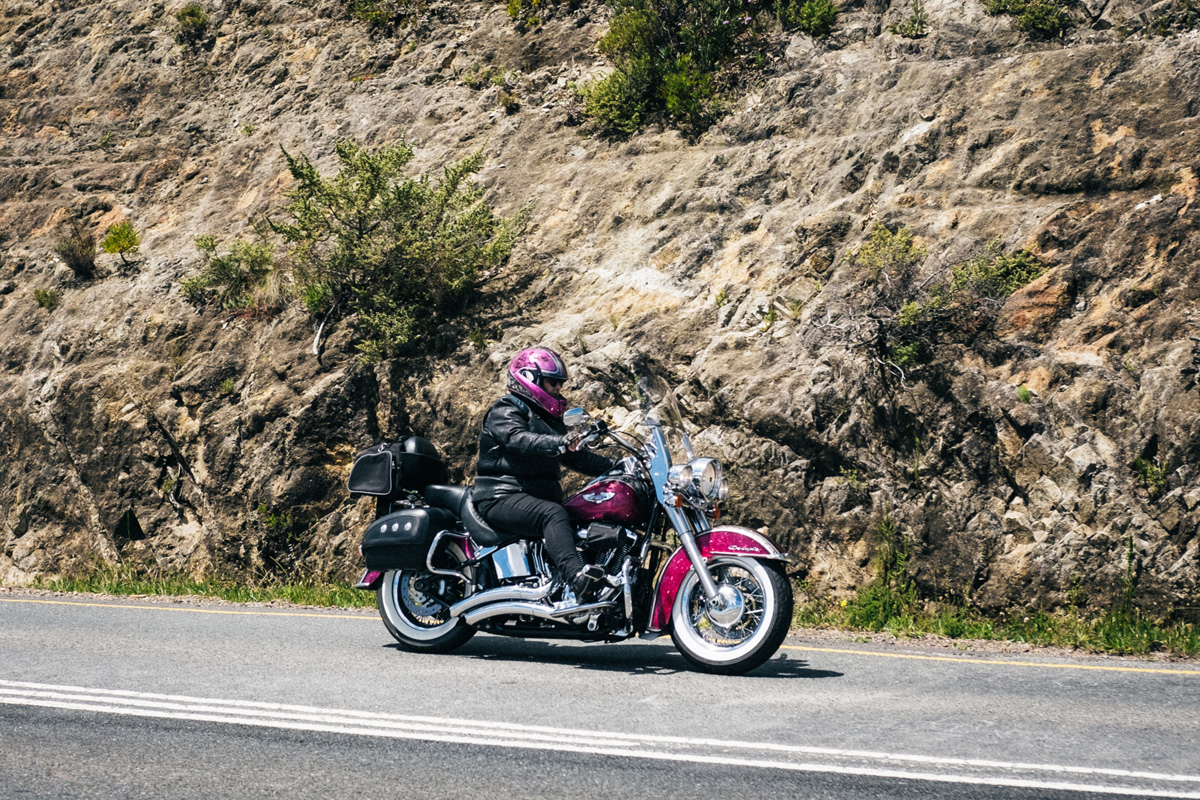 Ashleigh: It is extremely liberating to be in control of your own motorcycle and not be a pillion where you have absolutely no control. Time in the saddle is your best friend, as this is what builds confidence.