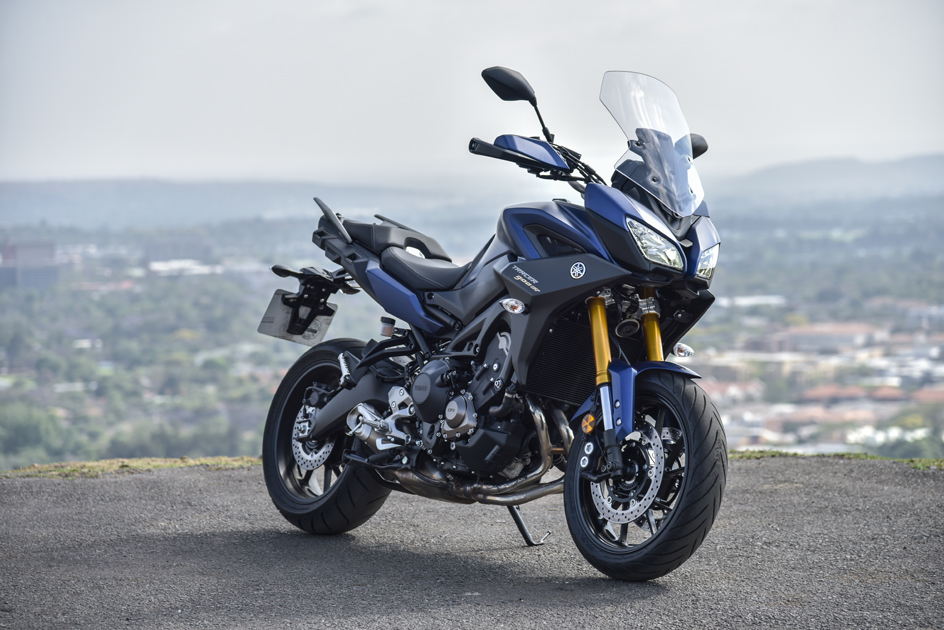 Yamaha's Tracer has been around a while. Endowed with their wonderful CP – 3, 847cc three-cylinder motor, it hits something of a sweet spot for me. It is big enough to be comfortable two up and has enough poke to be able to take the "Sports" part of its name seriously. Let's just expand on the merits of the motor. This mill has done duty in a number of MT-09 variants and has gained a deserving fan base over time. Triples are soulful at the best of times, with a torquey nature yet decent top-end hit. There is a delicious gruffness about Yamahas triple that I particularly like. Sweet as a nut off idle, it is happy to doddle around in the traffic, yet crack the whip and it unleashes all of its 115 horses in splendid fashion. Let me just say that these are not Shetland ponies but rather fiery Arab Stallions! It just seems way more potent than 115 horses would suggest.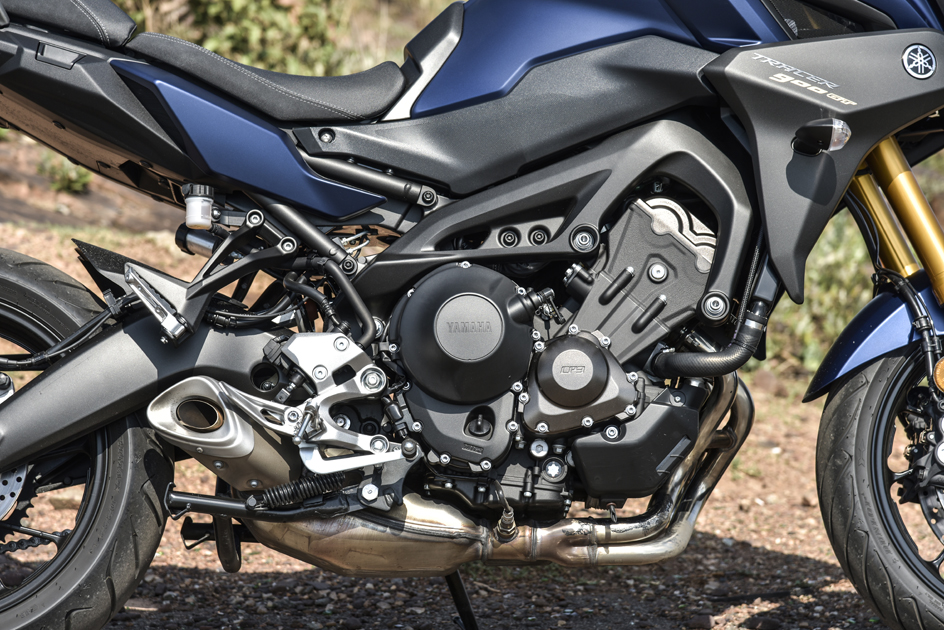 Early MT-09 models suffered with iffy fuel injection which in "A" mode was way too on-off switch like, yet in "B" mode had a built-in flat spot off the line. "B" mode hasn't improved much, but it doesn't matter 'cause now you can just leave it in "A" which is perfect. A slipper/assist clutch keeps that side of things tidy and gear changes are accurate, aided by a standard quickshifter. All very good in the drivetrain then.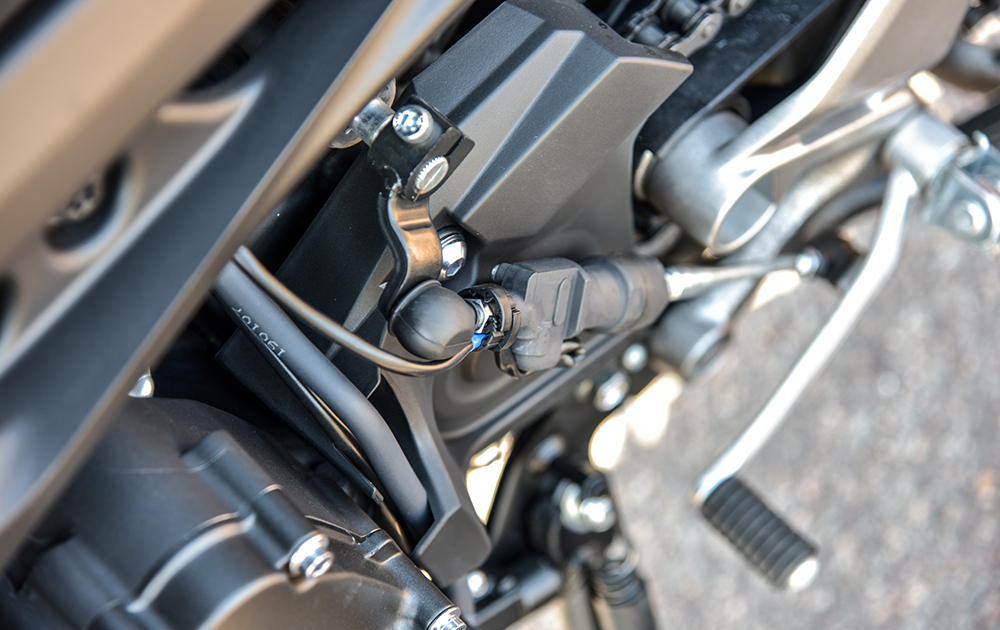 The Achilles heel of the previous generation Tracer, as well as the rest of the MT-09 range for that matter, was suspension that was either too hard, too soft, but never right. The Tracer suffered from high-speed instability that was disconcerting, to say the least, as well as frustrating, as you could never properly extract the potential from the stellar engine. I am ecstatic to report that the GT is totally cured! Yamaha has gone to great lengths to sort out the handling issues.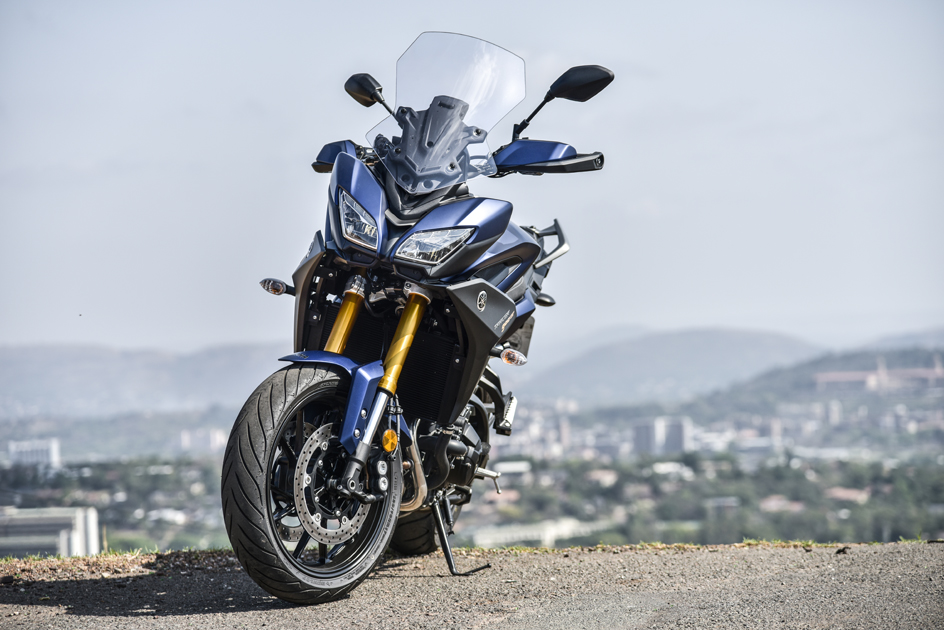 Fully adjustable KYB suspension, with 130mm plus travel at both ends, works well in a new frame with a longer swingarm and a new sub-frame. Suffice to say all is now well with the handling. This elevates the Tracer to a whole new level. Dive into bends with great feel and adequate power from the familiar unchanged brake setup, then pitch it on its ear and drive out of the bend using the rich midrange from the triple. Steering is pin-point and easy. Damping is decent too, giving a firm yet supple and controlled ride. The combination of wide flat bars and overall lightweight, allied to a good chassis, makes the new GT a weapon on a windy road.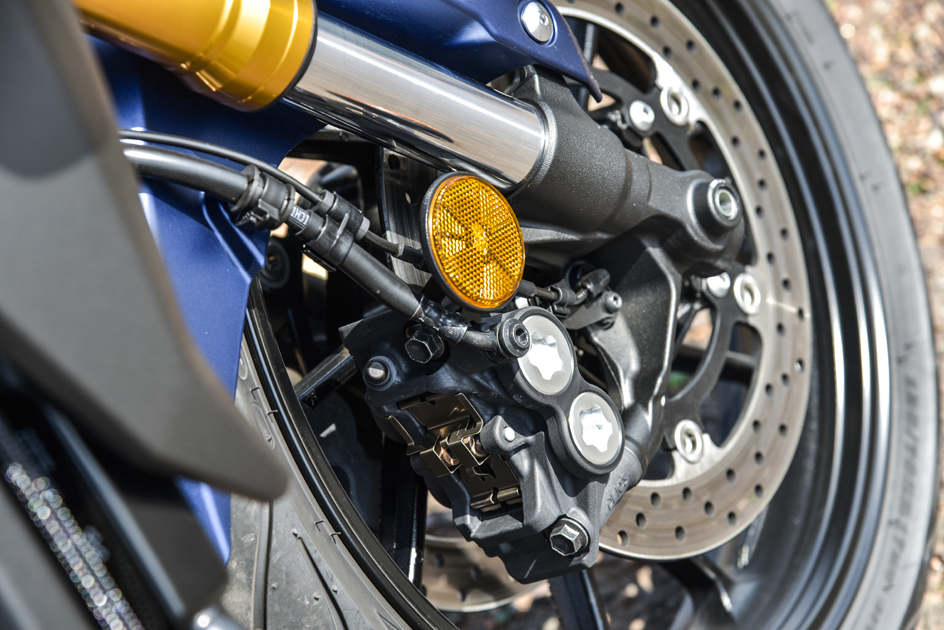 Ergonomics for both rider and passenger are good, however, I favour putting the ball of my foot on the peg when pressing on a bit and found that the back of my size 11's would bump the front of the passenger pegs. The passenger peg hangers on the GT are longer than before to improve passenger comfort. This is the culprit for the clash of feet. I hope the suspension upgrades filters down to the rest of the MT-09 range, as they will be all the better for it. [I speak under correction, but I believe that the standard Tracer has lower spec suspension].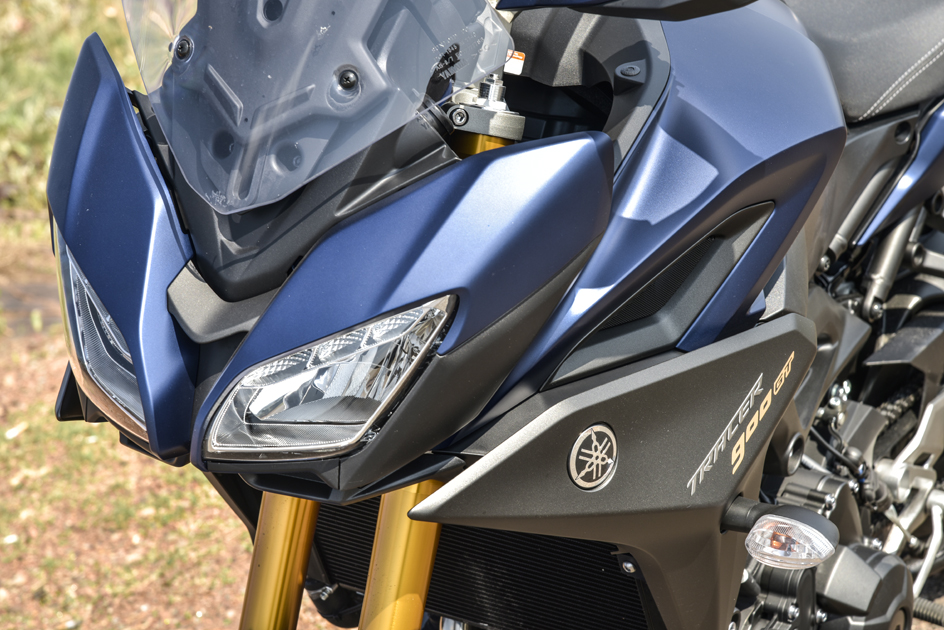 The GT has mounts integrated into the sub-frame for a brace of 22-litre panniers. The seat has new multi-density foam which cushes the tush quite comfortably. The seat narrows towards the tank to allow for a flat-footed stance at traffic lights. There is provision for around a centimetre and a half of height adjustment on the seat.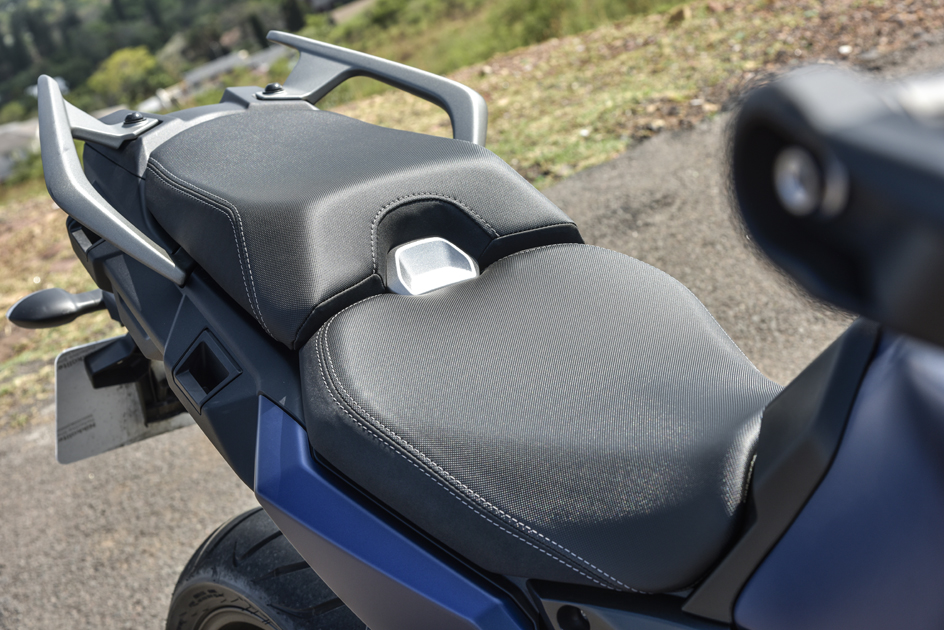 The windscreen is now one hand adjustable with a system similar to Ducati's Multistrada. Nice. The screen remains on the small side and is an area where aftermarket screen suppliers will have an opportunity to strut their stuff. I found the screen OK, but not great. A TFT display is also unique to the GT and gives you all the info that you need. It is more legible in sunlight than the old setup.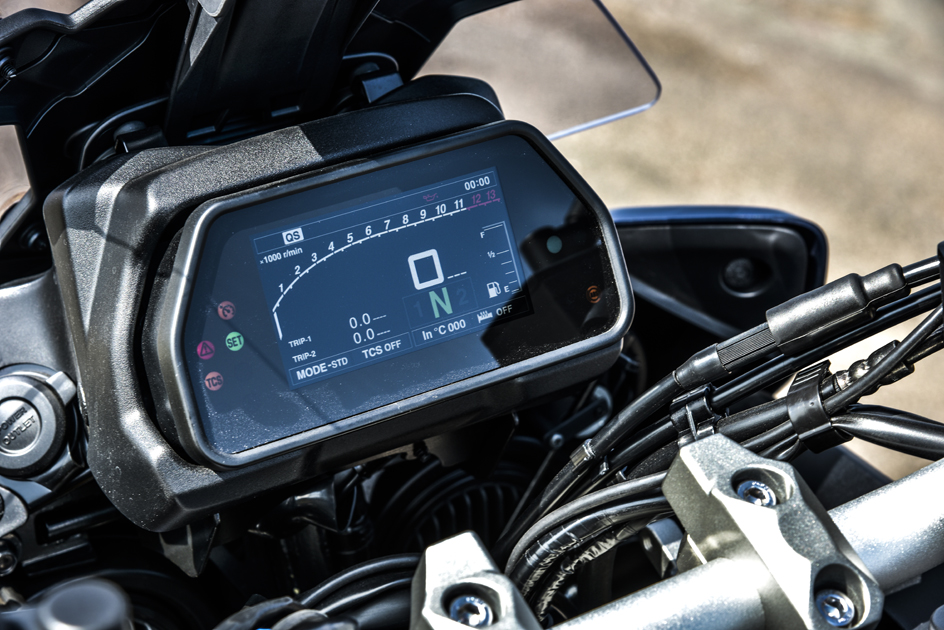 Other very nice to haves on a Sports Tourer, are cruise control, heated grips and a main stand. All bikes in this class should be so equipped! Indicators are still not self-cancelling. Again, all bikes should have this feature, which must be available in this day and age for a minimal extra cost. A 19 odd litre tank, allied to decent consumption at touring speeds, should equate to a range of over 300 kilometres plus.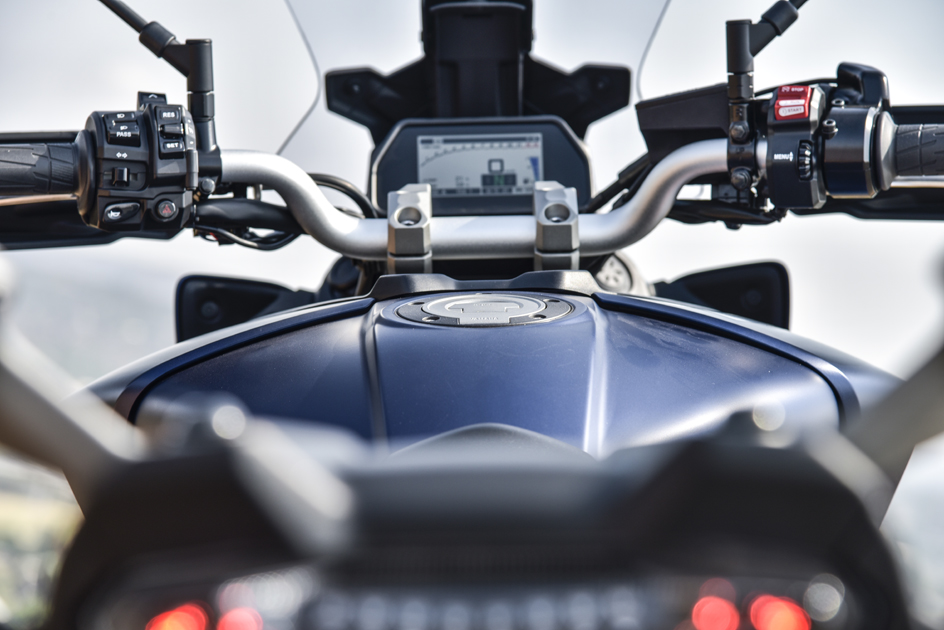 In GT guise the Tracer has finally come of age. Yamaha have ironed out the flaws in what was already a good bike to create a really excellent package. I have always liked the "form" of the Tracer with its "Transformer" like styling. They have now brought the "function" up to speed too. Yamaha have built an enviable record for reliability over the years. This is so important, especially on a bike on which you intend to range far and wide.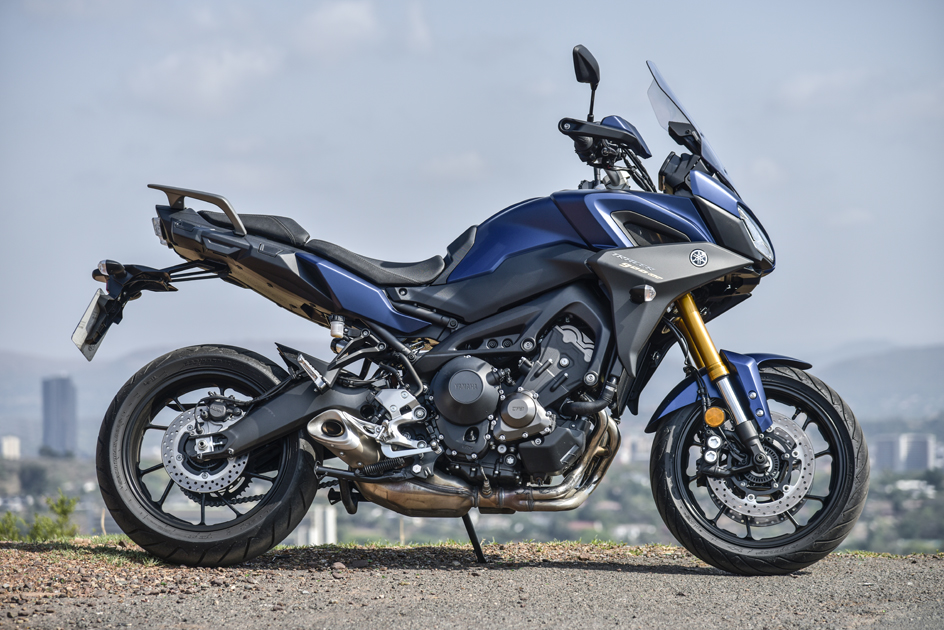 The Tracer GT deserves serious consideration given its depth of talents. Take off the panniers, leave your Missus at the guest house in Sabie, while you go strafe the 22 with the boys in full leathers, then go pick up the significant other for some sightseeing. The GT Tracer will revel in all roles. Not too many bikes that can really play in that space. Bit of a bargain then for just under R180 grand hey?
For more information visit: www.yamaha.co.za
Yamaha Tracer 900 GT
For more information on the bike that we tested in this article, click on the link below…