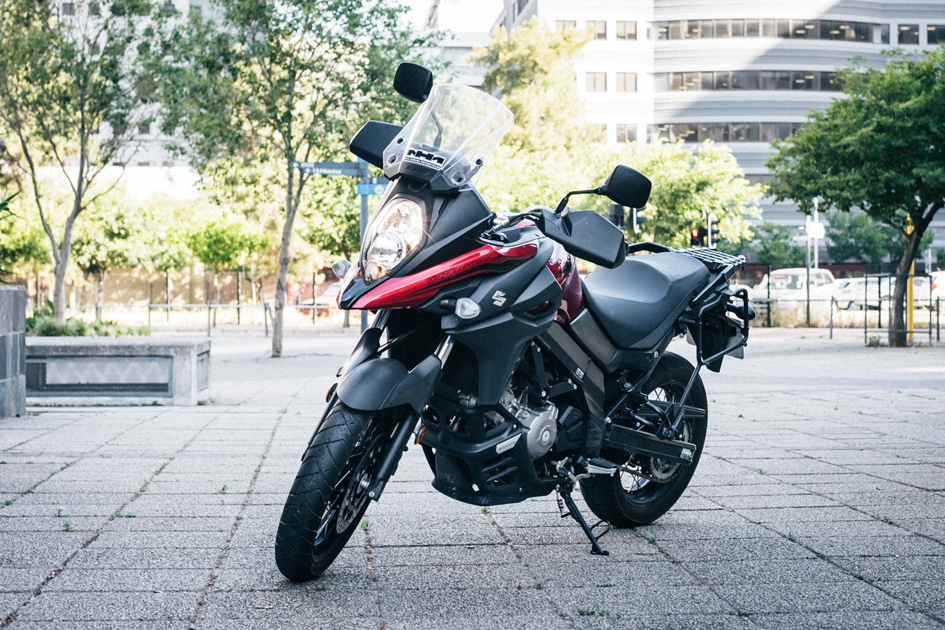 Writing about motorcycles for a living skews your perception. When your job includes a revolving door of the freshest new models, you get jaded real quick. Bikes are instantly judged on how fast they are, how well they handle, and how much electronic gadgetry they're loaded with.
There's one aspect that often gets glossed over though: pricing. As a reviewer, a bike's price is hypothetical; you can note it, compare it to other models in the same market segment and even judge it expensive. But you never actually have to spend the money.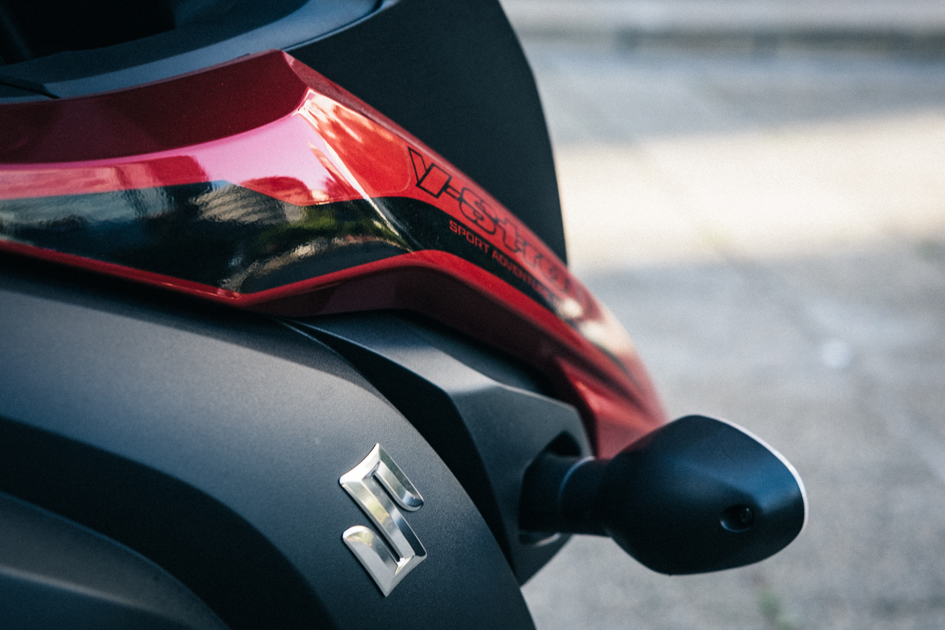 For the average motorcyclist, that one number is a make or break factor. They're not necessarily looking for the cheapest bike—just the opportunity to get the most motorcycle for their money. After all, stretching your Rand is par for the course in our current economic climate.
So for this review, I'm looking at a tried and tested motorcycle that's such good bang for buck, it's built an entire reputation on it: the Suzuki V-Strom 650XT.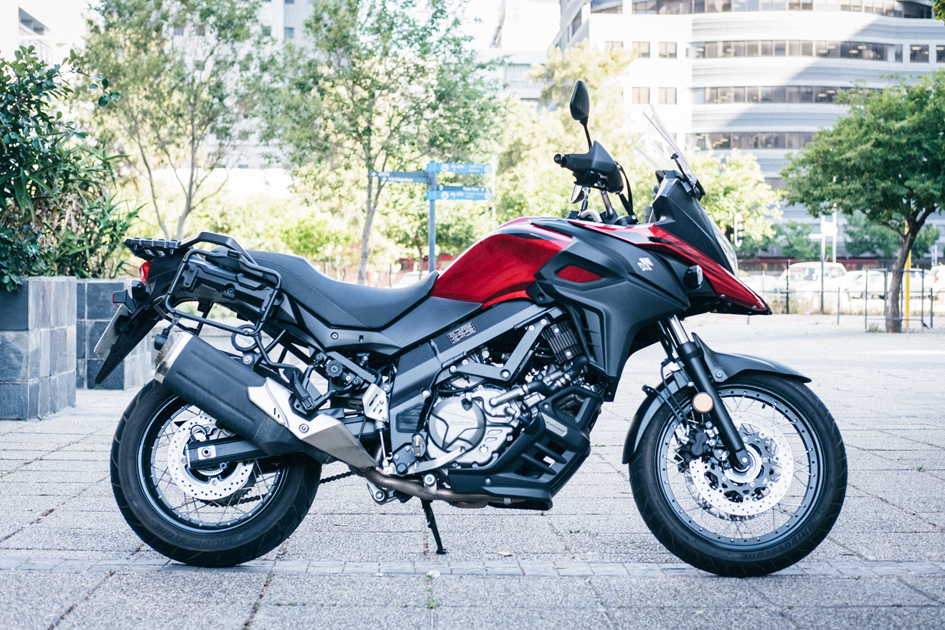 There's no getting around it—the V-Strom is undeniably vanilla. Its looks don't inspire, and while it makes respectable numbers, it's not going to blow your socks off. But it does have one major thing going for it: it's the quintessential Jack of all trades.
Commuting daily? Check. Got some touring planned? No problem. Want to tackle some light off-road? The V-Strom will do it all.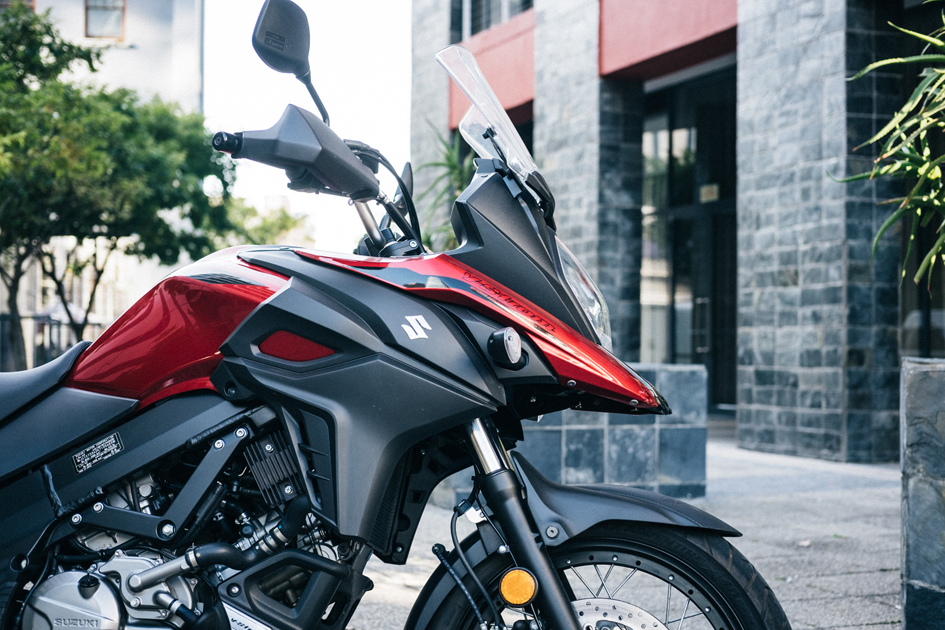 And it won't cost an arm and a leg either. The V-Strom 650XT currently starts at R 127 900—that's a bit more than Honda's wildly popular NC750X, but a big margin less than BMW's fully kitted F 750 GS. As mid-sized, twin cylinder adventure bikes go, it's pretty damn reasonable.
The V-Strom 650XT isn't entirely charmless though. Depending on your point of view, it's either an aesthetic disaster, or sort of cute in an off-beat way. The double-stacked headlight and frontal plastics seem like total overkill, but the sculpted line from the tank to the scooped seat is actually quite elegant.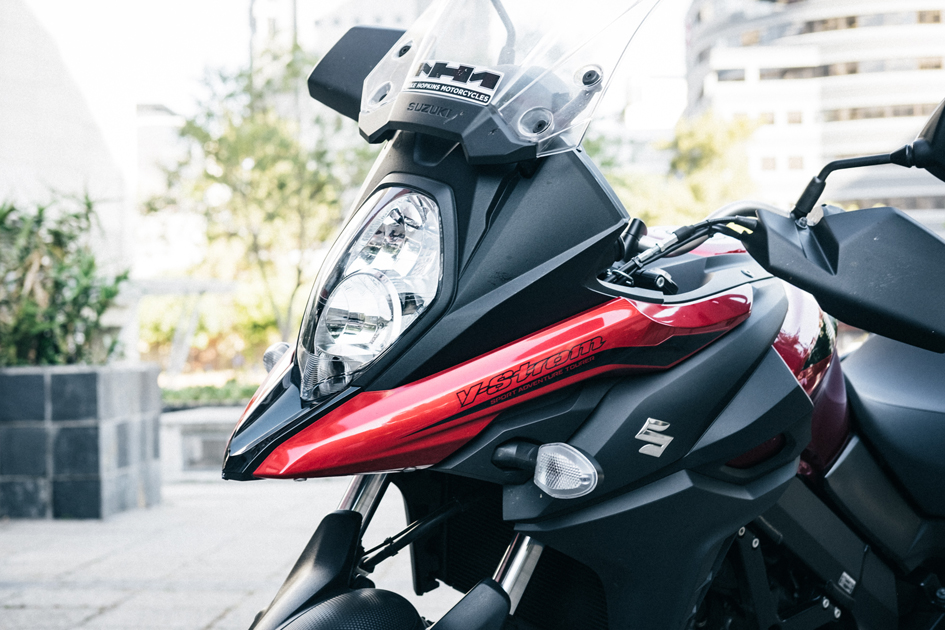 The V-Strom's upright posture hints at one of its biggest strengths: it's really comfortable. The relatively tall seat height (830 mm) and high bars are great for everything from navigating traffic to bumbling along dirt roads. The seat's well padded for longer rides, and it actually has a decent-sized passenger seat too.
With 150 mm of travel up front, and 160 mm at the rear, the V-Strom has enough ground clearance for curb hopping and gravel travelling. There's no adjustment on the 43 mm conventional forks, but you can set the rear rebound and preload via an easily-accessible hand dial. Wheel sizes are standard ADV fare: 19" front, 17" rear.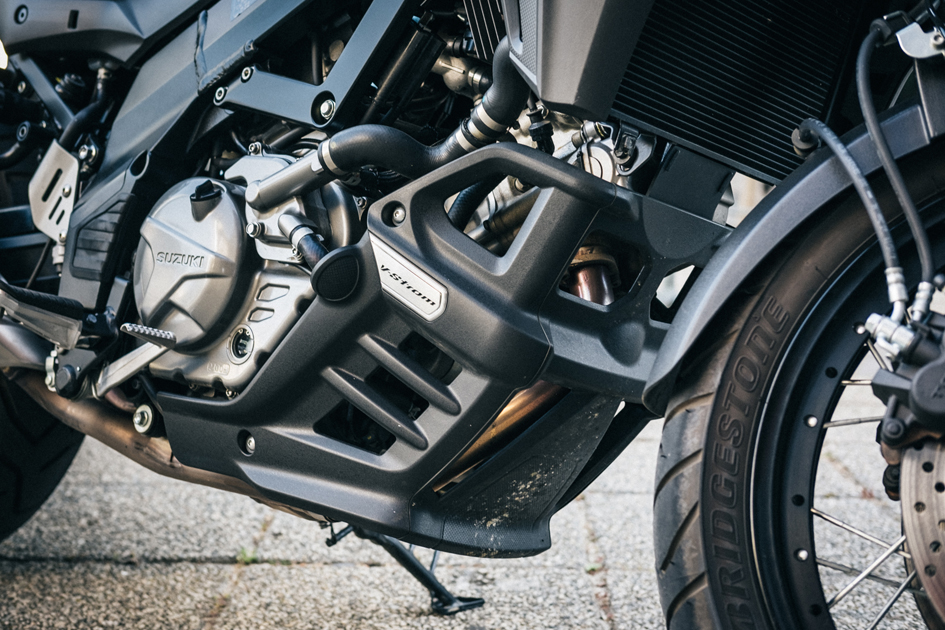 Suzuki South Africa currently only imports the 'XT' model (shown here). It comes from the showroom with a few practical upgrades; a sump guard, tubeless spoked wheels and handguards.
The V-Strom's screen is adjustable between two positions—but not on the fly. (You need to unbolt it, and re-attach it at the desired height). Behind the screen, Suzuki have tucked in an easy-to-read dash that crams in a ton of info. Sure, it's no fancy TFT display, but it lists everything from your fuel level and range, right down to temperatures and your gear position.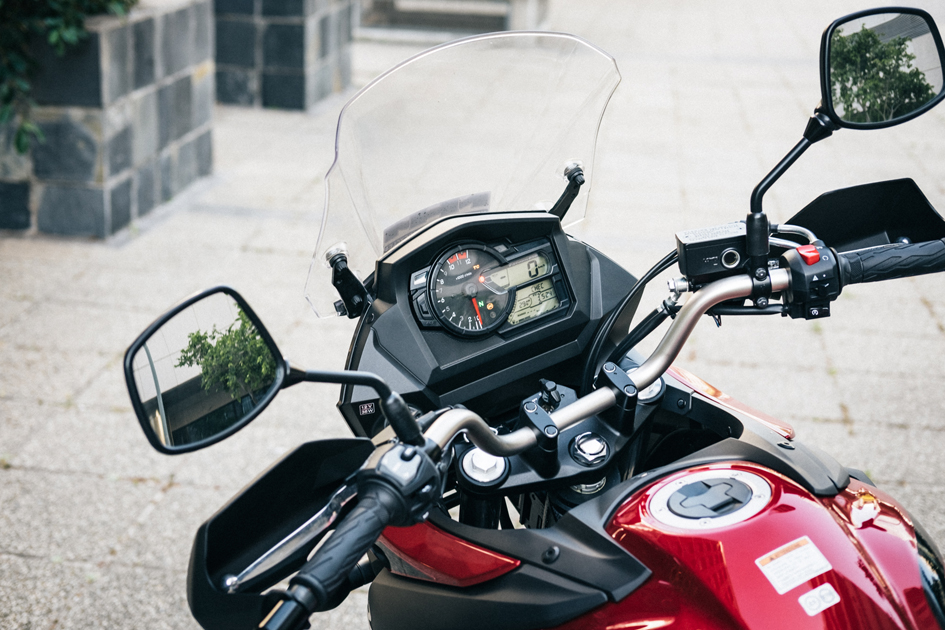 That substantial rear rack is standard issue on the V-Strom 650, but the luggage rack pictured here are aftermarket extras. They do illustrate another one of the V-Strom's talents—with the right add-ons, you can pack it to the nines. And with a 20-litre fuel tank, it can go far too.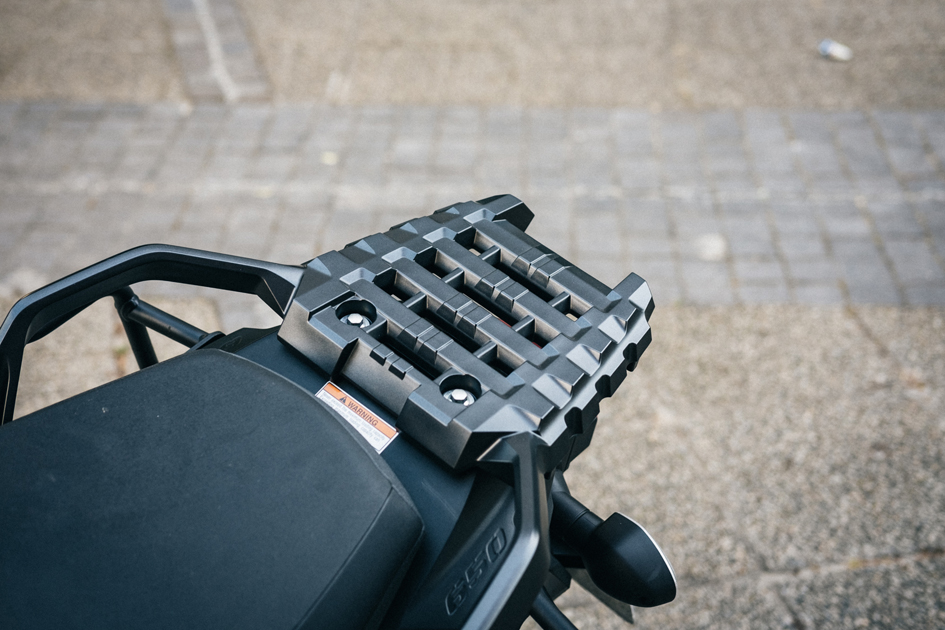 So what's it like to actually ride the Suzuki V-Strom 650XT? In a word: easy. Its 645 cc V-twin mill makes 69 hp and 69 Nm—so whilst it's not outright fast, it's no sloth either. The throttle does feel a bit light off the mark, but rev it into the mid-range and it comes alive. And the overall power delivery and throttle feel, along with the positive feel from the clutch and six-speed box, all add to the V-Strom's versatile nature.
Rider aids are basic at best. There's traction control with three settings (two levels of interference, and off), but to be honest, I couldn't really feel any difference between them.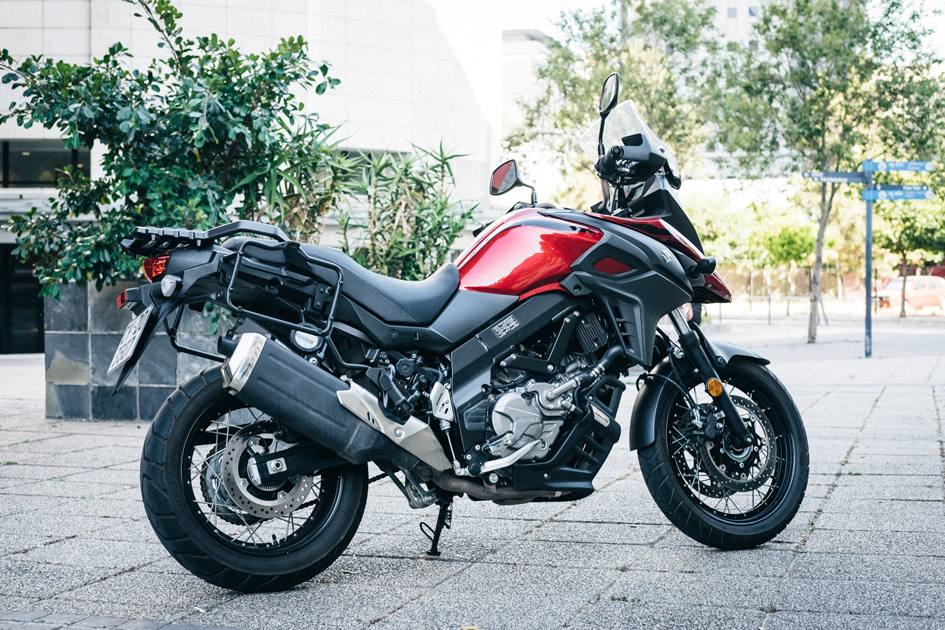 There's ABS too, but it's a pretty rudimentary system. It works well enough on tarmac, but lacks finesse—and that becomes apparent quickly on dirt roads. It's not a problem under sedate riding and braking, but it's jarring when you need to stop in a hurry. And it's no good for advanced off-road riders that like to lock up the back and get aggressive.
As an overall package, the 650XT gets on with the job admirably. As a daily runner, it's light enough on its feet to negotiate Cape Town's traffic and renegade pedestrians. At 216 kilos wet it's no lightweight, but it's far from being a handful. Out on the backroads, it's plenty comfortable for all-day mile munching.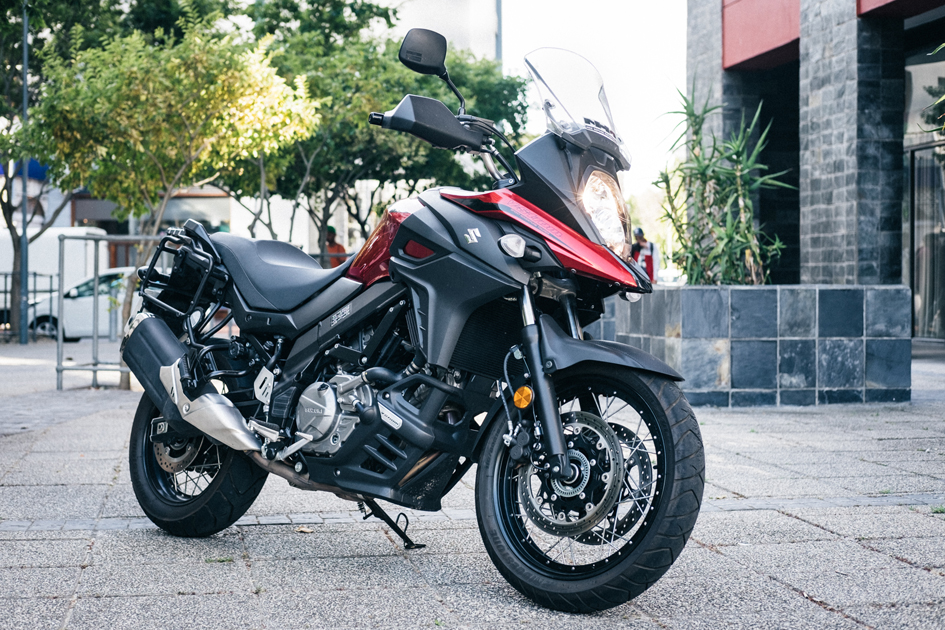 Sure, it won't keep up with pukka sportbikes in the twisties—but if you give the V-Strom enough encouragement, you'll be having fun in no time. And the ergonomics, ride height and power delivery are all on par for light to medium off-road jaunts. (Frankly, it'd be an even better adventure bike if Suzuki would just add a switch to disable the ABS.)
It's a no frill, do it all machine, with quirky looks and a palatable price tag. That's exactly what gained the previous generation V-Strom its cult following, and it's why this iteration of Suzuki's versatile dual sport will probably turn out just as popular.
For more information visit: www.suzukimotorcycle.co.za
Suzuki V-Strom DL650XA
For more information on the bike that we tested in this article, click on the link below…