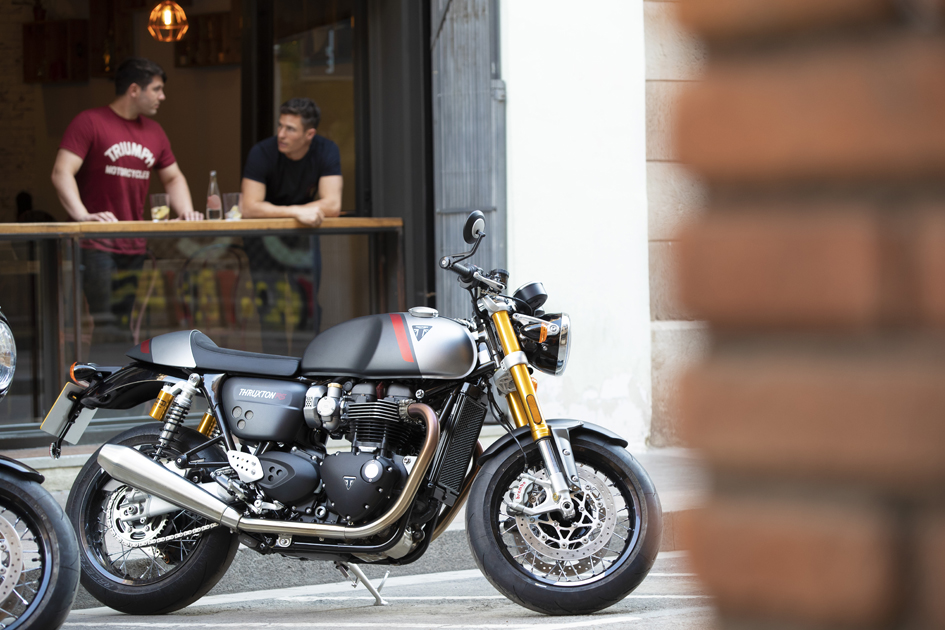 The 1200 "Big Twin" family is under constant evolution at Triumph: last year we had the Scrambler 900 and 1200 and the Speed Twin. 2020 is more focused on the sportier Thruxton, which evolved in the limited-edition TFC and this racier version, the RS. ZA Bikers went to Portugal to ride the most powerful production Triumph twin ever…
We should not forget how the café racer scene has been good for the motorcycle industry. A few decades ago, motorcycles were, well, just motorcycles. Plain, slow, unreliable pieces of machinery… Yet some blokes decided to make them lighter and faster, and did real-life testing by racing their machines from one café to another… and so the term "Café Racer" was born.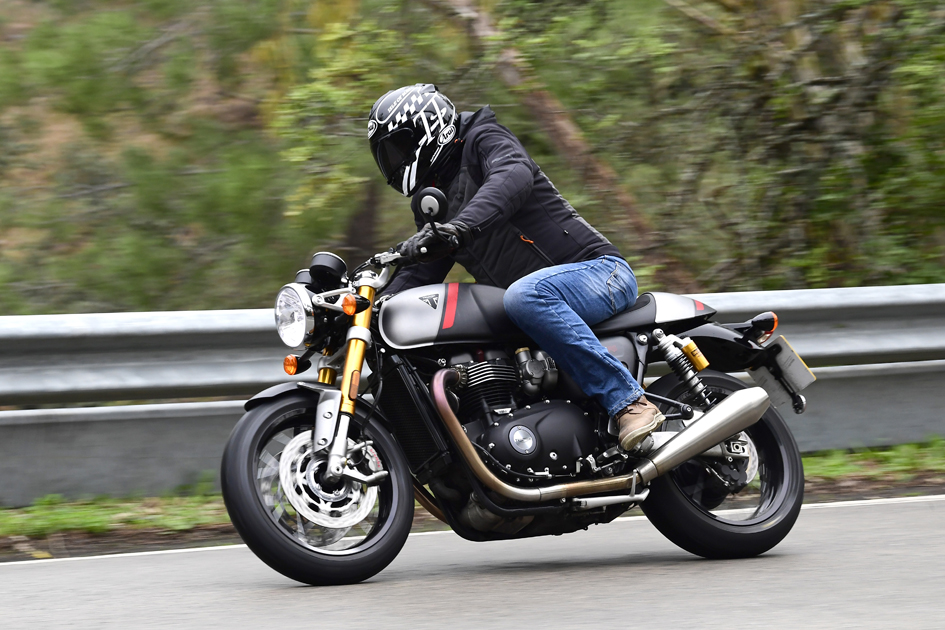 In 2004, Triumph paid tribute to those bikes with the launch of the Thruxton 900, named after the Endurance race disputed on the Thruxton racetrack (where Triumph took the top three places in 1969). The 900 was a nice-looking retro bike, yet underpowered and a bit bland to ride. In 2016 came the Thruxton 1200, which was much more interesting. Four years later and the winds of change are once again blowing at Triumph.
More power, less weight
Back in 2016, Triumph had two Thruxton's in its range: the standard one, with traditional forks and basic rear shocks, and the R version, with a great looking gold-ish Showa BPF USD forks, paired with a set of Öhlins. The 1200 twin, in its "High Output" version, was good for 97 hp. Triumph sold 16000 units of those bikes, which can be considered as a success for Triumph.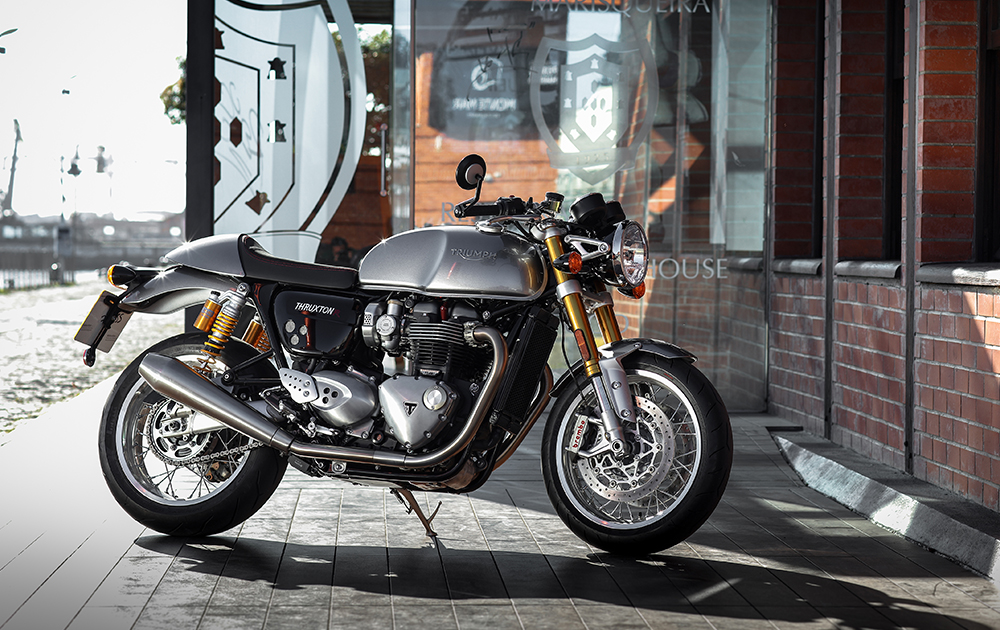 Fast forward to 2020 and Triumph has now released a brand new version of its beloved "Café Racer", introducing the brand new Triumph Thruxton 1200 RS.
How to spot the new model? This is rather easy. Alongside the black painting, there is a new grey colour scheme with black and red stripes. The whole motorcycle is also darkened: from the engine crankcase to the wheels, everything is now black, including the Öhlins rear shock springs.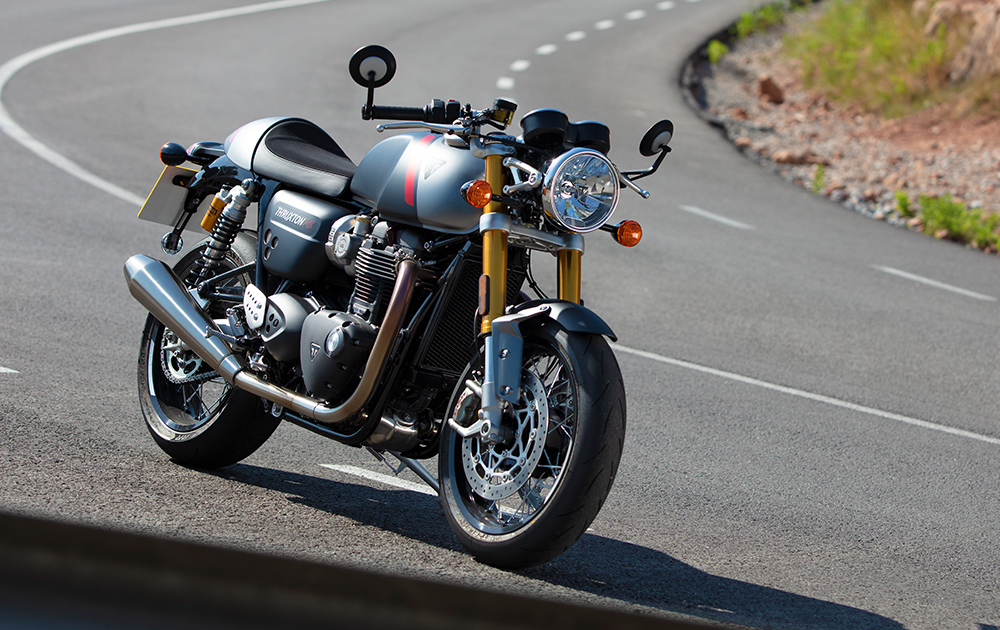 Triumph has reworked the engine. Euro 5 compliance was one goal, having more power and less inertia was another. A new crankshaft and a lighter clutch moves the rev limiter up to 8000 rpm (strangely enough, the rev-counter red-line sits at 7000 rpm as before) and the mechanical inertia has been reduced by 20 %. If the torque sits at a steady 112 Nm, it's now delivered earlier (4250 rpm, 700 lower than before) and there is now an extra 8 hp (105 instead of 97). New engine cases, such as magnesium head covers, are partly responsible for a 6 kilograms weight loss (197 instead of 203 kg), as well as a lighter battery.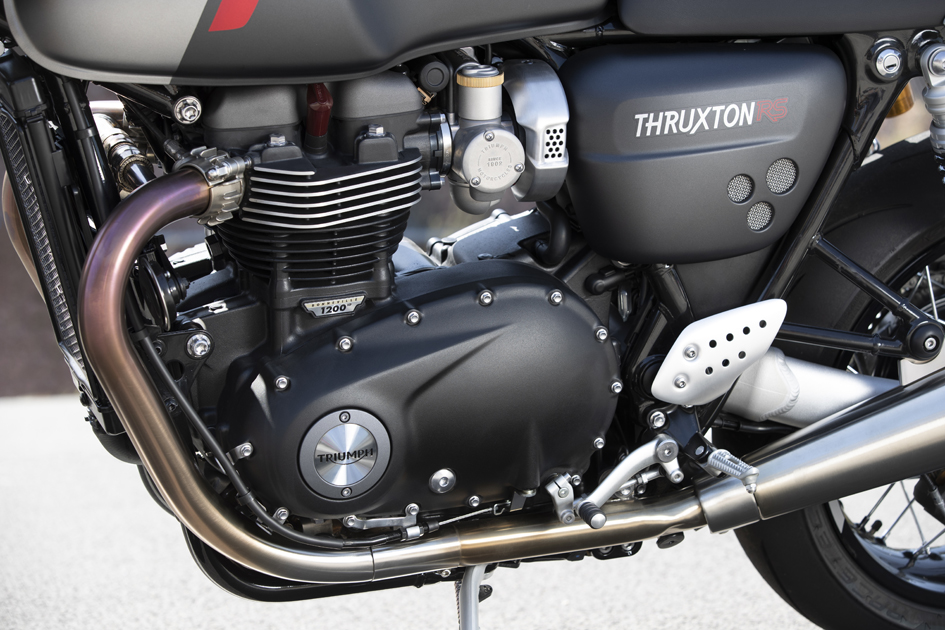 To go on par with the extra power, the Thruxton RS now features some new Brembo M50 brake calipers, instead of the M4.32's, as well as a new set of Metzeler Racetech RR sport tyres.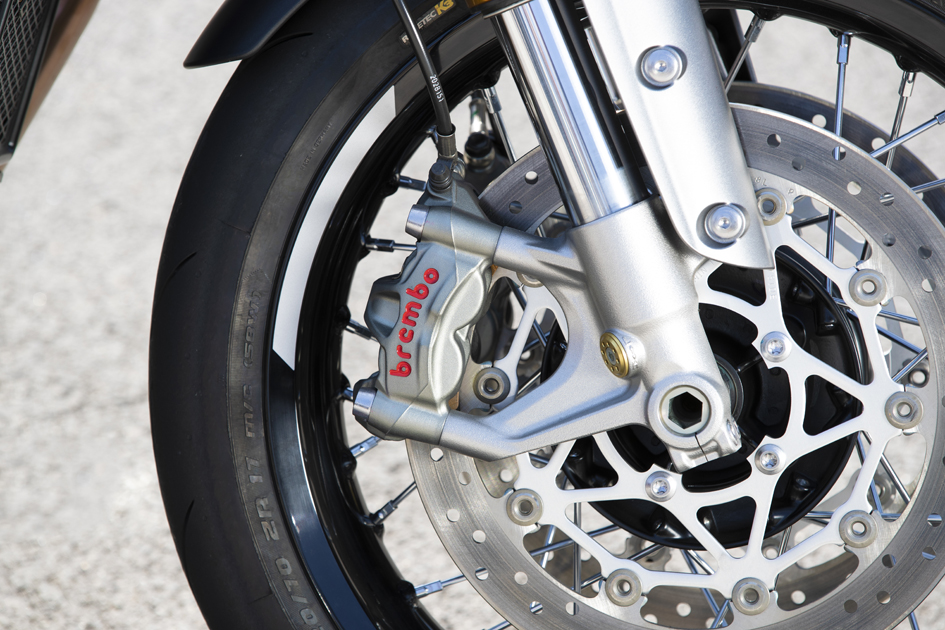 Before hitting the road, praise is well deserved regarding the spectacular build quality, which is becoming a Triumph trademark, and general fit and finish. From the carburettor-like fuel injector covers to the DRL signature, from the beefy aluminium swingarm to the Alcantara-like seat, the Thruxton RS is definitely an eye-catcher!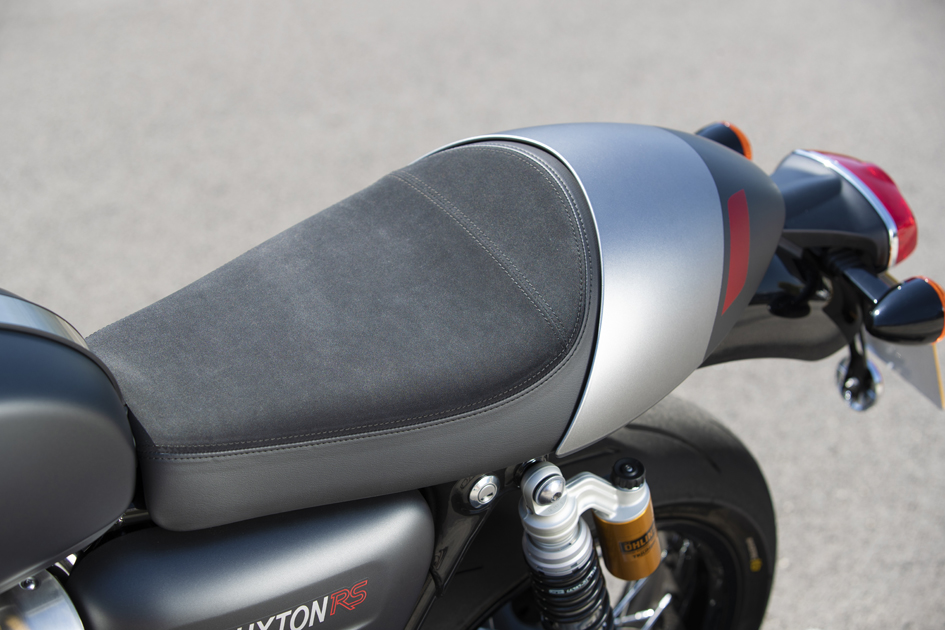 How does it ride?
Alongside a range of nearly 80 accessories is a pair of Arrow silencers with carbon endings. Our Thruxton RS was fitted with a standard exhaust and yet it sounded throaty and deep, yet still perfectly calibrated to remain civilised within your neighbourhood. For a café racer, the riding position is ideal: you are committed to the bike, but this is not too extreme as it is on a BMW R nineT racer or a Yamaha XSR 900 Abarth, for instance. There is a bit of weight landing on the wrist, but this is perfectly bearable even for some urban commuting.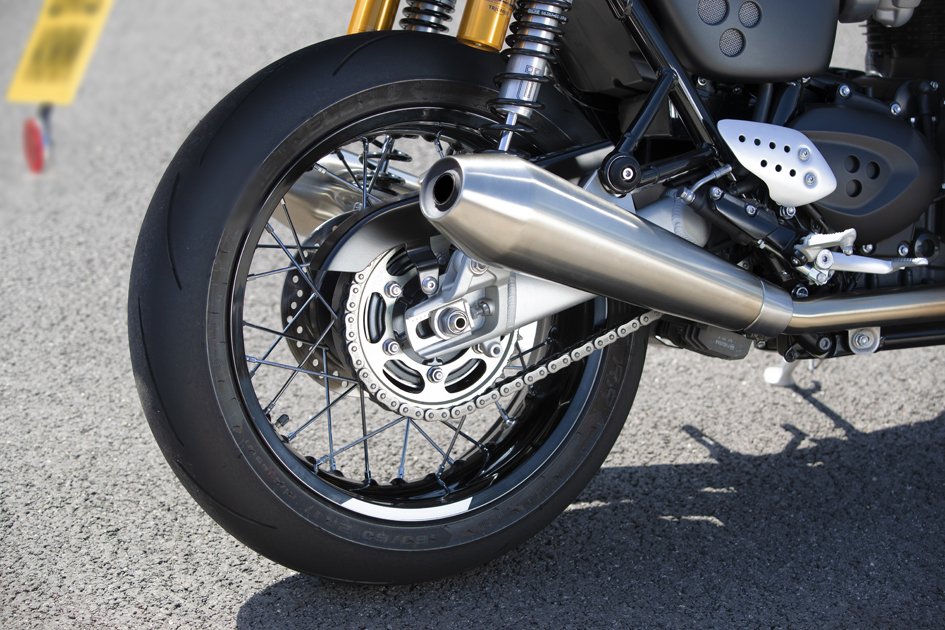 Considering that plus 8 hp and minus 6 kilos are not really putting the new RS into breaking new grounds territory, it would have been great to have had the previous version along to really spot the differences between the old Thruxton R and the new Thruxton RS. For now, I'm gently riding the South of Portugal countryside, near Faro, following Isle of Man TT riders Joe Ackroyd and Gary Johnson. The pace is relatively gentle, as the weather is a bit tricky and some roads are still wet. In these conditions, the new Metzeler Racetech RR tyres are easy to deal with, they are very safe and predictable and the grip over the wet patches is really good.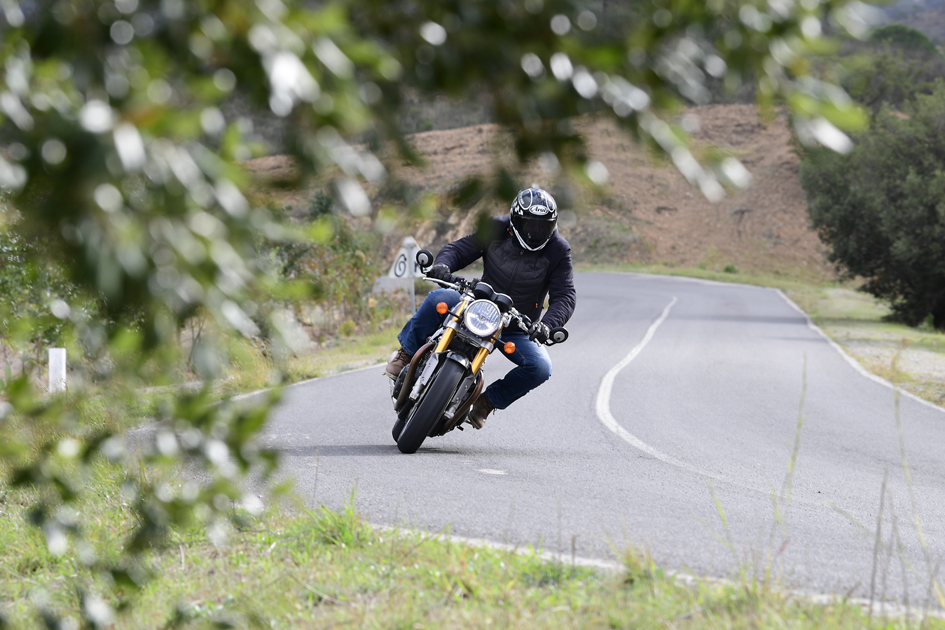 Triumph has also done some electronic work on the new RS, so the three riding modes (rain, road, sport) are now more differentiated than before. Normally, rain mode is most suited for wet conditions, however, on the new RS with traction control engaged (whilst in road mode) the bike's throttle response is so smooth that it can easily handle low grip conditions.
By chance, the weather got better later in the afternoon and we could at last figure out the performance side of the bike. In sport mode, the throttle response is now more direct and happier to rev, with a solid power delivery between 5 and 7000 rpm, albeit with a bit of vibration, though. Good chassis, natural handling, predictable reactions, torquey engine: it's still the perfect recipe for a fun ride.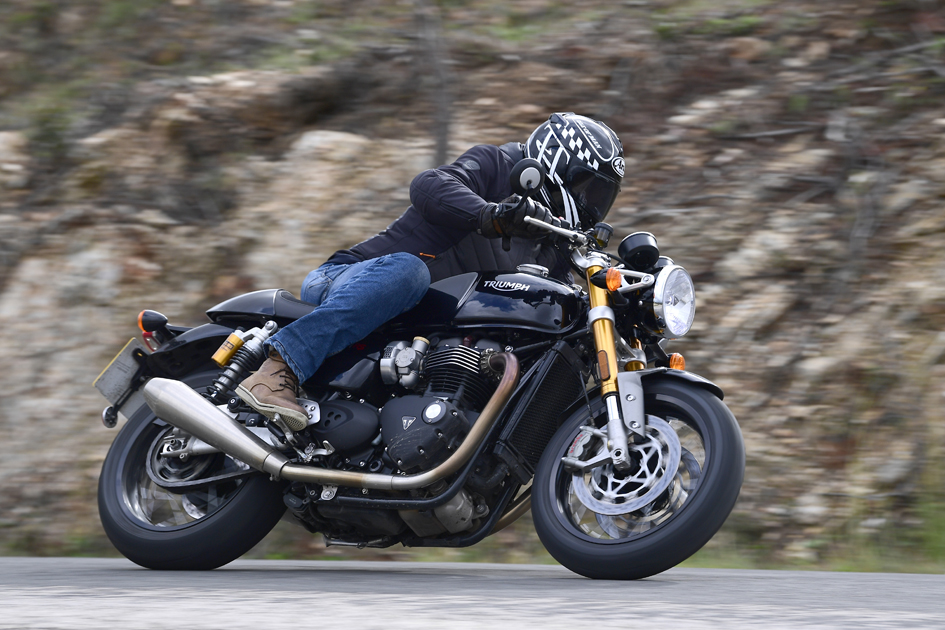 What else? This is a great overall package to have fun with. The more I rode the Thruxton RS, the more I recalled memories of some great South African rides, such as the Franshoek Pass, where regular, mildly fast corners and great tarmac are the ingredients for a great ride. The Thruxton RS has enough power to have fun, the chassis remains well balanced from one corner to the next, thanks to the rather modest 160 mm wide rear tyre. Having Brembo M50's for "Only" 105 hp was not certainly a necessity, but they don't only look good, they also perform very well with a great calibration from the lever and master cylinder.
The Triumph Thruxton RS is not a revolution over the Thruxton R, but rather a slightly better evolution in a few departments. Its engine is stronger and delivers more expressive power. Tyres and brakes are better. Electronics are sharper. The rest is pretty much the same, but the overall level was already very high to begin with.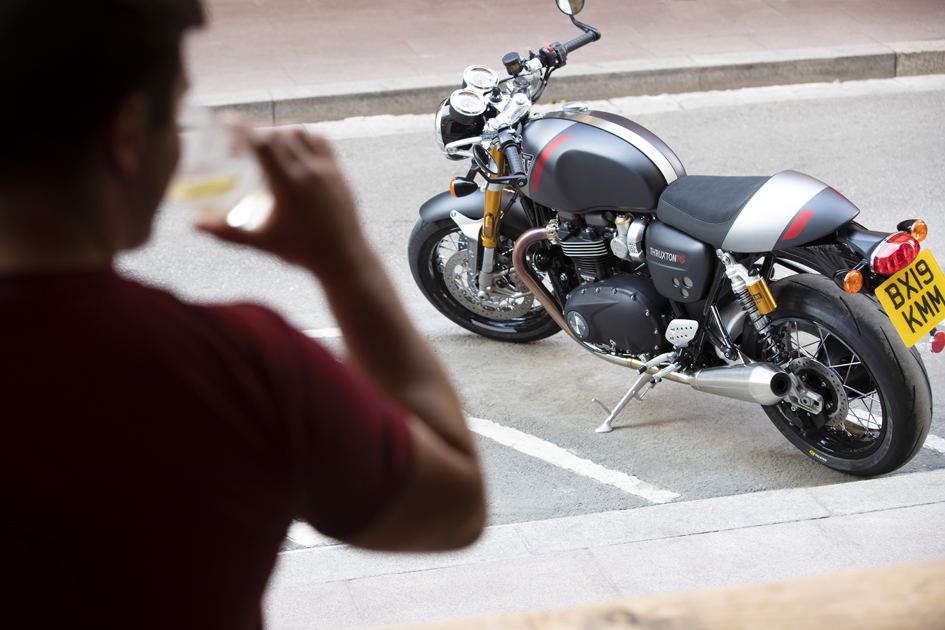 More expressive than a Kawasaki Z 900 RS Café, easier than a BMW R nineT, the Triumph Thruxton RS remains a winner for café racer lovers. One thought though: historically speaking, café racers were reasonably affordable. Going from R to RS, the Thruxton has a significant cost increase. I'll leave it up to you to decide if it's worth it.
For more information visit – www.triumph-motorcycles.co.za