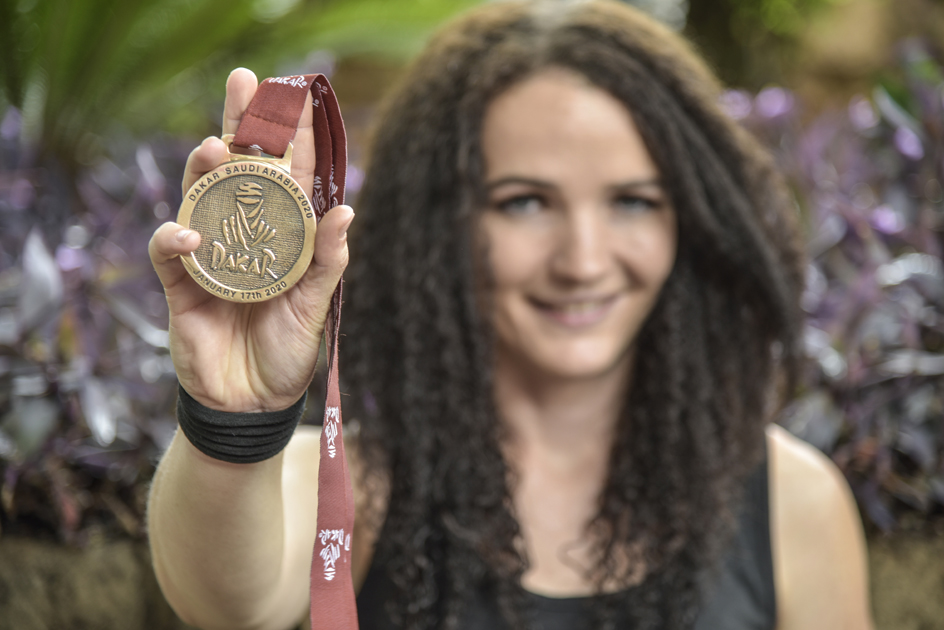 Taye Perry. Prior to the 2020 Dakar Rally, only the people involved in the South African off-road motorcycle racing scene were familiar with the name Taye Perry. In fact, it was only when chatting with fellow journos at the launch of the new Honda Africa Twin, that the conversation turned to the Dakar and I heard the name for the first time. The consensus was that this Taye Perry girl was really quick on a dirt bike and the folks in the know were cautiously optimistic that she would give a good account of herself at Dakar.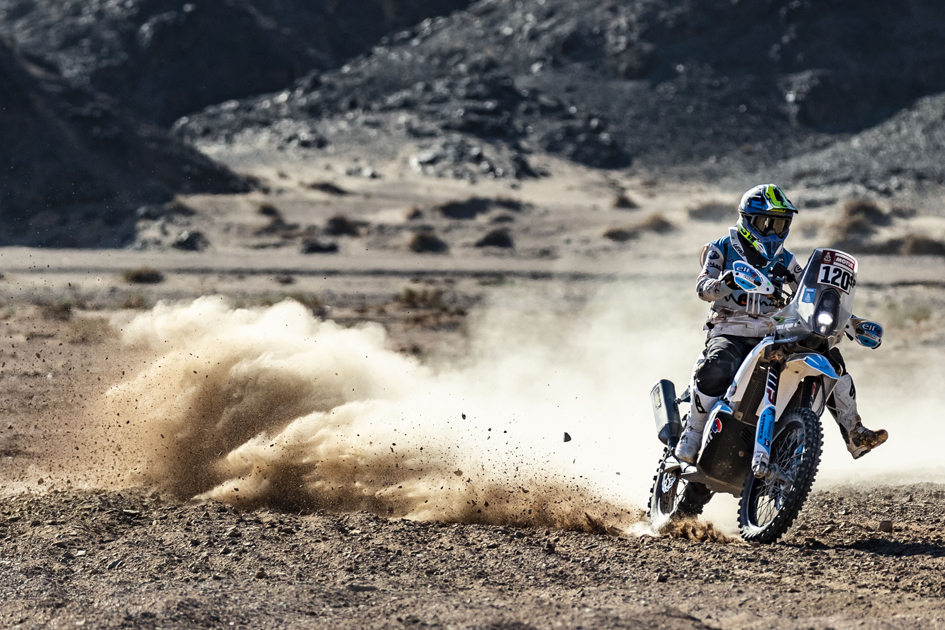 Taye races a 450 Honda at the moment in South Africa, with support from Bikers Warehouse. She has thrown down a gauntlet, or should that be a dirtbike glove, to other ladies, with some serious performances. In fact, when she achieved third place overall at the 1000 km desert race in Botswana, she showed that she is something really special.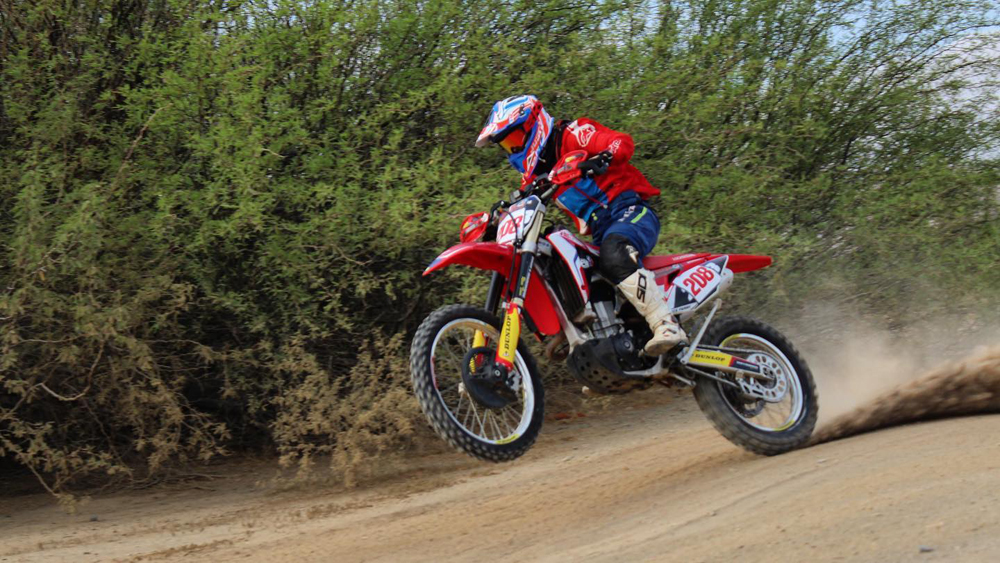 Fast forward to Dakar 2020. The diminutive Taye lines up on the start line in Jeddah, Saudi Arabia. The news that we could glean of proceedings at Dakar was sparse when it came to independent riders.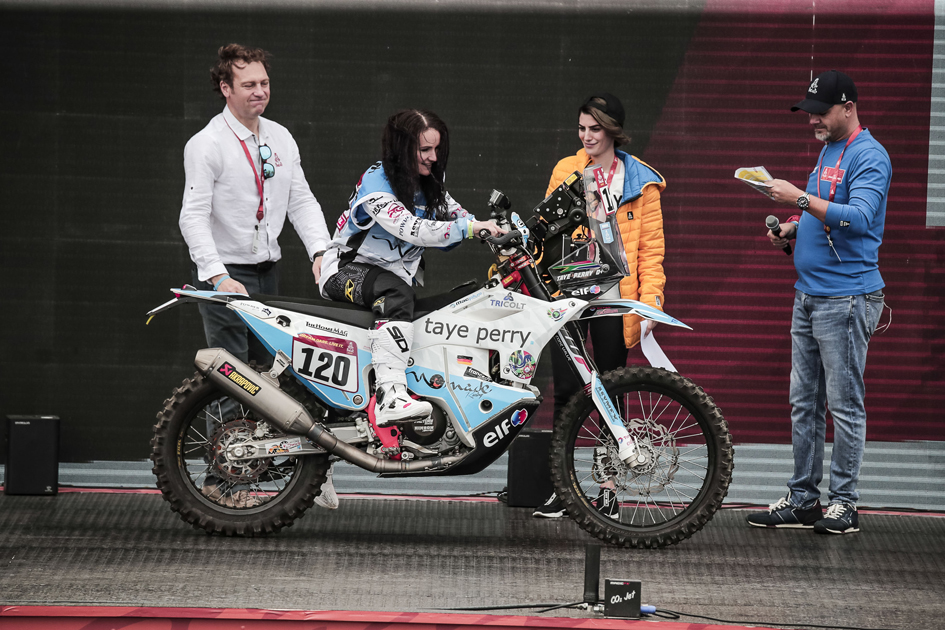 There were news flashes available for supported riders, but that was it. Social media posts started to build a picture of how the "unsupported" riders were faring. As the race progressed, Taye seemed to get stronger and stronger. Despite sleeping in a two-man, or I suppose "one woman" tent, in sub-zero temperatures and contracting a bit of a respiratory tract infection, she remained incredibly positive and upbeat. The pretty 28-year-old, with the curly black mane, captured the imagination of viewers worldwide. Hashtags started popping up like, #theDesertRose and #thePeoplesChampion. She was in her happy place, living the dream. How and where did that dream start?, I wondered.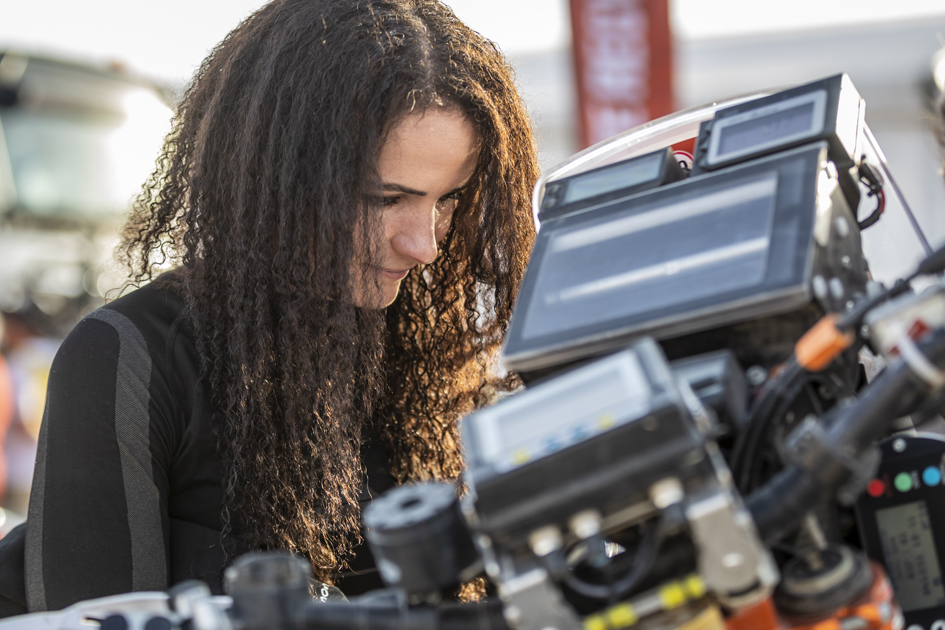 I resolved to find out, so with a bit of sleuth work I managed to contact Taye's Dad, Hein, who was with Taye in Saudi. Hein put me in touch with Stephie Vetter-Baragwanath, who had volunteered to run Taye's media affairs. Stephie, I think, had an inkling of what a media phenomenon Taye would become. Stephie very kindly set up an appointment for me with Hein and Taye upon their return from Dakar. We met at the Wimpy at Hartebeespoort Dam, kind of halfway between Rustenburg, where Taye lives and Pretoria, where I am based. I got to find out a little of what makes this amazing young lady tick.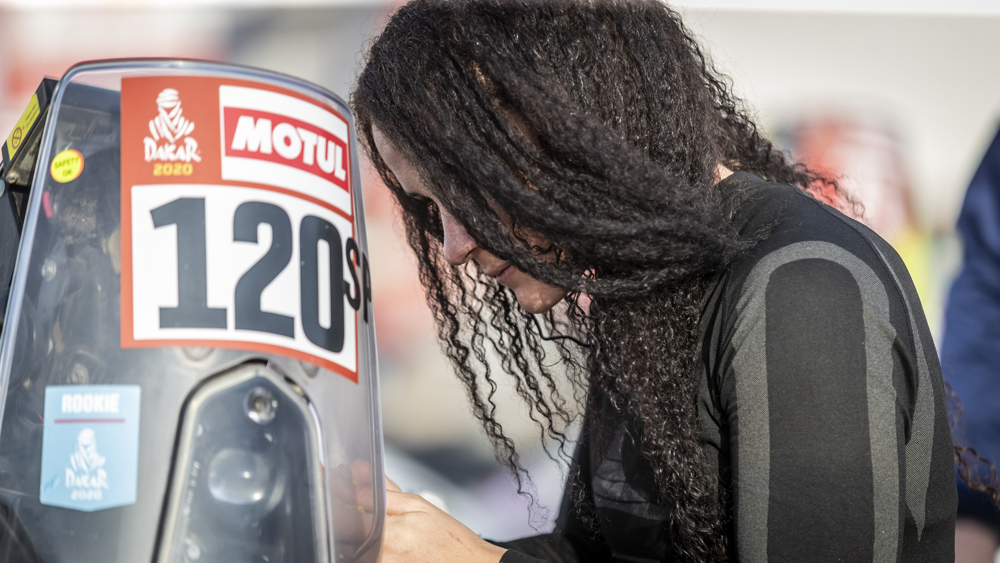 What immediately became apparent is the strong bond and friendship that exists between Taye and her riding buddy, who also happens to be her dad, Hein. The road to Jeddah was an arduous one for the Perry family. Taye was captivated by photos of her dad, "back in the day", on his Honda XR200R. "I also want to ride bikes", said the then even tinier Taye. Along came a Suzuki 80 and the die was cast! Dakar comes at a hell of a cost, both in commitment and especially, financially. Having seen his son through varsity, Hein decided that he would move heaven and earth to get his daughter to Dakar. He sold his business, "Dave, I was tired of it anyway", so he scratched, sold and saved to get the almost R2 million together, that it would eventually cost to line up in Jeddah.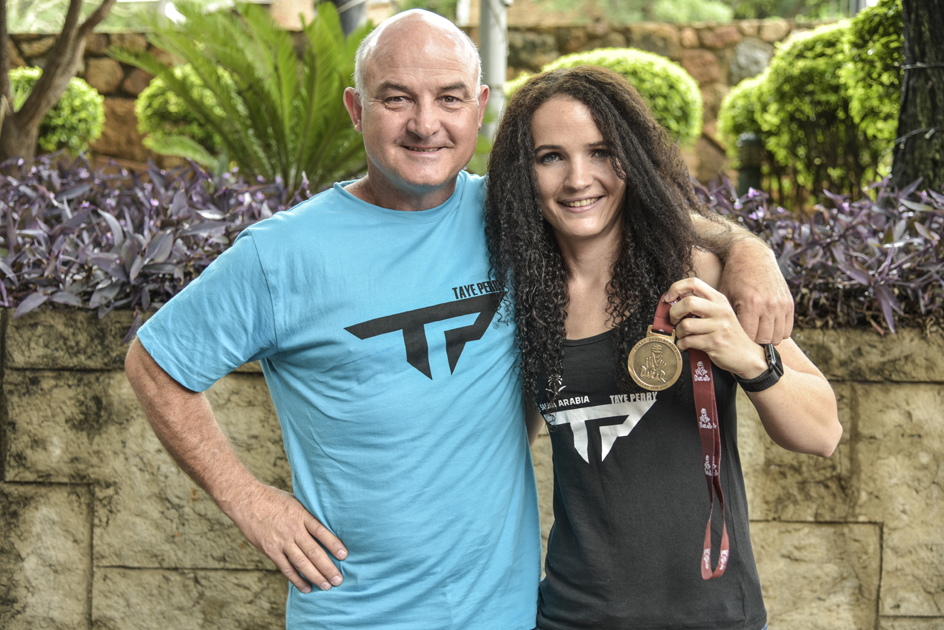 The entry fee is around R300k alone, then came a second hand, ex-Dakar KTM450 Rally Replica, at around R400k. Now you still need to do qualifying races to show that you are good enough to compete at Dakar. Rallye du Morroc and Merzouga Rally in Morocco got done and dusted. A support crew to fettle the bike during Dakar, in the form of Nomade Racing, accounted for a whole lot more ammo. Meanwhile, back at home Taye's mom was keeping the household running and keeping a prayer covering over Hein and Taye. Thank God for praying moms! A rigorous cross-fit, mountain biking and two to three times a month racing regime, built the necessary fitness.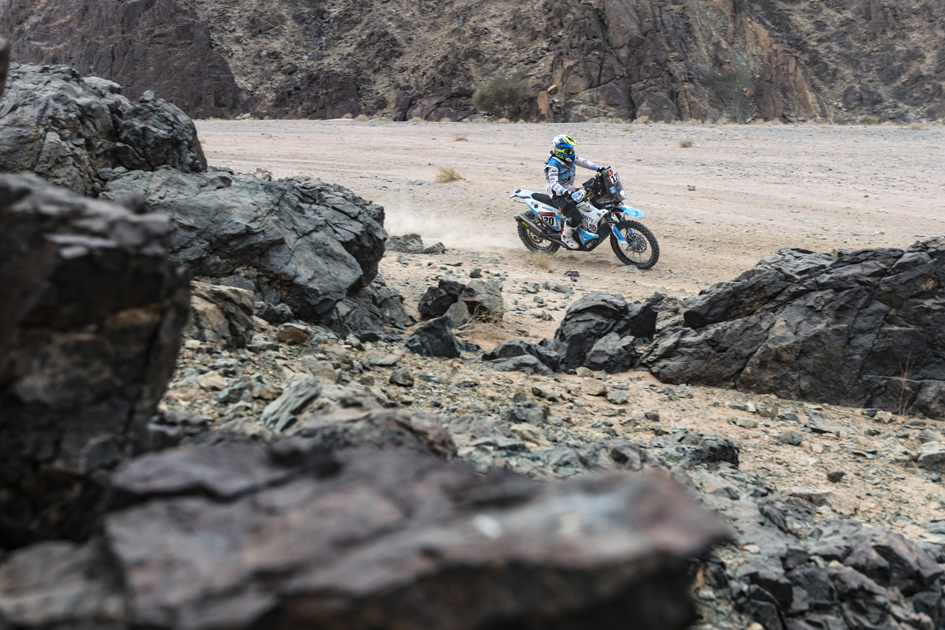 Taye seems born to Rally Raid racing. Aspects that some guys tend to struggle with, are fun to Taye. She loves navigation. She is a racer! She doesn't just want to compete, she wants to be at the sharp end of the race. A big frustration for her was how relatively slow her rather "well used" KTM 450 was compared to the newer KTM's and obviously, the factory-supported bikes. Her bike could be coaxed to 150 kph, only to have competitors steam past at 170! Despite all of this, she started the second last stage at Dakar in 49th place overall, having improved her standings, literally, day by day.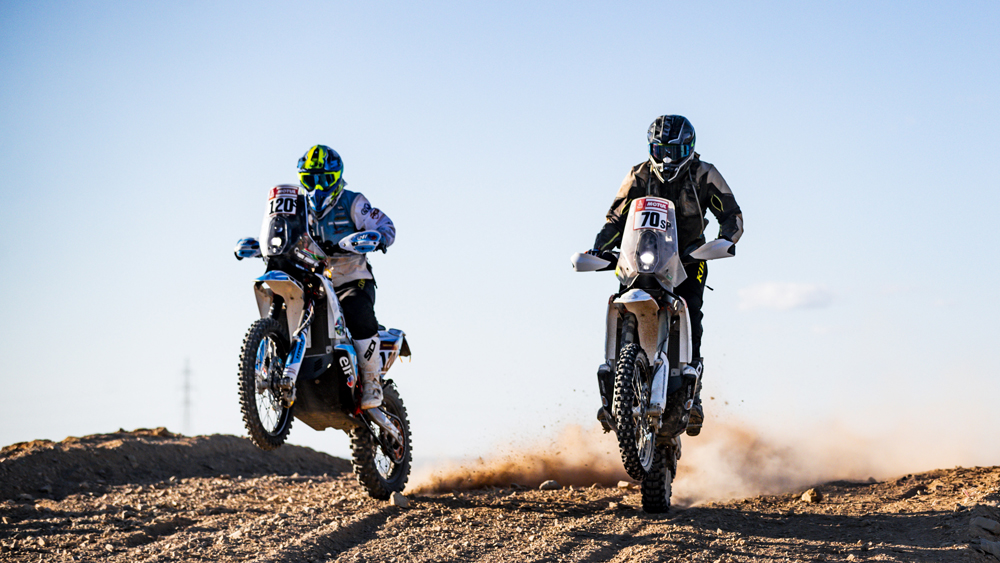 This folks, was with at least a hundred bikes, the cream of the world's rally riders, still in the rally! At her first attempt! Then, as more often than not at Dakar, drama struck. A small tumble in the dunes, Taye picks up the bike, hits the starter and it just swings the motor, but doesn't start. Trial and error. Switch fuel tanks, try again. Nothing! Strip the bike, search, check the wiring. Again, nothing. Eventually, with hours elapsing, the battery just can't turn the high compression single over any more.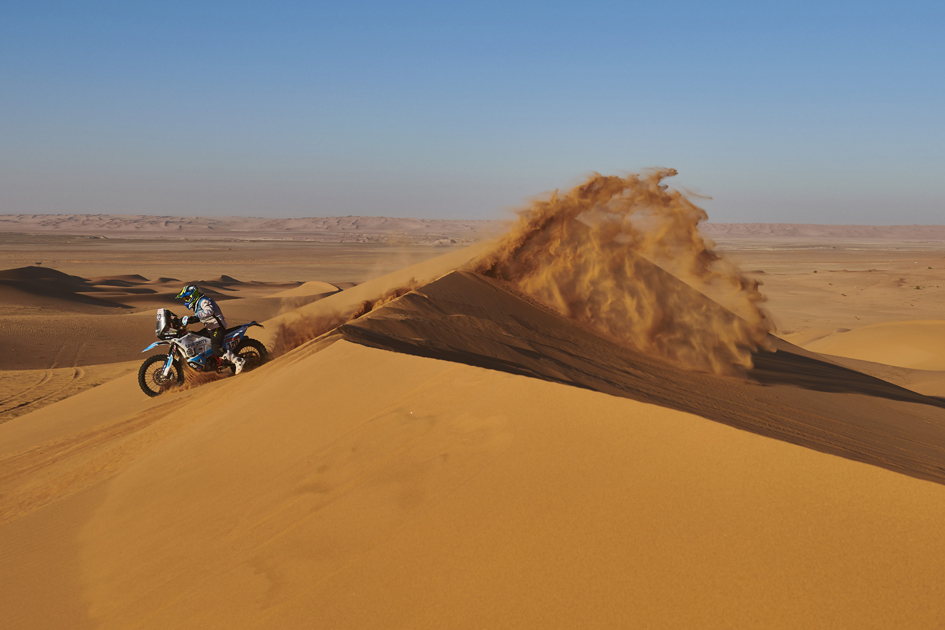 A crying, praying and desperately disappointed Taye is facing the reality that her race is run. She has over 200 km's to go through dunes and then still to the bivvie. She stands forlornly, tow rope in hand, hoping against hope that one of the few remaining competitors still behind her, may, just may, be prepared to tow her through the stage. A bike tries, but cannot manage over the dunes and gives up. She is left, once again tow rope in hand. Miraculously a car stops. Remember what I said about praying moms? Taye gets towed, sometimes after falling, dragged, to the end of the stage. After eighteen hours of physical and mental torment of the worst kind, she returns to her team bivvie. A few hours later, with a stupid little faulty fuel switch replaced, she rolls to the start of the final stage after perhaps two hours of sleep.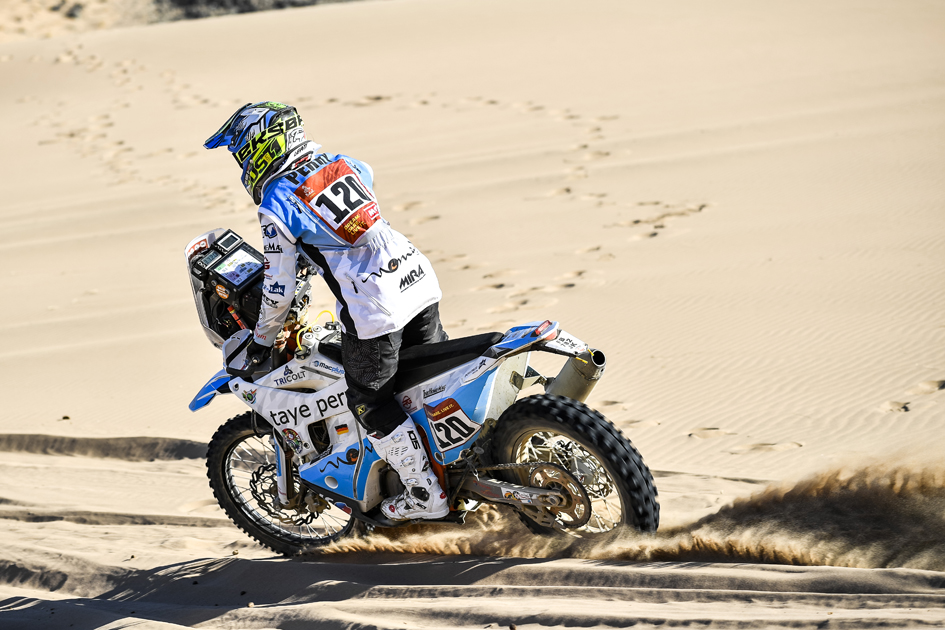 Taye could be forgiven for uttering the odd if, but, or maybe, at the finish, but no, winging is clearly not in the makeup of this remarkable woman. She took everything the Dakar could throw at her and then some and rejoiced in finishing the toughest offroad race in the world with a spring in her step. When others are wilting in the later stages of the race, she is getting stronger and faster. It is going slow that is a problem for her. Short in stature, she struggles to dab her feet down in technical terrain. She has compensated by upping her skill level. Taye revels in the fast stuff. Watching her in the Dakar got me thinking. She traded places on a few stages with Mirjam Pol, a Dakar veteran, who finished second women home. Given the speed disadvantage that Taye had with her well-worn bike, how would she have fared on a truly competitive machine? Would she even have had the electrical malady on a fresh bike? Right now we can't answer those questions.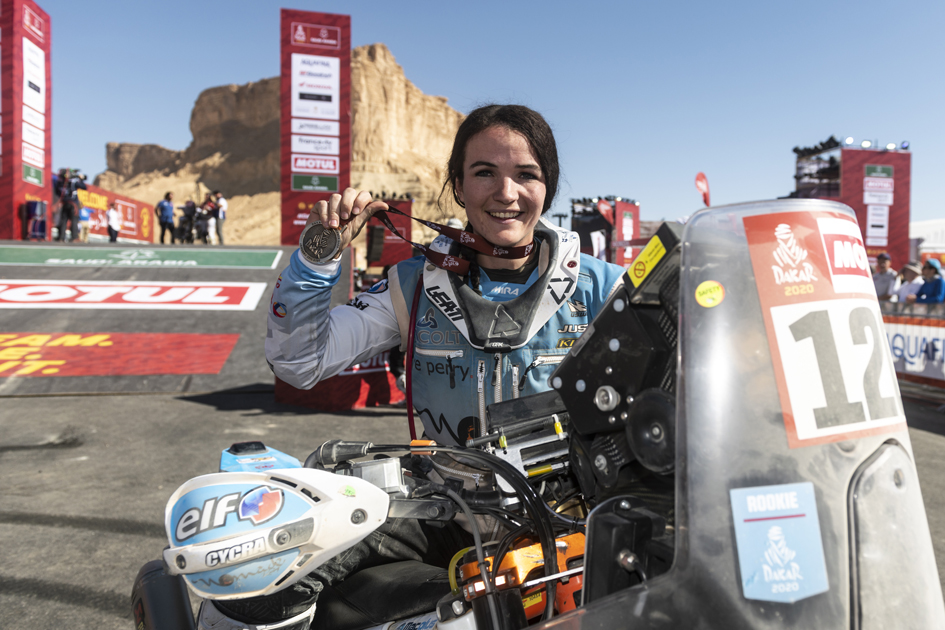 Here is another thought. Honda ended their Dakar drought in emphatic fashion with a solid win by Ricky Brabec. How cool would it be to have a woman on the podium on a HRC backed Honda too? Fighting for the top step perhaps? What Taye showed in her first Dakar, is that she has what it takes, no matter what the obstacles, to run upfront with the best women, given competitive machinery. I don't know who will snap her up, but #theDesertRose is not done blooming! Will it be Honda or Yamaha? What about Husqvarna? We got to give KTM a shot too. Watch this space, I honestly believe that, given the right break, we have another South African motorsport legend in the making. #thePeoplesChampion is a sponsors dream. Who is going to write the next chapter in the Taye Perry story? I wonder……