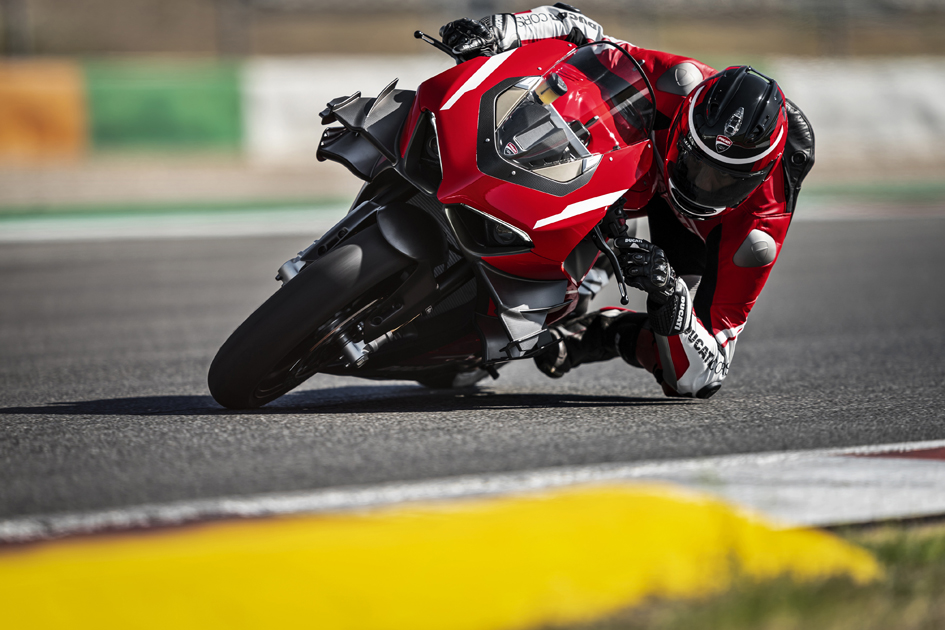 Everyone knows: if you want to make a motorcycle faster, add lightness. And that's exactly what Ducati have just done. They've taken the already acclaimed Panigale V4, tweaked the engine, shaved off a bunch of kilos, and given it more wings than a KFC bucket. Meet the limited edition Ducati Superleggera V4.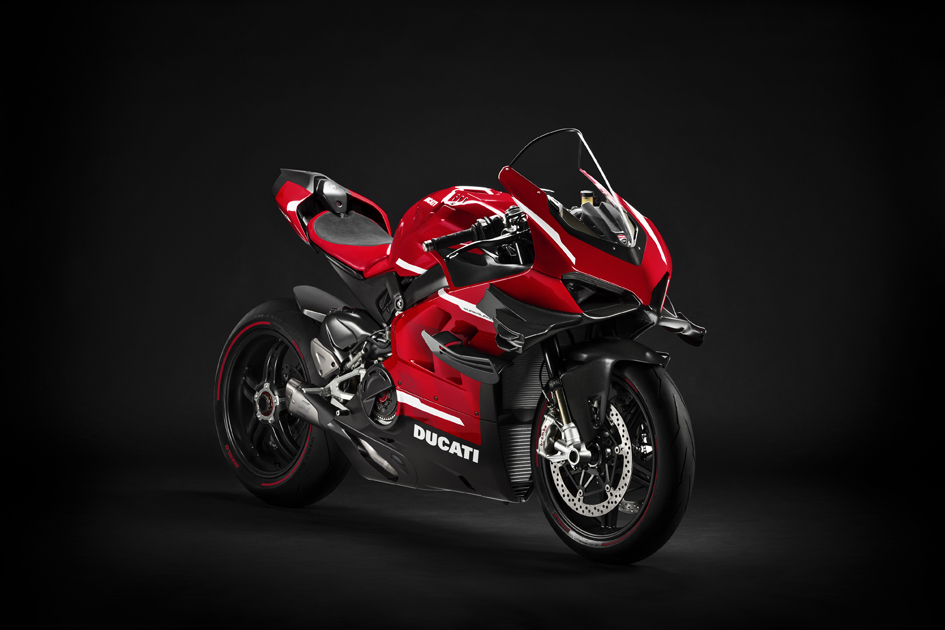 In case you don't speak Italian, 'Superleggera' means 'super light,' and the Superleggera V4 sure lives up to the name. It's the only street legal motorcycle sporting a full carbon fibre frame, subframe, swingarm and wheels. Between those, and a host of other changes that include magnesium, titanium and machine aluminium parts, the Superleggera V4's dry weight lands at a mere 159 kilos—16 kg less than the Panigale V4.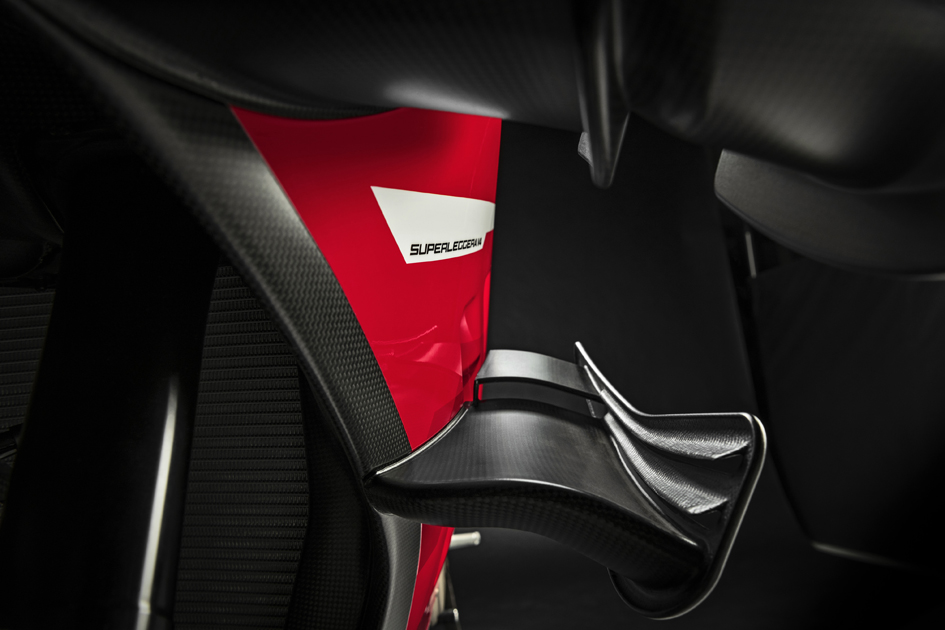 The Superleggera V4's motor is pretty special too. Its Desmosedici Stradale R motor has a capacity of 998 cc rather than the 1,103 cc of the current V4, but it weights 2.8 kg less. And it makes more power, clocking in at 224 hp in standard trim, and 234 hp if you add the optional track-only titanium Akrapovič exhaust.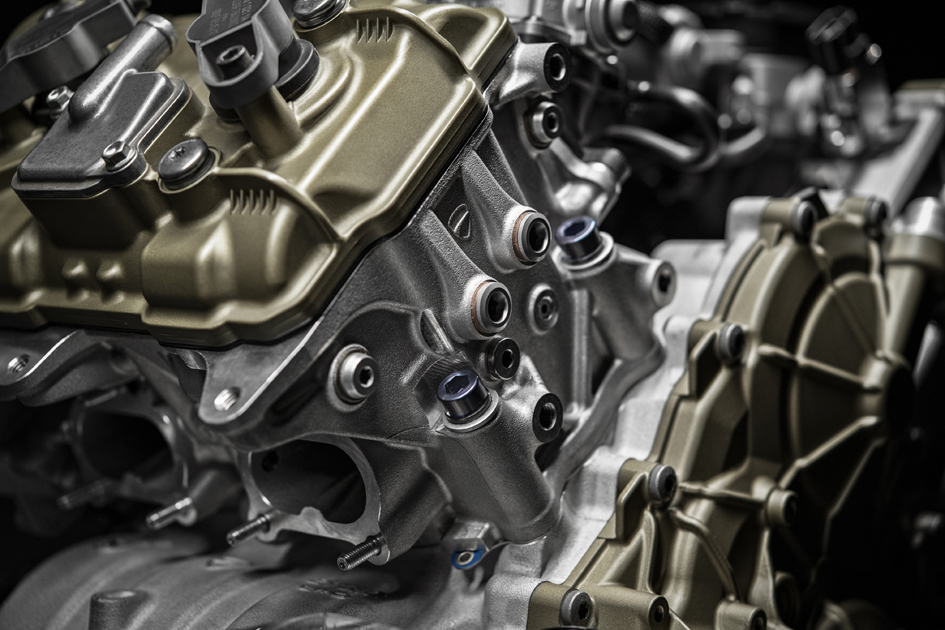 The exhaust, which is included in the supplied 'race kit,' shaves off more weight too. The kit also has a special calibration package, complete with a 'RaceGP' display that's a riff on the instrument panel from the Desmocedici GP20. In 'standard' trim, the Superleggera V4 boasts a power-to-weight ratio of 1.41 hp/kg—a record breaking number for a street legal motorcycle. But with the bike in full race mode, that number jumps to an eye-watering 1.54 hp/kg.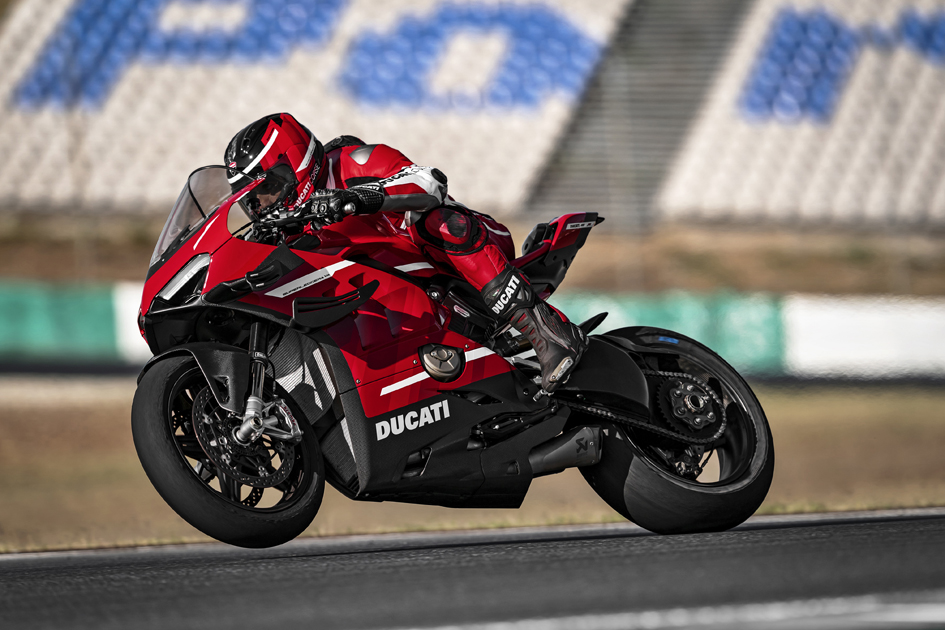 That power-to-weight ratio is backed up by a number of track-specific upgrades. The geometry throughout the chassis and swingarm has been highly optimized, and there's a pretty extensive electronics package too. All the accoutrements like traction control and a quickshifter are present, along with three riding modes. But you also get five additional, user-programmable modes, and a lap timer that can store times for up to five tracks.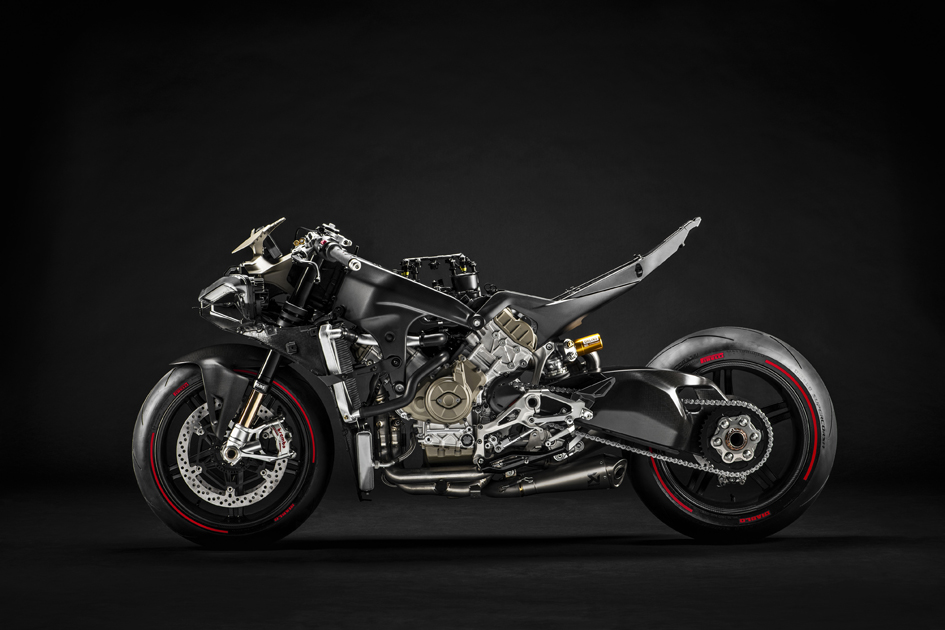 Other upgrades include a lighter Öhlins suspension system with lightweight machined aluminium fork lowers, a titanium spring at the rear, and valving derived from Ducati's GP race program. The brakes feature special Stylema R calipers from Brembo, exclusive to this bike.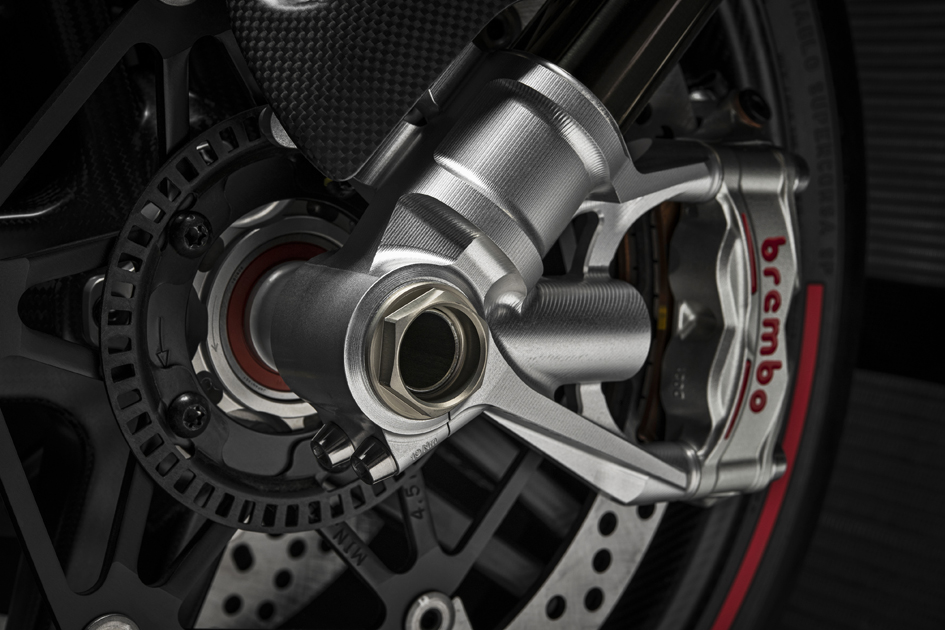 And yes, the Superleggera V4's fairing is also made from carbon fibre, and has all the wings (technical term: 'biplane aerofoils') you could want on a track day weapon. Unlike the wings you might find on the back of a Honda Ballade, these actually make a difference—the Superleggera's setup creates 20 kg more downforce than the Panigale's, with a total of 50 kg at 270 kph.
They're there to keep the front wheel down under hard acceleration, and improve braking stability. And let's face it: they look extremely cool too, as does the Desmosedici GP19-inspired livery. And Ducati have seen to the little details too, with stunning machined aluminium pieces like the radiator cap and individually numbered key.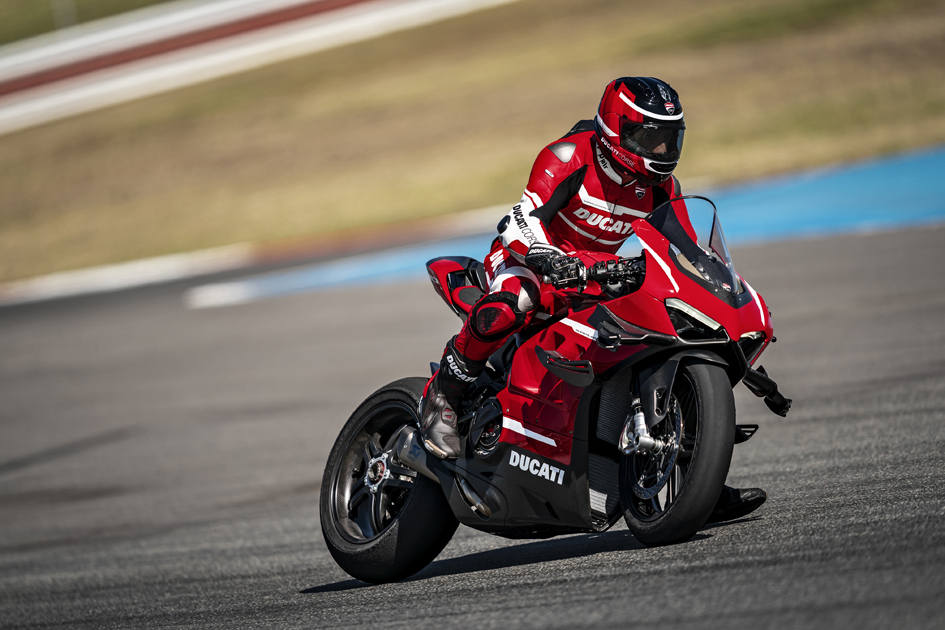 To put the Superleggera's performance to the test, Ducati let their official tester loose around Mugello. He was just two seconds off the pace of their SBK race-spec Panigale V4 R, which is downright nuts for a machine that's available to the public.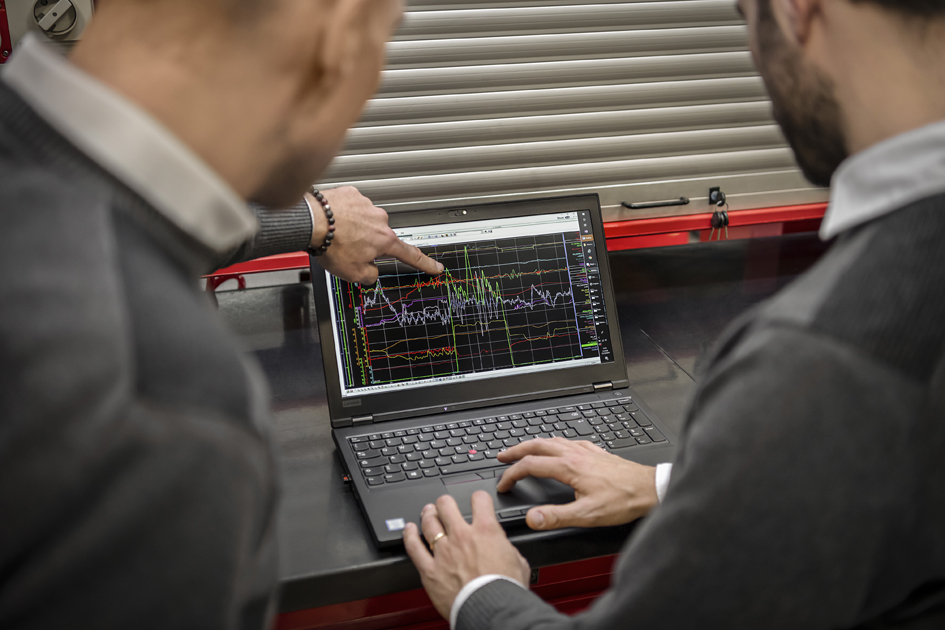 As you'd expect, the Superleggera V4 will be produced in extremely limited numbers. Ducati will be shipping them out in Europe from June at a rate of five a day, with a total production of just 500 planned.
There's no word on when these bikes will arrive in South Africa, however, Ducati South Africa has informed us that they are definitely planning to bring some into the country and they are expected to sell for around R1,690,000.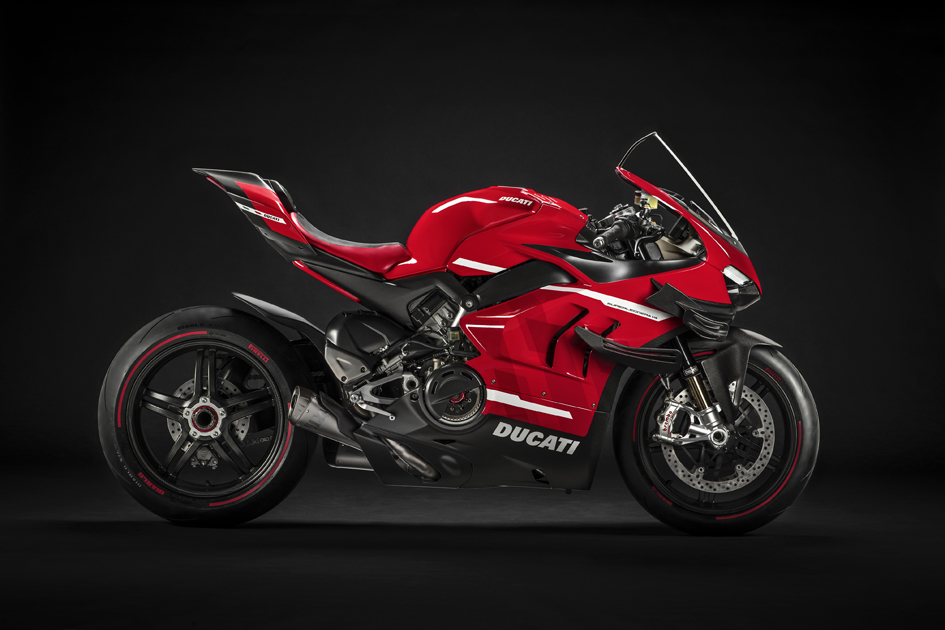 That money buys you a Superleggera V4 with its own ID number stamped on the frame, fork yoke and key, along with a certificate of authenticity. And if you want to spend a little extra, you can even spring for a matching leather suit from Dainese, complete with airbag tech and a carbon fibre Arai helmet.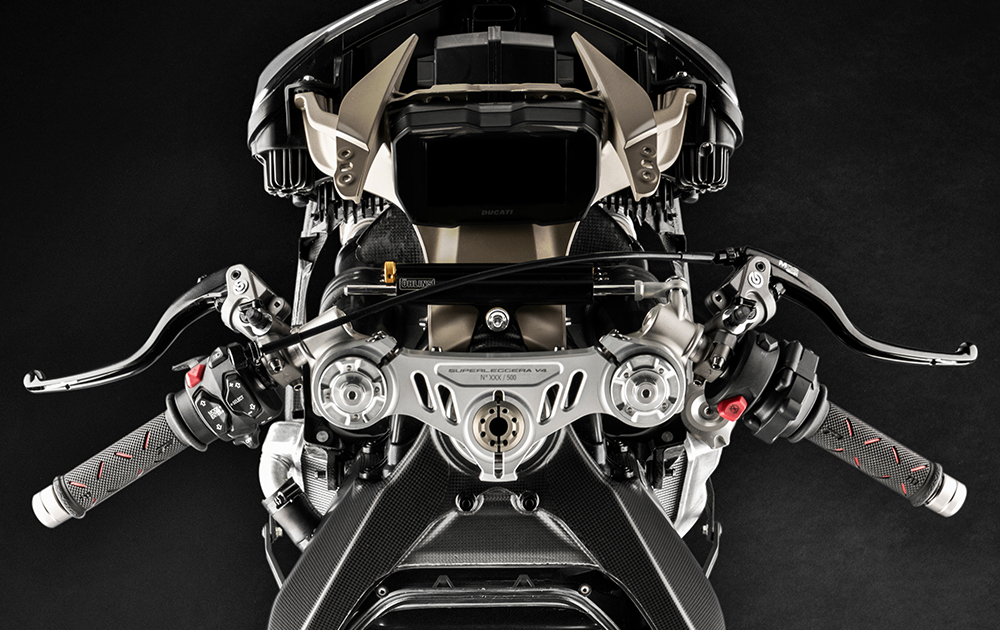 But what's really cool, is that each Superleggera V4 purchase includes a 'SBK Experience,' which gets you a ride on the SBK World Championship-spec Panigale V4 R on a test track at Mugello. And 30 lucky owners will also get the once in a lifetime 'MotoGP Experience,' which includes a ride on the Desmosedici GP20.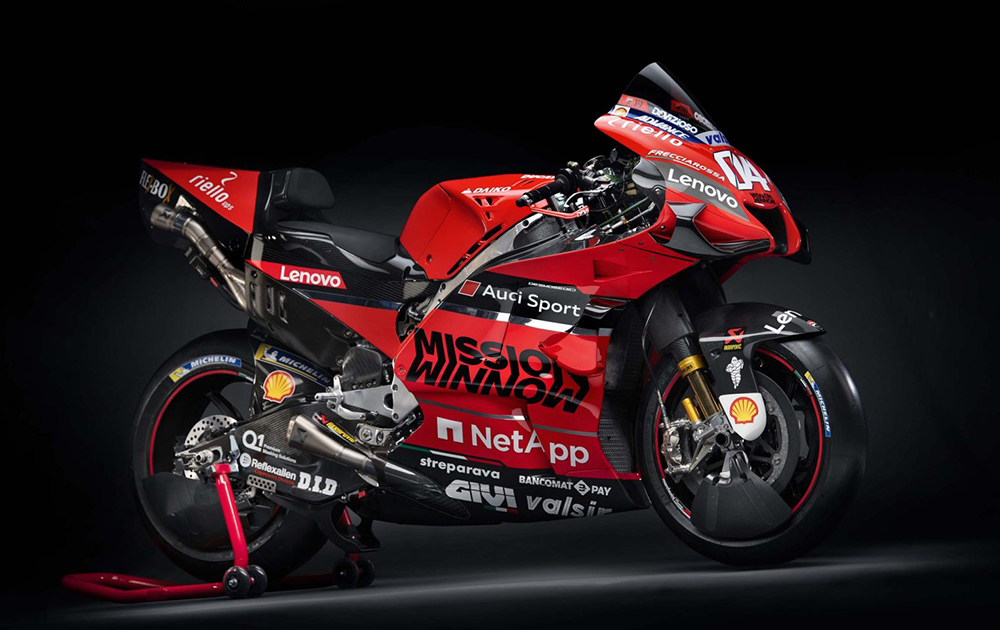 Yes, it's going to be crazy expensive to own one. But between its chart topping power-to-weight ratio, exclusive spec and mind-blowing looks, the Ducati Superleggera V4 is the wildest superbike you can buy right now.