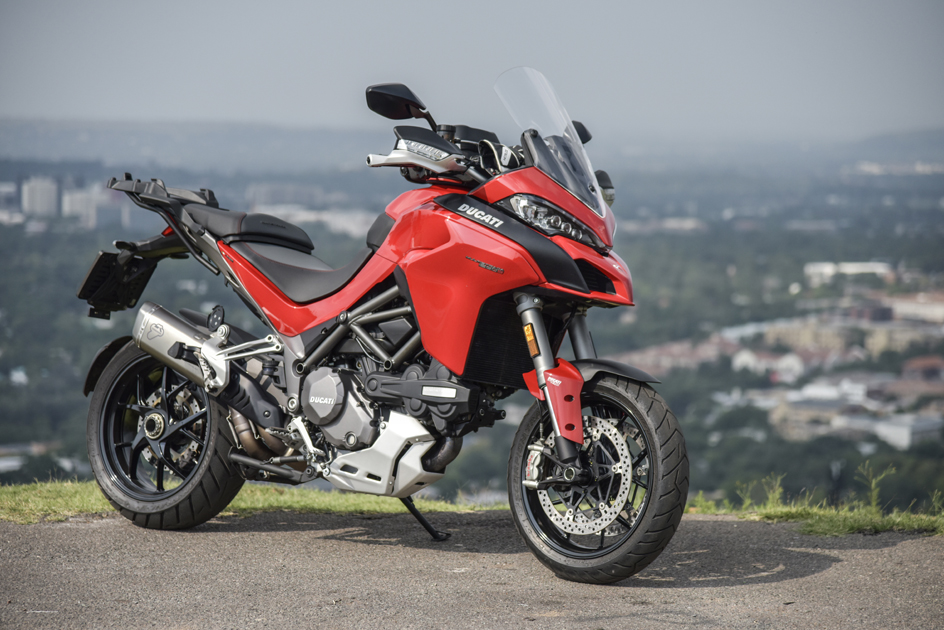 My daily commute transforms into a mad dash of traumatized tourists, mesmerised motorists and petrified pedestrians. The scenery becomes an absolute blur as I dart through gaps, nooks and crevices on my way to a location unknown. I say "location unknown" because I cannot even remember where I was going… and I seemed to care less and less with every turn of the wheel!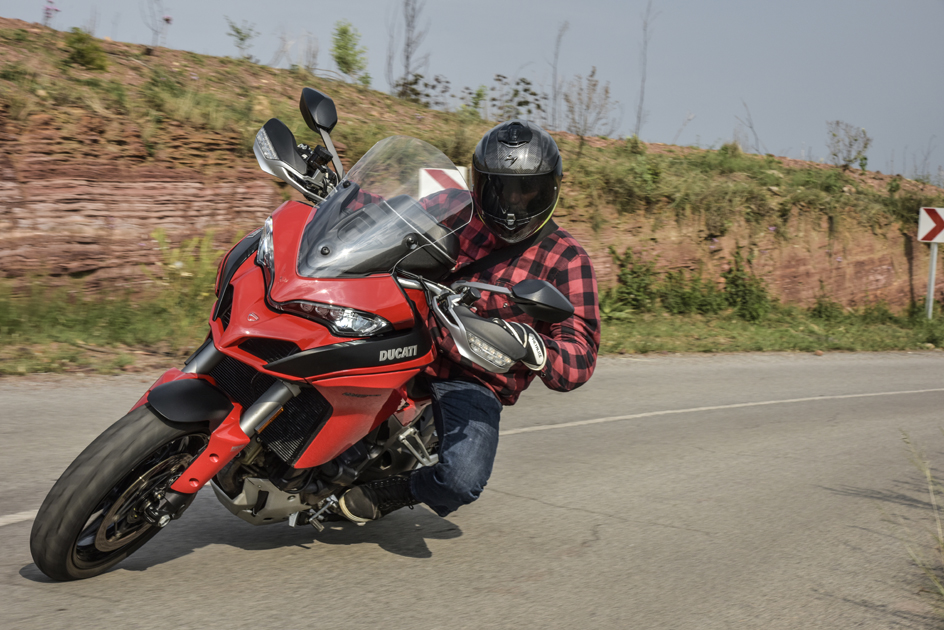 I keep reminding myself that I'm being a hooligan, yet somehow I cannot convince myself to slow down to civilized speeds. Welcome to the world of Ducati. This time, the culprit is a Red Ducati Multistrada 1260 S. The most appropriate way I can describe this experience is to liken it to a two-wheeled Ferrari supercar.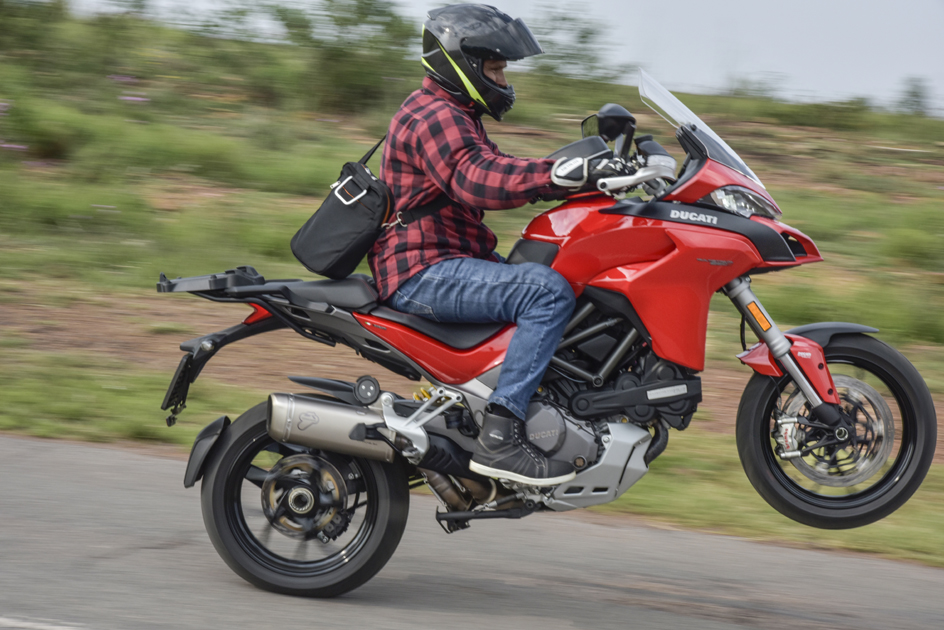 Now let's just pause there for a moment! Often, the extreme side of Italian engineering includes raw, uncompromising performance, razor-sharp handling characteristics and an unbreakable soul tie with the hypnotized braveheart who dares to partake. Put this bike in "Sport" mode and you have just signed an invisible indemnity…..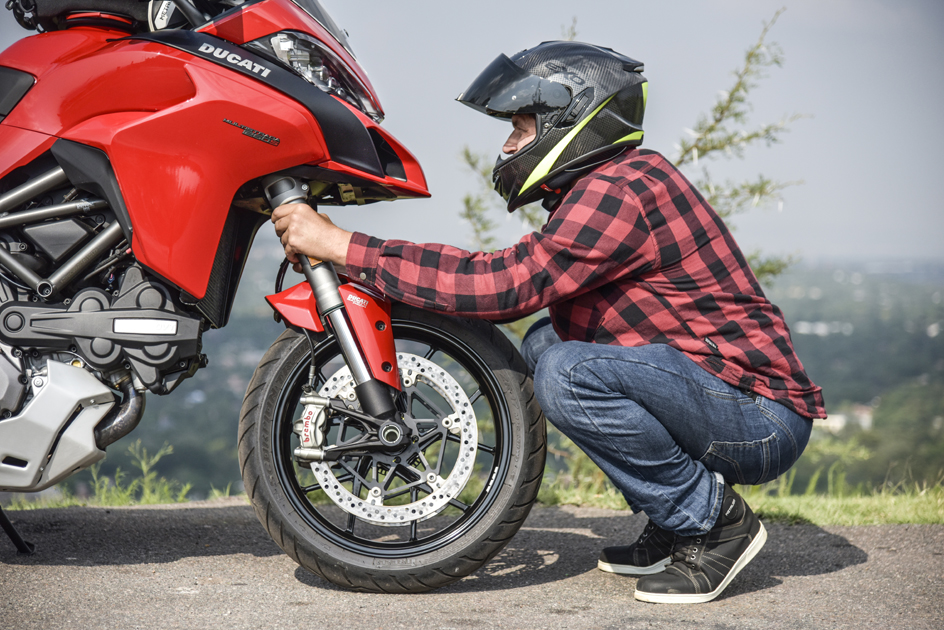 To be clear, I have ridden faster, more powerful motorcycles, yet this bike as an overall package, fades those encounters to the back of my mind as I concentrate with every bit of my processing power just to let go and enjoy the madness of the moment…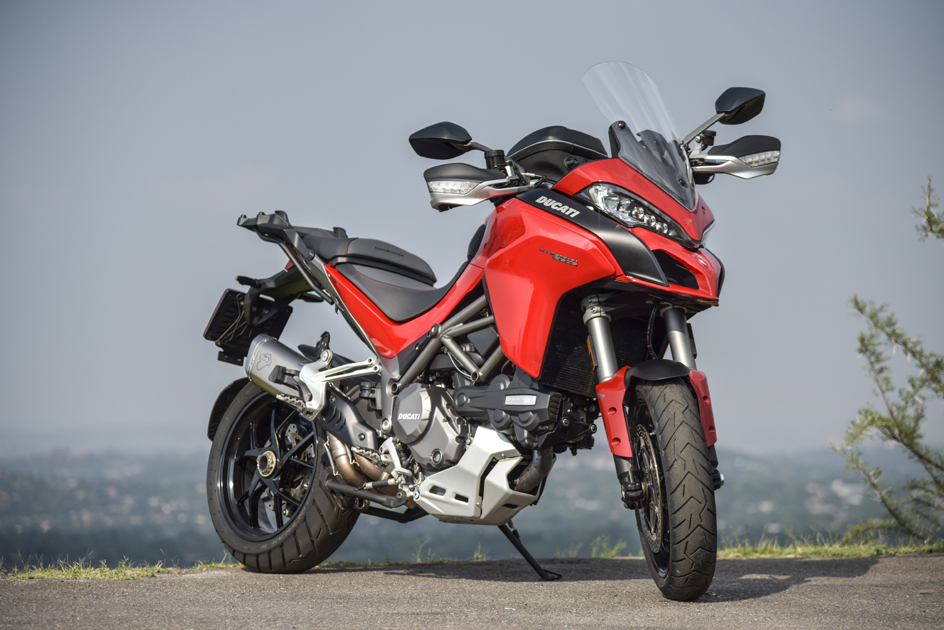 But let us hit the pause button and allow sense and sensibility to prevail, or should I say return…
I have been watching the new direction of Ducati keenly since their takeover by the Germans in 2012. To get very technical, Ducati is actually owned by Lamborghini, which is part of parent company Audi, which in turn belongs to the Volkswagen group.
I say this, because I have seen this influence filter down to many aspects of Ducati. This is where the story gets sensitive….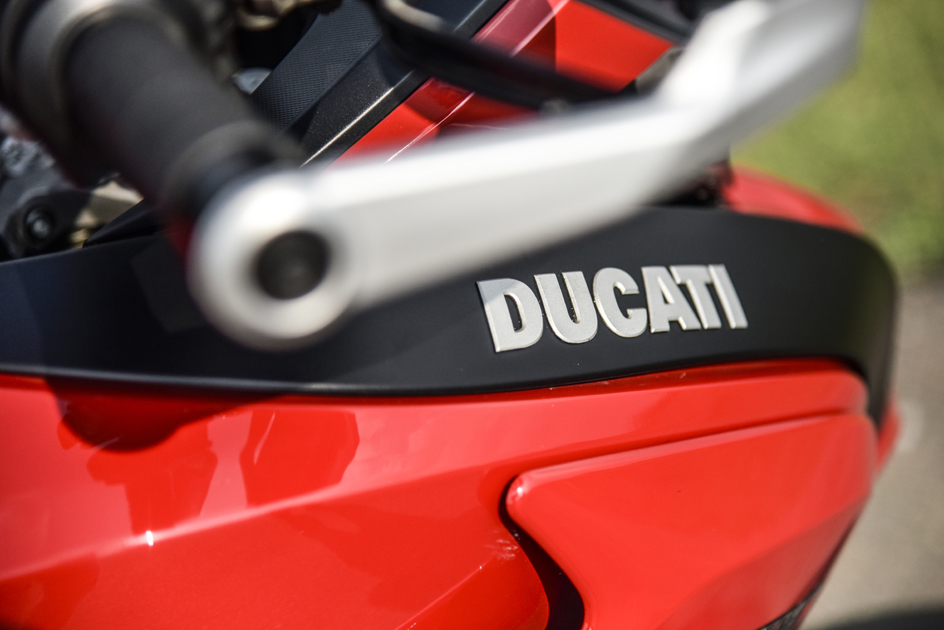 In the past, Ducati was known for its unadulterated, raw Italian qualities. There was a very clear "love/hate" divide as many felt that Ducati preferred Italian passion over function. For many years the bikes were brutal, uncompromising racing machines, notoriously unreliable and very expensive to maintain. If you owned a Ducati, you would elicit ridicule and envy at the same time.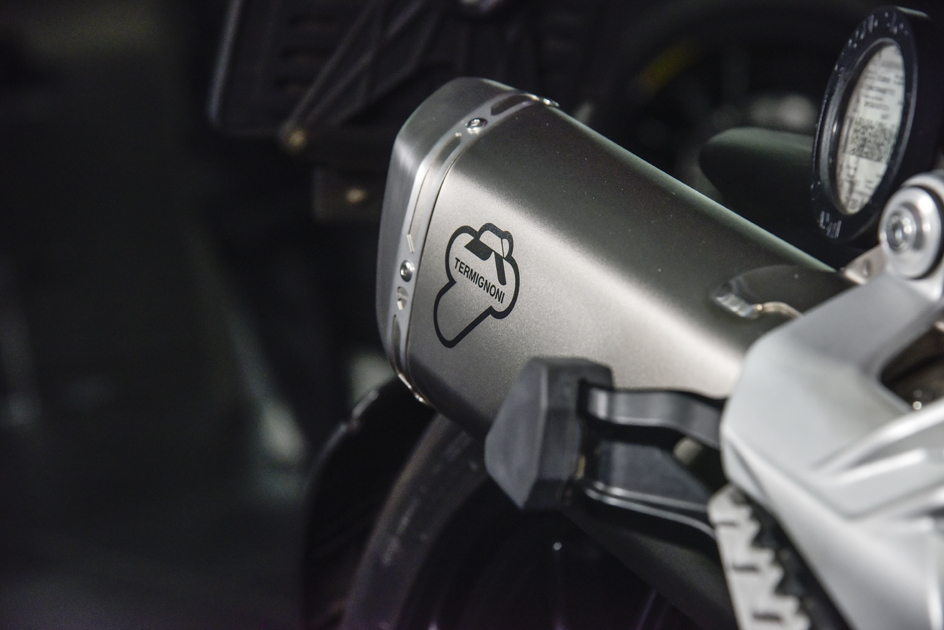 This is changing in a way that brings only positives to the debate. Somehow, and this will take a few thousand words to even begin to verbalize, Ducati has managed to keep the wildness, the intimacy and the heart-throbbing emotion, yet at the same time, there is a newfound refinement, functionality and air of quality that has emerged.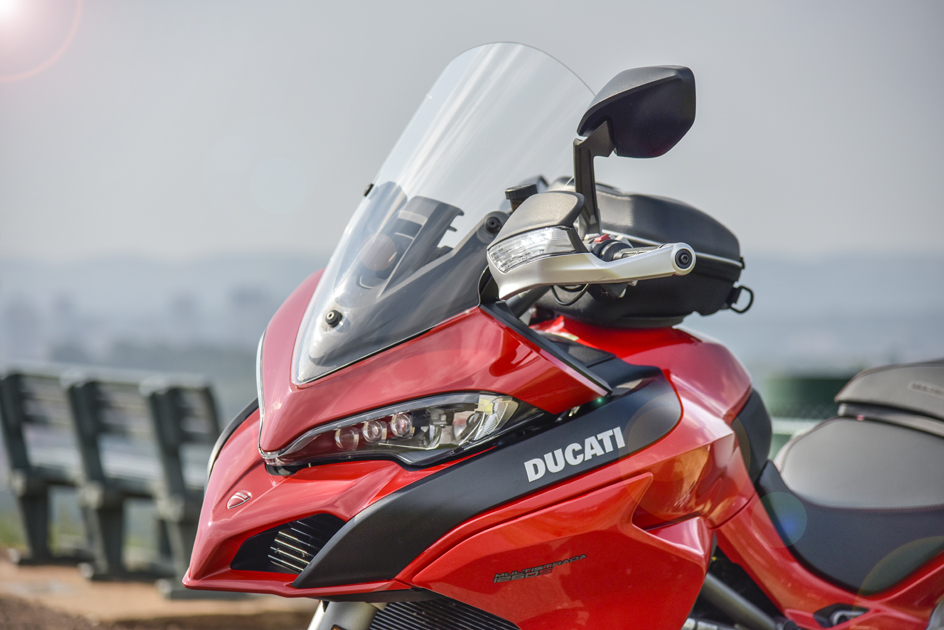 Many will not even notice this subtle swing, hence this "phenom" goes largely unrecognized and seems to be an unsung victory of some sort. But more and more discerning riders are starting to take note. From the quality switchgear, the near-perfect fueling, to the sharp, clear and simple LCD display that offers much information in a very pragmatic, simple way. The list goes on and on, but for me, the most noticeable victory is Ducati's interpretation of the riding modes. Allow me to explain….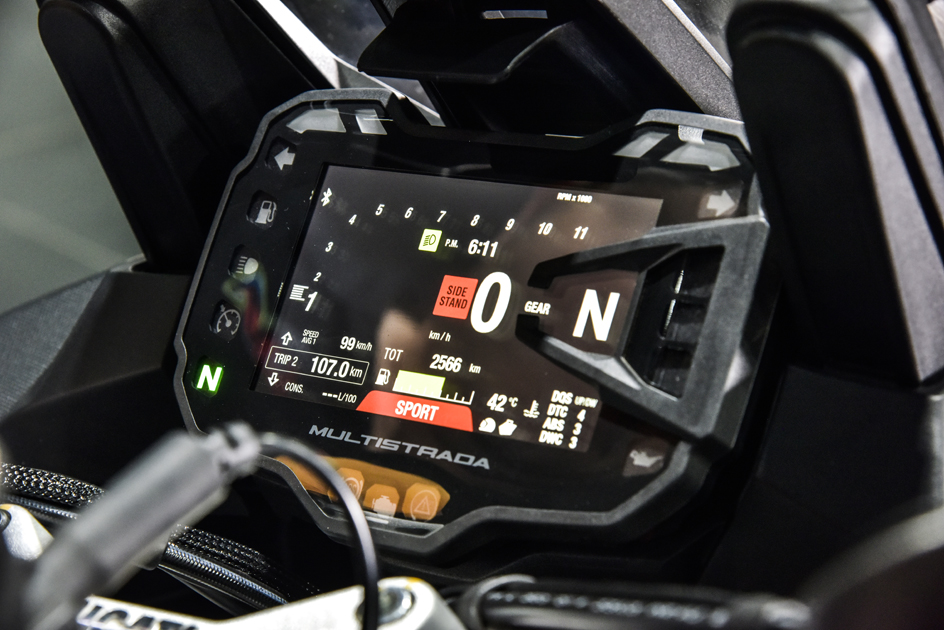 The mode that most exudes the true nature of Ducati, is the "Sport" riding mode. This goes without saying and will for once, not be the topic of discussion. Allow me only to say that the way in which power is delivered is almost savage, with the near 160 horsepower backed up by massive, ever-present torque to amplify the experience. No compromise, no excuses!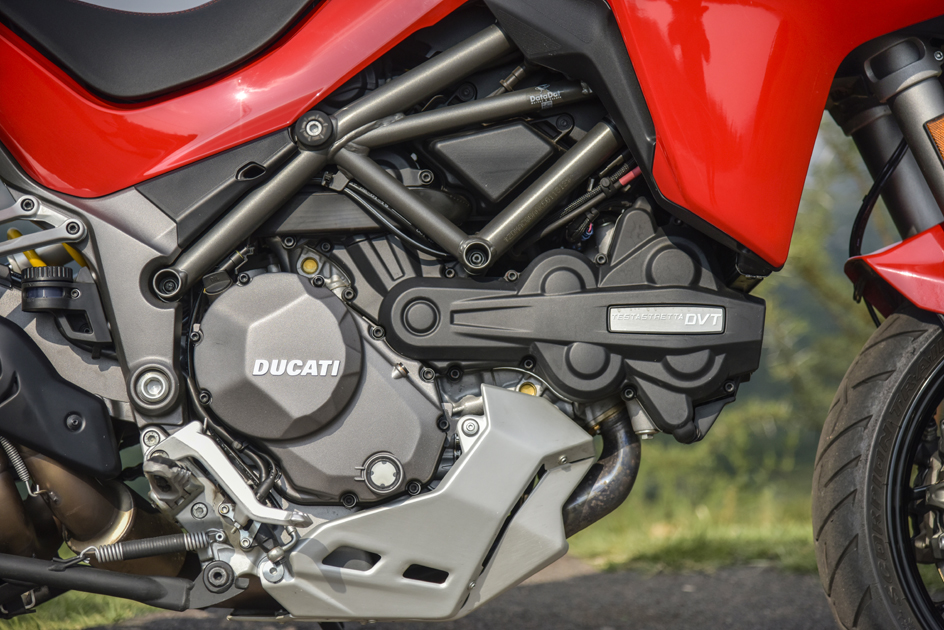 Now please allow me, for once, to dwell on the "Urban" riding mode. After a photo shoot that included a mad dash through peak hour traffic, a straight line dice, many cornering sequences and a few power wheelies, I was spent. My adrenalin factory was near bankrupt and it was time to head home. As the afterglow to my satisfaction, I needed time to reflect, contemplate and celebrate a day well spent.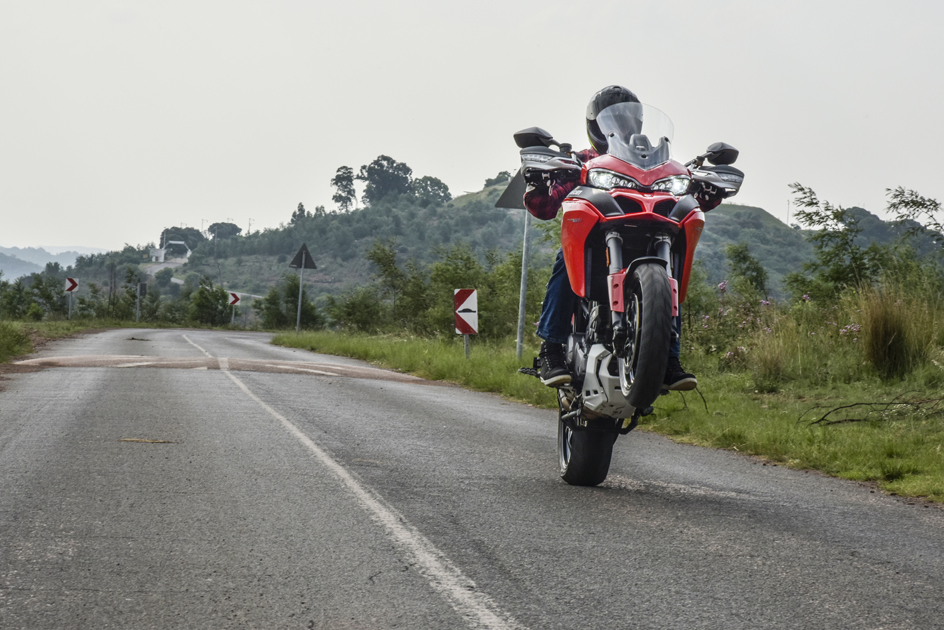 I dared to select the "Urban" riding mode just for the sake of research and this is what changed the game for me!! In this mode, power delivery is toned down to more manageable, subtle levels to assist the rider during the daily grind and the ever-changing, urban traffic challenges. On this occasion, after all the adrenalin, I just needed to smell the roses and glance at the hypnotising sunset with a smile and a grateful heart.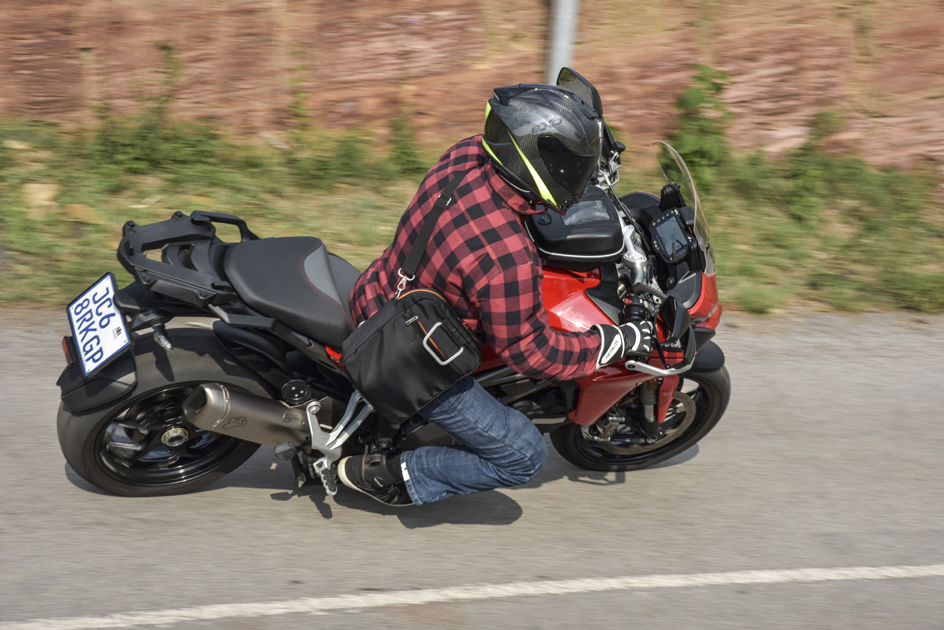 Sometimes, our celebration of being alive takes the form of a quiet, deep awareness, and this is exactly what I experienced that afternoon, returning to the Country Estate that I call home.
Yes, "Urban" mode brings a level of control and huge refinement. "Urban" mode allows you to switch off and just enjoy the moment. Everything becomes quiet and gentle, something I have not experienced aboard a Ducati before. This playmate dwarfs into a soulmate, understanding your pensive mood with, dare I say German refinement and precision. This was the part that surprised me the most.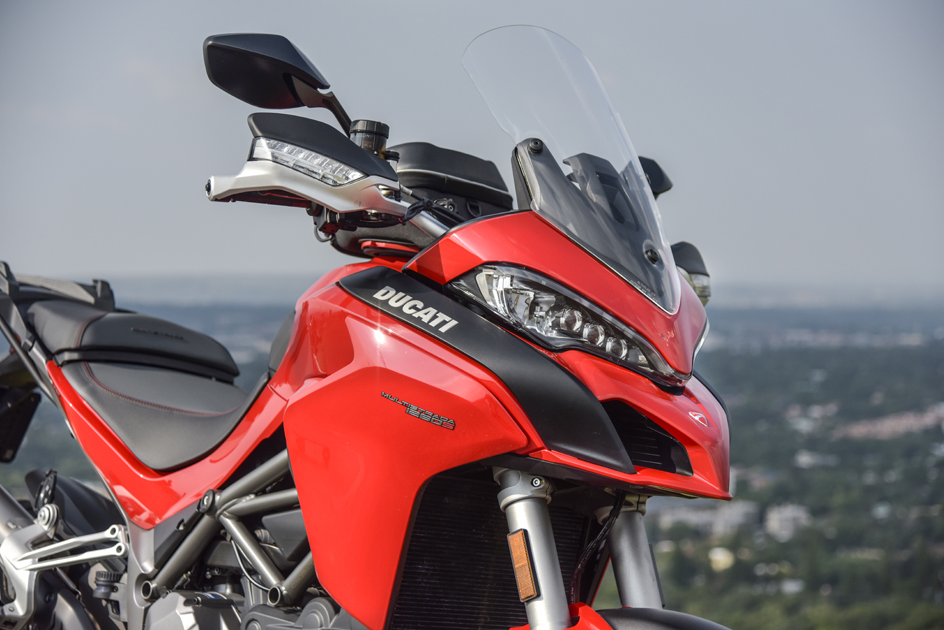 It felt like I could just glide into the sunset and beyond and I was almost sad to reach my destination. A day well spent aboard a machine worthy of mention…
The intuitive, light steering comes to mind. The adjustable windshield that caters for most moods. The brakes, oh the brakes are just typical European in feel and performance. The low slung seat, suited for shorter riders should be uncomfortable, but it is not. It allows for hours of comfortable travel in conjunction with the aforementioned well-designed windshield and optional luggage system. I enjoyed the tank bag that kept my phone charged as I was discharging my mind….
All in all, this bike can be best described as an uber sports tourer. And this is another point I want to make. At present, sports touring machines exhibit certain sports bike qualities, together with certain touring qualities. In my mind, this has never been a winning formula.
Ever since the advent and rise of the adventure bike with its typical upright seating, ample wind protection and wide bars, there is a new argument arising. Ducati saw this gap in the market and to my memory, was the first manufacturer to incorporate the practical attributes of adventure biking with the mad, undiluted world of sports biking. Since then, BMW has come on board with the S1000XR, which also makes a telling and very strong argument to the emergence of this new breed of motorcycle.
They truly cater for comfort, but can leave you breathless on their remarkable performance levels. This was a subtle, yet visionary shift and they are taking centre stage more and more. In the Southern hemisphere, we take Adventure biking very seriously, yet up North, they prefer the softer, safer side, and this is where these bikes leave their biggest impact.
There are many things that define motorcycling for me and over the years I have experienced them all. The road to discovery on this chosen lifestyle brings new surprises every single day. The more I experience, the more I realise how little I know… and this Multistrada just amplifies that statement.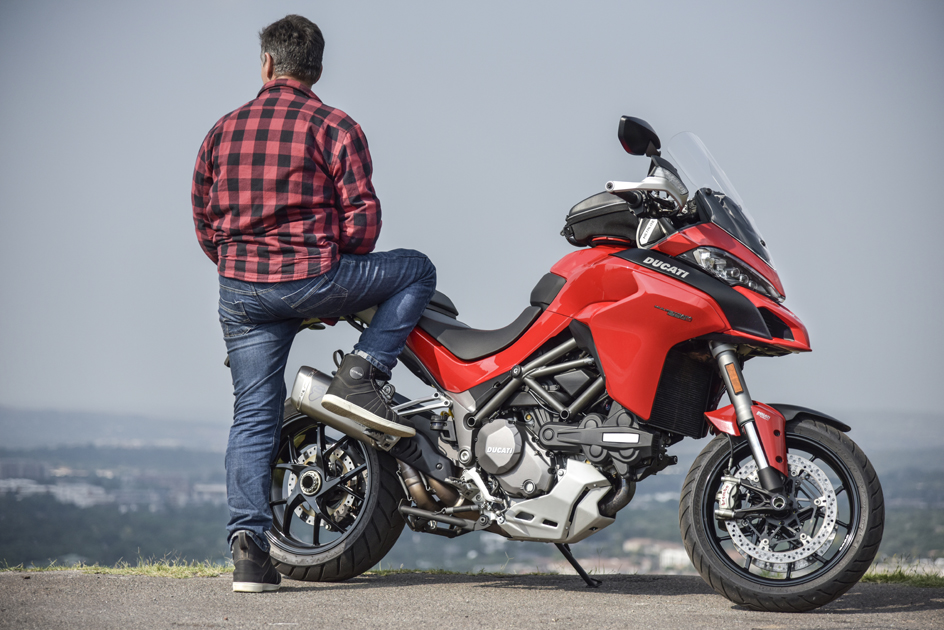 Dwelling for a moment on comfort and luxury, I cannot neglect to mention the level of quality that I felt in suspension performance. The suspension certainly does not let this bike down. The temptation was there for Ducati to make this machine rock hard and uncompromising, yet in a bit of newfound maturity, they re-evaluated what this bike was about and instead opted for plush, forgiving suspension. With this in mind, it has to be said that the Multistrada still handles as sharply as most minds who will be fortunate enough to operate it. Everything just works in the chassis department, plain and simple.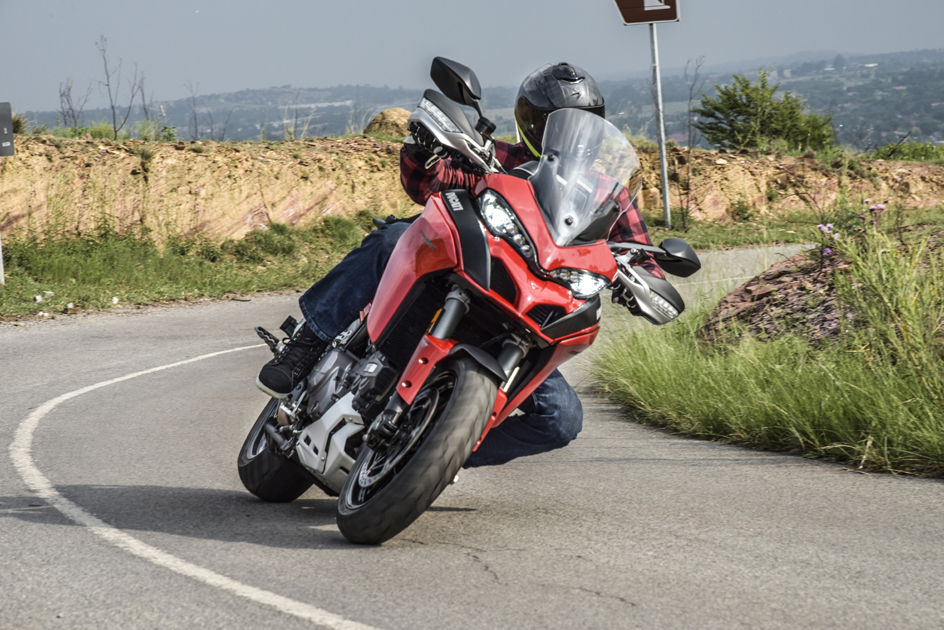 After all is said and done, we all know that any motorcycle is only as good as the backup and support it receives. World of Motorcycles, the retail outlet of Ducati SA in the Centurion Gate Centre just off the N1 highway, has certainly made their presence known in the last number of months under the watchful eye of Jos Matthysen.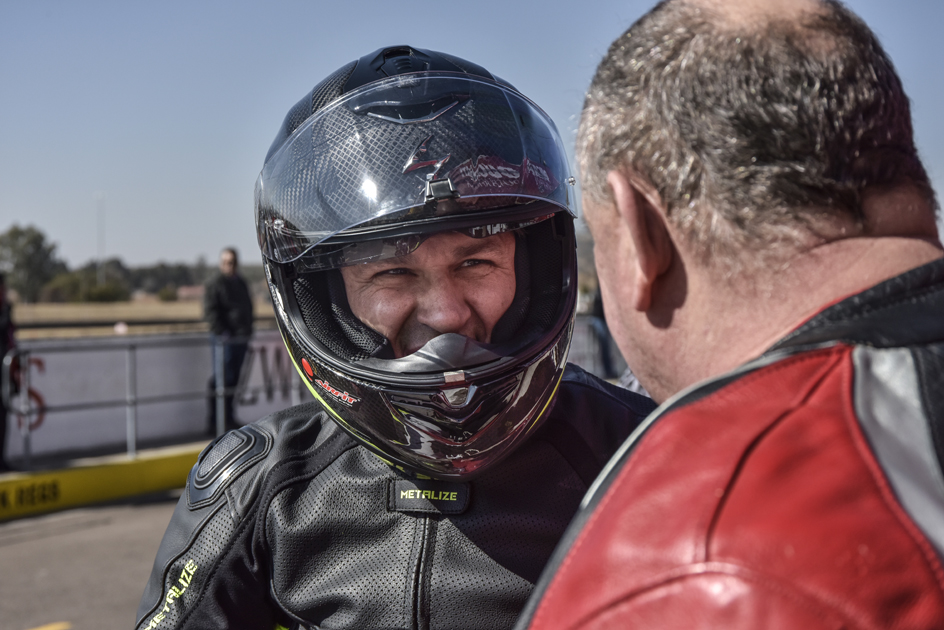 Owners seem happy, the workshop is very professionally run by the venerable Zoki and the rest of the team seems motivated towards the new vision. Many lifestyle activities on offer to current and would-be owners, is re-establishing the brand to its rightful place in the local market.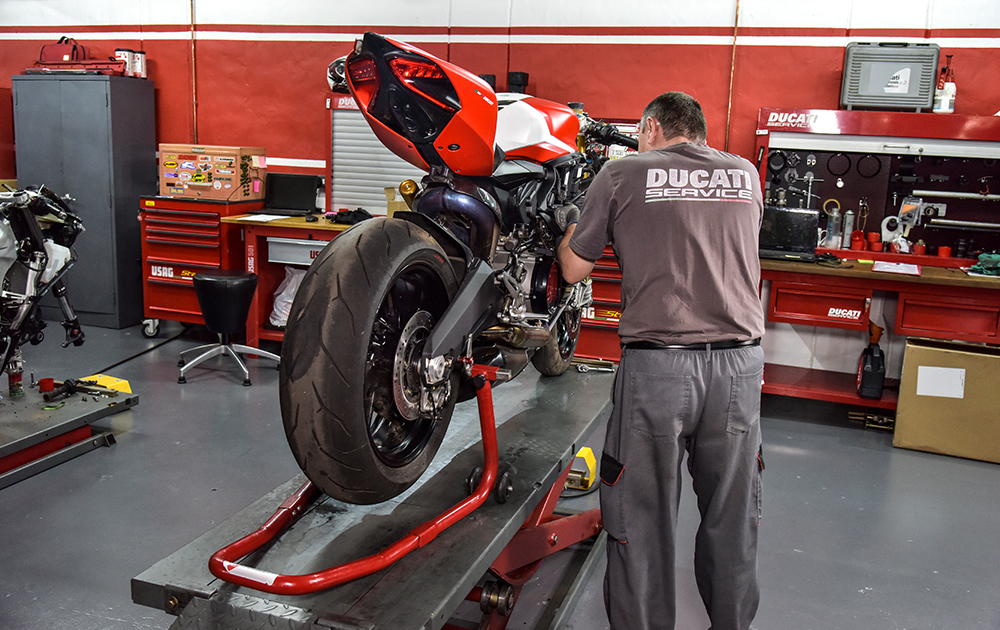 The price tag of R 284 700 for the Red beauty I tested and R 288 700 for the Iceberg White and Volcano Grey offerings, confirms that the pricing has hit a real sweet spot. Backed by a solid 4 year factory warranty, makes this an even more lucrative option.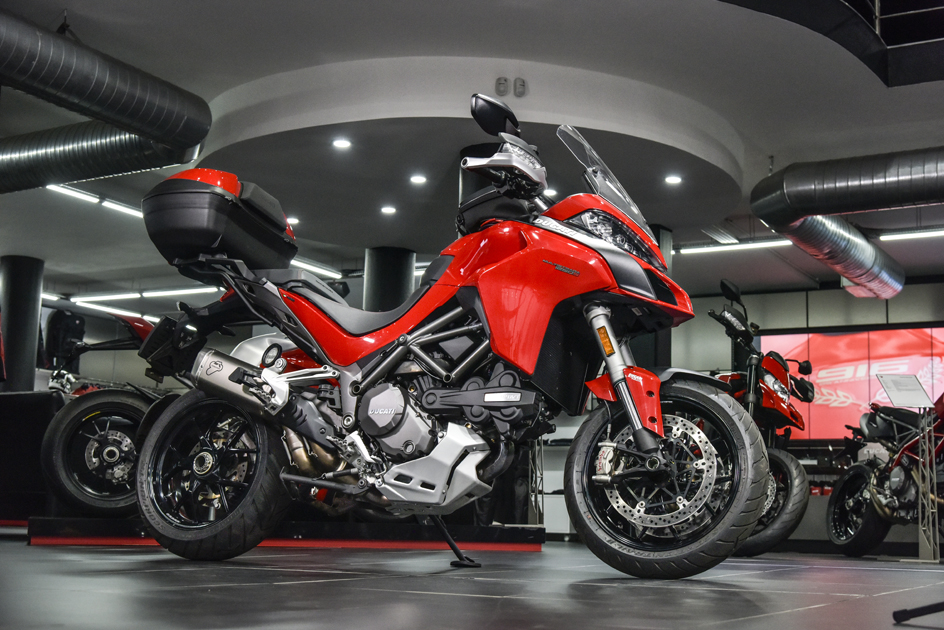 In closing, I have to say that the few days spent aboard the Multistrada has presented me with new insight and a warm contentment. Upon delivering the bike back to the workshop staff at World of Motorcycles, I condensed my findings into a few complimentary sentences, despite the fact that I had so much to say. I then walked off to my next engagement, only to turn around a few steps later and glance back at the red machine with a smile and a nod of approval. Difficult not to be impressed by a package that makes such a complete impression…