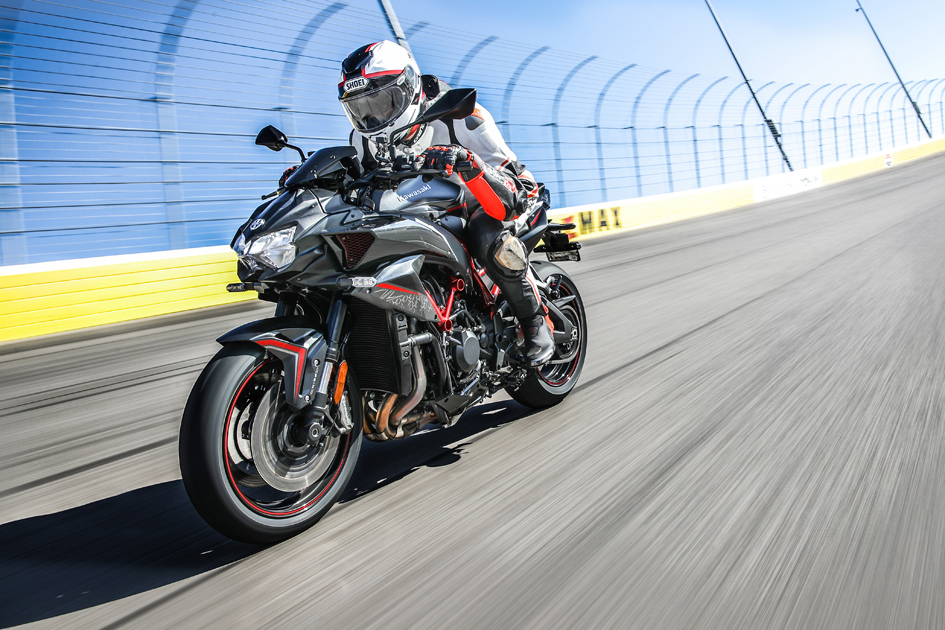 Kawasaki has a long history of mad, powerful and politically incorrect motorcycles. Back in the day, bikes like the Z1, H2 Mach IV, GPZ750 Turbo and ZZR1100 were the ones to have—for any rider who actually had the guts to ride them.
As the 21st century brings with it more and more boring concepts like 'eco-mobility,' it's great to see that Big Green still has guts.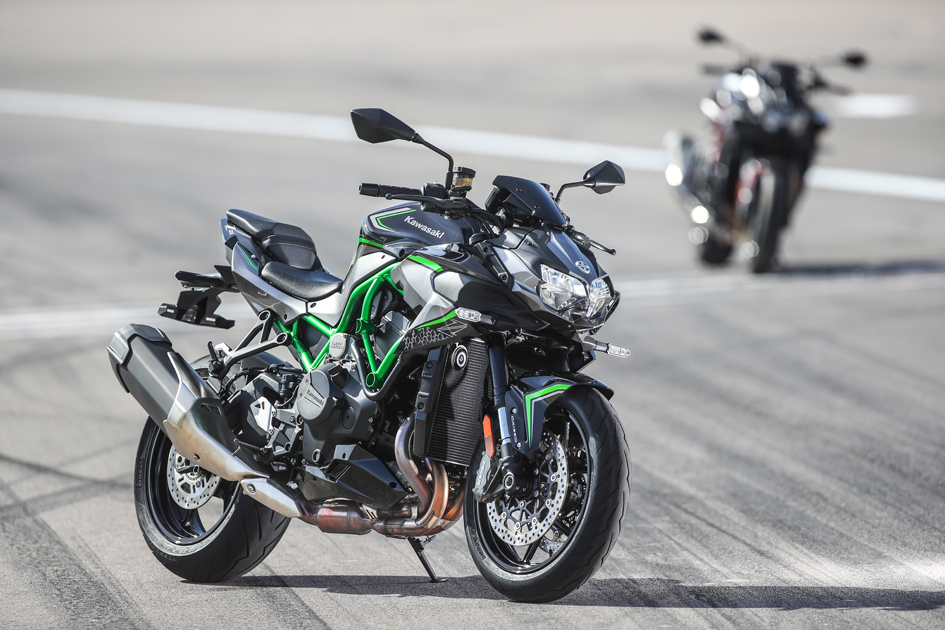 First, they put a supercharger on the Kawasaki Ninja H2. Now, they want the supercharger experience to become more accessible. So they've just put one on a naked bike: the Kawasaki Z H2, offering the best power-to-buck ratio you can get, by far.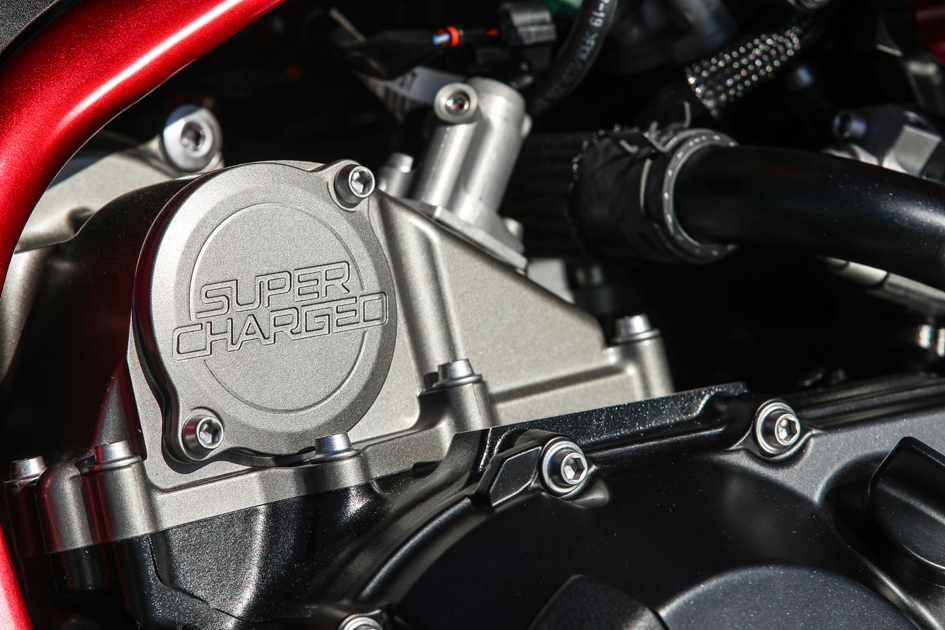 This sounds about as fun as it gets, right? Like 20 years ago, when you could buy an AC Cobra replica for reasonable money; buying it was one thing, but could you live with it day-to-day?
The same question applies to an almost-200 hp supercharged hyper-naked. With power wheelies from first gear all the way to fourth, there's no doubt that this bike is kind of insane. But is it purely wild, or could you commute on it too?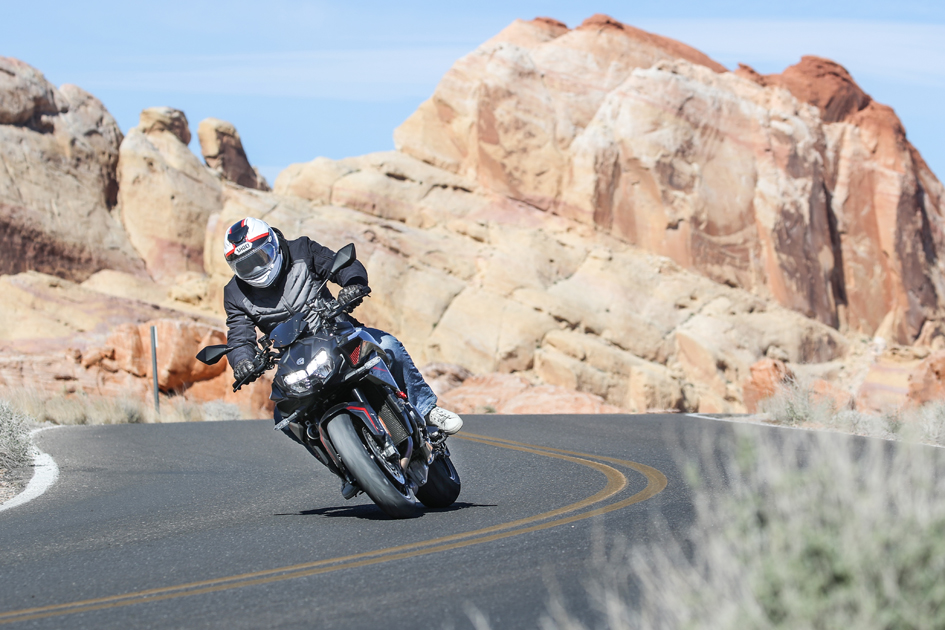 To find out, we went to Las Vegas, USA to try the Z H2 both on a race track and a speed oval, plus we got to do some touring on it through the majestic Nevada desert.
A Super Z
Kawasaki introduced their 'Sugomi' design concept with the Z1000 in 2003—a philosophy that evokes the idea of a predator ready to strike. That edgy design is still present in the Z H2, and you can still recognise it as a big Zed.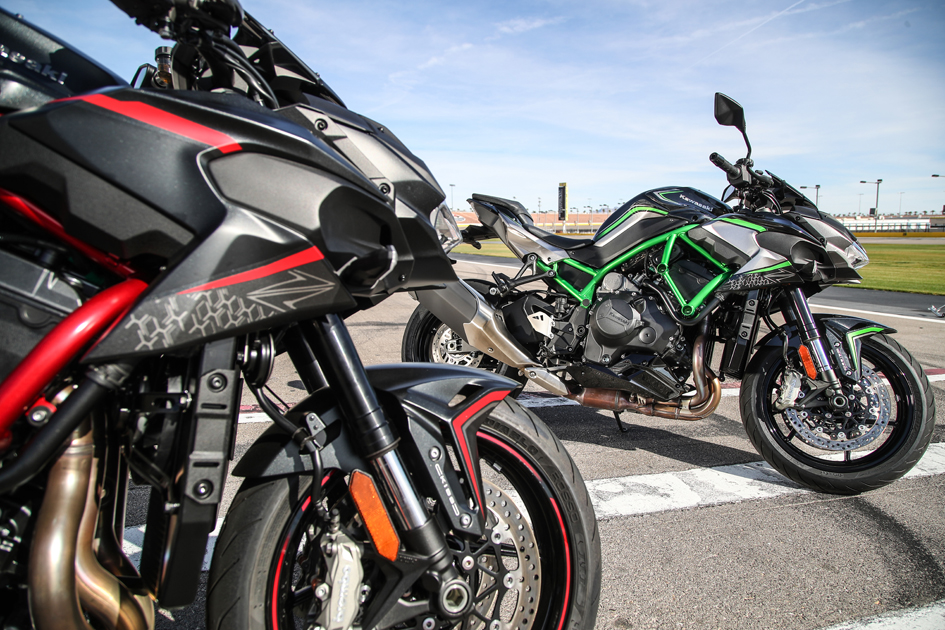 There are some changes, though. The first noticeable one is the trellis frame, which, short of a few graphics, is also the only part of the bike with any real colour (red or green). The headlight and air intake are joined into one unit, and, obviously, there's the supercharger on the right side of the engine.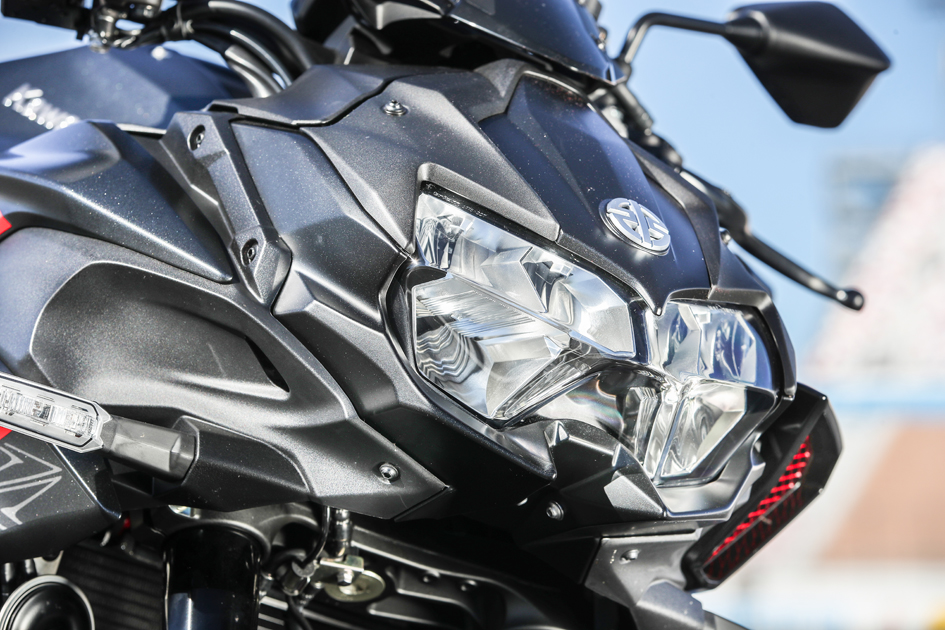 Technically speaking, the Z H2 belongs to the H2 family. But rather than use the 'raw' supercharger found in the H2 and H2R, it uses the 'balanced' setup from the H2 SX. The CNC machined forged aluminium impeller has 12 blades—six big ones and six small ones.
Kawasaki's staff also explained that the engine was developed to produce up to 300 hp, hence it's quite strong and heavy, with reinforced parts and casings. Actual output from the 998 cc motor is a hair less than that of the SX; 197 hp and 137 Nm available at 8,500 rpm. (The SX makes the same torque but at 9,500 rpm).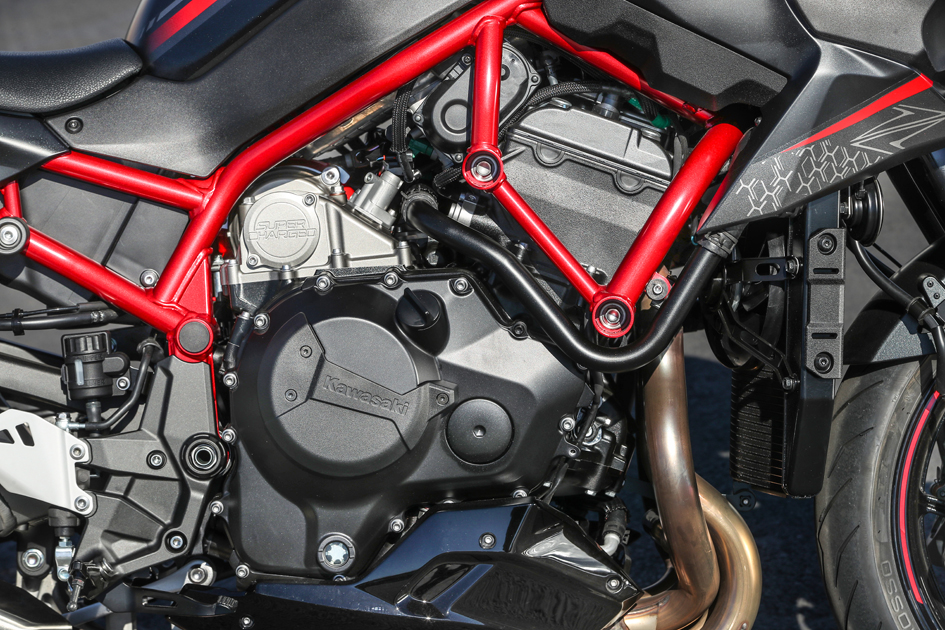 Once onboard, you quickly realise that the Z H2 is, well, a Zed. You instantly feel at home with a neutral and natural riding position. All the controls are perfectly calibrated, and it also has the latest version of Kawasaki's full-colour TFT dash, as found on the Z650 and Z900.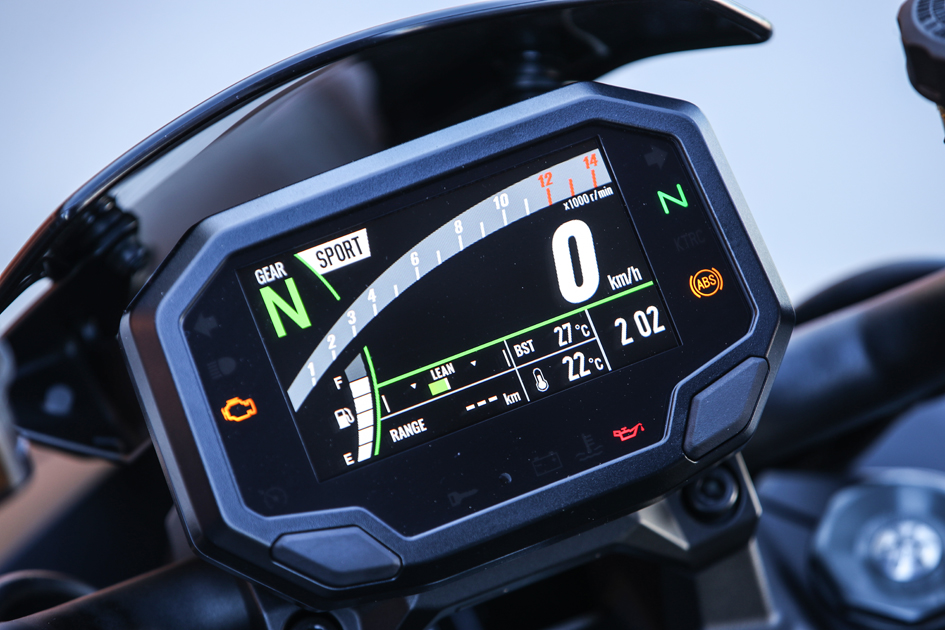 The Kawasaki Z H2 has a complex personality, with different and distinct character traits. As that inline-four starts, it delivers a rather discrete and soft sound…at least at low revs.
On this test ride, we toured the 'Valley of Fire,' one hour east of Las Vegas. But as you can imagine, Nevada Highway Patrol isn't that tolerant of inappropriate speeds, so the pace was quite reasonable. What I can tell you is that at these speeds, the Z H2 is a perfect commuter.
The engine allows you to ride at 40 km/h in sixth gear, with incredibly smooth throttle control. This monster hyper-naked is, in fact, as easy and accommodating to ride at a slow and normal pace as a Z900. There is no doubt in my mind that any big nakeds from the competition (the Ducati Streetfighter V4, KTM 1290 Super Duke R, and even the Yamaha MT-10 SP) will not be as forgiving as the Z H2.
You can also select different riding modes by pressing a button on the left switchgear, and move from 'Rain,' to 'Road' or 'Sport.' Or you can put it in 'Rider' mode, and restrict the power down to 150 or even 100 hp. The Z H2 is, in a word, easy. Very easy.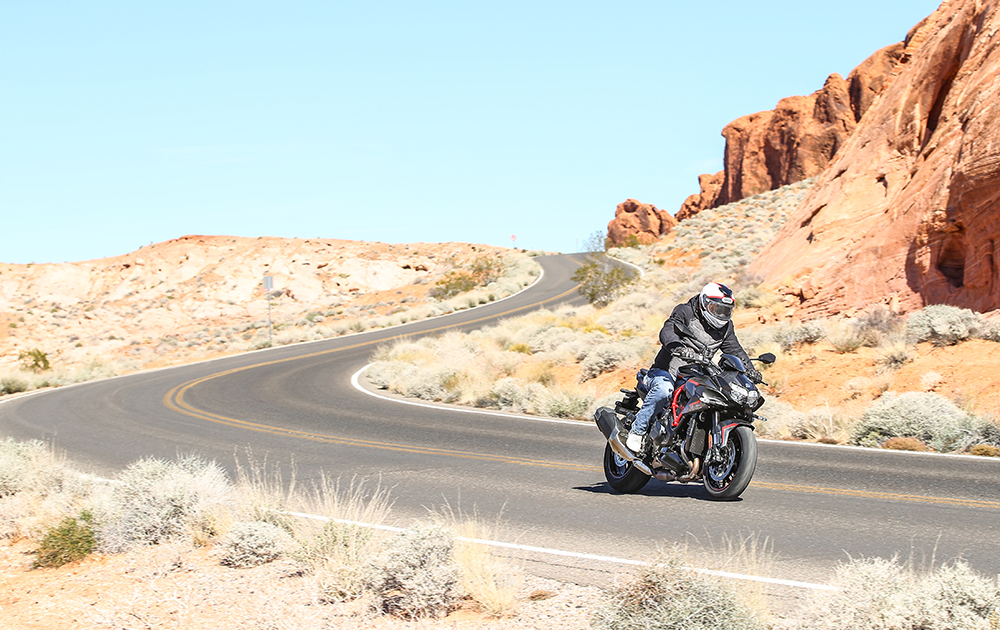 On top of that, the bike is rather comfortable. It's not plush, but the seat and the suspension don't feel like a plank, as with some of its competitors. I can tell you for certain that the Z H2 will handle long rides really well.
The Mario Andretti experience
Las Vegas Speedway; it was opened in 1972, and has a 'D' shape, with each turn's banking increasing progressively towards the outside of the track. One racer, Dan Wheldon, passed away in a crash there, during the 2011 NASCAR race. So there is a bit of emotion and fear when you enter such a place with your leathers and crash helmet.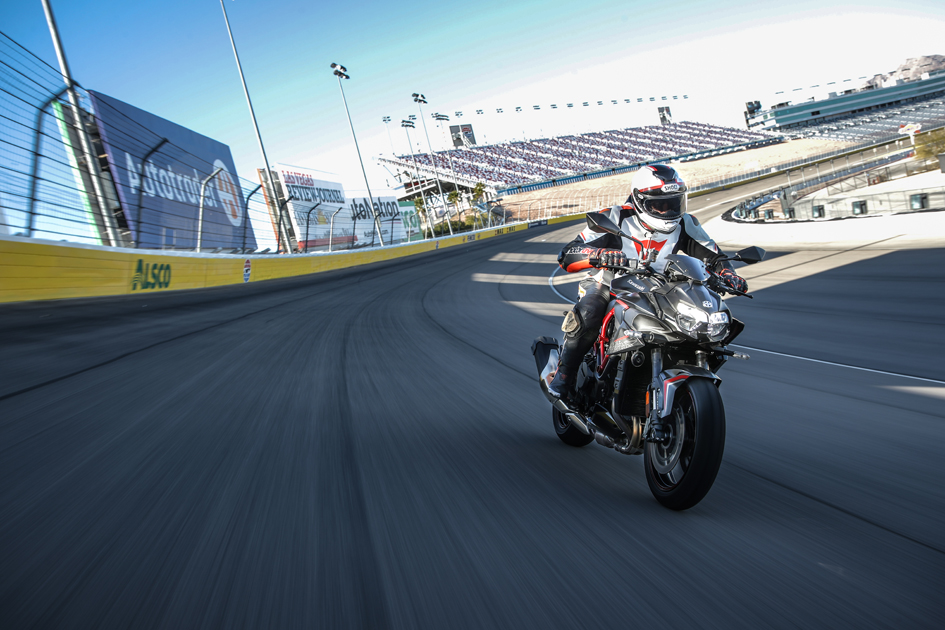 Fear is forgotten as soon as I enter the first banked turn. I enter in fifth gear at around 210 km/h; my horizon is now inclined, as the yellow wall materialises on my right-hand side as a visible boundary. What I have to do now is simple: push on the left of the handlebars, open the throttle wide and enjoy the moment.
I exit the corner at 246 km/h in fifth gear, with a 60 degree leaning angle (recorded by the onboard electronics, and shown on the TFT display). My footpeg scrapes on the inside, just before I flick it into sixth in the short straight, and enter the following turn faster. All this on a naked bike.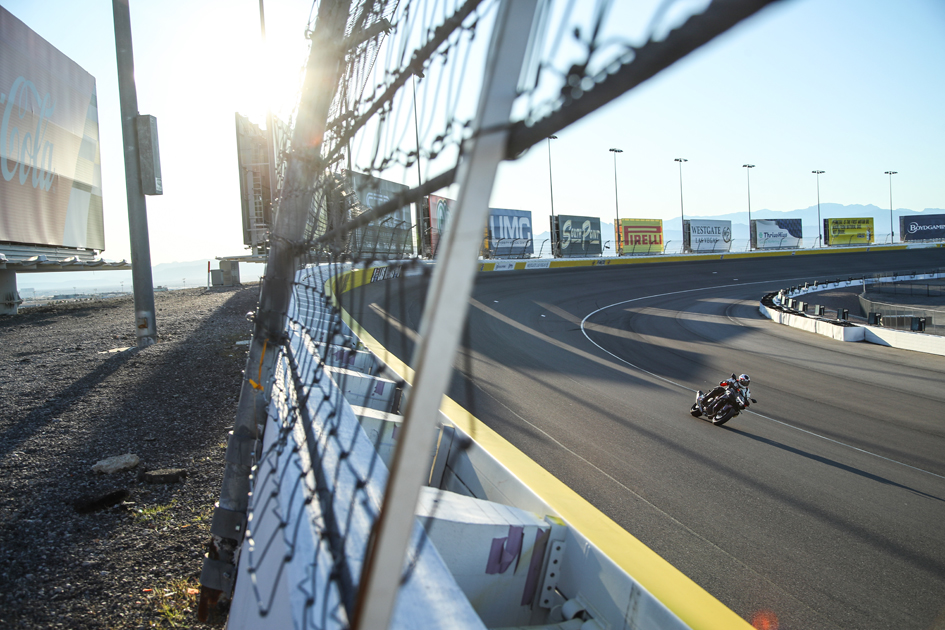 There's no denying that the Z H2 shows a second side of its personality from 6000 to 11000 rpm. The supercharger experience creates indelible memories. When I started riding motorcycles, a proper superbike at the top of the range, produced just 130 hp. Now, a naked machine, and a good commuter, makes almost 200. Obviously you need a bit of space to enjoy all of those horses, but South Africa is a big, wide country!
Since the gear ratio is a bit shorter on the Z H2 than it is on the H2 SX, and the riding position more upright, the acceleration feels even more violent. I saw 180 km/h in third gear, 210 in fourth and 246 in fifth. I'm sorry that I couldn't get all the way to the top of sixth gear, but we've heard testimonies that 280 km/h is not out of reach.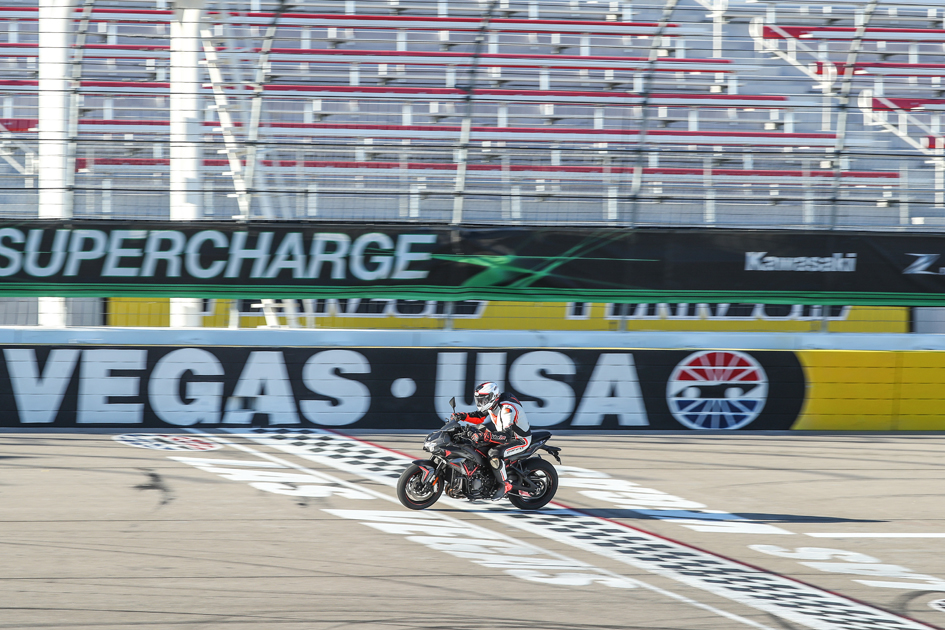 Don't be fooled by these figures, though: the Z H2 is a hyper-naked, and not a superbike. You'll feel its 239 kilos into corners, and, if you want to do track days, its Italian and Austrian counterparts will feel more adequate. So if you want to lay down some proper lap times, a genuine superbike will always be better than any super-naked.
The Z H2 does not come fitted with top-of-the-range equipment. The Brembo M4.32 brakes are good, but the ABS is a bit too sensitive when riding hard, and the Showa suspension is just 'okay.' Within the Kawasaki family, the Z1000 R features better Brembo M50 brakes and an Öhlins rear shock. Personally, I would have liked to have seen this combo fitted onto the Z H2.

So although we took it out onto a race track, the Kawasaki Z H2 is not a track tool. What it is, is the perfect breakfast run hyper-naked, with a huge amount of power, incredible and unmatched versatility and, as a bonus, the chirpy character of a supercharger (STUTUTU).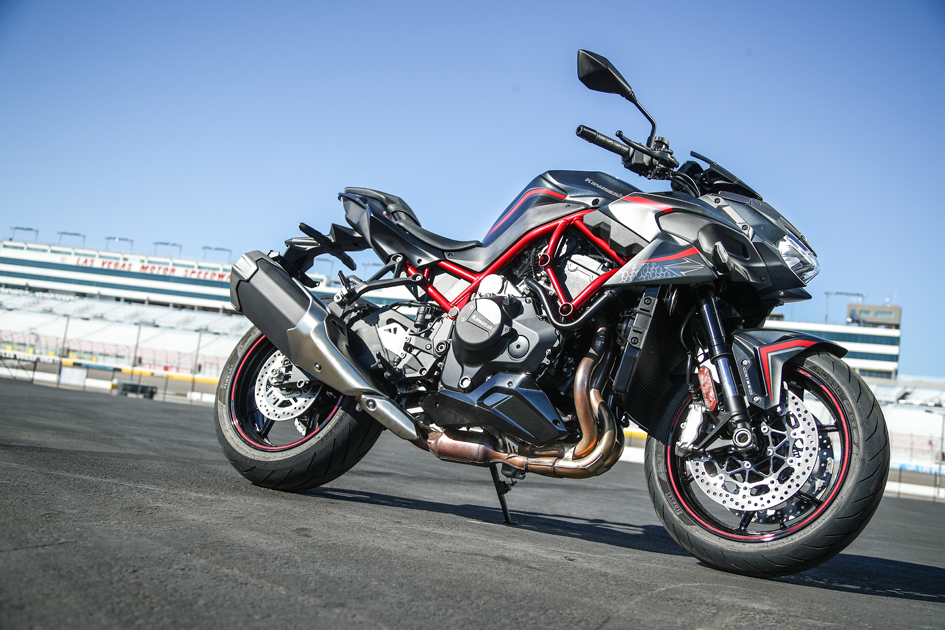 Thanks Kawasaki, for this unique and fun machine! We look forward to seeing these incredible bikes arrive in South Africa soon… Watch this space!