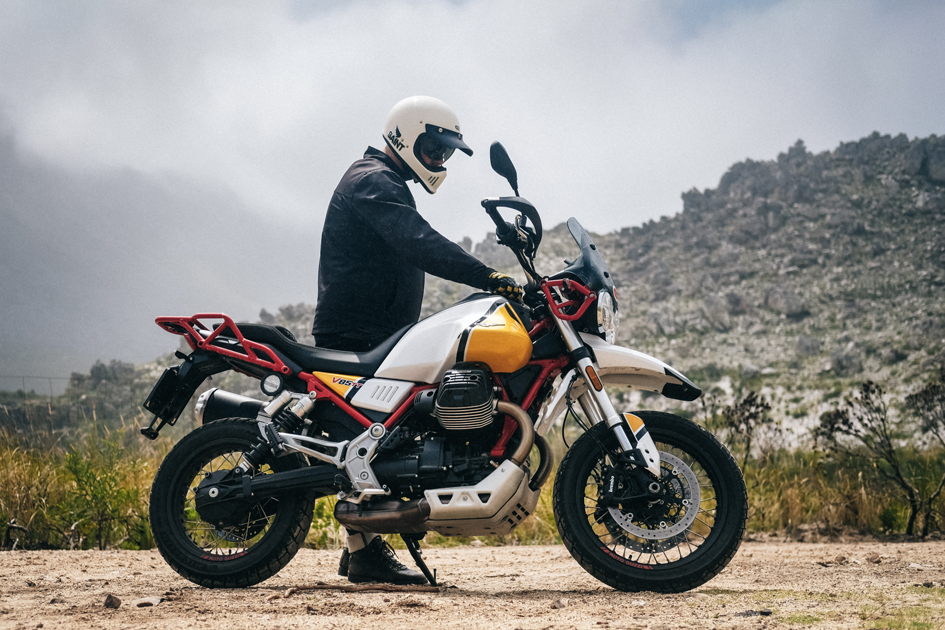 How long does it take to get to know a motorcycle? Most of the time, we'll spend anything from a day to a couple of weeks on a bike to help us form an opinion. But I had just an hour and a half to sample the new Moto Guzzi V85 TT—enough time to briskly put it through its paces on my favourite stretch of road.
Italian Motorcycle Importers are the custodians of the Moto Guzzi and Aprilia brands in South Africa. They're currently only based in Jozi though, so they brought a small selection of Italian machines down to Cape Town, for local customers and press to sample.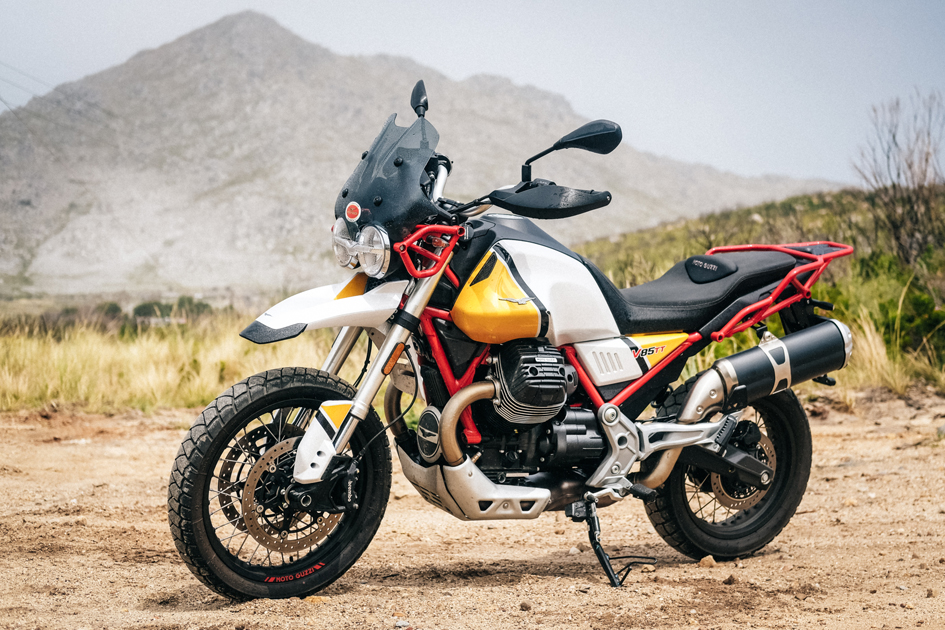 With limited time available, I decided to focus just on one bike, rather than spread myself too thin. So I picked the enigmatic Moto Guzzi V85 TT, hooked on its quirky looks and intrigued by its adventure bike aspirations. With 90 minutes on the clock, I headed out from IMI's temporary base camp in Somerset West, picked my way through town, and hopped onto the unparalleled Clarence Drive—touching ground briefly in Rooi Els before turning back.
Here are nine rapid-fire takeaways from my 90 minutes with the Moto Guzzi V85 TT.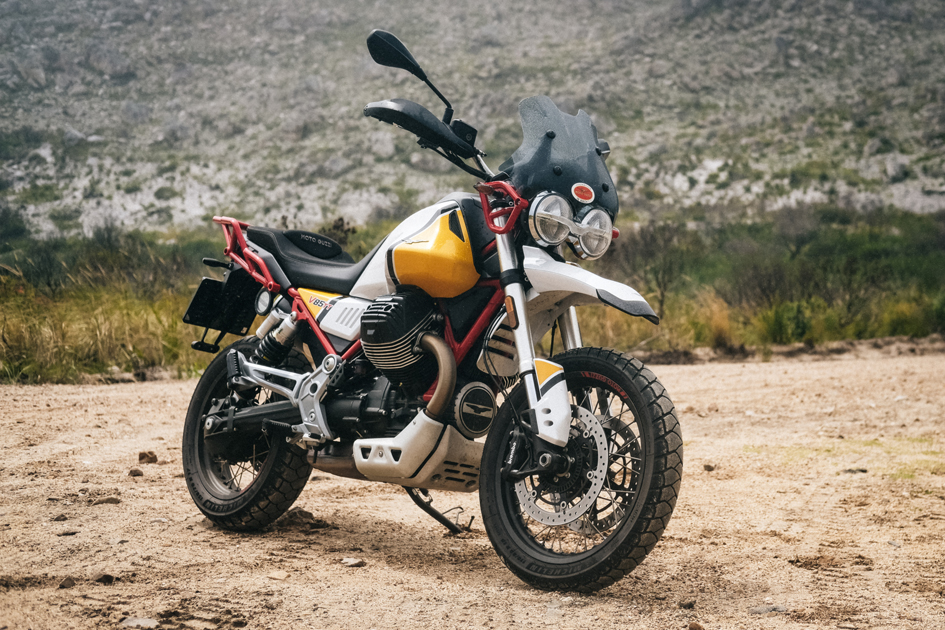 01 – It's hella pretty. That's what I think, anyway. And although not everyone agrees with me, an overwhelming majority of people think it's hot stuff too. From Instagram likes, to bent necks in the real world, the V85 TT sure is attention grabbing.
And that's probably because Moto Guzzi have designed something truly unique. It's clearly an adventure bike, but it looks like no other adventure bike out there. With that unmistakable lateral v-twin poking out the sides, you could almost call it a modern classic—and its silhouette is closer to the dual-sport bikes of the late 90s than contemporary examples.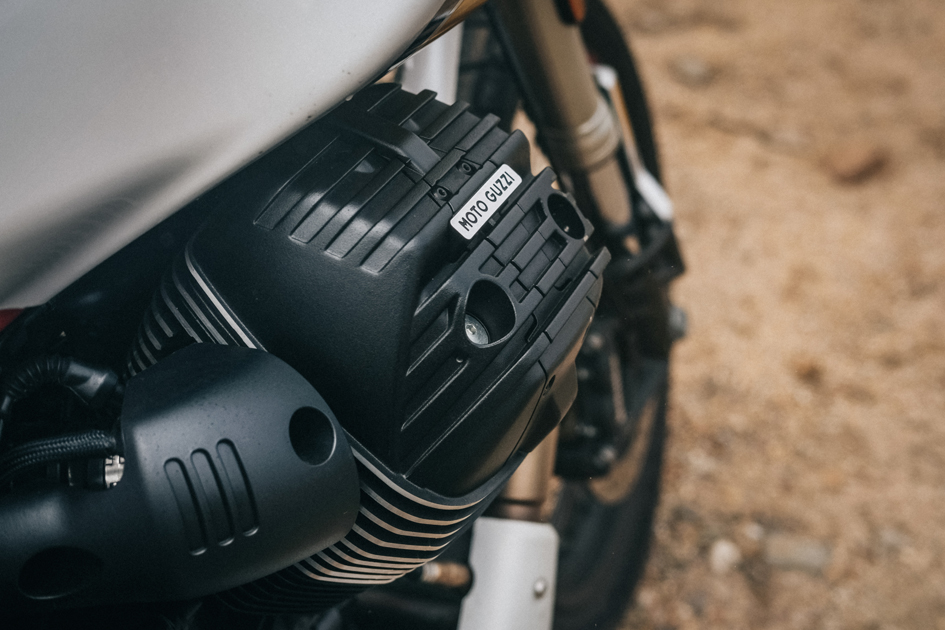 02 – It's extremely well put together, too. That tank is actually two plastic side panels with a centre strip up top (there's a 23 l fuel cell underneath), but I didn't figure that out until I physically knocked on it. That's how good the paint finish is, and even the Mandello Eagle on each side of the tank is an actual badge.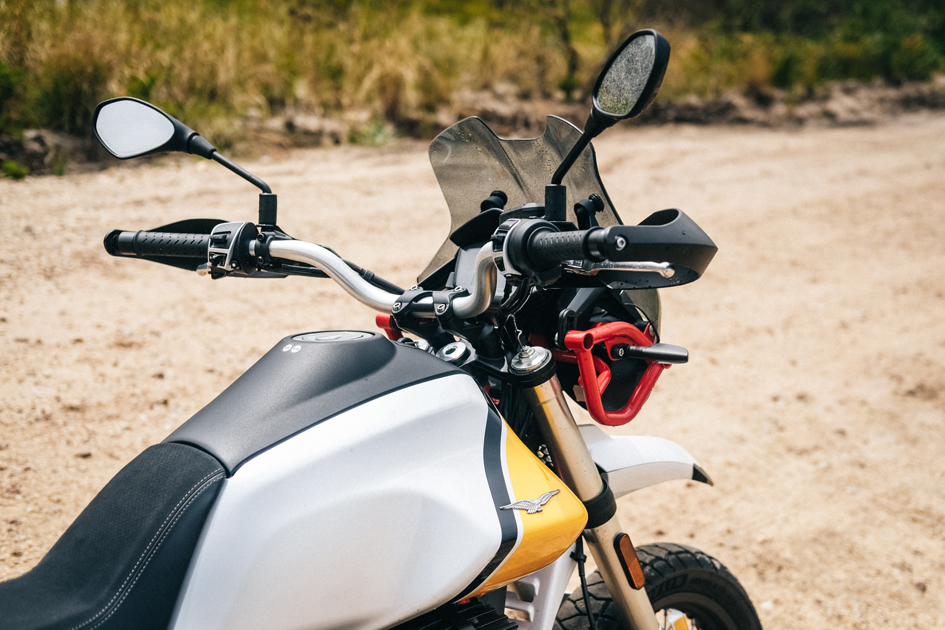 The bike I tested was the 'Evocative' edition, which, along with a few other extras, gets this striking white, yellow and black livery, with a red frame. It also has a suede seat, with great touches like contrast stitching, and an embroidered Moto Guzzi logo on the back pad.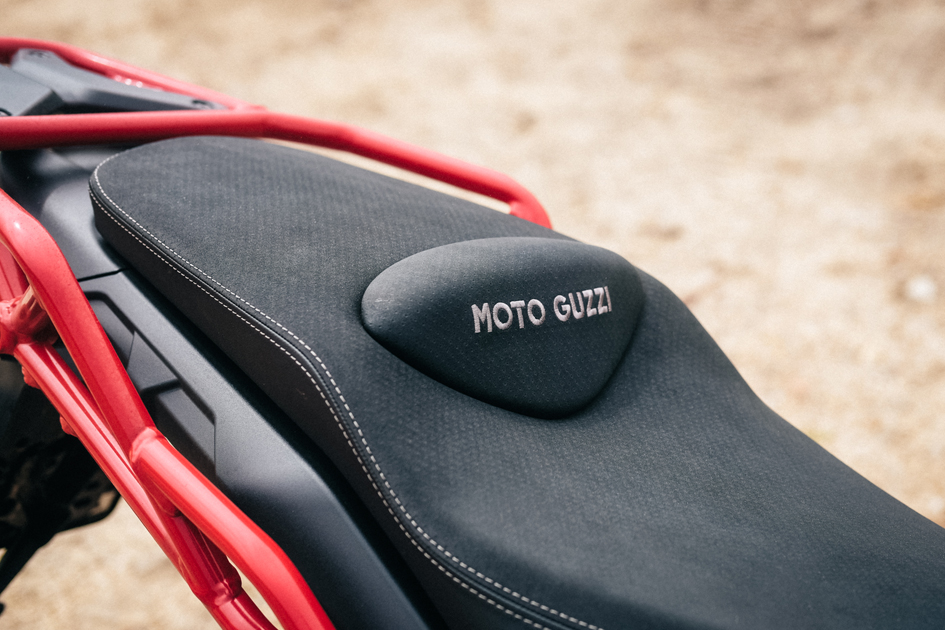 There's a big focus on details here. Note how the bracket for front fairing echoes the lines of the luggage rack supports, and how the strip across the twin LED headlights mimics Moto Guzzi's logo. And with considerations like hand guards, an enduro-like front mudguard, and a beefy bash plate, the V85 TT sure looks like it means business.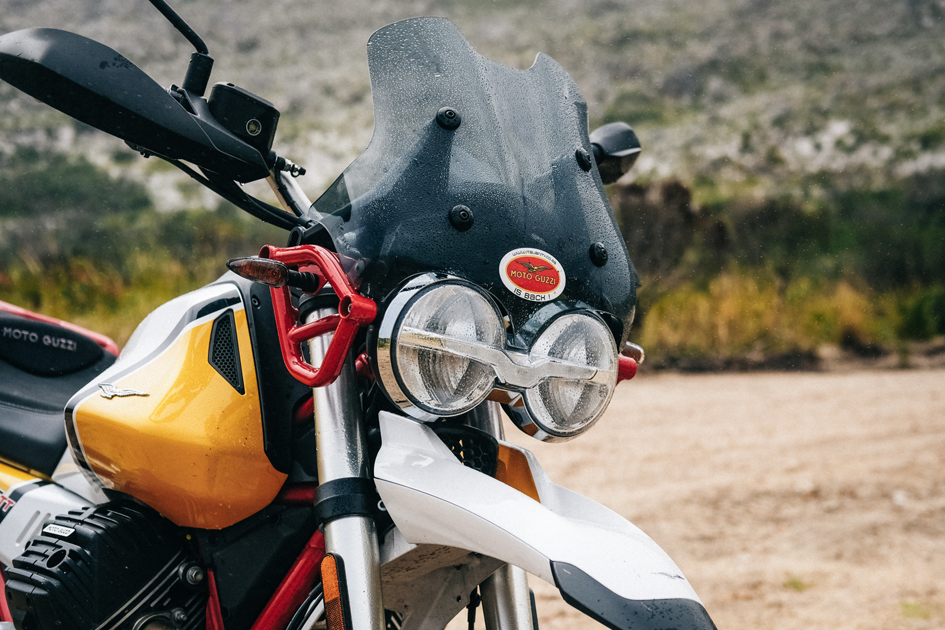 03 – And it's really comfy. When it comes to ergonomics, Moto Guzzi knocked this one right out the park. The seat is broad and cushy, the foot peg position is nice and neutral, and the handlebars are wide and high. The rider triangle (that magical geometric relationship between the bars, seat and pegs) is damn near perfect.
Moto Guzzi got it so right, in fact, that I (at 1,86 m tall) found it equally as comfortable as the rider before me, who's significantly shorter. I could have done with a little more height from the V85's windscreen though, or at least, the option to adjust it. That said, I found it was effective enough to keep the wind off my chest, without directing it up to my helmet's peak.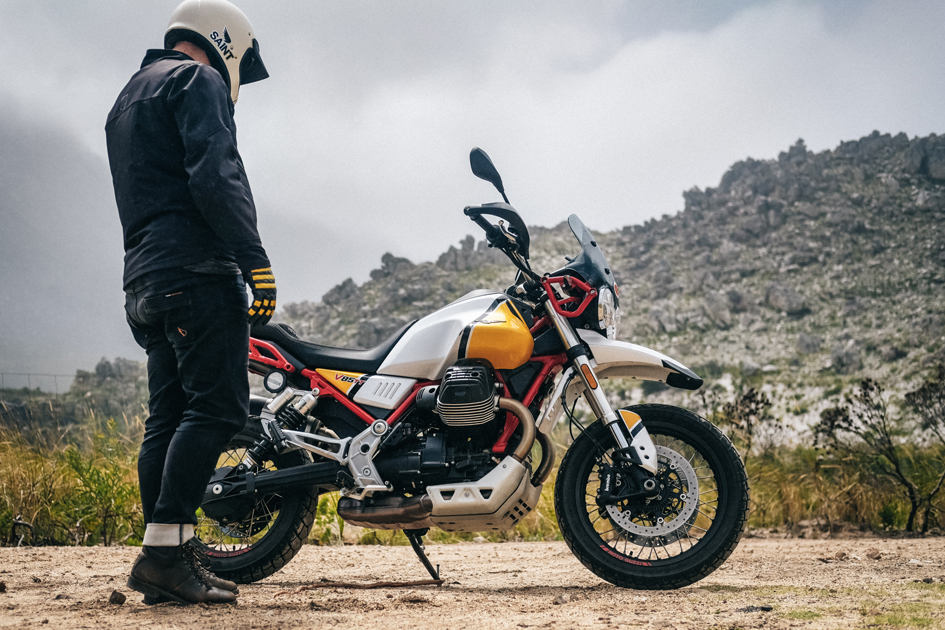 The layout works when you're standing on the pegs, too. The bike narrows nicely where the seat meets the tank, and the bars are at just the right height that you don't need to hunch over much. Serious off-road riders who want bigger, serrated foot pegs will have to fork out extra for them though.
04 – That motor is a total peach. It really is. If you want to get technical, it's an 853 cc transversal 90 degree V-twin with two valves per cylinder. Numbers are 79 hp at 7,750 rpm, and 80 Nm at 5,000 rpm.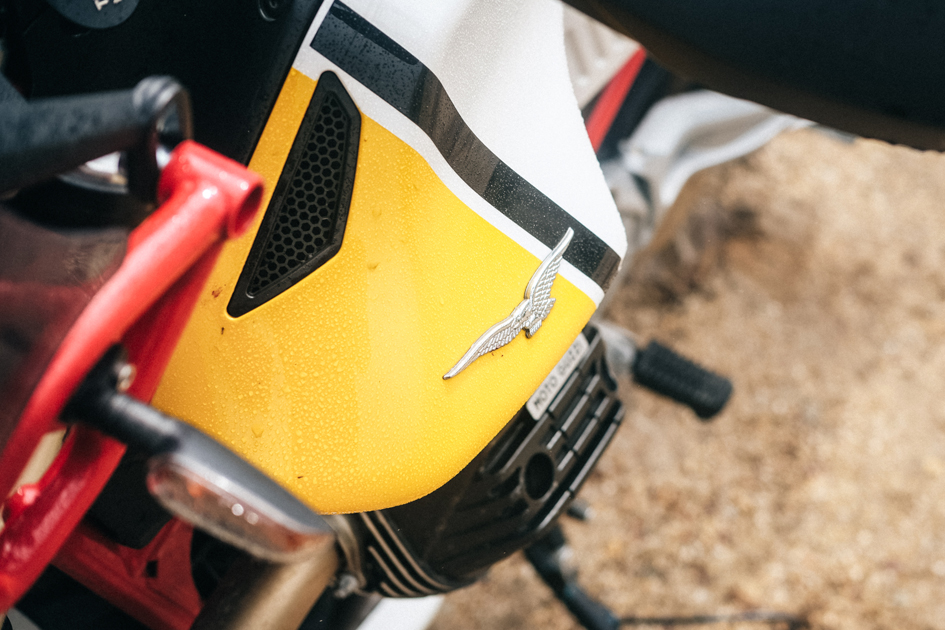 That's significantly less horses per cubic centimetre than, for example, a BMW F 850 GS, so why do I love it? Because what the V85 TT lacks in outright power, it makes up for in character. There's nothing that sounds or feels quite like that signature Moto Guzzi transverse-V, and there's a real sweet spot in the mid-range where the bike comes alive.
So the power that it does make, is very usable and manageable. That's helped by the Guzzi's shaft drive, and the fact that the V85 TT's six speed box is well spaced out, too.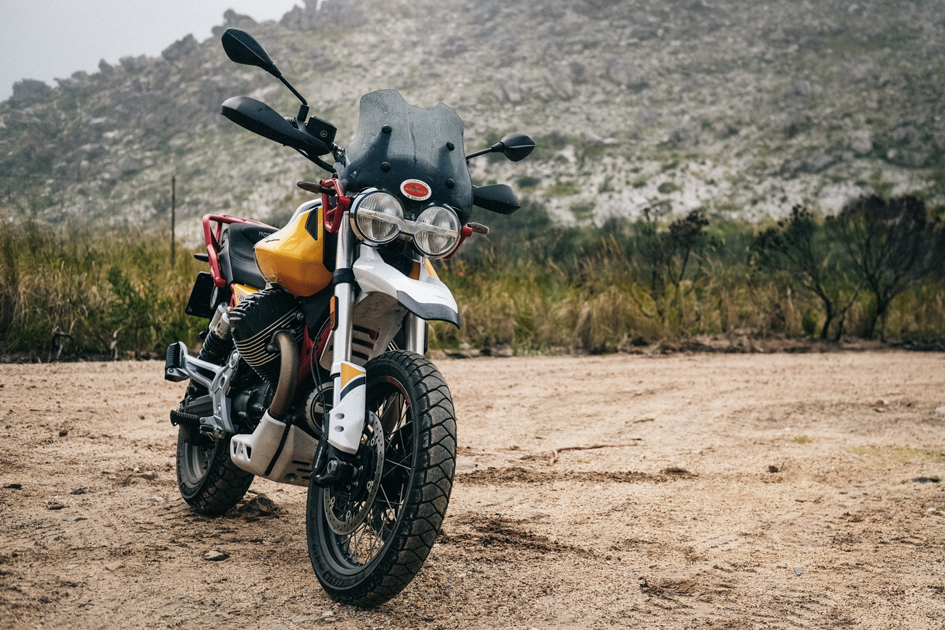 05 – The fueling, not so much. Look, the V85 TT's fueling isn't bad, per se. But it ain't great, either. The bike comes with multiple switchable riding modes, but all of them have one thing in common: the throttle feels a little elastic on pull-away.
I thought it might have been the Guzzi's traction control kicking in, so I deactivated that (which is an unnecessarily laborious process that involves diving into menus), but no Bueno. It's not that it's completely lethargic; it's just that there's a slight lag on spirited twists of the throttle, that niggled at me throughout the whole ride.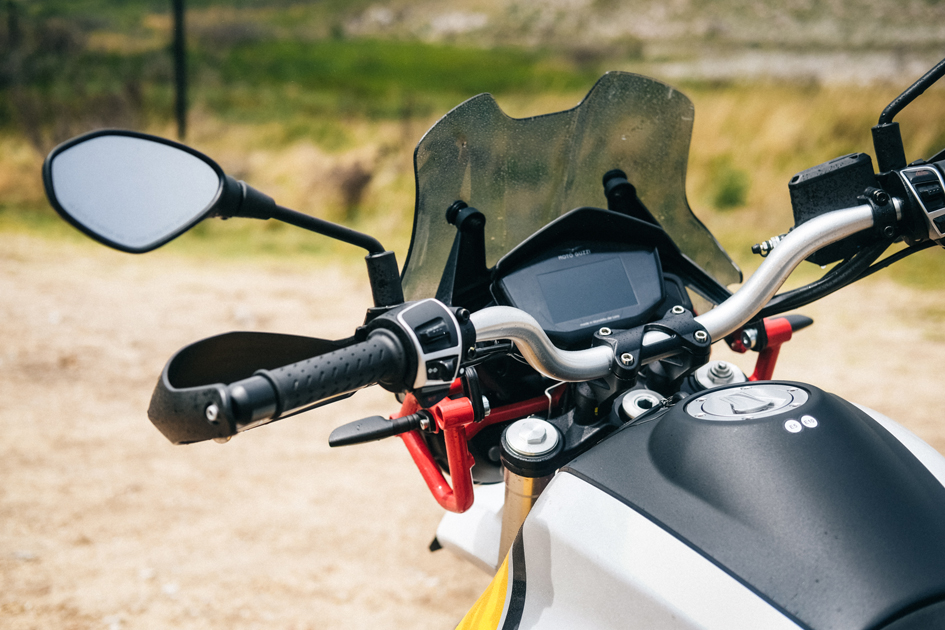 06 – It can corner way harder than you think. How hard exactly? I rushed so much to get the V85 TT back in time, that I almost overcooked more than a couple of rather technical corners. Each time, I held on and pushed the tall adventure bike as deep into the turn as I could. And each time, it stuck.
Sure, at 229 kilos wet, it's no featherweight. And with a 19" front wheel (there's a 17" out back) it doesn't turn in as fast as a sports naked would. But the suspension is stiff enough to stop it from wallowing in corners, and the wide bars offer up more than enough leverage. So it can hold its own, and it shone on one of Cape Town's twistiest roads that day.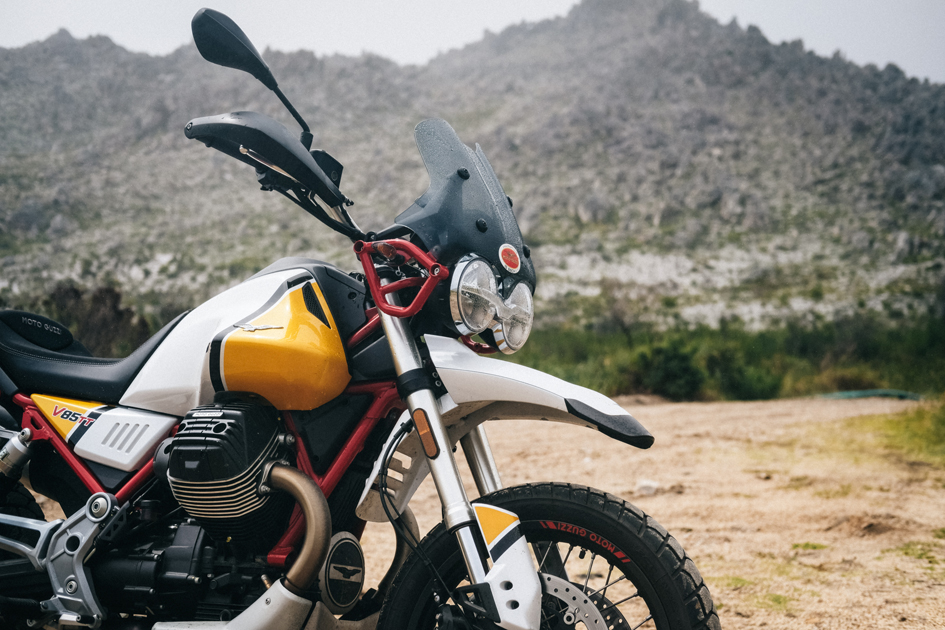 It did dive a little under heavy braking though, but at least the suspension is adjustable for compression and preload at both ends, so this could probably be tuned out. The brakes themselves (twin 320 mm Brembos up front) work okay, though there's not a whole lot of feel through the lever. ABS comes standard, but I didn't have enough time to really put it through its paces on the day.
07 – It's okay off-road, I guess. I wouldn't really know—I only managed a few metres of dirt while I had the V85 TT. I didn't really have time to experiment with the off-road riding mode, disable ABS and traction control, or try it out on varying terrain.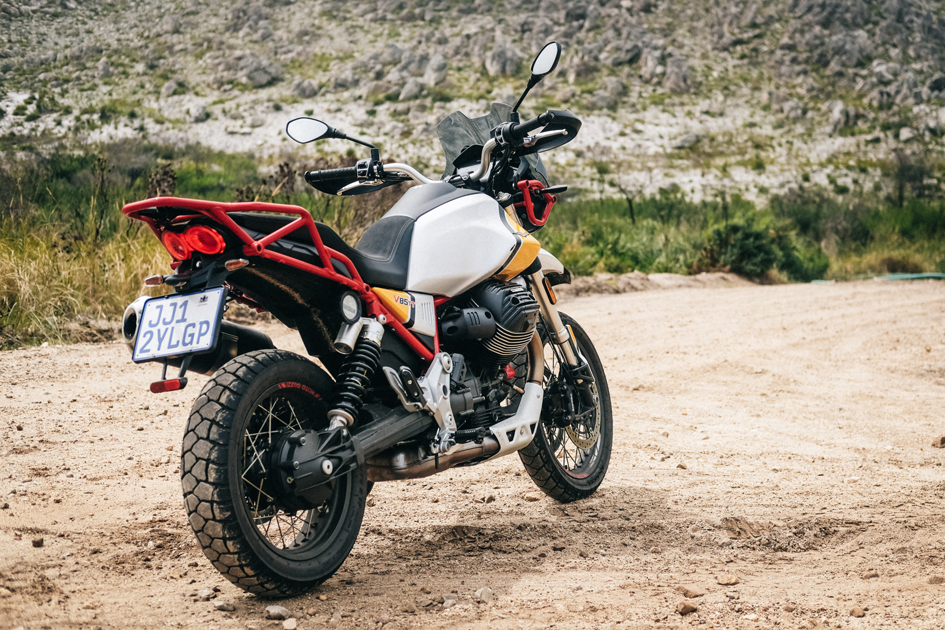 The V85's rear wheel breaks loose quickly, but I think that's a tyre choice issue (I'm not a fan of the tyres it ships with). As for the rest, that short dirt road blast was promising—so I'm adding a proper off-road ride on the V85 TT to my to-do list.
08 – It has more tech than you think. For all of its visual simplicity and classic appeal, the Moto Guzzi V85 TT is actually packing some neat tech. The dash is a TFT unit that packs in all the info you could possibly need. Dig deeper, and you'll discover Bluetooth functionality (it's an optional upgrade that's standard on the model I tested) that unlocks various smartphone integration features, like navigation and entertainment.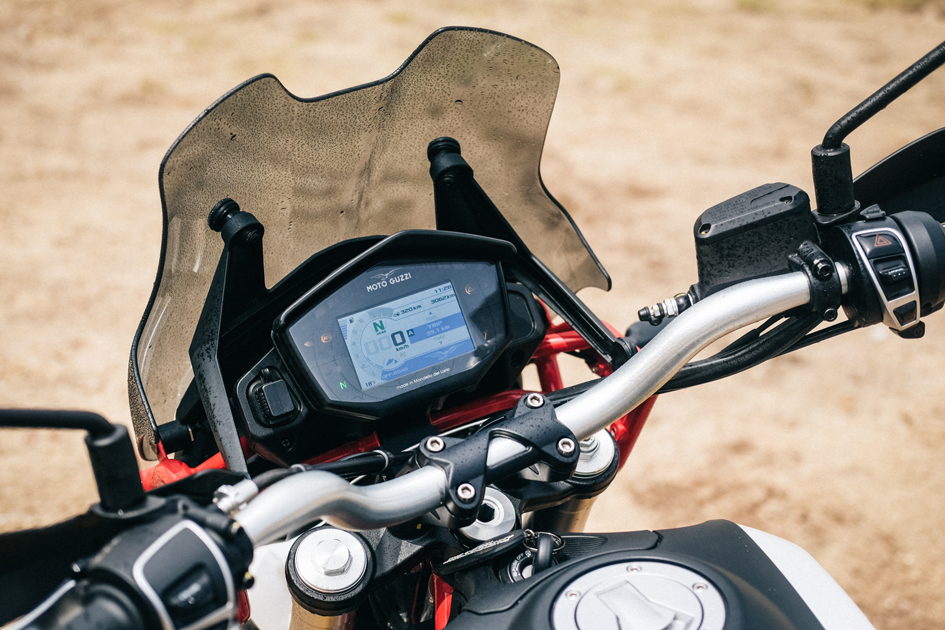 It's nice that those features are there, but it's even nicer that Moto Guzzi doesn't throw them all in your face.
09 – It has stiff competition. The V85 TT 'Evocative' model I tested costs R 225,720, which buys you the paint job, red frame, suede seat, Bluetooth package and dual-sport tyres. The base model, with flat paint, a black frame, a regular leather seat and road-biased tyres, is R 209,000. And there's a 'Travel' edition too, with a Kalahari Sand colour, panniers, a higher screen, crash bars and a centre stand, that'll run you R 247,320.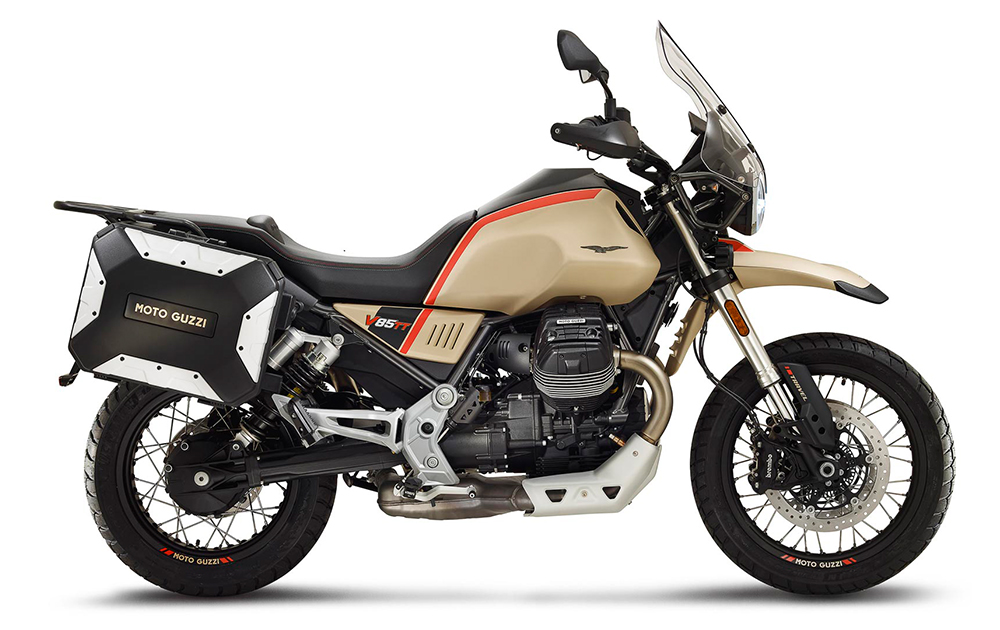 That puts it just above the BMW F 850 GS and Triumph Tiger 900 in price—both of which make better numbers. But numbers aren't everything, and the V85 TT has a lot going for it. It's unique, it's Italian, it looks great, and, most importantly, it's a whole lot of fun to ride.
For more information visit – www.italianmi.co.za