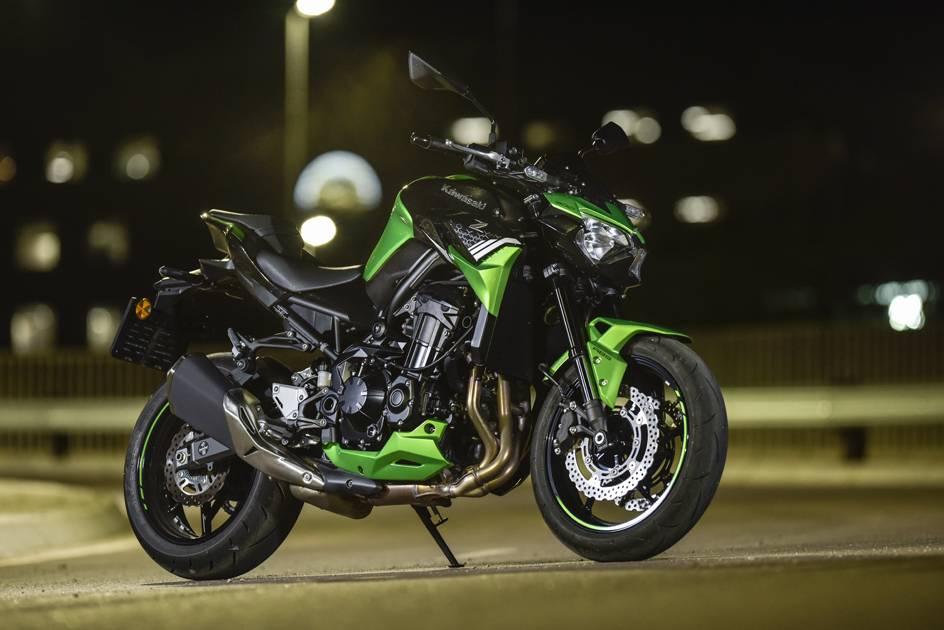 The Z900 story began a long time ago. Kawasaki stunned the world back in 1972 with the introduction of the meanest motorcycle ever made when they launched their legendary Z1. As was the custom back then, manufacturers came to market with something raw and untamed, then toned it down somewhat as they honed and refined future offerings. So it was with the Z1. The refined version was labelled the KZ900. The badge on the side cover dropped the "K" and so the Z900 was born. As Honda did when they refined their CB750 K0, the K1 was down on power but a nicer all-round bike. So it was with the Z900 too. A bit softer than the Z1, it had better manners and a better-braced chassis for improved handling. Fast forward 42 odd years and the 2020 version of the venerable Z900 is a very different beast. Just bear in mind that the modern Z900 comes in two flavours. You can have the modern retro version, a bit of an original Z1 look-alike, or the modern sugomi styled bike, which is the object of this review.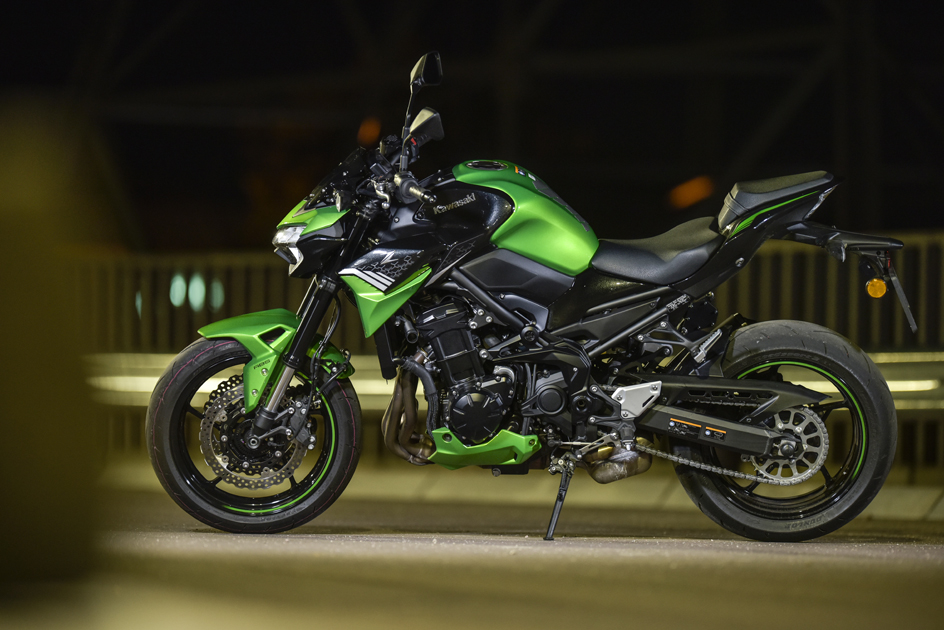 Kawasaki refers to the latest Zed as a "supernaked". It has not changed in concept from its predecessor, maintaining the "exciting and easy" design brief, but taking the Z sugomi styling a step further. To fully understand what Kawasaki is shooting at with the Z900, let me explain the meaning of "sugomi ". It describes the intense aura or energy given off by an object of greatness felt by the viewer. Something possessing sugomi inspires awe, leaves an indelible impression, is imposing in stature and ability, and commands respect. It can be used to describe a person or an object. Apply this philosophy to a motorcycle design brief and you are likely to end up with something special. And so it is with Kawi's latest Zed.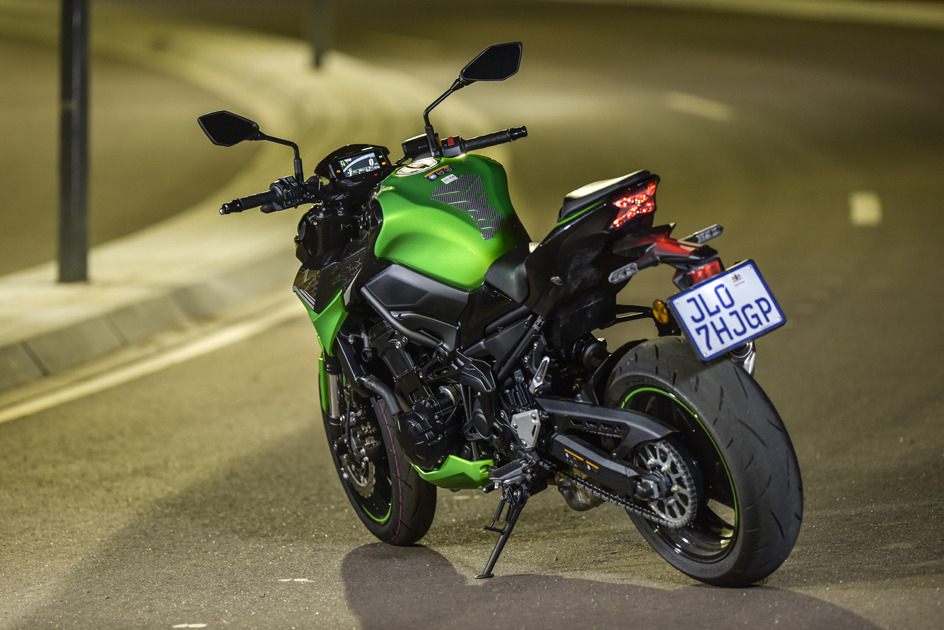 The impression one gets when eyeballing the Z900 is of something powerful about to leap forward. Think of a fully maned Kalahari lion crouched to charge. The maned head and shoulders are bunched up with the sleeker muscular hindquarters completing a picture of power and contained fury. The Zed creates a similar impression. The tank and radiator shrouds blend with the sleek headlight cowl then taper to a narrow waist and waspish handsome seat and tailpiece. The motor is blacked out and is underlined by a minimalistic belly pan, colour coded to the same metallic green as the tank and other trim. This is one sweet looking motorsickle!.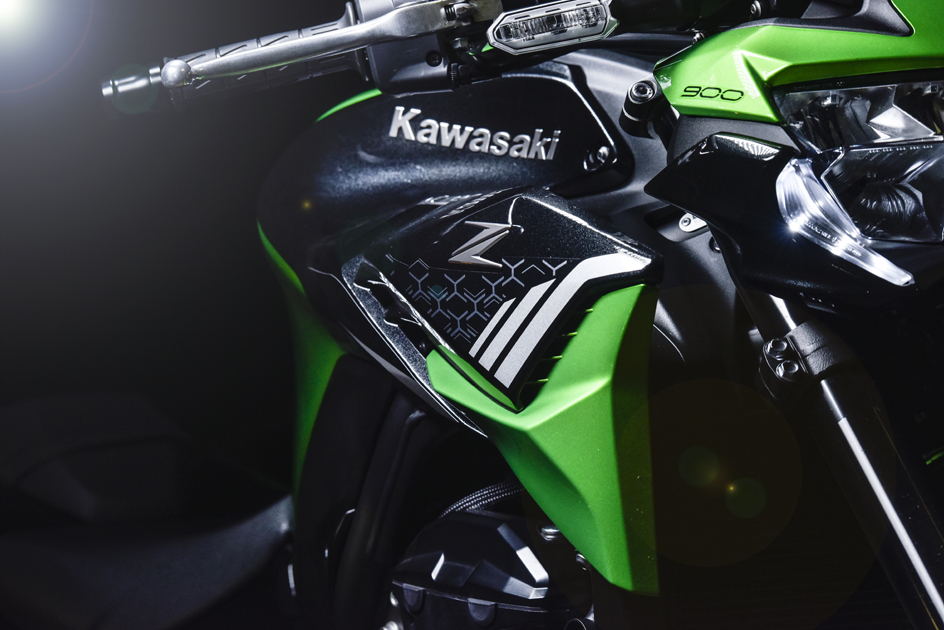 In line with almost all manufacturers these days, Kawasaki has catered to the whims of the PlayStation generation with the comprehensive electronics package with which the Zed is equipped. It has 948cc mode, 750cc mode, 500cc mode, and even a riders choice mode. Ok, forgive my weak attempt at being factitious. I am referring to Sport, Road, Rain and Rider engine power modes. It is still beyond me why, when the fueling in Sport mode is as flawless as that on the new Z900, we need this engine mode complexity. That, my friends, is why God gave you an articulated wrist connected to a supercomputer called a brain! I suppose that some could argue that the supercomputers that some of us have are a trifle faulty and need regulating. Whatever! I'm sure you get my drift. Personally, I buy a 900 to have a 900, not a 500!.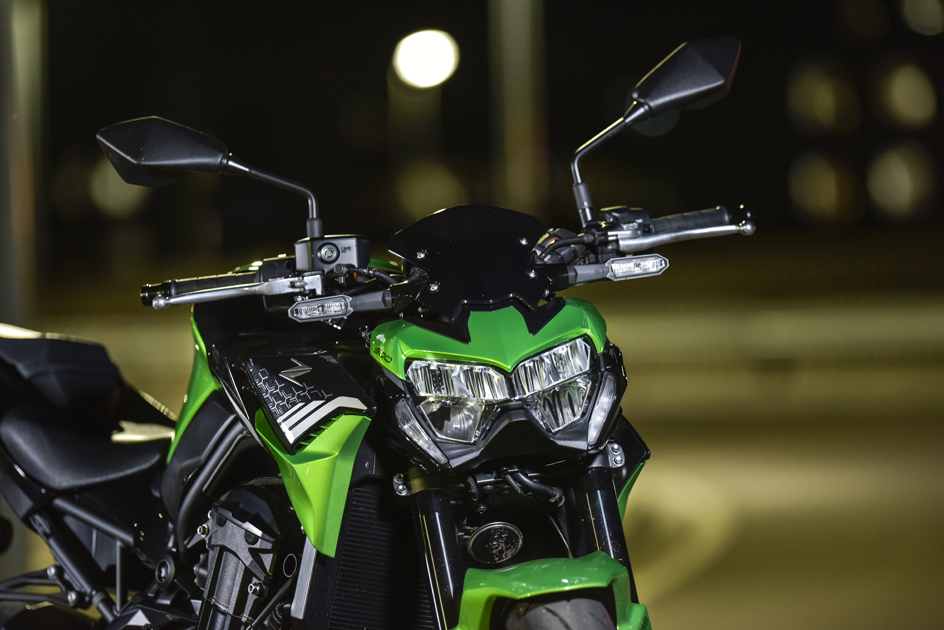 Kawasaki traction control is least intrusive in Sport mode and predictably, most intrusive in rain mode. Road mode is smack in the middle. "Rider" mode allows you to set it to your preference, or turn it off completely, as well as to give you full or low power [55% of full power]. Kudos to Kawa for allowing us to negate all the electronics, with the exception of ABS, if we so wish!. The wizardry does not stop there. A whole new TFT display gives you clear access to all the bikes vitals irrespective of how bright the light is. Nigh on everything is adjustable.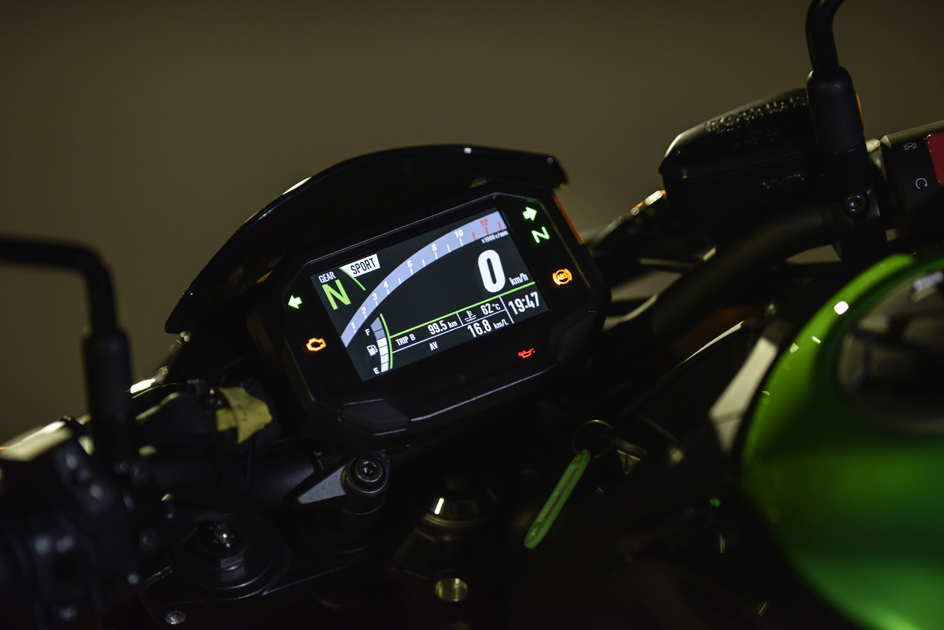 For those of you who can't bear to be parted from your smartphone for even a moment, don't despair. Download "RIDEOLOGY THE APP" and access vehicle info including the bike's maintenance schedule, a Rider log, [route info, lean angles achieved etc.], telephone notices and general tuning settings. All this can be accessed via a left handlebar-mounted switch or via two buttons on the lower corners of the TFT panel. You can view this info on your smartphone too. Without boring you with the detail, you can access just about every possible bit of trivial and vital information, barring your underpants size, [maybe I just couldn't find it] using this app.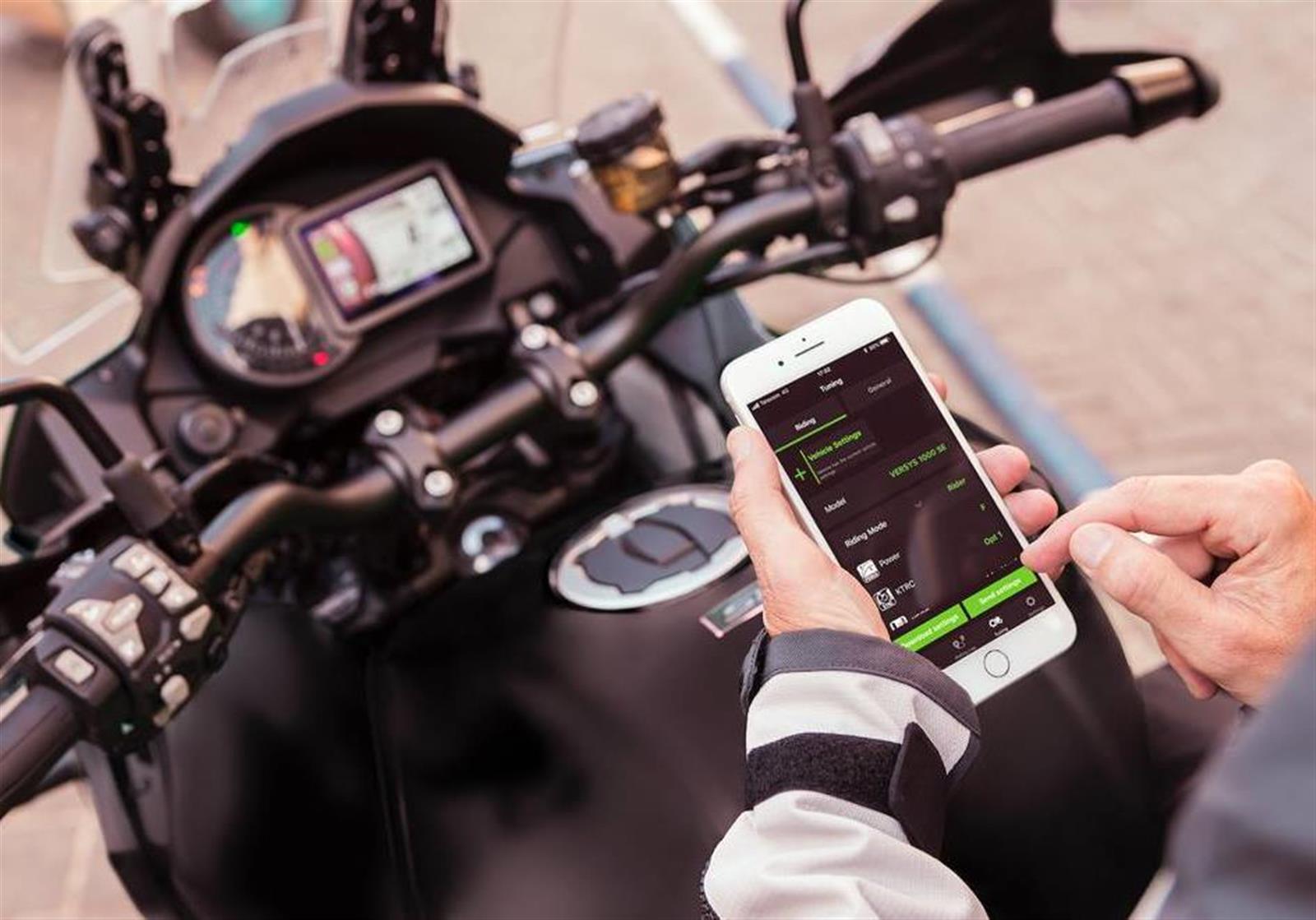 The LED lighting is also the norm with the newest Zed. The exhaust has been tuned for sound [more on that later] and is beautifully short and stumpy, not obstructing the view of the handsome, subtly pinstriped rear mag wheel. The swingarm pivot has been beefed up for more precise handling as one of the subtle tweaks to the high tensile steel frame.
Revised clutch damper springs and refinements to the Fuel Injection work together to make for smoother acceleration and deceleration. There is a comprehensive accessory package available ex-factory, including a taller flyscreen, softer passenger seat, USB socket, low and high seat options, and other trim bling.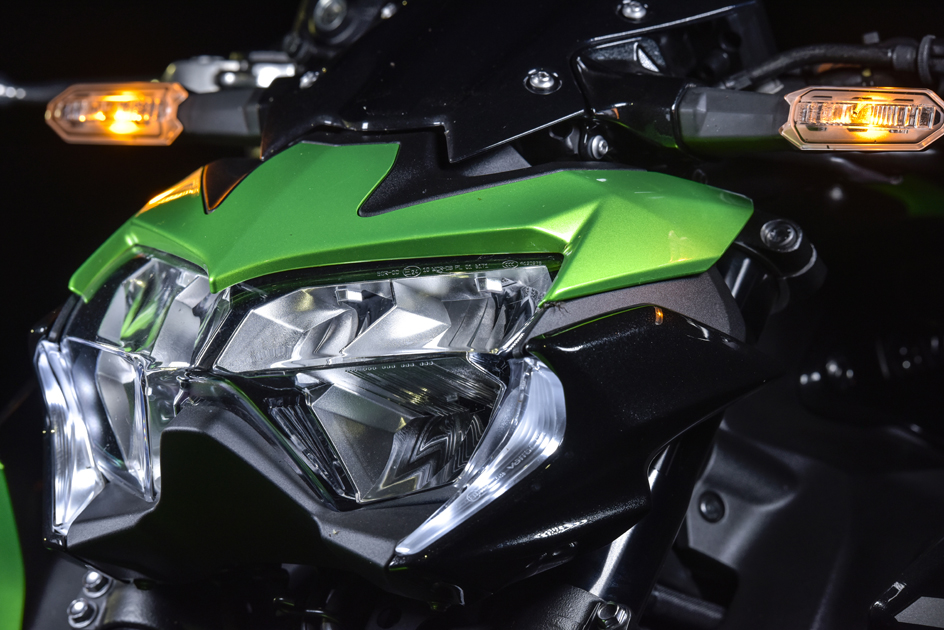 Kawasaki has really specced the Z900 comprehensively to suit all tastes. Let's get down to the all-important issue. What is it like to ride? In one word? Brilliant! Firstly the engine. There are those that will claim that "universal Japanese motorcycles" with four-cylinder motors lack soul. Well, they clearly haven't lived with this bike. Kawasaki very kindly gave me a full week with the Zed, so I could use it for an extended time in all roles that a typical owner would experience. From the moment the clutch is released, there is a gush of velvety shove. Squirt it to six thousand revs through the super light, accurate and slick gearbox, and it gets a serious hurry up.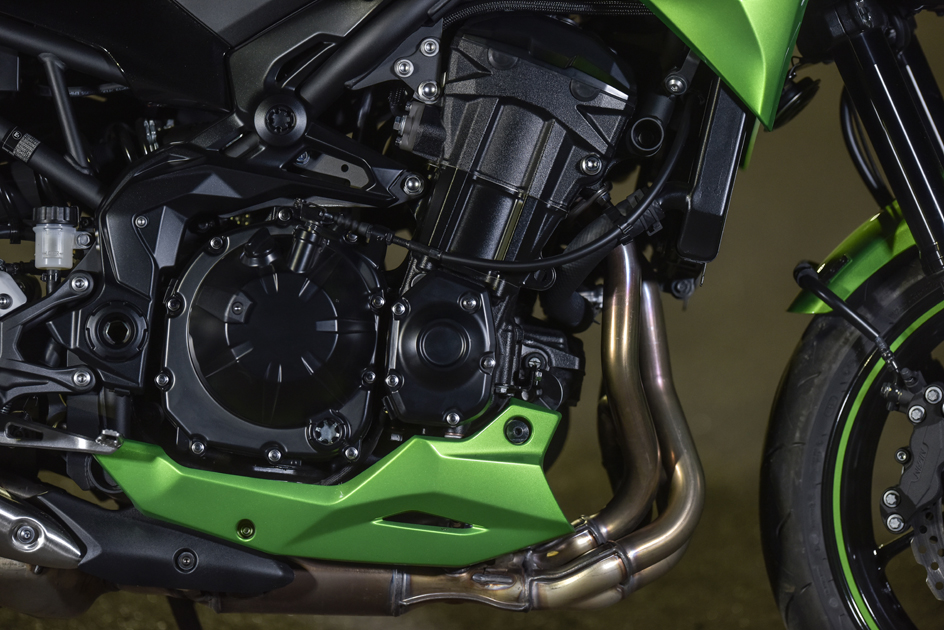 But here is the thing. When road conditions allow, lean really hard on the throttle. That is when the character genie pops out the bottle. As you accelerate, the motor emits a characteristic twin-cam whine which, as you whack it wide open elicits a deep growl from the airbox, morphing into a spine-tingling, visceral shriek from the exhaust. This aural assault is backed up by some serious acceleration. The bike is super stable and the fact that you sit quite deep in the bike results in surprisingly little windblast for a naked. 140 kph cruising is genuinely a doddle.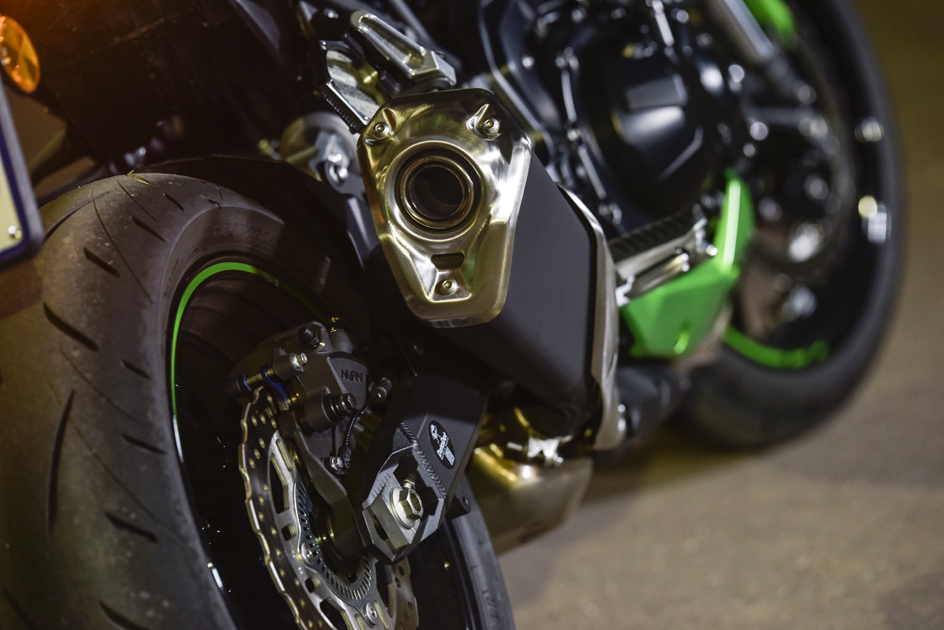 Fuel economy is good at reasonable speeds [Yeah right!] with the bike achieving better than 20kpl. A 17-litre fuel tank gives decent range. The ergo's are really good too. The seat is firm yet comfy, the stretch to the bars is just right and the footpeg position mildly rear-set. I could smash big distance in one go on the Zed. The good riding position makes for a great feeling of control. With a 180/55×17 rear and 120/70×17 front tire, the bike steers effortlessly. It dispatches traffic with the precision of a scalpel in the hands of a surgeon.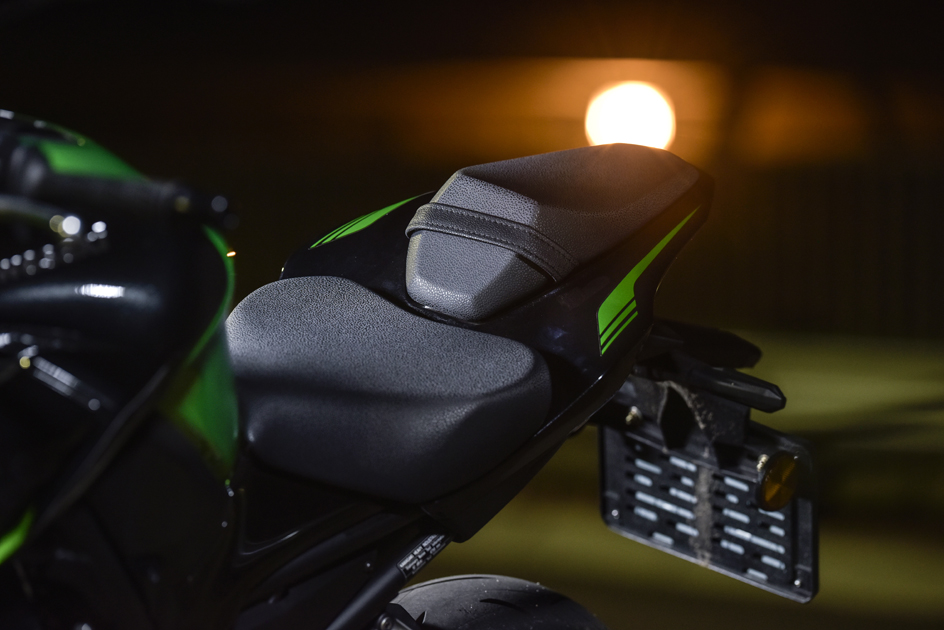 The bike is narrow and compact with a lovely controlled and taught ride. Suspension is adjustable for preload and rebound at the back but no adjustment up front. This doesn't matter a jot, because the front is just fine for the bikes intended use. The back shock was a trifle bouncy on the standard setting, but I dialled in a little extra rebound damping and it was sorted. The handling is genuinely top drawer. Turn-in is effortless and it holds a line effortlessly in a way that inspires utmost rider confidence. The twin 266 mm front disks and single 216 mm rear chomped on by Nissin calipers endow the Zed with brilliant braking ability. Sharp and powerful with plenty of feel. As good as anything I have ever experienced. Even when pinning the throttle the Zed 9 keeps its front wheel down allowing you to really get on it with total abandon.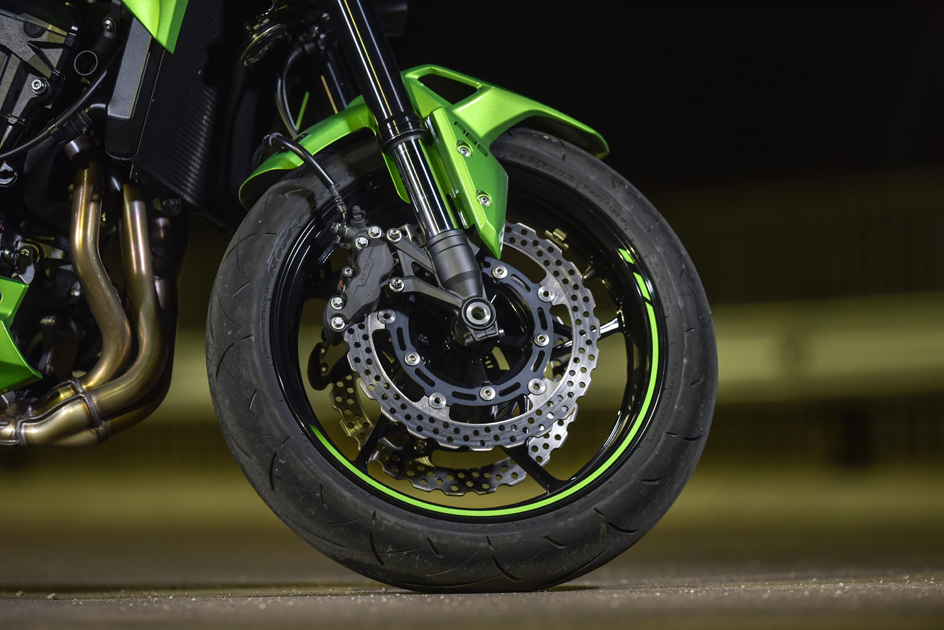 So who should buy this bike then? Anyone who enjoys sporty riding without vices, that's who. Buy yourself a set of decent full leathers, toss a change of clothes in a tiny backpack and head for the hills, credit card touring to your heart's content. In the week, commute to work negating the traffic snarl.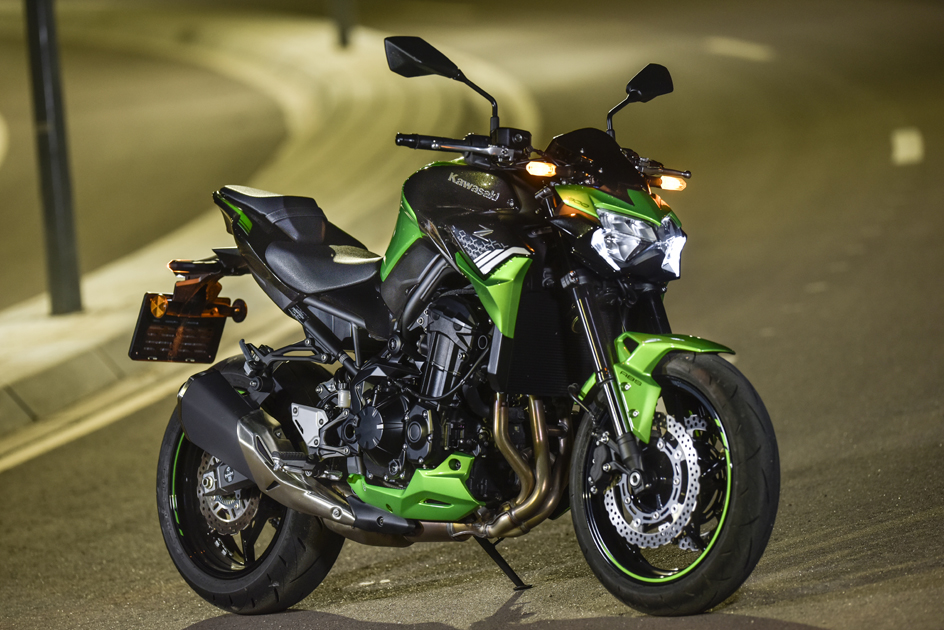 The Z900, in its latest guise, has no real vices. [apart from indicators that don't cancel themselves] Hey, cut me some slack, I have to have something to moan about! Really, on a serious note, this is an extremely refined and good motorcycle which I really enjoyed riding. It is the kind of beast which will get you out of bed early on a bright summers morning, to take for a trundle for the sheer joy of riding.
Oh, and at a selling price of R155 995, this represents such an incredible value proposition.
I may just "need" one of these in my stable!
For more information visit: www.kawasaki.co.za
Kawasaki Z900
For more information on the bike that we tested in this article, click on the link below…